43 Team Building Activities That Turn Colleagues Into Friends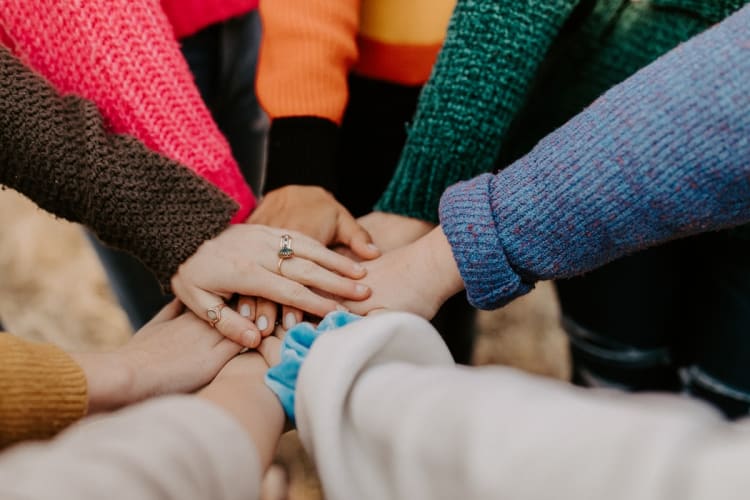 When it comes to building a cooperative work environment, team building activities are the key. After all, watercooler talk and themed Slack channels can only take you so far.
Team building activities that involve working toward a shared goal will help everyone bond naturally. But no one wants to end up in a mandatory seminar, doing trust falls and trying to untie the human knot when engaging in trust building activities.
With this list of fun team building activities, you can find an experience that doesn't feel forced — and that your team members will actually enjoy.
From cooking to getting creative to giving back, these team building activities encourage your team to work together and build memories they can bond over for years to come. Here's a look at the 43 best team building activities for turning coworkers into a community.
Jump to Section
Team Building Activities for Foodies
One key to building a strong team is finding common ground, and if there's something we all have in common, it's that we all need to eat. Get your colleagues together with one of these team building activities that will feed their inner foodie.
1. Challenge Each Other in a Cooking Class
In a team building cooking class, team members can pair up to pare potatoes or poach fish. With guidance from a talented chef, teams will get to work together in the kitchen or engage in some fun cooking games for adults that encourage a little friendly competition.
Team building activities in the form of cooking classes bring everyone together over a shared love of good food. All the while, your group will get to hone their communication, problem-solving and listening skills before sitting down to enjoy a delicious homemade meal, together.
From sushi showdowns to cupcake challenges, and from pasta making to pizza tossing, there are classes for groups of all sizes and skill levels. You'll find classes offered in major cities across the U.S., from team building activities in Atlanta to team building activities in Las Vegas. Browse all available team building activities near you to get started.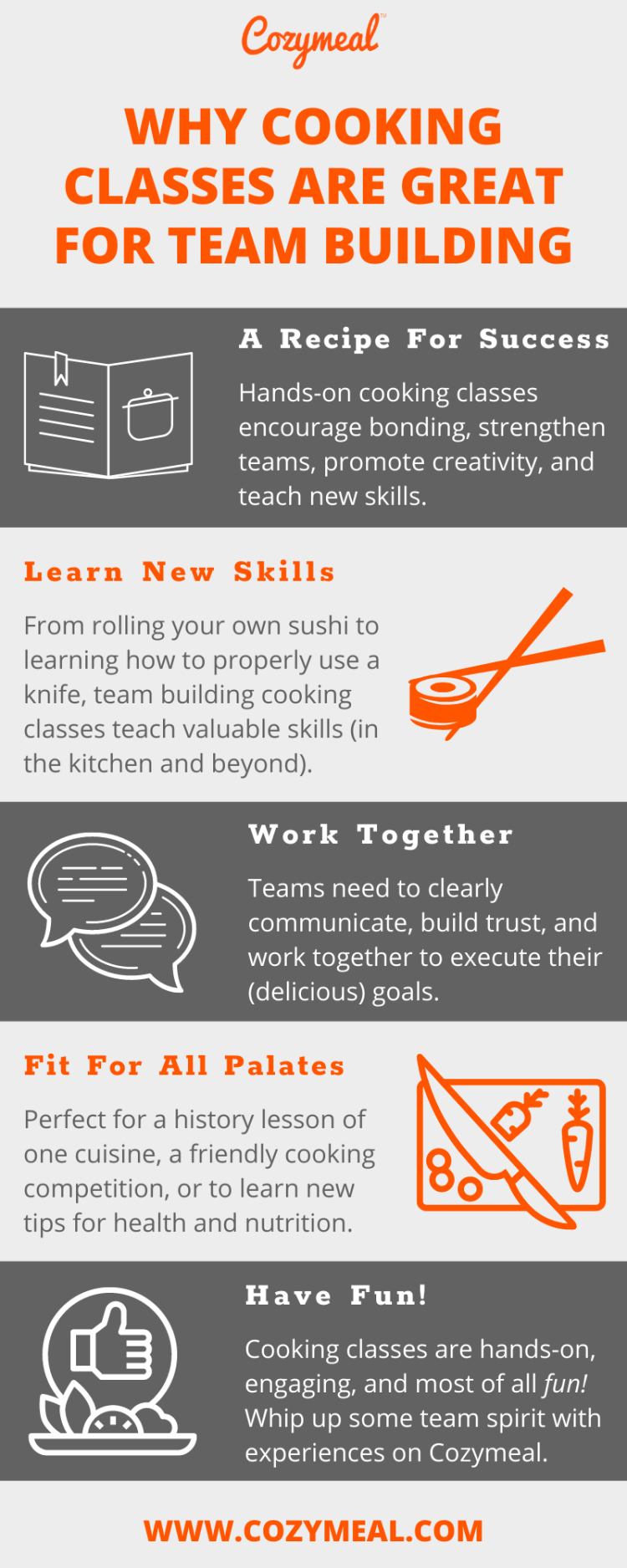 2. Go Cutting Edge With Skills-Based Cooking Class
Trust is a key component of high functioning teams, and nothing says, "I trust you" quite like handing someone a knife.
Another option for cooking class team building activities is to take advantage of skills-based classes that focus on a particular technique or style.
A knife skills class, for example, will encourage your team members to look out for one another and make sure their work buddies are succeeding. Beyond knife skills, your team could learn about incorporating mise en place in the kitchen (a helpful skill for disorganized teams), cake decorating, rolling sushi or planning a plant-based menu.
You can find cooking classes in Napa, cooking classes in Chicago and beyond. Browse all cooking classes near you today to pick your favorite. Have some telecommuters in the group? Live online cooking classes will have you learning new culinary skills together right from your own kitchens.
Find Team Building Activities Near You
Connect with your team through world-class cooking classes, mixology classes, food tours and more.
3. Enjoy a Culinary Adventure on a Food Tour
Team building activities are perks at work that don't have to be limited to the office. Get out and about on a walking food tour and give your team an opportunity to get to know their city — something that's particularly helpful for new team members or those who relocated to work with you.
Aside from tasting new foods and potentially discovering their new favorite restaurants, your team will have plenty of time to talk and get to know each other as they walk from place to place.
You'll find food tours in NYC, food tours in San Francisco and many other cities beyond and between. Browse all food tours near you today.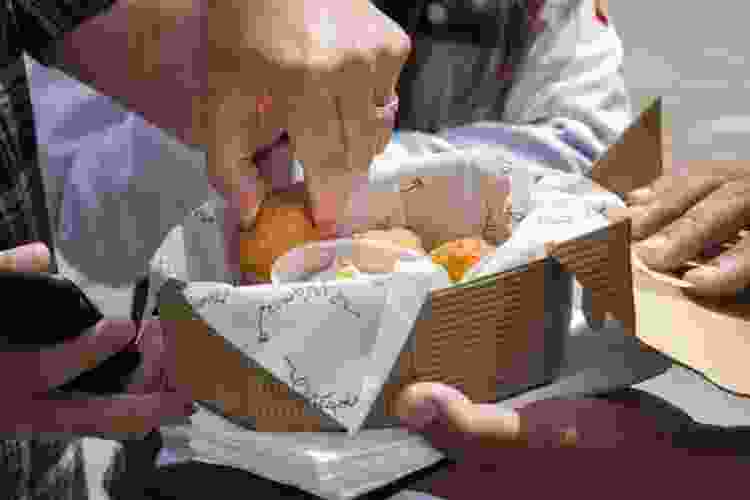 Virtual Team Building Activities for Foodies
Even if your team is temporarily or permanently working from home, there are plenty of ways to incorporate group bonding activities into your routine. If your team really connects over great food and drink, you'll find virtual team building activities that bring everyone together just as easily as an in-person event. Plus, these are great ways to boost telecommute employee engagement!
4. Swirl and Sip at a Virtual Wine Tasting
If your team leaps from their seats as soon as they hear the words "happy hour," then a virtual wine tasting is in line with the kind of team building activities that will suit their interests.
These live, fully-interactive wine tastings are led remotely by chefs and sommeliers from all over the world. Your team can tune in and bond over learning all about different wine varieties, flavor profiles and tasting notes. Plus, they'll pick up some recipes for flavor-packed homemade tapas and appetizers to perfectly pair with each glass.
Book a Team Building Experience Now

Connect with your team through world-class cooking classes, mixology classes, food tours and more.

Book Now
5. Shake Things Up With Online Mixology Classes
Say cheers to your colleagues with online mixology class team building activities! These live classes pair your team members up with five-star mixologists who will show them how to make classic and creative craft cocktails from home.
From the perfect Old Fashioned to a nouveau-chic Champagne cocktail, your team will have the time of their lives mixing, shaking and pouring a variety of beverages in these fun team building activities for adults.
At the end of the class, have everyone craft (and name!) a cocktail of their own. You can give prizes for the best creation and the most creative name.
Book an Online Team Building Event
Bond with your team in top-rated online cooking classes, mixology classes, wine tastings and more.
6. Head to the Kitchen for Online Team Building Activities
Spend time in the virtual kitchen together with online team building activities that make food fun. These live cooking classes, competitions and activities offer a unique foodie experience for teams who work remotely. They can bond over learning how to prepare a favorite dish, try a new cuisine together or even compete in fun cooking games over who plates the best presentation — all with live instruction from world-class chefs.
After their online class, teams can host a virtual dinner party where they share what they like most about the dish they made. And when that's done, they can enjoy a few rounds of Would You Rather questions!
Simple Team Building Activities
These simple team building activities require no special arrangements, transportation or accessories. Not only are they cost-effective and a good way to boost morale, but they also make great indoor team building activities for groups who can't make it out to a third-party location.
7. Perfect Your Shark Tank Pitch
Why not let the hit show Shark Tank inspire your next round of team building activities? Break everyone up into small teams of two or three people and instruct them to come up with a pitch for a new product, service or invention.
When they're ready, they can take turns presenting key selling points to a panel of four judges, eager to get an investment. The team with the best pitch can even win a prize.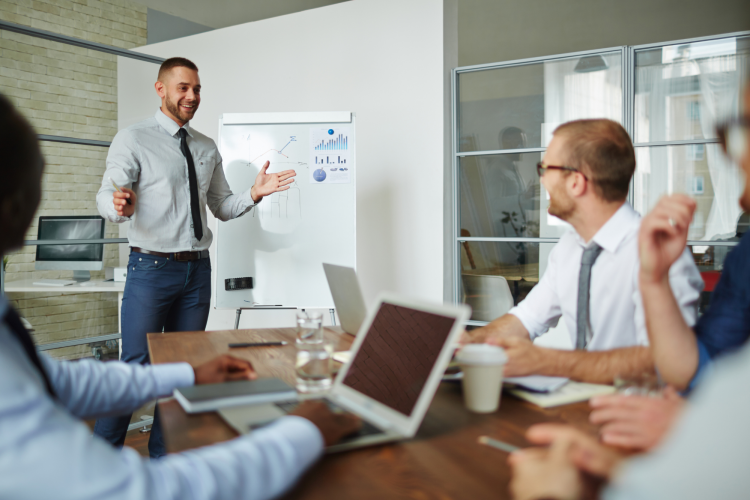 8. The Desktop Sales Pitch
Another spin on pitching games, have each employee select an item off their desk that they must "pitch" to the rest of the team. Give each person a time allotment — like, two minutes — and instruct them to give it their all trying to sell their pen, stapler, sticky notes or coffee mug to the rest of the group.Pitch exercises are fun team building activities for groups that work in sales or marketing and keep everyone thinking outside of the box. At the end of the game, the group can collectively decide who made the best pitch by voting on what desktop item they'd be most likely to "buy."
Team Building Goes Gourmet
Connect with your team through world-class cooking classes, mixology classes, food tours and more.
9. Play Scenes With a Prop
A fun improv exercise, scenes with a prop is one of the best team building activities to get everyone laughing. The premise is simple: You'll fill a box with random items from around the office. It could be gadgets, toys, decorations, fake mustaches — anything that will fit.
The team breaks off into groups, and each one takes a turn randomly pulling an item out of the box. They then have to perform an improv skit for the rest of the team using that item as a prop. This fun team bonding game gives everyone a chance to think on their feet and be creative, which is good practice for future work assignments.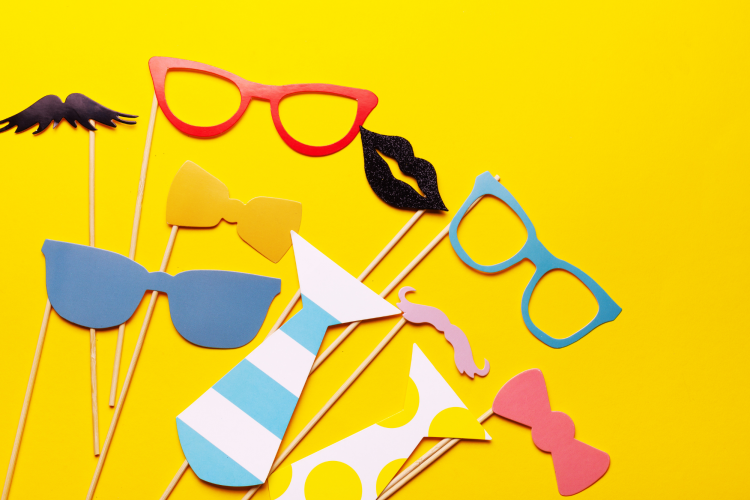 10. Start a New Team Tradition
Not all team building activities have to involve a specific game or event. Sometimes, what really brings coworkers together is a special tradition they can all do as a team. On a weekly or monthly basis, plan on something fun that staff members can look forward to and get to know each other during. This could be an ice cream social or happy hour, a recipe exchange, a book or film review club, or any number of engaging and entertaining activities that bring a little lightheartedness into the office.
5-Minute Team Building Activities
If you're short on time, these easy 5-minute team building activities give your group a dose of team bonding without having to dedicate an entire afternoon. Plus, these quick team building activities can be a great way to break up a routine work day.
11. Take Flight in a Paper Airplane Contest
Break out a few sheets of printer paper for one of the quickest team building activities on this list: A paper airplane contest! Your team will have a ball folding up their paper to compete at who can throw their plane the farthest. Bonus points if they hit a target.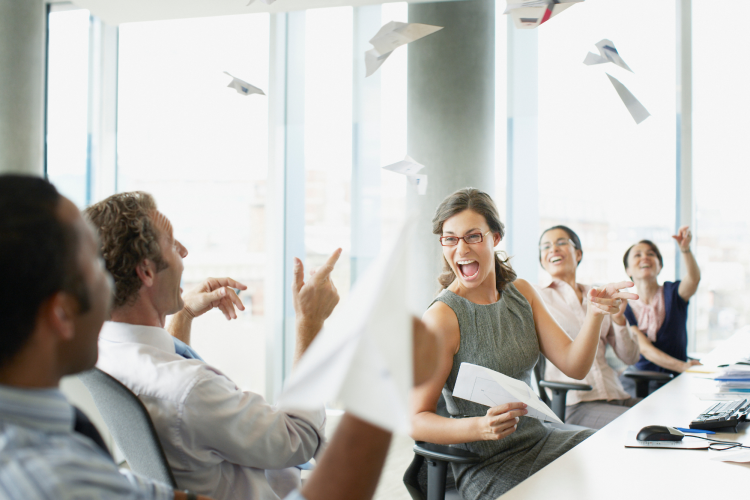 12. Host an Old Fashioned Show and Tell
Show and tell isn't just for high school. If you're looking for easy, free and unique team building activities that uphold a tinge of nostalgia, ask everyone to bring in something from home that represents a favorite hobby, achievement, creative endeavor or personal attachment. Everyone can spend less than five minutes showing their item off to the rest of the team and sharing a short story about why it's so special to them. Show and tell is one of the best group activities to help colleagues learn a little bit more about each other, which will strengthen their bond and build closer friendships.
Book a Team Building Experience Now
Connect with your team through world-class cooking classes, mixology classes, food tours and more.
13. Keep It Up
Bring more nostalgic fun to team building activities with Keep It Up! This fun game to play with a group only requires blown-up balloons. Stand in a big circle and take turns tapping the balloon, volleyball-style, up into the air around the circle. The object is not to let it touch the ground. Your team will have to work on coordination skills and quick-thinking in this classic game.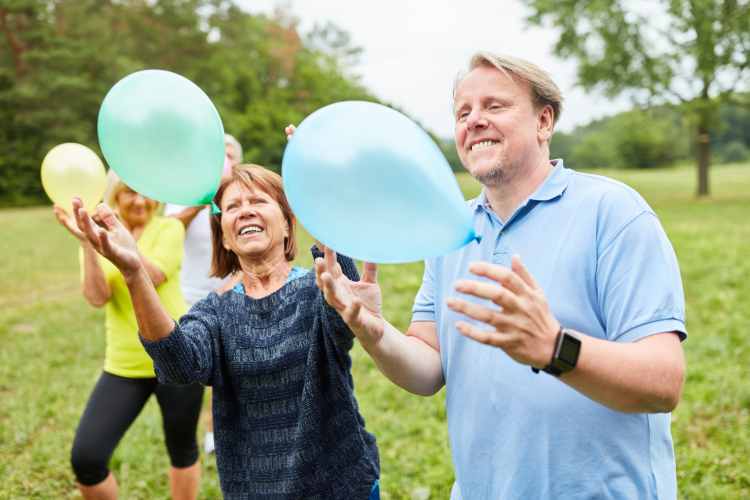 14. Share Your Bucket List
If you're looking for 5-minute team building activities to add to your list of staff meeting ideas, your team can go around the room and each share a few items off of their bucket list. They'll get the opportunity to learn new things about each other while also getting to learn what goals and aspirations they have in common.
15. Fool Your Colleagues in Two Truths and a Lie
Two truths and a lie is one of the best group games and always has a deserved place on any list of great team building activities. The premise is simple: Everyone takes a turn sharing three facts about themselves to the group, one of which being a lie. It's up to the team to figure out which facts about each other are fibs, and which are facts.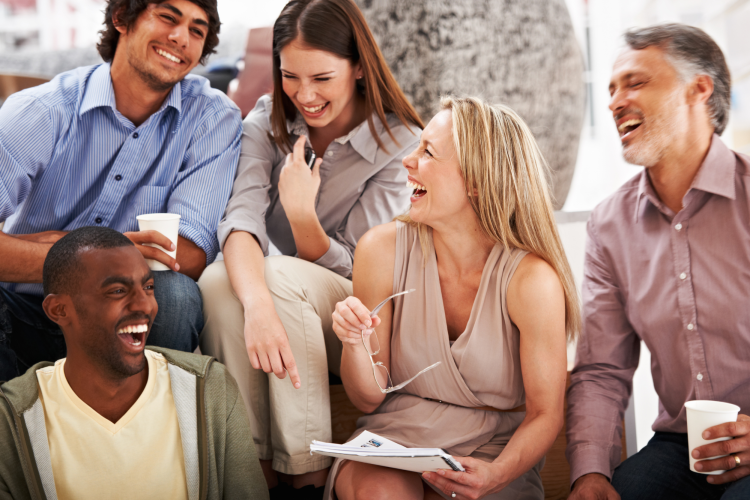 16. Rapid-Fire Word Association
Another great staff meeting idea, a quick game of word association only takes five minutes and gets everyone thinking on their feet. Put a phrase up on the whiteboard and have everyone go around in a circle stating the very first word that comes to mind. Team building activities like word association can be particularly useful communication games for marketing or advertising firms that depend on quick thinking.
Team Bonding Games
Getting together with your colleagues should always be a fun time, and these team bonding games accomplish just that! Whether you want to hit the town together or host a fun game event at the office, there are plenty of engaging team building activities and best group games that bring out some friendly competition.
17. Find Your Strategy in a Board Game Tournament
Tabletop games are great team building activities for large groups as well as small. There's a lot of strategy involved, which means there will be a lot of discussion and collaboration on each team.
It's easy to set up a board game tournament in the office, but if you think your team needs a change of scenery, contact a local comic book shop and host your game event there. For a large team, try setting up stations with different games, and encourage team members to circulate between them.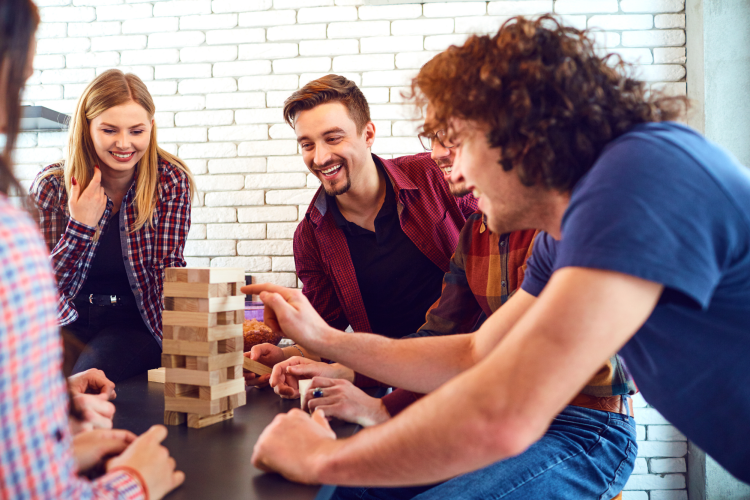 Find Team Building Activities Near You
Connect with your team through world-class cooking classes, mixology classes, food tours and more.
18. Take Your Best Guess in Catch Phrase
The classic party game Catch Phrase is also a hit for fun team building activities. In Catch Phrase, you and a partner take turns describing a person, place, phrase or thing without naming the actual thing itself, all before the timer runs out. You'll have to rely on fast thinking and clear communication to win this game, which makes it a perfect option for teams looking to brush up on either skill.
19. Play Ice Breaker Bingo
Ice breaker bingo is a fun ice breaker game to help colleagues get to know each other better. Before the game, send out a questionnaire for everyone on the team to fill out, asking questions such as "How many pets do you have?" or "What is your favorite hobby?" Using the answers, you can create custom bingo boards pre-filled out with random responses from the group.
Each team member gets a bingo board and a pen, then must mingle with colleagues and ask questions, checking off each answer on the board when they encounter the right person. This is one of the best team building activities for helping colleagues learn more about each other. The first person to score bingo wins!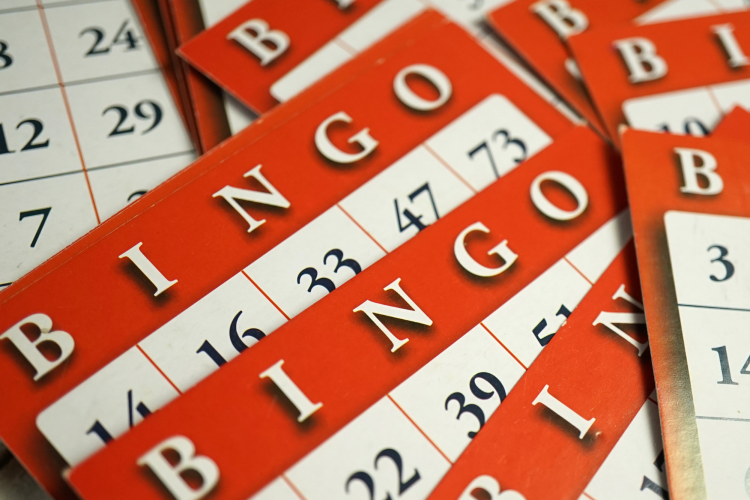 20. Concentration
Remember playing Concentration as a kid? You'd lay out a bunch of cards face down, then flip over two at a time hoping to get a matching pair. If you didn't flip a matching set, you'd have to turn them back to face down, and try again. The trick, of course, is remembering where various cards are as you keep trying to find a match. Concentration can be adapted to one of the most fun team building activities for work. You could even print custom cards that feature pictures or phrases specific to your company. Teams can pair off into duos and play a few rounds, helping encourage each other and trying to jog each other's memories as they flip.
21. Egg Drop Challenge
The egg drop challenge is perhaps one of the most classic and fun team building activities that really gets everyone putting their heads together. The challenge is to build a container that will protect an egg from shattering in a high fall.
Divide your team up into groups of three or four, and provide an assortment of various construction materials — cardboard boxes, tape, popsicle sticks, cotton balls, rubber bands, etc. Within a certain time limit, they'll have to work together to build a protective contraption that will help their egg survive being dropped from a set height.
The egg drop challenge is one of the best group activities for getting team members engaged, thinking creatively and bouncing ideas off of each other.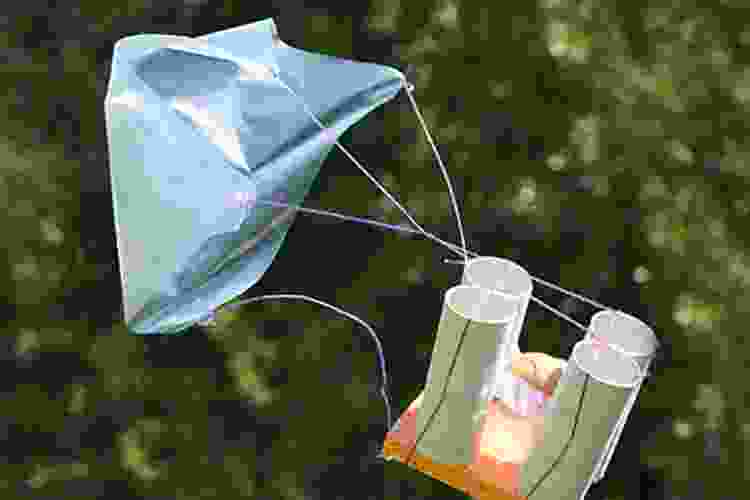 Book an Online Team Building Event
Bond with your team in top-rated online cooking classes, mixology classes, wine tastings and more.
22. Test Your Smarts at Trivia
Every individual in a team brings a different set of knowledge, which is an asset in both the workplace and during trivia night. Trivia is one of the most classic team building activities for good reason; it gets everyone engaged and competitive while also ensuring everyone has a blast. Break off into smaller teams to have your office mates face-off against each other at a trivia night you host in your office (just don't forget to come up with killer questions beforehand). Or, get the whole office to join together as one cohesive unit and head to a nearby bar or restaurant trivia night to compete against their regulars. Trivia is also easily adaptable as a fun online game for remote teams.
23. Mini Obstacle Course
For one of the more unique team building activities, set up a mini obstacle course in a designated conference room or community space. Tape off a large rectangular outline on the floor, and toss a few random objects inside the taped off boundaries (squeaky toys, water bottles, stuffed animals, etc). Each team member will take a turn donning a blindfold and walking from one side of the rectangle to the other, without stepping on any of the items in the way. They'll have to rely on instruction from their colleagues to guide them step by step to the other side of the course.This is a great team bonding idea that depends on clear communication and direction in order to work.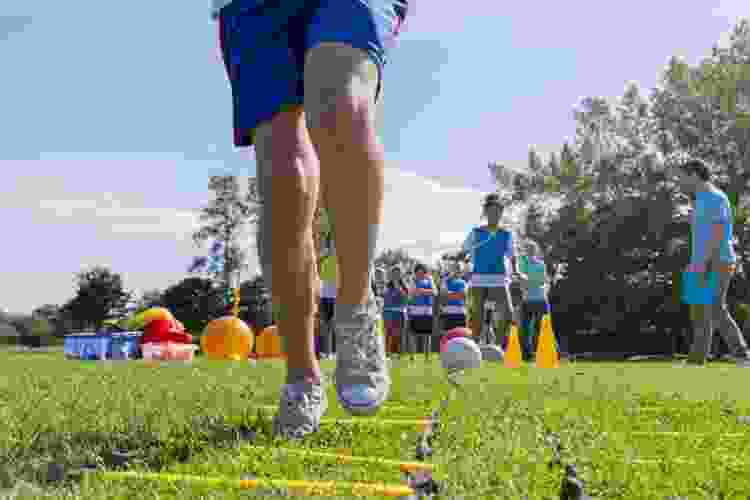 Adventurous Team Building Activities
If your team has a strong sense of adventure, then treat them to an afternoon on the town for some playful team building exercises that offer a nice break from the daily office routine. Many of these are also fantastic team building activities for large groups.
24. Have a Laugh With LARP
If you have an adventurous team, or you're looking for team building activities that involve small group games, a live-action role play (or LARP) event will allow you to dress up as wizards and orcs to complete video-game-like quests in real life. Split into smaller groups and see which team can fulfill their quest first.
Team Building Goes Gourmet
Connect with your team through world-class cooking classes, mixology classes, food tours and more.
25. Race Against the Clock in an Escape Room
In an escape room like The Escape Game, everyone has to work together to find clues, solve puzzles and escape before time runs out. These team building activities naturally encourage collaboration as everyone runs frantically around the room, trying to connect their clues.
Plus, rooms are generally organized around a theme — an ancient Egyptian tomb, a bank heist or a spaceship that's hurtling towards earth — so your team can do multiple rooms on multiple team-building occasions and get a different experience every time.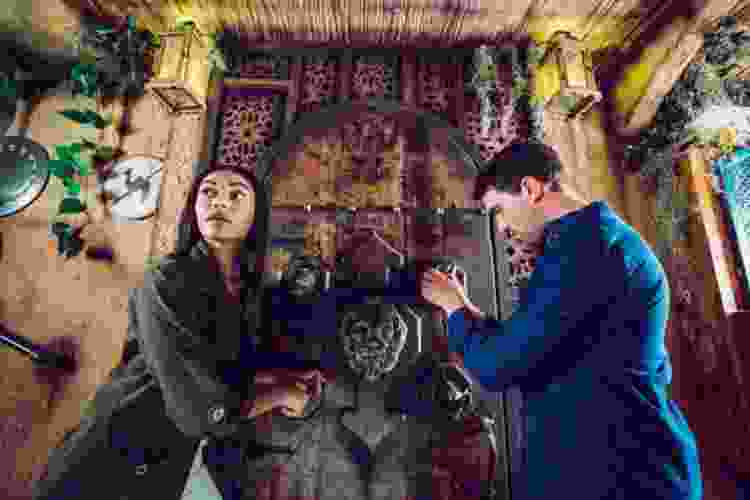 Book a Team Building Experience Now
Connect with your team through world-class cooking classes, mixology classes, food tours and more.
26. Put on Your Game Face at a Barcade
Barcades bring you cocktails while you bring the pain in a video game showdown. If you have a large team, make reservations ahead of time with your local arcade bar and see if you can arrange a set number of drinks and video game tokens per person. If you prefer team building activities you can do at the office, you can also DIY your own arcade night in-house by hooking up game consoles with the TVs in a conference room.
27. Search High and Low on a Scavenger Hunt
If your office is on a large campus, scavenger hunts are perfect team building activities. You can host a scavenger hunt on company grounds to help your coworkers get to know parts of the campus they may not have seen before. Or, you can extend your scavenger hunt all around your city and see who knows the area best.
Each group will spend hours working together as they hunt down the next clue. Have the teams take pictures when they find an item on the list (with both the item and their smiling faces, of course), and have a prize planned for the winners.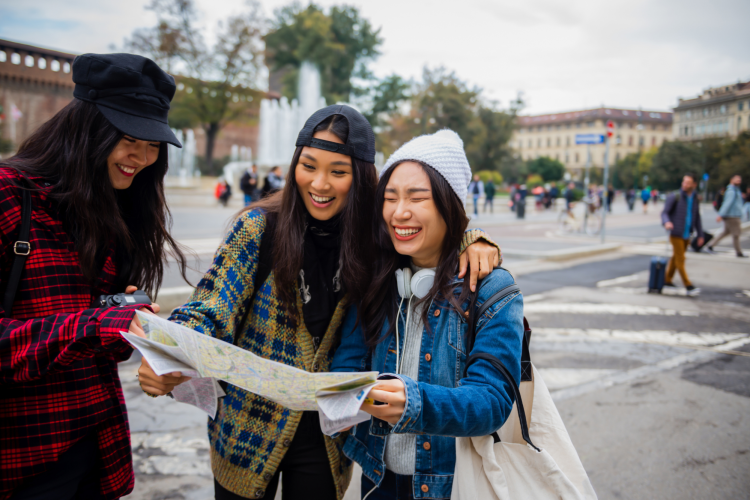 28. Play Laser Tag
For team building activities that speak to everyone's inner child, you can't go wrong with a day of laser tag. In addition to having a blast, your colleagues will get to sharpen their problem solving, collaboration, team trust and adaptability skills as they compete in the arena.
29. Murder Mystery Dinner Party
Give your staff the time of their lives with one of the most unique and exciting team building activities on the list — a murder mystery dinner!
These immersive dinner-party-meets-whodunnit events, like those hosted by The Dinner Detective, are both hilarious and engaging. They'll have your team putting together clues, brainstorming and sitting on the edge of their seats as they try to collectively solve the mystery. And who knows? One of them may even be the culprit!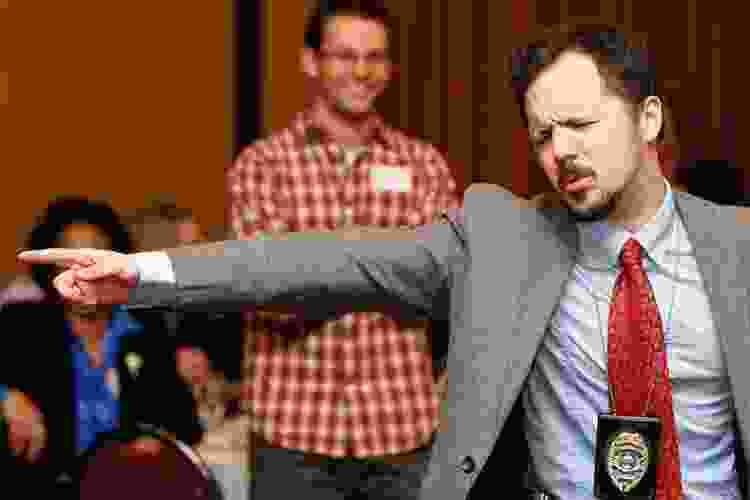 Team Building Goes Gourmet
Connect with your team through world-class cooking classes, mixology classes, food tours and more.
30. Hit the Bowling Alley
The perfect solution if you're looking for small group games to do as a team, an afternoon at the local bowling alley is hard to beat. Rent out a lane (or a few) and provide plenty of pizza and soda for the group to indulge in. Not all team building activities have to be formal work events. In fact, a day knocking down some pins is a great way for colleagues to bond and form stronger relationships while they kick back and take a well-deserved break.
31. A Day at the Amusement Park
What better environment for colleagues to bond in than one with thrill rides, cotton candy and full permission to act like a kid? Amusement parks can be fantastic destinations for team building activities that get everyone out of the office and reinvigorated after a day of fun.
Up the ante by incorporating a scavenger hunt or asking your staff to rate their favorite and least favorite ride and present their case to the rest of the group. (If you have any staff members that aren't into thrills, have them rate their favorite and least favorite amusement park treat instead).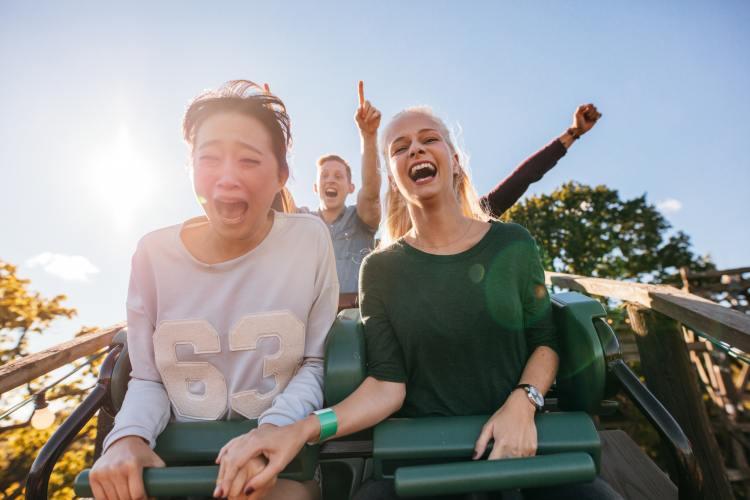 32. Smash It up in a Rage Room
For a bonding experience unlike any other, treat your team to a day at a rage room. Don protective gear and your preferred tool of destruction (crowbar, anyone?) and set to work smashing donated knick-knacks, furniture and electronic equipment. Rage rooms are a uniquely effective blend of fun and cathartic, the perfect way to let off steam, making them a team building activity your group will beg to revisit.
Creative Team Building Exercises
These creative team building activities are a natural fit for a team of marketers and creative directors, but they work just as well for a team of engineers. It will allow everyone to engage a different part of their brain and encourage creative thinking.
33. Get Colorful at a Painting Party
There are lots of local studios offering team building activities with painting and pinot noir. You'll choose what you want to paint from their catalog, and one of the studio's instructors will show your team how to recreate the masterpiece themselves.
The studio generally supplies paint, canvases and wine. Most are also happy to host private parties, so you may be able to arrange your event during work hours.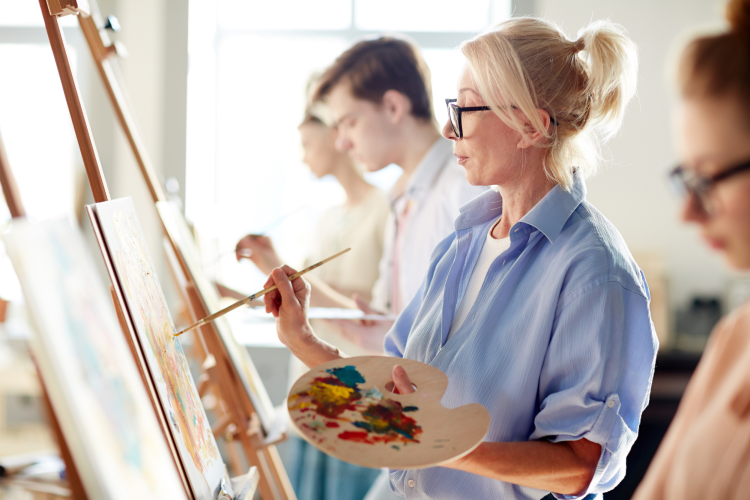 34. Think Outside the Blocks With LEGOs
Incorporating LEGOs into your team building activities is a great way to get the creative juices flowing. Divide into smaller teams, break out the building blocks and have everyone create a LEGO sculpture that would put the Empire State Building to shame. You can center the challenge around a theme (like planes, trains and automobiles) or set specific parameters, like it must be at least three feet high or it must contain at least one moving part. Set a timer and watch your team go to work.
Find Team Building Activities Near You
Connect with your team through world-class cooking classes, mixology classes, food tours and more.
35. Show Off Your Moves in a Flash Mob
Bring a little active flare to your team building activities with a flash mob! The more the merrier, making this a great idea for big group games or events. Teach your team to move in-sync at a dance class. Have the whole team learn a single routine start to finish, then bring joy to the rest of the company by breaking out into dance in the lunchroom.
Or, have the whole company participate in the dance, and make it a surprise part of a company-sponsored event.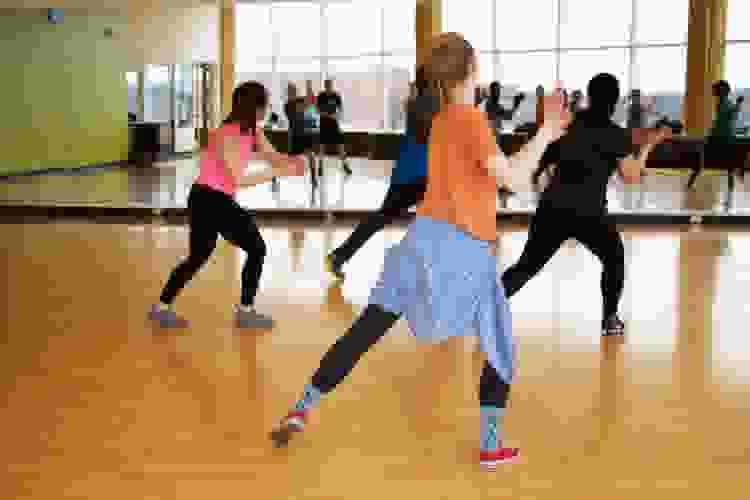 36. Say "Yes, and" at an Improv Class
The key to improv is listening to what others say and never saying "no" to your teammate's ideas (doesn't that sound like an attitude every office could use more of?). Improv class team building activities will teach your staff to build on their colleagues' ideas instead of resisting them, and will help the team think on their feet and pivot when something unexpected comes up.
37. Get in the Swing of Things With Circus Arts
Let your colleagues throw their hat in the ring with a circus arts class. They can learn the flying trapeze, aerial skills or tightrope walking (all with plenty of safety equipment) for some unforgettable team building activities.
With a trapeze class, each individual can practice being a flyer and a catcher. As outlined in the LA Times, it's an activity that takes trust falls to the extreme, but in this version, the safety net will make it fun to fall. Plus, team members can get back up and try again, encouraging steadfast determination while building trust and working toward successful partnerships.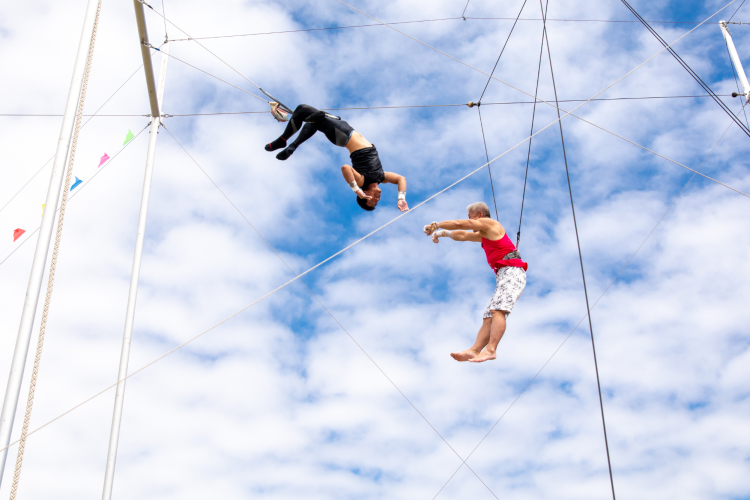 38. Turn Trash to Très Chic for a Fashion Show
Every year high schoolers from across the country try to create the best prom outfits out of duct tape. Bachelorette parties everywhere make wedding gowns out of toilet paper. And even trash bags have gone haute couture. Why not steal this idea for some fun small group activities?Have your coworkers break out into smaller groups. Each team should have one person to model and at least two people to serve as designers. Give the teams a set amount of time to create their fashion statement, then host an office fashion show.
Team Building Goes Gourmet
Connect with your team through world-class cooking classes, mixology classes, food tours and more.
39. Belt It Out at Karaoke
Hitting the town for a night of karaoke is one of the best team building activities for creating a spirit of camaraderie because everyone will show up to cheer each other on. It allows people to let their guard down, let their silly side out and let their coworkers see them in a new light.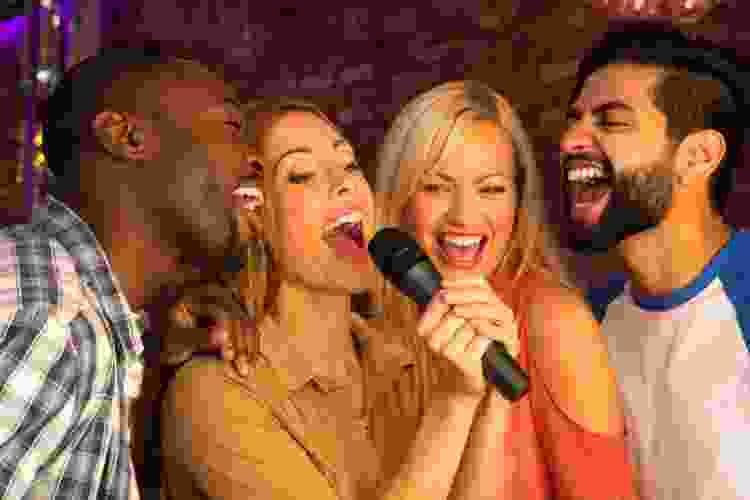 Community Service Team Building Activities
Charitable team building activities help promote your company's image in the community, but it also helps build your employees' self-image and estimation of their colleagues. Helping others leaves people feeling happier, more positive and more grateful. It also promotes helpfulness as one of your company's cultural values and reminds employees to bring that attitude back to the office.
40. Pave the Way for the Next Generation
Your team members all have something to teach, and you can utilize this in planning your future team building activities. For example, you can work with a local boys and girls club or group home to set up workshops. Working together as a team, you staff can introduce the kids to coding, brand storytelling or negotiations. You can host workshops simultaneously or hold them one after another so your team can watch and support their colleagues. The kids will learn new life skills and be introduced to potential career paths, and your staff will learn what different departments do all day.
41. Tell Litter to Take a Hike
Hosting a beach clean up, adopting a highway or picking up trash at a local park or nature preserve are all fantastic team building activities that give back to the community. These team bonding ideas will get the whole group outside, provide some light exercise and lend a hand to mother nature all at the same time.
You could incorporate some leadership games by having each department head or manager guide their own team on a cleanup mission. See who can pick up the most trash at the end of the outing!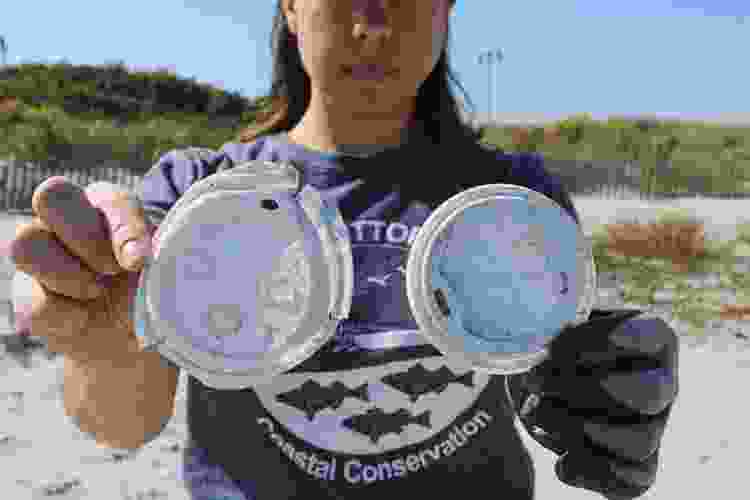 42. Build Bikes for Charity
A charity bike build, like Together We Rise, is a special way to give back to kids in need within your community. These team building exercises will give your colleagues a sense of higher purpose as they work together to create something for a good cause. It's a win-win situation that benefits both those doing the charity as well as those who receive the end product. It's sure to put a smile on your teams' faces knowing they made a difference in a child's life.
Find Team Building Activities Near You
Connect with your team through world-class cooking classes, mixology classes, food tours and more.
43. Train Dogs (and Your Team) at an Animal Shelter
Work with an animal trainer, meet at the local shelter and have each of your team members pair up with a specific dog for the day. The trainer will show your team how to work with the dogs, and each of you will teach your assigned pup good manners and get them ready for their forever home.
Working with pets can reduce stress, and training promotes patience, understanding and flexibility. If you have a lot of pet parents in the office, any team building activities that include animals are sure to be a hit.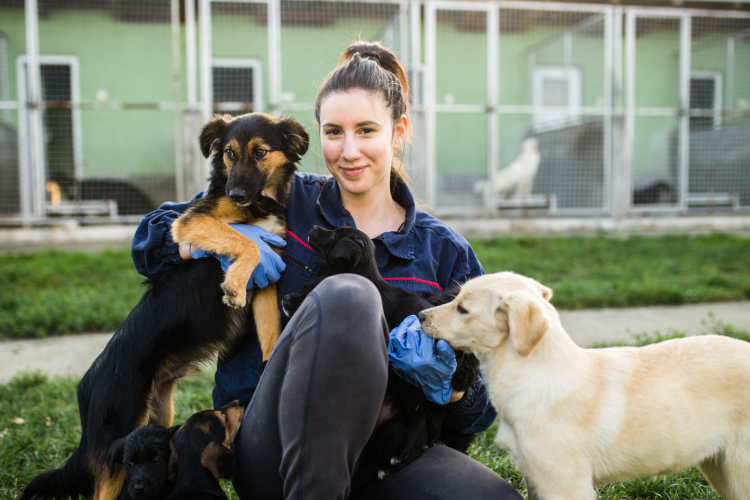 Make Team Building an Experience, Not an Assignment
The best team building activities for adults don't feel like work. Consider your company's culture and let that guide you toward the right activity for your team. You can choose from crowd-pleasers like wine tasting and cooking classes near you, or niche activities like circus arts and live-action roleplay.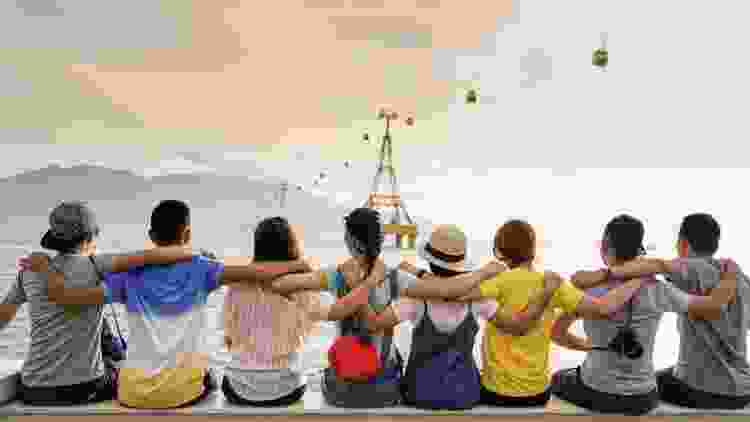 If your team is weak in a particular area, look for an activity that will help build the skills they lack without feeling like a lecture. If your team isn't good at listening to each other, try an improv class. If they don't strategize well, break out the tabletop games. If they just aren't treating each other with enough patience and compassion, volunteer as dog trainers. And if you've got some brand new faces in the office, try some ice breaker questions to kick off the introductions.
Let your team be your guide. Their needs will lead you to the most effective activities for your company.
FAQs
What are good team building activities?
Good team building activities for work are engaging, inclusive and accessible for everyone. There are many options to choose from that support groups of all sizes and abilities.
Work games are always a great go-to for fun team bonding ideas that everyone can participate in, but they aren't your only option. You could also plan a group outing to something unique like a cooking class or karaoke bar, or even plan something that gives back to the community like a charity drive or volunteering.
Book an Online Team Building Event
Bond with your team in top-rated online cooking classes, mixology classes, wine tastings and more.
How do you build teamwork at work?
There are several great ways to build teamwork at work. Participating in team building exercises and group activities is one of the easiest ways to encourage colleagues to bond, collaborate and exercise their teamwork skills. This could be through some fun team games, outings or events that everyone can do together.
It's also important to actively encourage communication and make sure all team members know their goals both individually and as a group. With clear direction and an established sense of trust, you'll be both setting your staff up for success while also building teamwork.
What are some fun activities to do at work?
Looking to shake up the usual team building activity ideas with something outside of the box? Some unique team building activities include playing fun cooking games in a hands-on cooking class, trying to beat the clock and solve an escape room, hitting the streets on a scavenger hunt or singing your hearts out at karaoke. You could also take inspiration from this list of team building games your whole team is sure to love.
How do you create a team bond?
Team bonding activities and team bonding games are a great way to encourage colleagues to build stronger interpersonal connections while also helping them become more organized and effective employees. When colleagues build strong rapport with each other, they are more likely to effectively problem solve, cooperate and invest a personal interest in doing their job well.
To better help create a team bond, you should work to foster an atmosphere that is welcoming, inclusive and supportive.
What are the roles of an effective team?
An effective team communicates openly and respectfully, resolves conflict with grace and maturity, works toward both individual goals and a common goal, and strives to gain results. They hold each other accountable while also lifting each other up toward success.
How do you lead a team?
The best way to lead a team is with honest communication and clear direction. Make your expectations known, but also know what to expect from your team and ensure that they have the tools they need to succeed.
You should be decisive, able to delegate tasks and stay informed on your various team members' strengths and weaknesses. Managers should also strive to lead by example; show, don't tell, your team what success in the workplace looks like. And finally, be sure to offer plenty of reward and recognition for a job well done.
What are the most important roles of a team leader?
One of the most important roles of a team leader is to provide a clear, attainable and actionable vision for what the goals and expectations are within the department. Leaders should encourage working together as a team with an emphasis on inclusivity, creativity and collaboration.

Join 200,000+ Culinary Enthusiasts
Exclusive deals, recipes, cookbooks, and our best tips for home cooks — free and straight to your inbox. PLUS: 500 Rewards Points.
Planning some fun office team building activities can be a great tool for anyone in a leadership role to boost the morale and performance of everyone on the team.
More Team Building in Cities Near You
Check out more exciting team building activities in cities near you.