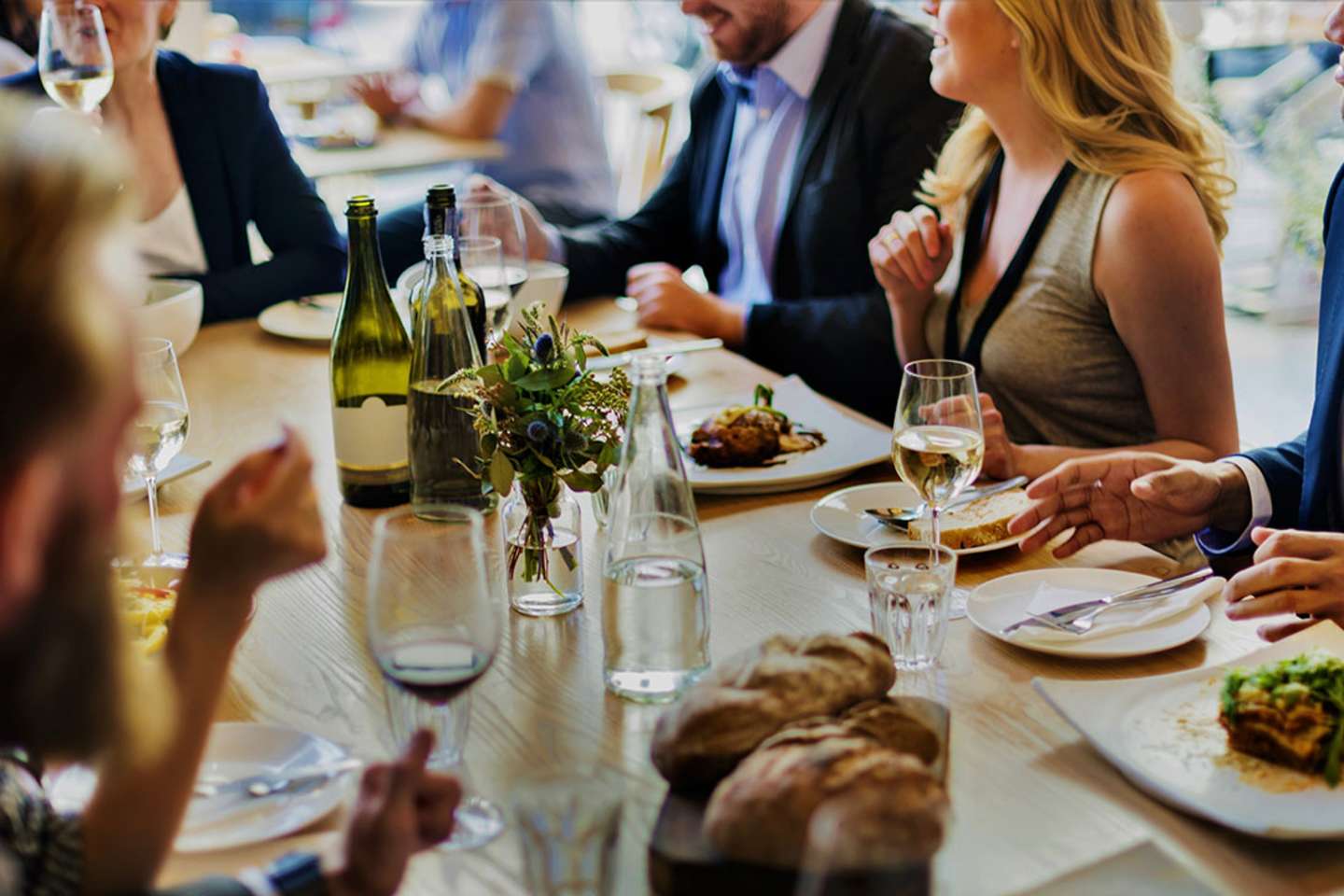 Team Building by Cozymeal
Connect people. Build relationships. Make memories.
---
---
More about Cozymeal team building events
---
What is Cozymeal?
We are your premier destination for team building cooking classes and catering events with professional chefs and proud to be trusted by some of the top companies and organizations in the nation as well as local small and medium-sized companies.

We work with groups of almost any size, and have a variety of experiences suitable for couples, groups of 3-20 people, 20-80 people, and even 80+ people.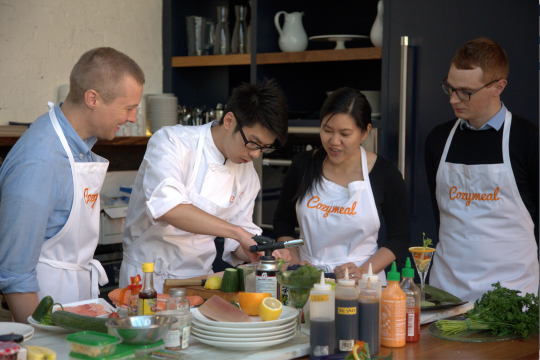 " This was a great service. My startup booked a class as a team-building exercise, and it was a ton of fun! We learned french cuisine - and it was a complete success."
Max S. on Yelp , San Fernando Valley
What is the booking process like?
Booking an interactive team building event is simple:
1. Browse our wide selection of team building cooking classes & catering.
2. Select your favorite experience and your preferred date.
3. Book and enjoy a memorable culinary event with your team.

Prefer to book a customized experience?
You may choose to simply book an event as is, or work directly with our team to craft a tailored experience. Contact our corporate concierge team at 800-369-0157 or email us about customizing your experience to your team.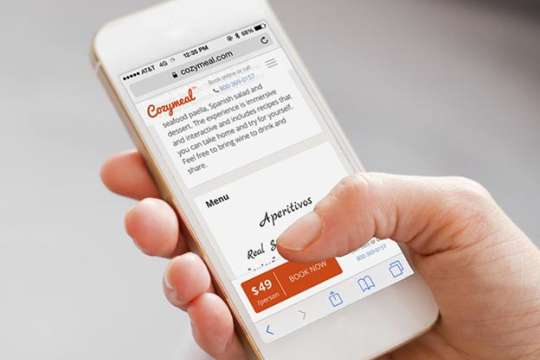 "Cozymeal was really easy to work with for my team outing. The cooking experience itself was great - we had Chef Douglas teach our team how to make Spanish tapas and paella. He was a delight to work with and the food was delicious!"
Cori S. on Yelp , San Francisco
Why team building with Cozymeal?
Teach teamwork through cooking
According to experts, there are four aspects of good team building, and each is a natural facet of a Cozymeal experience:

• Challenging goal: Crafting a gourmet meal. Our professional chefs will teach your team how to do it in just two hours. Then you all sit down to eat.

• Building effective working relationships: Success in the kitchen means sharing updates, insights, and challenges in real time, just like in the office.

• Role clarification: The hallmark of a successful kitchen is a team of chefs working seamlessly together, just like the office.

• Problem solving: Cooking requires group decisions to overcome setbacks along the way to a delicious finish.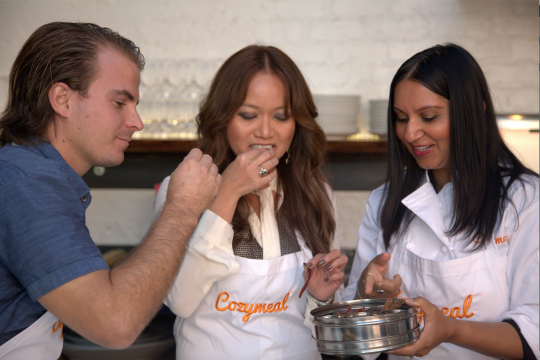 "Our software-engineering team cooked lunch, under Chef Joni's guidance. It was a great team-building experience. Despite the fact that none of us were particularly great cooks, we managed to create a fantastic restaurant-quality meal together."
Tim B. on Yelp , San Jose
Who are our clients?
Companies of all sizes ask us to create meaningful and delicious team building events for them, and we feel honored to be their first choice. We are proud to have among our customers: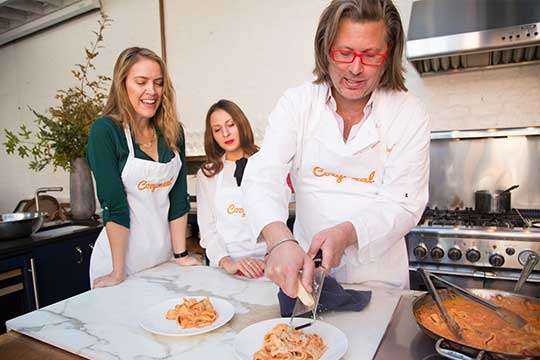 "This was a great service. My startup booked a class as a team-building exercise, and it was a ton of fun! We learned french cuisine - and it was a complete success. I want to get a group of friends together to take a class and maybe bring a few bottles of wine! A+"
Max S. on Yelp , Pacific Palisades
---
How it works
---
---
About us
---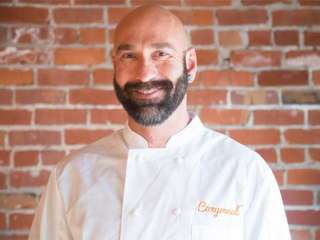 Certified
Cozymeal chefs and caterers are vetted in person to ensure our standards are met - including requirements for local or national food safety certifications.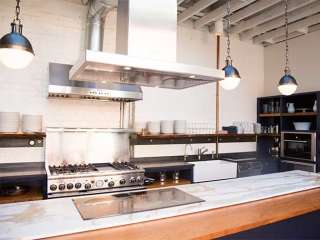 Unique
Experiences are hosted at the chef's place or your place. Choose the chef's pre-approved location, which may be a small cafe, event space or the chef's private home. Alternatively, have the chef come to you by selecting "My Place" when booking.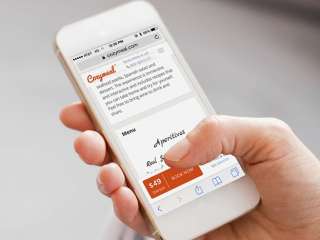 Simple
Book online or contact us by email or phone 800-369-0157. We'll take care of everything.
---
Insurance
All Cozymeal experiences are insured.
Payment Protection
The Cozymeal Escrow System® keeps your payments in escrow until after the event so you can book with confidence.
---
Press
---





---