43 Fun Virtual Event Ideas for Your Next Online Party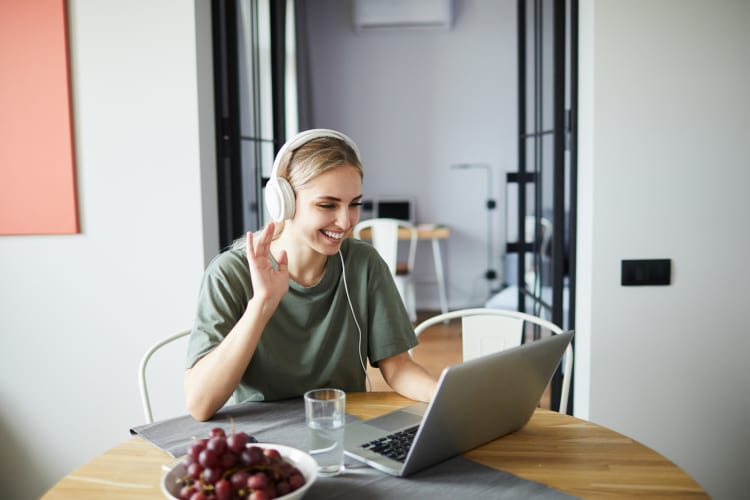 Are you looking for fun virtual event ideas? Maybe you have a geographically scattered family or friend group, or perhaps you lead a fully remote work team.
Mayo Clinic notes that socialization is important for mental health and well-being, as well as breaking up the monotony of long-distance friendships or working from home long term. It's also a great way to help boost morale in team settings.
So, how do you keep your crew entertained over the internet? Whether you're having a family reunion, a virtual dinner party with friends or a team building event with remote coworkers, we've gathered 43 fun virtual event ideas to get the party started (and keep it going).
Jump to Section
Virtual Events for Foodies
1. Online Cooking Classes
Looking for fun virtual event ideas to entertain your guests? Online cooking classes do just that. You can take a pasta-making class, discover French baking techniques or jump into New Orleans-inspired cuisine. Choose based on your guest's interests or make it a surprise. Classes are live, interactive and completely online. Not only are they great for friendly gatherings, but they're also fantastic online team building activities or ways to kick off a virtual dinner party.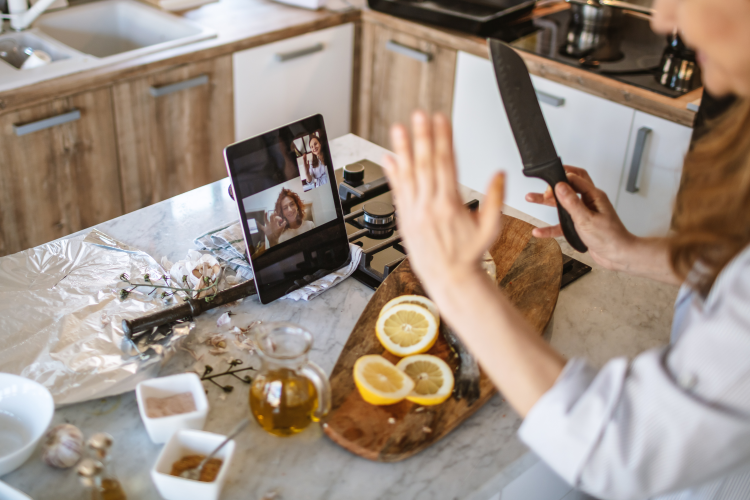 Join a Live Online Cooking Class Today

Your kitchen is now your own culinary classroom. Connect with chefs from around the world right from the comfort of home.

Book Now
2. Online Mixology Classes
Bring out your inner bartender with online mixology classes that teach you how to mix, shake and stir popular and classic cocktails like martinis, Manhattans, mint juleps and whiskey sours. Your five-star mixologist instructor will keep you and your guests entertained with tips, techniques and stories about the history of beverages such as tequila, rum and vodka. This is the perfect way to kick off a virtual social event idea for work.
3. Virtual Wine Tasting
A virtual wine tasting experience is an excellent way to taste and learn about the wines of the world. World-class chefs and sommeliers will help you discover new wine varieties and how to pair them with cheeses, tapas and other delicious cuisines.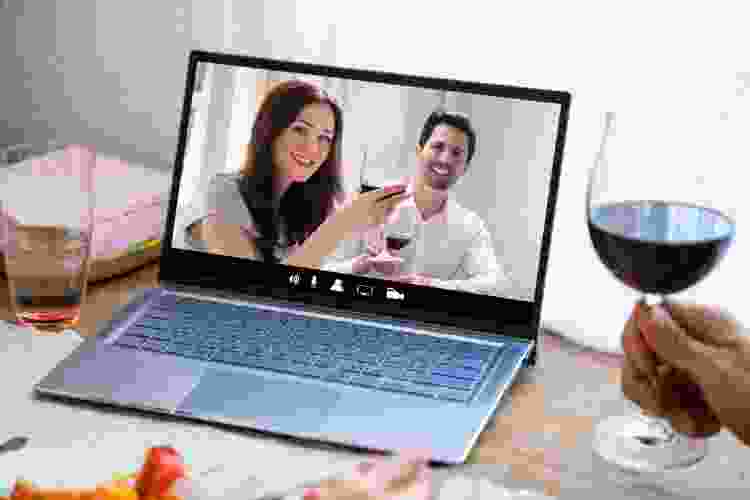 4. Virtual Whiskey Tasting
If you have a lot of whiskey connoisseurs in your crew, they'll love a virtual whiskey tasting experience. These live virtual events are led by noted scotch stewards with years of experience and expertise. They'll eagerly walk your group through the finer points of whiskey, bourbon and scotch tastings, along with cocktail recipes, food pairings and historical facts about their favorite spirit.
5. Online Coffee Classes
For a unique virtual event idea, gather all your coffee-craving friends or colleagues and learn how to brew, roast and mix beans to get the perfect cappuccino, latte, cortado or espresso. Online coffee classes make great virtual team building events to kick off a morning seminar.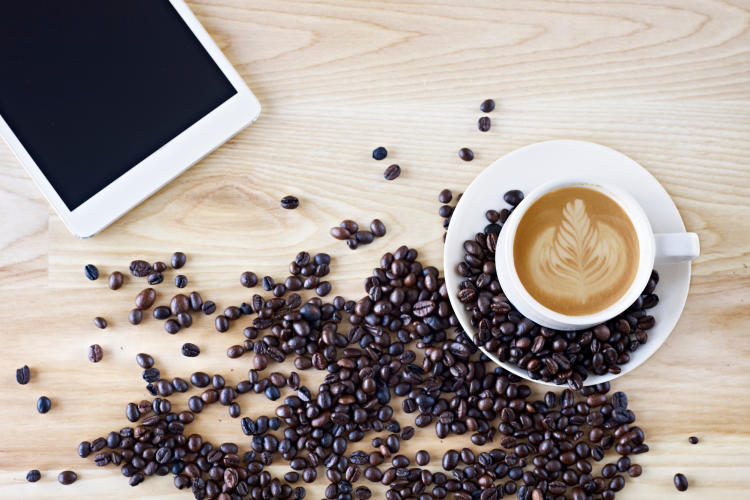 6. Virtual Beer Tasting
Like wine tasting, a beer tasting class is another unique way to learn about how fermentation, carbonation and maturing come together to create beer. With these virtual social event ideas, you'll get the chance to taste different beer varieties such as stouts, lagers, ales and porters.
Book an Online Mixology Class Now
Master the art of mixology from home with live online mixology classes. Embrace your inner craft cocktail connoisseur.
7. Virtual Brunch
Another idea for a morning seminar or even a girls' night or baby shower is a virtual brunch. Coordinate menu ideas ahead of time and plan on having your favorite omelets, eggs Benedict, French toast and maybe a mimosa or two. Feel free to stay in your PJs and fuzzy bunny slippers.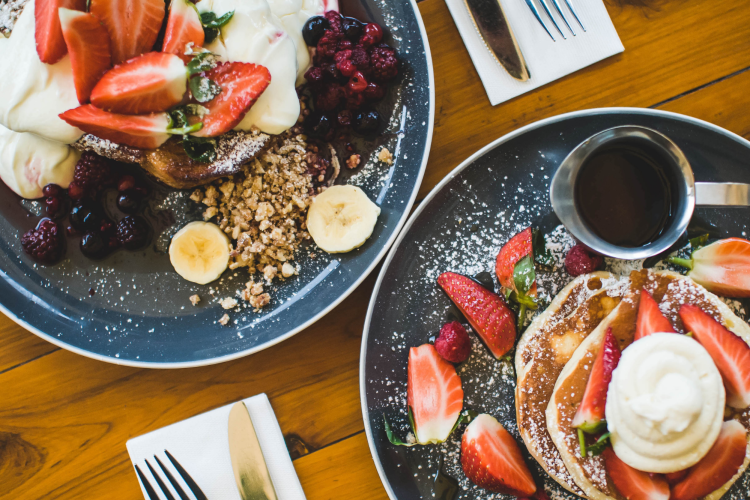 Virtual Event Ideas for Team Building
8. Virtual Scavenger Hunt
Virtual scavenger hunts are a fun virtual team event idea that includes the whole group. Divide your guests into teams and give them a list of items to find. Fill your list with items that guests might have in their homes, such as a mug, a pair of scissors, a red sock or a favorite book. You can even include small activities such as a selfie with a pet, a TikTok dance move or your best handstand.
9. Storytelling
Storytelling makes a unique virtual event idea. Pick a subject or a line from a book and start a story. One person starts with a couple of lines, or as much as they would like, and then the next person continues. This type of virtual social event idea includes everybody and encourages team members to use creativity and quick-thinking tactics.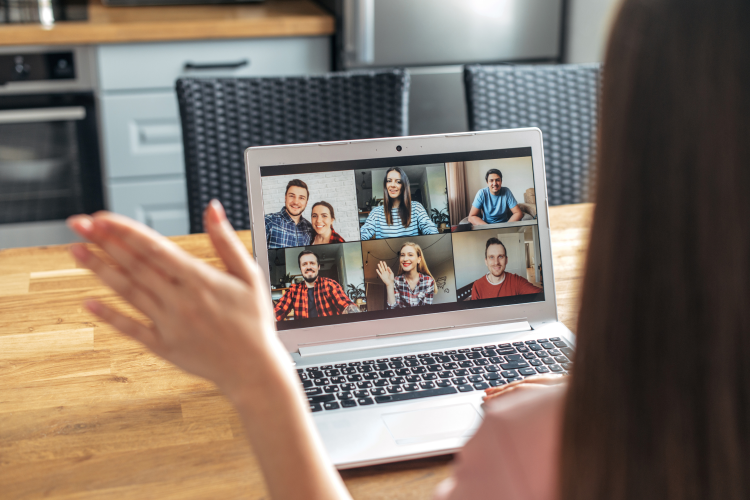 10. Virtual Team Trivia
Trivia is all the rage in living rooms, televisions and bars across the country. Bring trivia to your virtual event idea by hosting a team challenge for your party guests. Book a professional service that takes care of all the details (including hosting the event) or devise your own trivia questions based on pop culture, movies, music or historic events. This is the perfect online game for remote teams.
11. Wellness Event
Hire a wellness expert to teach meditation practices, lead a yoga class or explain the benefits of mindfulness and holistic health. This virtual event idea can help your team de-stress and relax — very important considering that workplace stress was found to be a factor in an estimated 60% of absent days, according to a survey by the American Insititute of Stress. Since stress contributes to burnout, wellness events are undoubtedly one of the best virtual events for companies intent on keeping employees physically and mentally healthy.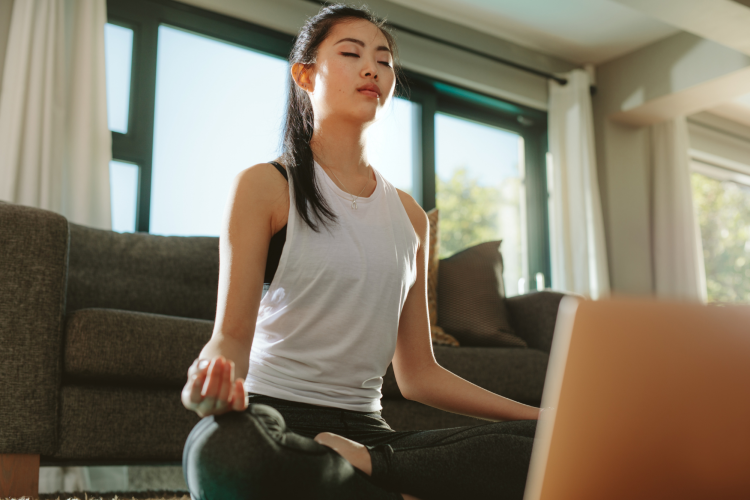 12. Virtual Coffee Break
Give your remote employees or work-from-home friends a break in their day with a virtual coffee break. Everybody can brew their favorite cup of coffee (or tea, if they so choose) and spend an hour catching up, gossiping and enjoying the interaction. These are great virtual corporate social events because they provide the breakroom camaraderie and bonding often absent in remote work.
Book Your Virtual Wine Tasting
Bring the winery home with an unforgettable live virtual wine tasting. Your personal sommelier is standing by.
13. Guess the Desk
Since you can't see your remote coworkers' desks, try a guessing team building game. For this virtual event idea, everybody takes a photo of their desk or workspace ahead of time. One person collects all of the photos and then guests try to guess whose desk it is. The person who guesses the most correctly gets a prize. This is one the most fun corporate event ideas out there because it provides a glimpse into each team member's personality.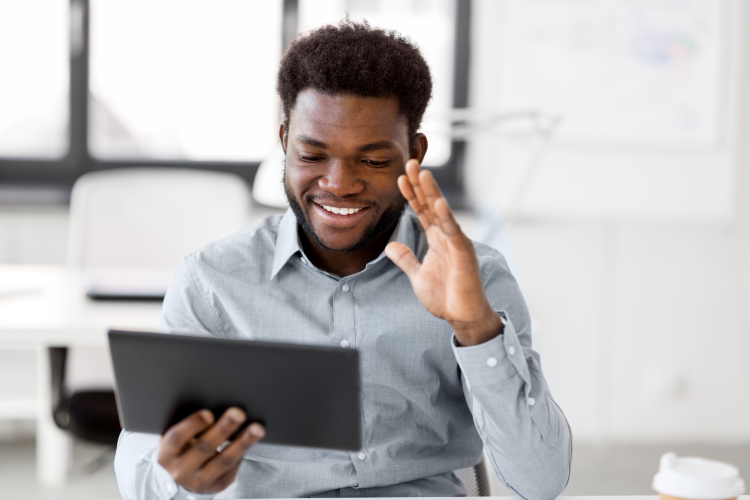 14. Online Leadership or Skills Seminar
Some of the most popular virtual corporate events are educational. Book an industry expert to give a virtual talk at your next team building activity. You can also stream a TED Talk from an influencer in your industry, whether it's tech, business, science or the literary world.
15. Skill-Building Class
Virtual event ideas that focus on skill-building can bring team members together while expanding skills and learning new ones. Consider a class in your industry such as coding, accounting and finance, or pick something creative like photography, writing and drawing.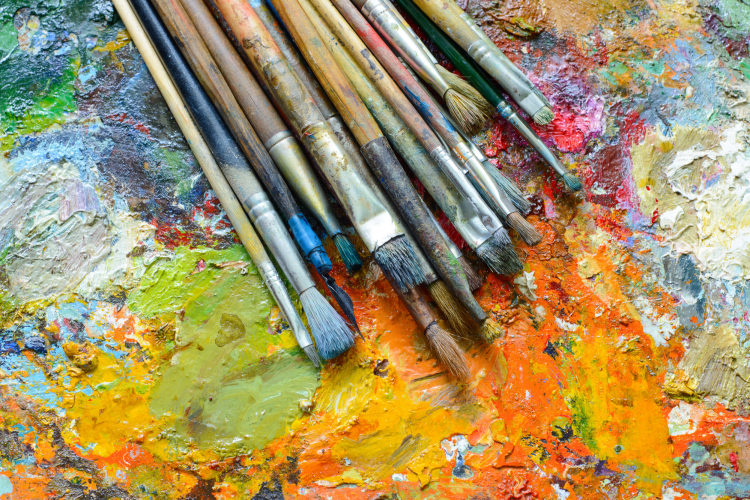 16. Virtual Escape Room
Luckily, it's now possible to add a digital escape room to your list of virtual team building activities. Companies like The Escape Game have found a way to turn your Zoom call into a live-streaming high-stakes escape room for groups both large and small. This is one of the most popular virtual company event ideas that blends creativity, problem-solving and entertainment.
Virtual Social Event Ideas
17. Virtual Dance Party
Invite guests to show off their dance moves by planning a virtual dance party event. Choose a theme or just pull random dance styles out of a hat. Whether it's disco, hip-hop, salsa, tap or ballet, your guests will have fun sharing their moves.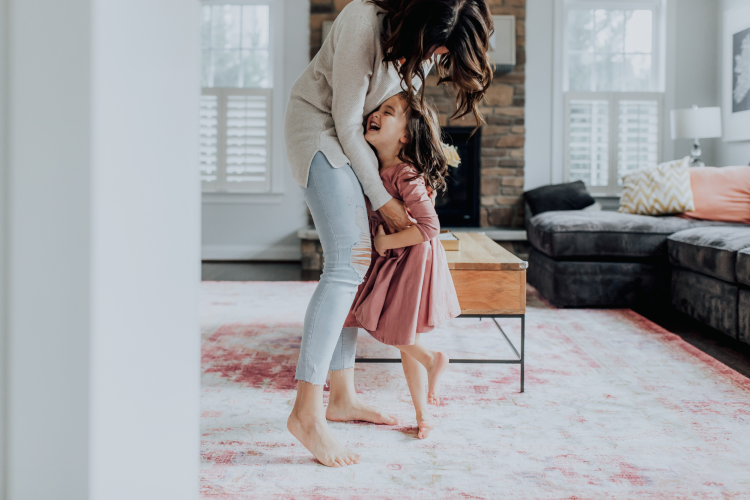 18. Virtual Talent Show
Similar to the dance party, a talent show is a virtual event idea that allows guests to sing, juggle, ride a unicycle or eat 50 hot dogs. Hey, talent is relative. You do you.
19. BINGO
BINGO is popular all over the place and makes a nice low-key virtual event idea. Make up the boards ahead of time so guests can be ready to go. Use a platform like Zoom or Skype to call out your numbers.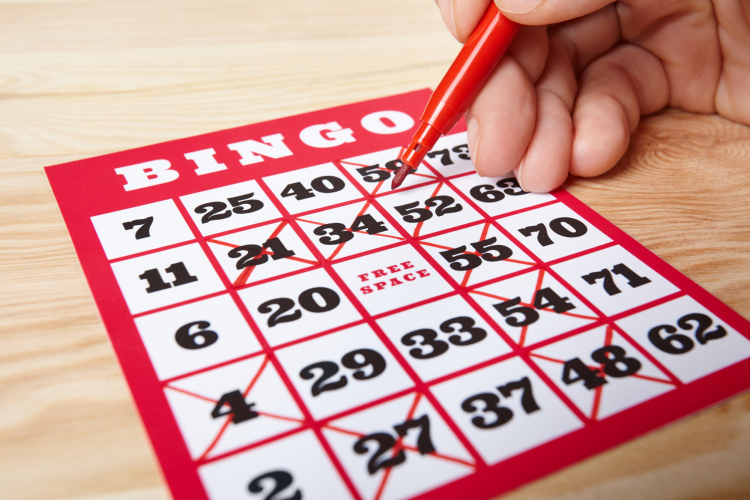 20. Jigsaw Puzzle Time
Focus on a common interest and set up a puzzle event for your next party. Have everyone purchase the same puzzle (or gift it to them), gather some snacks and chat as you piece it together.
Book an Online Cooking Class Today
Five-star chefs. Step-by-step coaching. Flexible menus. Come see what's cooking in a live online cooking class.
21. Guess Who Game
This is a fun virtual event idea for a family reunion or a group of friends who haven't seen each other in a while. Make up questions such as "Who drives a red Volvo?" or "Who once lived in Hawaii?" Guests will have fun learning new things about their friends and relatives.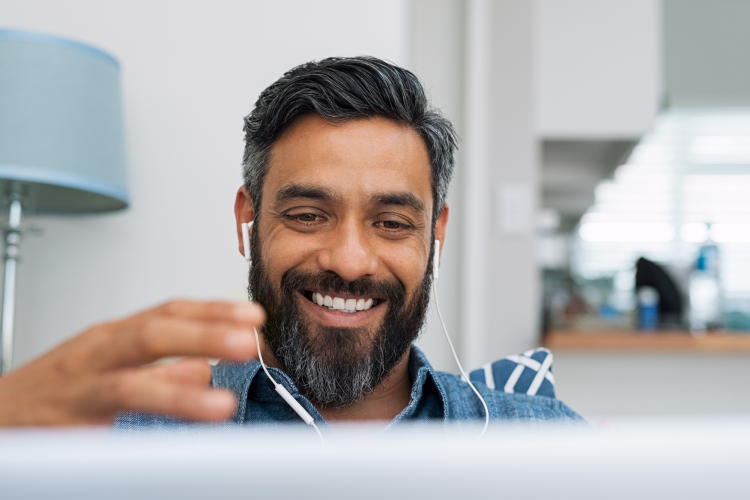 22. "Things" Virtual Game
A fun virtual event idea is a game called "Things." Before the event, come up with a list of things, such as "Things I would never eat," "Things I collect" or "Things my dog has eaten." Take turns having guests answer the questions. This is a really fun way to find out weird and interesting things about your friends, loved ones and coworkers.
23. Virtual Happy Hour
Virtual happy hours have become more and more popular as virtual event ideas. No waiting in line at the bar (or bathroom), no spilled overpriced drinks and you can actually hear each other (even if you're across town or across the country). Plus, nobody has to drive home or call a cab. Pick a theme — like a '70s disco scene, a '20s speakeasy or a glamorous Hollywood party — and cater your drinks and discussion to that theme.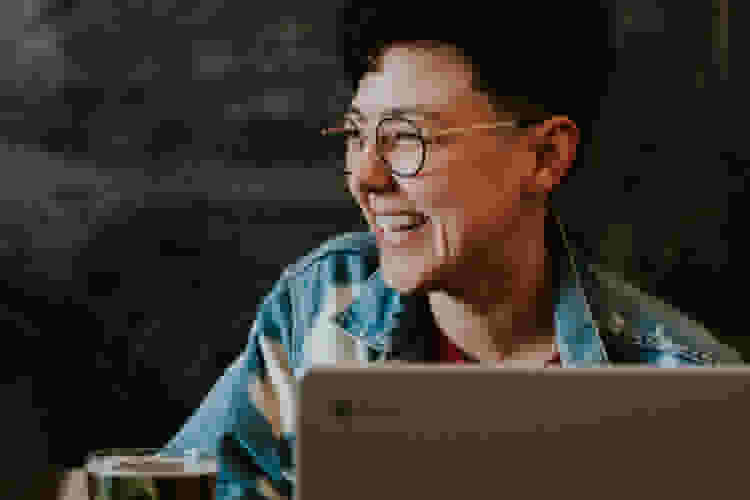 24. Virtual Pub Crawl
Along the lines of the happy hour, a virtual pub crawl is a great virtual team building event in which remote coworkers can socialize over drinks (alcoholic or otherwise). Plan a course for the crawl: Living room, kitchen, front porch and so on. Spend 15 minutes in each room playing drinking games and telling jokes before moving on to the next. You can even pick a theme for each room and decorate accordingly.
25. Virtual Casino Night
Roll out the roulette and cue up your poker face for a fun virtual event idea. You don't even have to go to Vegas to do it. Online casino nights are a way for employees and friends to chat, de-stress and test their luck while playing games of chance. You can download apps to play online poker games. Provide prizes for the big winners.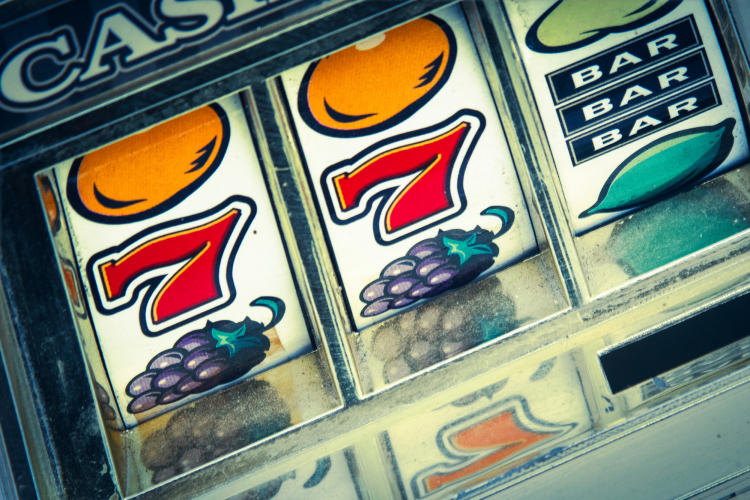 26. Virtual Photo Booth
Photo booths are always fun at parties and social events. It's now possible to have one at your online party! Virtual Booth offers virtual photo booth options with backdrops, fun filters and stickers for guests to customize their images.
Book Your Virtual Wine Tasting
Bring the winery home with an unforgettable live virtual wine tasting. Your personal sommelier is standing by.
27. Pet Party
We've all seen the occasional kitty or pup join our Zoom meetings. Why not incorporate them into a virtual event idea by making it all about them? Have guests gather their pets, whether it's dogs, cats, guinea pets, fish or ferrets, and get them in on the action. This would be a great time to show off all the tricks they've learned. Have contests for cutest, most vocal and best snuggler.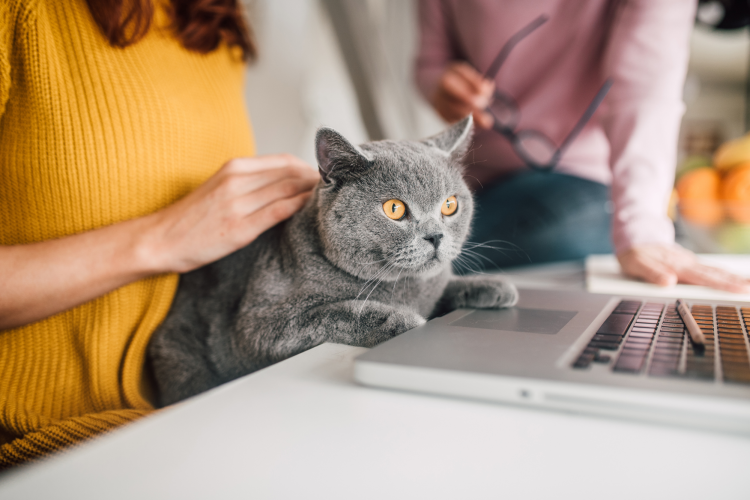 28. Get Crafty
If you're looking for a fun virtual event idea for your next family reunion, birthday party or girls' night idea, pick a cool craft for everybody to create together. Paint pottery, make a wreath or recreate a famous sculpture in modeling clay. Coordinate ahead of time so everybody has proper materials for a fun online event.
29. Virtual Garden Party
Take the group outside for a garden party. This is a fun virtual event idea to admire each other's outdoor spaces while staying socially distanced. Share your tips and techniques for growing bright blooms, colorful vegetables and vibrant shrubs. You could send a packet of seeds to guests ahead of time and plant them in a cute planter during the party. Don't forget to make a pitcher of lemonade to go along with this virtual event idea.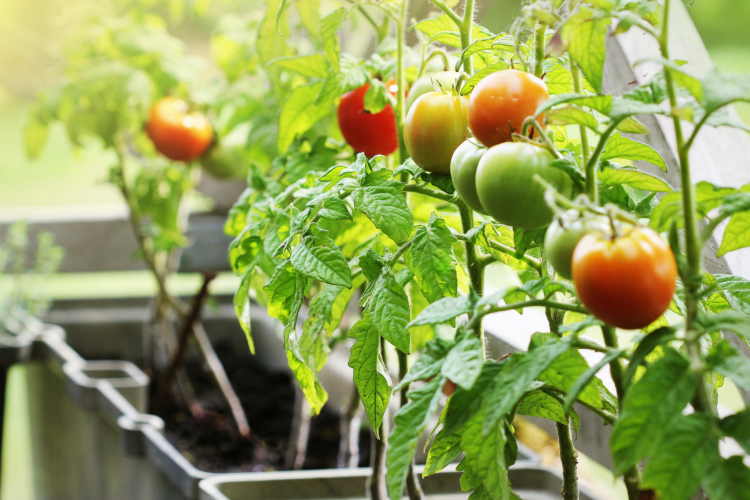 30. Virtual Improv Night
A virtual improv night is a fun way for guests to blow off steam, use their creative side and have some laughs in the process. Take cues from the television show Whose Line Is It Anyway? and come up with activities that involve storytelling, comedy, musical genres and dance steps. As a team building activity, employees learn flexibility and quick-thinking skills. Plus, this is one online event that's just plain fun.
31. Online Game Night
Even if you can't have a traditional game night, you can still do it virtually. There are apps for games like Words With Friends, Scrabble and Scattergories.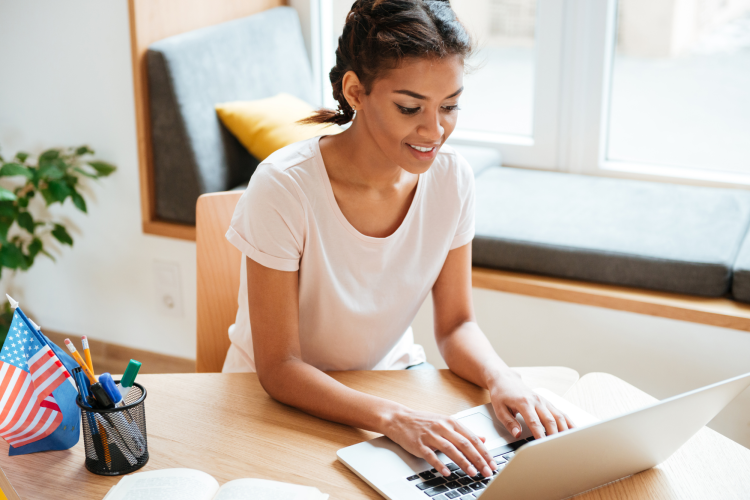 Fun Virtual Event Ideas
32. Virtual Magic Show and Mind-Reading
Imagine having your mind read over the internet. No, not with those ads in your newsfeed, with real live mentalists for a fun virtual event idea. Celebrity magicians are also available to wow your guests with illusions, card tricks and sleight of hand maneuvers.
Book an Online Cooking Class Now
Ready to perfect your homemade pasta, paella or pad thai? Join a world-class chef from the comfort of your kitchen.
33. Virtual Comedy Show
Bring on the laughs by booking a comedian, via platforms like Zoom and Microsoft Teams, to entertain your guests for a unique virtual event. You can choose from celebrity comedians, sketch comedy and other stand-up styles in live or pre-recorded performances.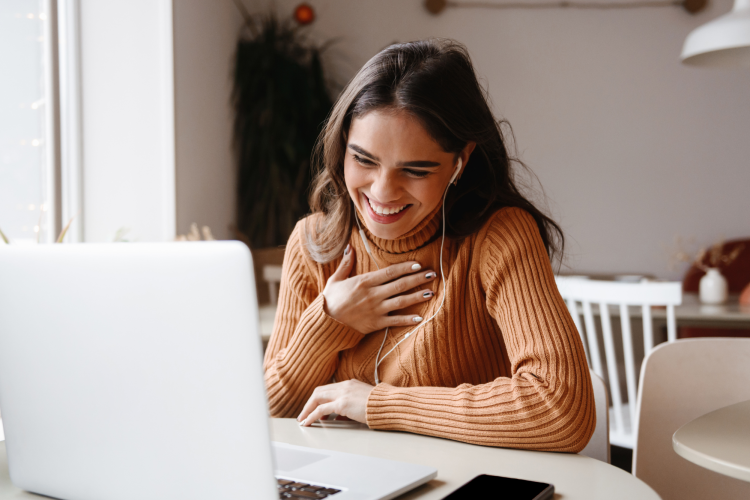 34. Charades
A game of charades is an easy-peasy virtual event idea. All you need is a video platform and a group of friends. Use book titles, TV shows or movies as a theme. Just like in a traditional game, each person acts out the word or phrase while the others guess.
35. Virtual Karaoke Night
Whether your guests are into country, pop or rock, karaoke is a fun virtual event idea that will have them bringing out their inner superstars. Check out YouTube for karaoke videos and song playlists.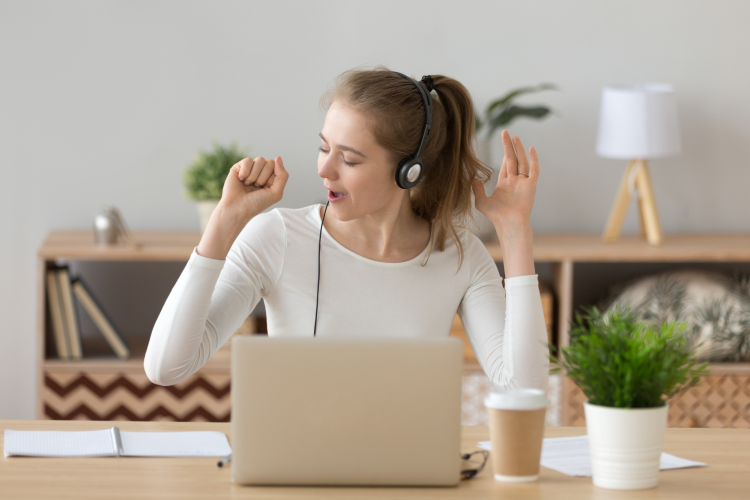 36. Online Murder Mystery
Online murder mysteries are excellent virtual event ideas. Check out a title like The Murder of Abigail Ross, which can be downloaded and played with a large group and solved via Zoom.
37. Online Drawing
Even if you draw stick figures, this virtual event idea can help your guests bring out their inner Picasso or Van Gogh. Choose a landscape scene, a self-portrait or a random idea generator to pick your topic.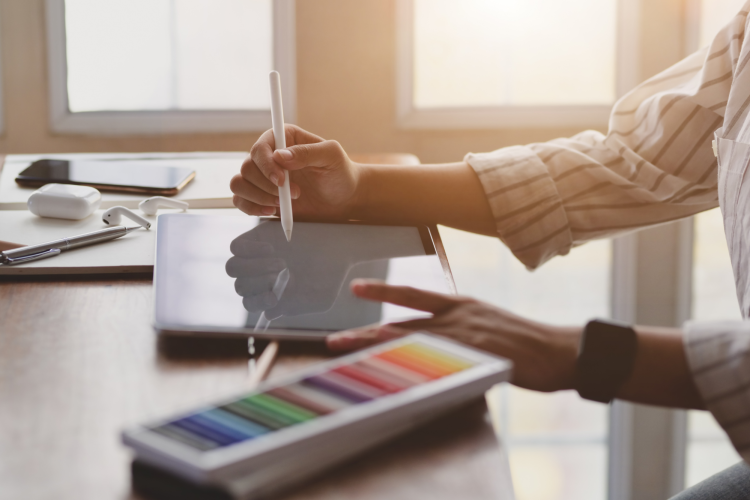 38. Online Concert
Stream a concert, Broadway show or another musical event from the comfort of your couch. The Kennedy Center, Carnegie Hall and Billboard offer digital stages and streaming for concerts from top artists such as Miley Cyrus, Billie Eilish and Foo Fighters. Hamilton fans will already know that Disney+ is the place for all things Alexander.
39. Jam Session Virtual Event
Have your music-minded friends dust off their guitars, fiddles, piano keys or ukuleles and make some music together. Even non-musically inclined friends can join in with air guitars and whatever objects they find around the house: Staplers, office supplies or a set of spoons.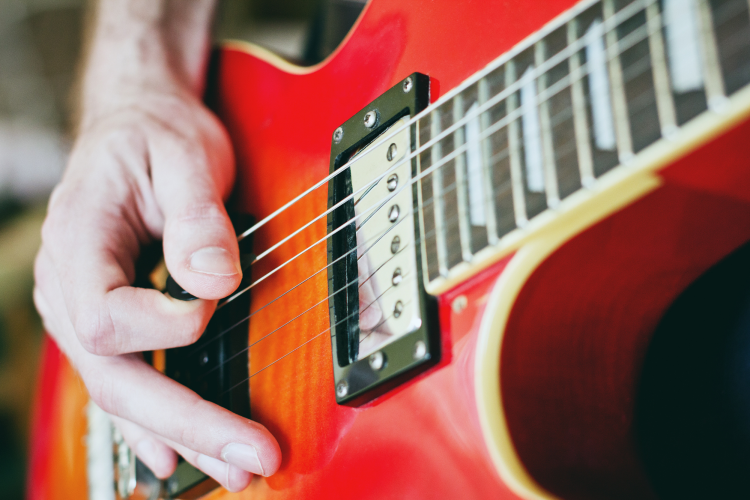 40. Fitness Class
Workout classes can make for fun virtual event ideas. Hire a fitness instructor to lead an aerobics, Pilates or spin class. Guests will have fun while working up a sweat.
Book a Live Virtual Wine Tasting Now
Indulge in all things wine with the best chefs and sommeliers in the industry. Virtual wine tastings bring a taste of the vineyard home.
41. Virtual Video Game Tournament
Give everybody the chance to show off their gaming skills with a video game tournament for an engaging virtual event idea. Games like Mario Kart Tour, The Forest, Call of Duty and Star Trek: Bridge Crew can be played with multiple players.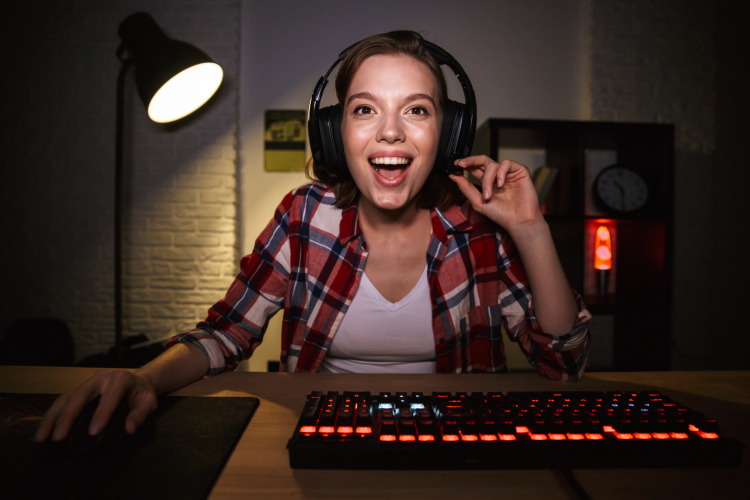 42. Online Movie Night
Pop some corn and pick a flick for a funny, thrilling or heart-warming movie night. You can even video chat for an interactive virtual event idea. There are several services that work with Netflix, Hulu and Disney+ to allow you and several friends to watch a movie together while staying separate. One example is Netflix Party, but it only works with Netflix.
43. Virtual Tours
For anyone who loves to travel, a tour makes a fun virtual event idea. You can find online tours for everything from Medieval castles and Paris streets to zoos, museums and tourist attractions around the world. Take a poll to find out "where" your guests would like to go.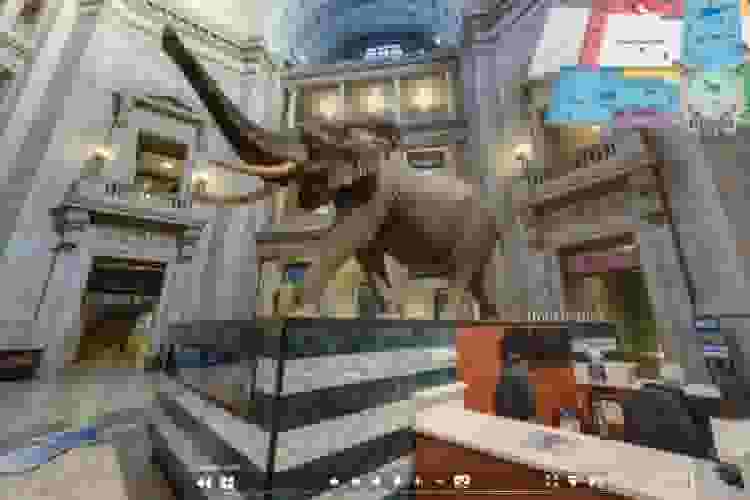 FAQs
How do you make a virtual event interesting?
When brainstorming virtual event ideas, create themes and activities based on your guests' interests. What are their hobbies and favorite movies, books or TV shows?
What events can be done online?
More events than ever before are available online these days. Ideas for virtual events are limitless. You can find keynote speakers, trivia and casino nights, escape rooms, online cooking classes and all sorts of other events to add fun and interest to your online gathering, whether it's a virtual holiday party or you need some virtual birthday party ideas.
How do you entertain someone virtually?
Your party guests will need to have a computer, laptop, smartphone or another mobile device with a camera and microphone. Platforms like Zoom, Skype and FaceTime can connect everybody to participate in any virtual event ideas you might have.
Join an Online Mixology Class
Craft cocktails. Palate-pleasing food pairings. Master mixologists. Skip the crowded bar scene and host your own virtual happy hour.
How do you run a virtual event?
Virtual event ideas can be a snap to plan. The biggest issue with planning is finding a time that works for all of your guests. Once you've decided on a day and time, enlist the opinions of your guests to choose a theme and plan the particulars.

Join 200,000+ Culinary Enthusiasts
Exclusive deals, recipes, cookbooks, and our best tips for home cooks — free and straight to your inbox. PLUS: 500 Rewards Points.
All you need is some creativity and a bit of planning to pull off the perfect virtual event. From brunch and coffee breaks to trivia, escape rooms and karaoke night, your next online party will be a blast. You can choose one of our virtual event ideas, combine a couple of them or expand with your own unique touches.
For even more inspiration for fun virtual event ideas, check out other experiences happening on Cozymeal.