28 Ideas to Throw the Best Virtual Holiday Party This Year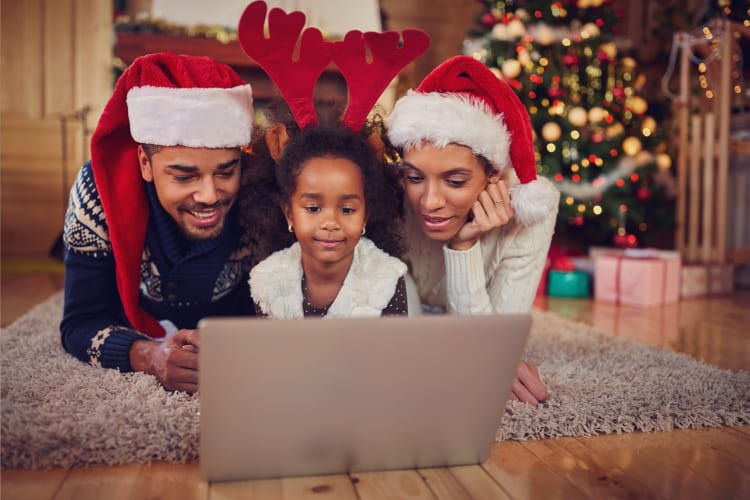 With much of our daily lives becoming an online experience these days, the idea of hosting a virtual holiday party has come into focus. Families are spread out, travel is difficult and gathering safely has become a challenge, all of which has altered how we come together to celebrate. Many of us are planning our first-ever virtual events for Thanksgiving, Christmas and New Year's.
How do you make sure you don't miss out on the family fun when celebration season finally arrives? And if you're looking forward to a workplace holiday party but you're accustomed to gathering around the eggnog bowl for gift exchanges and sweater competitions, how can you shift to a virtual version of holiday cheer without compromising on fun?
Below, you'll find some helpful planning information, as well as a list of the top 28 ideas for making the most of your virtual holiday party. With a bit of research, a dash of prep work and a generous splash of imagination, you can construct a clever virtual holiday party that gets your 21st century celebrations all wrapped up!
Jump to Section
Book an Online Cooking Class Today
Five-star chefs. Step-by-step coaching. Flexible menus. Come see what's cooking in a live online cooking class.
How to Throw a Virtual Holiday Party Step by Step
Choose a Theme and a Platform
A themed virtual holiday party is a sure-fire hit that lets your guests know exactly what the event entails. It also makes coordination easier by allowing you to focus the activities, gifts and menu around a central motif.
You should also be sure to select a platform for your virtual holiday party that works for your entire group and is available for everyone. Many of us have become well-versed in using Zoom, Microsoft Teams and other online communication hubs over the last several months for business, school and personal use. But if your party includes a coordinated event hosted by an outside organization, the company overseeing the event may designate the platform for you.
It's also a good idea to make sure everyone can connect from their respective devices before the big day.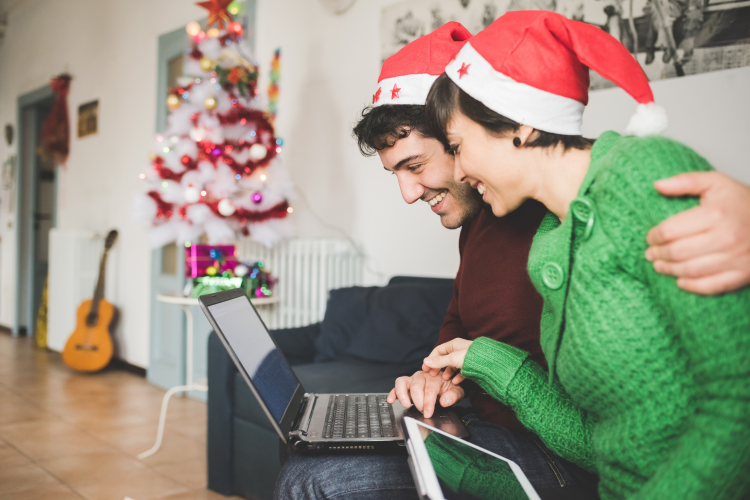 Decide on Timing
Busy schedules become particularly hectic during holiday time, so it's best to plan your virtual holiday party as far in advance as possible to make sure your guests can add your event to their calendars. It also gives plenty of preparation time for your revelers if they need to shop for a gift exchange or prepare for activities.
You'll want to make sure you choose a date and time that gives you the best chance for full attendance; selecting a day earlier in December for a virtual office party rather than one that's closer to the actual holiday can help your guests plan properly.
A paid virtual holiday party may require extra lead time to ensure your spot on the roster. Be sure to check the company's refund policy beforehand, too. With enough notice, you may be able to arrange a refund should guests need to cancel. And always remember to ask for RSVPs so you'll have a definite headcount.
Designate a Host or Co-host
Even if you're the party planner, you may want to bestow hosting duties on another willing person, or at least share them with a co-host to make things a little easier. Since a virtual holiday party will be online, one host could set up the meeting and send out the invitations or calendar items, while the other coordinates activities and makes sure the guests receive any special instructions they might need.
The person who conducts the event once the day arrives can be someone different, or a team of hosts, even, with each guest presiding over a particular activity…think of them as Santa's little helpers!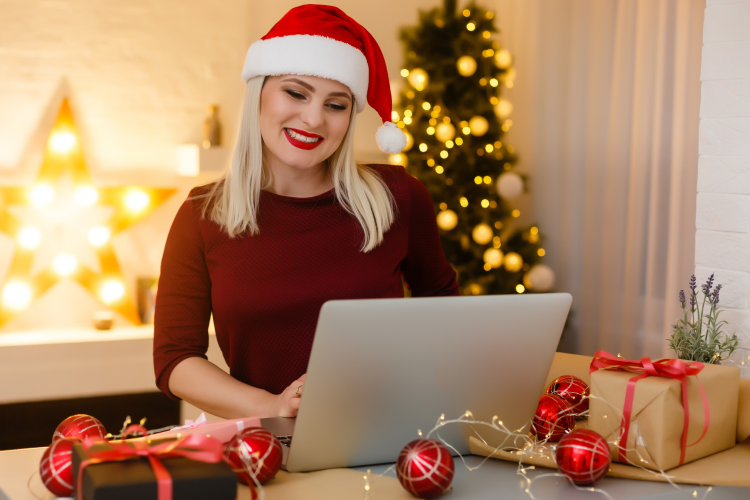 Book an Online Mixology Class Now
Master the art of mixology from home with live online mixology classes. Embrace your inner craft cocktail connoisseur.
Set a Budget
If your virtual holiday party includes a paid activity, such as an online cooking class or escape room, you'll want to check in advance that the price is cost-effective for your group. You should also determine what their refund policy is for anyone who may need to cancel. Many of these events will include a per-person charge, potentially with other fees, which makes it easy to determine how much each guest will pay.
A virtual holiday party budget will also be necessary for a gift exchange or virtual Secret Santa. A good range to use is between $5 and $20 per gift. By encouraging your guests to do their shopping online, they're sure to find something fun and affordable.
Free shipping options offered by many websites can be helpful, but everyone should make sure their shipping dates will accommodate the party date, especially if they'll need to send their gifts to their virtual Secret Santa recipients. Remember to include notes about these topics on your invitations.
Gifts and Prizes
As with many things in our new virtual-centered lives, gift-giving for a virtual holiday party can be tricky. A corporate gift is always a nice touch for a virtual office Christmas party or holiday work party; make sure you order in time to pack and redistribute them if necessary.
For a virtual gift exchange, guests can choose the gift wrapping option on the website they shop from and ship directly to their recipient.
And for the ultimate in easy gift- and prize-giving, virtual gift cards and gift codes are always a sure hit. They're available in a variety of brands and denominations from a whole universe of websites, and all you need is your recipient's e-mail address! Something like a foodie gift card for your Secret Santa is sure to brighten up their holidays!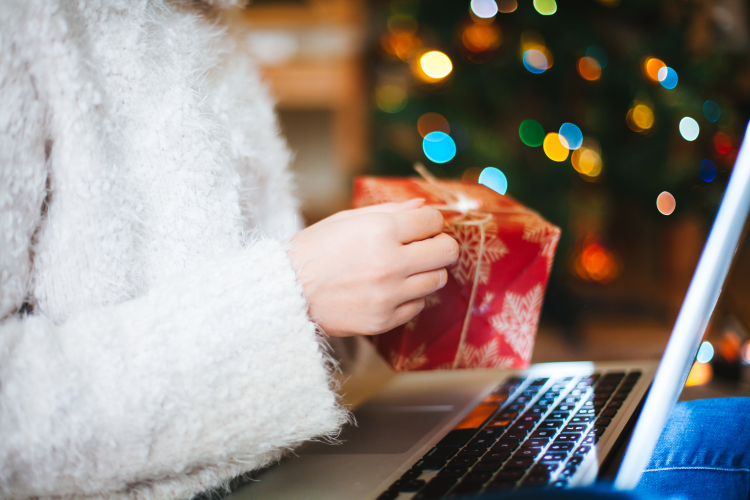 Delegate Responsibilities
The host of a holiday celebration is often too busy conducting the event to enjoy it as much as they'd like to. Having others assist with various tasks allows everyone a more equal share of the fun. There may be a long list of preparations, even for a simple virtual holiday party. It's much easier to distribute the to-do list to make sure everything goes off without a hitch — and without exhausting the host!
Family or team members may have ideas they want to contribute, which provides a great opportunity for collaboration. Tapping into the imagination and talent of the whole group will help them feel invested while making your party as enjoyable as possible.
Book a Live Virtual Wine Tasting Now
Indulge in all things wine with the best chefs and sommeliers in the industry. Virtual wine tastings bring a taste of the vineyard home.
Choose a Holiday Theme
A well-chosen theme can do much of the heavy lifting for your virtual holiday party by giving you a fun framework to plan from. There are so many amazing holiday themes to choose, from an ugly holiday sweater party to a gag-gift virtual gift exchange.
Think about choosing a film-based theme, such as It's a Wonderful Life, How the Grinch Stole Christmas or A Christmas Story. Or you can go with an activity-based theme, such as a holiday cooking event, a virtual cocktail party or an online art night. And you can't go wrong with whimsical — why not try an Elves' Night Off or Santa's Secret Workshop theme and request your guests wear their best North Pole attire?
Of course, if your virtual holiday party includes a gift exchange, you can always use gift choices to guide the theme; kitchen gadgets, wine and cocktails, and desktop gifts are always a success, even in the world of virtual holiday celebrations.
A theme can also be a great way to inspire collaboration among your guests. You can organize groups by randomly assigning fun team monikers to their names (Team Dasher, Team Dancer, etc.) and sending out e-mails with instructions on choosing a theme. Then, list all of the themes together and have the whole crew vote on their favorite. Or designate a "theme team" that takes on the task of coming up with a theme everyone can get on board with.
A good rule of thumb is that choosing a theme should definitely be more fun than work. And when you let your partygoers help plan the party, everybody wins!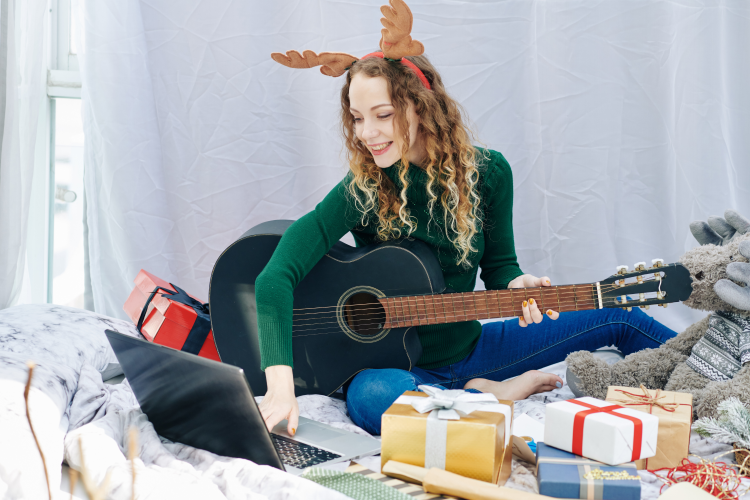 28 Fun Ideas for Your Next Virtual Holiday Party
Virtual Holiday Party Bites and Beverages
1. Online Cooking Classes
There's always something new to celebrate when it comes to cuisine, especially during the most wonderful time of the year! Gather your group for a virtual holiday party spent with a sweet selection of online cooking classes taught by skilled professional chefs.
These live, interactive classes provide a dazzling experience that is both educational and entertaining. You and your partygoers will prepare a delicious menu while learning culinary techniques and expert recipes. There are even online holiday cooking classes for keeping in the festive spirit! This is also a great way to usher in a virtual dinner party.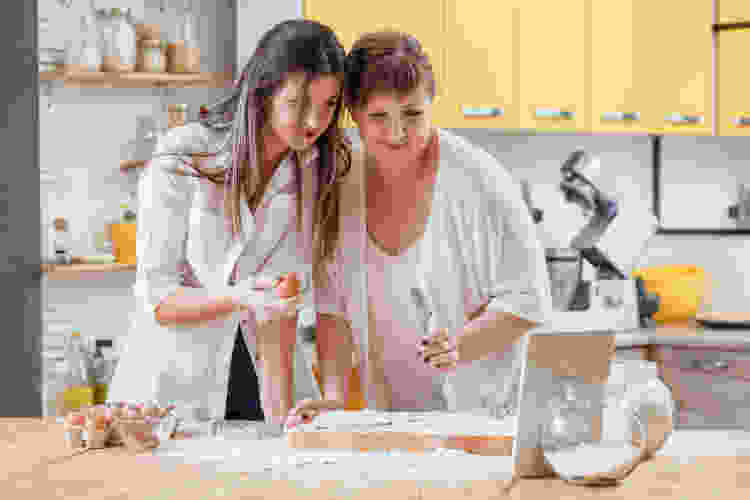 Book an Online Cooking Class Now
Ready to perfect your homemade pasta, paella or pad thai? Join a world-class chef from the comfort of your kitchen.
2. Online Mixology Classes
If your crew loves to mix, shake and stir things up a little when the weather outside is frightful, live online mixology classes are a virtual holiday party that's sure to be delightful!
These mixologists are some of the best in the business and have practiced their craft at the swankiest cocktail bars and watering holes around. In a fun virtual happy hour event, they'll teach you how to concoct classic cocktails, pour a few new favorites and even introduce you to some of their own inventions.
3. Virtual Wine Tasting
For wine aficionados, a live, fully-interactive virtual wine tasting is the perfect at-home alternative to a wine country getaway for the holidays, and there's no packing required!
Schedule a fun and informative sommelier or chef-led virtual tasting for your group and indulge in sipping and savoring unique wines from all over the world. Not only will you get to learn all about wines in these unique classes, but you'll also get expert insight into pairing delicious homemade appetizers or small bites with each glass.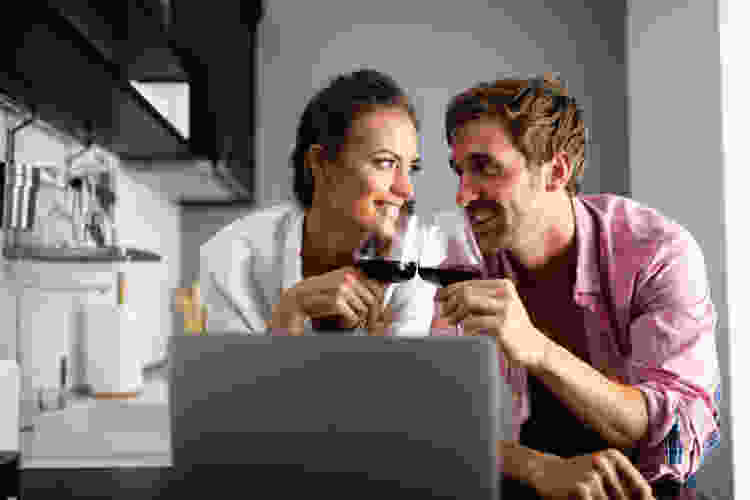 4. Virtual Beer Tasting
Pub crawls might be on hold through the holidays, but for the beer and ale lovers in your celebratory circle, a beer tasting attended from the comfort of home is a virtual holiday party not to be missed.
Many local breweries and touring companies are making the most of online holiday beer tasting party possibilities by offering beer and cheese pairings, homebrew tours and more.
5. Virtual Whiskey Tasting
Virtual whiskey tastings are led by renowned scotch stewards with a wealth of knowledge on all things whiskey, scotch and bourbon. Your group will get to sample spirits from around the world, all while enjoying the finer points of a whiskey tasting experience right from home.
Each virtual whiskey tasting offers expert insight into cocktail recipes, fascinating history, the unique flavor notes of each whiskey selection, food pairings, distilling methods and more. If you have a lot of scotch snobs in your group, this virtual holiday party idea is sure to be a hit.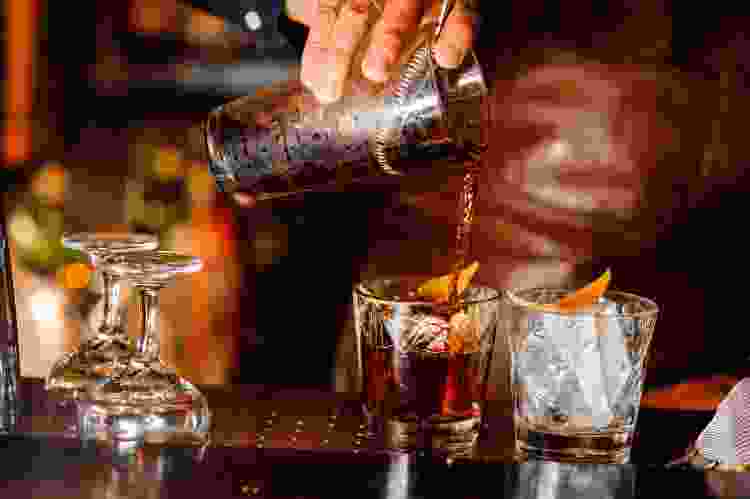 6. Online Coffee Classes
Treat the morning people in the group to a live online coffee class taught by one of the best baristas in the business. From perfect pour-overs to enticing espressos and more, your colleagues will love learning how to transform their kitchen into their very own favorite café. Plus, they can even learn recipes for seasonal brews that shine during the holiday season!
Join an Online Mixology Class
Craft cocktails. Palate-pleasing food pairings. Master mixologists. Skip the crowded bar scene and host your own virtual happy hour.
7. Cookie Decorating Contest
An art show where the works are edible! Everyone finds simple sugar cookie and icing recipes and lets their imagination run wild as they turn their humble baked goods into tasty original showstoppers before the virtual holiday party starts. Themes will work well here; try limiting designs to gingerbread men, Santa hats or reindeer heads.
Then, your guests present their creations for a rating of one through five from their fellow bakers, and the highest total score wins. This can work for a virtual Thanksgiving event as well as a virtual Christmas party.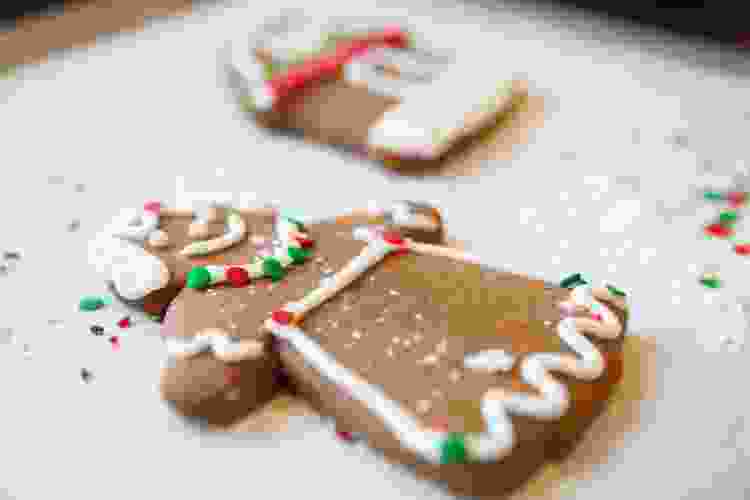 8. Virtual Small Bites Party
Small crowds call for small bites, and a virtual holiday party is a great opportunity to explore the world of miniaturized food while minimizing everyone's party preparation time. A virtual Christmas small-bite party also means fewer guests to cook for…in fact, your remote guests will be cooking for themselves!
For added fun, have everyone prepare a different dish and share a Yelp-style review of the results.
Virtual Holiday Party Games
9. Ugly Sweater Contest
Homely holiday pullovers are a time-honored tradition, as excitedly anticipated as fruitcake and Rudolph. Plus, shifting your celebration to a virtual holiday party means everyone can show off their prized looks over the internet without getting sequins and tinsel all over your floor!
Have your guests choose a classic if they have one, and for those who don't, they can always attempt a homemade version.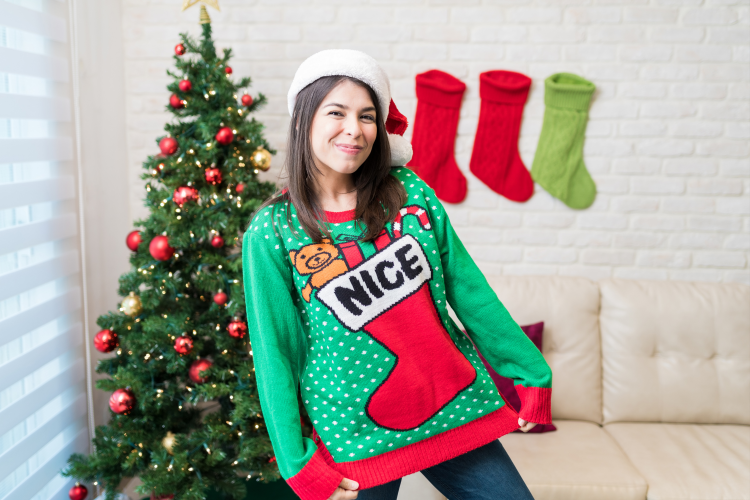 10. Guess the Dream Gift
Think of this activity as a virtual Secret Santa and a virtual ice breaker all in one. Have your guests decide on the perfect dream gift for themselves, then split them up into teams of two and have them give single-word descriptions (large…floats…luxury…) to get their partner to guess the gift (…yacht!).
One clue receives one guess at a time; if the guess is incorrect, the game moves to the next team for their turn. An easy way to warm up the party!
11. Never Have I Ever
Play a virtual holiday party edition of the classic group game, challenging your guests to determine how many holiday activities they've engaged in, things like kissing under the mistletoe, taking a sleigh ride and building a snowman. Keep track of everyone's answers and offer a "lump of coal" prize for whoever's list is the longest.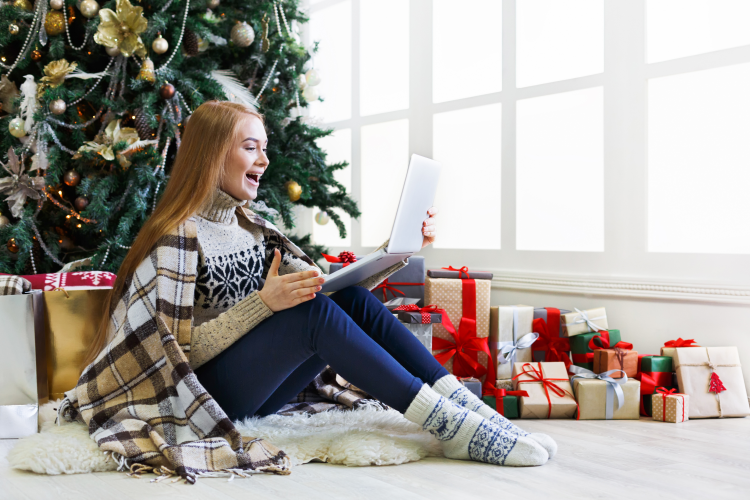 Book a Live Virtual Wine Tasting Now
Indulge in all things wine with the best chefs and sommeliers in the industry. Virtual wine tastings bring a taste of the vineyard home.
12. Scavenger Hunt
This age-old favorite gets a modern update for a virtual holiday party. Guests scour their homes for items that fulfill the list provided by the host. It sounds simple enough, but you can get as creative as you want with the rules for a virtual scavenger hunt — set time limits, require that each item be presented one at a time or make very specific guidelines for what to find and where to find it.
You can also go with a holiday-themed list to keep your revelers in the spirit. The first to return with each item gives their best booming, belly-deep "Ho! Ho! Ho!" to win each round.
13. Holiday Trivia
Trivia is a winner at any party, but there's something extra-special about a rousing round of holiday trivia at your virtual holiday party. Gather a list of 20 questions from movies, stories, song lyrics, TV specials, winter activities — whatever comes to your imagination. It's a fun way to explore the wide-ranging joys of the season.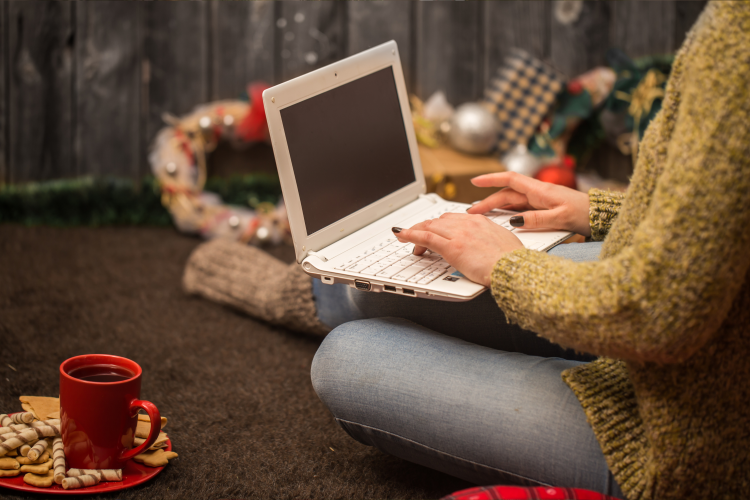 14. Word Games
These are a perennial favorite, and an easy adaptation for a holiday virtual game. From Finish the Lyrics and Holiday Anagrams to Christmas Carol Emojis and Name That Movie, you can put your team's holiday knowledge to the real test during your virtual holiday party (Google searches are strictly forbidden, of course!).
Find a great collection of already-made games to copy into an e-mail and remember to distribute the lists just before the game starts to prevent early peeking!
15. Holiday Clips
Partygoers are given simple, cleverly written three-line descriptions of holiday movies or TV specials and must guess the title. For example: Couple travels home for Thanksgiving…transportation is a challenge…hilarity ensues. Answer: Planes, Trains and Automobiles.
Choosing a broad range of titles from cartoons to classics will ensure everyone at your virtual holiday party has a fighting chance.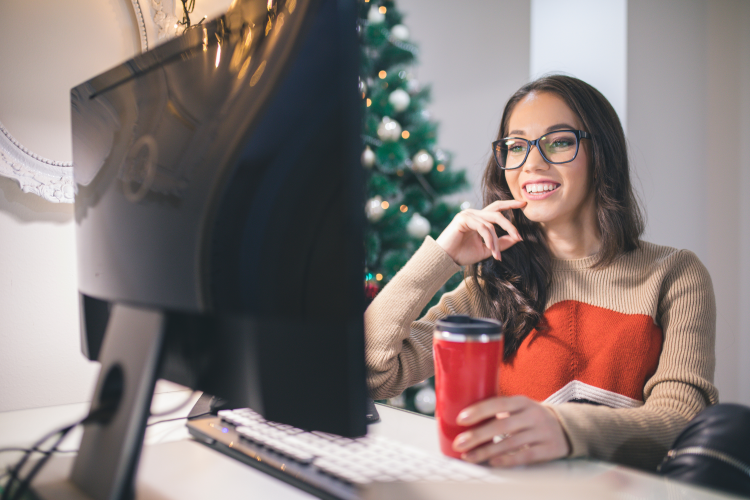 15. Silent Night Lyric Lip Sync
For this fun visual game, the virtual holiday party host distributes single lines from holiday songs the entire group is sure to be familiar with. Then, each guest takes a turn mouthing their line for the other guests to interpret. Instead of hitting a buzzer like on an actual game show, contestants call out "Jingle jingle!" when they're ready to guess. If the guessers get stuck, the host can give out small clues to help move the game along.
Book an Online Cooking Class Today
Five-star chefs. Step-by-step coaching. Flexible menus. Come see what's cooking in a live online cooking class.
17. Wrap It Up
A fun virtual holiday party challenge that tests your guests' wrapping abilities and maybe helps them get their holiday chores finished at the same time! Decide on a simple rating system to determine great wrapping — sharpest corners, straightest lines and most efficient use of tape are a few possibilities — and have everyone wrap gifts of a similar size and shape (a shirt box, maybe).
Set a 30-second or one-minute timer or use a quick carol as a festive timekeeper. You can have multiple rounds and throw in some fun twists, like single-handed or blindfolded wrapping. Whoever finishes first with the best wrapping wins!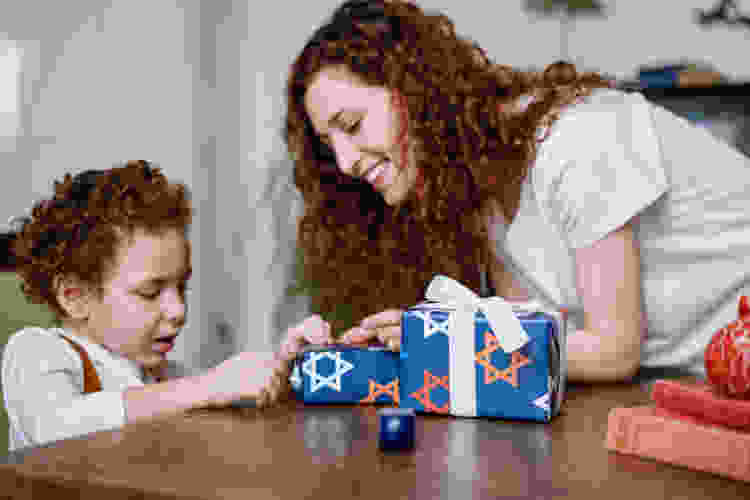 18. Grinch Story-Go-Round
Take your virtual holiday party guests on a trip to Whoville as they add a brand-new chapter to the classic story of the Grinch. The host starts an original tale with a line such as, "The next Christmas in Whoville was a sight to behold…" Then, each guest takes a turn adding a rhyming line.
Set a limit — 25 lines or so — so you'll know when your story is finished; if your group is small, have everyone take a few turns. One of the guests types up the finished story in a decorative font and emails it to everyone as a fun virtual holiday party souvenir.
19. Holiday Murder Mystery
A fun dinner theater experience becomes a virtual office Christmas party when you book an online event from Murder Mystery Co. You'll be guided through the deadly happenings by a professional actor, and the host can hand over the sleigh reins and participate in the entertainment along with the other guests. Fun for everyone!
20. Two Treats and a Lump of Coal
A virtual Christmas version of Two Truths and Lie! Your revelers choose two fun, little-known facts about themselves while making up a clever lie that could pass as the truth. Guests try to determine which is which. A great virtual holiday party ice breaker game that can help your guests get to know each other a little better.
Join an Online Mixology Class
Craft cocktails. Palate-pleasing food pairings. Master mixologists. Skip the crowded bar scene and host your own virtual happy hour.
21. Holiday Mad Libs
A classic party game, reinvented for a virtual holiday party! Shake up some classic songs and stories by having your guests offer a list of nouns, adverbs and adjectives, then read them aloud in a new and surprising version of T'was the Night Before Christmas, Rudolph the Red-Nosed Reindeer and more. You can make up your own or find some ready-made printable forms.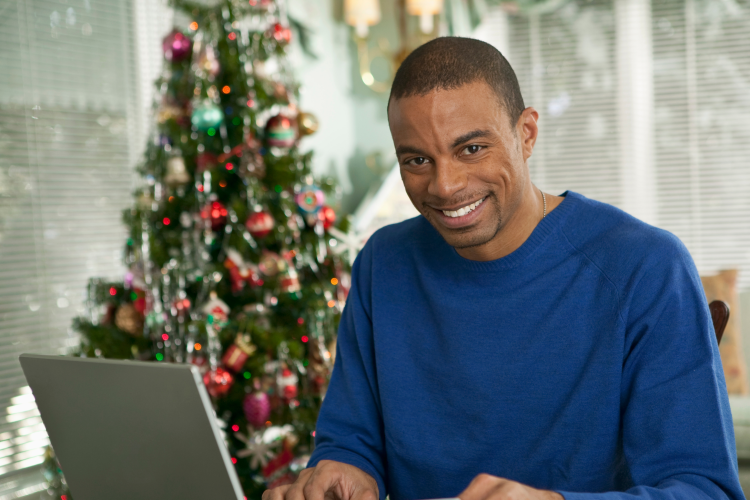 22. Billionaire's Christmas List
In this easy virtual holiday party game, Santa will bring you any three gifts you ask for, with no limitation in size or expense — exotic vacations, high-ticket cars, fancy homes. Whatever you want! So what three things would you ask for?
Each guest emails their Christmas lists to the host, who reads them aloud as partygoers guess which items belong to which guest. A fun way for your guests to find out more about distant family members or unfamiliar coworkers!
23. Elf on the Shelf
This activity takes a little planning, so make sure to notify your virtual holiday party guests ahead of time! Everyone photographs their most playful, creative and original Elf on the Shelf situations and emails the images to the host, who prepares a simple slideshow and presents the photos for voting without identifying the photographer.
The elf that garners the most votes wins. Bonus round: Have your guests try to identify each photographer!
24. Holiday Traditions
Have your guests take turns describing a holiday tradition observed by their family, either real or made up, while everyone else guesses if the tradition is true or false. Not only will your virtual holiday party guests have a chance to stretch their imaginations, they'll be able to present their family's holiday observances and get to know one another a little better at the same time.
Virtual Holiday Party Activities
25. Virtual Holiday Card Creation
Your crew can unleash their inner child with this glitter and glue free-for-all! Give your guests a list of simple craft supplies — construction paper, glue, markers and crayons will do nicely — and let them run wild with their card creativity.
Have them present their virtual holiday card creations for fun and prizes and offer bonus points for witty sayings or clever holiday puns. It's another great way for children to get in on the fun if your virtual holiday party guest list includes little ones.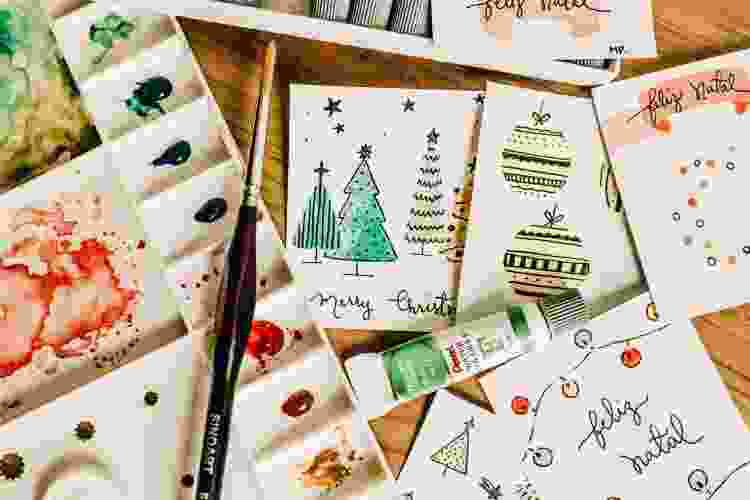 Book Your Virtual Wine Tasting
Bring the winery home with an unforgettable live virtual wine tasting. Your personal sommelier is standing by.
26. White Elephant Gift Exchange
You can never go wrong with a classic white elephant gift exchange, and there's no reason you can't adapt it to suit a virtual holiday party! Guests can choose a gift recipient (or randomly pick names) and get that person the most off-the-wall, hilarious, wacky gift they can find. Make sure everyone mails out their items with plenty of time for recipients to get them. Everyone can then take turns opening their gag gifts on camera, guaranteeing laughs all around.
27. Show Off Your Decorated Workspace
If you've been working from home for the past few months, why not give your colleagues a virtual tour of your DIY desktop and workspace, all decked out for the holidays? Think tinsel, lights and maybe even a mini Christmas tree.
If you're in need of some virtual work Christmas party ideas, this is a great one that adds a fun personal touch. You could also turn this into a game where everyone votes on the best decorations!
28. Holiday Karaoke
Christmas carols are such an ever-present element of holiday celebrations! It seems wrong not to include a sing-along using these beloved tunes. And since karaoke is such a fun virtual holiday party ice breaker, why not combine the two with a few rounds of holiday karaoke?
Have each guest select their favorite song and let others chime in choir-style as they sing. It's a great way to get everyone warmed up for the event.

Join 200,000+ Culinary Enthusiasts
Exclusive deals, recipes, cookbooks, and our best tips for home cooks — free and straight to your inbox. PLUS: 500 Rewards Points.
Have a Happy Virtual Holiday
As long as you utilize a little imagination and a lot of heart, your virtual holiday party is bound to be a great success no matter how you choose to present it. It doesn't have to be expensive or elaborate; a bit of ingenuity goes a long way toward creating a memorable experience for both you and your guests.
More than the food or the presents or the garish sweaters, holidays are about togetherness, and a virtual holiday party is no exception. It's all about being with friends and family in a relaxed, fun environment and settling into the cozy cheer offered by the company of people who share a spirit of generous goodwill, happiness and hope for what's to come.
In a moment in our lives when gathering in real life is a challenge, we can become creative about how we gather to share our moments. With the new reality of virtual connection, you can keep the warmth and the good times jingling right along from wherever you happen to be.
For more virtual holiday party or gift ideas, check out other experiences happening on Cozymeal.