11 Top Benefits of Teamwork in the Workplace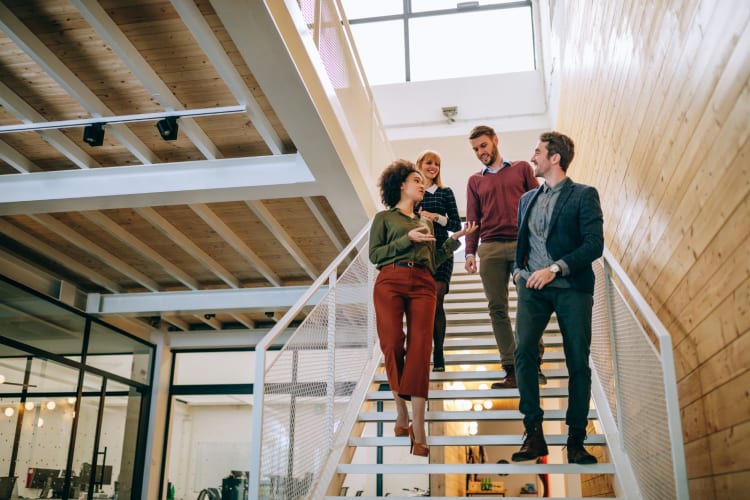 Some of the many benefits of teamwork in the workplace include enhanced creativity, improved productivity and better communication among coworkers. Whether teams are organized for a product launch, a manufacturing process or a research project, these aspects lead to better business results, overall success and happy coworkers.
But what do you do when employees don't get along, can't work together or clash at every meeting?
Essential to the success of a company, employees make up a diverse group of personalities, backgrounds and work experiences. All of these differences can contribute to a functioning and successful team environment when used effectively.
So, just what are the benefits of working as a team, and how can it help your team? We've compiled some ways to foster teamwork so that your organization can profit and thrive from the benefits of teamwork in the workplace. Keep reading for ways to enjoy the advantages and benefits of teamwork.
Jump to Section
How to Build Teamwork in the Workplace
While independence is a strong personality trait, it's not always conducive to a team setting. Team building activities help build confidence, motivation and trust among coworkers while teaching them how to function successfully as a team. Friendly competition and group experiences are all ways to build teamwork in the workplace and reap the benefits of teamwork.
Are you looking for fun and unique ways to build teamwork in the workplace? You can accomplish this by engaging employees in team building experiences such as ropes courses, culinary sessions and escape rooms. Whether it's an in-person event or online team building activities such as online mixology classes, virtual wine tastings and online cooking classes, your team will learn valuable skills, share talents and have fun as they whip, mix, stir and sauté their way to a delicious final product.
In the process, they'll build self-esteem and gain confidence that flows into the workplace, which is one of the biggest benefits of teamwork you can have.
Book a Team Building Experience Now

Connect with your team through world-class cooking classes, mixology classes, food tours and more.

Book Now
11 Top Benefits of Teamwork in the Workplace
1. Teamwork Enhances Skill Sets
Collaboration among team members creates an environment of mutual respect and cooperation as they share talents and learn new skills from others. There are a wide variety of ways to do this in fun and interactive sessions.
Culinary team building activities are a terrific way to have fun while learning new skills via planning menus and ingredient lists, and cooperating in the kitchen (these same concepts can be used in the workplace).
Team building activities in Atlanta, team building activities in Boston and other cities near you focus on combining talents, interests and skills to prepare a gourmet meal together. You could even partake in a little friendly cooking competition to see who can put their new skills to the test the fastest!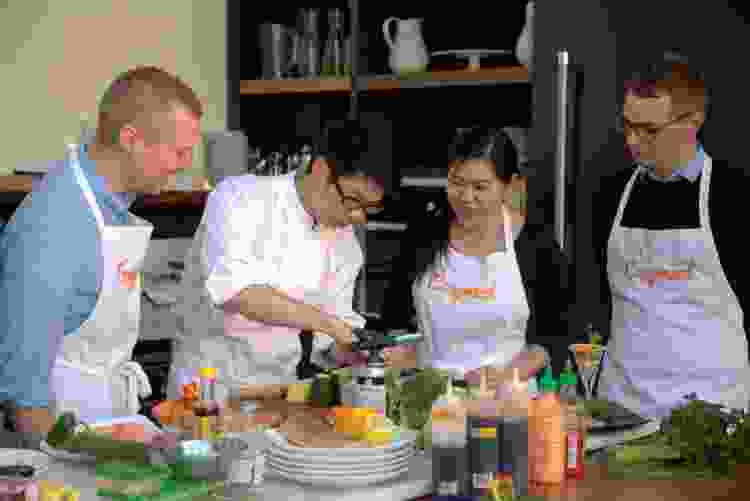 2. Teamwork Builds Trust
You don't have to play that age-old "falling backwards into a coworker's arms" to generate trust (though that can be fun as well).
A strong bond amongst a team who enjoys working together is one of the best benefits of teamwork you can have. Trust in each other provides a feeling of safety, while open communication leads to increased trust in the organization. Team building activities can turn colleagues into friends, even if they're simply sharing favorite foods together exploring the town on a food tour near you.
Book an Online Team Building Event
Bond with your team in top-rated online cooking classes, mixology classes, wine tastings and more.
3. Teamwork Increases Creativity
Increased creativity is a big benefit for the importance of teamwork. Ideas work better when there's more than one head in the game. Different perspectives from multiple people can create a large number of ideas and combinations of thoughts, giving team members the chance to bounce ideas off each other.
Have a virtual team? No problem. You can plug into the benefits of teamwork just as easily as in-person teams. Virtual team building activities are all the rage. Think about activities and experiences such as book clubs, online games for remote teams, art and painting nights, debate clubs, movie nights and virtual tours.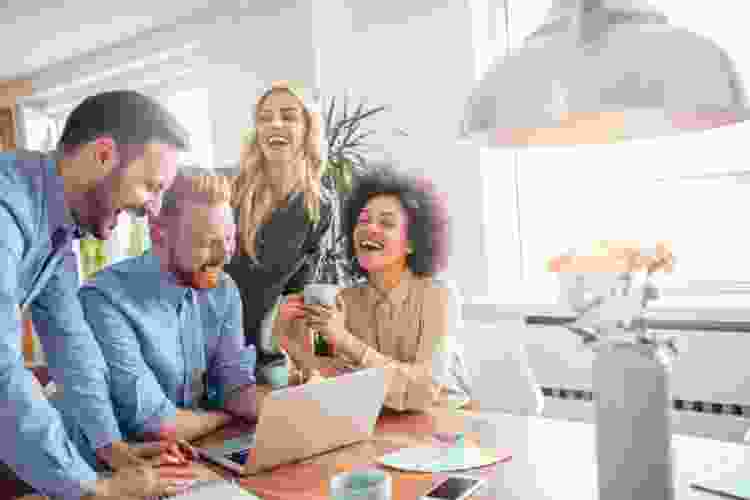 4. Teamwork Creates a Less Stressful Setting
According to the American Institute of Stress, 82% of American workers feel stress in the workplace. Along with many other things, stress causes us to make more mistakes, doubt ourselves and prevent us from functioning efficiently. A positive team energy, no matter how difficult the task, creates encouragement, inspiration and a fun setting, which results in fewer errors in the workplace and makes a significant impact on the benefits of teamwork.
5. Teamwork Encourages Positive Risk Taking
Positive risk taking is one of those benefits of teamwork that comes in handy when you have a harmonious team. Psychological safety refers to when employees aren't afraid to offer suggestions, take chances or work independently to reach a common goal. Some risk taking is necessary in the workplace, and it's easier to make risky or tough decisions when you have support from others.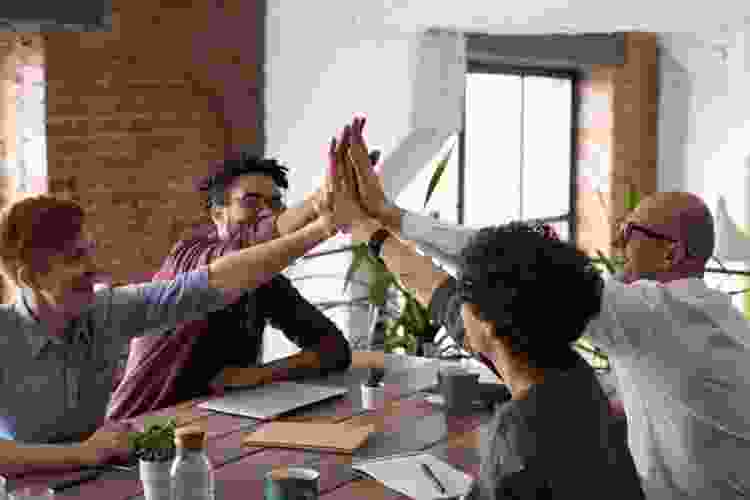 6. Teamwork Combines Strengths and Talents
Teams are usually made up of a variety of different ages, genders and backgrounds with a multitude of experience and skills. All of those diverse skills, perspectives and opinions can lead to a positive team where everyone contributes their unique talents to the game plan. Combining talents increases cooperation as you learn from each other's mistakes and accomplishments to produce winning innovations and enjoy one of the many benefits of teamwork.
Team Building Goes Gourmet
Connect with your team through world-class cooking classes, mixology classes, food tours and more.
7. Teamwork Teaches Conflict Resolution Skills
We all know that different personalities and work styles can generate conflict. Teamwork and team bonding activities can create team spirit among differing individuals, which aids in creating calmer resolutions to multiple viewpoints and is an excellent benefit of teamwork.
Close-knit teams learn how to resolve conflicts among themselves — rather than involving management — as unique viewpoints and open communication create a successful environment and lead to the benefits of teamwork.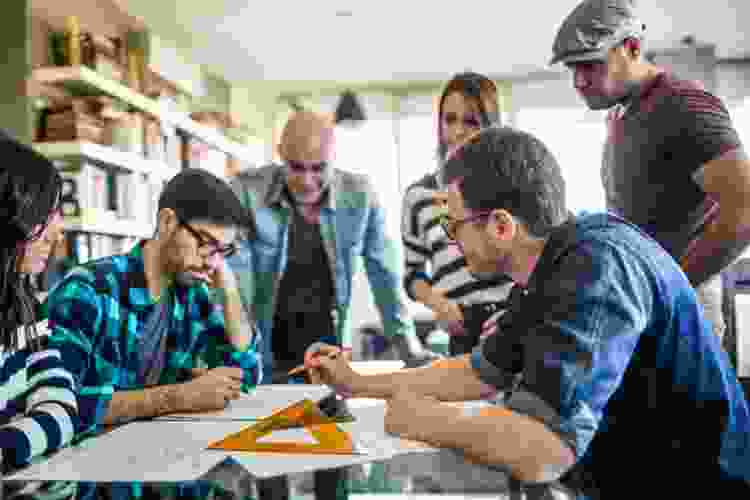 8. Teamwork Enhances Flexibility
Flexibility is a key benefit of teamwork as it makes for a productive, adaptable and efficient team. When circumstances change and new challenges appear, it's necessary to be able to easily shift focus.
With a flexible team, other members can pitch in if one person can't complete a task or assignment. This versatility and resilience are major benefits of teamwork since it allows a team member to adapt to sudden changes and unpredictable events.
9. Teamwork Improves Productivity
According to a survey by Forbes, employees who are happy are up to 20% more productive than unhappy employees.
Inspire team members to motivate each other with friendly competitions, happy hours, outdoor experiences or culinary classes taught by world-class chefs, sommeliers and mixologists. Team members can connect with each other in fun settings while learning how to produce a gourmet meal from scratch, mix a tropical cocktail or learn about wine regions and coffee roasting. All of this spills over into the workplace, making this a top benefit of teamwork.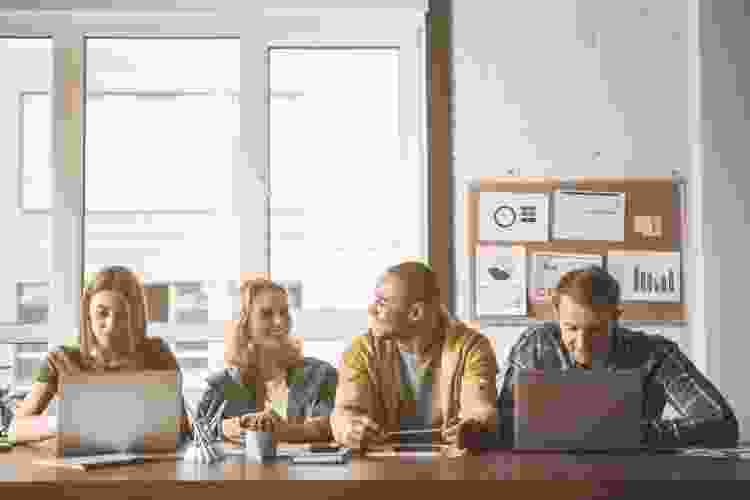 10. Teamwork Boosts Employee Morale and Motivation
Fun team building activities where coworkers can compete for rewards, time off and other perks at work help boost the energy, morale and feeling of belonging among team members, creating a benefit of teamwork.
Coworkers can share success to improve team motivation. Likewise, sharing failures can help team members come up with solutions to improve or solve the situation. Ways to boost morale and gain the benefits of teamwork include scavenger hunts, extra vacation days, bonuses, work anniversary celebrations and escape room experiences. A wall full of teamwork quotes can provide creative, motivational, humorous and leadership inspiration as well as a positive attitude.
Book an Online Team Building Event
Bond with your team in top-rated online cooking classes, mixology classes, wine tastings and more.
11. Teamwork Eases Burnout
According to a Gallup survey of 7,500 employees, approximately 23% of employees feel burned out very often or always, while 44% say they sometimes feel burned out. Sharing the workload is one of the benefits of teamwork that can help ease burnout.
Coworkers can provide emotional support to each other since they understand the day-to-day stressors better than managers. Help alleviate burnout by celebrating Employee Appreciation Day, offering higher learning opportunities and adding other activities that increase employee happiness and build a strong workplace community.

Join 200,000+ Culinary Enthusiasts
Exclusive deals, recipes, cookbooks, and our best tips for home cooks — free and straight to your inbox. PLUS: 500 Rewards Points.
While the benefits of teamwork focus on team members, they have an impact on the whole organization. A strong and collaborative group of team members who are happy in their role ensures positive morale and employee retention. Whether it's for winning sales, improving technology trends, fostering better customer service or making scientific strides, working together as a team is a huge benefit of teamwork for any business's success.
For even more fun team building inspiration, check out other experiences happening on Cozymeal.
Team Building in Cities Near You
Check out more exciting team building activities in cities near you.