15 Best Team Building Activities in Naperville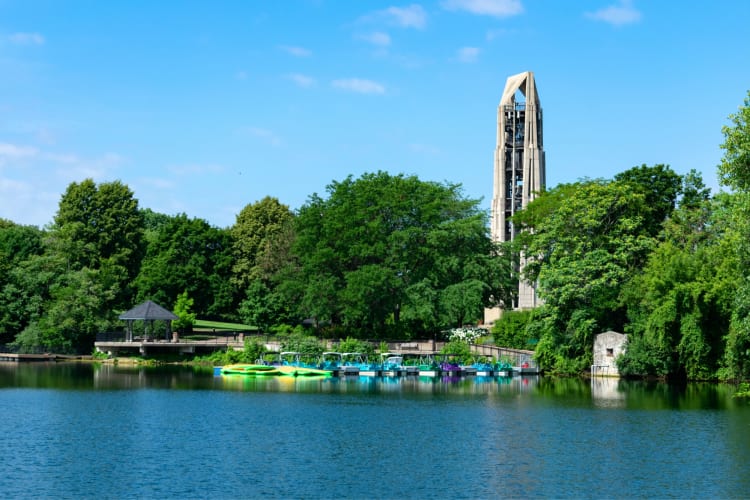 Investing in team building activities in Naperville is one of the best things you can do for your business. These fun events can be hosted in and out of the office and are customizable to your unique team of co-workers.

But why is team building an investment? Simply put, team building brings many benefits to your company. Things to be gained from effective team building include improvements in employee morale and productivity and a more friendly and collaborative company culture.

If these benefits sound appealing, you'll be pleased to learn that there are numerous options for team building activities in Naperville, from after-work activities to larger corporate events. These opportunities to spend time together, do something fun and improve skills are guaranteed to have a positive effect on the office.

Want to discover more about the plethora of team building activities in Naperville? Keep reading for 15 ideas that your employees are sure to love.
Jump to Section
---
OUR RECOMMENDATIONS
---
15 Best Team Building Activities in Naperville
1. Culinary Team Building Activities in Naperville
Culinary team building activities in Naperville provide you with plenty of opportunities to experience new cuisine with your co-workers. One excellent option is exploring the city's culinary scene with food tours led by local guides.
Alternatively, enjoy a meal prepared by a world-class private chef and try your favorite dishes with new twists. Another great culinary team building activity in Naperville is learning how to taste wine from a professional sommelier or how to craft your favorite cocktails from expert mixologists. These unique culinary experiences will be unforgettable events that bring your team closer together. Check out team building activities near you to find the perfect fit for your crew!


2. Cooking Classes in Naperville
Not only will you learn how to make delicious meals during cooking classes in Naperville, but you'll also learn other important skills. These cooking classes teach your team collaboration and communication skills that will be beneficial in the workplace. You can even engage in a little friendly competition and have two teams compete to create the tastiest dishes.

While working through an eclectic menu, your team will also learn problem-solving and leadership skills that can transfer to day-to-day work life. Sushi making classes in Naperville and pasta making classes in Naperville are two of the most popular for team building.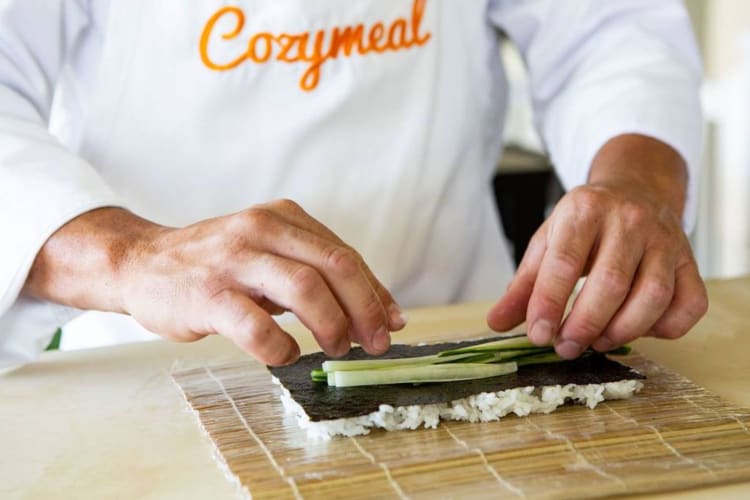 3. Online Culinary Team Building Activities
For teams that have remote or hybrid employees, online culinary team building activities are one of the best ways to stay connected. With online team building activities and online cooking classes, your team can learn recipes and techniques from expert chefs in the comfort of their homes.

Virtual wine tastings or online mixology classes are also fun ideas to consider when looking for team building activities in Naperville. Sommeliers and mixologists will teach your staff how to taste wine and mix drinks like a pro.

These online team building activities will make your team feel closer together and improve company culture even if you're not physically near each other.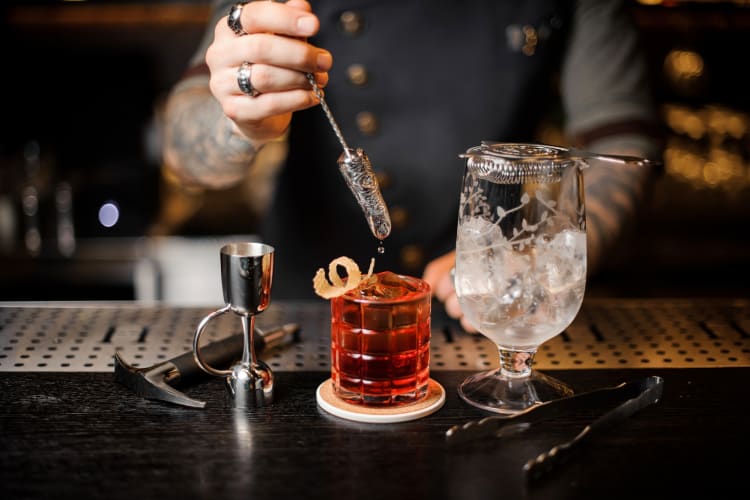 4. Head to a Golf Bar
You don't have to be training for the Masters to enjoy spending the evening at a golf bar, like Topgolf. This activity helps to bring your team together with delicious drinks, fan-favorite bar foods and a couple of rounds of golf.

Your team can have a friendly competition to see who hits the ball the furthest while also enjoying each other's company. Laid-back evenings like this, where colleagues can talk and get to know each other outside the office, result in better company culture and relationships back at work.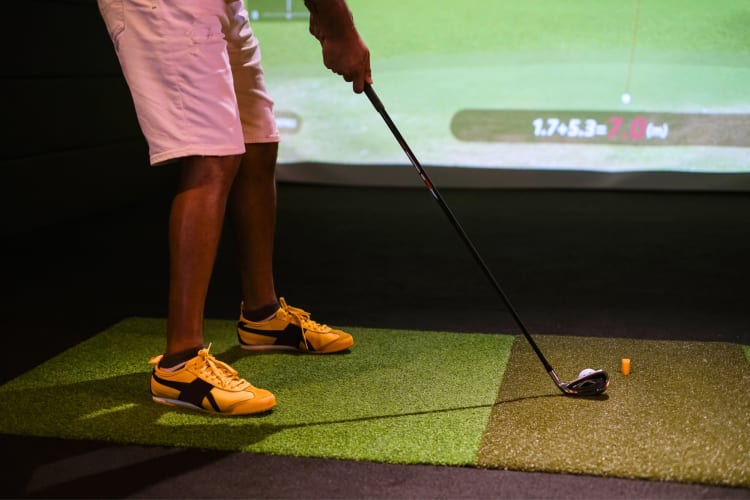 5. Compete at a Games Bar
Spend the night playing engaging games while eating, drinking and getting to know the team better at Whirly Ball. This fun bar offers classic games like laser tag and bowling, as well as ping pong, giant Jenga and cornhole.

The most unique game to play here is the bar's namesake, WhirlyBall. This exciting bumper car basketball-style game will have your team engaging in friendly competition as they try to score points for their team. With plenty of activities, there will be something for everyone on your staff to participate in as they bond.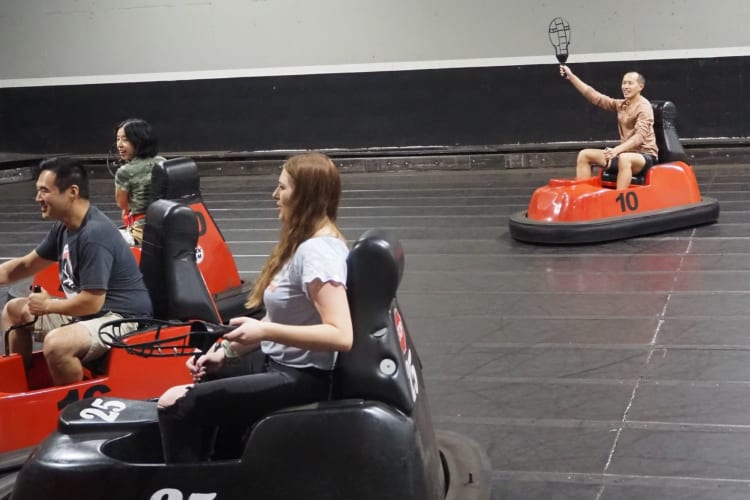 6. Go Curling
Here's a chance for your team to try an Olympic sport together. At Windy City Curling, you can book a private event for a corporate team building activity outside Naperville. You will learn the basics of curling before getting on the ice to try your hand at the sport.

The venue also has spaces off-ice where your team can talk and bond when not playing. Trying something new together, like curling, is a great way to bring employees closer.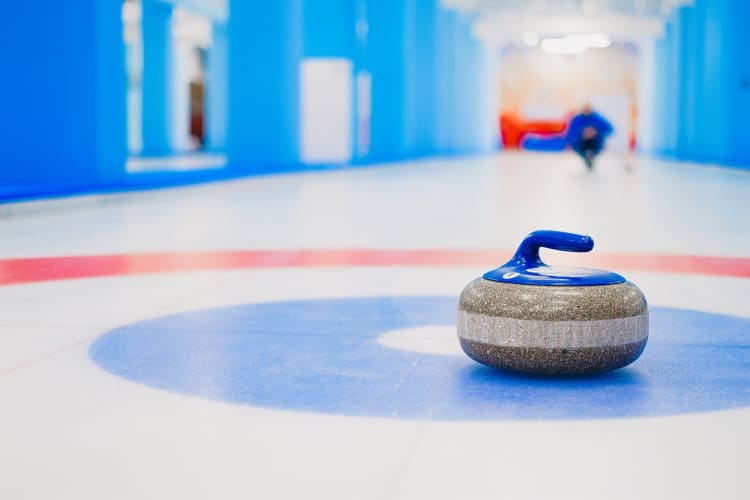 7. Escape the Riddle
One of the best and most fun team building activities in Naperville is an escape room. At RiddleBox Escape Room, your team will have to solve clues to help them get out before the timer runs out.

Each room has a unique theme and scenario that requires your team to work together to escape. Along with being a fun attraction, escape rooms offer a great way to build collaboration, communication and problem-solving skills; all of which come in handy when working together back in the office.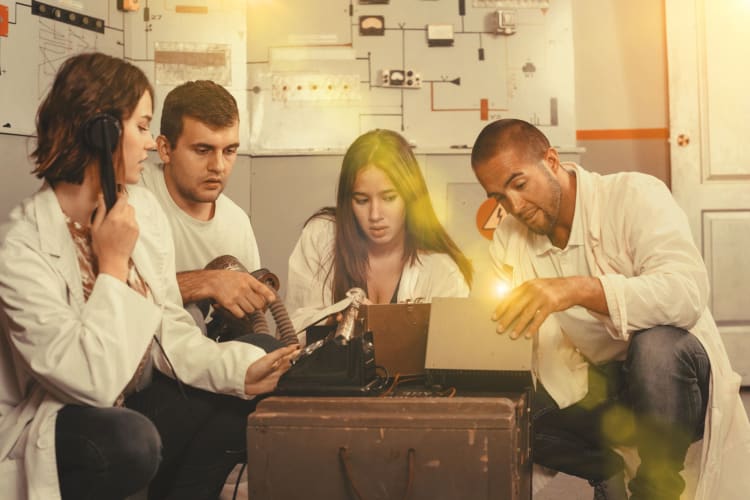 8. Play Knockerball
Take soccer to the next level with Knockerball. This team building activity in Naperville involves your staff getting into large plastic bubbles to compete in a soccer-like game!

A little friendly competition between employees is a great way to build a better company culture. Each team will have to work together to get the ball into the other side's goal. The game offers an excellent way to spend a day bonding and working on team-related skills.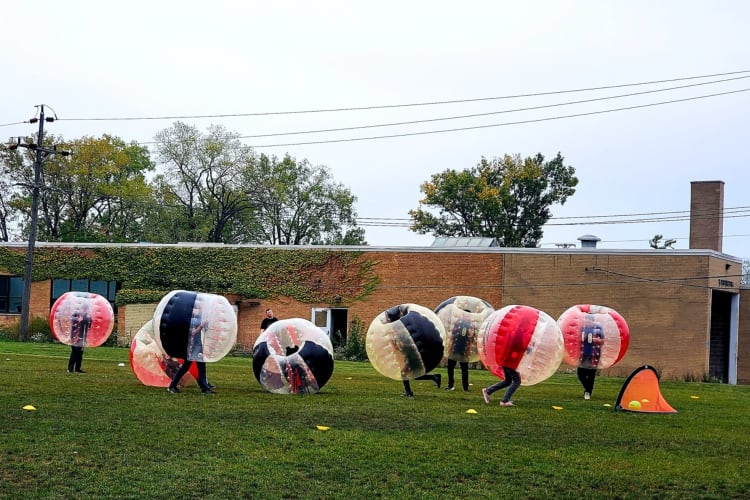 9. See a Comedy Show
Who doesn't like to spend the night laughing? A comedy show makes for an out-of-the-box corporate team building activity in Naperville that is sure to create great memories.

You could even sign your team up for a comedy workshop, where they write and perform their own jokes. Comedy workshops help with creativity and confidence. Audience members can also encourage their co-workers on stage. All of these elements will be a benefit in the office by leading to more creative, enthusiastic, and supportive employees.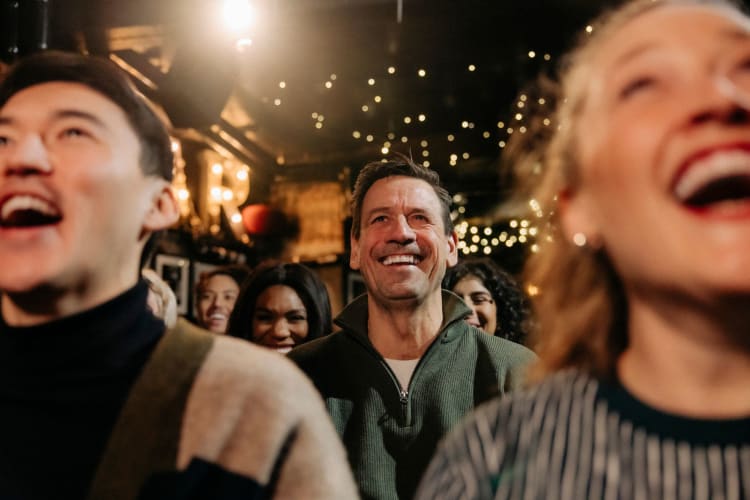 10. Show Your Creative Side
Attending a DIY workshop event is another of the fun team building activities in Naperville that allows your creative side to flow. At Board and Brush, your staff can enjoy a crafting workshop where they get the chance to paint wood board signs and other décor pieces.

For the best experience, book a corporate event where an artist will guide you through creating a unique piece of art in a private class. Completing art projects leads to creative thinking back in the office. Spending time doing this team building activity in Naperville also helps co-workers bond and support each other.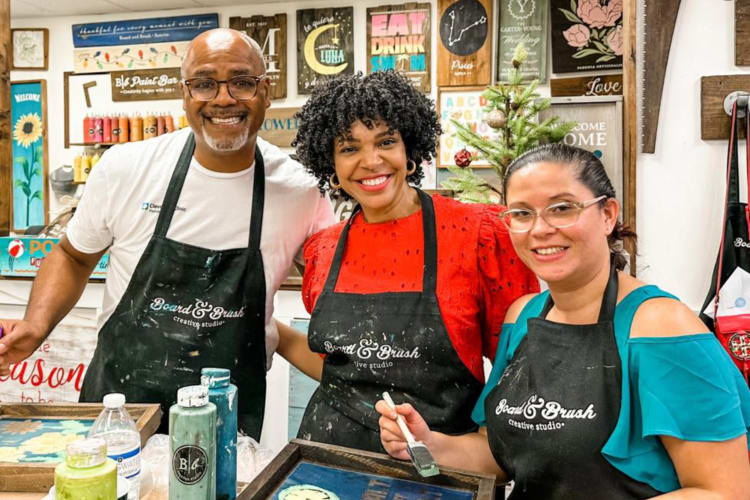 11. Try Axe Throwing
Try an activity you've (probably) never done before and go axe throwing at Axe Zone! This thrilling corporate team building activity in Naperville offers an opportunity to bond with your team while making one-of-a-kind memories outside of the office.

After learning the proper technique, you can break into teams and compete in axe throwing games. A little friendly competition will help your team feel closer and build a better company culture.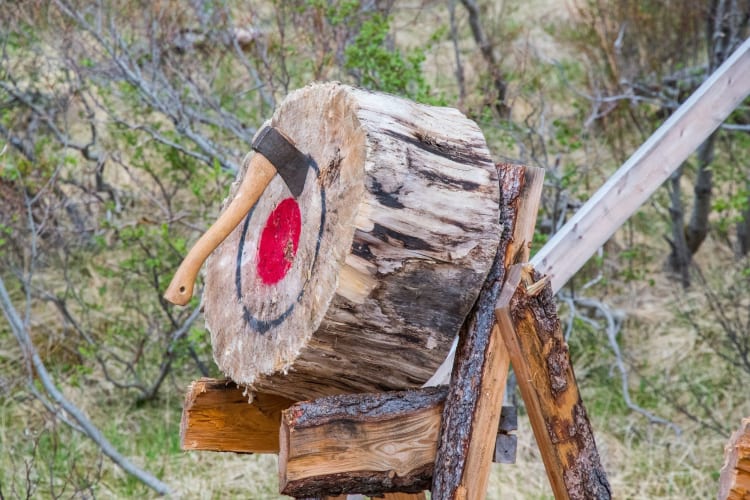 12. Attend a Murder Mystery Dinner
A murder mystery dinner is a unique culinary and entertainment experience that makes for a memorable evening with your team. The performance is put on by local or traveling acting troupes and features an engaging story that always ends in murder.

This theater event becomes a fun team building activity in Naperville as you have to work together to listen for clues and determine who the killer is. Murder mystery dinners notably help with problem-solving and collaboration skills.
13. Take a Nature Walk
Getting outside and enjoying nature has plenty of benefits for mental and physical health. Therefore, gathering your team for a nature walk or a short hike is an excellent idea for a team building activity in Naperville.

Some top places to visit around Naperville include the Knoch Knolls Park Trails or the McDowell Grove Forest Preserve. This laid-back event offers a relaxing way for co-workers to get to know each other, talk and bond outside of the office. Strengthening relationships in this way is almost guaranteed to lead to a more collaborative working environment.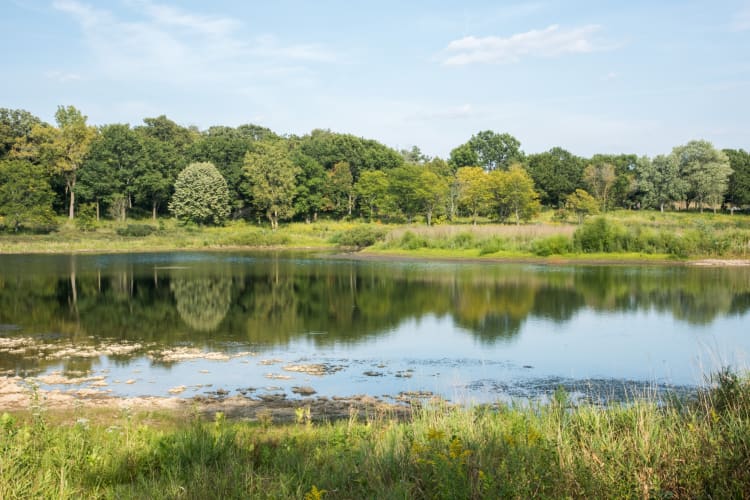 14. Compete in a Trivia Night
See how much general knowledge your team possesses by competing in trivia night. Groups of colleagues can work together to find the right answer to questions on pop culture, current events, history, and more. A trivia night offers the ideal way to build communication and collaboration skills while fostering relationships and bringing co-workers together.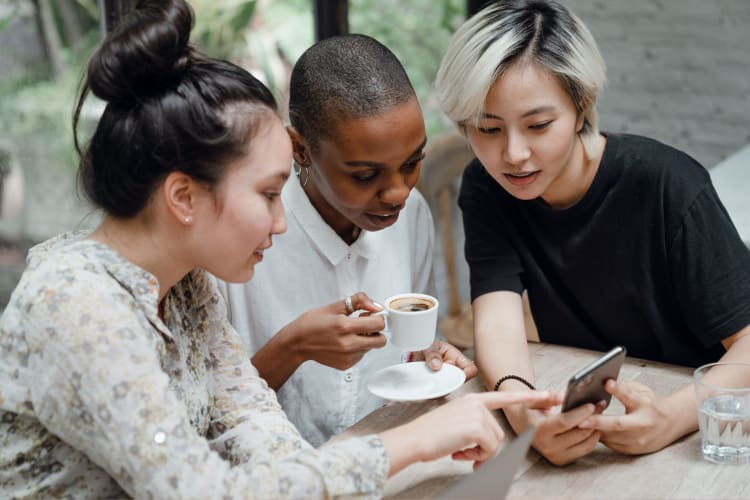 15. Get Messy With a Paintball Fight
A paintball fight at Fox Paintball is one of the most entertaining team building activities in Naperville. This friendly competition will get the entire office thinking strategically. Break into two or more teams and fight against each other for office bragging rights.

After a few messy games, your team can unwind with a picnic and enjoy each other's company. Paintball is a great way to boost teamwork and communication skills, which are crucial when working in the office.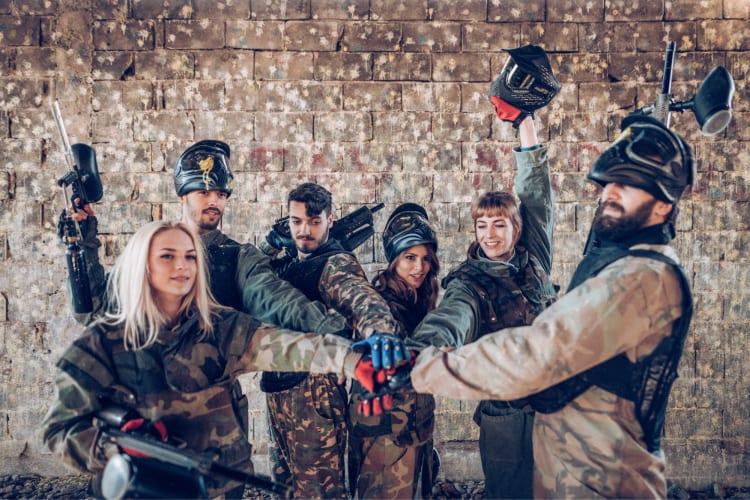 How Team Building Helps Teams
Team building activities provide the ideal way for employees to bond, while also bringing many other benefits for the company and the team as a whole. On a team level, these kinds of activities improve communication and collaboration skills. Learning how to speak to each other and work together effectively is indispensable when handling day-to-day tasks and larger projects.

Additionally, team building activities improve problem-solving, decision making and creativity skills. Engaging in these activities will also strengthen bonds between co-workers, help build trust and foster a good work environment.

On an individual level, team building activities in Naperville help develop your employee's confidence and leadership skills. Many team building activities require someone to step up and lead the team. During these activities, you can see who naturally steps up and has the leadership skills to guide a group of people. In discovering this, you get a better idea of who may be suitable for leadership roles back at the office.

Some activities are also a great way to bring people out of their shells and improve their confidence. Improving in these areas will help these employees to speak up and share their ideas in the office.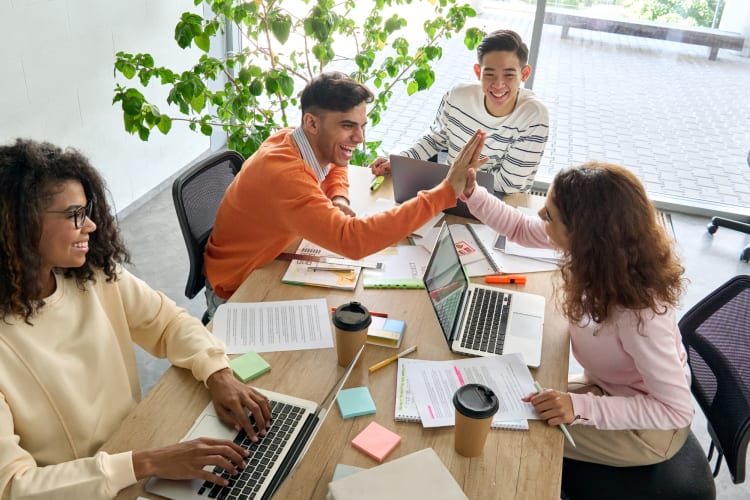 How Does Team Building Benefit Businesses?
The skills that employees learn during team building activities in Naperville can also be a benefit to the business. These activities build strong employees and teams, which can lead to increased employee motivation and improvements in productivity. This often means that projects and daily tasks get done quickly and more efficiently, leading to happier clients and higher profits.

Team building activities can also improve the company culture. Having regular activities that employees can engage in will create an environment that they enjoy working in. When employees are happy, they're more likely to do well in their work. A good working environment is also an excellent way to attract the most talented job candidates and future employees.
Benefits of Team Building
Team building activities in Naperville and elsewhere provide plenty of benefits for employees and the company. Things to gain thanks to effective team building include:
Improved communication: Many team building activities center around communication and using communication skills to solve a problem or get a job done. After practicing these skills in a fun environment, employees are more likely to show strong communication skills in the workplace.

Better collaboration: Team building activities help employees learn how to work together better and achieve a common goal, resulting in better collaboration at work.

More motivated employees: Activities outside of the office can be an incentive and something to look forward to, which motivates employees to work at a higher level.

Boosted team morale: Team building activities also help boost morale in the office and improve relationships by fostering trust and friendship.

Strengthened team bonds: Engaging in activities outside the office brings co-workers closer together, allowing them to get to know each other outside of a work setting.

Increased leadership potential: During team building activities, natural leaders will arise and you can see which employees have leadership skills and leadership potential.

Enhanced company culture: A good company culture makes for an environment that people want to work in. Regular team building activities can help improve the company culture by strengthening relationships and teamwork.

Effective employee appreciation: Employees help make a business a success. Showing them appreciation for all the work they do will increase motivation and job satisfaction, leading to more success.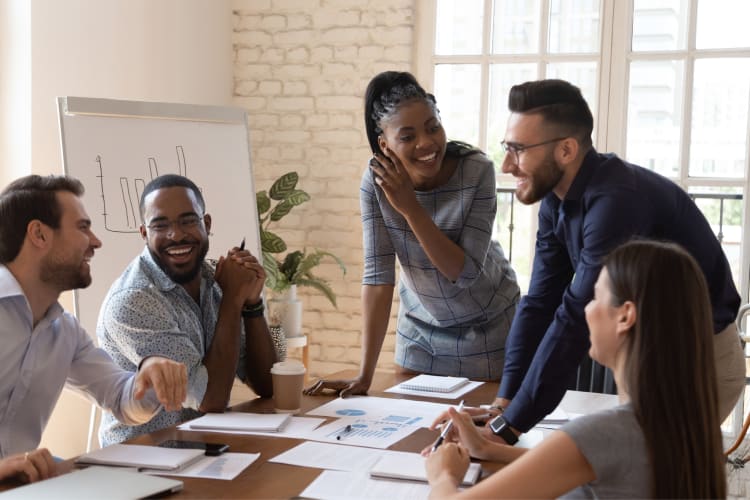 Join 200,000+ Culinary Enthusiasts
Exclusive deals, recipes, cookbooks, and our best tips for home cooks — free and straight to your inbox. PLUS: 500 Rewards Points.
Team building activities in Naperville run the gamut from competitive cooking classes that get the adrenaline pumping to creative experiences that inspire teams to think in news ways. When trying to decide which team building activity is best for your Naperville group, take in account everyone's interests and preferences, and keep an open mind. With such a vibrant area at your disposal, you're sure to find the perfect activity that will faciliate bonding and skill-building in ways you never expected.
For even more team building activities in Naperville and beyond, check out other experiences happening on Cozymeal.