15 Fun Team Building Activities in Houston for 2023
Getting your crew together for team building activities in Houston is a fun, easy way to build relationships and make work feel a little bit less like work. With tons of indoor, outdoor and virtual team activities, Houston has a lot to offer when it comes to fun, exciting ways to engage or reward your team.
The awesome team building activities available in Houston are definitely not what you're used to — in the best way possible. Questionable trust falls, lackluster happy hours and lukewarm pizza parties are a thing of the past; so what are we doing these days instead for Houston corporate event ideas that don't bore? Gear up and take your team out for one (or more) of these fresh, pulse-pounding team building ideas in Houston.
Jump to Section
---
OUR RECOMMENDATIONS
---
15 Corporate Team Building Activities in Houston
1. Team Building Activities on Cozymeal
Team building activities in Houston get everyone engaged and bonding over a universally loved experience: good food! Chefs, sommeliers, guides and more with years of experience in group facilitation are ready to make your day of team bonding all the more delicious. Getting out of the office and trying something new is great to boost morale, and with tons of options to choose from, including cooking classes, food tours, tastings — there's even an in-office guacamole-making competition sure to get everyone fired up — your team building adventure in Houston is sure to be a huge hit.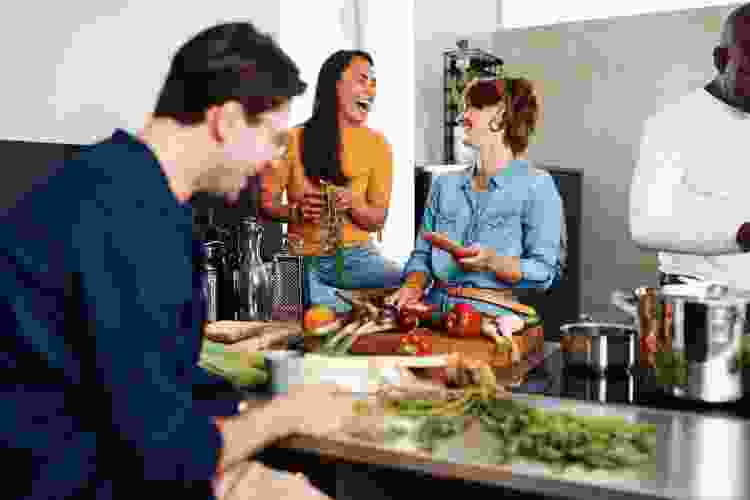 2. Cooking Classes in Houston
You really can't go wrong with cooking classes in Houston for a solid team building option. If you're looking for major crowd-pleasers, pasta making classes in Houston and sushi making classes in Houston are both popular choices for corporate groups, and for good reason. Both styles of cuisine call for a little creativity and perhaps a little help from your neighbor. Share a few laughs and take note of each other's culinary skills during this fun corporate event idea in Houston.
3. Online Culinary Team Building Activities
Sometimes you can't all be together, especially if you've got a large group or team members who work remotely. Fortunately, there are plenty of delicious online team building activities in Houston that can bring you together virtually. If happy hour is your thing, online mixology classes can help everyone on the team pour themselves a stiff drink before you begin your ice breaker games. For a more sophisticated vibe, consider trying virtual wine tastings and brush up on your swirling technique. Rather grab a virtual bite together? Online cooking classes are a fun way to bond over a gourmet homemade meal that makes Houston corporate event ideas as delicious as they are productive!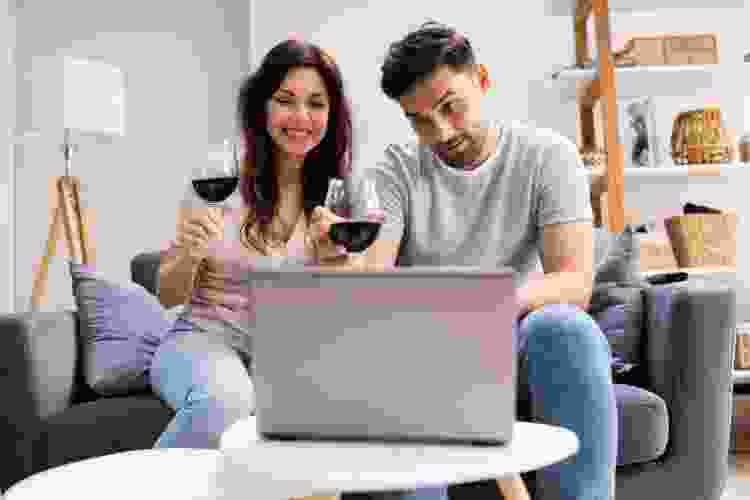 4. Archery Lessons
Archery is a sport that just about any team member can appreciate and take part in, unlike activities such as ropes courses, which can exclude certain team members of different abilities. Archery lessons are a great team building activity in Houston because they combine focus, skill, strategy and even a sense of satisfaction when you hit that bullseye. There are several places where you can get in on this team activity in Houston and take aim at better team cohesion.
5. Go-Karts
There's nothing wrong with a little bit of healthy competition, and go-kart racing is definitely one of the most fun team building activities in Houston. This activity may lean a little more toward team bonding, as it doesn't exactly bring workplace skills into the mix, but it'll definitely reveal who the better drivers in the group are and who's willing to put it all on the line for a win. Many go-kart locations in Houston also have arcade games, other fun activities or refreshments, so you can really make an entire afternoon or evening out of this Houston team activity.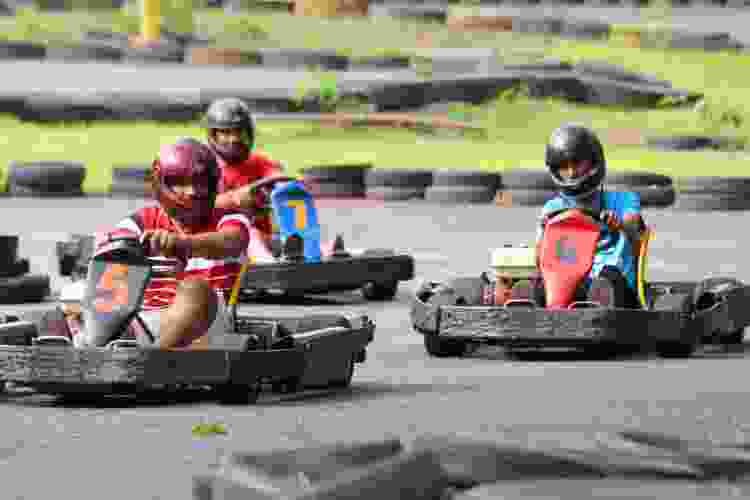 6. Rage Rooms
Escape rooms are so yesterday. If you're looking for a team building activity in Houston that locks you all in a room but actually produces some seriously cathartic results, this is it. Rage rooms provide an outlet for stress (perfect after an audit or for celebrating the completion of a project) while also letting you have a bit of fun while you're at it. Team members can take out their frustration on the office copier in here instead, taking bats and sledgehammers to old furniture and other smashable items. Talk about stress relief!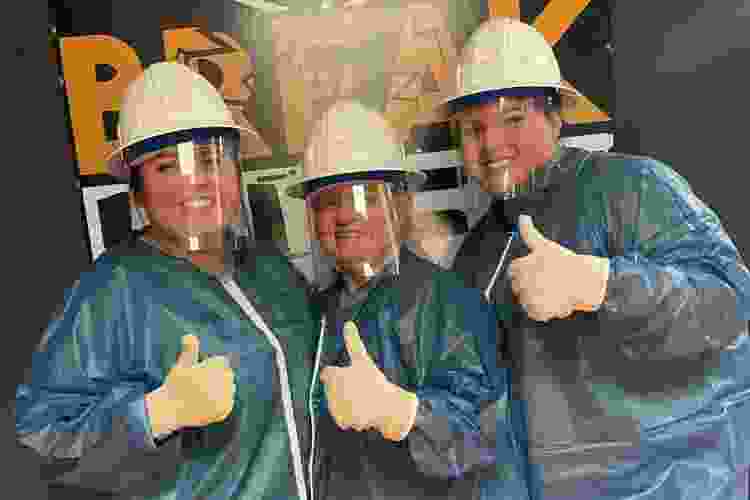 7. Trampoline Park
Trampoline parks like the Flip N Fun Center are perfect for team building activities in Houston. Combine this fun, low-impact activity with other team building games or activities if you wish. Your group can choose your own adventure and explore the course individually or divide and conquer challenges that require collaboration to promote trust and respect between employees.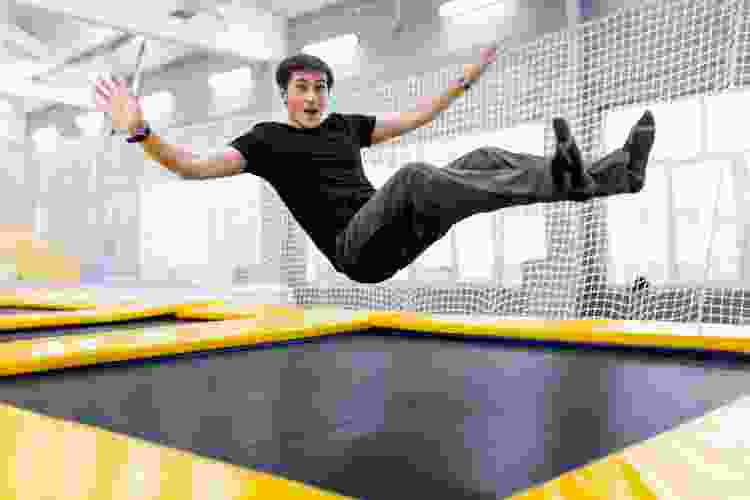 8. Arts and Crafts
Whether your crew is into painting, pottery or even sewing, there are plenty of arts and crafts-based team building activities in Houston that are perfect for time away from the office. Creative team building provides a great opportunity for coworkers to connect around mutual interests and hobbies while you admire one another's work (or laugh at your unfortunate lack of natural artistic talent). Sip and paint classes are especially fun and help employees come out of their shells as they show off their skills.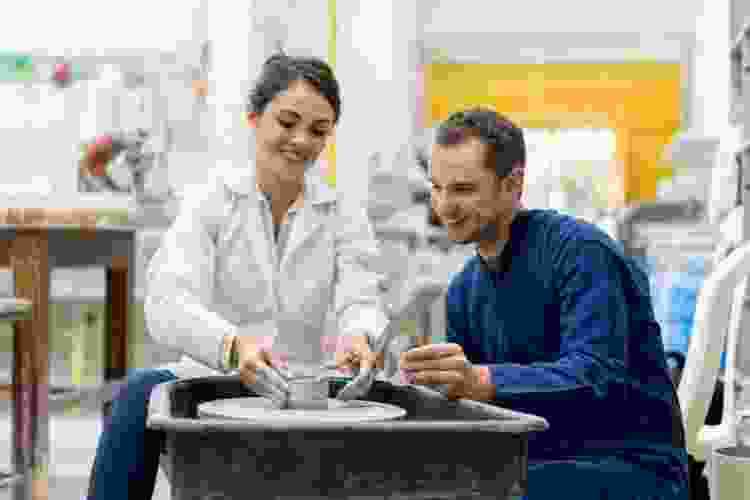 9. Horseback Riding at Blisswood Ranch
Honestly, when is horseback riding not awesome? Hop on and enjoy a beautiful trail ride that connects you to some of the most gorgeous natural resources found in the Houston area. This particular venue offers a true Houston team building experience. Besides horseback riding, enjoy archery, scavenger hunts and other group activities that encourage collaboration in the great outdoors.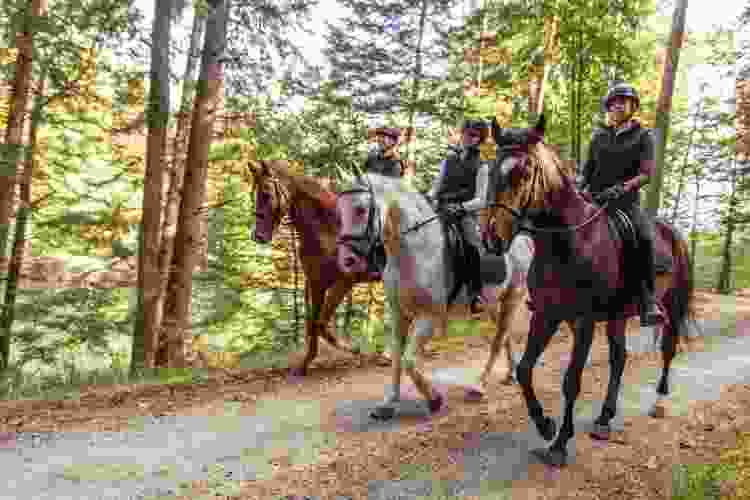 10. Laser Tag Tournament
For a team building activity in Houston that combines strategy, collaboration and a little bit of a thrill, laser tag is where it's at. Coworkers can divide into teams that come together to beat their opponents and win the game, encouraging team members to work together as they develop a master strategy to best their opponent.
11. Batting Practice at Astros Minute Maid Park
Whether you're an ex-little league star or a novice to the pastime, batting practice is one of the best team building activities in Houston, TX. Get to know one another on a personal level — who is a sports fan, and who prefers movies? Share memories, improve your batting form and keep your eye on the ball as you swing for the fences at Astros BallPark. Make a friendly wager on who hits the most homers to add a little low-key competition to the game.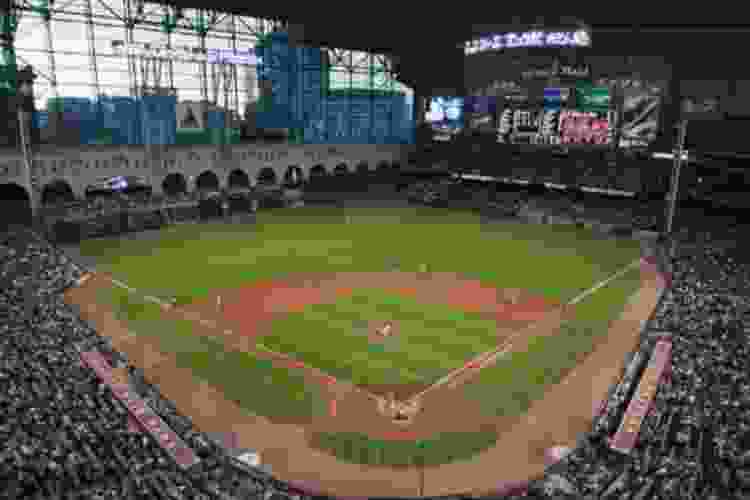 12. Downtown Tunnel Walk and Rail Tour
This is a perfect team building idea in Houston that also helps you all get to know the city that you love. Stretch your legs and brush up on local history as you tour the tunnels and railways that helped build this magnificent city and make it such a great place to live and work.
13. Arcade Fun
Who says arcades are just for kids? There are multiple arcades in the area that provide a perfect place for team building activities in Houston. Whether you're a Skee-Ball addict or classically addicted to Pac-Man, you can share in nostalgia and some good clean fun here. Ramp up the friendly competition and score some points on your favorite arcade games, or get to know one another over an intense game of air hockey. Bonus points if you choose an arcade that also offers refreshments, so you can keep the fun and team building going for longer.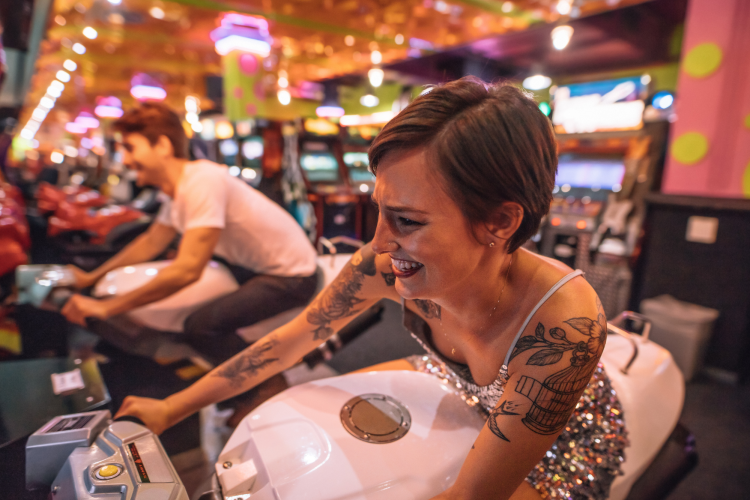 14. Upscale Bowling at Bowl & Barrel
This is the perfect corporate team building activity in Houston, as it adds a sophisticated touch to what is otherwise a very casual, laid-back outing. Sip on craft cocktails and enjoy snacks that go beyond stale nachos as you face off in a friendly bowling tournament. Team members who aren't eager bowlers can still enjoy the camaraderie and refreshments without having to borrow the stinky, community bowling shoes that bowling aficionados just seem to love.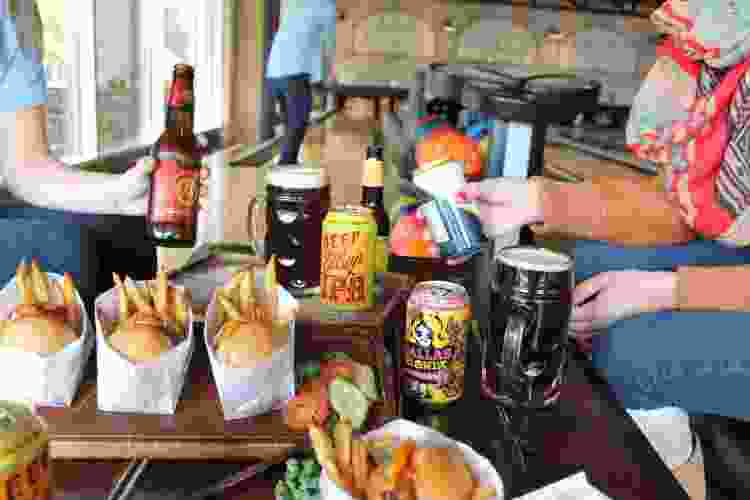 15. Floating Along the Buffalo Bayou
Hop on a pontoon boat or a fleet of kayaks for a fun outdoor team building activity in Houston. This adventure encourages you and your team members to drop their workplace personas and get to know one another as you cruise along and enjoy the wildlife around you. Keep an eye out for herons and other creatures along the bank as you float along the water. You may even indulge in a little bit of teamwork when you help a stranded coworker work their way out of the reeds.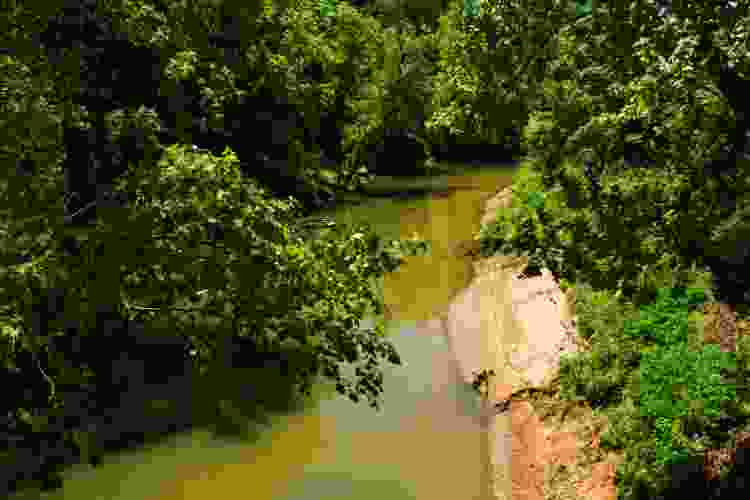 This Is Why You Need Team Building
Companies that dedicate time and resources to making their team feel appreciated tend to get more done. Team building activities in Houston can help your employees feel more like a unified team, and it's been shown that offering perks at work like company outings and events makes employees feel more valued and boosts employee happiness.
According to Indeed, team building helps foster trust, communication and friendships among team members. When employees are given the opportunity to drop their workplace personalities and truly be themselves, they are able to build genuine relationships. Friendship and camaraderie fuel the fire that drives great teamwork. Employees are more willing and eager to go the extra mile on a project or assignment when they know it helps or lifts up an associate that they also consider a friend.
Workplace friendships are a valuable tool in promoting a positive culture in the office, and the best way to develop those priceless relationships is by encouraging teammates to interact outside of the office. Whether you're cooking alongside one another or running for your lives in a game of laser tag, you're bound to have more intimate, fun conversations than you would in a boardroom or cubicle.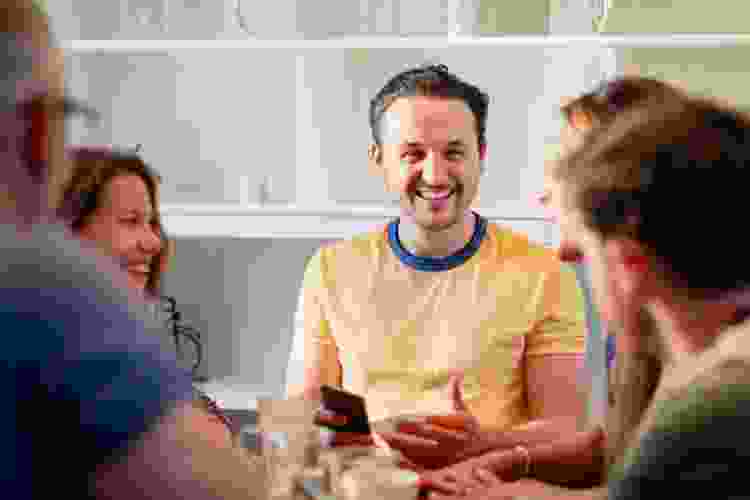 Team Building Activities Help Boost Your Business
Engaging in any of these team building activities in Houston is inevitably going to help improve the way your business operates. Team members that have closer relationships and know each other on a deeper level tend to understand one another better. Knowing your coworker's strengths, weaknesses, preferences or thought process is extremely valuable, and those team members tend to work better together and collaborate more easily.
On the other side of the coin, coworkers are more likely to work through problems efficiently when they have a great relationship. Rather than disagreeing or simply getting stuck on a problem, work besties are more likely to put their heads together and find a solution. Collaborative problem-solving gets things done and often produces high-quality results.
When team members are excited to work together, they'll often get more done in less time, and through their combined efforts produce a better product. Exemplary team efficiency and earnest dedication to quality are ultimately going to improve your products, client interactions and results. Clients can tell when employees are happy to work with them, and happy employees mean happy clients. All of these factors together are ultimately great for business success and growth.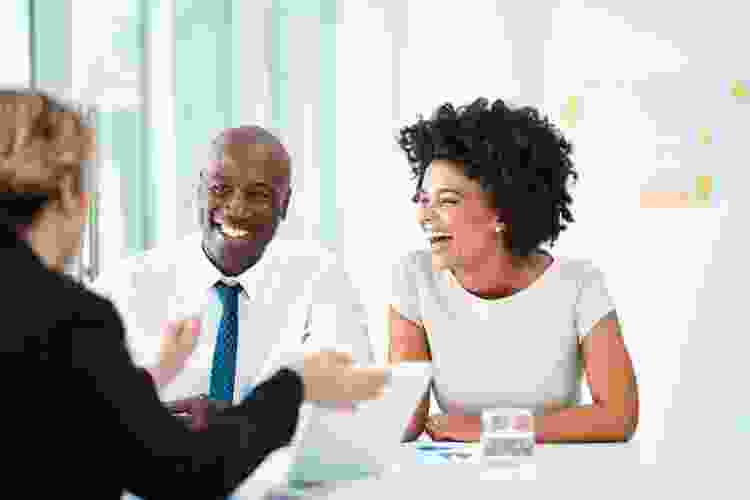 Benefits of Team Building
When you involve your team in team building activities in Houston, you're bound to experience several proven benefits. Some of the stellar results of team building include:
Strong sense of team and community
Improvement in employee retention
Enhancement of productivity and efficiency
A more positive work culture
Collaboration and group problem-solving
Reduction in stress or tension

Join 200,000+ Culinary Enthusiasts
Exclusive deals, recipes, cookbooks, and our best tips for home cooks — free and straight to your inbox. PLUS: 500 Rewards Points.
If you're not already on your way to book at least one of these fun team building activities in Houston, you're missing out on some truly incredible experiences. What's even better is that these exciting experiences come with a side of camaraderie and community that's sure to take your team to the next level.
For even more team building activities in Houston and beyond, check out other experiences happening on Cozymeal.
Team Building in More Cities Near You
For even more great team building inspiration in cities near you and around the U.S., check out our comprehensive guides: