21 Office Breakfast Ideas for Your Team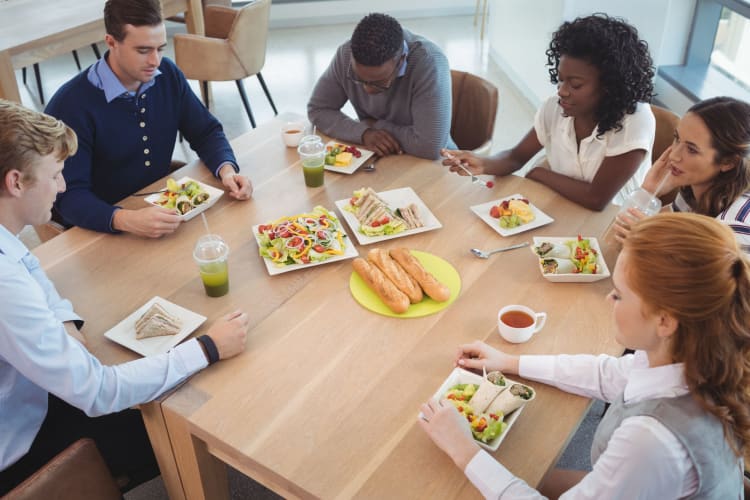 Looking for office breakfast ideas for your staff? Office breakfasts not only offer an opportunity for much-needed morning sustenance but are a great chance to bring your staff together first thing in the morning. Whether you are planning breakfast as a more formal intentional team building activity or just offering breakfast as a daily or occasional office perk, there are a number of fun, great ideas for feeding your staff in the morning hours.
Office breakfast offers a lot of benefits. For one thing, morning is often when minds are sharpest and ideas are flowing. But a fun breakfast session also presents a great way for co-workers to come out of their corners and get to know each other.
From the formal to the informal, the well-budgeted to the inexpensive, you can find the perfect option for your staff and needs, whether it's an all-day work retreat, an early morning meeting, team building activities or just a thank-you to a hardworking staff on Employee Appreciation Day. Offering great breakfast options, whatever the occasion, leads to not only stronger social connections in the workplace, but also increases employee happiness.
Jump to Section
Book a Gourmet Cooking Class Now
Kick-start your culinary confidence with help from a world-class chef. See what's cooking in your city today.
Turn Breakfast Into a Team Building Opportunity
If you are looking for a way to build skills, encourage teamwork and socialize the office, a great way is to turn your office breakfast into a team building opportunity. Cooking classes are a particularly great way to both encourage needed socialization and teamwork skills as well as to create something together. Team building activities not only increase employee engagement but also boost morale and foster healthy competition.
Whether you are gathering for ice breaker games or team building games, a fun breakfast idea brings everyone together for this all-important meal of the day when minds are the freshest and bodies the hungriest. If you're looking for great ways to bring your team together, you can easily find team building activities in Chicago, team building activities in San Diego or team building activities near you.
21 Office Breakfast Ideas
1. Cooking Classes
A great idea to bring staff together for an office breakfast is a cooking class. Available in all sorts of cuisines and fare, cooking classes offer the opportunity to not only come together to prepare a meal or dish, but also encourage teamwork and build new skills for everyone involved. Whether it's French pastries, expansive brunches or vegan tarts, you can find great cooking classes in a number of cities. Looking for cooking classes in Toronto or perhaps cooking classes in Dallas? Check out the great variety of cooking classes near you.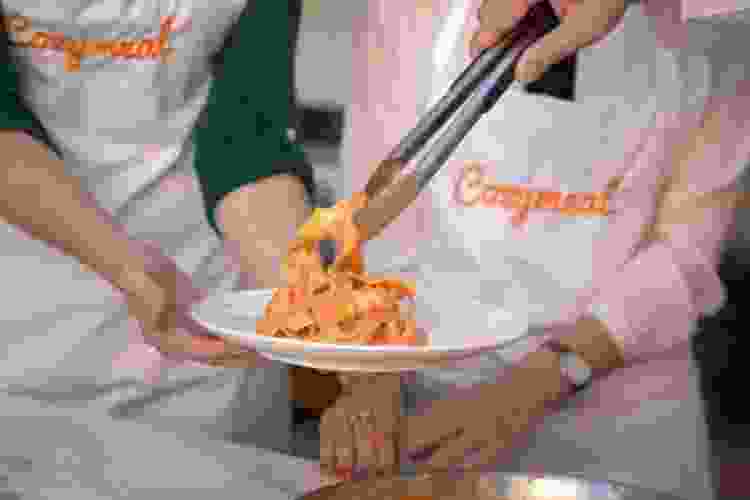 2. Private Chef
A unique experience, private chefs offer a perfect chance to bring world-class cuisine to your workplace breakfast options. Private chef experiences span a variety of cuisines and dishes and can be organized for groups of varying sizes. Bring in a professional to create your office breakfast — everything from scrumptious omelettes and crêpes to multi-course meals. Whether you are looking for private chefs in Los Angeles or private chefs in NYC, you can find a vast selection of private chefs near you.
3. Breakfast Tacos or Burritos
Always one of the best breakfast ideas for anyone seeking a quick and easy meal, these tasty south-of-the-border options add the potential for endless variations to suit all tastes. For this simple, fun office breakfast idea, set up a selection of flour and corn tortillas, eggs, hashbrowns and various meats like sausage, steak and chorizo. Add cheese, sour cream and all varieties of vegetable toppings. Or try this great recipe for a vegan breakfast burrito. Don't forget the hot sauce!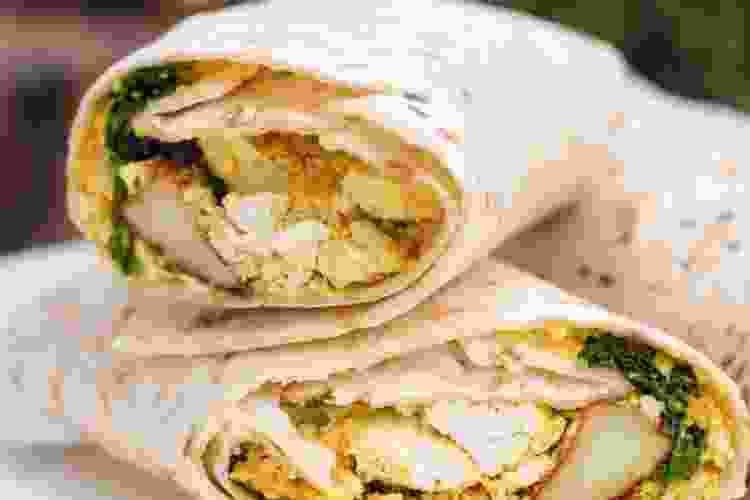 Book a World-Class Private Chef Now
Five-star fine dining from the comfort of home. Find your favorite private chef experience starting at $59/person.
4. Saturday Morning Cereal
This fun office breakfast idea is actually great for any morning of the week, not just Saturdays. For a more informal alternative for the office breakfast, set up a buffet of children's classic cereals like Fruit Loops, Cap'n Crunch and Cocoa Puffs, as well as various kinds of milk and nut milks. For an especially nostalgic morning, add some favorite cartoons on the projector or make it a pajama day for the perfect office breakfast party idea.
5. Potluck Breakfast
Long the staple of office parties, a variation on this idea is to encourage participants to bring their favorite breakfast dishes, including casseroles, Crockpot fare and baked goods. Whether you are looking for something sweet or savory, some great recipes include lemon poppyseed bread, skillet breakfast potatoes or apple crumble cake.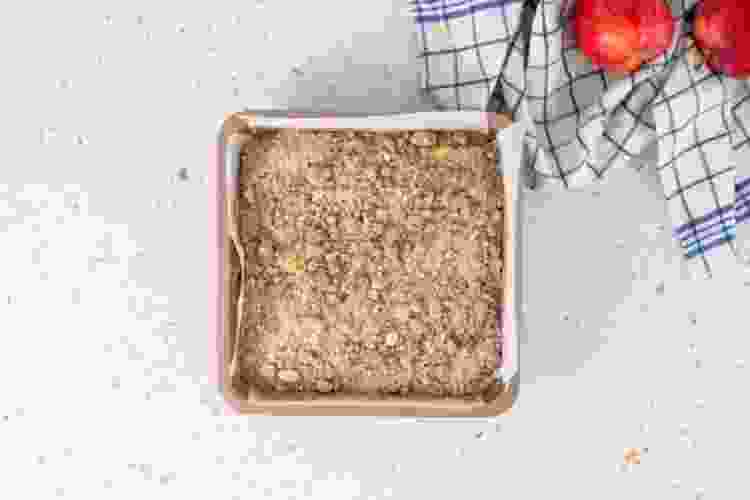 6. Smoothie Stations
Smoothies are both a fun and health-conscious breakfast idea for the office and are relatively easy to set up. They are also a great grab-and-go option for a fast-paced morning. All you need are a few blenders, some fresh fruits like strawberries, bananas and blueberries, and yogurt or milk as the base. Add ice and enjoy!
7. Breakfast Cocktails
Great for an office retreat or team building brunch, this fun and festive breakfast idea focuses on cocktails typically associated with breakfasts or brunches. Try a selection of prosecco mimosas, bloody marys and fruity, frosty daiquiris. You will need blenders or shakers, liquor and mixers like juices, Champagne and seltzer. You can also add some fun garnishes like fresh fruit and vegetables.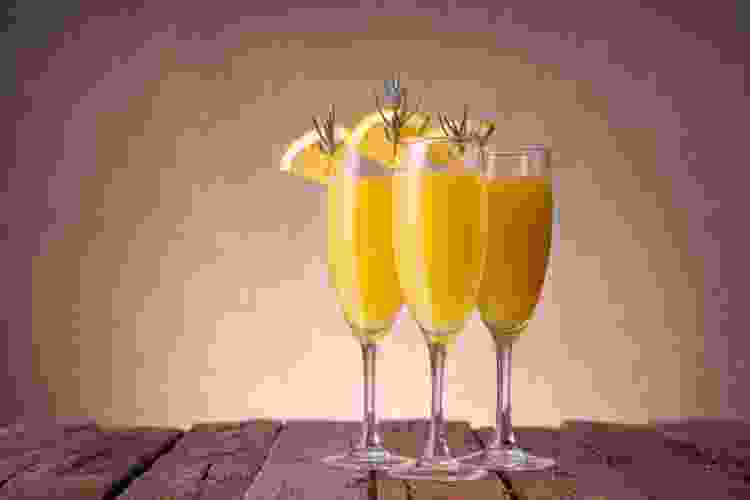 8. Outdoor Cookout Breakfast
Great for a morning outside the office, try cooking up a campfire breakfast in a nearby park (or even the office parking lot.) Pull out the Coleman stove or roast ingredients over a roaring fire. Easy options for cookout fare include breakfast potatoes, sizzling bacon and scrambled eggs. You can also make this great breakfast skillet. This fun breakfast idea works especially well for retreats or in-services and makes a great environment for some Would You Rather questions!
9. Custom Breakfast Bowls
Breakfast bowls are a trendy and fun idea for the office, offering endless options for customization. You can make the savory with a base of eggs, potatoes and meat or offer yogurt, fruit, nuts and granola for an acai bowl. This office breakfast idea is particularly good for accommodating the various dietary needs in a larger office.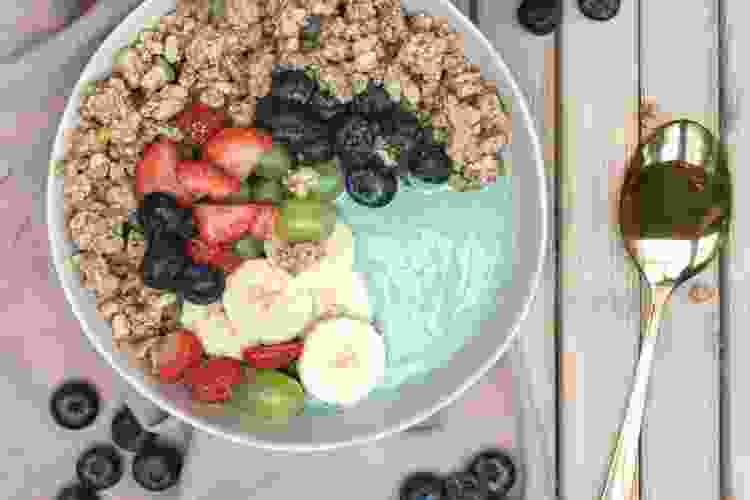 Team Building Goes Gourmet
Connect with your team through world-class cooking classes, mixology classes, food tours and more.
10. International Pastries
This tasty office breakfast idea offers participants a chance to show off their personal heritage and baking skills. It gives a great opportunity for your workers to try new things like Bavarian strudel, Japanese mochi and Italian cannoli all at once. Just add coffee and tea. This one works perfectly for an easy early morning office meeting since it's easy to set up.
11. Grab-and-Go Continental Breakfast
This one is an old standby for breakfast office ideas but works perfectly in situations where time and schedules vary. Offering up an all-day-long selection of bagels, muffins, breakfast bars and ample coffee or juice will keep employees coming back for more. This also works really well if you offer daily breakfast as everyone's favorite perk at work. Offering this easy office breakfast idea is also great as an occasional thank you for hard work.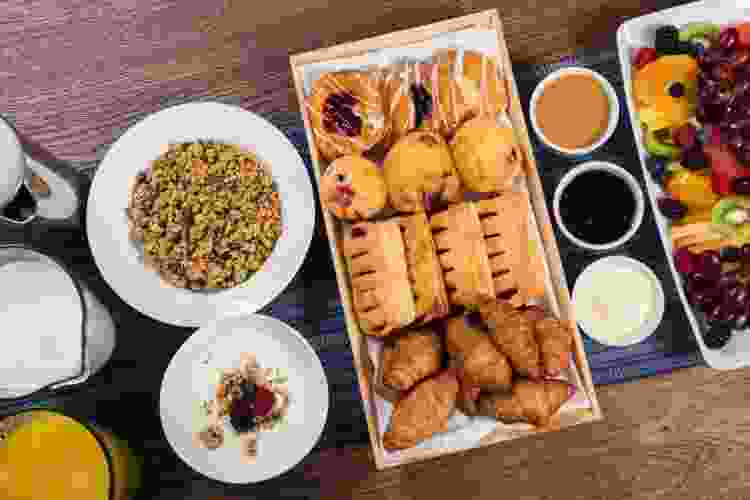 12. Omelette Station
Omelettes are usually a crowd-pleaser and a great idea for your working office breakfast. A great strategy is to hire a professional chef if the budget allows, or take turns on the omelette pan while your guests choose from a great selection of toppings and fillers like sausage, ham, vegetables, hashbrowns and various cheeses.
13. Chicken and Waffles
This Southern favorite is an easy go-to, particularly as an office brunch idea for the staff, when the combination of sweet and savory is a sure hit. Try this scrumptious honey fried chicken recipe. For ease of set-up, you can even outsource your fried chicken to a deli or caterer and focus on offering a selection of toppings for waffles cooked up in an iron piping hot and fresh. This great breakfast idea for the office is both filling and fun.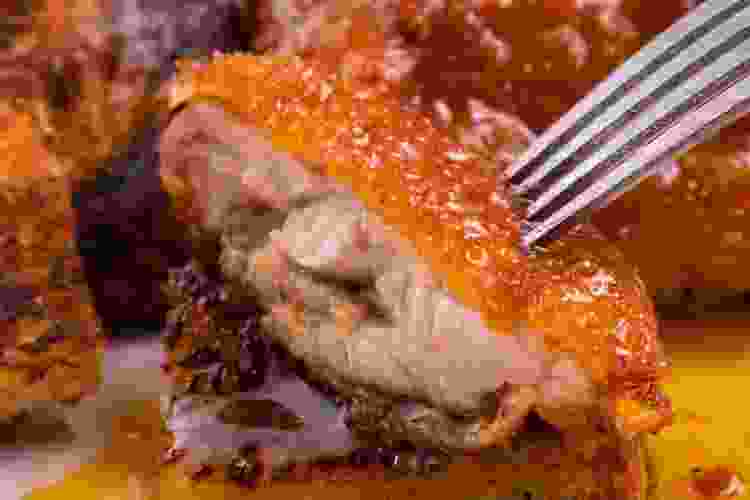 14. Bagels
There is a reason that bagels are an old office breakfast idea standby, being both easy to set up, readily available and with endless options in terms of flavors and spreads. Even still, there's no need for them to be boring. A tried-and-true office breakfast idea is to offer an assortment of bagels with a variety of toppings like flavored cream cheeses, jellies and other schmears. For a beautiful presentation, you can also create an attractive charcuterie-style butter board.
Book a Gourmet Cooking Class Now
Kick-start your culinary confidence with help from a world-class chef. See what's cooking in your city today.
15. Breakfast Pizzas
For potluck office breakfasts, breakfast pizzas are great to cook the night before and reheat in the morning. There are unlimited options in terms of toppings, including eggs, cheese, sausage and vegetables. Try a morning where everyone brings in their favorite version of a breakfast pizza for everyone to try. Not only enormous fun, but this office breakfast idea will also no doubt offer leftovers for snacking all day.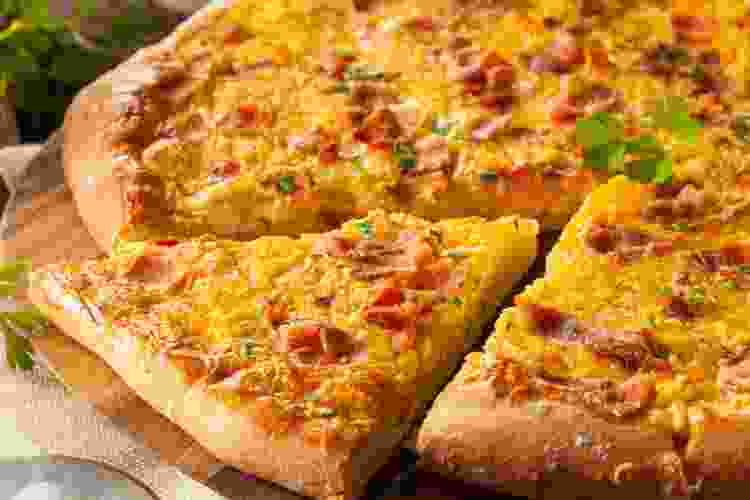 16. Yogurt Bar
A fun, fast and easy breakfast idea for the office that doesn't require a stove or heat is a breakfast yogurt bar. Buy a stash of plain Greek yogurt cups or flavored varieties and set up a toppings bar with fruit, nuts and granola, and allow your employees to get creative with their assembly.
17. Breakfast Sandwich Stations
Breakfast sandwiches are a filling and fortifying breakfast and offer endless options in terms of ingredients. For a fun breakfast idea for the office, set up a station offering all sorts of sandwich options. All you will need is a selection of bread (bagels, English muffins, croissants), eggs and sandwich fixings like sausage patties, bacon and ham. Add a selection of cheeses and other additions like tomatoes or onions to finish them off.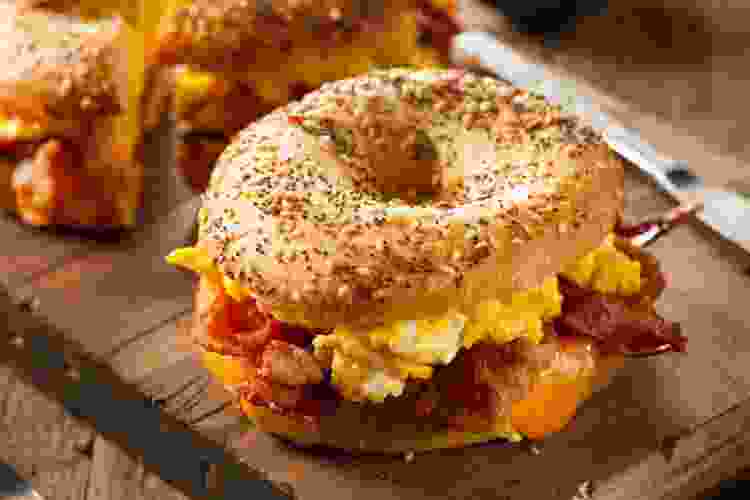 18. DIY Crêpes
A great hands-on breakfast idea for the office is making fun DIY crêpes. This French favorite offers limitless options from the sweet to savory. If you pre-mix your batter before the event and stock up on fixins' like berries, cinnamon and sugar, they can be made fairly quickly and customized by each employee. Think delectable treats like blueberry crêpes and chocolate crêpes! You can also incorporate other breakfast foods like eggs, bacon and cheese.
19. Toast Bar
With the popular avocado toast on many people's breakfast rotation these days, consider setting up a toast bar with toppings like everyone's favorite, avocado, a fancy butter board, eggs, breakfast meats, jellies and jams and cream cheese. This fun idea for office breakfasts is not only healthy but is easy to grab and go. You can also try this great recipe for sweet potato toast.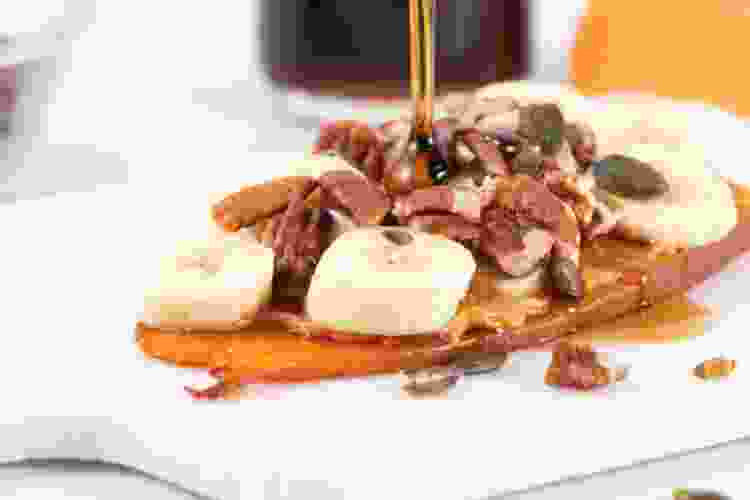 20. Breakfast Bake Sale
A breakfast bake sale is a fun idea and a great option if you are working to raise money for a charity or cause. Participants can create their favorite breakfast options like cinnamon rolls, muffins and Danishes. Proceeds go to the chosen charity, fund or cause. It not only allows participants to display their baking skills, but has a nostalgia factor, reminding everyone of the school bake sales of childhood. Great options include cranberry orange scones and peach cobbler pound cake.
Book a World-Class Private Chef Now
Five-star fine dining from the comfort of home. Find your favorite private chef experience starting at $59/person.
21. Doughnut Decorating
A doughnut decorating party is a great way to eat tasty doughnuts and explore your creativity. It is also a perfect office breakfast idea for an inexpensive DIY station for your co-workers or for Take Your Daughters and Sons to Work Day. It's very kid-friendly and involves little work to set up with just some pre-bought doughnuts, various frostings and glazes, and things like chocolate chips, sprinkles and other candy toppings.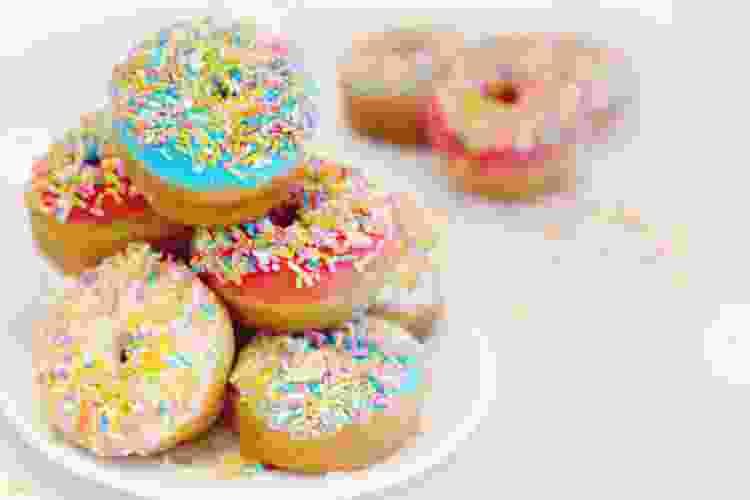 Join 200,000+ Culinary Enthusiasts
Exclusive deals, recipes, cookbooks, and our best tips for home cooks — free and straight to your inbox. PLUS: 500 Rewards Points.
Whatever the fare and occasion, you can make your office breakfast both delicious and socially valuable to the workplace with just a few simple ideas. Whether you are looking for more singular experiences like a private chef or more simple grab-and-go breakfasts, there are a number of options at different price points and levels of preparation that work for any office or workplace. These work great for office breakfast parties, early morning meetings, breakfast potlucks, thank-you breakfasts and office training or team building activities.
For even more fun team building inspiration, check out other experiences happening on Cozymeal.
More Team Building in Cities Near You
Check out more exciting team building activities in cities near you.