What Is Chorizo and How Do You Cook It?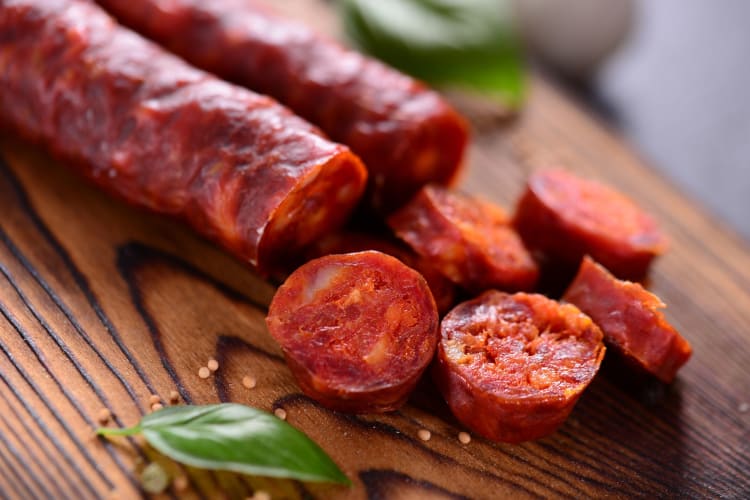 You already love Italian sausage, breakfast sausage, chicken sausage and even wild game sausage, but have you ever tried chorizo? Chorizo sausage is becoming more widely available at your local meat counter, and you may have seen it in dishes on Mexican or Spanish restaurant menus, so let's get you familiar with this deliciously exciting ingredient.
What is chorizo made of? Does it need to be cooked before you can eat it? What kinds of dishes can you make with chorizo? Keep reading to satisfy your appetite for more details on the spicy sausage you haven't met yet but are about to love.
Jump to Section
Book a Gourmet Cooking Class Now
Kick-start your culinary confidence with help from a world-class chef. See what's cooking in your city today.
What Is Chorizo?
Chorizo is a type of sausage known for being deep red in color and spicier than other types of sausage. As with all things sausage, it is a mixture of meat and spices packed into a sausage casing. Recipes and styles can vary, which is typical of any type of sausage and one of the reasons sausage is such an interesting food. The most common types are Spanish chorizo and Mexican chorizo, and there are some key differences between the two.
Chorizo sausage originated in Spain and is still a staple ingredient there. In Spain, it is usually found fully cured and is eaten like salami or pepperoni. Availability of chorizo sausage spread to any place where the Spanish had colonies. Adaptations of chorizo are found in Mexican, South American and Filipino dishes, where it is typically not cured and must be cooked before eating. In fact, chorizo is one of the most popular Mexican street foods and is a staple ingredient in the best Mexican food in NYC.
There is a big difference between the cured Spanish chorizo and the raw Mexican chorizo, so make sure you know which one a recipe calls for before getting started. They are not interchangeable. What you can be sure of with any chorizo is that it has a signature dark red color and that it will pack a powerful punch of flavor compared to your average pork link.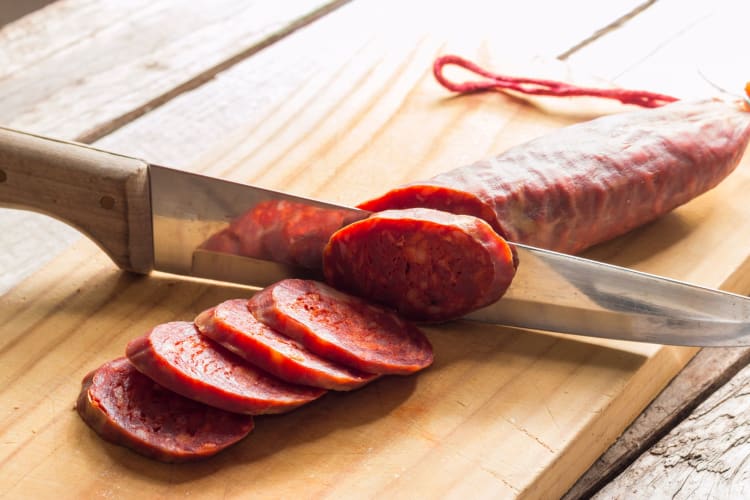 What is Chorizo Made of?
Chorizo is a pork-based sausage. The traditional Spanish chorizo recipe combines pork, smoked paprika and garlic. Pork fat and additional seasonings are added depending on the region, and skinnier Spanish chorizo links are usually spicier than standard-sized sausages.
The smoked paprika that gives Spanish chorizo its signature color and flavor was too expensive to export, so Mexican chorizo often use chiles for color and spice. The Mexican version is also raw when it is stuffed into the casing, but the casing is not meant to be eaten. Most recipes using Mexican chorizo will call for removing the casing and crumbling the meat for cooking.
In modern times, pork chorizo has been adapted to be made with leaner meats in an effort to make it healthier. Beef chorizo and soy chorizo are now common, as are versions made with chicken and turkey.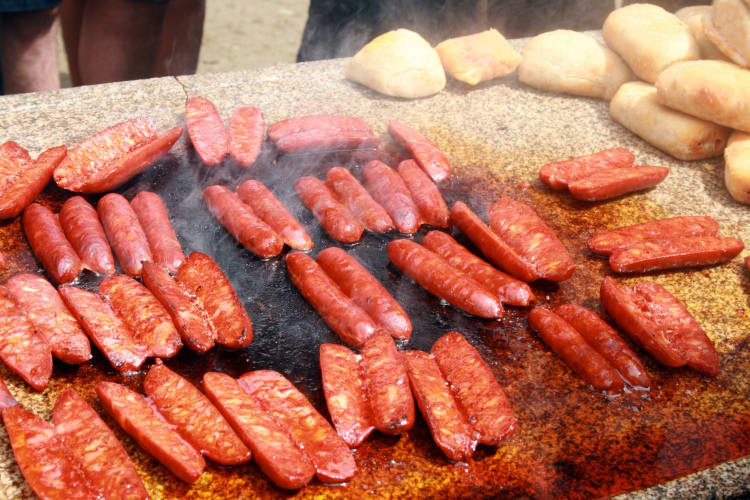 Join a Live Online Cooking Class Today
Your kitchen is now your own culinary classroom. Connect with chefs from around the world right from the comfort of home.
How to Cook Chorizo?
In the U.S., it is most common to find Mexican chorizo. Mexican chorizo makes a delicious taco filling, and it is also commonly served for breakfast with eggs. Just snip off the ends of the casings and squeeze it into a skillet. You don't even need oil because chorizo contains plenty of fat already. Many Latin cooking classes in Miami will feature this unique ingredient, as do Latin cooking classes in NYC and online Latin cooking classes.
The sky's the limit on ways to use Mexican chorizo. You can substitute it almost anywhere you'd use ground beef for a zestier dish. Just make sure you cook it thoroughly to render out all the fat before serving.
Spanish chorizo makes a great addition to a charcuterie board. For semi-cured sausages, treat it like a bratwurst or kielbasa and just toss it on the grill (poke a few holes in it to allow the fat to do its magic). If you want to learn more about how to use this new food find, try checking out cooking classes near you that feature it.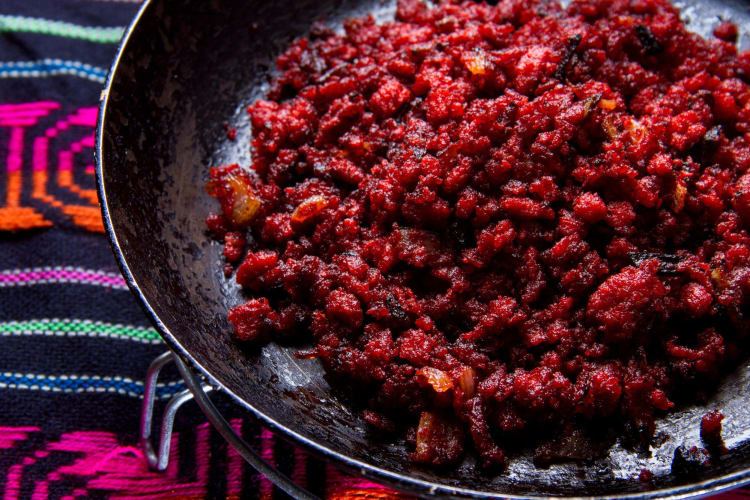 Our Favorite Chorizo Recipes

Join 200,000+ Culinary Enthusiasts
Exclusive deals, recipes, cookbooks, and our best tips for home cooks — free and straight to your inbox. PLUS: 500 Rewards Points.
Chorizo is a surprisingly versatile sausage considering its bold flavor. It has a place on the breakfast table and the dinner menu while also being a star on an appetizer board. If you are a fan of sausage, chorizo needs to be part of your repertoire.
For even more ways to explore your favorite foods, check out other experiences happening on Cozymeal.