Guide to Cooking Bratwurst Sausage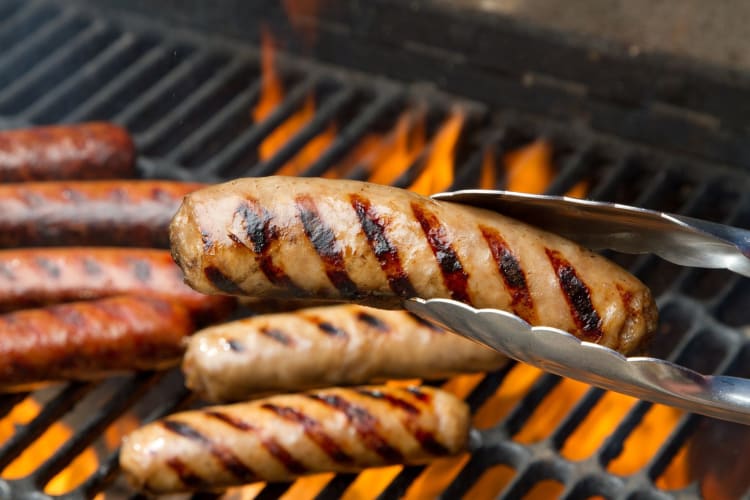 Our editorial team recommends the best products through independent research, selection and careful review. If you make a purchase through one of our affiliate links, we may earn a commission. Prices are subject to change.
Bratwurst is a traditional German sausage that can be prepared in many different ways. From grilling out in the backyard to more traditional methods like simmering in beer, you'll find plenty of new and creative ways to prepare bratwurst sausage in this complete guide.
Jump to Section
Gourmet Cooking Classes Near You
Take your culinary skills to new levels with guidance from five-star chefs.
What Is a Bratwurst?
Bratwurst is a traditional German sausage that is seasoned with a unique blend of spices, including marjoram, pepper, coriander and ginger, to name a few. Like other types of sausages, bratwurst are most commonly made from pork, although sometimes you can find varieties made with a mix of meats, veal or beef.
Typically the meat and spice blend are stuffed into natural casings made from animal intestines, although there are also bratwurst made with artificial casings. You will most often find fresh bratwurst at the grocery store, but it can also be purchased smoked or precooked.
Bratwurst came to the United States with German immigrants and can often be found at cookouts and outdoor events. It can be easy to confuse bratwurst with other traditional German sausages like knockwurst. The main difference between these two types of sausage is the spice blend. You'll find that bratwurst is much more mildly seasoned than knockwurst, which often contains much stronger blends of pepper, paprika and garlic.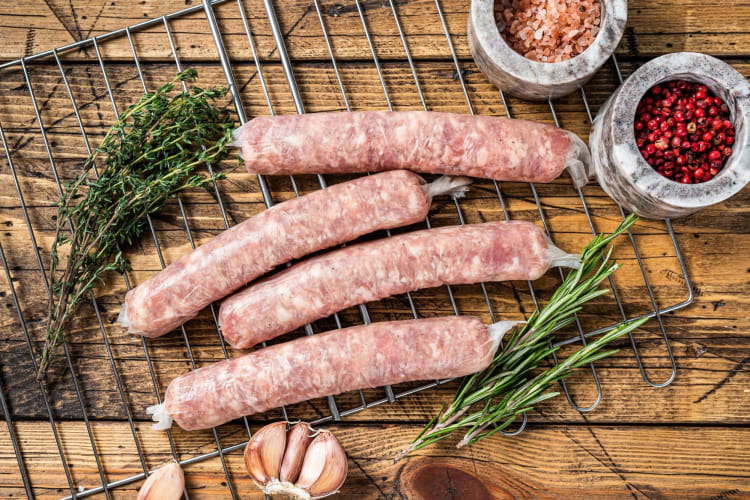 What Does Bratwurst Taste Like?
As mentioned before, bratwurst traditionally has a milder flavor than other types of sausage, but that doesn't mean it is bland. The taste of a bratwurst sausage is very similar to that of other pork sausages, but you might notice a more herb-like flavor coming from the blend of spices used to season the meat. Like other sausages, the casing used also contributes to the taste and texture of the dish.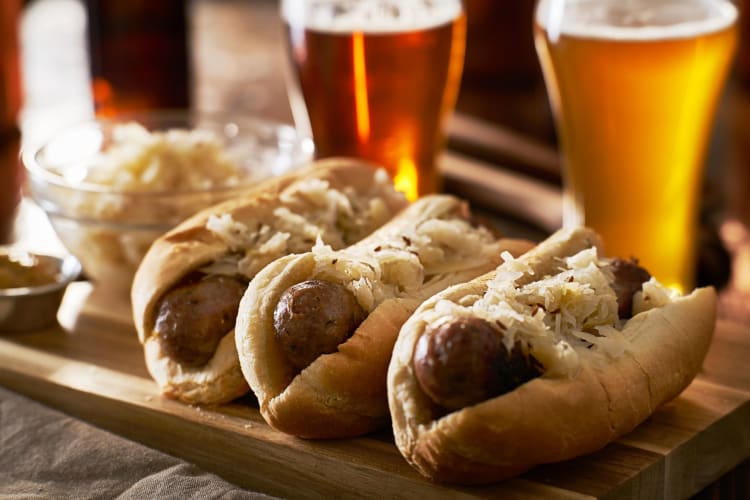 How to Cook Bratwurst
There are plenty of different cooking methods for bratwurst. Whether you only need a few brats for an easy family dinner or a full platter of them for a larger gathering, be sure to choose the cooking method that will be most useful to you. If you're still uncertain how to cook this German classic, you could also try taking some cooking classes near you to gain confidence in your skills. With cooking classes in NYC, cooking classes in Denver or in your own hometown, you'll be sure to amaze everyone at your next cookout with this delicious German-inspired dish.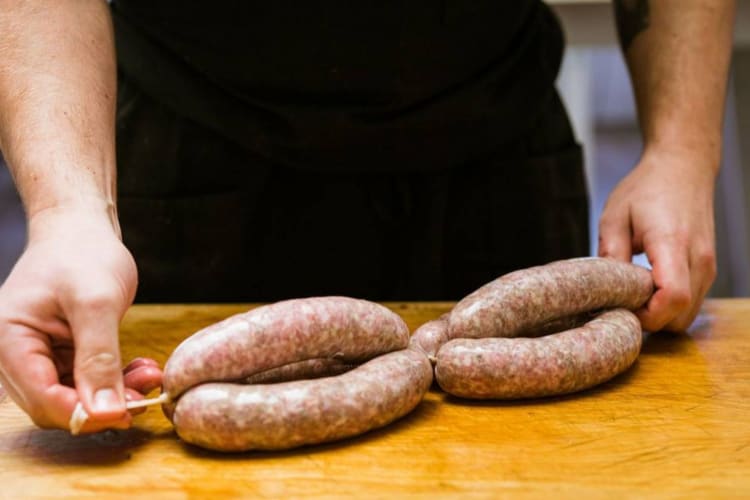 Join a Live Online Cooking Class Today
Your kitchen is now your own culinary classroom. Connect with chefs from around the world right from the comfort of home.
Larger Batches
To cook larger batches of brats, there are two main options: grilling and cooking the bratwurst in the oven.
For a large party, grilling your bratwurst might be the best option. Before you prep the sausage, be sure you have researched the best grill pans and the perfect types of grills for your needs. Then, cook the bratwurst by keeping them over indirect heat for around 16-18 minutes. For the last 2-3 minutes of cooking time, put the bratwurst in direct heat to achieve those coveted grill marks. You can serve your freshly grilled brats like hot dogs with buns and condiments, or with more traditional German side dishes.
To cook your bratwurst in the oven, simply arrange on a baking pan with some room in between each brat. Bake at 400 degrees for 10-12 minutes, then turn each brat and continue cooking for a few more minutes before serving. This is a great option if you need to prepare a larger batch but can't stand outside over a hot grill.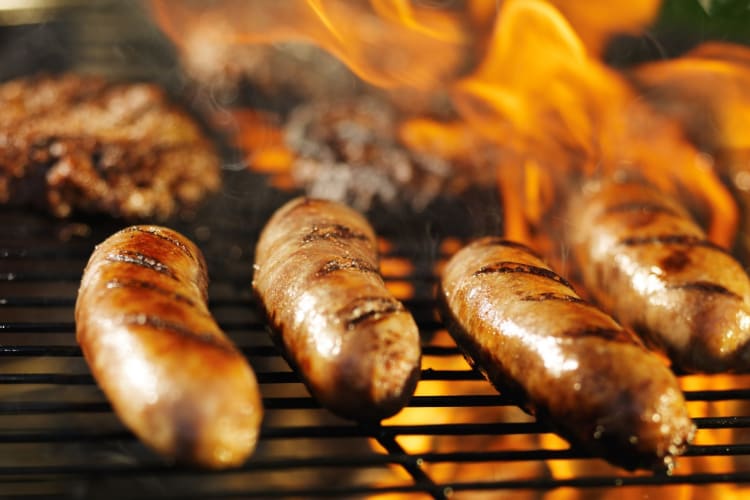 Smaller Quantities
There are plenty of ways to cook smaller batches of bratwurst. Of course, the grilling and baking methods above also work perfectly well for smaller batches, but there are other options, too.
The first and most traditional is to simmer your brats in beer. Simply create a traditional mixture of beer, butter and an onion or two, and allow the bratwurst to simmer until almost cooked through. Some chefs recommend pan-frying the brats for the last few minutes to really be sure they are cooked and crispy.
Two other less conventional methods of cooking bratwurst are in the air fryer and slow cooker. With the air fryer, you can achieve a crispy and delicious bratwurst relatively quickly. With the slow cooker, you can set it in the morning and come home from work to a delicious dinner that's almost ready to go.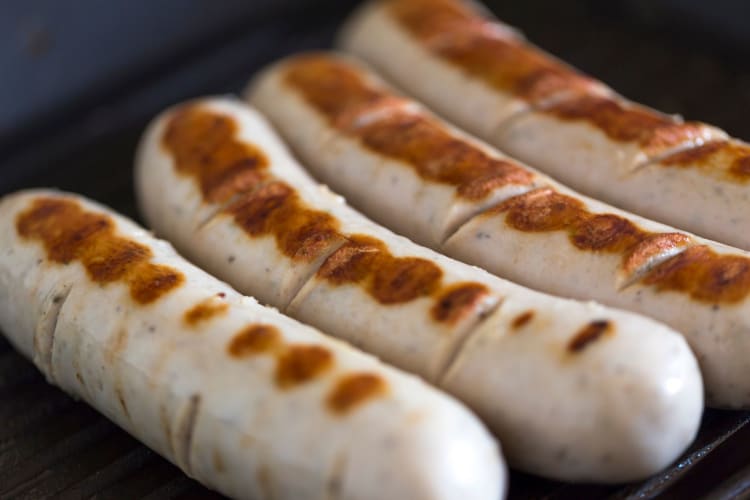 Best Brands of Bratwurst
When shopping for bratwurst, there are certainly plenty of brands to choose from. If you are looking for a good basic brand to try at first, Johnsonville original bratwurst is a great starting place. These are easy to throw on the grill and are made with 100% pork.
To take your bratwurst game up a notch, try these gourmet bratwurst from Omaha Steaks. These brats have a blend of beef and pork, which gives a nice robust flavor. They are also smoked to enhance the German spices.
Finally, if you're looking for a really high-end product, Fraunheimer Fine Meat makes wagyu and heritage pork bratwurst. The addition of wagyu beef adds a new dimension of flavor to these traditional sausages.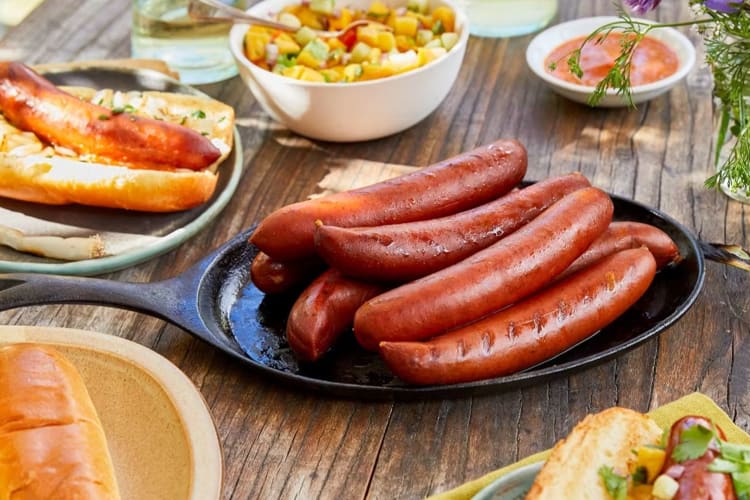 Join 200,000+ Culinary Enthusiasts
Exclusive deals, recipes, cookbooks, and our best tips for home cooks — free and straight to your inbox. PLUS: 500 Rewards Points.
We hope this guide to cooking bratwurst sausage helps you feel prepared for your next backyard cookout or Oktoberfest celebration. With plenty of cooking and serving options to choose from, this flavorful German sausage really is a versatile staple for your pantry.
For even more ways to explore your favorite foods, check out other experiences happening on Cozymeal.