15 Must-Try Mexican Street Foods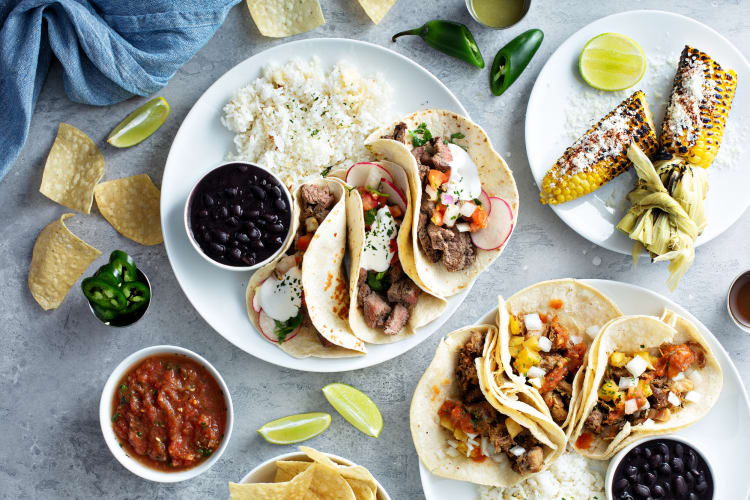 What do you know about Mexican street food? Did you know, for example, that traditional Mexican guacamole isn't made with lime or garlic? Or that to eat Mexican street food with proper etiquette, you shouldn't use utensils? You won't even think twice about wasting time with a fork or knife when you get your hands on an authentic gordita or tostada, anyway.
While you don't have to travel to Mexico to enjoy Mexican street foods, you'd be in foodie heaven if you did. It's where countless culinary traditions began, from the invention of the beloved taco to the first sizzle of a corn tortilla in hot oil.
What makes these foods unique is the deep history associated with the dishes, and the complex culture that is impossible to detach from them. Read further to learn the history of your favorite Mexican street foods and to discover new dishes to add to your foodie bucket list.
Jump to Section
Learn to Make Your Own Mexican Street Food
Before you start your culinary road trip to Mexico, consider how cool it would be to be able to make your own Mexican street food right at home. It's actually more doable than it sounds, especially if you sign up for cooking classes near you wherein you'll learn to make authentic Mexican cuisine from world-class chefs who know exactly what they're talking about. There are cooking classes in NYC, cooking classes in Los Angeles and beyond.
If you can't seem to find cooking classes near you, stay comfy at home and try out online Mexican cooking classes. Your stomach will thank you later, and so will everyone in your household!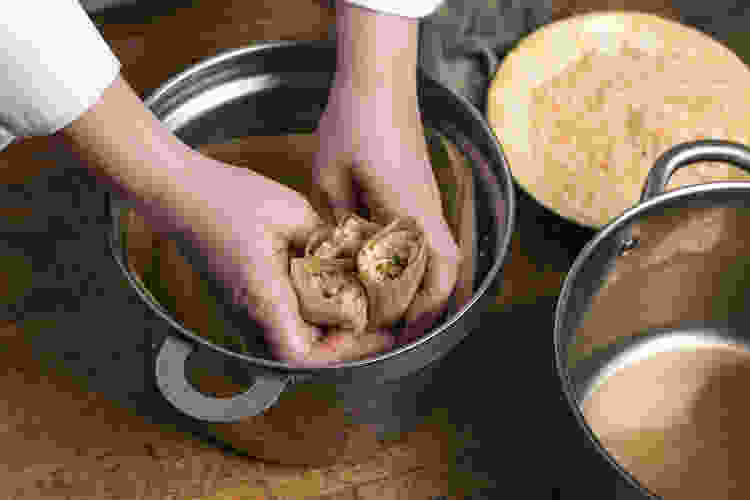 Join a Live Online Cooking Class Today

Your kitchen is now your own culinary classroom. Connect with chefs from around the world right from the comfort of home.

Book Now
1. Tacos
We'll start with the one you already know: tacos. One of the most popular Mexican foods, tacos have been evolving for decades, and according to Smithsonian Magazine, no one truly knows exactly where or when they originated. "Tacos," as a phrase, actually incorporates an innumerable amount of dishes, but when it comes to traditional Mexican street food, a taco consists of deep-fried, handmade corn tortillas stuffed with meat or beans and some variation of salsa.
The toppings that we put on tacos in America — like onions, cheese, tomatoes, lettuce and corn — are not traditional for Mexican street food, though they are delicious. Head to a mercado in Mexico City, though, and you might find tacos de papa, crispy fried tacos stuffed with cumin-spiced potatoes, shredded cheese, onion, tomato and chili peppers. There are also carne asada tacos, which seem to be the tacos that we can trace back the farthest in history, and the uber popular tacos al pastor.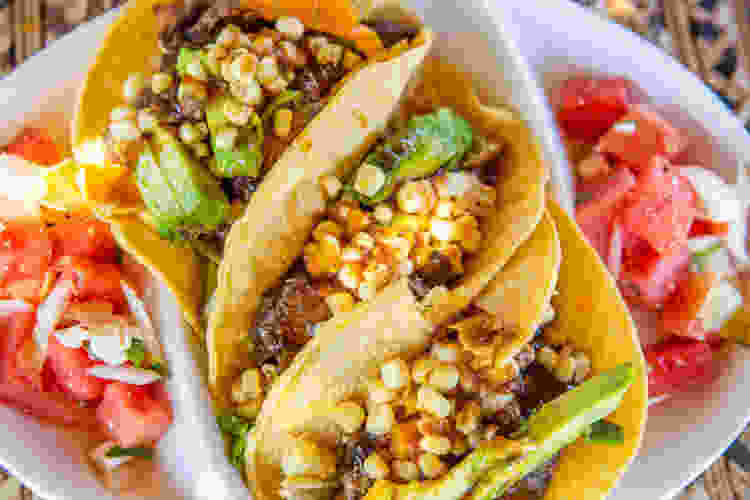 2. Molote
Typically sold as one of many late-night Mexican street snacks, molotes are fried, savory stuffed corn tortillas. The doughy tortillas are made of corn masa, or corn flour, and you'll find that a majority of Mexican street foods are made with a corn masa base.
Molote is typically deep-fried and stuffed with chorizo, cheese, avocado, potatoes or mushrooms. When finished, they sort of resemble empanadas, and they are traditionally served with salsa and sour cream.
Molote originated in the village of Puebla, which is also where mole poblano originated. Mole poblano is a super popular, thick sauce made with chocolate and chiles.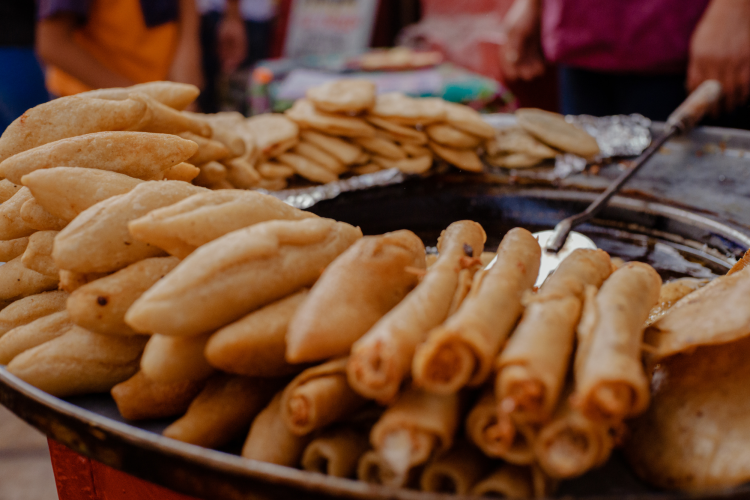 Gourmet Cooking Classes Near You
Take your culinary skills to new levels with guidance from five-star chefs.
3. Tortas
You can't think of Mexican street food without thinking of tortas. Tortas are simply huge, overstuffed sandwiches, and we mean that in the best way possible. When it comes to street food in Mexico, you're bound to run into some variety of torta, and there's a high chance it will be delicious.
Typically, tortas are served on large bread rolls, either called bolillos or teleras. So, imagine a big hunk of perfect bread sliced in half, slathered with butter and stuffed with ham, pork, avocado, tomato, fried chicken, shredded beef, sour cream — anything you can think of.
There are some distinct tortas flavors served as Mexican street food, like torta de tamal, which is a carb-heavy sandwich of bread stuffed with tamal, which is a corn dough stuffed with meats and cheeses. There's also the torta ahogada, in which the sandwich is made of potato, chorizo, cabbage, sour cream, cheese and hot sauce.
Since the bolillos bread that tortas are typically served on resembles French breads, it is often said that tortas originated during the French occupation of Mexico in the 1860s. Either way, it's likely that this hand-held dish became popular for the same reasons that tacos and other conveniently portable foods did: They're easy to eat on the go and they're cheap and quick to make, which was (and still is) ideal for the busy working class.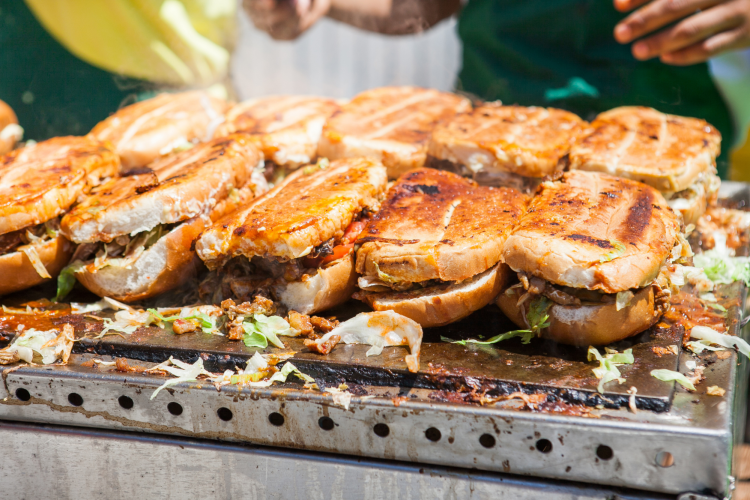 4. Gorditas
This one is going to sound kind of familiar. Gorditas are thick, corn-based tortillas stuffed with meats, cheeses and vegetables. Yes, a lot of Mexican street foods are variations of tortillas stuffed with ingredients. So what makes a gordita different?
They're, well, chunky. Gordita translates to "little fat one," which is to say that gorditas are made with a dough that is more bread and less tortilla. Therefore, they often get dunked in soups or sauces when they are eaten.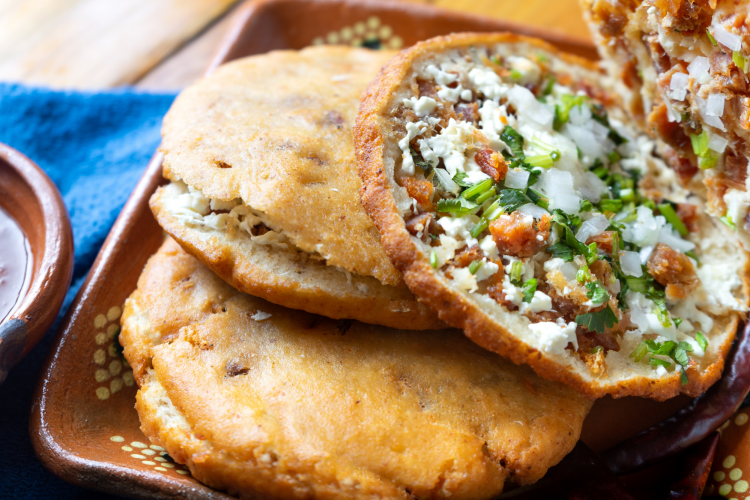 5. Tamales
Tamales are hugely popular in Mexico, as they're one of the most common Mexican street foods, and they come in a variety of flavors. They're all a convenient hand-held size and are traditionally wrapped and steamed inside of a corn husk, which often doubles as a plate for the actual tamal.
Inside lies a corn-based dough stuffed with, well, anything. Tamales can be savory or sweet, depending on whether you stuff them with meats and veggies or fruits. Several sources date the origins of the tamale all the way back to the Aztecs in the 1500s.
Book an Online Cooking Class Today
Five-star chefs. Step-by-step coaching. Flexible menus. Come see what's cooking in a live online cooking class.
6. Chayote
When eating street food in Mexico, you might be overwhelmed by the number of dishes that include fatty, greasy meats and heavy carbs. However, it's just as common for carts with fresh fruits and smoothies to appear alongside those making juicy tacos.
Chayote is a vegetable that sort of resembles a crinkly-looking pear. It has the crunchy texture of a potato, and sort of tastes like a less-sweet apple. They can be eaten raw and add a nice bite of crunch to salsas. As a Mexican street food, they are also often served with lime juice as a healthy, easy snack.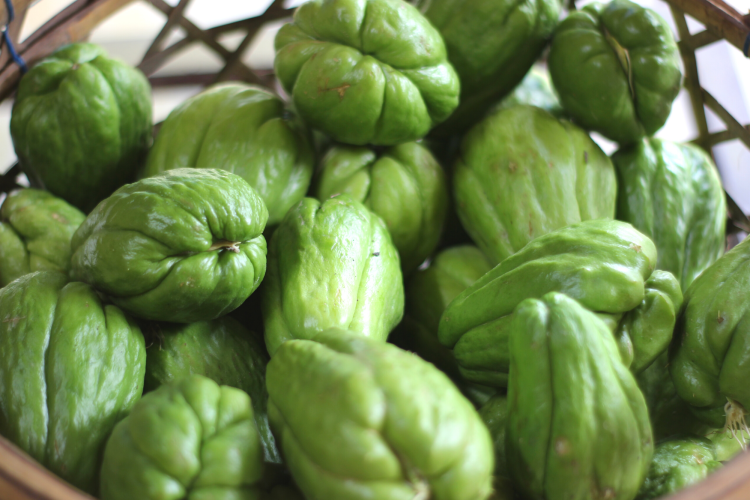 7. Elotes and Esquites
Elote means corn in Spanish, and elote is one of the most popular Mexican foods in both Mexico and in America. Also commonly called Mexican street corn, elote is roasted corn on the cob smothered in mayonnaise, cheese and chili powder. Typically, elotes are served with a salt aged cotija cheese.
Another variation of this popular Mexican street food is esquites, which is sweet corn taken off the cob. It's usually served in a cup mixed with cream, mayonnaise, chili and lime juice. Sometimes, chicken broth is thrown into the mixture for more flavor.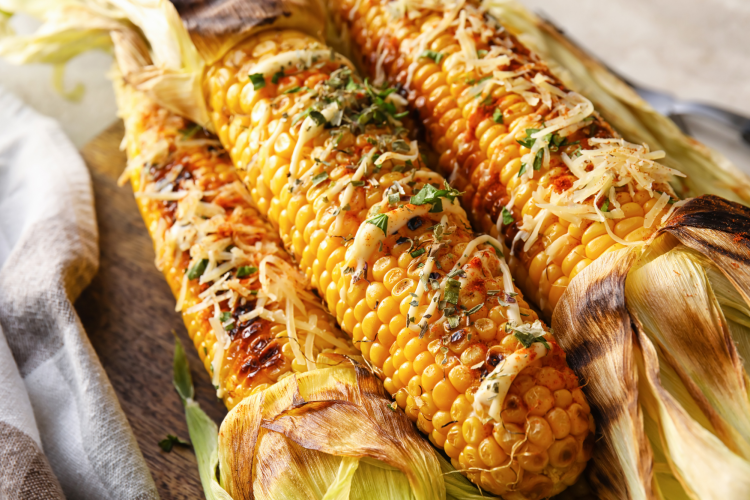 8. Tostadas
This Mexican street food is kind of like an open-faced taco. It's made with a crispy, toasted tortilla topped with meats and other toppings. In appearance, it resembles a mini pizza, especially when cheese is melted on top.
When it comes to traditional street food in Mexico, tostadas are usually topped with pork or chicken, refried beans and avocado. In some areas, they are served with seafood, which can include a refreshing ceviche or light fish with avocado and lettuce.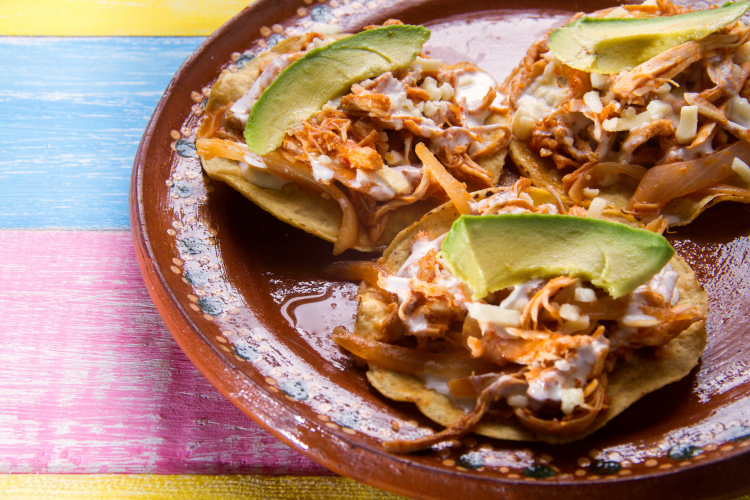 9. Quesadillas
When you think quesadilla, you probably think of two flour tortillas with a Mexican cheese blend melted inside. That's pretty much it! However, most people don't know that an authentic quesadilla isn't guaranteed to come with cheese on it, so in Mexico City, for example, you might have to specify to a vendor that you want cheese in your quesadilla.
A traditional quesadilla very closely resembles a taco, but the tortilla is larger. It's common for authentic quesadillas to include mushrooms, meat, potato and chorizo, and sometimes cheese.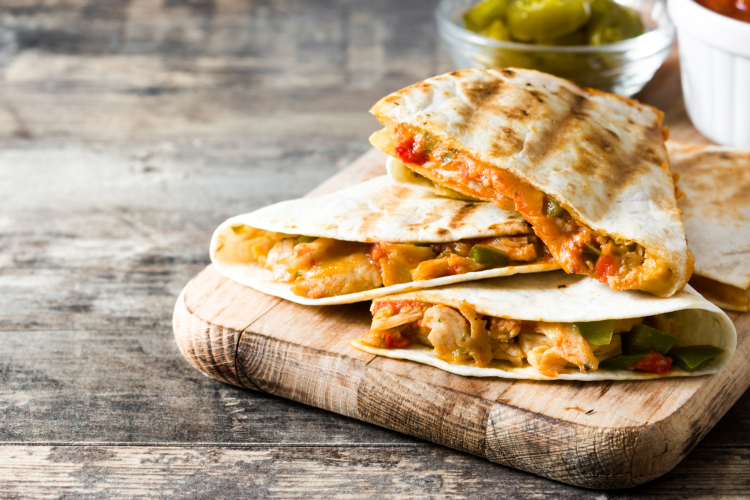 Book a Gourmet Cooking Class Now
Kick-start your culinary confidence with help from a world-class chef. See what's cooking in your city today.
10. Chicharrónes
For the brief minutes in which you are inhaling chicarrónes, everything you've ever learned about health doesn't exist, okay? Don't think about the grease or the fat or the salt or the cholesterol. Think about how downright delicious these crispy chunks of pork are.
A chicharrón is pork skin, and the authentic way of eating them is to deep-fry them until they're super crispy, making for a savory, salty bite. Most often, they are served dipped in hot sauce.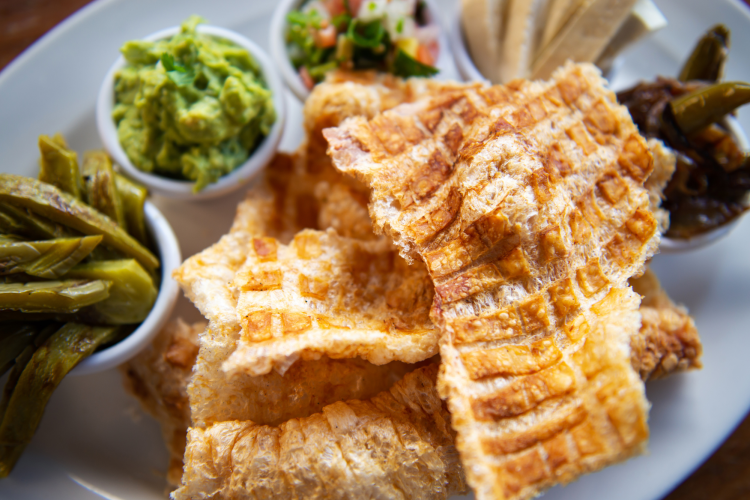 11. Birria
If you're a foodie with your nose to the ground seeking indulgent cultural delicacies, you may have heard of birria, the most drool-worthy Mexican street food. Birria is a stew made traditionally with goat, but it's also made with tender beef shank, chiles and lots of flavorful spices.
Birria is commonly known as a savory condiment for tacos with shells fried in the birria fat. The tacos are then dipped in the stew with each bite. Similarly, you can order tacos with birria meat inside of the taco shells along with melted cheese, onions and cilantro.
12. Dorilotes
This is one of those fun, unique Mexican street snacks that feels like the ultimate late-night cheat meal. To make dorilotes, or tostilocos, you'll need a bag of Doritos or Tostitos chips. The bag is cut open along the side, and it gets filled with a variety of vegetables and salsa, as is typical of most Mexican street foods.
It's pretty much like having loaded nachos inside of a bag, and it's delicious and easy to eat.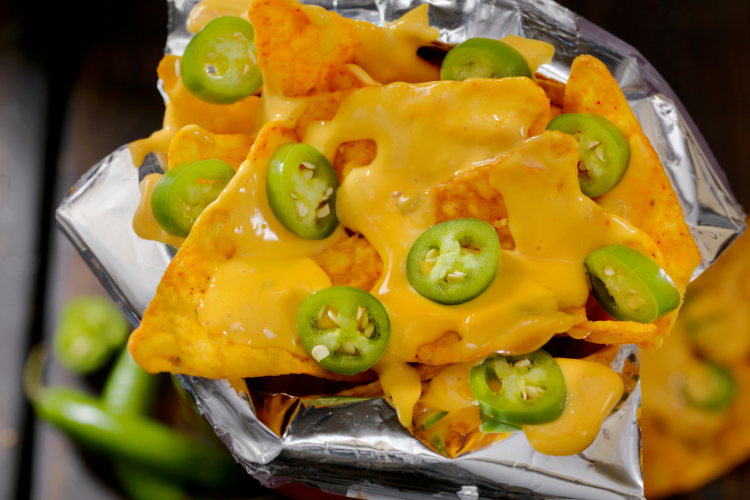 13. Danger Dog
No fear, the danger dog isn't too scary. This Mexican street food has roots dating back to the 1950s, and this jumbo hot dog is bold, spicy and hearty. Also called the "dirty dog" or the "sonora hot dog," it consists of a bread roll stuffed with a crispy bacon-wrapped sausage and topped with beans, jalapeños, tomatoes, salsa, mustard and more — if you like it that way.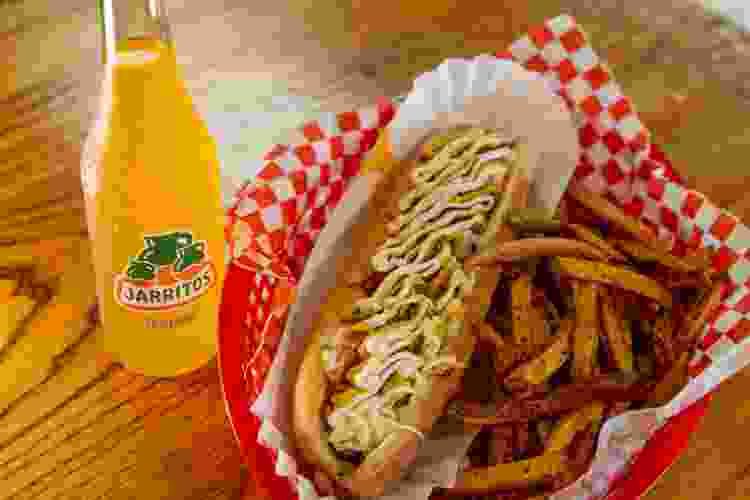 14. Camotes
Camote means sweet potatoes. In terms of Mexico City street food, camotes can signify cooked plantains or sweet potatoes that are served as a sort of snack or dessert. The sweet vegetables are cooked on charcoal and then topped with sweetened condensed milk and strawberry preserves.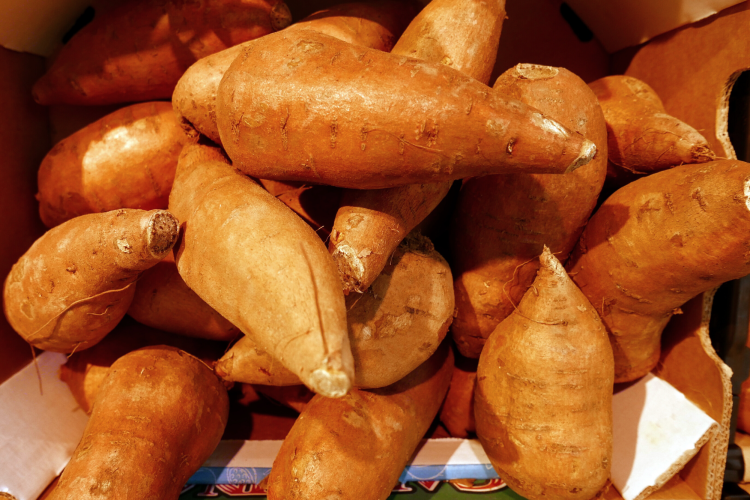 Join a Live Online Cooking Class Today
Your kitchen is now your own culinary classroom. Connect with chefs from around the world right from the comfort of home.
15. Churros
Let's end this on a sweet note. Churros are one of those traditional Mexican street foods that have turned into regular old American desserts, but they are said to have actually originated in Portugal, Spain. Either way, crispy fried dough coated in sugar and cinnamon is something everyone can agree is worth eating, so they are frequently sold as street food in Mexico for those looking for a sugary finish to their meal.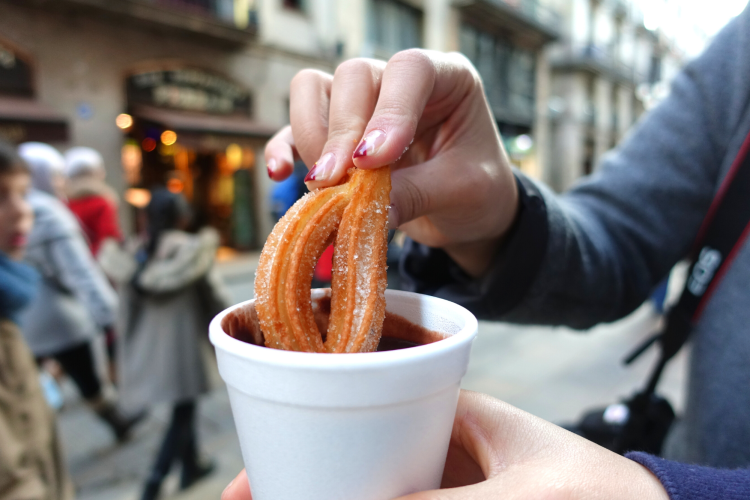 Join 200,000+ Culinary Enthusiasts
Exclusive deals, recipes, cookbooks, and our best tips for home cooks — free and straight to your inbox. PLUS: 500 Rewards Points.
Mexican street foods are some of the world's favorite cultural dishes. They've evolved with Mexico's colorful history, from ancient Aztec agricultural movements to the industrialization of the country. What's more is that these foods are made with soul and care, as flavor is something Mexican culture refuses to skimp on. Though each dish shares similarities with others, they are all made with slightly different methods and boast unique ingredients, which proves the power of innovation and the passion for quality cuisine that you'll find in Mexico City street food.
For more recipes and fun ideas, check out other experiences happening on Cozymeal.