15 Day of the Dead Foods Worth Celebrating
Día de los Muertos, or Day of the Dead, remembers and honors loved ones that have passed away with colorful celebrations, visits to graveyards and of course, Day of the Dead food and beverages.
Celebrated in Mexico and around the world from midnight on October 31st to November 2nd, altars called ofrendas serve as a place to gather photographs and mementos of loved ones with candles, marigolds and traditional Día de los Muertos food. Day of the Dead food and drinks play a significant role in this tradition from representing the bridge between life and death to cultural connections to the past and the onset of the new season. Despite falling near Halloween, Día de los Muertos is not morbid or spooky, but a time full of joy and color and flavor.
Which foods are popular during this revered festival and what do they mean during this sacred time of year? Here are 15 Day of the Dead foods and beverages worth celebrating during this special holiday.
Jump to Section
How to Enjoy Traditional Mexican Foods
Cooking classes are a great way to learn authentic recipes from cuisines around the globe. Learn about traditional and modern Mexican cuisine with cooking classes in Austin, cooking classes in Boston, cooking classes in Madrid and more cooking classes near you. To learn traditional recipes from the comfort of your own kitchen, try online Mexican cooking classes taught live by world-class chefs.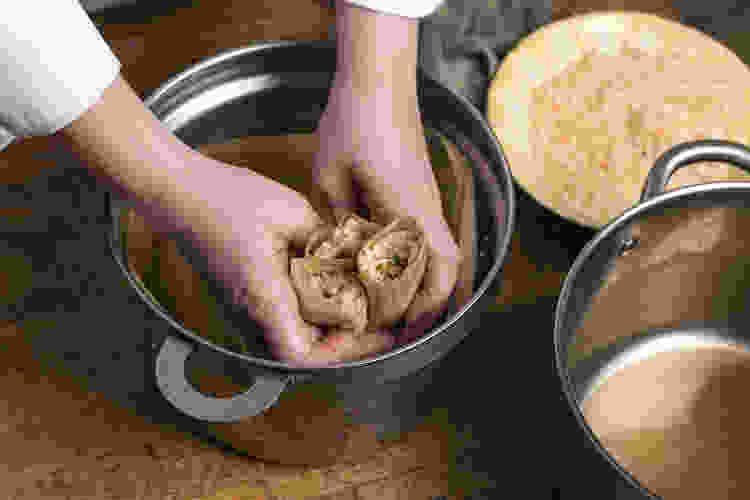 1. Sugar Skulls
Although not made to be eaten, the colorfully and intricately decorated sugar skulls, or calaveras, are the item most commonly recognized and associated with Día de los Muertos around the world. Often carved with the name of the deceased and placed on the ofrenda to represent the soul of the departed, the vibrant colors and decorations are purposefully chosen. Red represents blood, purple stands for suffering, yellow signifies nature and orange symbolizes the sun.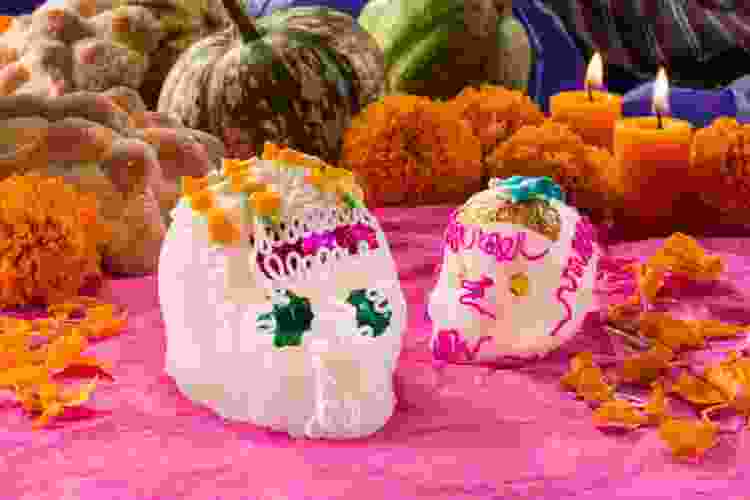 Book a Gourmet Cooking Class Now
Kick-start your culinary confidence with help from a world-class chef. See what's cooking in your city today.
2. Pan de Muertos
Found in bakeries and home kitchens in the weeks leading up to the holiday, pan de muertos is the most traditional Day of the Dead food and is central to its celebrations. This sweet, fluffy loaf is sprinkled with sugar and topped with small bone-shaped decorations to represent the deceased. The bread is both eaten by the family and placed on the ofrenda to nourish the dead when they return to the land of the living during the festival.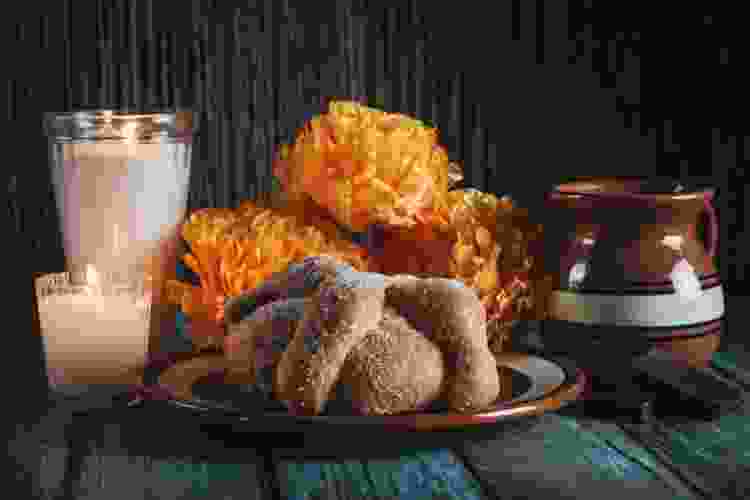 3. Mole Negro
Mole is a complex, deeply flavored sauce originating from the state of Oaxaca and a popular Day of the Dead food. Mole negro brings an intense flavor from burnt and blackened chiles along with chocolate and many other ingredients. Mole recipes are often passed down through generations and are generally reserved for special celebrations because of the numerous ingredients and significant time required to prepare the intricate sauce.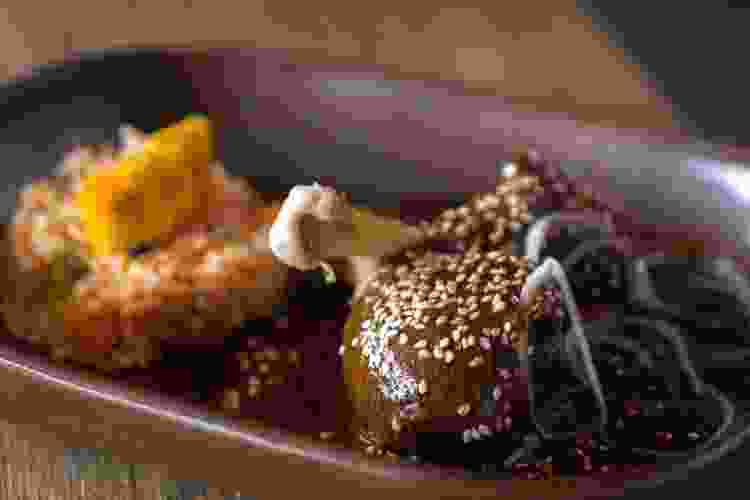 4. Tamales
Although enjoyed throughout the year, tamales are a popular Day of the Dead food eaten during the long nights of celebration during Día de los Muertos. Tamales come in different shapes and with a variety of flavors, typically consisting of filling wrapped with masa inside of a corn husk and steamed.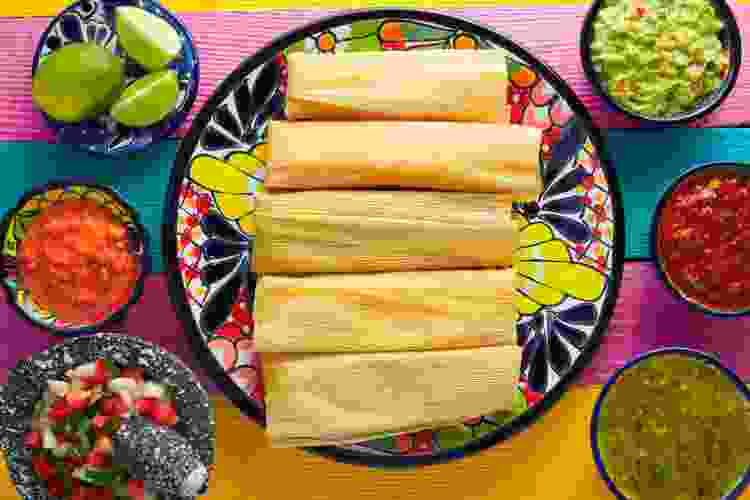 Gourmet Cooking Classes Near You
Take your culinary skills to new levels with guidance from five-star chefs.
5. Red Pozole
A common Day of the Dead food in Mexico City, this savory stew of meat, hominy and spices gets an extra kick from an abundance of red chiles. Other types of pozole are found throughout the year and around the country, but this spicy red variety is tied to Day of the Dead celebrations in this region.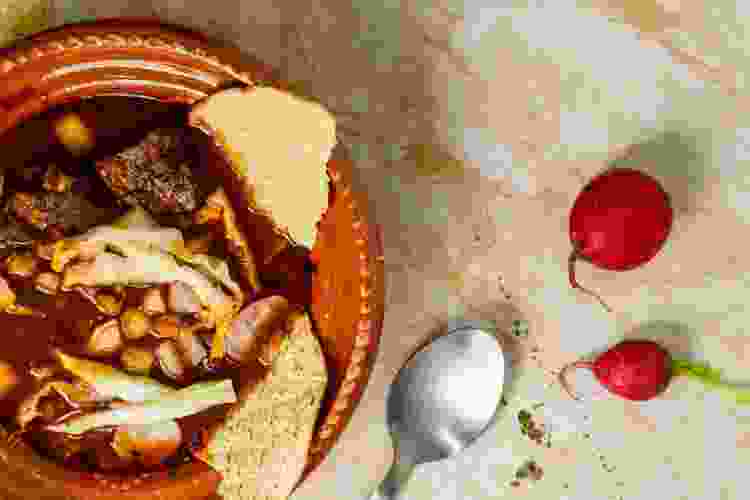 6. Sopa Azteca
A staple Day of the Dead food all across Mexico, this spicy tortilla soup comes with ingredients on the side to create your own comforting bowl. The soup is often accompanied by ingredients like avocado, onions, cheese, lime and chicharrón.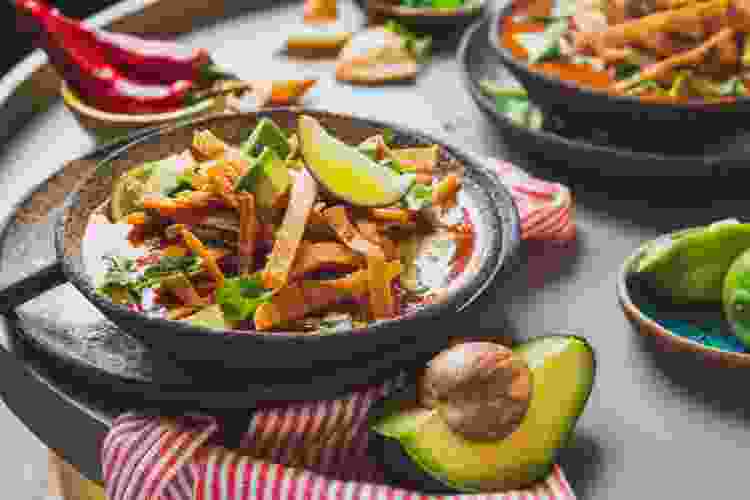 7. Chapulines
Chapulines, or roasted grasshoppers, are a popular snack in Mexico, especially around Oaxaca. According to the Institute of Culinary Education, the consumption of chapulines dates back as far as the mid-16th century when insects were a vital protein source. Seasoned with garlic, lime and salt, the crunchy chapulines can be eaten by the handful or as a filling in tacos or tamales. As a beloved snack, chapulines may appear on an ofrenda as one of the departed's favorite foods.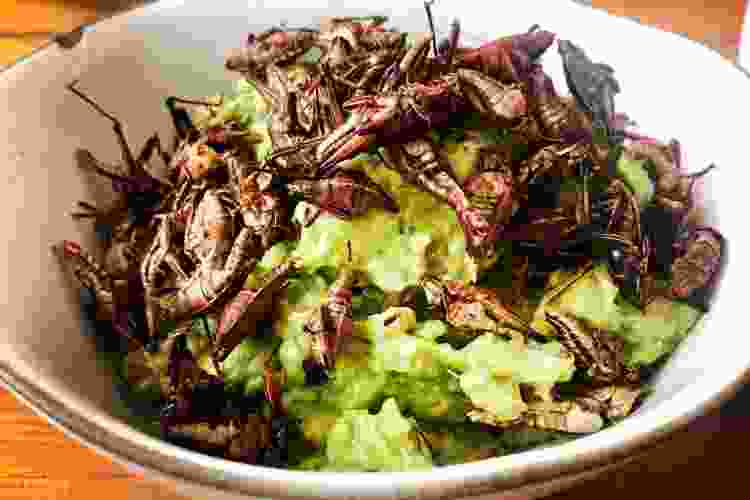 8. Calabaza en Tacha
Primarily associated with Day of the Dead food in the Yucatan Peninsula, candied pumpkin seasoned with cinnamon and sugar is a popular dessert around this time of year. Calabaza en tacha is often served with a spiced caramel-like syrup or over ice cream.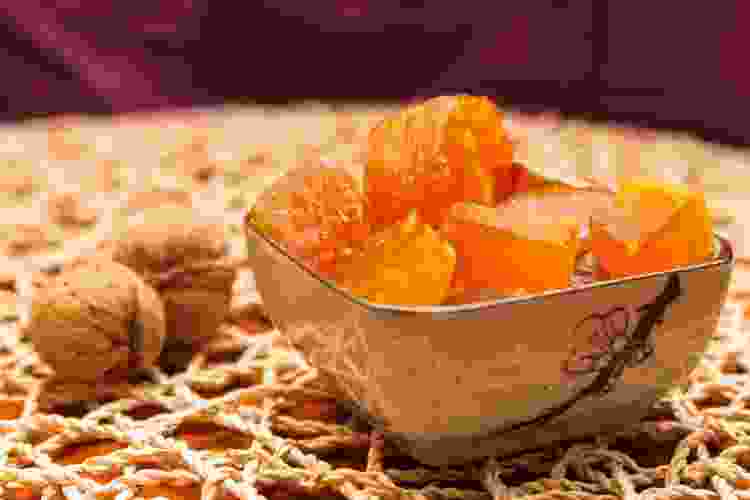 9. Caramel Flan
Flan has been popular throughout Latin and Central America for centuries and is a common Day of the Dead food. The rich, creamy custard topped with caramel can be found in homes and sold by vendors carrying trays of the dessert along the streets leading to the cemeteries during the Day of the Dead festivities.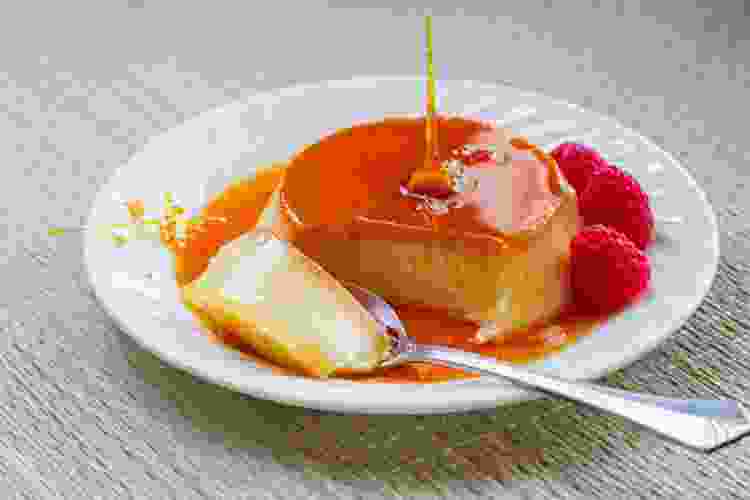 10. Alegrias and Pepitorias
Often made with puffed seeds of the native amaranth plant, dried fruits, nuts and honey, alegrias are enjoyed particularly around Mexico City. Shaped into skulls for Day of the Dead celebrations and decorated in the style of calaveras with bright colors, the candies are either placed on the ofrenda or enjoyed by children. Similarly, pepitorias, made of pumpkin seeds and sugar syrup, are a popular Day of the Dead food.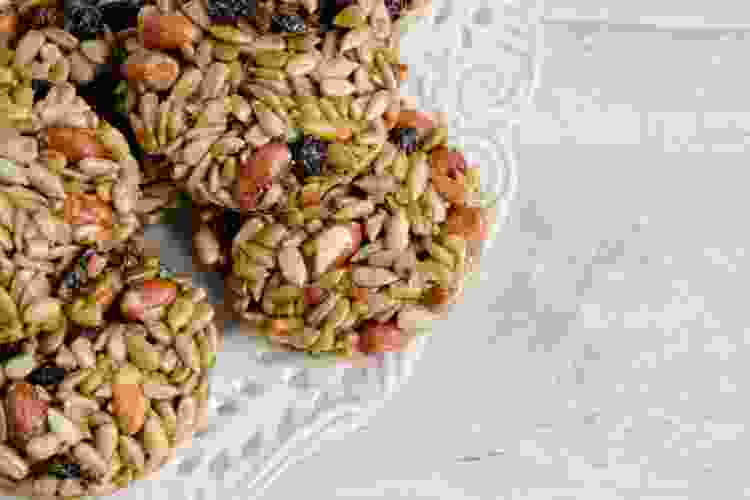 Book an Online Cooking Class Today
Five-star chefs. Step-by-step coaching. Flexible menus. Come see what's cooking in a live online cooking class.
11. Atole and Champurrado
Atole is a traditional drink dating back to the Aztecs made of masa harina, a type of corn flour, sweetened and flavored with cinnamon, brown sugar, vanilla or with chocolate to make it champurrado. The thick, warm drink is a perfect companion to pan de muertos and other Day of the Dead food.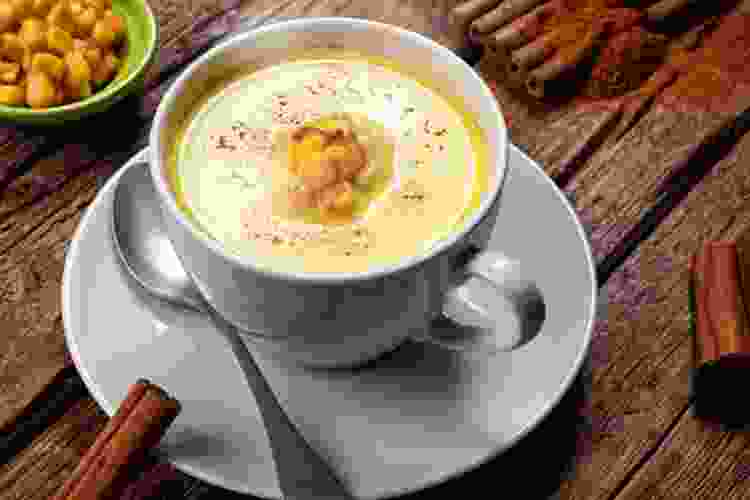 12. Mexican Hot Chocolate
Enhanced with warm spices like cinnamon, nutmeg and a kick of cayenne pepper, this cozy beverage dates back to the Mayans and is an excellent accompaniment to other Day of the Dead food.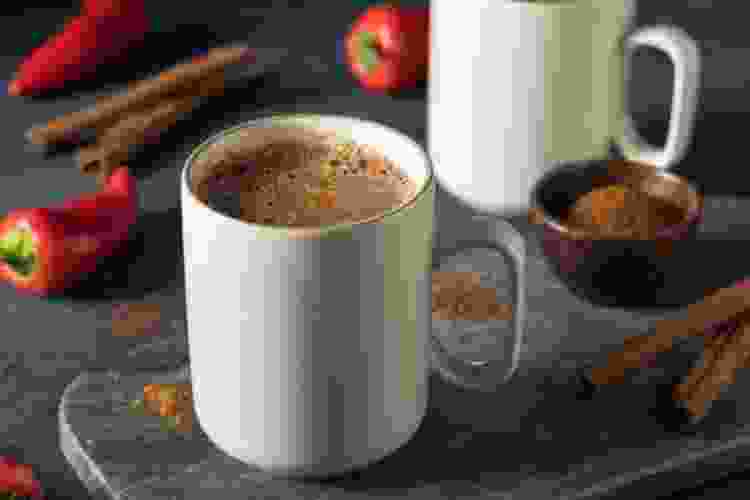 13. Horchata
Typically enjoyed cold with or without added alcohol, horchata is made from soaked rice sweetened with cinnamon and sugar. The popular drink is consumed along with traditional Day of the Dead food as well as throughout the year.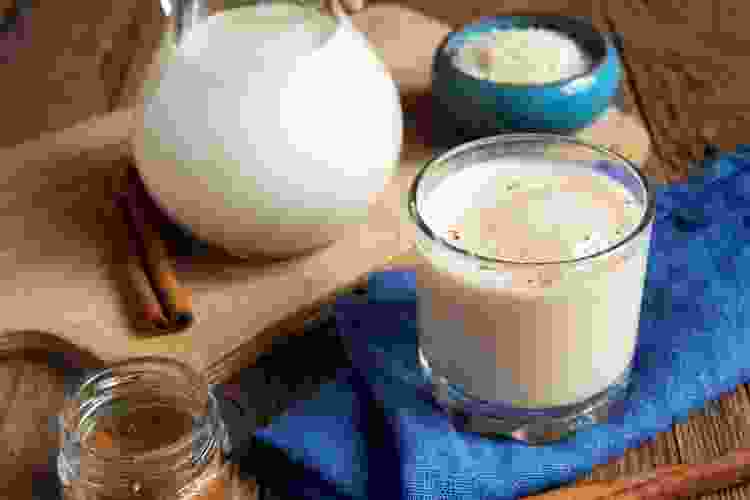 14. Pulque
As outlined in Frontiers in Microbiology, pulque (sometimes called the "nectar of the gods") is a traditional alcoholic beverage made from the fermented sap of the maguey plant. Although considered a relative of tequila, pulque has its own unique appearance and flavor profile. The harsh drink is a staple Day of the Dead beverage and can be infused with fruits for a more palatable experience.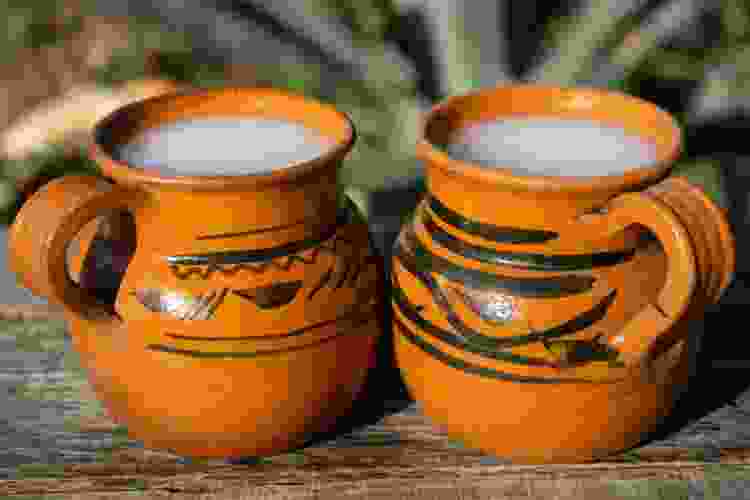 15. Tequila Infused With Marigolds
Marigolds are an important symbol during the Day of the Dead festivities. Hand-cut paper or fresh marigolds adorn the ofrendas in order to guide the spirits with their bright colors and, according to Smithsonian Magazine, pungent floral aroma. The bold flowers infused with tequila create a warm, golden beverage to toast those who have gone before us.

Join 200,000+ Culinary Enthusiasts
Exclusive deals, recipes, cookbooks, and our best tips for home cooks — free and straight to your inbox. PLUS: 500 Rewards Points.
Día de los Muertos celebrates the joys of life and maintains a connection to those who have gone on to the next. Day of the Dead food and drinks are as diverse as the families who celebrate, but each dish holds comfort or significance for this sacred holiday. By preparing and partaking in these Day of the Dead foods and festivities, the spirits of departed loved ones are kept alive in the land of the living.
For even more fun ways to celebrate your favorite holidays, check out other experiences happening on Cozymeal.