13 New Year's Good Luck Foods to Ring in 2023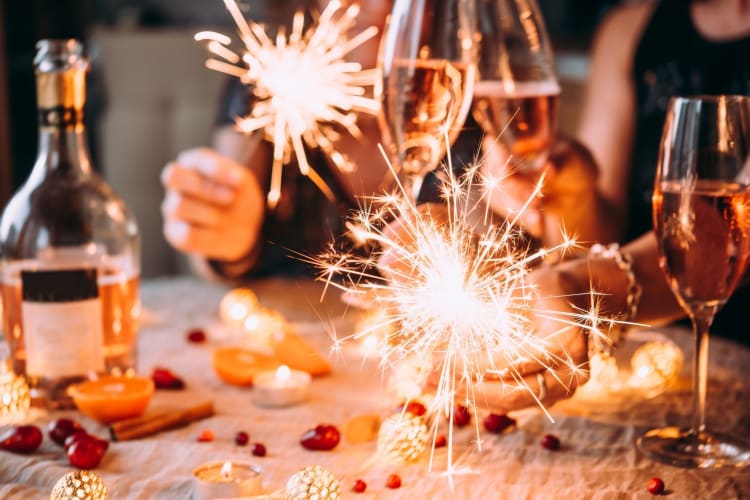 From popping Champagne at midnight to heaps of collard greens or long noodles, New Year's good luck food traditions are abundant and diverse.
History, folklore and agriculture converge to create enduring traditions in holiday celebrations around the world. Foods like pork, greens, citrus and pomegranate are seasonal during the new year in the northern hemisphere, influencing the bounty of the holiday table.
These traditional New Year's Eve and New Year's Day foods are believed to bring health, wealth and happiness in the coming year. What are the good luck foods for New Year's Day celebrations in your region? Here are 13 New Year's good luck foods to ring in the new year from around the globe.
Jump to Section
GET UP TO $50 IN COZYMEAL

CASH™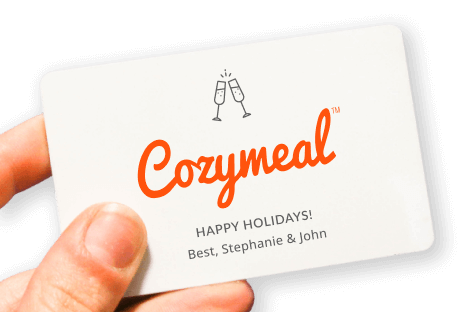 GET UP TO $50 IN COZYMEAL

CASH™

$100 or more, get $10 Cozymeal Cash™

$250 or more, get $25 Cozymeal Cash™

$500 or more, get $50 Cozymeal Cash™
Learn to Make Lucky New Year's Day Foods
Many time-honored recipes are as much about history and technique as they are about the ingredients in the dish. Whether learning to make lucky food for the New Year or elevating the holiday menu, cooking classes are a fun and immersive way to gain experience with world-class chefs at the lead.
Explore global cuisines and new takes on classic dishes with cooking classes in Austin, cooking classes in Philadelphia and more cooking classes near you. Or, discover festive flavors right from your own kitchen with online holiday cooking classes. From edible gifts and boozy beverages to traditional New Year's good luck food, cooking classes and other exciting holiday experiences will help you kick off the new year with new skills in the kitchen.
Join a Live Online Cooking Class Today

Your kitchen is now your own culinary classroom. Connect with chefs from around the world right from the comfort of home.

Book Now
1. Greens
A ubiquitous New Year's Day good luck food in Europe and the United States, leafy greens from kale to collards are eaten to represent money and wealth. In the American South, collard greens especially are eaten with two other New Year's good luck foods, black-eyed peas and cornbread, for some extra fortune. For a simple spin on this classic dish, try these Instant Pot collard greens for your New Year's table.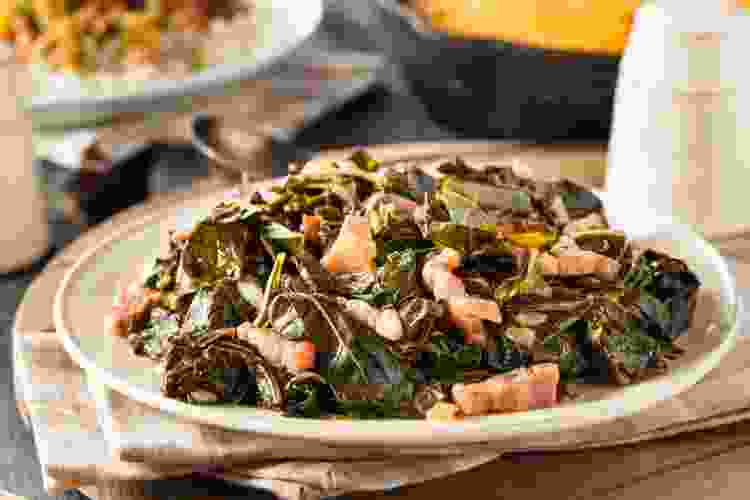 2. Cabbage
In Germany and Eastern Europe, it is believed that eating fermented cabbage, also known as sauerkraut, will bring wealth in the new year. The long strands of cabbage are also said to represent longevity. The Pennsylvania Dutch carry on this New Year's food tradition in the United States.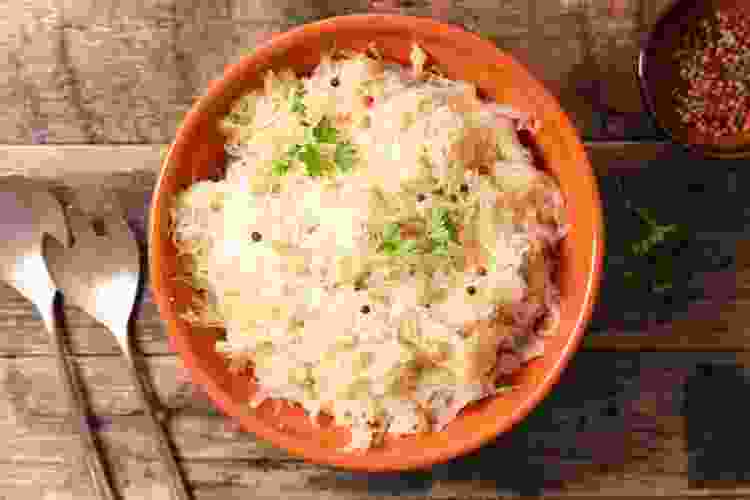 3. Black-Eyed Peas
Traditionally paired with collard greens and cornbread, black-eyed peas are a staple New Year's good luck food. The peas symbolize coins, and practices of consuming these legumes around celebrations date back to Ancient Egypt. Black-eyed peas have cemented themselves as a New Year's food tradition in the American Lowcountry, where the dish was commonly prepared by enslaved West Africans during the 18th and 19th centuries.
Cooked with rice and pork, black-eyed peas become hoppin' John, a popular way to consume this New Year's Day good luck food. According to HISTORY, the moniker "hoppin' John" likely comes from English speakers' mispronunciation of the French dish pois pigeons.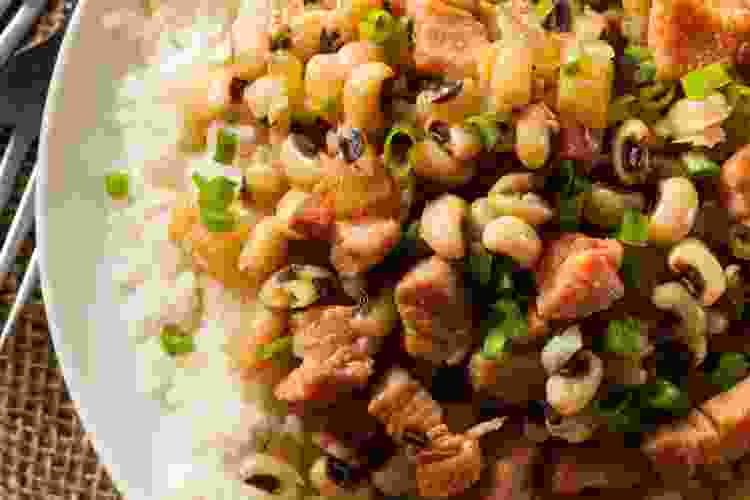 4. Cornbread
Part of the popular New Year's Day good luck food trio, a slice of cornbread rounds out a plate of lucky foods for the new year thought to bring about wealth and good fortune. As the saying goes, "Peas for pennies, greens for dollars and cornbread for gold."
5. Grapes
In Spanish tradition, grapes are a good luck food on New Year's Eve. At countdown to midnight, Spaniards eat 12 grapes, one for each month of the year and one in time with each of the final 12 tolls of the clock. It is said that the sweetness of the grapes determines luck in the months of the new year; watch out for sour grapes and the month they correspond with! NPR notes it's also "bad luck" if you don't finish all 12 grapes when the clock officially strikes 12:00.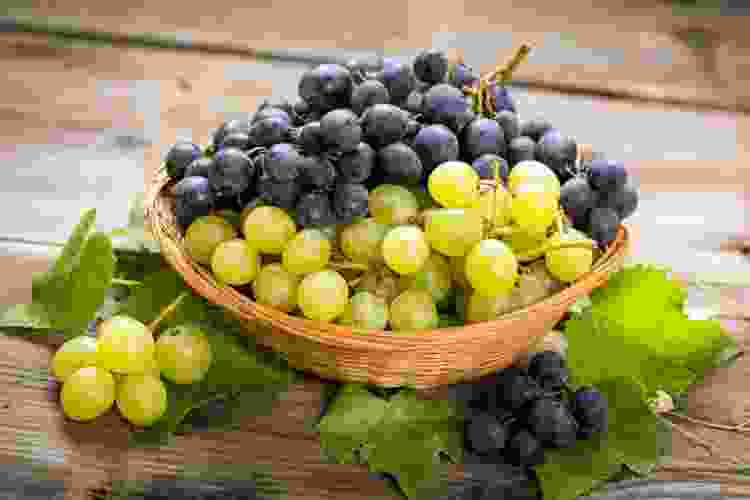 Book a World-Class Private Chef Now

Five-star fine dining from the comfort of home. Find your favorite private chef experience starting at $59/person.

Book Now
6. Pomegranate
Pomegranate seeds symbolize fertility, life and abundance. In Greek tradition, a pomegranate is smashed on the floor or tossed against the door at midnight, scattering an explosion of jewel-like seeds. The more seeds that scatter in the smash, the luckier life will be in the coming year.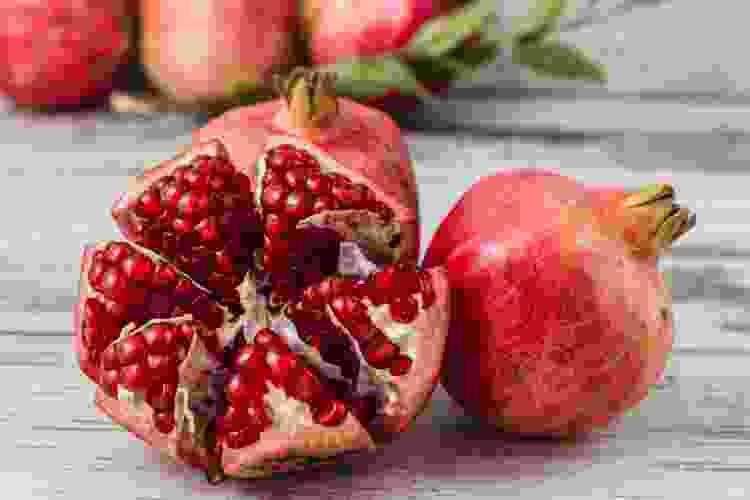 7. Oranges
Oranges play a special role in Lunar New Year celebrations in parts of Asia and have made their way into traditions around the world. The bright colors evoke joy, the round shape is a symbol of the cyclical nature of the earth. In Chinese, the word for a mandarin orange is a homonym for the word for gold, making them a popular Chinese New Year food. In the Philippines, the new year is celebrated with 12 types of fruits to represent the months of the year, especially round fruits such as oranges.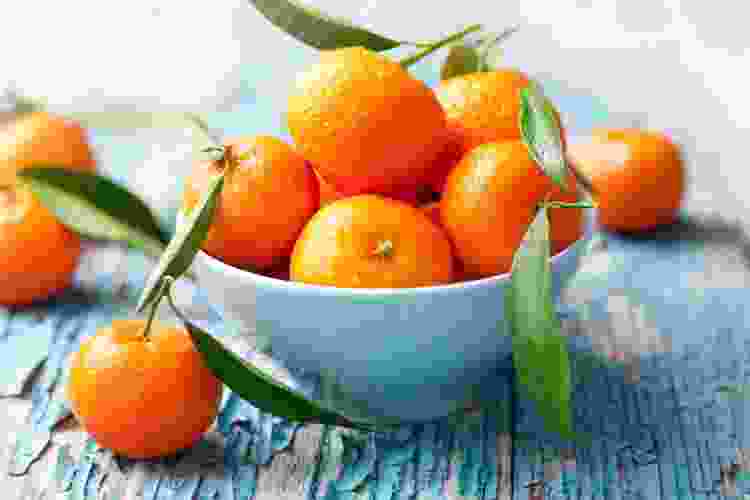 8. Fish
A popular New Year's good luck food in many countries, fish has come to symbolize wealth, prosperity and abundance. In Scandinavia, herring is a common food to eat on New Year's for good luck due to its significant role in the culture and to the economy. In places such as Eastern Europe, fish scales are said to represent money along with their shimmering hues. In Japan, shrimp are eaten for long life, herring roe for fertility and dried sardines for a good harvest.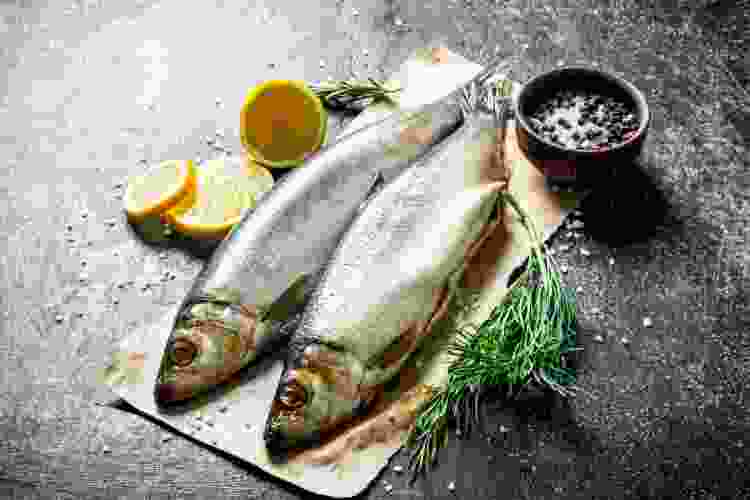 9. Pork
A New Year's good luck food all around the world, pork adorns many holiday tables throughout the season. Pork is said to represent progress because, unlike other animals, pigs root forward rather than backward. The fattiness of the pork is also related to wealth and luxury, making it an especially lucky food for the new year.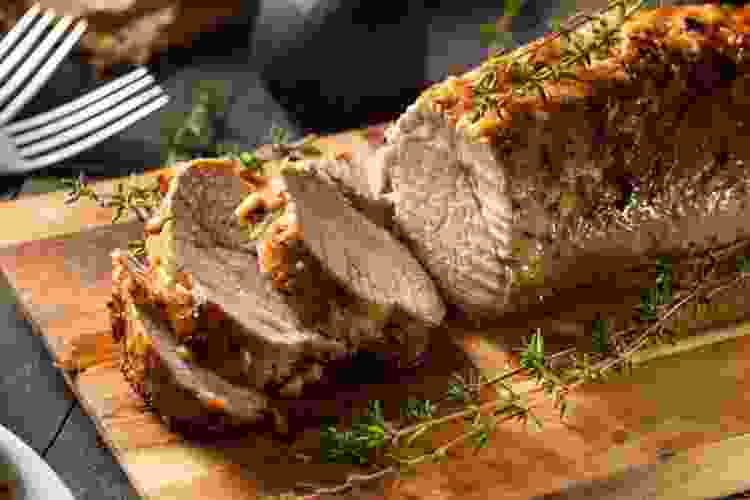 10. Noodles
In many Asian countries, noodles are a traditional New Year's good luck food. Soba noodles in particular are believed to symbolize a long life and resilience. The longer the noodle, the longer the life, especially if it can be slurped and eaten without breaking or chewing and shortening the length of the noodle.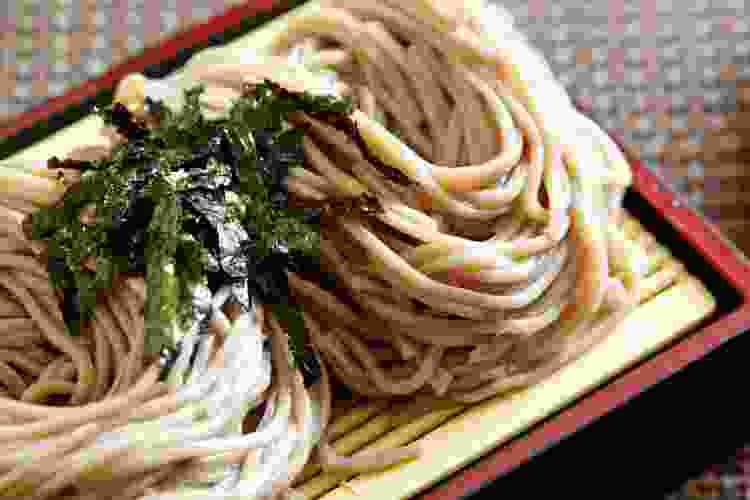 Book a Gourmet Cooking Class Now
Kick-start your culinary confidence with help from a world-class chef. See what's cooking in your city today.
11. Lentils
A good luck food on New Year's Eve commonly served in Italy, lentils are another legume noted to symbolize coins. With legend dating back to ancient Rome connecting them to wealth, lentils continue to be a popular food to eat on New Year's for good luck and prosperity.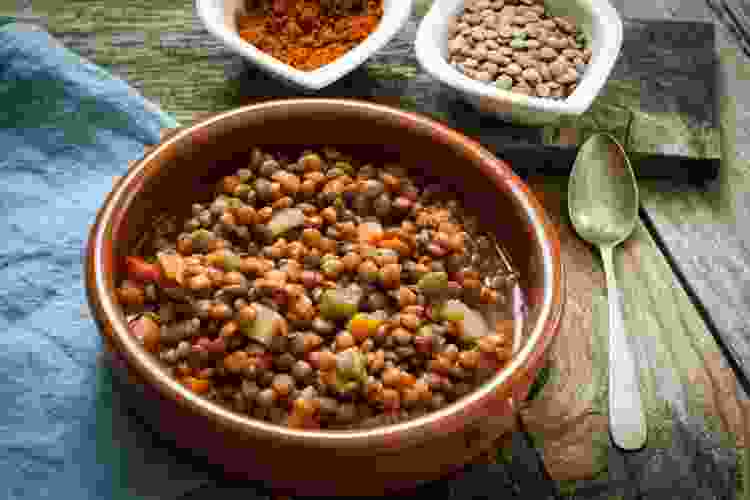 12. Tamales
A staple of Mexican celebrations, tamales have come to symbolize family and a New Year's food tradition. It often takes a whole family working together to make this labor-intensive dish. Generations gather to stuff flavorful fillings into bundles of masa wrapped in corn husks to be steamed and enjoyed throughout the holiday season.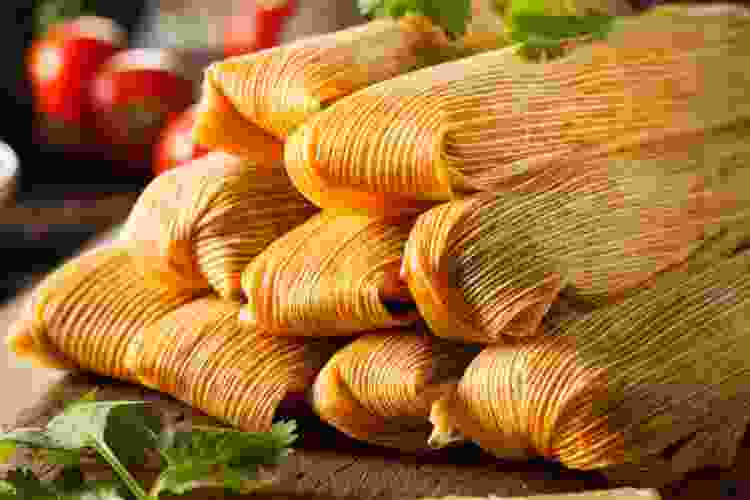 13. Cake
What is a celebration without cake? Round or ring-shaped cakes are especially relevant to New Year's tradition as they represent the circle of life. The Greeks enjoy vasilopita, a zesty citrus cake baked with a coin inside that is only eaten on New Year's Day. The person who gets the slice with the coin is said to have good luck throughout the year ahead.
Louisianans might know of a similar New Year's Day food called a king cake, a sweet that tops lists of best foods in New Orleans, which is also enjoyed for Mardi Gras and the Epiphany. Other versions of the lucky round cakes for the new year are found around the world including Spain, France, Bulgaria, Denmark and Norway.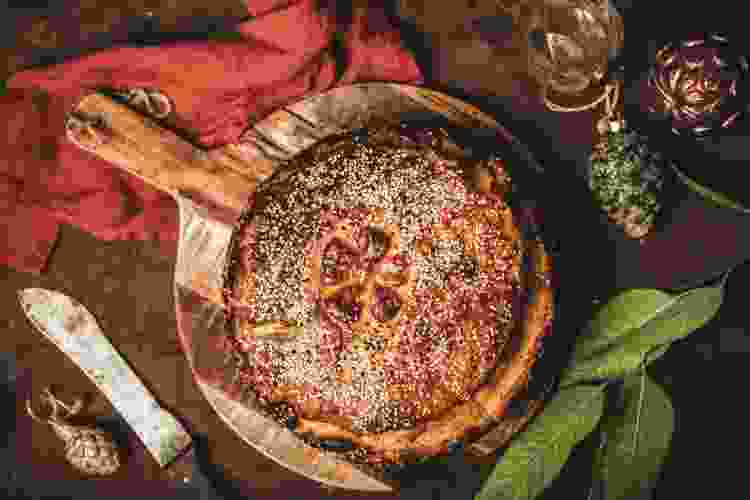 Join 200,000+ Culinary Enthusiasts
Exclusive deals, recipes, cookbooks, and our best tips for home cooks — free and straight to your inbox. PLUS: 500 Rewards Points.
Traditional New Year's Day foods have a fascinating history in the United States and around the globe, with cultures blending and sharing lucky food for the new year. Foods to eat on New Year's Day for good luck represent the bounty of the season and conjure celebrations with friends and family.
Whether rooted in superstition or cultural tradition, serving these New Year's good luck foods is a delicious way to celebrate the past and welcome the future. Add some to your table for a fun New Year's party idea that celebrates these culinary customs.
For even more fun ways to celebrate the holidays, check out other experiences happening on Cozymeal.