23 Traditional Irish Foods to Eat on St. Patrick's Day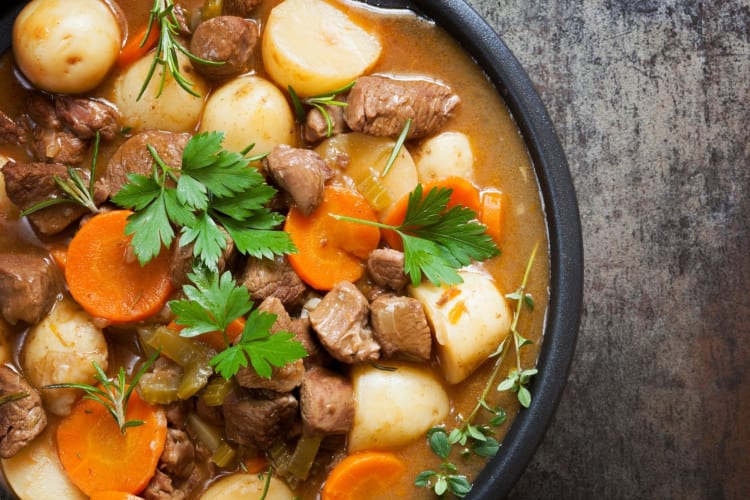 We've all come to know and love the traditional Irish foods eaten on St. Patrick's Day. You know the menu: corned beef, cabbage and potatoes.
What you might not know is that traditional St. Patrick's Day food in Ireland includes a much more expansive menu. Some of these dishes are recipes you might prepare as your weeknight dinners without even realizing their heritage within Irish cuisine. They also make excellent traditional Irish foods to add to your St. Patrick's Day celebration!
What dishes will you include on your table for St. Patrick's Day this year? You might be surprised at how large the selection is. There are breads, stews, pies and desserts — and even a few beverages. The list below brings together a collection of traditional Irish foods that will expand your options and add a dash of true Irish spirit to the holiday.
Jump to Section
Learn to Make Traditional Irish Foods
If you need a little help getting your adventure with traditional Irish foods off the ground, you can always sign up for classes with a talented chef. Cooking classes in Los Angeles, cooking classes in Boston and other cooking classes near you are the perfect way to dive in. If you prefer to learn from the comfort of your own kitchen, there are online cooking classes that'll have you covered, too.
Traditional Irish Foods
1. Shepherd's Pie
A classic found on dinner tables throughout Ireland, shepherd's pie combines beef and vegetables in a crust of mashed potatoes. It's a traditional Irish food that gathers distinctly Irish ingredients in a single dish. And it can even be made with a plant-based twist in this vegan shepherd's pie recipe!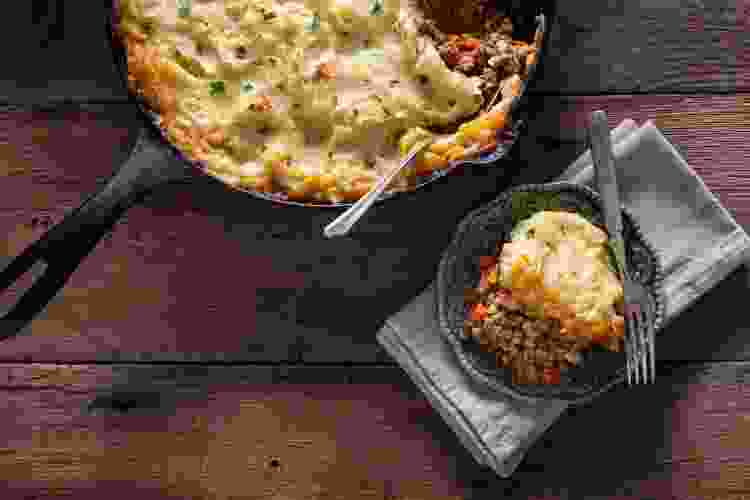 Join a Live Online Cooking Class Today

Your kitchen is now your own culinary classroom. Connect with chefs from around the world right from the comfort of home.

Book Now
2. Colcannon
The name may sound mysterious, but this savory potato side dish couldn't be easier to make. Potatoes thickened with milk or cream serves as the base. Cabbage, leeks, scallions and garlic are added as seasoning, to taste. A generous topping of brown butter makes this traditional Irish food a sure St. Patrick's Day winner.
3. Irish Soda Bread
No St. Patty's Day food selection is complete without a few loaves of this authentic quick bread. You'll only need baking soda, salt, flour and buttermilk to create a crusty, chewy bread that inspires comfort and celebration. Some recipes even include raisins or other dried fruit to add a sweet punch.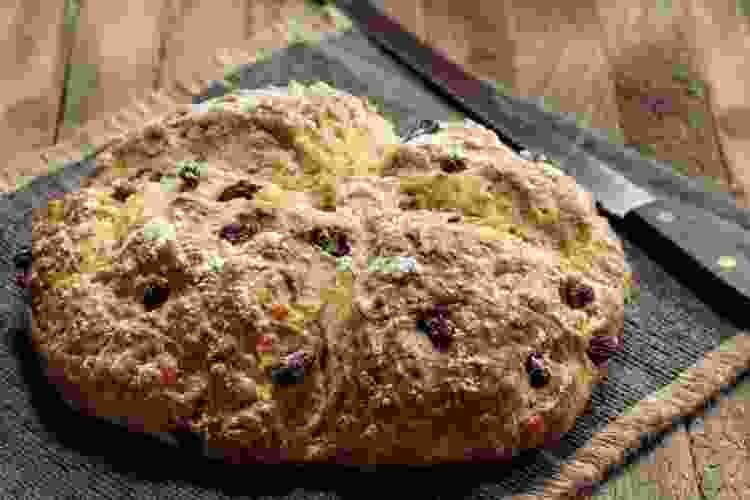 4. Irish Stew
A proper Irish stew has blocks of hearty beef surrounded by chunks of root vegetables in an aromatic broth of stock and red wine. It's a real crowd-pleaser of a traditional Irish food when it comes to the table. And it partners nicely with soda bread for a double whammy of taste and texture.
Book a Gourmet Cooking Class Now
Kick-start your culinary confidence with help from a world-class chef. See what's cooking in your city today.
5. Guinness Pie
Another fine choice for a St. Patrick's Day entrée, this pot pie uses pastry crust to seal in tender cuts of beef and vegetables in a luscious stock-based sauce. Served with a heaping helping of colcannon, the flavors of this traditional Irish food will satisfy the heartiest of appetites.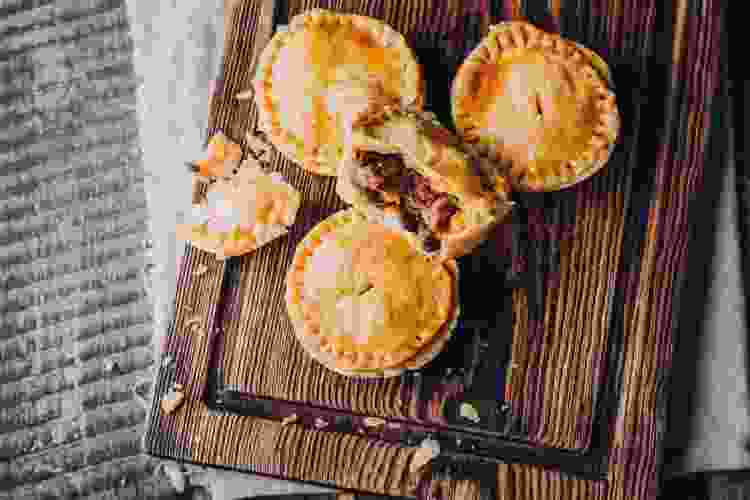 6. Irish Coffee
Who doesn't love this soothing beverage for St. Patrick's Day — or any other day? And it couldn't be easier to make! All it takes is a warm pot of coffee, a bottle of fine Irish whiskey and a splash of cream. Add sweetener and whipped cream to turn a traditional Irish beverage into an extra-special treat. For a fun spin on this classic, check out the recipe for Irish cream cold brew.
7. Bangers and Mash
A combination of savory sausage and cheesy potatoes served with tomatoes and peas, bangers and mash is a traditional Irish food that also shows up on English menus. It's a pub favorite and easy meal to make when you need a novel yet authentic St. Patty's Day food.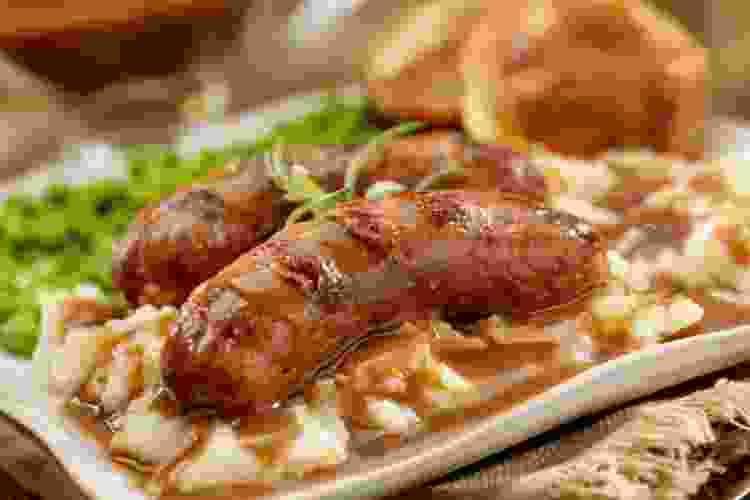 8. Irish Bacon
Also known as back bacon, Irish bacon is taken from the back of the pig, which produces thicker and more ham-like cuts than standard bacon. It's a perfect traditional Irish food for serving as a St. Patrick's Day meal or side dish.
9. Irish Breakfast
This loaded plate jazzes up the usual breakfast combo of eggs, bacon and sausages by adding mushrooms, baked beans and grilled tomatoes to the mix. Leftover potatoes can be included, too. Don't forget buttered bread or toast on the side!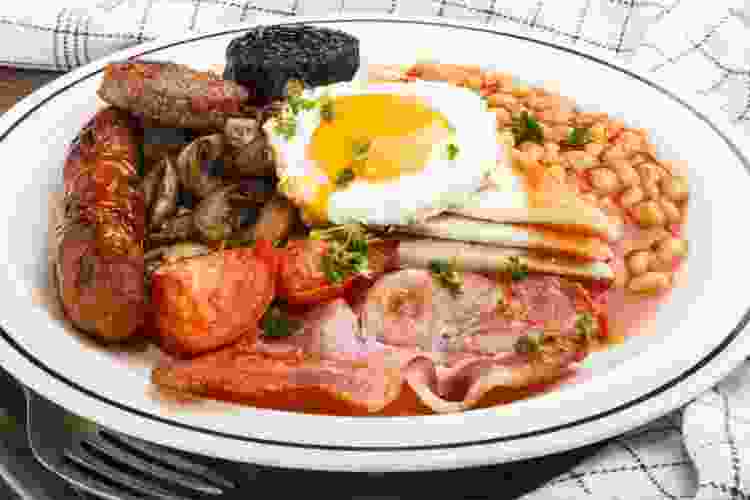 10. Rhubarb Tart
Ireland's climate is perfectly suited for growing rhubarb, so it makes sense to serve a tangy, creamy rhubarb tart as a traditional Irish dessert. Some recipes recreate the famous version that originated in County Roscommon, which according to The Times, resembles a tarte tatin and was originally cooked over a fire. There are also versions that use a shortbread crust as a special touch.
11. Pot Roast
Another comforting traditional Irish food, a pot roast slow-cooked with vegetables and a bit of Guinness creates an easy, flavorful St. Patrick's Day offering. Both the meat and the vegetables should be supremely tender when served.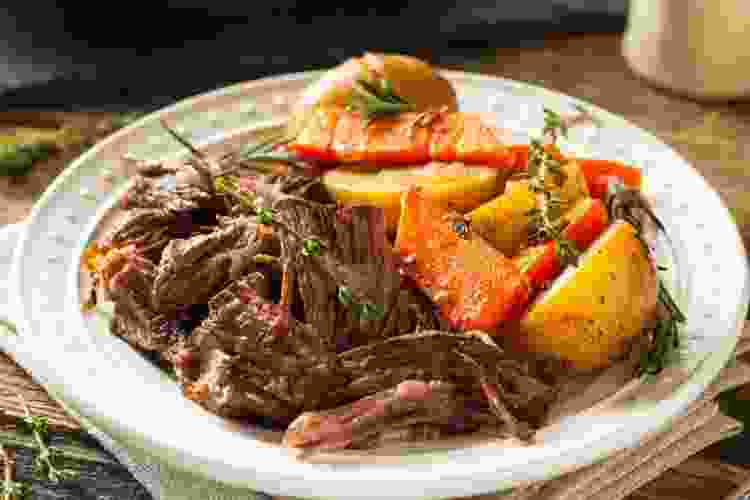 12. Mashed Peas
This traditional Irish food is exactly what the name says: mashed peas thickened with butter or cream and seasoned with salt and pepper. For a more upscale St. Patrick's Day version, add lemon, mint, parsley or other aromatic flavorings.
Book an Online Cooking Class Now
Ready to perfect your homemade pasta, paella or pad thai? Join a world-class chef from the comfort of your kitchen.
13. Boxty
Ireland's own potato pancakes! It's a simple blend of potatoes, milk, egg and seasoning cooked on the griddle to make a delicious traditional Irish food that goes perfectly with your other authentic St. Patrick's Day dishes!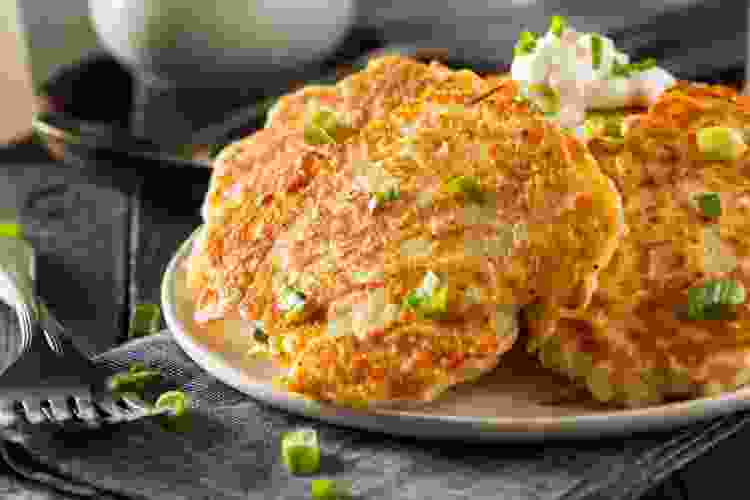 14. Potato Scones
This authentic Irish flatbread couldn't be easier to create! A dough of potatoes, self-rising flour, salt and butter is pressed into rounds and cooked on a buttered griddle. That's all it takes to cook up a St. Patrick's Day treat that is sure to please.
15. Potato Soup
Potato soup offers a soothing alternative to mashed potatoes, and it's just as easy to prepare. Flavored with onions, butter and broth, serve this delicious chowder with slices of crisp soda bread, perfect for dipping.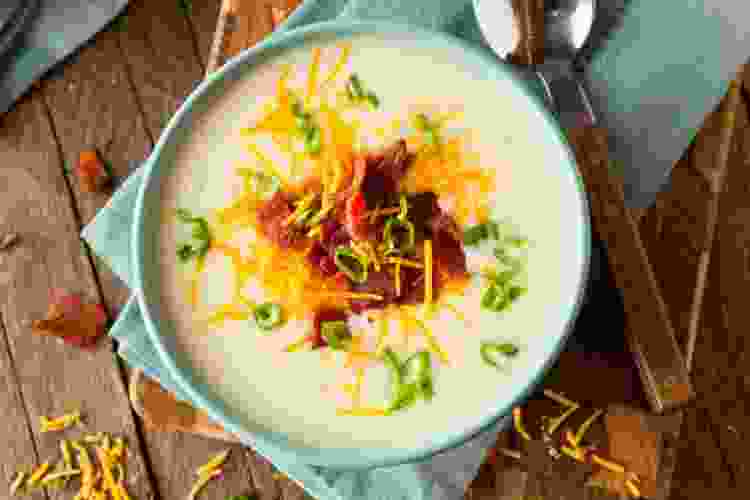 16. Irish Tea Cake
The simplest of traditional Irish desserts, Irish tea cake is a butter cake topped with powdered sugar and fresh berries. Its unassuming flavor makes it a wonderful pairing for a good Irish tea at the end of a rich St. Patrick's Day meal.
17. Apple Cake
Every Irish grandmother has her own recipe for an apple cake, and all of them are delicious! This slightly spiced cake is filled with Granny Smith apples and served with a silky custard sauce on top.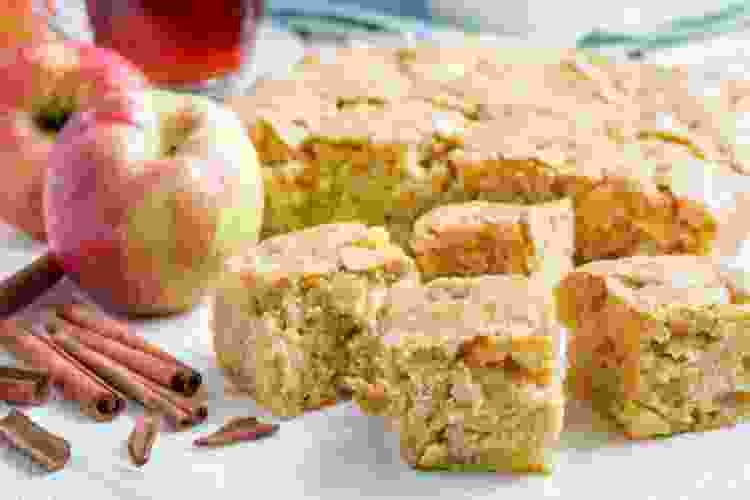 18. Irish Bannock
Bannock is a homespun loaf that was a staple in the diets of settlers in Ireland's early ages. It's closer to a scone than a traditional loaf like soda bread, but it's just as tasty and an equally traditional Irish food for celebrating St. Patrick's Day.
19. Bread Pudding
This comforting dessert is a traditional Irish food that turns the flavor up to ten! Cubes of brioche are soaked in a creamy, eggy custard that can be spiked with Irish whiskey, seasoned with nutmeg and peppered with raisins. It's so many tastes and textures in one place, it's practically a St. Patrick's Day celebration all by itself! We're pretty partial to topping our bread pudding with this ultra-decadent bourbon sauce.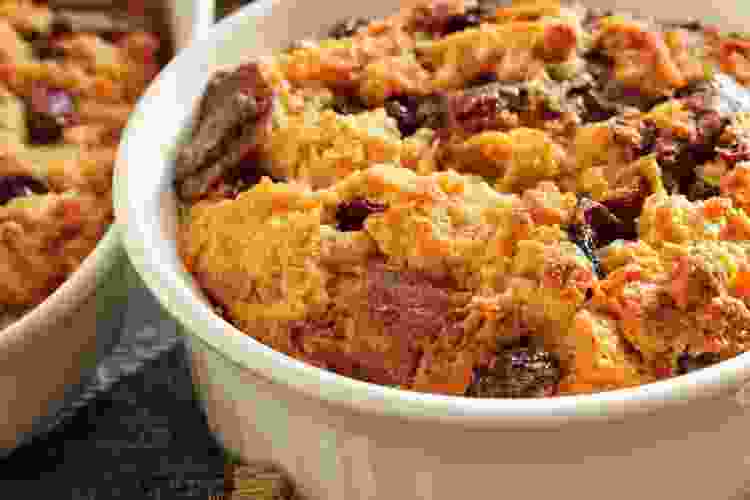 20. Cured Salmon
Create a contemporary charcuterie plate featuring this traditional Irish food paired with boxty and soda bread. Top the boxty with a bit of sour cream, chives and a few slices of salmon or lox, and you've got a tasty Irish bite that celebrates with you!
Gourmet Cooking Classes Near You
Take your culinary skills to new levels with guidance from five-star chefs.
21. Pasties
Authentic hand pies like pasties are filled with roast beef and potatoes. They can be prepared with additional ingredients such as cheese, onions or Worcestershire sauce to lend flavor and texture. A plate of pasties on your St. Patrick's Day table is sure to go fast!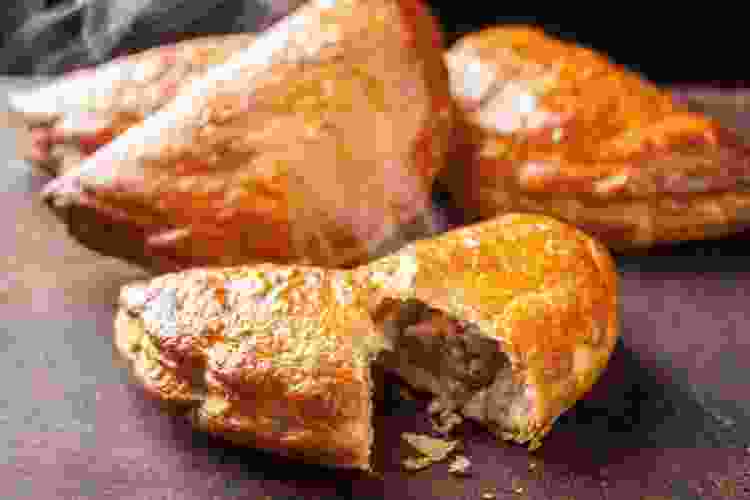 22. Champ
Champ is another take on mashed potatoes found in Irish cuisine. This one is flavored with green onions and plenty of butter. Unlike its close cousin colcannon, it uses no cabbage or kale.
23. Barmbrack
This fruit-filled quick bread is more likely to be served on Halloween. But for an authentic taste of traditional Irish food, it's just as delicious on St. Patrick's Day!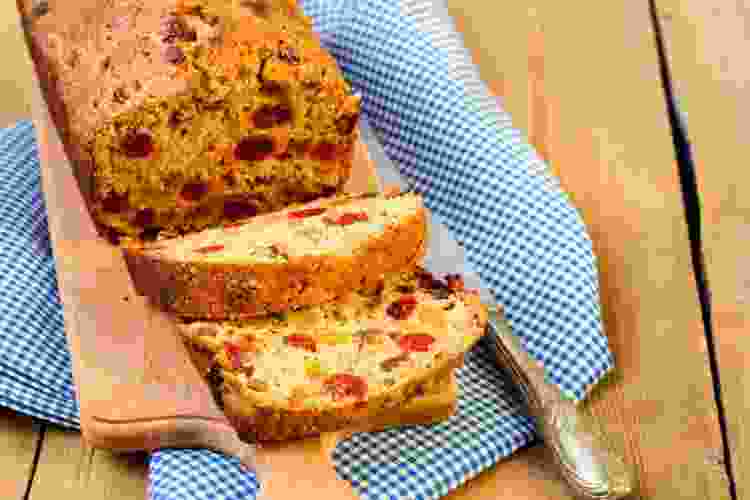 Join 200,000+ Culinary Enthusiasts
Exclusive deals, recipes, cookbooks, and our best tips for home cooks — free and straight to your inbox. PLUS: 500 Rewards Points.
It's always exciting to add new dishes to your usual St. Patrick's Day menu. And traditional Irish foods offer a selection of savory comfort recipes, some of which may remain in your year-round lunch and dinner line-up. Experiment with a few recipes beforehand to make sure you perfect the preparation. It's never too early to try out the festive Irish food you'll be making for your next St. Patrick's Day celebration!
For even more fun ways to celebrate the holidays, check out other experiences happening on Cozymeal.