17 Easter Food Traditions From Around the World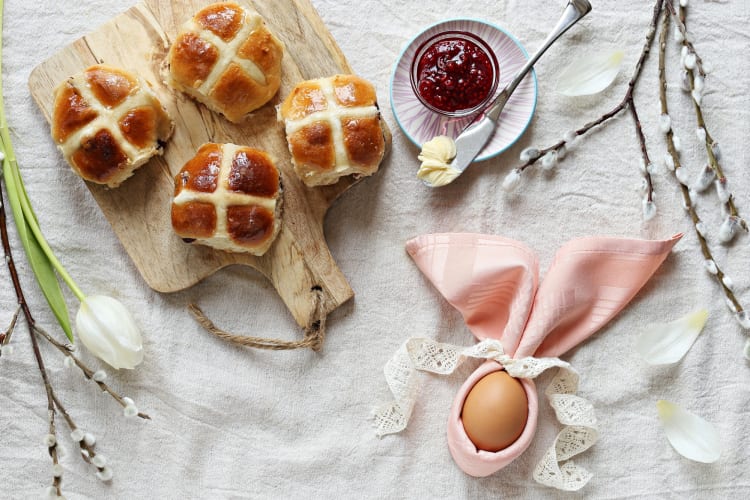 A holy time in countries throughout the world, Easter is a deeply meaningful holiday to those who observe it, with Easter food traditions being just as steeped in symbolism and reverence as the religious and cultural events that denote the season.
In Christian tradition, Easter is the holiest of celebrations commemorating the resurrection of Jesus. As noted in Britannica, the symbolism of rebirth and renewal dating back to pagan festivals honoring the spring became inextricably linked to the way the Easter holiday is observed today.
What do people eat on Easter across the world? Traditional Easter foods are as diverse and abundant as the bounty of spring with countries around the globe sharing symbolic staples while also offering unique contributions to the Easter feast. Let's explore 17 Easter food traditions from around the world!
Jump to Section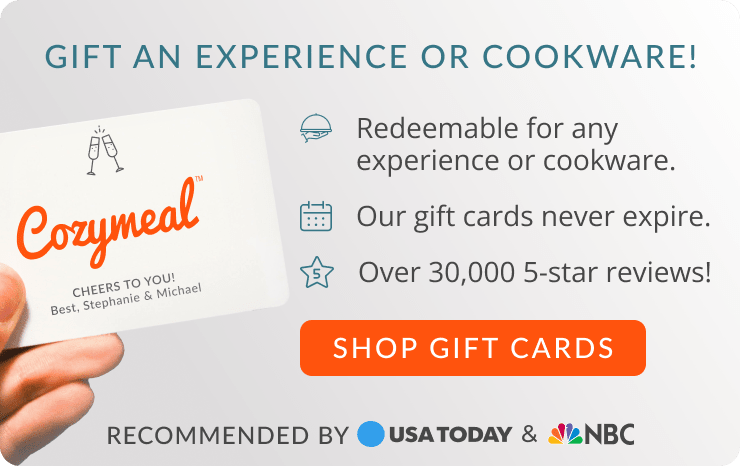 Celebrating Easter Food Traditions
Deciding what to eat on Easter can be an overwhelming task. Whether you want to improve your technique in preparing traditional Easter dishes or explore festive recipes from around the world, cooking classes are a fun and interactive way to celebrate through food. Learn authentic recipes from a variety of cuisines with world-class chefs in cooking classes in Philadelphia, cooking classes in Denver or cooking classes near you. There are also myriad online cooking classes to take from the comfort of home.
For those looking to elevate their Easter feast or Easter party ideas, a private chef is a great way to lessen the stress as the chef handles all of the shopping, cooking, serving and cleanup of your holiday meal. Enjoy a gourmet Easter dinner prepared for you and your family with private chefs in Chicago, private chefs in San Francisco or private chefs near you.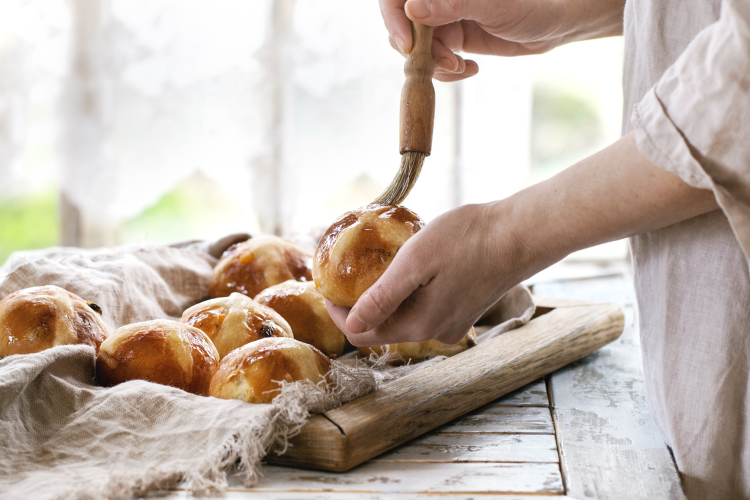 Join a Live Online Cooking Class Today

Your kitchen is now your own culinary classroom. Connect with chefs from around the world right from the comfort of home.

Book Now
17 Easter Food Traditions From Around the World
1. Eggs
One of the most recognized Easter symbols is the egg. Easter food traditions around the world celebrate this emblem of life and rebirth. From children hunting decorated hard-boiled or chocolate eggs in the United States to making and eating stuffed eggs in Poland, the egg is an integral part of Easter celebrations around the world. Eggs turn up as both an ingredient and decoration for many seasonal treats.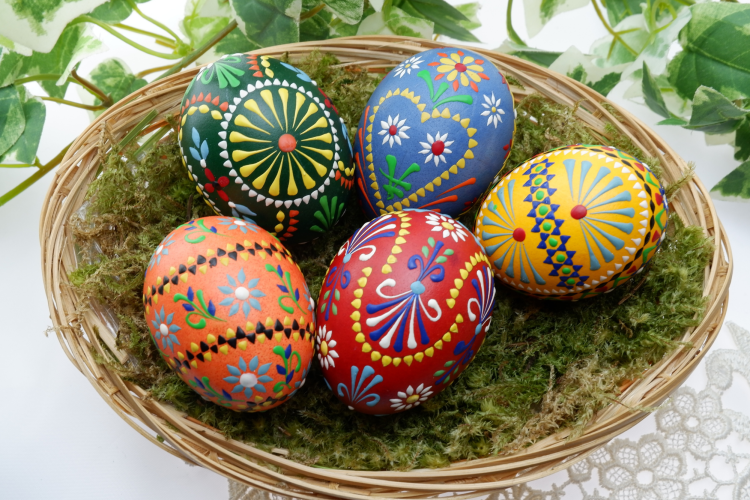 2. Lamb
Another symbol widely associated with Easter food traditions is the lamb with roots in Paganism, Judaism and Christianity. Lamb are an important part of Easter tradition from the sacrificial lamb of the first Passover to Jesus being referred to as the Lamb of God. Lambs also symbolize spring and new life.
Lamb is a popular main dish on Easter in the U.S. and throughout Europe, such as the roast lamb common in the U.K. and Greece, or the French gigot d'agneau pascal, a rich, slow-cooked lamb stew often served with spring vegetables. Lamb can even be found throughout the holiday feast in the form of butter or cheese molded into the shape of the animal or appearing on adorable cakes and desserts.
Gourmet Cooking Classes Near You
Take your culinary skills to new levels with guidance from five-star chefs.
3. Ham
Although Easter food traditions in America have been heavily influenced by the customary dishes brought by immigrants from Europe, glazed ham is a popular centerpiece of the American Easter table that is not as common in other parts of the world.
With hogs traditionally being slaughtered in the winter, the meat that could not be consumed right away was salted and cured to be ready in the spring making it a cheaper and more accessible option than lamb. Pigs are also associated with good luck and prosperity and are eaten in the hope for a prosperous planting season and harvest.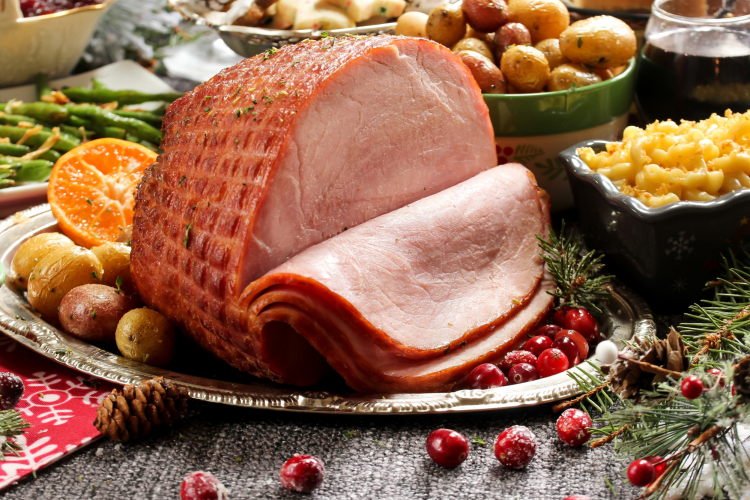 4. Bun and Cheese, Jamaica and the Caribbean
A descendant of the hot cross bun, Jamaican buns and cheese are a popular Easter food tradition that can be found throughout the Caribbean. Over time, the classic bun shape transformed into a small loaf replacing the honey and fruit with molasses and spices, giving it a flavor distinct to the islands. The loaf is commonly eaten with Jamaican "tin cheese" or pieces of sliced cheese.
5. Hot Cross Buns
Bread is perhaps the most important item on the Easter table and appears in nearly every cuisine. Bread represents life and is deeply connected to the Christian faith through practices such as communion. Just as Christianity traveled across the world largely due to British colonizers and missionaries, the hot cross bun has become a ubiquitous Easter food tradition.
A traditional Easter food in Ireland, the United Kingdom, Australia, New Zealand and the Caribbean, the hot cross bun is a soft, spiced roll made with fruit and marked with an icing or dough cross. The buns are traditionally eaten on Good Friday to commemorate the crucifixion, and according to Smithsonian, are also rife with superstition. A boxed-up bunch of hot cross buns would also make a lovely Easter gift idea.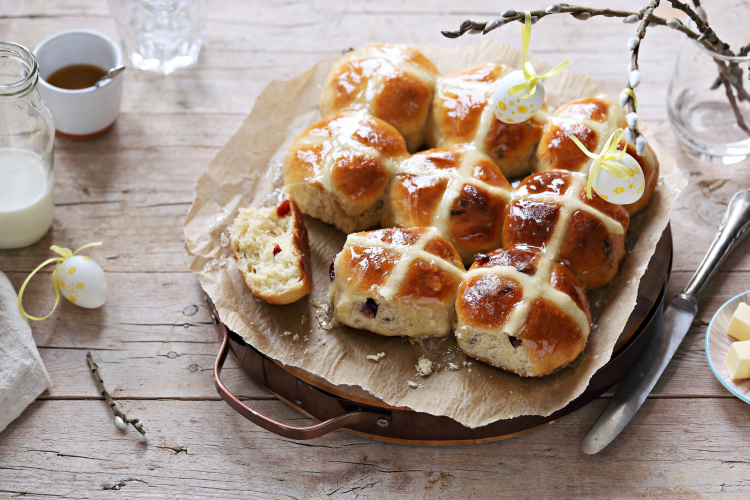 6. Enriched Breads
As a staple of Easter food traditions, enriched breads are found in celebrations across Europe and Russia. Enhanced with eggs, butter, milk, fruits, nuts or cheeses, these special breads go by many names.
Colomba di pasquale, a sweet bread studded with candied orange peel and shaped like a dove, is a traditional Italian Easter food. Paska is an Eastern European egg bread, while Bulgarians celebrate with kozunak, a sweetened yeast bread that is often braided and embellished with raisins and sliced almonds. Lithuanians enjoy a similar semi-sweet bread called velykos pyragas, Polish feasts include a golden loaf of chałka and the Greeks bake a soft, spiced tsoureki traditionally made with three braids to represent the Holy Trinity.
Book a World-Class Private Chef Now
Five-star fine dining from the comfort of home. Find your favorite private chef experience starting at $59/person.
7. East Indian Fugias
Another Easter food tradition comes from a country that might be surprising: India. Although not as prevalent as Hinduism and Islam, Christianity made its way to India along with the British inspiring a unique dish enjoyed during the Easter festivities.
Fugias are fermented and deep fried bread balls that look like tiny balloons. The time-intensive dish is generally reserved for special occasions and can be eaten alongside curries or enjoyed on their own.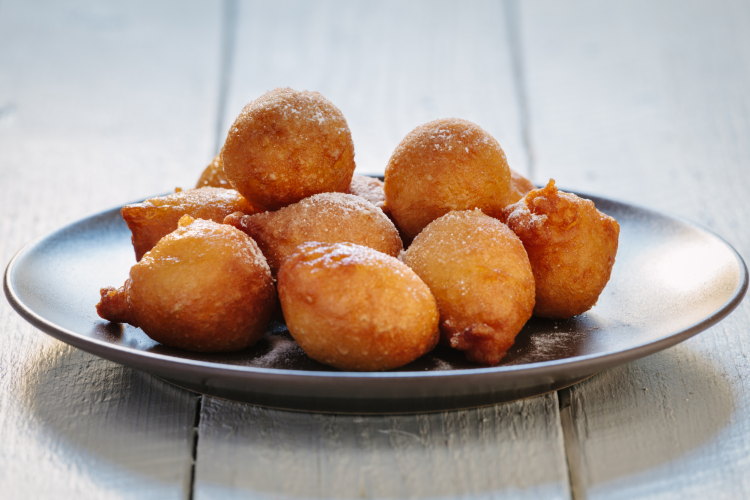 8. Difo Dabo, Ethiopia
Some might be surprised to learn that Ethiopia has one of the highest Christian populations in the world with Easter being a most sacred holiday. Following a rigorous 56-day Lenten fast that prohibits animal products, the holiday meal is an expansive spread featuring stewed meats including chicken, beef and lamb along with beer and mead brewed for the occasion.
Accompanying the feast is difo dabo, a round wheat loaf enriched with milk and honey, it's name and ingredients a reference to the Biblical promised land. Traditionally, the bread is wrapped in koba leaves and baked in a clay oven.
9. Torta Pasqualina and Torta Pascualina
Easter food traditions can be traced across the world with similar dishes appearing in unexpected places. The torta pasqualina is an Easter pie popular throughout Italy featuring a flaky crust filled with spinach, ricotta and most importantly, hard-boiled eggs.
The torta pascualina is a nearly identical pie found during Easter celebrations in Argentina and Uruguay brought to South America by Italian immigrants in the early twentieth century that has now become a cultural staple.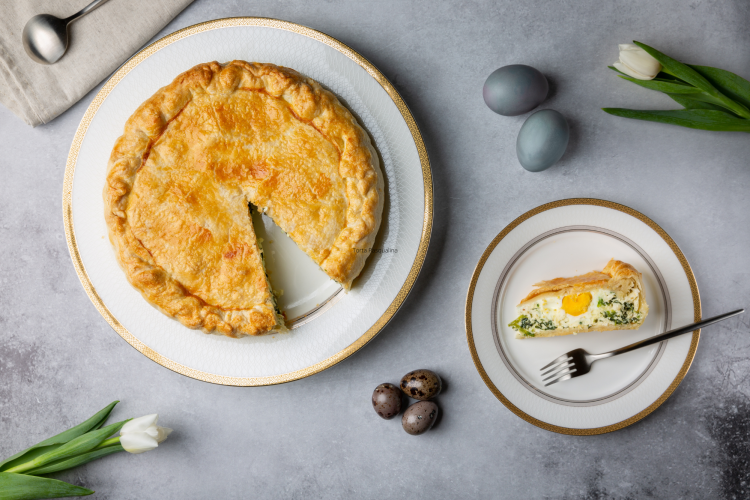 10. Figoli, Malta
Likely due to falling at the end of Lent, Easter food traditions are laden with decadent desserts including buttery cookies, sweet breads and elaborate cakes. In Malta, a tiny island nation south of Sicily, the observance of Lent, Holy Week and Easter are filled with festivals, processions and symbolic foods.
After abstaining from sweets during Lent, Maltese children get to enjoy figolli, sweet almond cakes covered in icing or chocolate and shaped into traditional symbols such as fish or lambs.
Book an Online Cooking Class Today
Five-star chefs. Step-by-step coaching. Flexible menus. Come see what's cooking in a live online cooking class.
11. Fanesca, Ecuador
An Easter food tradition unique to Ecuador is fanesca, an elaborate stew with an unusual combination of flavors.
Believed by some to draw from traditions of the indigenous people of the Andes and Christianized with the arrival of the Spaniards, the creamy stew features 12 grains to represent the apostles and salt cod to signify Jesus. The dish is often topped with peanuts, fried plantains, hard boiled eggs and/or mini empanadas.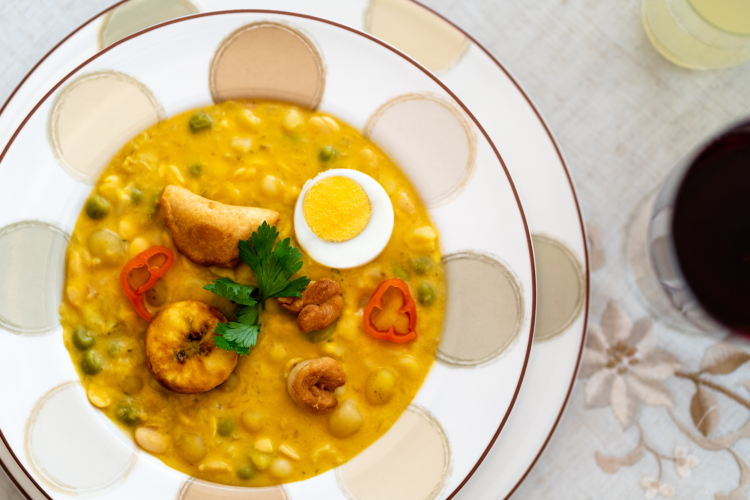 12. White Borscht and Żurek, Poland
On Easter morning in Poland and other Eastern European cultures, families attend church with baskets of food to be blessed during this holy time in hopes of a bountiful year ahead. The baskets are rich with significance, each element carrying a unique connection to the holiday.
Traditional Polish Easter foods are two popular sour soups, white borscht fermented with a wheat starter and żurek using rye, made with items from these baskets such as bacon, eggs, bread and/or sausage. It is important that each member of the family eat a bite of the blessed foods, so they are traditionally incorporated into the Easter meal.
13. Pashka, Russia
This Russian Easter food tradition is so connected to the holiday that it shares its name. Pashka is a thick pudding in the shape of a truncated pyramid that represents the tomb of Christ with letters signifying the phrase "Christ is Risen" imprinted on its side. This cheese-cake like dessert is made with a special type of cheese curds with added raisins, fruit, jam or spices.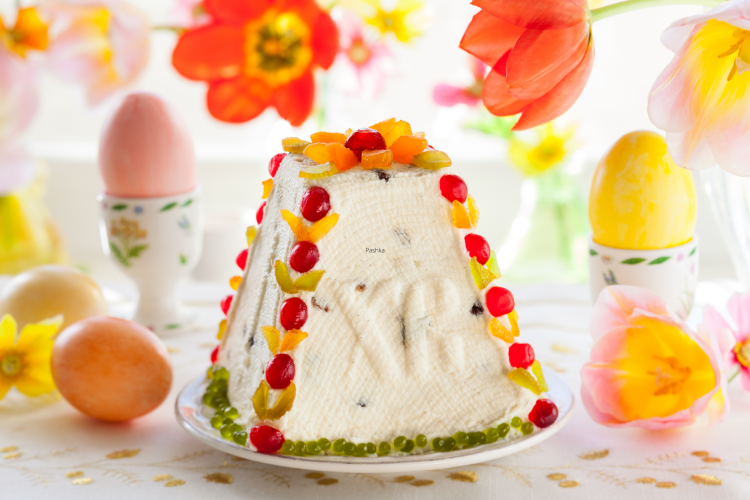 14. Mämmi, Finland
In addition to more familiar Easter sweets such as chocolate eggs, Easter food traditions in Finland often include a dish that some might consider an acquired taste.
Mämmi is a type of pudding made from water, rye flour, powdered milk, orange zest, salt and powdered rye malt or dark molasses. It is traditionally left to sweeten naturally before being baked and chilled for a few days then eaten with milk. The dish is believed to have been born out of necessity due to a lack of fresh produce and the restrictions of Lent.
Book a Gourmet Cooking Class Now
Kick-start your culinary confidence with help from a world-class chef. See what's cooking in your city today.
15. Capirotada, Mexico
Although beginning to decline in popularity, the Mexican bread pudding, capirotada, is a long-standing Easter food tradition that is rife with symbolism. Each element of the dish represents an aspect of the crucifixion or resurrection. Born from a merging of Aztec and Spanish ingredients, this unique dish forgoes the custard typical of a bread pudding and instead relies on salty cheese and clove- and cinnamon-spiked syrup for moisture and flavor.
16. Kalitsouna, Greece
Easter celebrations in Greece are brimming with food and family. Tables overflow with spit-roasted lamb, traditional breads and of course, lots of sweets and pastries.
Kalitsouna are popular throughout the country, but especially so on the Greek island of Crete. This sweet pastry made of yogurt and brandy is filled with a mixture of soft cheese, orange peel and cinnamon, then baked or fried.
17. Simnel Cake, United Kingdom
Signalling the end of Lent in the United Kingdom is the colorful, spiced simnel cake. An Easter food tradition featuring spices, fruits and layers of marzipan, this classic British cake is topped with eleven marzipan balls to represent the apostles minus Judas.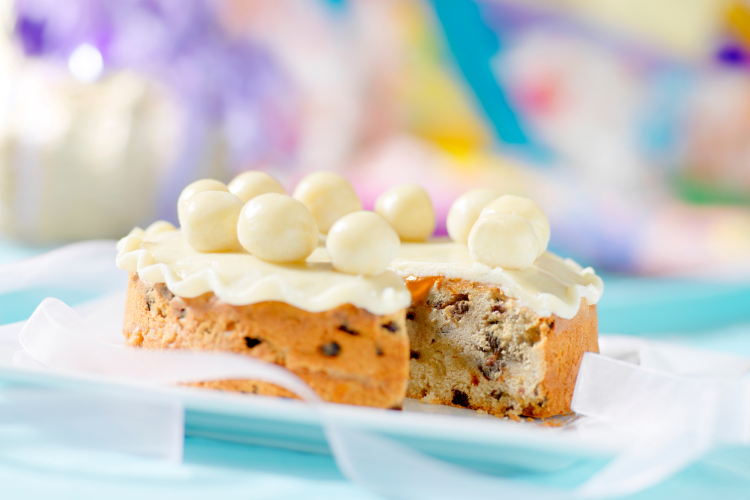 Join 200,000+ Culinary Enthusiasts
Exclusive deals, recipes, cookbooks, and our best tips for home cooks — free and straight to your inbox. PLUS: 500 Rewards Points.
From dishes rich with symbolism to those created from a blending of cultures, Easter food traditions are a fascinating representation of the ingredients, culture and history of a region. Enhance this year's holiday feast by finding inspiration from Easter food traditions around the world and exploring the deeper meaning behind each unique holiday dish.
For even more fun ways to elebrate the holidays, check out other experiences happening on Cozymeal.