35 Chef-Approved Thanksgiving Foods to Make in 2023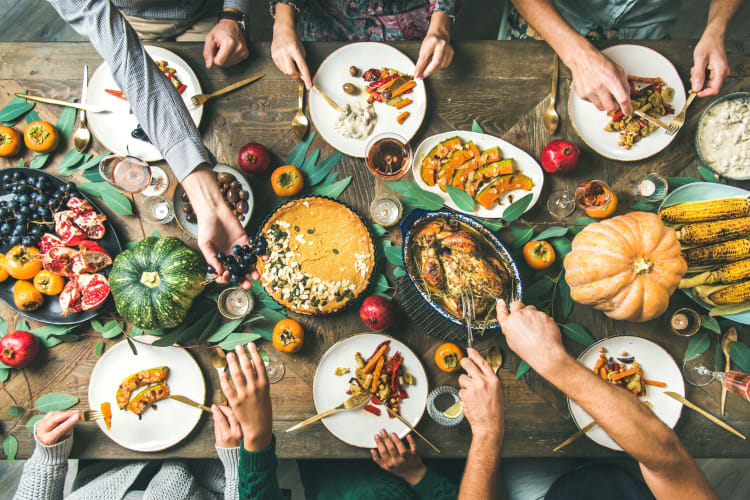 Have you started that annual list of your favorite Thanksgiving foods? Whether you're planning a gigantic family feast, a casual get-together, a neighborhood gathering or a Friendsgiving celebration, the first step is deciding what to serve. Of course, the traditional turkey, stuffing and pumpkin pie take high priority. What about including an array of textures, flavors and colors to light up the holiday table?
This collection of chef-approved tips, recipes and Thanksgiving food ideas can help elevate classic dishes, tune you in to new flavors or save time in the kitchen. Let's get to planning the best Thanksgiving foods to make your house the spot to be for Turkey Day.
Jump to Section
Gourmet Cooking Classes Near You
Take your culinary skills to new levels with guidance from five-star chefs.
Breads
1. Dinner Rolls
Dinner rolls are a Thanksgiving food staple. Enjoy with butter, jams and jellies or apple butter during the meal. They're wonderful to have on hand for those day-after turkey sandwiches as well. Rolls can be made ahead of time and frozen, which saves loads of time in the kitchen.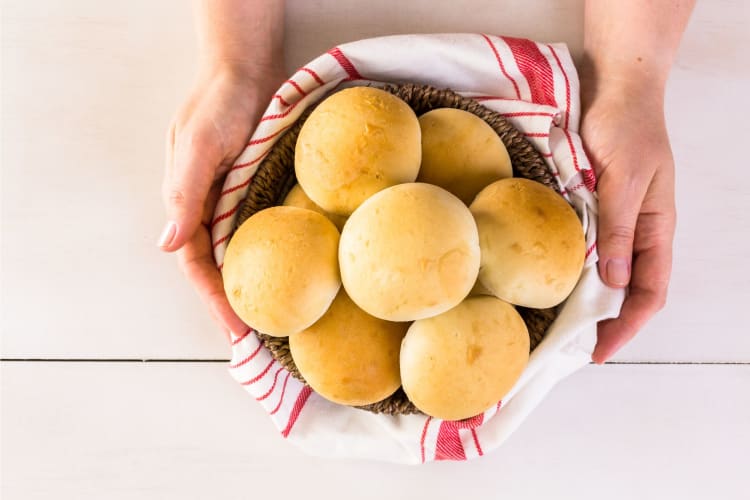 2. Cranberry-Brie Pull-Apart Bread
Whether served with the meal or as an appetizer, bread stuffed with cranberries and creamy brie make a delicious choice for Thanksgiving foods. It's easy but will make you look like a gourmet. Simply cut a crisscross pattern on the top of a loaf of sourdough bread. Fill in with butter, brie, cranberries and pecans. Next, bake for 15 or 20 minutes until the brie is gooey and melted.
3. Cornbread
If you're looking for something different in the bread department, give cornbread a try. Baked with honey, sugar or maple syrup, cornbread is a unique alternative to the traditional rolls found on a Thanksgiving table. For something even more decadent, try sweet potato cornbread.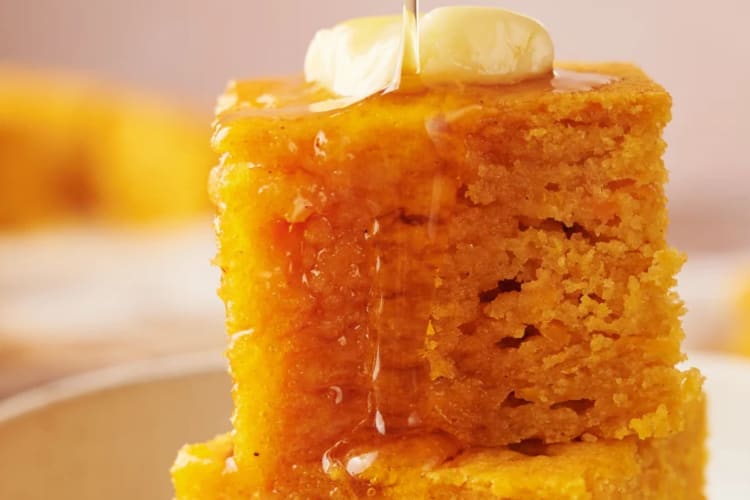 4. Focaccia Bread
Colorful with specks of rosemary and garlic, focaccia is crisp on the outside and soft and chewy on the inside. This Italian bread makes a wonderful accompaniment to the holiday breadbasket. Serve as an appetizer with soups or on its own.
Beverages
5. Apple Cider
Apple juice is a crisp and refreshing accompaniment to Thanksgiving foods. Drink cold or warm, or make mulled cider by boiling it with autumn spices like cinnamon, cloves and allspice.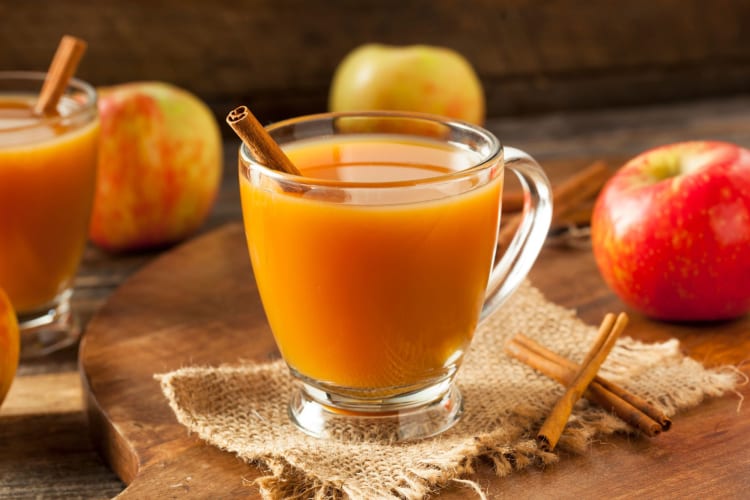 6. Cranberry Mimosa
Celebrate the season with a splash of cranberry juice, pineapple juice and Champagne. Cranberry mimosas make a terrific addition to brunch or the main meal.
7. Wine
Include a couple of bottles of your favorite wines to enjoy with the meal. Red or white is the best wine for Thanksgiving. They pair well with Thanksgiving foods like turkey, vegetables and roast beef.
8. Coffee and Tea
Coffee after a meal of wine, mimosas or spiked ciders is always a good idea. Enjoy a smooth cup of espresso or cappuccino with dessert. Tea, either hot or cold, is a light touch when combined with heavy and savory Thanksgiving foods. Stock up on Darjeeling, oolong, green or herbal tea for guests to choose their favorites.
Appetizers and Soups
9. Deviled Eggs
A plate of deviled eggs makes a nice snack for pre-dinner munchies. Add some spices to the yolk mixture before piping it back into the egg half.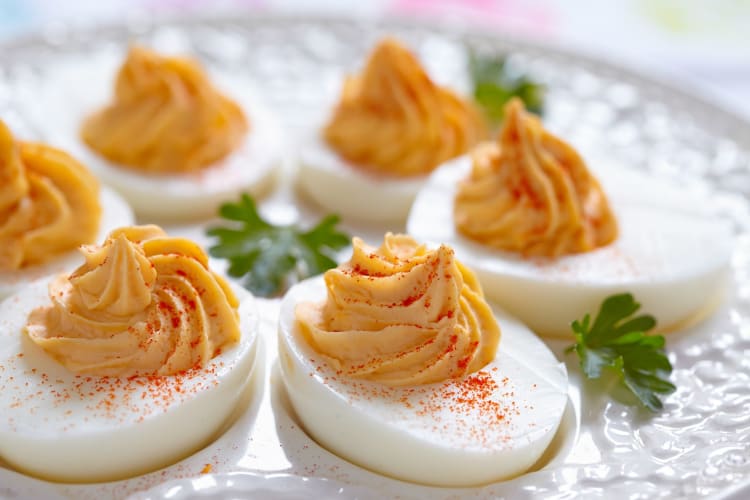 10. Herbed Cheese Dip
Add some herbs to a cream cheese mixture for a unique dip or spread for vegetables and crackers. This makes a great addition to the charcuterie tray.
Join a Live Online Cooking Class Today
Your kitchen is now your own culinary classroom. Connect with chefs from around the world right from the comfort of home.
11. Charcuterie Tray
Sway the munchies with sweet, savory and crunchy treats. Break out your favorite platters and create a colorful charcuterie tray filled with meat, cheese, fruit, vegetables and crackers.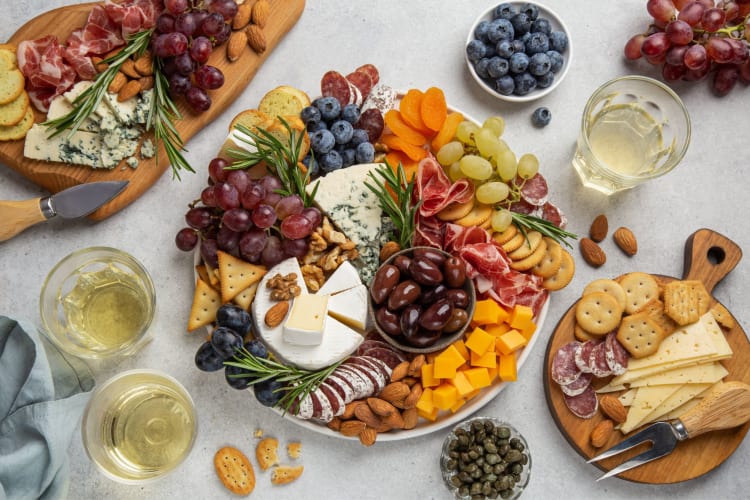 12. Waldorf Salad
Add a fruity, crunchy and sweet touch to all the savory Thanksgiving foods with the classic Waldorf salad. This mix of fruits like grapes, apples and raisins is usually served with mayonnaise or a yogurt-based dressing.
13. Butternut Squash Soup
Made with blended butternut squash and the warmth of ginger, rosemary and sage, this rich and creamy Instant Pot butternut squash soup is a great accompaniment to Thanksgiving foods. Swapping out the chicken broth for vegetable broth also makes this a nice option for the vegetarian guests.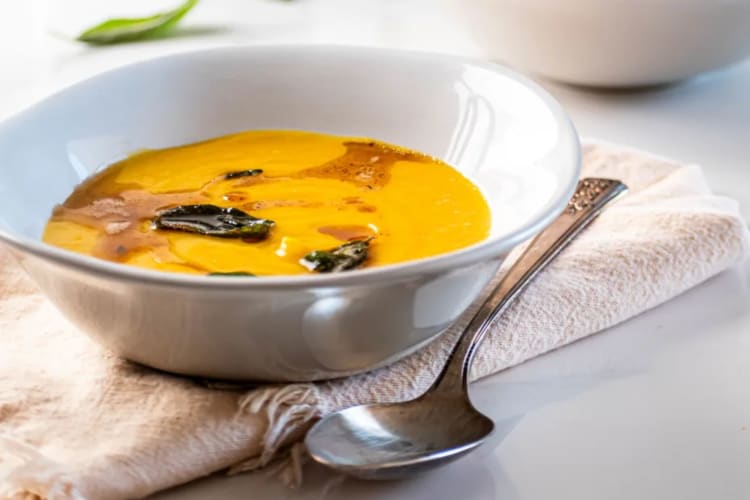 14. Broccoli Cheese Soup
A creamy blend of butter, milk, broccoli florets and cheddar cheese, along with nutmeg and black pepper, broccoli cheese soup is another option for the soup table. Quick and easy to make, it's the perfect comfort food for a Thanksgiving meal.
Vegetables and Casseroles
15. Stuffing
One of the most traditional holiday foods, stuffing can be roasted in the turkey, combined with vegetables or baked into a sausage stuffing recipe. Chef Ivan and Chef Lisa have some tips for a flavorful platter of stuffing. Chef Lisa says to put the stuffing in the turkey while it's baking. This allows the stuffing to cook while keeping the turkey hydrated, preventing a dried-out bird.
Chef Ivan suggests adding fresh herbs such as sage, parsley and thyme for a better flavor. For even more variety, texture and flavor, mix in diced apples, nuts or sausage. Diced pears and prosciutto are another mix-in idea for sweet and salty flavors.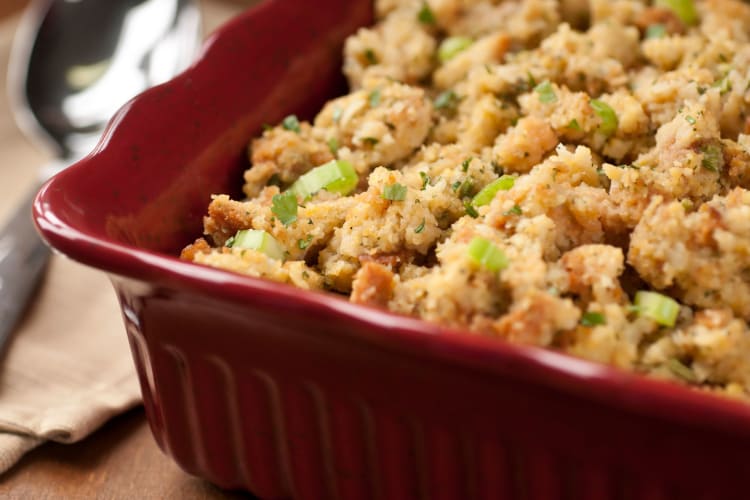 16. Green Beans
Green beans are another Thanksgiving food that brings tradition and nutrition to the table. Take a tip from Chef Ivan. To retain color and crispness, he suggests blanching the green beans before sautéing. You can also toss in slivered almonds, shallots, garlic and a squeeze of lemon juice for more flavor. A balsamic reduction and crumbled goat cheese add more flavor to green bean recipes. A terrific tip comes from Chef Lisa. She says to cook the green beans last, which will keep them crisp and prevent beans from becoming soggy before anyone sits at the table.
17. Sweet Potato Casserole
The sweet potato casserole is a traditional take on Thanksgiving foods. Give it an extra sweet twist by adding marshmallows to the top before roasting.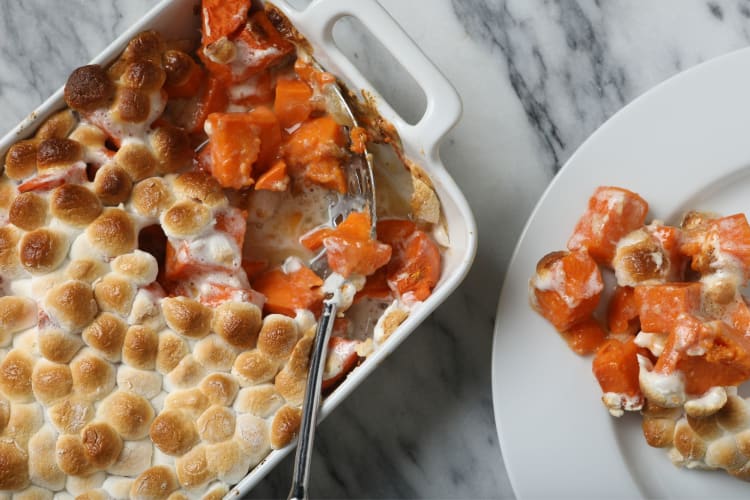 18. Green Bean Casserole
Made with cream of mushroom soup, fried onions and green beans, a green bean casserole is a colorful way to add a touch of crunch. It cooks slowly in the oven, making it convenient for multi-purpose cooking. Stick it in and let it cook while preparing other recipes.
Book a Gourmet Cooking Class Now
Kick-start your culinary confidence with help from a world-class chef. See what's cooking in your city today.
19. Mashed Potatoes
Mashed potatoes go with Thanksgiving dinner like peanut butter goes with jelly. To add a tasty twist, Chef Ivan suggests using flavor enhancers like roasted garlic, fresh rosemary and thyme or a dollop of sour cream for a richer flavor. A small amount of truffle oil or salt can give mashed potatoes a luxurious flavor. Try red skin mashed potatoes, cheesy mashed potatoes or, as Chef Chris suggests, mash the potatoes with celery roots and chives for a fresh touch.
Meanwhile, Chef Lisa says to simmer the milk with butter, salt and pepper before the potatoes are done. Doing this keeps the heat from the milk mixture from cooling down and "seizing" the potatoes. They become much easier to mash.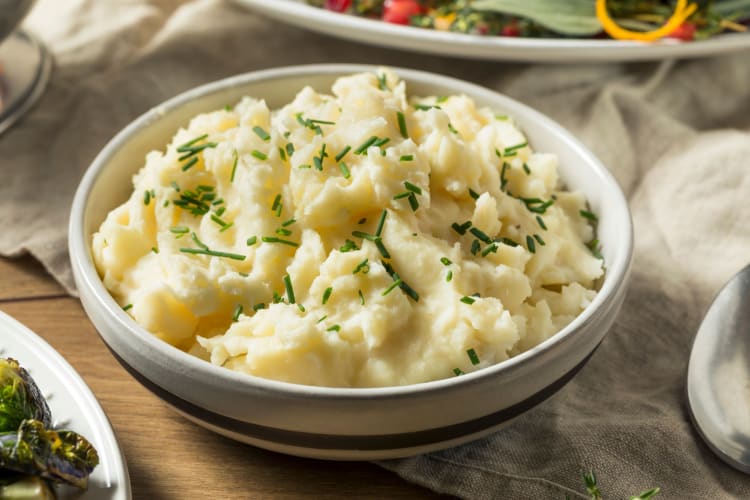 20. Maple Glazed Carrots
Give a richly sweet zing to crunchy carrots. While roasting, drizzle with maple syrup or even honey. It will quickly rise to the top of your Thanksgiving essentials list.
21. Oven-Roasted Potatoes
A savory favorite, oven-roasted potatoes make a great addition to the traditional Thanksgiving foods list. Use colorful new potatoes drizzled with olive oil and seasoned with herbs.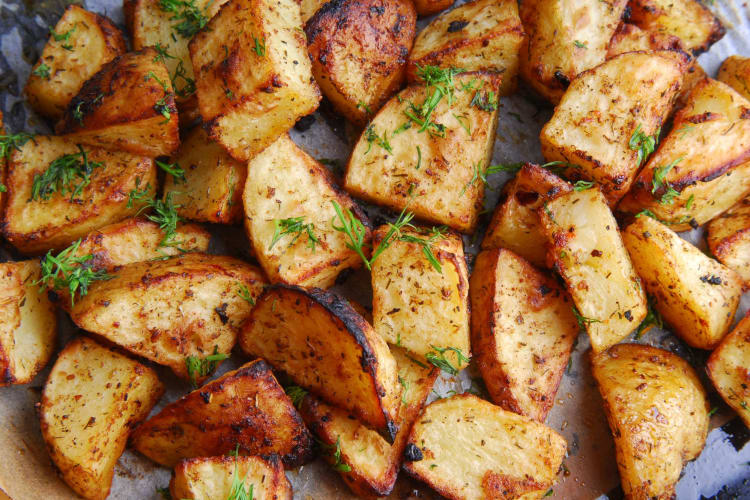 22. Corn
One of the most popular and classic Thanksgiving foods, corn can be served in a variety of ways. Whether piled high in a dish, creamed with whipping cream and milk or buttered and grilled on the cob, corn is one of the most popular Thanksgiving foods.
Meats
23. Turkey
Whether you roast, braise, broil or deep-fry your holiday bird, it's fair game that it will be the centerpiece of the table. Nothing makes a better holiday foodie photo than that plump golden turkey on the dining room table.
Chef Ivan offers a suggestion for tender and flavorful turkeys. He suggests brining your turkey for at least 24 hours. For a fresh take, insert slices of lemon, oranges and fresh herbs under the skin of the turkey before roasting. This adds a fragrant and flavorful touch.
For a tender turkey or a turkey leg recipe, Chef Lisa suggests a sugar salt brining. This brining solution works itself into the muscle fibers and remains there after the turkey is done, resulting in tender meat.
Chef Chris likes to balance the nostalgia of traditional holiday foods with an unexpected twist. One of them is to wrap prosciutto around the turkey breast before roasting.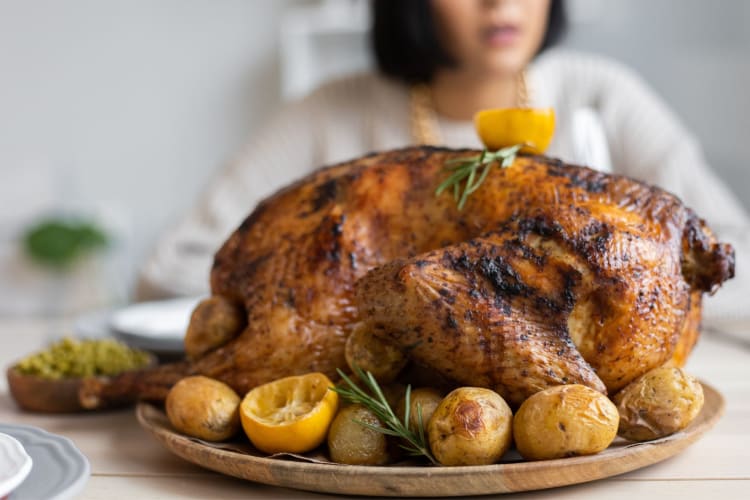 24. Roast Ham
While turkey typically takes the spotlight on the holiday table, some guests may prefer the texture and sweetness of ham. Bake or roast a ham instead of, or along with, the traditional turkey. Top with honey or molasses for a sweet touch.
Book an Online Cooking Class Today
Five-star chefs. Step-by-step coaching. Flexible menus. Come see what's cooking in a live online cooking class.
25. Roast Beef
Another meat option is a tender side of roast beef. It goes well with other traditional Thanksgiving foods and is delicious in those day-after sandwiches.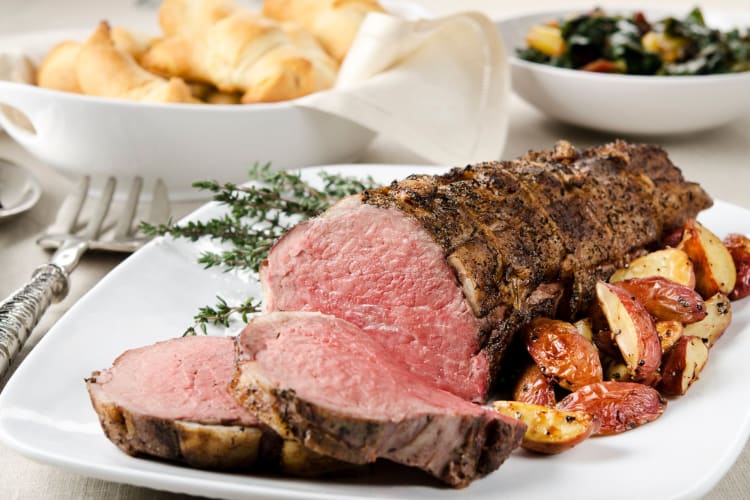 26. Leg of Lamb
For yet one more meat alternative, try your hand at a roasted leg of lamb. It's easy to cook and adds a luxury touch to the table. Add a dash of garlic and rosemary for a fragrant and savory entrée.
Sauces
27. Cranberry Sauce
Cranberry sauce adds a sweet and tangy accompaniment to turkey and other meat dishes. While many are tried-and-true fans of the traditional canned cranberry sauce, making it from scratch allows you to blend in extra flavors. Chef Ivan has a couple of terrific tips for adding a unique touch to this Thanksgiving food staple. He suggests adding orange zest or a touch of cinnamon for a more complex flavor. If you really want to mix it up, add a cinnamon stick, a few whole cloves and star anise while simmering the cranberries. This infuses a warm spice flavor.
To save time, Chef Lisa suggests making the cranberry sauce ahead of time and freezing it. Transfer to the fridge the day before serving.
28. Lingonberry Sauce
Similar to cranberry sauce in taste and texture, Swedish lingonberry sauce is a terrific accompaniment to Thanksgiving foods like turkey, roast beef and even mashed potatoes. Make it from scratch with lingonberries, water and sugar. You can also purchase a jar to easily add to the charcuterie board or condiment table.
29. Chive Butter Sauce
The mild onion and garlic-like flavor of chive butter sauce pairs well with Thanksgiving food like rolls, baked potatoes or meat. All you really need is salt, butter and chives. Chop up the chives, stir them into room-temperature butter and mix it all together.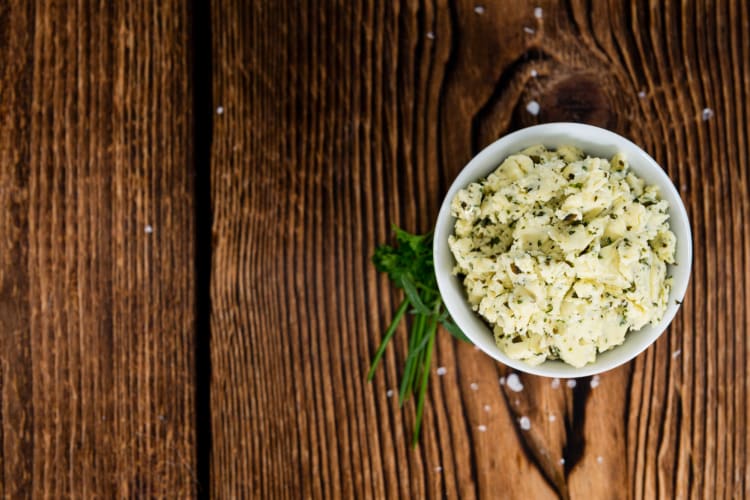 30. Mustard Sauce
Whether topped on bread and meat or as a dipping sauce for vegetables and even pretzels, a spicy mustard sauce is terrific to have on hand. Use it on meats like ham and roast beef.
31. Gravy
Gravy is one of the best go-to Thanksgiving food ideas for topping mashed potatoes and even meats. Chef Ivan has a couple of tips for adding extra flavor to your gravy. Use fresh herbs like rosemary or thyme while it's simmering. For a flavorful mushroom and red wine gravy, sauté mushrooms and turkey drippings and deglaze with red wine for a more complex and savory gravy.
Gourmet Cooking Classes Near You
Take your culinary skills to new levels with guidance from five-star chefs.
Desserts
32. Herb Ice Cream
Put that ice cream maker to work, and give Dad or Grandpa a task by whipping up a refreshing à la mode option for all those pies. Chef Ivan suggests preparing savory rosemary or basil ice cream. Add some mint for an extra refreshing touch.
33. Pumpkin Pie
What is Thanksgiving without pumpkin pie? We're not sure, but it's one of those Thanksgiving foods that just can't be left out. Chef Ivan has some ideas to spice up this favorite fall flavor. For more potent flavor, freshly grind spices like cinnamon and nutmeg. Chai spiced pumpkin pie can be achieved by replacing the traditional spices with chai spices such as cardamom, cloves and black pepper for a unique twist. Try a gluten-free crustless pumpkin pie recipe and any of these creative vegan Thanksgiving recipes if you have dietary restrictions on your Thanksgiving food list.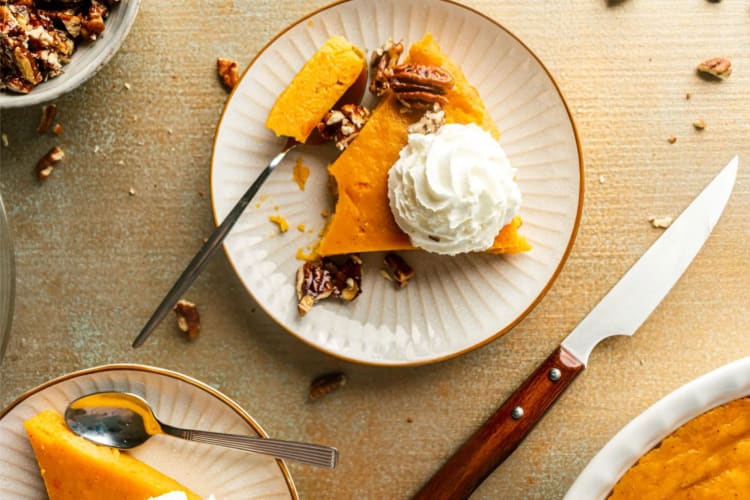 34. Apple Pie
Some guests may prefer the fruity flavors of apples to pumpkin. Top with cinnamon and serve with ice cream for an All-American treat.
35. Chocolate Chip Cookies
Round out the dessert table with a big plate of gooey chocolate chip cookies. Chocolate adds a nice alternative to the savory pumpkin and spice flavors of typical Thanksgiving foods. Plus, the kids will be thrilled.
Elevate Your Thanksgiving Foods With a Cooking Class
Cooking classes can help transform your typical Thanksgiving menu and recipes into new and unique dishes every guest will love. Gourmet chefs lead these fun and interactive sessions. You'll learn a variety of skills and techniques, including ingredient sourcing, vegetable prep, slicing techniques and how to roast, sauté and simmer like a pro.
There are more than 120 cities worldwide offering these fun, interactive sessions, from cooking classes in New Orleans to cooking classes in Toronto. Check out cooking classes near you to find the perfect class for everything from appetizers and salads to entrées, vegetables and desserts. There are even online cooking classes for those who prefer to learn from home.

Join 200,000+ Culinary Enthusiasts
Exclusive deals, recipes, cookbooks, and our best tips for home cooks — free and straight to your inbox. PLUS: 500 Rewards Points.
Whether you make Thanksgiving foods from scratch or buy from a local store and add your own herbs, spices and other embellishments, this list is designed to jumpstart the planning process. As you can see, there are a wide range of traditional, classic and unique Thanksgiving foods to include on your holiday menu. With a little creativity and a touch of culinary mastery, your table is bound to be the talk of the town.
For even more ways to explore Thanksgiving foods, check out other experiences happening on Cozymeal.