Zoom Happy Hours: How to Make Them Fun and Engaging in 2023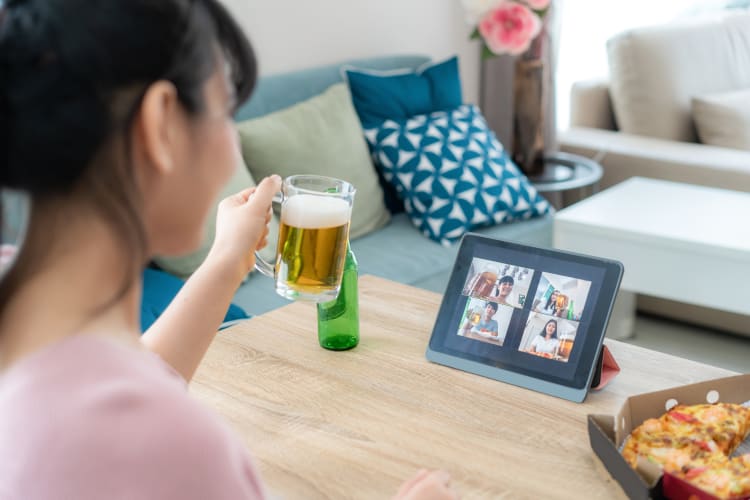 As most of us can attest, the power of happy hour is a real thing. After a long and grueling workday, is there anything that can take the edge off like catching up with friends over a good pint? But modern life often takes us to different places, and many of us have besties or a great friend group who are geographically scattered. Fortunately, video communication services like Zoom allow us to stay in touch no matter where we are.
With just a touch of creativity and a little bit of planning, you'll find that a Zoom happy hour may just be the social event you never knew you needed. So kick back, relax and keep scrolling to find out how to organize a Zoom happy hour that will lift your spirits (with the help of a good spirit or two).
Jump to Section
Zoom 101
Although Zoom came onto the scene back in 2011 as a virtual meeting platform for remote workers, its user base has grown exponentially to serve both workers and non-workers alike. That's right, your siblings, your friends (including the one who moved overseas), and even Grandma and Grandpa are Zooming. And while there are other video conferencing services out there, Zoom remains at the forefront thanks to its user-friendly interface and key features.
Pricing: In case you don't know how to use Zoom, it's simple. Anyone can create an account for free. However, it's worth noting that meetings with three or more participants are capped at 40 minutes unless you upgrade to a business account for a fee.
Gallery view: Rather than have the camera only feature one person at a time, the gallery view option presents all attendees on the screen at once, making for a more informal setup.
Virtual backgrounds: This has to be the most fun feature of Zoom, where you can select virtual backgrounds ranging from blades of grass to outer space. Zoom's default options are limited, but fortunately, you can upload your own photo as a backdrop or check out some other free Zoom backgrounds with a quick Google search. Bonus: Guests won't ever suspect there's a messy bedroom lurking behind your green screen.

via Pexels

Filters: Reserve your beauty products for in-person encounters and opt for the "Touch Up My Appearance" filter instead. It will leave you looking refreshed and ready to socialize.
Mute: While happy hours can get loud and rambunctious, your friend's screaming toddler shouldn't be the reason why. Thankfully, Zoom allows you to mute guests when they're not speaking with a touch of the space bar. Zoom has a bunch of other keyboard shortcuts that prove to be super helpful too.
Record: With the record your meeting feature, being unable to attend a Zoom event doesn't necessarily have to translate to feelings of missing out. Have the organizer send you the local recording for later viewing.
Screen share: If you're looking to watch a video or play a game with your Zoom crew, screen sharing allows for everyone to be on the same page, or, screen.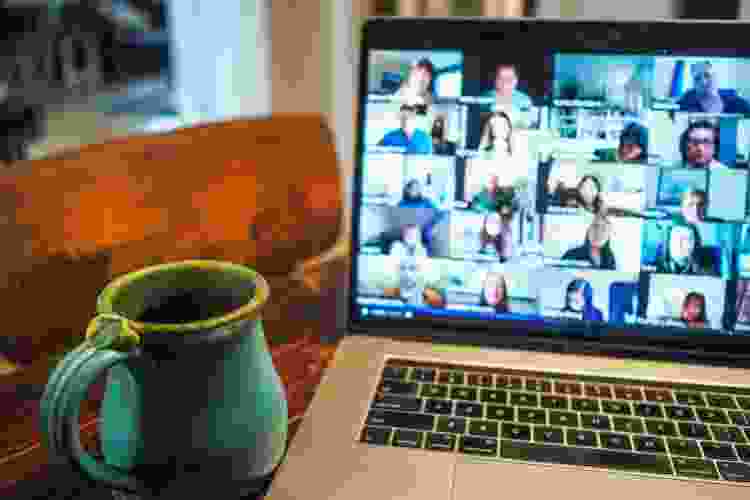 Book a Live Virtual Whiskey Tasting Now
Calling all scotch snobs and bourbon buffs: Sip and savor world-class whiskeys with an expert scotch steward, all from the comfort of home.
Zoom Happy Hours: 5 Tips for Organizers
When organizing a Zoom happy hour, host etiquette is key. Not only is it practical, but it also makes it more likely that guests will enjoy themselves. Here are some simple yet effective tips for ensuring your virtual event goes off without a glitch.
1. Plan Ahead
When organizing a Zoom happy hour, respect your guests' time and schedules. To do this, reach out to guests beforehand to get their availability. Note that while Zoom can display up to 49 participants on the screen at once, we recommend keeping the group at a lean three to 10 guests. A smaller group size is more manageable and will encourage guest participation.
Depending on what day/time best suits your guests, you may want to schedule your Zoom happy hour at the end of the workday or perhaps on the weekend. Send out a calendar invitation or an email with any relevant details, especially the video chat link. If you're looking to take your Zoom event to the next level, sites like Paperless Post specialize in virtual invitations for every occasion, including happy hour.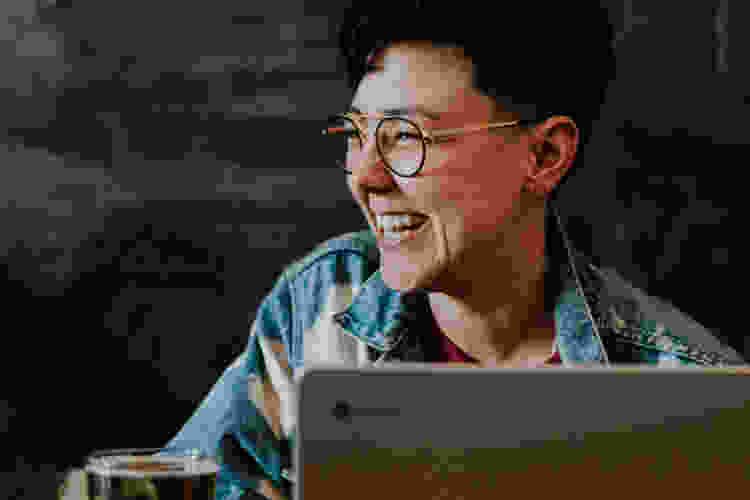 2. Set the Mood
Setting the mood for your happy hour will garner excitement among your guests. Whether you're coordinating an after-work gettogether or a weekend social event, a little planning can go a long way.
The Details
Most likely you're organizing a happy hour where guests already know each other, but if not, allow time for brief introductions. Is this a work or social event? Set expectations and prepare guests for others who are attending and what the gathering is all about. Calling together a happy hour "just because" is valid; however, if you're doing it for a special occasion then be sure to include the details in the meeting description so as to avoid any surprises.
What's on the Menu?
Are you trying to recreate your favorite wine bar or sports pub at home? Or maybe there's a cocktail spot that you're finding yourself daydreaming about. Pick your poison, and try to keep it simple. Also, just because this is a happy hour doesn't mean you should skimp on the snacks. Try wine-friendly snacks or quick appetizers to put together at the last minute. In case happy hour will stretch into the evening, you might want to consider preparing a dish for a dinner party, but one that can be done in less than an hour.
Book Your Virtual Wine Tasting
Bring the winery home with an unforgettable live virtual wine tasting. Your personal sommelier is standing by.
Curate a Playlist or List of Topics
What do all great events have in common? Good music, of course. Put together a happy hour mix or songs that follow a certain theme (80s rock, 90s pop, classic jazz, etc.) if that's your thing. Turn to Spotify for some premade playlists if you're running low on time or inspiration. In case there are gaps in the conversation that even the music can't fill, prepare some discussion topics to keep guests engaged and enjoying themselves. What your guests are reading, watching, listening to (music or podcasts) and cooking are all topics that will aid in facilitating the conversation.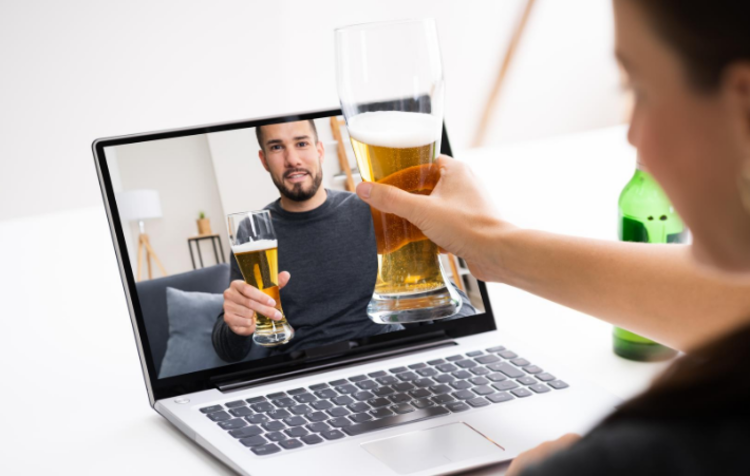 3. Practice Zoom Security Measures
Online accounts and communication platforms are prone to security breaches, and Zoom is no exception. Zoom-bombing, or when an uninvited guest enters a Zoom meeting, has brought up valid privacy and security concerns among users. So to keep virtual party crashers at bay, we're sharing standard security measures you should be following:
Always set your Zoom meetings to private, not public. Also, don't post your meeting details on public social media accounts.
When possible, avoid sharing your personal meeting ID since it is unique to each user account.
Require that users sign in with a password.
Enable the Waiting Room feature so that you can screen all attendees and accept them into your meeting.
Join Zoom through your web browser versus the Zoom app since the former is quicker to receive security updates.
4. Keep Conversation Flowing
Let's be real: in-person encounters do not always run smoothly. You might be dealing with a motley crew of work colleagues or two groups of friends that are meeting for the first time. To keep guests engaged and to avoid any awkward silences, hosts are encouraged to include topic starters and guide conversations.
Possible topics could include personal projects, TV/movie recommendations, hit recipes, new hobbies, etc. You can include some of these details in the meeting description or work them in organically during your event.
Also, be cognizant of how much face time each guest has. Ask open-ended questions, but if you notice that someone hasn't had the chance to talk, direct a question to them to give them an opportunity to speak. Lastly, although a meeting end time helps to set participants' expectations and plan, if you decide to end your happy hour early because you covered everything you wanted to, that's okay too.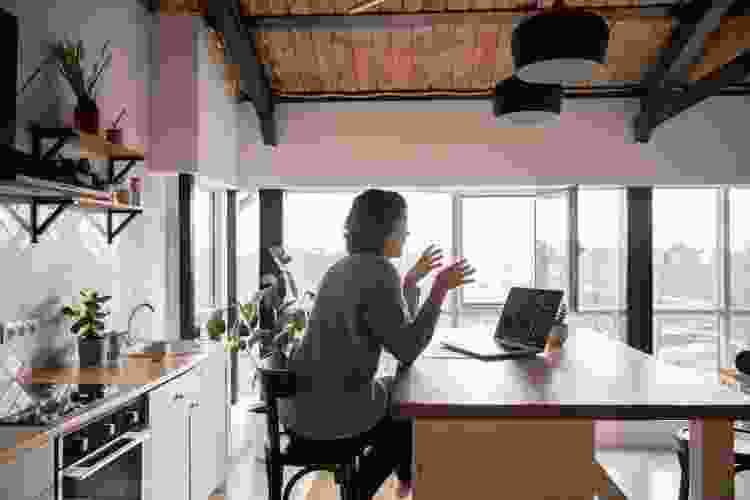 Book an Online Mixology Class Now
Master the art of mixology from home with live online mixology classes. Embrace your inner craft cocktail connoisseur.
5. Make It Fun
Above all things, happy hours should be fun. Otherwise, what's the point? Of course, it's easier to engage in the bar than across a screen, but look at that as a challenge to overcome.
Determine a Theme
Get creative, and you and your guests will appreciate it. Recreate your favorite after-work hangout or opt for a themed vacation getaway. This is where the Zoom virtual background comes in really handy since you can upload your own photo or choose from a variety of backdrops to set the mood. Also, just because you're at home and loungewear is comfortable, doesn't mean you should show up in sweats to your Zoom happy hour. Considering dressing up a little, maybe even encourage a costume party if you're looking to do something fun and different.
Games and Activities
There are tons of free virtual games to have everyone laughing and having a great time. Charades, Pictionary and Catch Phrase are all classic party games that are sure to bring out guests' competitive sides. To up the ante, make it a drinking game. Simply add a rule that at the end of each round, losers take a sip of their beverage of choice.
If you're looking for a more interactive activity to accompany your Zoom happy hour, online cooking classes and online mixology classes are your best bet. After all, the only thing better than sipping delicious craft cocktails at happy hour is learning how to make your very own at home.
Pick a Good Playlist
Although we mentioned this earlier, it's worth emphasizing here again. A solid playlist is necessary for happy hour, and for nearly any social event really. If you're unsure of the musical tastes of your guests, then find something neutral like the Billboard Hot 100. Play it on your computer loud enough for everyone to hear, but not too loud that it drowns out the conversation.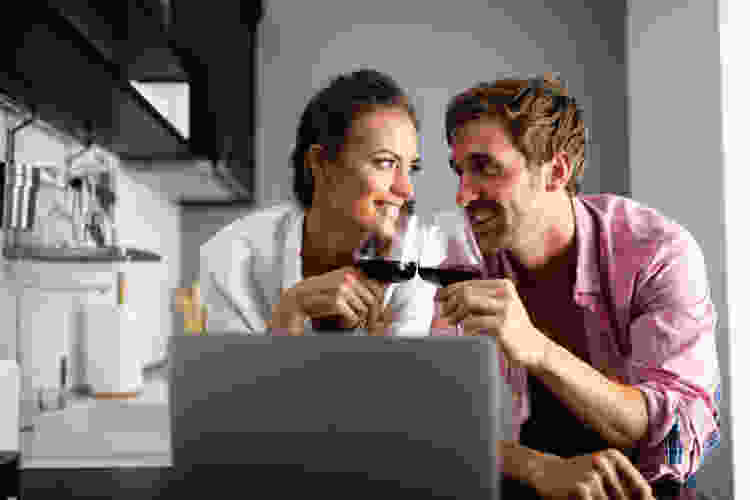 Join a Virtual Whiskey Tasting Now
Treat your discerning palate to something new in online whiskey tastings led by the industry's best scotch stewards.
FAQs
How do you get started on Zoom?
To use Zoom, you'll need to create an account. All you need is an email address or you can sign in using SSO, Gmail or Facebook. Zoom offers video tutorials on how to get started.
Do you have to download Zoom to use it?
No, you can use Zoom through the Zoom web client rather than downloading the Zoom app.
How do I download the Zoom app?
To download the Zoom app, simply go to https://zoom.us/download and click on the "Download" button under "Zoom Client for Meetings."
What are other services similar to Zoom?
Skype and Google Hangouts are similar video communication platforms used to host virtual meetings.

Join 200,000+ Culinary Enthusiasts
Exclusive deals, recipes, cookbooks, and our best tips for home cooks — free and straight to your inbox. PLUS: 500 Rewards Points.
From conversation starters to activities to the basic how-to's, this guide will have you hosting a fun and engaging Zoom happy hour in no time. What was your favorite idea from the list?
For even more (virtual) inspiration, there are plenty of online experiences to make your virtual happy hour shine. Virtual wine tastings bring the refined art of wine tasting (plus gourmet food pairings) right to your home, while online mixology classes teach you how to make stunning margaritas, martinis and both classic and modern cocktails from scratch.
For more fun virtual ideas, check out other experiences happening on Cozymeal.