15 Best Team Building Activities in Jacksonville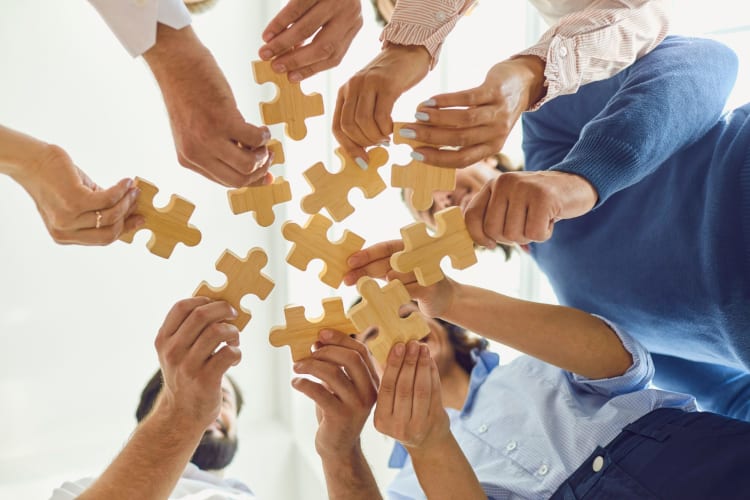 Are you searching for team building activities in Jacksonville for Employee Appreciation Day, work anniversaries or recognition of a team's success? Fun and interactive team building activities and experiences are a terrific way to reward your team or just spend time connecting.
But what do team building activities do for groups? Quite a lot, it turns out. According to the job site Indeed, team building activities can help employees work more effectively by building and developing positive relationships. When they feel a connection with each other, they're more likely to share ideas and collaborate on a more creative level.
Jacksonville is the perfect spot for this crucial bonding. From urban sidewalks to long stretches of beach and coastal scenery — and even indoor activities — team building activities in Jacksonville allow you to add some competition, throw in fun and games or stoke wanderlust with food tours and museum days. Whether your company focuses on finance, marketing, tech, retail or hospitality, there are team building activities in Jacksonville to suit any business or team. Keep reading to find the perfect experience for your team.
Jump to Section
---
OUR RECOMMENDATIONS
---
15 Best Team Building Activities in Jacksonville
1. Culinary Team Building Activities in Jacksonville
In addition to cooking classes, culinary team building activities in Jacksonville include food tours, private chef meals, cooking competitions and beverage tastings. Your team will enjoy a day away from the office while touring the local craft beer scene, tasting French wines or being entertained by local guides on food tours. For an extra special reward, consider booking a private chef to create a gourmet meal or casual dinner for your team.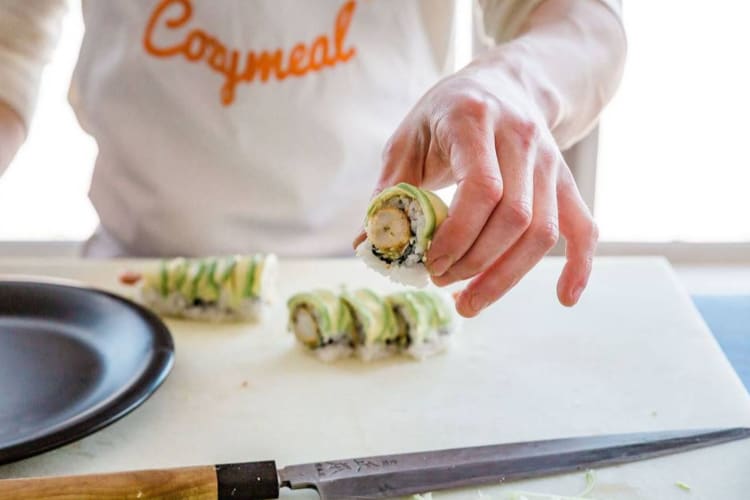 2. Cooking Classes in Jacksonville
Cooking classes in Jacksonville are the perfect way to teach teams transferable skills while they have fun in the process. They'll be all set to use communication, teamwork and time management skills to prepare French bread, Italian pasta dishes or regional seafood specialties. Sushi making classes in Jacksonville and pasta making classes in Jacksonville are especially popular with teams participating in team building activities in Jacksonville.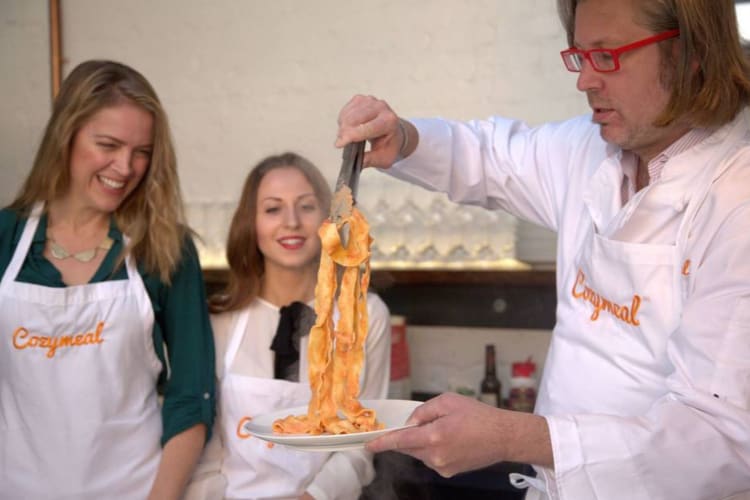 3. Online Culinary Team Building Activities
Online culinary team building activities are perfect for remote teams or hybrid groups. If you're searching for an online alternative to treat your team, consider virtual wine tastings or online mixology classes. You could also book classes on seafood, sushi, German dumplings or homemade pasta. Check out other online team building activities and online cooking classes to find the best team building activities in Jacksonville for your group.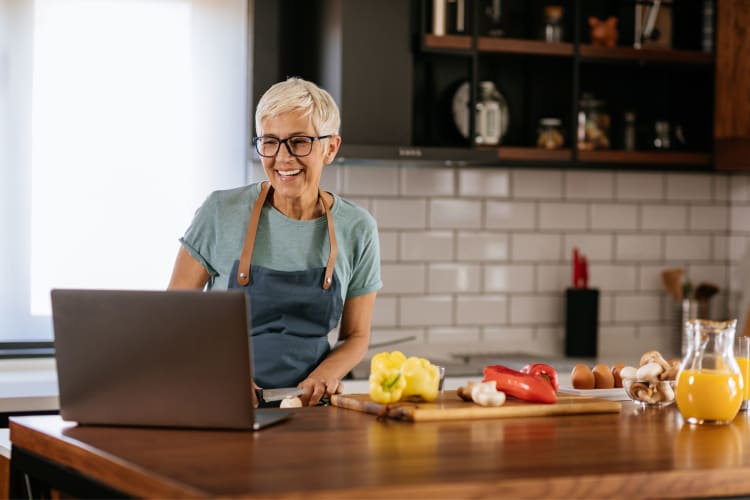 4. Axe Throwing
There's nothing better for stress relief and a laugh among co-workers than an axe throwing experience. Check out a local venue like Autobahn Axe Throwing or Stumpy's Hatchet House to plan this fun and unique team building activity in Jacksonville.
5. Escape the Room
The Escape Game Jacksonville and The Great Escape Room are two great options for a mind-stumping and riddle-solving team building experience in Jacksonville. Groups break into two or more teams and race against the clock to find clues, discover hidden items and solve the mystery before the other team.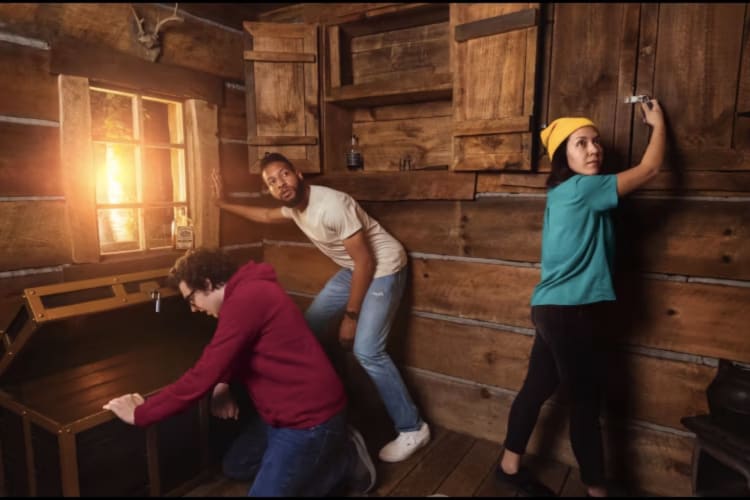 6. Kayaking
With the proximity of the St. Johns River and the Intracoastal Waterway (ICW), it's easy to plan an outdoor kayaking or paddleboarding adventure for your team. Adventure Kayak Florida or North Beach Adventures are both excellent places to plan rewarding and fun team building activities for Jacksonville excursions.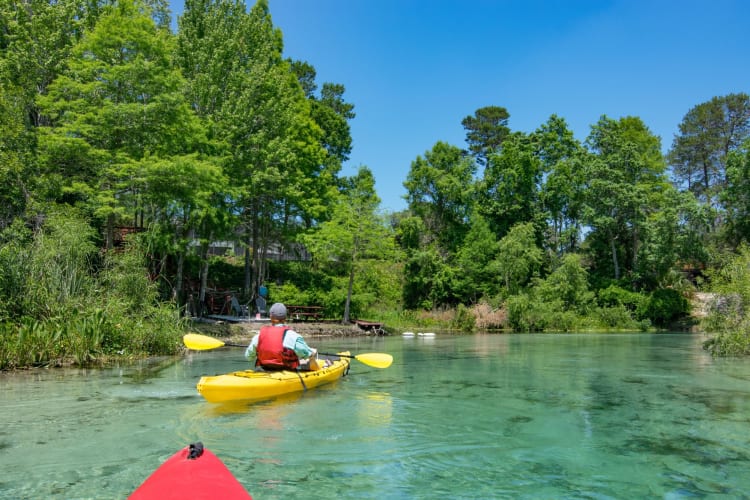 7. Ropes Course
Fitness fanatics and thrill seekers will jump at the chance to spend the day at the ropes course. UNF Ropes Course offers three zip line experiences depending on the level of challenge your team is ready for. The more experienced employees can help, reassure and encourage the less experienced members, creating a connection and shared accomplishments to take back to the workplace.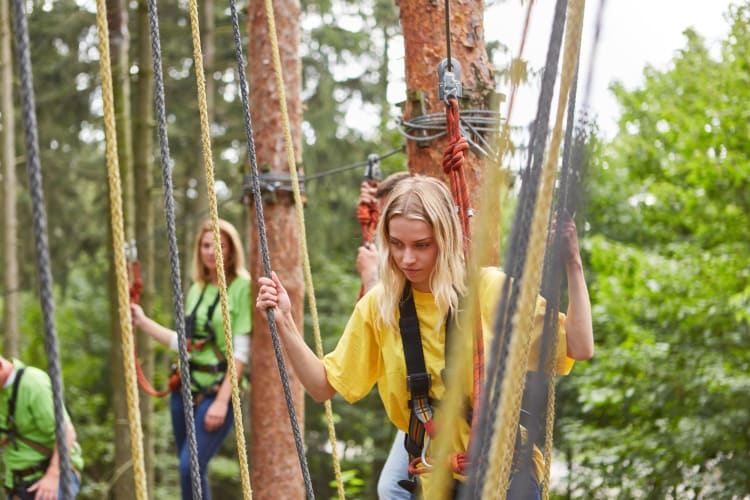 8. Day at the Museum
A little art, culture and history are great ways to treat employees to a day away from the office. Consider the Cummer Museum of Art & Gardens, Fort Caroline National Memorial, the Museum of Contemporary Art (MOCA) of Jacksonville, the Museum of Science and History (MOSH) or the Ritz Theatre and Museum for wonderful team building activities in Jacksonville.
9. Indoor Go-Karting
Speed demons will love a day at the go-kart track. Autobahn Indoor Speedway offers two tracks as well as a video game arcade for fun team building activities in Jacksonville. Team members will be able to let loose and indulge in the need for speed while competing against or cheering each other on.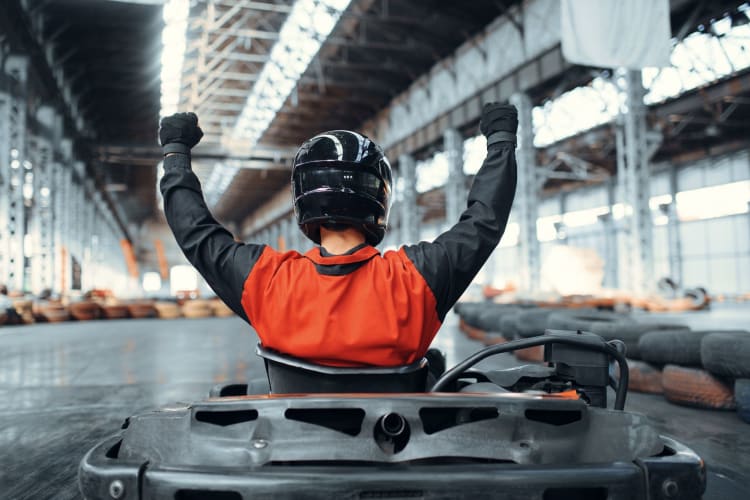 10. Pedal Along the St. Johns River
Known as somewhat of a combination of boat, bike and pedal pub, Kraken CycleBoats offers a fun way to cycle along the St. Johns River while enjoying city views and connecting with each other. Participants sit at the bar and pedal along the waterway. Whether they choose to drink wine, craft beer or diet soda (you bring the drinks — cups and a cooler are provided), this is one of those corporate team building activities in Jacksonville that they'll be talking about at the water cooler for a while.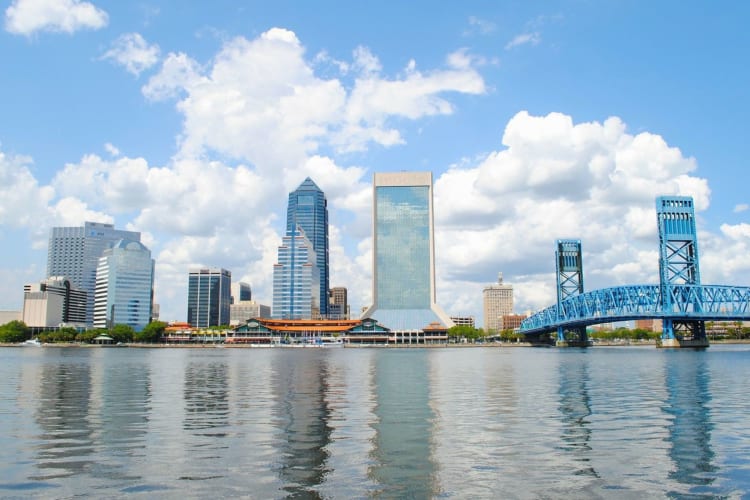 11. Commune With Creatures
If your team isn't into adventurous excursions, a trip to the Jacksonville Zoo and Gardens or a local wildlife refuge might just fit the bill. The Lynnwood Park Zoo rescues, rehabilitates and releases sick and injured animals. It has more than 50 animals, including mammals, birds and reptiles that include pot-bellied pigs, American alligators, llamas, bobcats, kookaburras and barred owls. The Catty Shack Ranch Wildlife Sanctuary is home to rescued exotic cats such as tigers, lions and pumas.
12. Glass Blowing
Glass blowing makes a unique team building activity in Jacksonville. Burnt Glassworks is the perfect place to learn how to blow molten lava into gorgeous works of art. Team members will have fun while making objects such as pumpkins, paperweights, vases and more knick-knacks they can enjoy at home or at the office.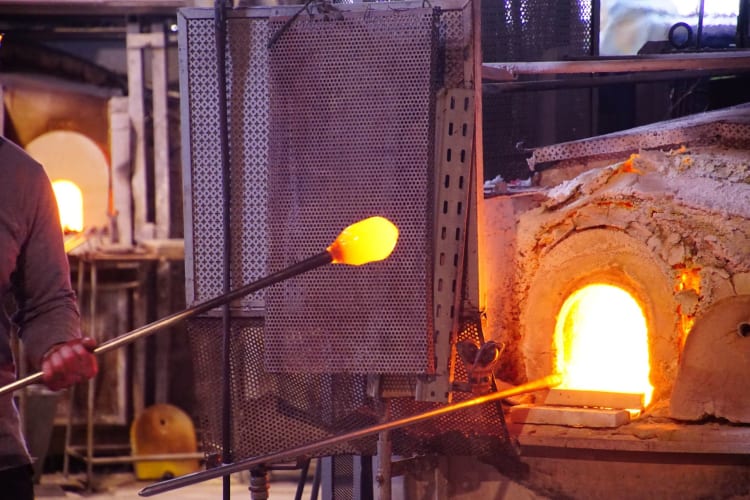 13. Spend the Day at the Stadium
The home NFL team, the Jacksonville Jaguars, plays at EverBank Stadium, formerly TIAA Bank Field. This is a convenient way to take in a game, a Monster Jam show or concerts by national touring acts such as George Strait, Chris Stapleton and Luke Combs. Metropolitan Park, just outside the stadium, offers recreation, green space and a music venue overlooking the St. Johns River.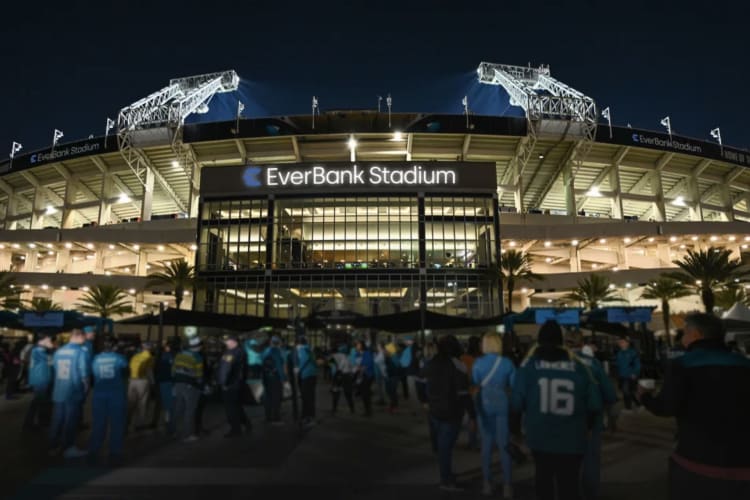 14. Get Outside
Sometimes a day in the park and away from the office is all a team needs to feel recharged and ready to go. Kathryn Abbey Hanna Park, oceanfront park in Atlantic Beach, has more than 20 miles of hiking and biking trails. Other park activities include surfing, kayaking, fishing and paddleboarding on the lake.
Big and Little Talbot Island are known for wetlands, forests and marshes. Along with hiking, biking and birdwatching, teams can go kayaking, shelling or fishing for flounder, sheepshead and more.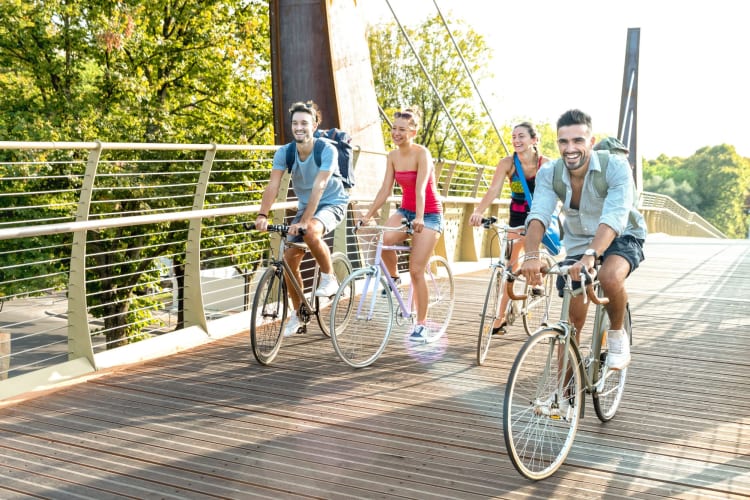 15. Brewery Tours
If your team enjoys craft beer or simply learning about the brewing process, a brewery tour might be a terrific team building activity for your Jacksonville group. Book a local tour guide or plan out your own self-guided tour. The Jacksonville Ale Trail features more than 20 craft breweries. Local breweries you could visit include Bold City Brewing, Engine 15 and Intuition Ale Works.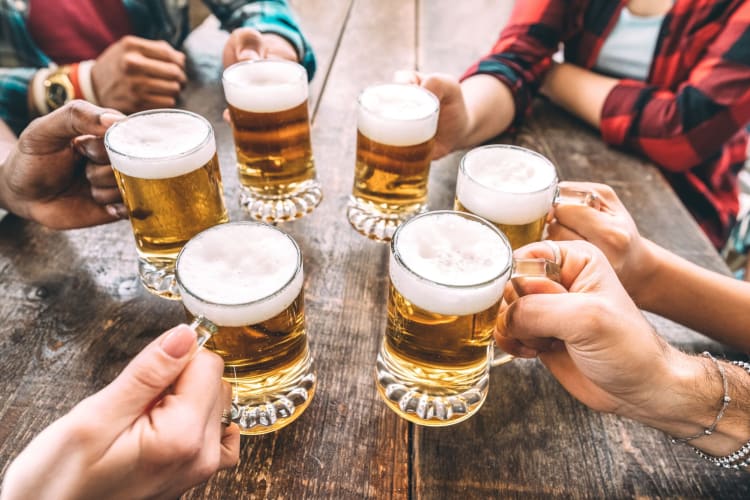 Does Every Team Need Team Building?
Team building activities help Jacksonville teams thrive by allowing colleagues to bond in a relaxed environment. This gives them the chance to have fun on neutral territory without the stresses of deadlines and reports. They can use communication and teamwork skills to complete fun tasks and indulge in friendly competition.
Team building activities in Jacksonville help to improve efficiency, establish trust, boost employee happiness and strengthen friendships in the workplace. This all results in higher employee retention and morale. So, the answer to this question is yes! Every team, whether remote or on-site, needs team building to help the company thrive and the team connect and collaborate.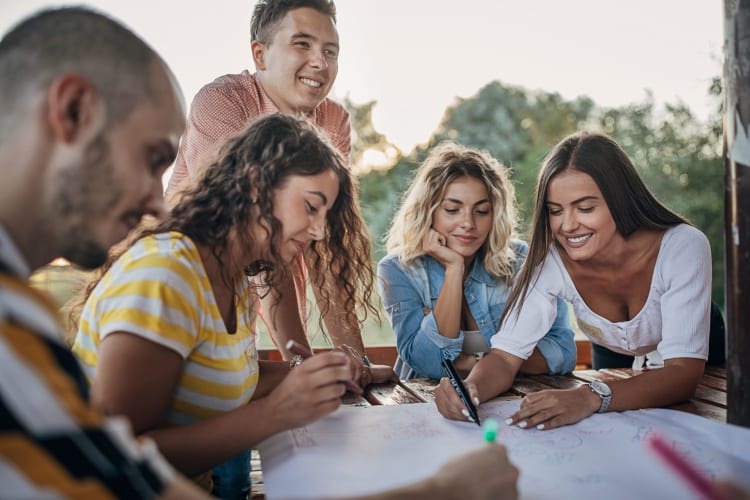 How Team Building Helps Businesses
Team building is one of the biggest and most important investments a company can make. Team building activities in Jacksonville (or anywhere) help businesses thrive by increasing productivity and providing a connection among colleagues that facilitates more efficient communication, problem-solving and other important features of a successful company.
Team building also increases employee motivation and happiness, builds confidence and improves employee retention, which decreases the costs of hiring and training new employees. Happy employees are productive and loyal employees, and this all starts with corporate team building activities in Jacksonville.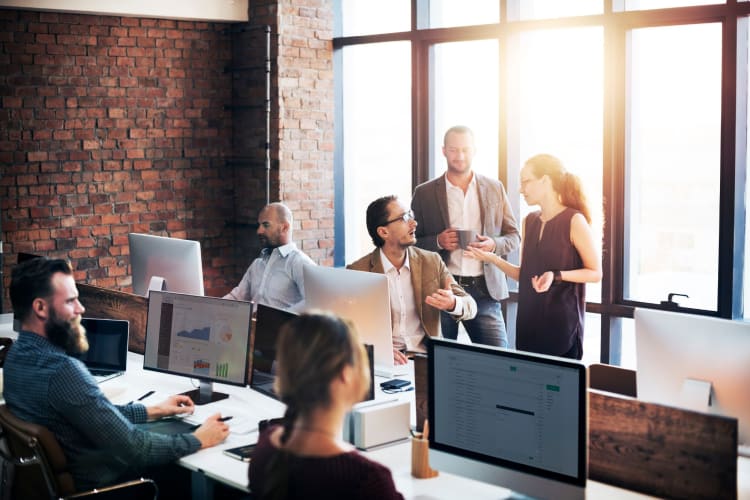 Benefits of Team Building
Team building activities in Jacksonville offer several benefits that will allow your team and company to prosper. Some of these benefits include:
Improving employee morale: Adding the fun and unique qualities of cooking classes, art lessons or outdoor excursions to the workplace creates a positive environment. Team building activities in Jacksonville will show employees that you value their expertise, time and loyalty.

Enhancing communication skills: Good communication is a key component of any successful business. Planning team building activities in Jacksonville allows employees to become comfortable communicating in a fun and natural way, resulting in more confidence when sharing ideas in the workplace.

Inspiring creativity: Planning activities that spark the imagination and allow employees to express their creative sides is a huge boost to a business, whether your team is part of an artistic field or not. Part of creativity involves flexible thinking, which is invaluable to problem-solving.

Connecting remote teams: Remote teams often don't get to socialize in the real world. Planning a fun and interactive experience allows them to connect, laugh and get to know each other on a more personal level, resulting in a more effective work relationship.

Increasing productivity: By working together to complete a common goal — such as preparing a meal, solving escape room riddles or rowing a kayak — team members will learn to rely on and appreciate each other's strengths and weaknesses. This will, in turn, relate back to the work environment.

Join 200,000+ Culinary Enthusiasts
Exclusive deals, recipes, cookbooks, and our best tips for home cooks — free and straight to your inbox. PLUS: 500 Rewards Points.
As you can see, there's no end to the variety of team building activities in Jacksonville you could plan for your group. Go beyond the trust falls and role-playing activities by sharing some of our team building activities with your staff.
Whether you prefer outdoor adventure, enjoy indoor activities or simply want to pack a picnic and take the team to one of Jacksonville's beautiful beaches, your team will enjoy and benefit from this chance to connect with team building activities in Jacksonville.
For even more team building activities in Jacksonville and beyond, check out other experiences happening on Cozymeal.