17 Epic Team Building Activities in Cincinnati for 2023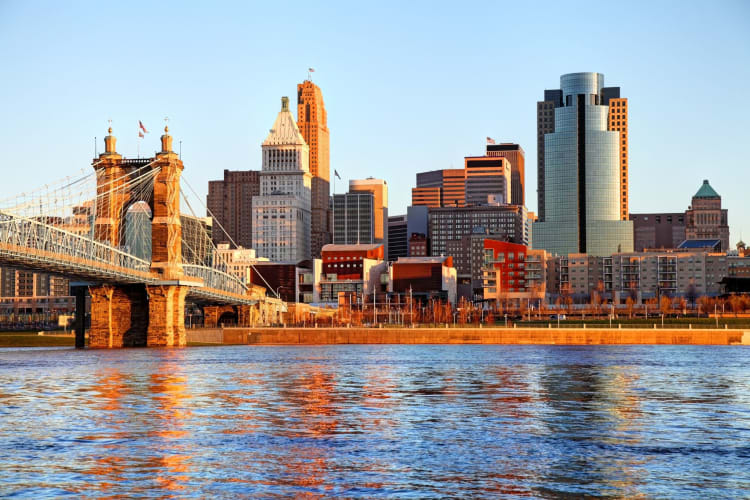 There's nothing like an epic team building activity in Cincinnati to get your employees working together like a well-oiled machine, not to mention creating fun memories. This city on the river may be home to some incredible sports teams, but there is also tons of fun to be had at great restaurants, beautiful outdoor spaces and, of course, a long list of heart-pumping team building activities like dodgeball.
The chili capital of the world offers way more than just 180 chili parlors — think amusement parks, scavenger hunts and bar crawls, not to mention the Cincinnati Zoo, which was voted the best in the country. There's plenty to inspire you as you plan your next team building activity in Cincinnati, so step out of the office for a day and watch your team grow closer, communicate better and bring all their new skills back into work on Monday.
Jump to Section
---
OUR RECOMMENDATIONS
---
17 Epic Team Building Activities in Cincinnati
1. Culinary Team Building Activities in Cincinnati
Food is one of the best reasons to gather people together, so why not combine great food with a team building activity in Cincinnati? With a private chef experience, an expert prepares exquisite dishes for you and your crew to enjoy and discuss together. Alternatively, cooking competitions put the cookware into your hands as a chef guides and coaches your team through a series of cooking challenges.
For those who prefer to hit the pavement and get up close and personal with the city, food tours led by an experienced local guide will show you locales and flavors new to even the most seasoned of Cincinnatian foodies.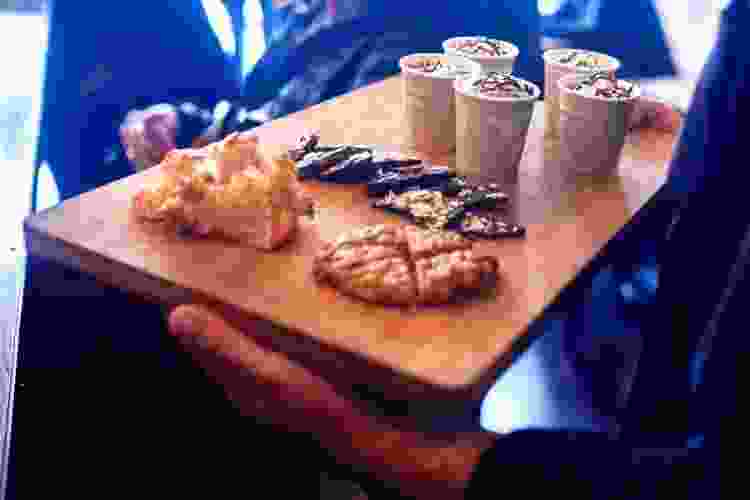 2. Get Hands-On With a Cooking Class
Whether you've got a team of amateur chefs or kitchen beginners, a cooking class is the perfect team building activity in Cincinnati for everyone to roll up their sleeves, work together and learn some new skills along the way.
Cooking classes in Cincinnati are great at facilitating collaboration, communication and listening skills, not to mention the culinary knowledge team members can take back home and put to use in their own kitchens. Learn to make incredible pasta from scratch and a number of delicious homemade sauces with pasta making classes in Cincinnati, or opt for fresh seafood in a sushi making class in Cincinnati. Both are established favorites for corporate events.
3. Online Culinary Team Building Activities
Whether your office is fully virtual or you just want everyone to be able to enjoy a day at home but still grow together, virtual team building activities have come a long way. Check out all the online team building activities in Cincinnati.
From online cooking classes to online mixology classes, your team can whip up delicious meals or gourmet cocktails all from the comfort of their own kitchen while still interacting with their colleagues. For an extra fancy option, consider a virtual wine tasting experience.
4. Get Competitive at Archery Arena
Get your team together and transport them back to middle school gym class (minus any of the bad stuff) with this dodgeball/archery combo team building activity in Cincinnati. At Archery Arena, your team will receive ample instruction on how to shoot the foam-tipped arrows and specially engineered bows before heading out to let their competitive nature shine. Teams will learn to communicate under pressure, and everyone will have a great time doing it.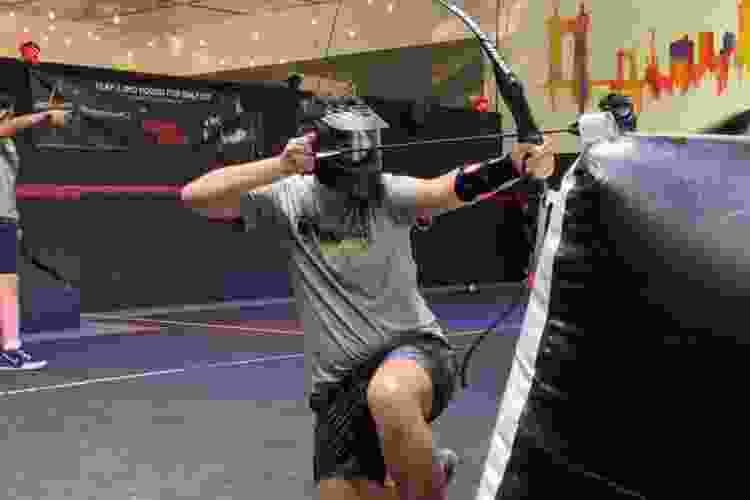 5. Plan a Beach Day
You may be in Ohio, but that doesn't mean you can't enjoy a beach day. The Sandbar, located right along the Ohio River, has seven sand volleyball courts you can reserve, plus a fully stocked tiki bar, and is open from March to October. Another option is 50 West Brewing, which has sand volleyball courts to complement their brewery, making it a highly coveted spot for team building activities in Cincinnati. Be sure to call ahead to make a reservation!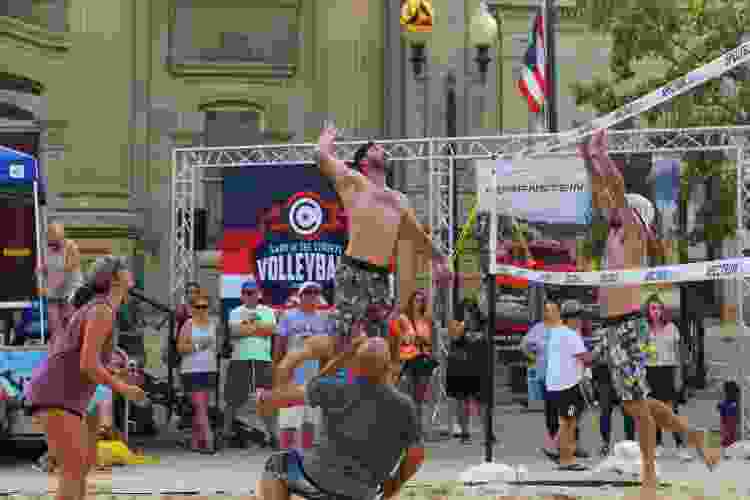 6. Volunteer With Habitat for Humanity
Nothing feels better than giving back, so get your team together and put them to work building houses for Habitat for Humanity. This team building activity in Cincinnati encourages creative problem solving and excellent communication between team members as they tackle the construction of a home.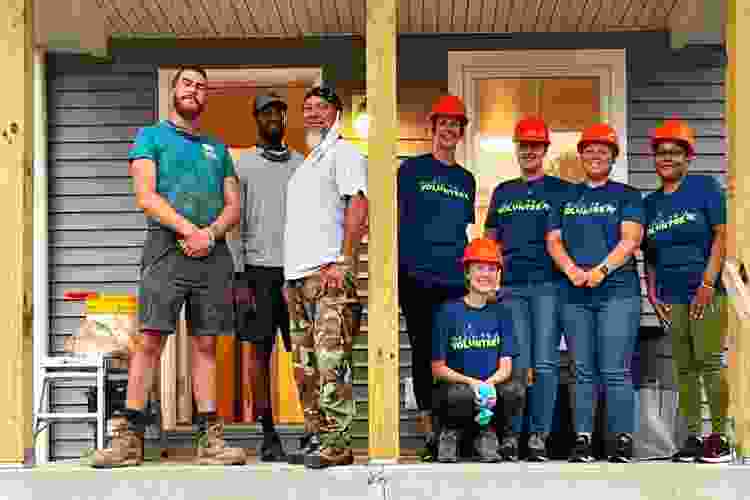 7. Find the Need for Speed
What better way to celebrate with your staff than with a high-speed chase? Full Throttle offers one of the fastest indoor go-kart tracks in North America, with speeds up to 40 miles per hour. It's the perfect site for an unforgettable team building activity in Cincinnati that gets both hearts and go-karts racing! They also offer a full bar and catering menu, plus axe-throwing and "rage rooms" if one adrenaline-pumping activity isn't enough.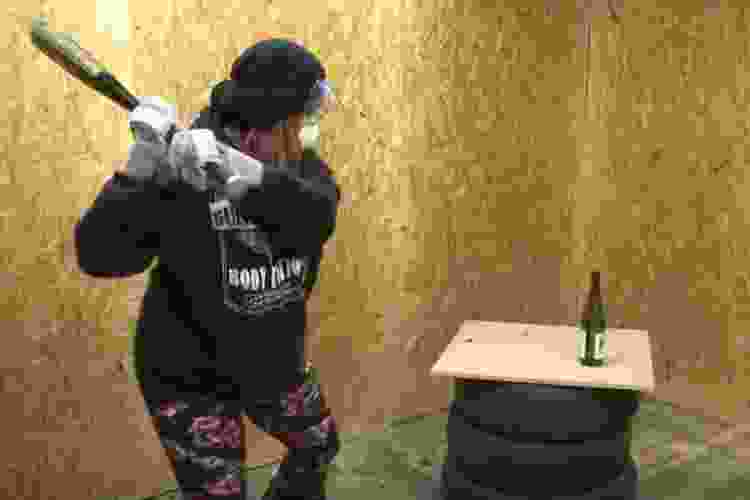 8. Hit Golf Balls
Probably one of the most epic team building activities in Cincinnati and beyond, TopGolf is a crowd pleaser for a reason. You can play a variety of friendly or competitive games, rain or shine, and enjoy a full bar and food service. Beginners and experts alike can have a great time at TopGolf, and your team has plenty of time to answer ice breaker questions to get to know one another better.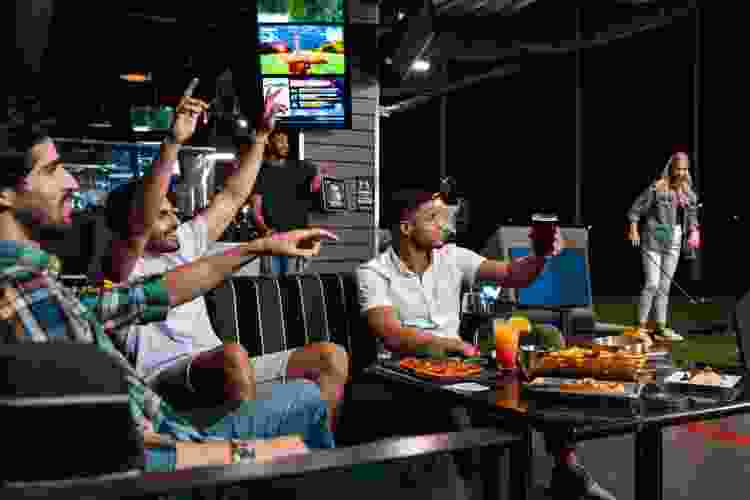 9. Hit Up the Arcade
Team building activities in Cincinnati don't have to be complicated or involve a ton of planning. Head over to either Arcade Legacy or 16 Bit Bar + Arcade for happy hour and watch employee happiness skyrocket as your crew plays Skee Ball, Pac-Man and more classic arcade games for the perfect break from the office.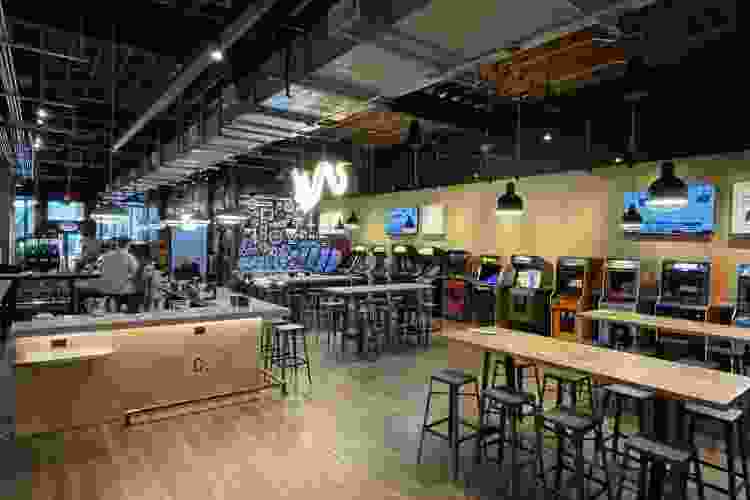 10. Visit the Cincinnati Zoo
Voted the best zoo in the country and home to over 500 animals and 3,000 plant species, exploring this venue makes for a great team building activity in Cincinnati. Not only will it give your team a chance to relax and take their minds off work, but it's a great opportunity for people in the office who don't usually cross paths to get to know one another.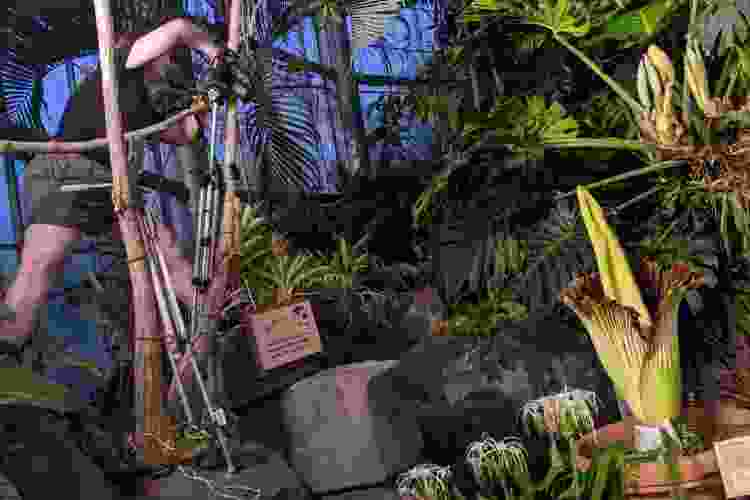 11. Check Out Coney Island Park
No, not the famous Brooklyn Coney Island, but its name twin resides right in Cincinnati! Head to Coney Island Park on a hot day for some water activities that will get your heart racing. The park can accommodate groups of up to 100 and offers plenty of rides, slides and food. With so much to do, this team building activity in Cincinnati almost feels like a whole vacation condensed into a day.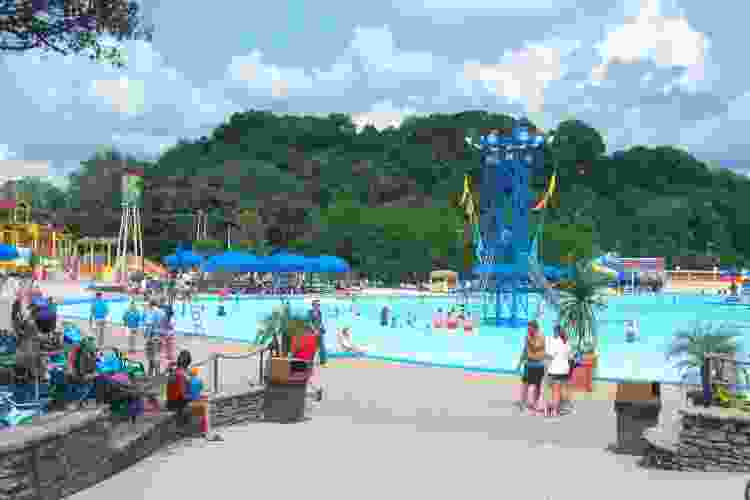 12. Enjoy Elemental Om
Relaxation is always good, especially if you work in a fast-paced or competitive field. This team building activity in Cincinnati will bring memories your team will talk about for years, and we can all but guarantee they'll want to go back. Elemental Om offers yoga and meditation for the perfect team building event in Cincinnati where you can unwind from the week together and pick up some useful breathing techniques to decrease stress.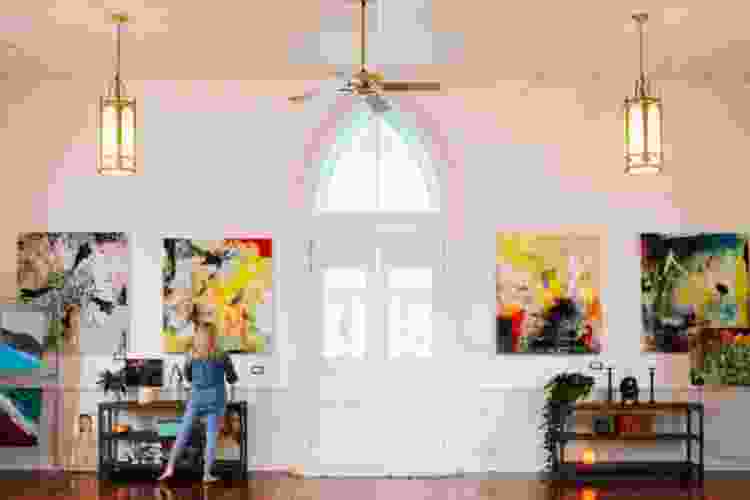 13. Rent a BB Riverboat
Head to the BB Riverboat house and set sail on the Ohio River for a beautiful and relaxing team building activity in Cincinnati. You'll have plenty of time for team building games as you float down the river and get to know one another better. You'll leave with a new sense of fellowship with your office mates, and maybe a new appreciation for your town as you enjoy the views and food along the river on your cruise.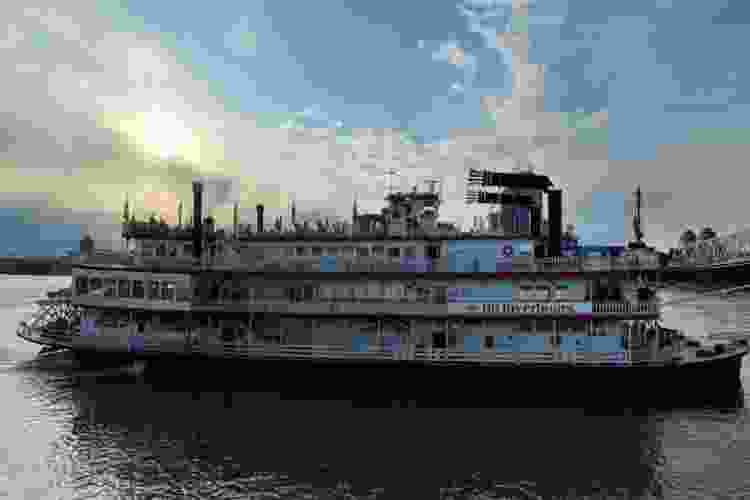 14. Pedal Wagon Day Trip
This team building activity in Cincinnati is perfect for newcomers, visitors or locals as you get to know the city from the ground up aboard the Pedal Wagon. With 15 seats, you'll pedal around town chatting with your co-workers as you each put in your share of work powering the wagon. Alcoholic beverages are available, but feel free to bring your own food and drinks, or pedal the wagon to a favorite restaurant or brewery and stop for a snack.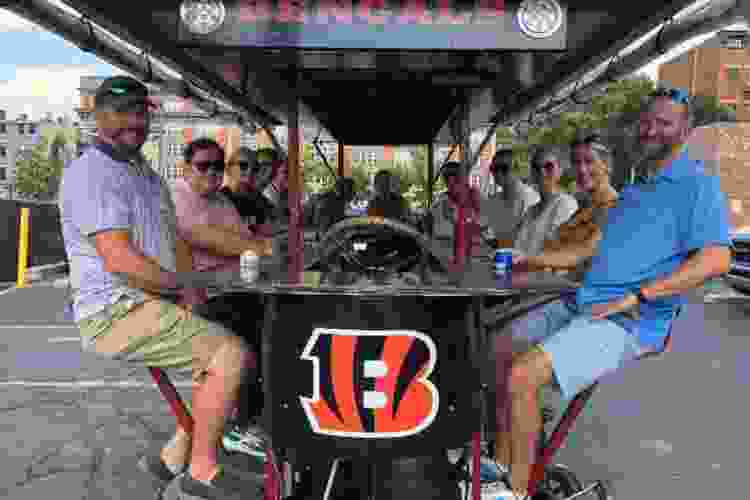 15. Tour Findlay Market
Founded in 1852, Findlay Market is the oldest public market in town and a fun spot for a delicious and educational tour. This team building activity in Cincinnati walks you through historical Italianate architecture as you sample some of the best food and beer vendors in the city. End the hour-long tour at the Biergarten for a chance to converse with your co-workers and recap the experience.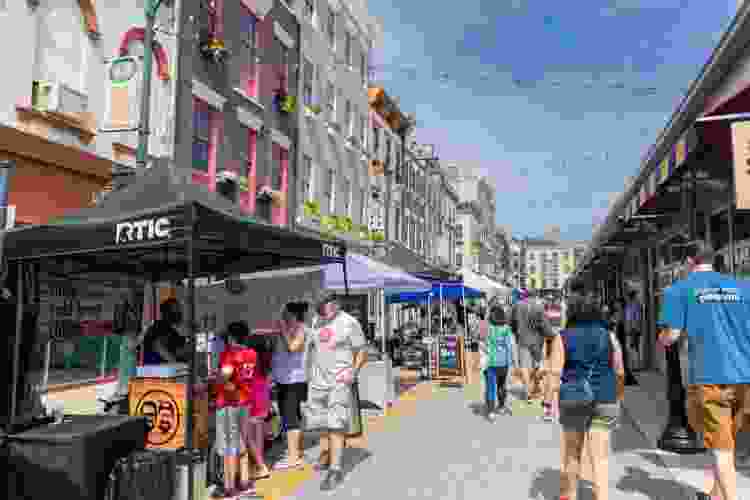 16. Visit Cincinnati Art Museum
The Cincinnati Art Museum was founded in 1881 and is home to over 100,000 artifacts spanning more than 6,000 years of history. Plan your team building activity in Cincinnati at the art museum and enjoy a curated experience full of interesting tidbits and plenty of beautiful art to gaze upon. Add an extra element with ice breaker games, a scavenger hunt or a "draw what you hear" communication exercise.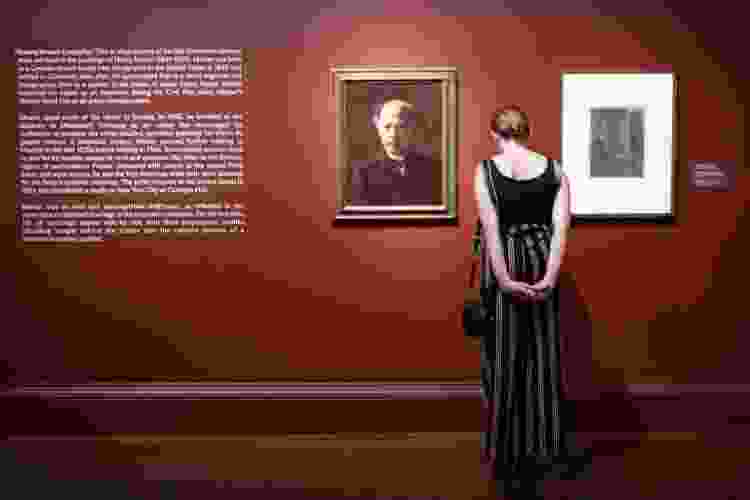 17. Take On the Challenge Course
Head over to Athletes in Action for the perfect team building activity in Cincinnati. This 40-foot high ropes course will get adrenaline rushing in no time. Not only is it exhilarating, but it's the perfect opportunity for your team to test out their communication and problem-solving skills under pressure. The high course features a giant rope swing, zip line and power pole, while the low ropes course is geared for those with a more intense fear of heights and lets you complete similar tasks from the safety of the ground.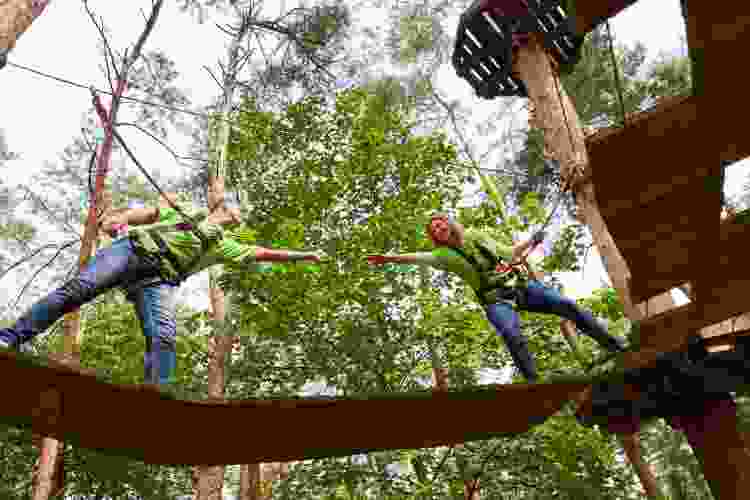 Here's Why Your Team Needs Team Building
Teams of all sizes can benefit from team building activities. Not only are work outings or in-office events a great excuse to get out of work mode for a day and de-stress, but they're also known to boost morale by fostering a workplace culture of positivity, fun and caring. People thrive in an environment where they feel seen, heard and considered. Knowing the company and the team have their back is a major confidence builder that leads to more new ideas and, most importantly, the motivation and empowerment to share them.
Team building is also renowned for improving trust and communication among work teams. During team building activities, existing bonds are deepened and new connections are forged as team members interact with colleagues they see infrequently (if at all) in the daily operations of the workplace. As trust grows and more communication channels open among your staff, your business grows, opens and thrives, too. How?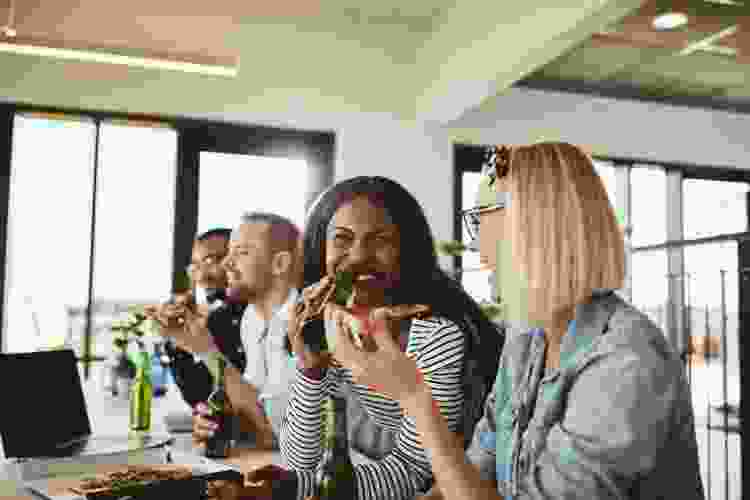 Team Building Helps Your Business Succeed
Team building helps your business succeed by ensuring that your company's human resources are at peak performance and mental health. While a day at an adult obstacle course or a brewery might seem like a day with no progress, it's actually the opposite. After a day of fun where they felt valued as a team member and rewarded for their efforts, employees often return to the office happier and recharged, and ready to give it their all again.
Not to mention, taking the time to socialize and enjoy life with colleagues boosts performance at work. Indeed notes that when everyone in an office has a chance to feel connected, they are more likely to work together toward common goals and objectives, applying their best efforts to the work. Not only does their work performance improve, but their overall happiness and the company's employee retention rate will increase, as well. It turns out that effective team building activities are a perk at work that benefit both the business and the people who comprise it.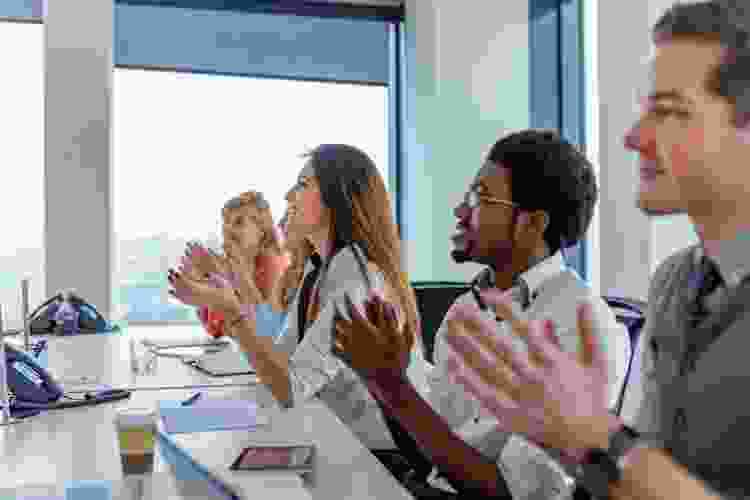 Benefits of Team Building
The list of benefits that team building brings are numerous, from better employees to better business. It's a win-win for any business owner, and taking the afternoon or the day off to engage in some team building activities in Cincinnati is well worth your time and money.
Benefits of team building activities include:
Boosts productivity
Improved communication and trust between employees
Increase in effective collaboration between employees
Higher retention rate of top talent
Highlighting of team strengths and weaknesses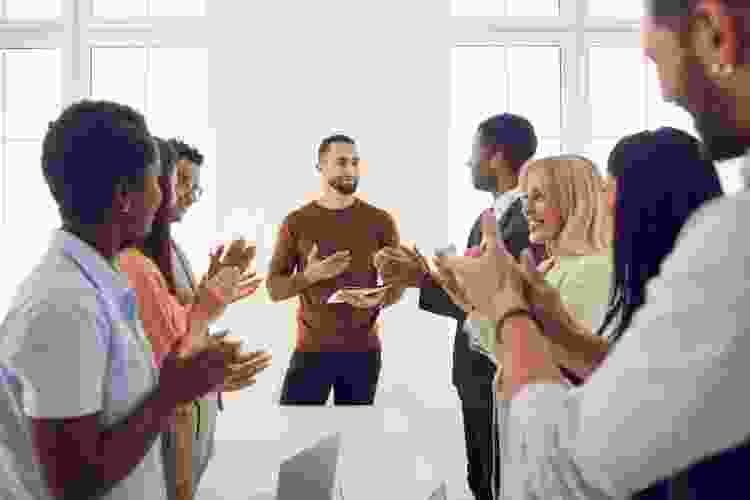 Join 200,000+ Culinary Enthusiasts
Exclusive deals, recipes, cookbooks, and our best tips for home cooks — free and straight to your inbox. PLUS: 500 Rewards Points.
Clearly, there's something to be gained even from a work night happy hour with your team. This list of team building activities in Cincinnati should be more than enough to get you started on planning your own team building event and reaping the benefits. Your employees will thank you, and they may even brag about the perks at work, which is like free advertising for a growing business.
For even more team building activities in Cincinnati and beyond, check out more experiences happening on Cozymeal.
Team Building in More Cities Near You
For even more great team building inspiration in cities near you and around the U.S., check out our comprehensive guides: