87 Flavorful Super Bowl Appetizers
When it comes to feeding a crowd for the big game, Super Bowl appetizers should be convenient and fun with bold, crowd pleasing flavors. The best Super Bowl appetizers are quick and easy to make, leaving plenty of time to enjoy the festivities and cheer on your favorite team. Whether you stick to the classics or get creative with your spread, it is important to include a variety of options for guests to munch on throughout the event.
Do you need options for keto, gluten free or vegan diets? From fried, cheesy and savory to light, colorful and even healthy, there are recipes for Super Bowl appetizers to appeal to practically any dietary need or preference. With a wide variety of traditional offerings, unique twists on classic dishes and inspiring culinary innovations, here are 87 of the best Super Bowl appetizers to make for the big game.
Jump to Section
Easy Super Bowl Appetizers
1. Fried Avocado
Crispy on the outside and creamy in the middle, Fried Avocado, or avocado fries, make great Super Bowl appetizers on their own or as a crunchy taco filling. Pair with a bold sauce like Sriracha aioli for a flavor-packed combination.

Try our Fried Avocado recipe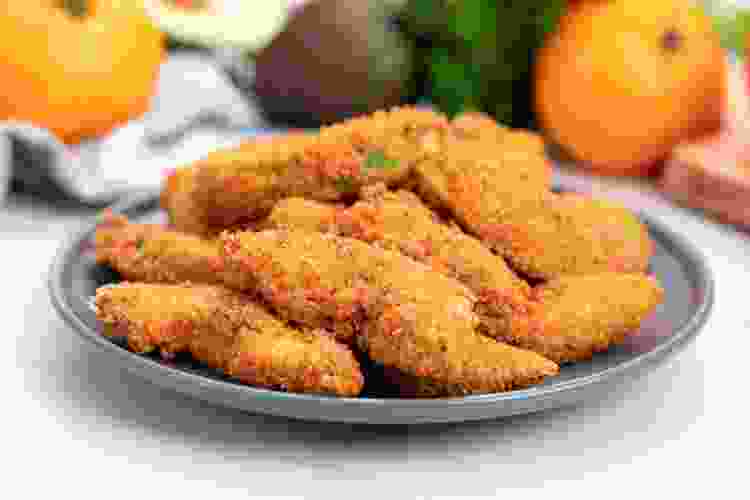 2. Mango Habanero Wings
Balancing fiery chiles with sweet tropical fruit, these Mango Habanero Wings are sure to spice up any gathering. Crisp and juicy chicken wings are glazed in a punchy sauce to create these mouthwatering Super Bowl appetizers.
Try our Mango Habanero Wings recipe
3. Fried Oyster Mushrooms
With a crunchy coating and hearty interior, Fried Oyster Mushrooms are vegan comfort food at its finest. These easy football appetizers are juicy and packed with umami flavor that everyone will love.

Try our Fried Oyster Mushrooms recipe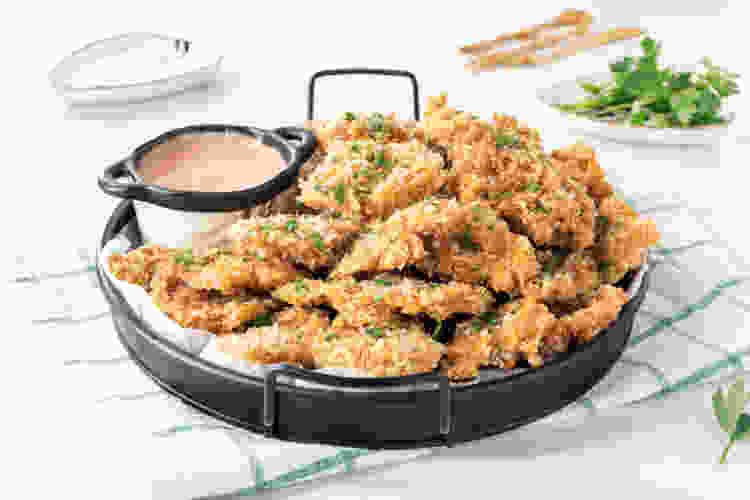 4. Fried Red Snapper Bites
These hearty Fried Red Snapper Bites are filled with flaky fish, fluffy potatoes, fresh bell peppers and aromatic chives for a satisfying, savory appetizer. Pair these crisp bites with your favorite sauce for easy and unique appetizers for the Super Bowl.
Try our Fried Red Snapper Bites recipe
5. Fried Ravioli
Transform plain cheese ravioli into crowd-pleasing appetizers for the Super Bowl with these crunchy Fried Ravioli. Simply coat and fry prepared ravioli then serve with tangy marinara and a sprinkle of parmesan for quick Super Bowl appetizers.

Try our Fried Ravioli recipe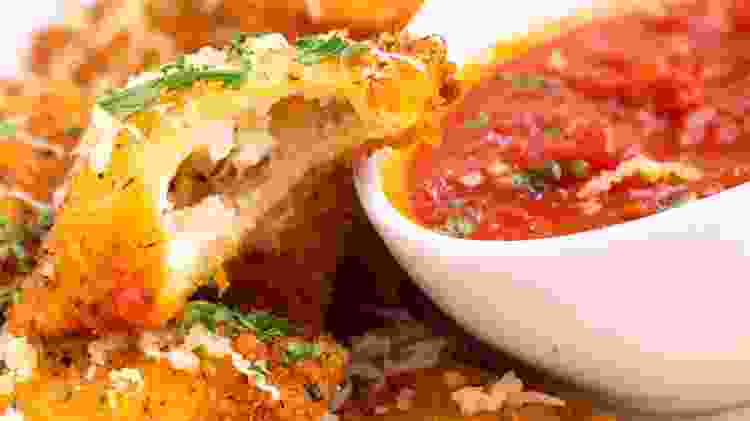 6. Shrimp Toast
Crisp, golden brown bread encases tender shrimp filling for a tantalizing balance of textures in this decadent Shrimp Toast. Preparing the filling in a food processor makes this recipe surprisingly easy with impressive results.
7. Corn Ribs
Spicy, sweet and creamy Corn Ribs are a creative way to enjoy Super Bowl appetizers inspired by the classic flavors of Mexican elote. Be sure to use a sharp, quality knife to safely cut the corn into the signature rib shapes.

Try our Corn Ribs recipe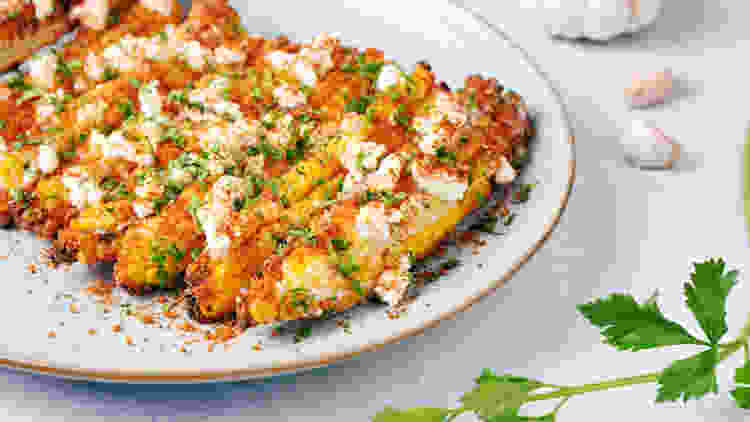 8. Pulled Pork Nachos
Making a hearty batch of pulled pork is a great way to start a variety of super bowl appetizer recipes. Succulent pulled pork could be a filling for tacos, burritos and quesadillas or a meaty topping for these cheesy, barbecue-inspired Pulled Pork Nachos finished with tangy pickled jalapeños and a drizzle of sour cream.
Try our Pulled Pork Nachos recipe
9. Pulled Pork Sliders
Tender pulled pork is paired with cool, crunchy coleslaw to create these classic barbecue-style Pulled Pork Sliders. These easy appetizers for the Super Bowl can be prepared in large batches to easily feed a hungry crowd of football fans.

Try our Pulled Pork Sliders recipe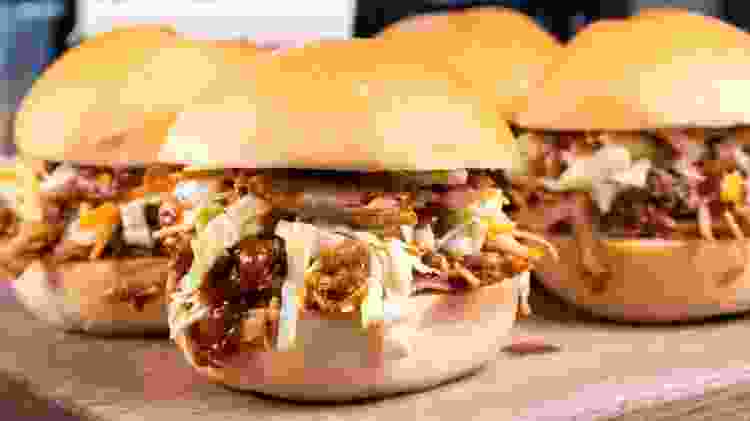 10. Margherita Flatbread
Margherita Flatbread is a tried and true idea for Super Bowl appetizers with its simple, time-honored combination of tomatoes, mozzarella and basil. These thin, crispy flatbreads are fun and easy to make as a lighter, vegetarian-friendly option for Super Bowl appetizers.
Try our Margherita Flatbread recipe
11. Spicy Meatball
This gochujang-glazed Spicy Meatball puts a Korean-inspired twist on classic Super Bowl appetizers. Make game day even easier by freezing these tangy meatballs ahead of time to have quick bites ready for the big game.

Try our Spicy Meatball recipe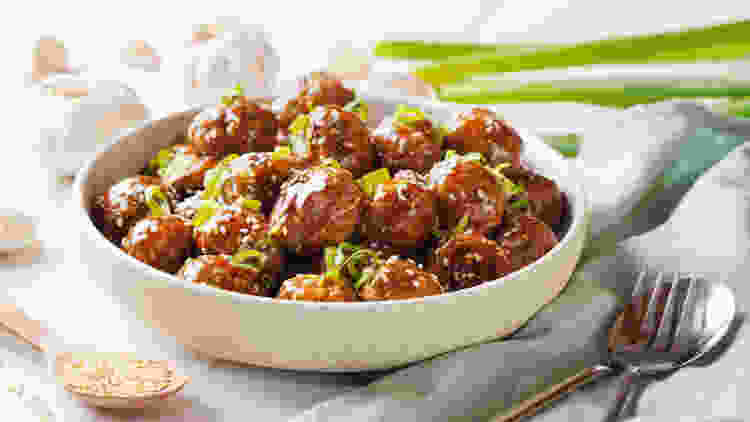 12. Pork Spring Roll
These Thai-style Pork Spring Rolls are dippable, hand-held Super Bowl appetizers that are perfect for the big game. Savory pork and colorful vegetables are neatly packed into a crisp, deep-fried wonton for a satisfying crunch.
Try our Pork Spring Roll recipe
13. Cream Cheese Stuffed Mushrooms
Bite-sized Cream Cheese Stuffed Mushrooms are an easy appetizer for special occasions from dinner parties to game day. Hearty button mushroom caps are filled with a cheesy, herbed stuffing and topped with crispy breadcrumbs for a delightful balance of textures and flavors.

Try our Cream Cheese Stuffed Mushrooms recipe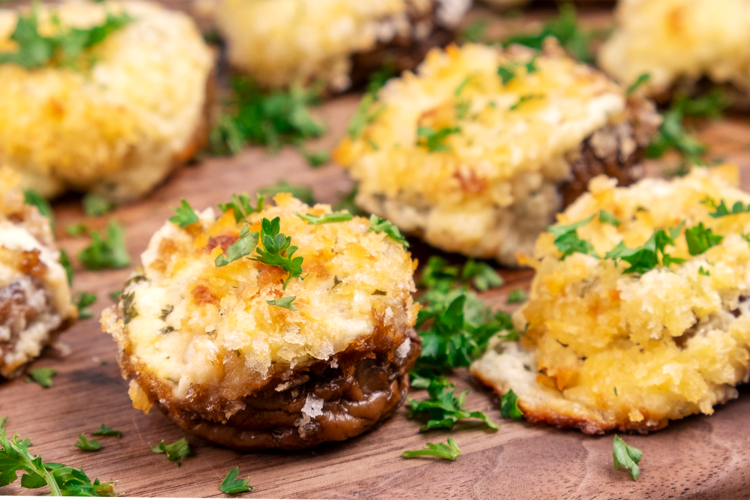 14. Popcorn Shrimp
Bite-sized morsels of tender shrimp encased in a crunchy coating are a classic choice for Super Bowl appetizers. These easy to make Popcorn Shrimp get a zesty kick from a dash of Cajun seasoning.
15. Moo Ping (Thai Pork Skewers)
Inspired by a popular street food, Moo Ping (Thai Pork Skewers) are juicy, flavor-packed appetizers for the Super Bowl. This recipe offers helpful tips and suggestions including a make ahead option for speedy assembly on game day.

Try our Moo Ping (Thai Pork Skewers) recipe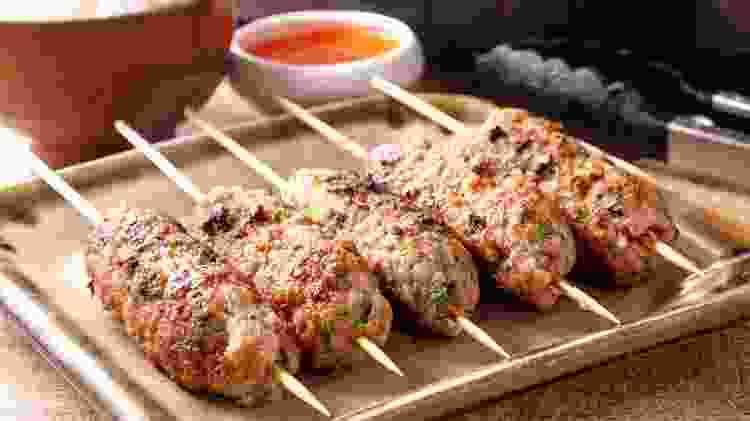 16. Philly Cheesesteak Sliders
These miniature versions of the iconic sandwich are meaty, cheesy and perfect for the big game. Each batch of these hearty Philly Cheesesteak Sliders makes a dozen sandwiches for easily feeding a game day crowd.
Try our Philly Cheesesteak Sliders recipe
17. Baked Brie with Jam
Is there anything better than warm, gooey cheese wrapped in flaky puff pastry? This Caribbean-style Baked Brie with Jam gives the classic appetizer a tropical twist with homemade guava jam.

Try our Baked Brie with Jam recipe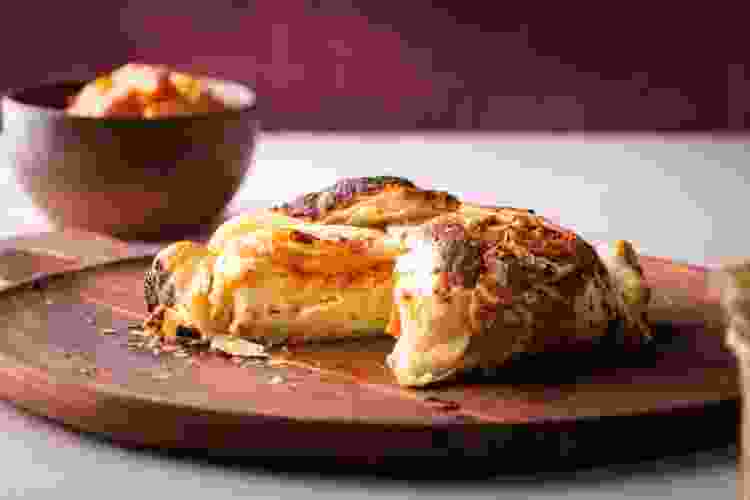 18. Air Fryer Mozzarella Sticks
The air fryer is the game day MVP when it comes to making popular Super Bowl foods. Enjoy lighter versions of favorite appetizers like these crunchy, gooey Air Fryer Mozzarella Sticks thanks to the helpful appliance.
Try our Air Fryer Mozzarella Sticks recipe
19. Fried Mac and Cheese
Fried Mac and Cheese is a dippable, hand-held iteration of everyone's favorite cheesy pasta dish. These decadent Super Bowl party appetizers are fun to make and easy to customize with your favorite spices and add-ins.

Try our Fried Mac and Cheese recipe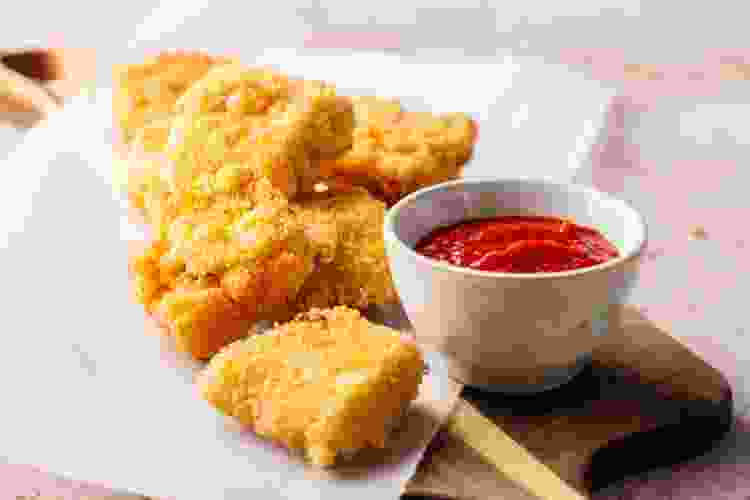 20. Chicken Wonton
These crispy Chicken Wonton pack a flavorful punch with just a few simple ingredients. Serve these crunchy Super Bowl appetizers with tangy sweet and sour sauce for a tantalizing flavor experience.
21. Pull Apart Bread
Cheesy, garlicky Pull Apart Bread is an impressive addition to any festive gathering. Enjoy this easy to make loaf on its own or with your favorite sauces and dips.

Try our Pull Apart Bread recipe
22. Burger Bite
Burger Bite is a creative Super Bowl appetizer that packs all of the flavors of a classic burger into a juicy, bite-sized morsel. Tender miniature patties are wrapped in crisp wontons and finished with a zesty burger sauce.
23. Cranberry Brie Bites
Elevate your average Super Bowl appetizers with these elegant Cranberry Brie Bites. With just a few ingredients, these impressive appetizers are deceptively easy to prepare for game day or any festive gathering.

Try our Cranberry Brie Bites recipe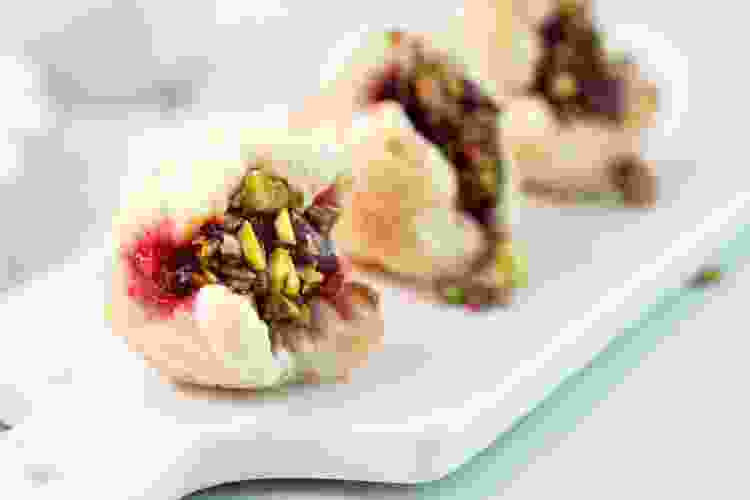 24. Nashville Chicken Bites
Sweet and spicy Nashville Chicken Bites are sure to become an instant crowd favorite for game day. Crispy, fried chicken is coated in zesty, spiced butter and then drizzled with a honey glaze to recreate the iconic Nashville flavor in these bold Super Bowl appetizers.
Try our Nashville Chicken Bites recipe
25. Chicken Karaage
Give classic chicken nuggets a Japanese twist with Chicken Karaage. These juicy nuggets are seasoned with a vibrant, curry-flavored coating and double-fried to achieve their distinctive, ultra-crispy exterior.

Try our Chicken Karaage recipe
26. Bacon Roses
Charcuterie boards are perfect for grazing during game day. Fill your platter with a variety of cheeses, fruit, nuts, jams, cured meats and these impressive Bacon Roses to create a show-stopping Super Bowl spread.
27. Spanish Meatballs
With their signature tapas, Spaniards know a thing or two about creating fun and flavorful dishes for sharing. These savory Spanish Meatballs, or albondigas, are stuffed with bold chorizo, manchego cheese and a mixture of herbs and spices, then coated in a rich sherry glaze.

Try our Spanish Meatballs recipe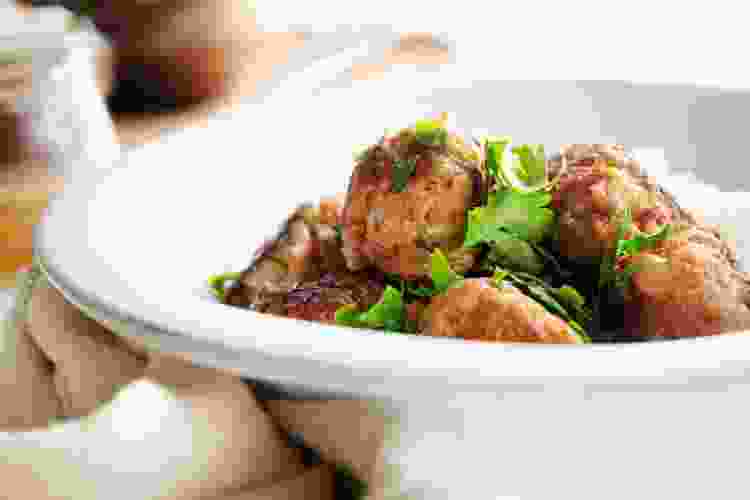 28. Vietnamese Egg Rolls
Stuffed with succulent pork, tender vermicelli noodles, a rich hoisin sauce and lots of aromatics, Vietnamese Egg Rolls are fun, dippable Super Bowl appetizers to add to your game day spread. Serve these crispy, deep fried egg rolls paired with tangy sweet chili sauce to complement the savory filling.
Try our Vietnamese Egg Rolls recipe
29. Italian Rice Balls
Give your spread of Super Bowl appetizers international inspiration with Italian Rice Balls, also known as arancini. Based on a popular Sicilian dish, the deep-fried balls of rice are stuffed with a meaty, cheesy filling and covered in breadcrumbs to create the crunchy, golden coating.

Try our Italian Rice Balls recipe
30. Air Fryer Tater Tots
Crispy tater tots are staple Super Bowl appetizers that are sure to please any crowd. These quick Air Fryer Tater Tots elevate the simple bites with creamy, homemade ranch dip.
Try our Air Fryer Tater Tots recipe
31. Shoestring Fries
Crispy, fried potatoes in some form or another are a must have for rowdy game day gatherings. With a mandolin to expedite thinly slicing the potatoes, these simple Shoestring Fries can be easily enjoyed along with burgers and sliders, inside burritos and tacos or simply on their own with your favorite dipping sauce.

Try our Shoestring Fries recipe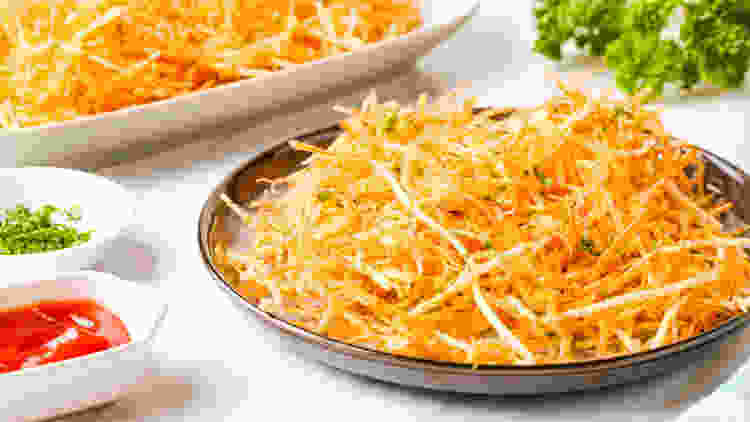 32. Pretzel Dog
Two iconic game day snacks combine to become one delicious appetizer, the Pretzel Dog. Classic hot dogs are wrapped in a soft, buttery homemade pretzel to create these fun Super Bowl appetizers.
33. Chicken Flautas
Crunchy Chicken Flautas are hand-held, dippable Super Bowl appetizers bursting with texture and flavor. Pan-fried tortillas filled with seasoned chicken are piled high with colorful toppings including crisp lettuce, juicy tomatoes, zesty red onion and crumbly cotija cheese.

Try our Chicken Flautas recipe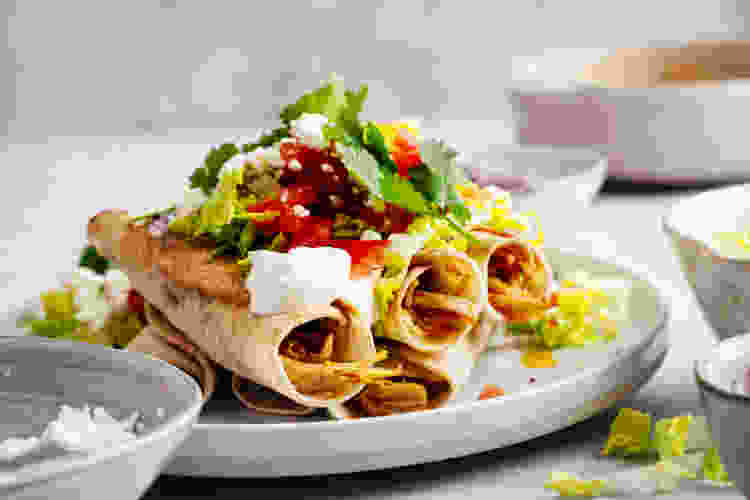 34. Red Chili
Whether in a bowl, on a hot dog or heaped over nachos, hearty Red Chili is an easy and versatile appetizer for game day. Simply pile the ingredients into a pot and let them simmer until the chili is infused with rich, bold flavor
35. Fried Halloumi Bites with Spicy Honey
These Fried Halloumi Bites with Spicy Honey by Bowl of Delicious are a unique appetizer that is likely to become a new crowd favorite. Salty Greek halloumi cheese is encased in a crunchy cornmeal coating then drizzled with spicy honey to create these original Super Bowl appetizers.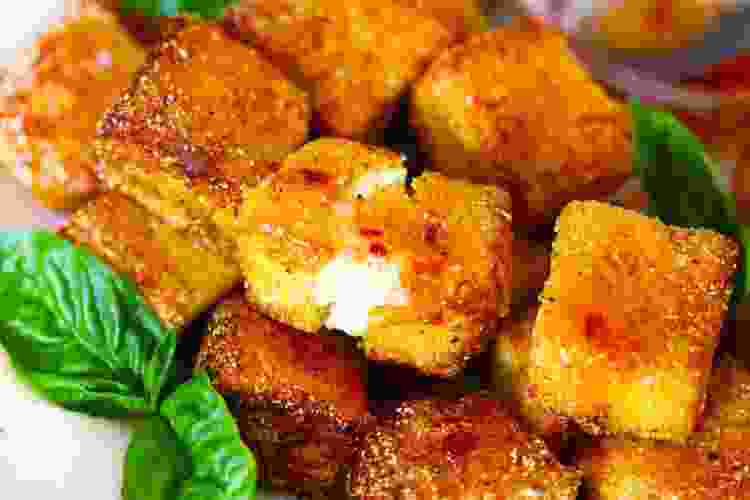 36. Slow Cooker Little Smokies
Miniature sausages simmered in a sweet and tangy glaze are a unique appetizer tradition for gatherings from sports events to holiday festivities. To make these Slow Cooker Little Smokies by Spend with Pennies, simply dump the ingredients into a crockpot and let the machine do all the work.
37. Chile Relleno Flautas
Crisp on the outside with a gooey, cheesy interior, the Chile Relleno Flautas from The Girl Who Ate Everything combine two beloved Mexican dishes into delicious Super Bowl appetizers. These crunchy flautas pack plenty of flavor on their own, but could also be dipped in queso, guacamole or salsa.
38. Pepperoni Rolls
These easy Pepperoni Rolls from Eat Drink Love transform the iconic flavors of pepperoni pizza into a delicious, bite-sized appetizer. The meaty, cheesy spirals can be enjoyed on their own or dipped in marinara, alfredo or garlic butter sauce.
39. Loaded Sweet Potato Skins
Loaded potato skins stuffed with cheese and bacon are classic Super Bowl appetizers. The sweet and savory Loaded Sweet Potato Skins by Sally's Baking Addiction offer a tasty twist on the beloved snack.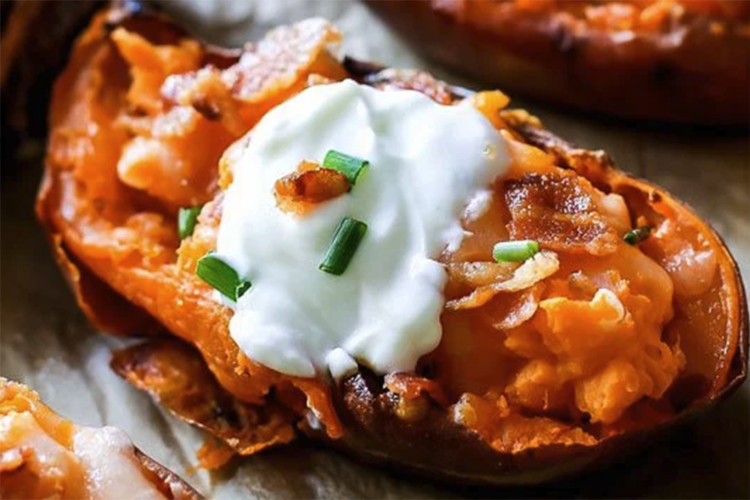 40. Homemade Mini Corn Dogs
Bring iconic stadium snacks to your Super Bowl party with these Homemade Mini Corn Dogs by Spend with Pennies. Served with a side of mustard, these Super Bowl appetizers conjure the signature flavors of game day.
Healthy Super Bowl Appetizers
41. Spicy Edamame
With a tantalizing blend of spicy, salty and sweet, these Japanese-inspired Spicy Edamame are a tasty, and healthy, option for Super Bowl appetizer ideas. Ichimi togarashi is the secret ingredient that gives this dish its signature kick

Try our Spicy Edamame recipe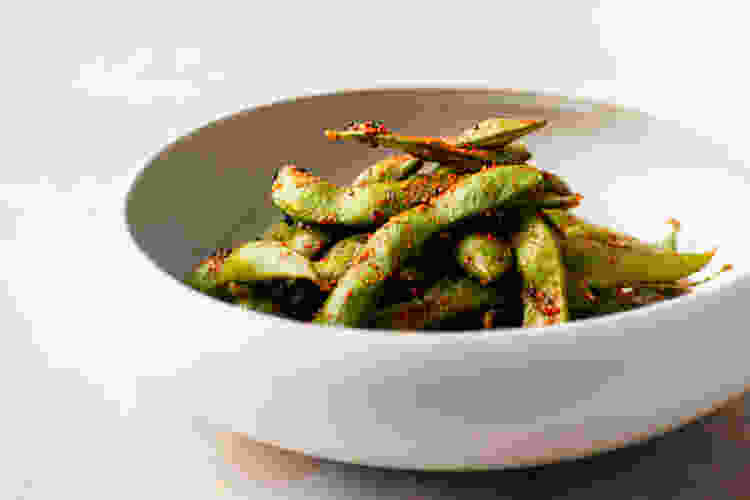 42. Mango Avocado Salsa
Not all Super Bowl appetizers have to be deep-fried and smothered in cheese. As a dip, side or topping, this vibrant Mango Avocado Salsa brings bold, fresh flavor to chips, tacos and more.

Try our Mango Avocado Salsa recipe
43. Cauliflower Chips
All you need are a few simple ingredients to create these crunchy, low-carb Super Bowl appetizers. Cauliflower Chips are baked rather than fried for a lighter alternative to their potato-based counterpart.

Try our Cauliflower Chips recipe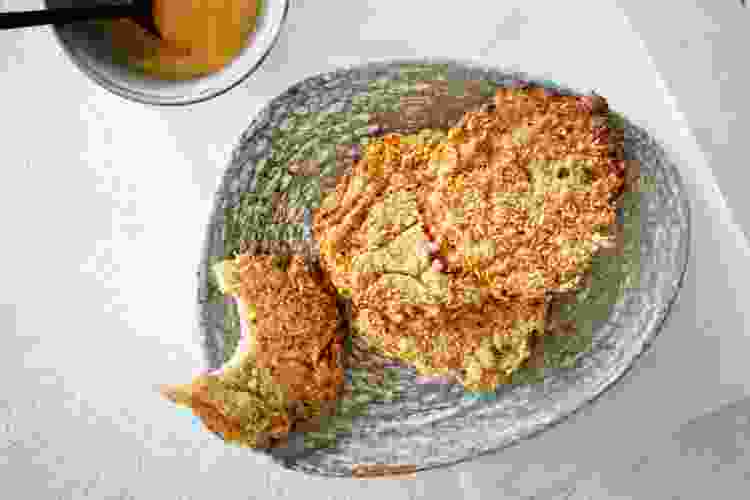 44. Vegan Artichoke and Spinach Dip
Made with plant-based alternatives, you won't miss the dairy in this creamy Vegan Artichoke and Spinach Dip. This easy recipe is full of flavor with just enough of a subtle kick.
Try our Vegan Artichoke and Spinach Dip recipe
45. Baked Stuffed Shrimp
Baked Stuffed Shrimp are light Super Bowl appetizers that are packed with flavor. These quick appetizers can also be made gluten free with one, simple ingredient swap.

Try our Baked Stuffed Shrimp recipe
46. Air Fryer Buffalo Cauliflower
Although it's not the lightest of super bowl appetizer ideas on this list, crisp and tangy Air Fryer Buffalo Cauliflower brings all of the flavor with less fat and fewer calories than the traditional deep-fried version.
Try our Air Fryer Buffalo Cauliflower recipe
47. Air Fryer Kale Chips
Crunchy and salty Air Fryer Kale Chips hit all the marks when it comes to healthy Super Bowl appetizers. Change up the seasonings with each batch to create a fun variety of flavors for your appetizer table.

Try our Air Fryer Kale Chips recipe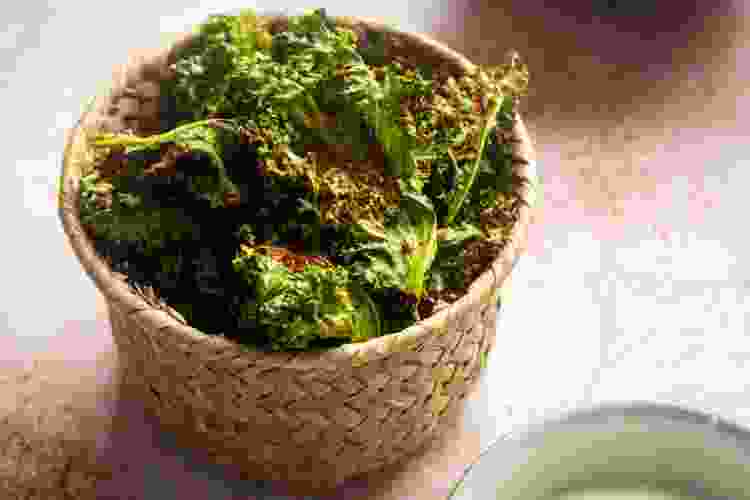 48. Air Fryer Potato Wedges
Healthier than deep-fried and faster than oven baked, Super Bowl appetizer recipes like these Air Fryer Potato Wedges are great options for lightening up the traditional game day spread. Get creative with these crisp and tender wedges by adding your favorite combinations of seasonings and dipping sauces.
Try our Air Fryer Potato Wedges recipe
49. Honey Roasted Pecans
Protein-rich pecans are glazed in sweet honey butter to make these delicious Honey Roasted Pecans. Add variety with different types of nuts such as peanuts or cashews and change up the flavor profile by infusing the honey glaze with other seasonings such as smoky paprika, spicy cayenne or floral rosemary.

Try our Honey Roasted Pecans recipe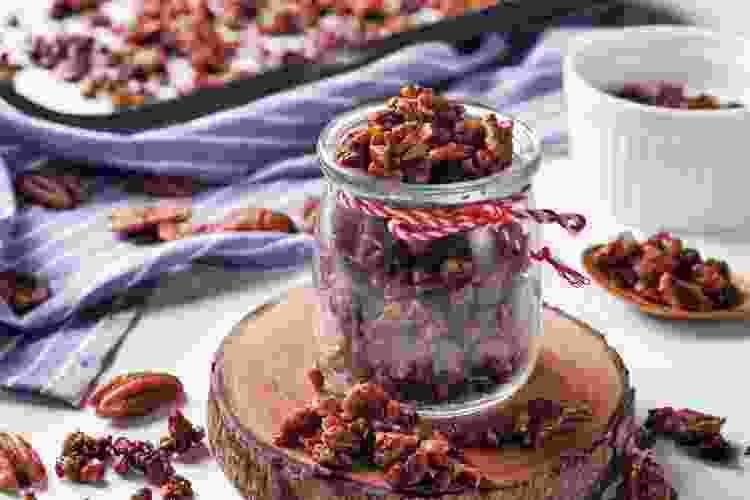 50. Air Fryer Tofu
Infused with a sweet and tangy marinade, Air Fryer Tofu can be served on its own as individual bites, on skewers with fresh or grilled vegetables or as a filling for crisp lettuce wraps. These savory bites are vegan-friendly and can easily be made gluten free by swapping the soy sauce for a gluten free alternative such as coconut aminos or tamari.
51. Air Fryer Zucchini Fries
Air Fryer Zucchini Fries are a fun and flavorful way to eat your vegetables. Coated with a crunchy layer of panko and parmesan, these Super Bowl appetizers are a great addition to the game day offerings.

Try our Air Fryer Zucchini Fries recipe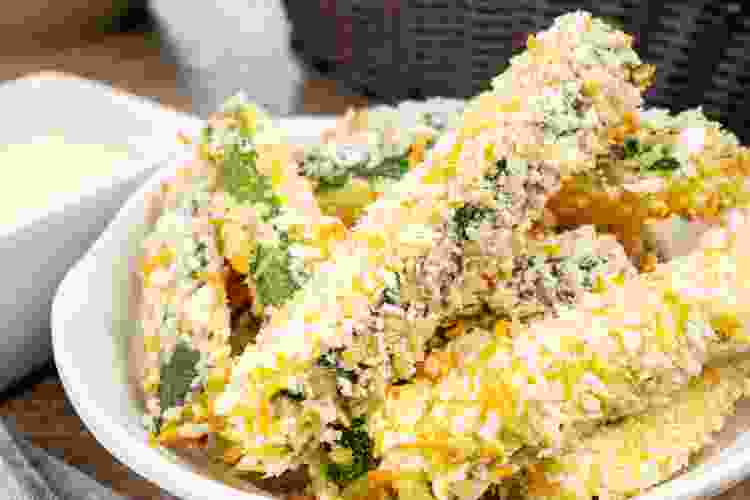 52. Asian Chicken Salad Wonton Cups
Colorful Super Bowl appetizer ideas like these bright and crunchy Asian Chicken Salad Wonton Cups by Healthy Nibbles and Bits are the perfect way to add vegetables and lighter options to the game day menu. Each element of these bite-sized appetizers can be prepared ahead of time and then assembled right before the big game.
Keto Super Bowl Appetizers
53. Blistered Shishito Peppers
Among the typical variety of breadcrumb-coated and deep-fried snacks, it can be difficult to find Super Bowl appetizer recipes that are keto-friendly. Blistered Shishito Peppers are bright and zesty bites that are low carb, gluten free and vegan.

Try our Blistered Shishito Peppers recipe
54. Parmesan Cheese Crisps
Light and savory Parmesan Cheese Crisps are keto Super Bowl appetizers that take only five minutes to make. Use a nonstick baking mat for easy removal after baking, then enjoy these cheesy crisps on their own or as a topping or garnish for other low-carb dishes.
Try our Parmesan Cheese Crisps recipe
55. Keto Guacamole
Quick and easy Keto Guacamole can be used as a dip, spread or filling for your favorite low carb Super Bowl appetizers. This fresh and creamy guacamole pairs especially well with Parmesan crisps and sliced vegetables such as cucumber, bell pepper and baby carrots.

Try our Keto Guacamole recipe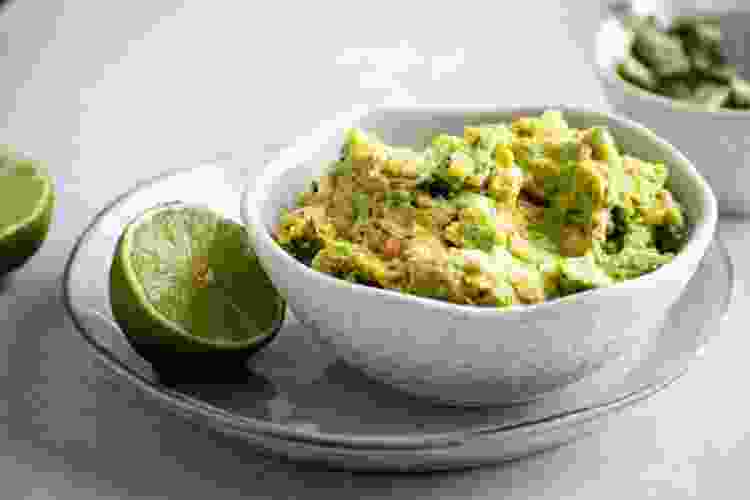 56. Keto Creamed Spinach
Loaded with bacon, mushrooms and caramelized onions, this Keto Creamed Spinach is packed with flavor. This rich, creamy concoction can be used as a dip, spread or filling for a wide variety of low carb Super Bowl appetizers.
Try our Keto Creamed Spinach recipe
57. Tomatillo Red Chili Salsa
Vibrant Tomatillo Red Chili Salsa brings bold flavor to your favorite keto Super Bowl appetizers. This recipe is even better when made ahead and is an excellent addition to deviled eggs, lettuce wraps or grilled chicken skewers.

Try our Tomatillo Red Chili Salsa recipe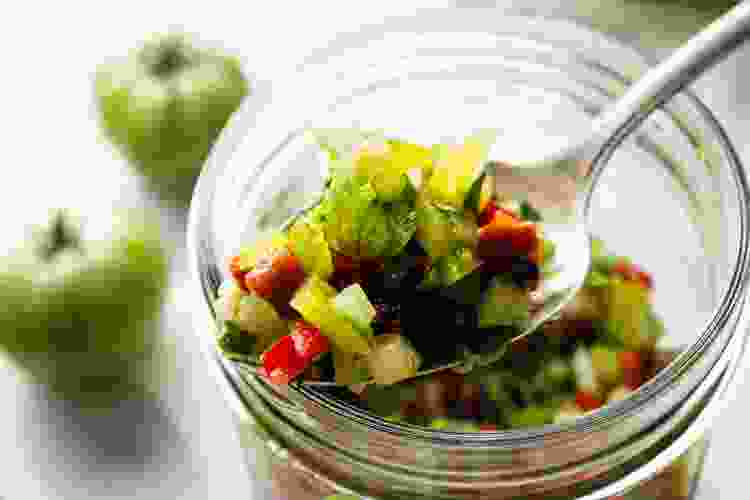 58. Keto Chicken Salad
This bright and creamy Keto Chicken Salad is elevated with briny olives, crunchy pepitas and a vibrant homemade dressing. This low carb chicken salad is delicious on its own, served with fresh vegetables or greens and as a hearty filling for lettuce cups.
Try our Keto Chicken Salad recipe
59. Garlic Butter Steak Bites
Juicy Garlic Butter Steak Bites are tender, aromatic morsels of beef cooked in butter infused with fragrant garlic. This miniature version of meat on a stick is an ideal low carb appetizer for the big game.

Try our Garlic Butter Steak Bites recipe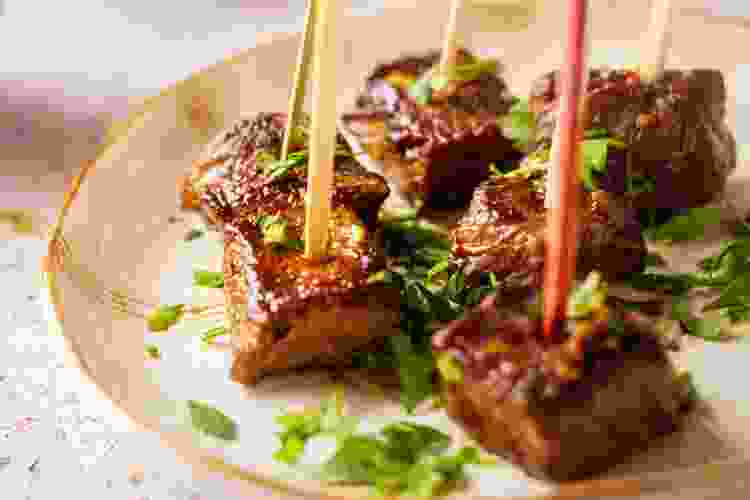 60. Keto Jalapeño Poppers
Keto Jalapeño Poppers offer all of the flavor with fewer carbs than the traditional version of the classic Super Bowl appetizers. Trade the deep-fried breadcrumb coating for a crisp and smoky bacon wrapper with this decadent, keto-friendly appetizer.
Try our Keto Jalapeno Poppers recipe
61. Oven Fried Chicken Skin Cracklings (Chicharrones)
These Oven Fried Chicken Skin Cracklings by Low Carb Maven are an easier to make version of the iconic chicharrones, which are traditionally made with pork. Chicken skin is thinner and less challenging to work with, transforming quickly into the signature airy cracklings.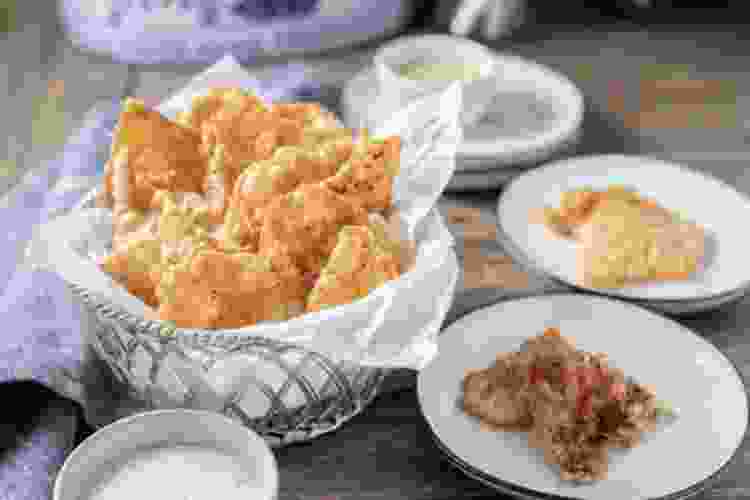 62. Spicy Chicken Empanadas
These Spicy Chicken Empanadas by Joy Filled Eats are perfect Super Bowl appetizers; they're even shaped like footballs! Flaky, golden, low carb crust is stuffed with spicy chicken and served with tangy cilantro sour cream.
63. Crock Pot Garlic and Onion Beer Boiled Peanuts
Traveling in the American South you are likely to come across boiled peanuts, typically either original or spicy, often sold at roadside stands or markets. These Crock Pot Garlic and Onion Beer Boiled Peanuts by Cooking with Janica infuse classic game day flavors into the traditional snack to create these savory, low carb Super Bowl appetizers.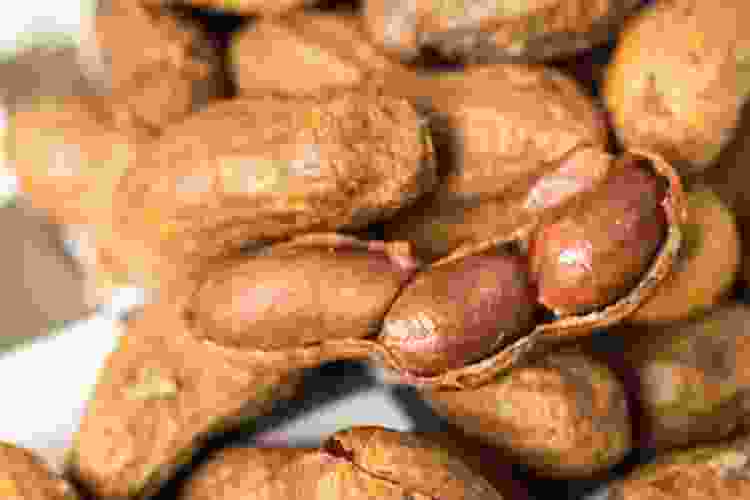 64. Indian Tikka Chicken Wings
Marinated in coconut milk and vibrant Indian spices, these Indian Tikka Chicken Wings by Low Carb Maven offer a refreshing twist on traditional chicken wings. These juicy wings are grilled rather than fried and served with a bright citrus-cilantro sauce.
Cold Super Bowl Appetizers
65. Salmon Rillettes
Inspired by a French holiday tradition, Salmon Rillettes are elegant Super Bowl appetizers that bring a touch of sophistication to the typical game day spread. Serve the cool and creamy spread on crisp slices of baguette with a garnish of fresh dill.

Try our Salmon Rillettes recipe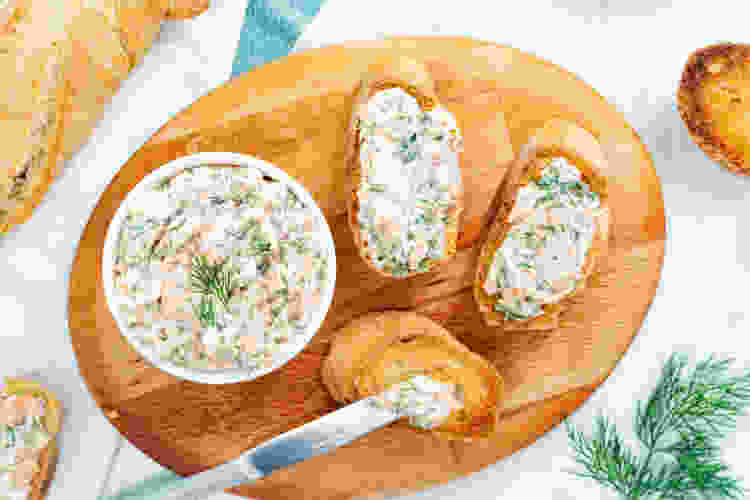 66. Smoked Salmon Sushi
Balance the usual variety of hot, fried Super Bowl appetizers with a selection of cold and refreshing offerings like Smoked Salmon Sushi. You don't even need to own a sushi mat or have mastered the basic sushi roll to create these savory, cold appetizers.
Try our Smoked Salmon Sushi recipe
67. Black Bean Hummus
The iconic Middle Eastern chickpea spread gets a Southwestern twist with this zesty Black Bean Hummus. This cool, creamy spread is a great dip for fresh vegetables and pita as well as a flavorful addition to wraps and sandwiches.

Try our Black Bean Hummus recipe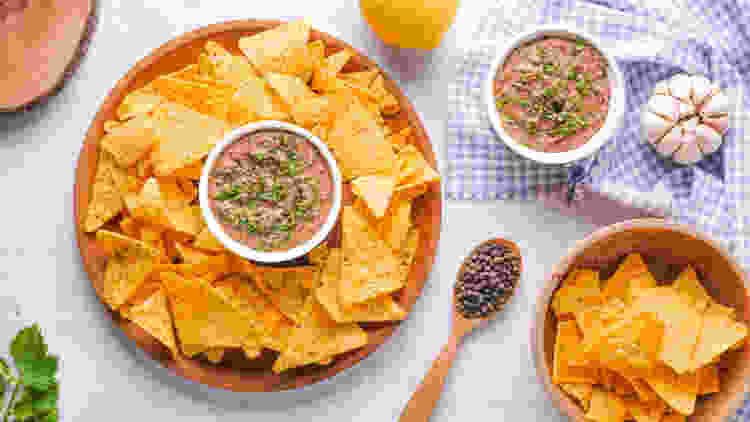 68. Vegan Pasta Salad
Pasta salad is a popular cold appetizer served at gatherings from summer barbecues to tailgates. This colorful Vegan Pasta Salad is packed with vibrant vegetables and tender pasta coated in a creamy avocado dressing.
Try our Vegan Pasta Salad recipe
69. Salsa Roja
Versatile Salsa Roja is a vibrant addition to a wide range of Super Bowl appetizers. With deep, roasted flavors, this bold salsa complements tortilla chips, tacos, grilled meats and more as a dip, topping or sauce.

Try our Salsa Roja recipe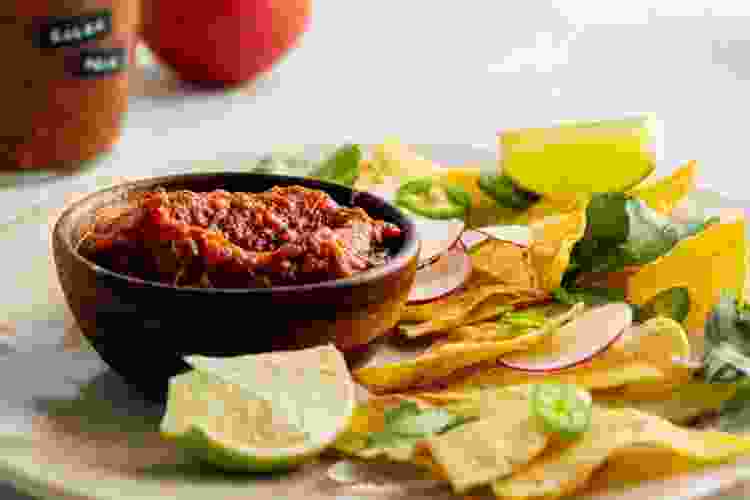 70. Pizza Pinwheels
The vegetable-packed Pizza Pinwheels by Ruffles and Rain Boots are colorful and crowd pleasing Super Bowl appetizers that are simple to make and can be served cold. This vegetarian-friendly version is filled with a seasoned cream cheese mixture with broccoli, carrots, mushrooms and bell peppers, but you could also add pepperoni, ham, tangy marinara and other pizza-inspired ingredients.
71. Charcuterie Cups
These individual Charcuterie Cups by Cooking with Janica are an easy way to serve cold Super Bowl appetizers. Fill small cups or bowls with a selection of meats, cheese, olives, crackers and fruit with toothpicks for mess-free munching.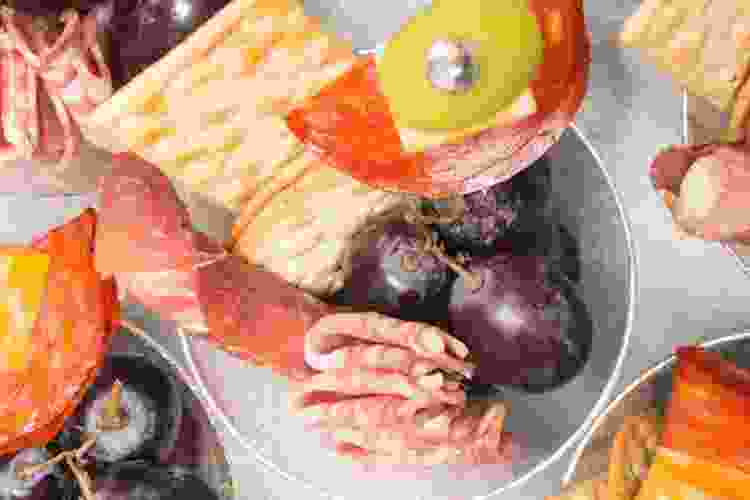 72. Antipasto Skewers
Antipasto is a traditional Italian appetizer platter often filled with cured meats, olives, pepperoncini, mushrooms, artichoke hearts and cheeses with variations depending on the region. The Antipasto Skewers by Eat Drink Love capture the signature flavors of antipasto with a transportable, handheld version of the classic appetizer that is ideal for game day celebrations.
73. Cream Cheese Ball
Cool and creamy in the center and rolled in crunchy crushed pecans, a classic cheese ball is an appetizer table staple that has been making appearances at holiday gatherings and sports events for decades. This Cream Cheese Ball from Well Plated by Erin is a mostly traditional recipe with an unexpected secret ingredient.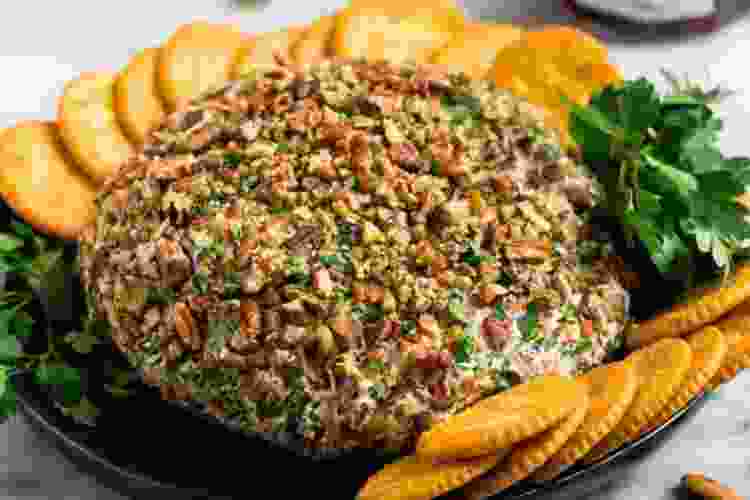 74. Pimento Cheese Deviled Eggs
These Pimento Cheese Deviled Eggs by Spend with Pennies give the classic appetizer a unique Southern twist. These decadent deviled eggs can be prepared up to two days in advance for a quick and easy addition to the game day spread.
75. Coctel de Camarones (Mexican Shrimp Cocktail)
Somewhere between American shrimp cocktail and seafood salad lies the Coctel de Camarones by Easy and Delish. Based on a traditional Mexican dish, coctel de camarones consists of boiled shrimp dipped or dressed in zesty salsa.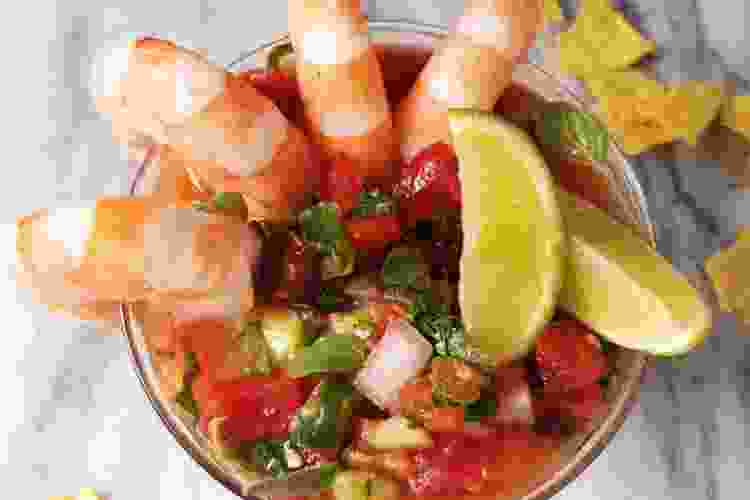 76. Thai Chicken Salad Lettuce Wraps
Cold salads such as chicken, egg, pasta or potato versions are great options for Super Bowl appetizers. These low carb and gluten free Thai Chicken Salad Lettuce Wraps by Joy Filled Eats bring a unique flavor profile to the game day appetizer table.
Super Bowl Dips
77. Street Corn Dip
All of the classic flavors of the iconic Mexican street snack are packed into one bowl to create this zesty, creamy Street Corn Dip. The scoopable dip is ideal with tortilla chips, but can also be used as a topping, spread or filling for Super Bowl appetizers such as taquitos, tacos and tostadas.

Try our Street Corn Dip recipe
78. Hot Artichoke Dip
Some of the best Super Bowl appetizers simply consist of a delicious dip served with chips, bread or vegetables. Hot Artichoke Dip is a classic appetizer dish that is creamy, cheesy and pairs perfectly with a wide variety of accompaniments.
Try our Hot Artichoke Dip recipe
79. Mustard Dip for Pretzels
Pretzels are an iconic game day snack, and this Mustard Dip for Pretzels brings the signature flavor combination enjoyed at stadiums and ball parks across the country to your spread of Super Bowl appetizers. Sweet, spicy and savory, this tangy mustard dip is beautifully balanced with the addition of sriracha and honey.

Try our Mustard Dip for Pretzels recipe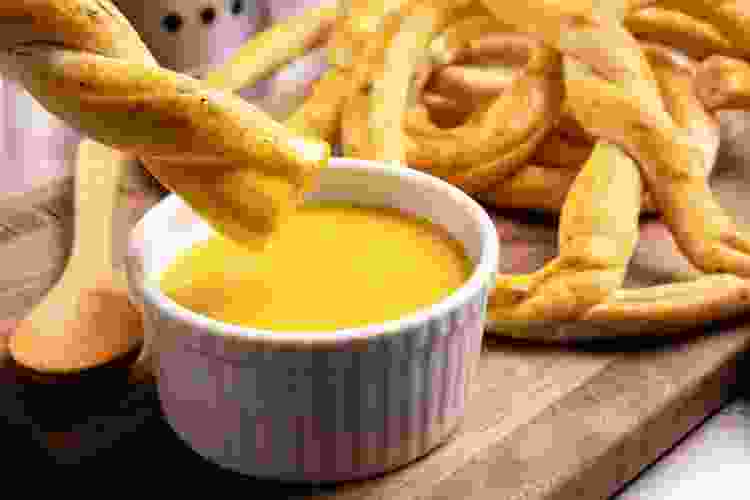 80. Pretzel Dip
Another classic pretzel pairing is creamy beer cheese. This three cheese Pretzel Dip with a little German influence gets a unique depth of flavor from the addition of wheat beer, ground hazelnuts and roasted red peppers.
81. Cranberry Jalapeño Dip
Spicy, sweet and tart, this creamy Cranberry Jalapeño Dip is a unique and colorful option for dippable Super Bowl appetizers. Pair this flavorful dip with mild crackers, pita or baguette.

Try our Cranberry Jalapeno Dip recipe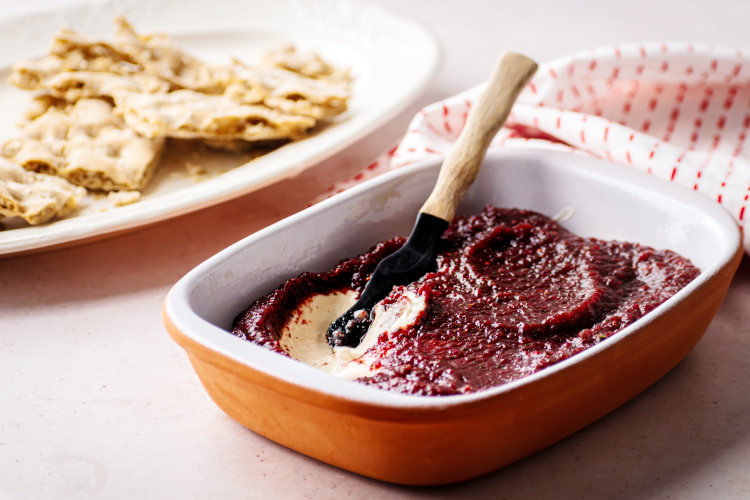 82. Cucumber Dip
Cool and refreshing Cucumber Dip is a creamy complement to vegetable platters and slices of pita bread. Loosely inspired by traditional yogurt dips like tzatziki, this version is seasoned with cumin, black pepper and a kick of smoky paprika or fiery cayenne.
83. Caramelized Onion Dip
Bring classic onion dip to the next level with this rich and creamy Caramelized Onion Dip for bread, crackers, vegetables and more. Slow-cooked, caramelized onions are blended into a cream cheese base to create this luscious dip.

Try our Caramelized Onion Dip recipe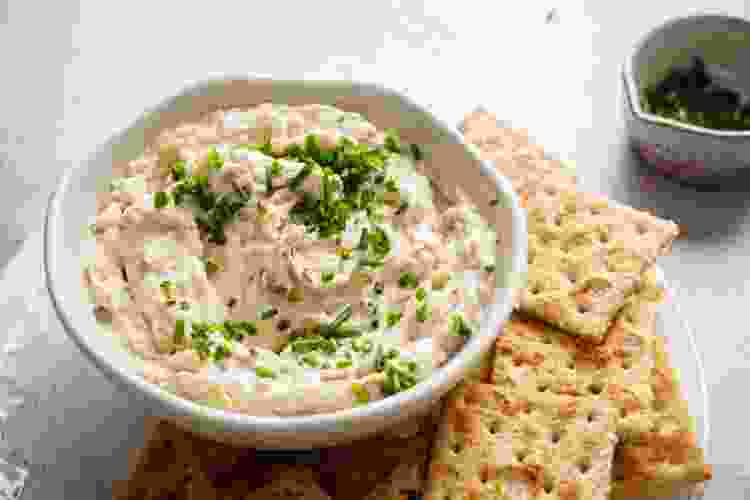 84. Sausage Dip
Hearty Sausage Dip is a bold, creamy and keto-friendly option that can be used as a creative dip, spread or filling for Super Bowl appetizers. Punch up the spice in this bold dip with a dash of your favorite hot sauce.
85. Chickpea Shawarma Dip
With a creamy hummus base topped with seasoned chickpeas and an herbed tomato salad, the Chickpea Shawarma Dip by Minimalist Baker is layered with textures and signature Mediterranean flavors. This fresh and healthy dip is a welcome contrast to heavy, cheese-laden options.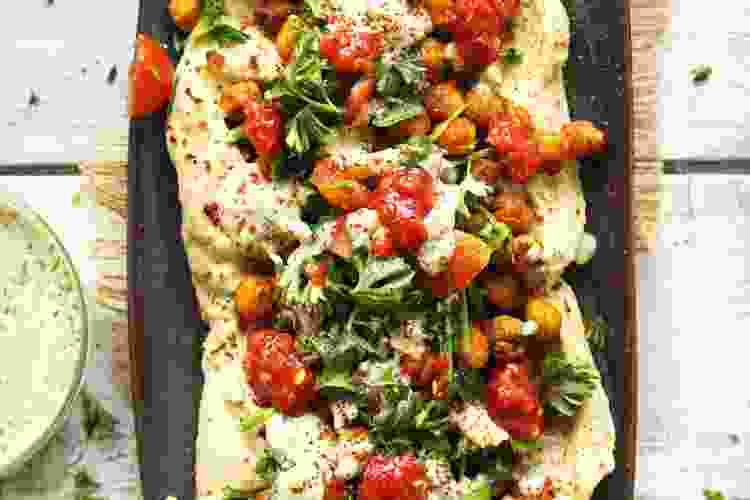 86. Mexican 7 Layer Dip
With a variety of tantalizing flavors and textures, the Mexican 7 Layer Dip by Love and Olive Oil will have guests going back in for scoop after scoop of this iconic dip. The colorful layers in this version include refried beans, guacamole, sour cream, a blend of cheeses, chorizo and pico de gallo topped with a garnish of pickled jalapeño, fresh cilantro and shredded radish.
87. Warm Skillet Crab Dip in a Sourdough Bread Bowl
Baked in a cast iron skillet, the Warm Skillet Crab Dip in a Sourdough Bread Bowl by Seasons and Suppers can go straight from the oven to the table for Super Bowl appetizers with minimal mess and easy clean up. The rustic presentation of this creamy dip in hefty cast iron offers a fitting aesthetic for the big game.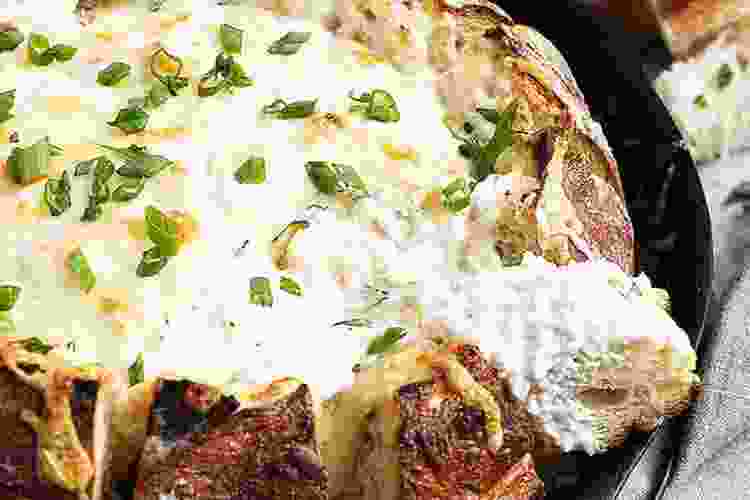 From classic deep-fried snacks to creamy, scoopable dips, these best football appetizers embody the festive atmosphere of the big game. Whether your team wins or loses, a lively spread of Super Bowl appetizers will help make the party fun and memorable.
Check out Cozymeal Recipes for even more traditional and creative ideas for your best game day appetizers and visit the Cozymeal Shop for helpful tools and kitchen inspiration for future gatherings and events.