67 Delicious Healthy Appetizers
From the deep-fried standbys of rowdy game days to the cheese-laden staples of holiday parties, it can be quite a challenge to find flavorful and healthy appetizers to please a hungry crowd. With some simple swaps, seasonal ingredients and a little bit of creativity, healthy starters can be just as exciting and crave-able as their rich, cheesy or fried counterparts. Drawing inspiration from fresh vegetables and global cooking traditions, you can create elegant and innovative appetizers for any occasion.
What are healthy appetizers for game day? What are some light starters for holiday dinners? Innovative cooks have crafted a wide range of recipes focusing on colorful vegetables and better-for-you ingredients that still offer plenty of tantalizing flavors and textures. Whether preparing for a potluck, tailgate or holiday party, here are 67 of the best healthy appetizers to start your meal.
Jump to Section
Easy Healthy Appetizers
1. Pepper Salad
Crunchy and colorful easy healthy appetizers like this bright Pepper Salad combine fresh vegetables with aromatic herbs for a delightful way to kick off a meal. Toasted pine nuts and fried sage leaves elevate this nutritious dish with intriguing layers of texture.

Try our Pepper Salad recipe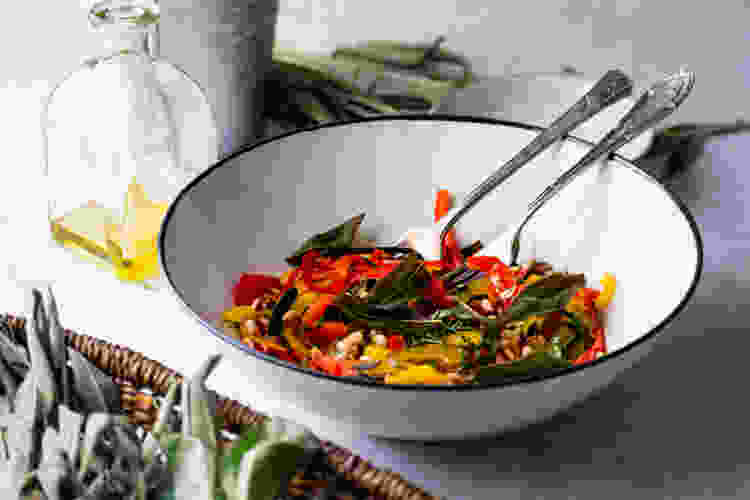 2. Crunch Roll Sushi
Crunch Roll Sushi are healthy appetizers that are as fun to make as they are to eat. With the help of a sushi making kit it is easy to prepare these impressive and healthy party appetizers.
Try our Crunch Roll Sushi recipe
3. Japanese Cucumber Salad
A combination of nutrient-rich wakame and refreshing cucumber in a tangy, umami sauce, Japanese Cucumber Salad is a light and easy way to begin a meal. Wakame is an edible seaweed that is dense with nutrients and popular in Japanese cooking.

Try our Japanese Cucumber Salad recipe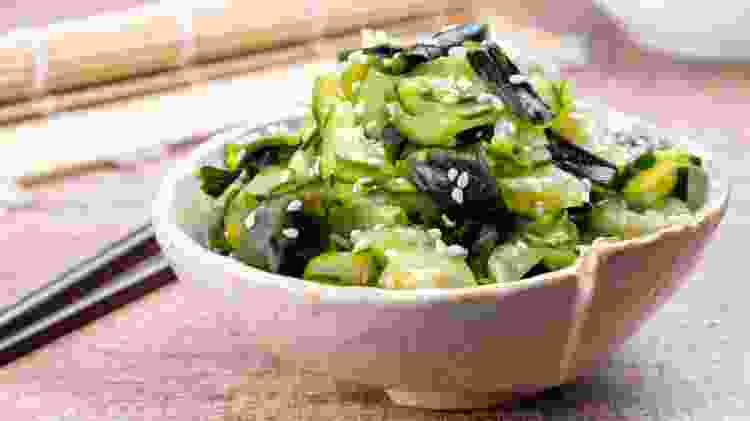 4. Parmesan Cheese Crisps
With just one ingredient, Parmesan Cheese Crisps are the ultimate healthy appetizers. To make these keto-friendly crisps, all you need is a sheet pan and five minutes of cooking time.
Try our Parmesan Cheese Crisps recipe
5. Salsa Roja
Skip the prep work with a few helpful tips while achieving a rich depth of flavor in this vibrant Salsa Roja. A quick broil before blending gives the ingredients in this salsa a layer of bold, charred flavor.

Try our Salsa Roja recipe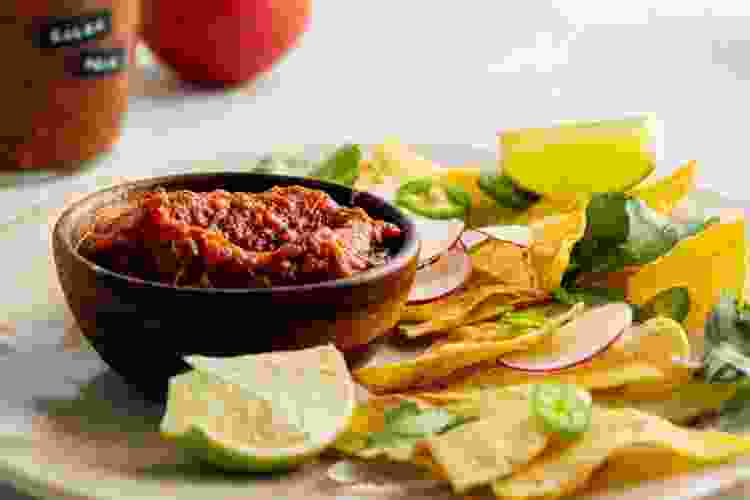 6. Air Fryer Potato Wedges
These Air Fryer Potato Wedges are easy, crowd-pleasing healthy appetizers that can be enjoyed as they are with a light dusting of seasoning or dressed up with your favorite sauces. Using an air fryer reduces the amount of oil needed to create crisp and tender wedges.
Try our Air Fryer Potato Wedges recipe
7. Keto Chicken Salad
Served with crackers, sliced vegetables or inside lettuce wraps, Keto Chicken Salad is a versatile option for healthy appetizers. This keto-friendly recipe is finished with a homemade tarragon dressing and roasted pepitas for added crunch.

Try our Keto Chicken Salad recipe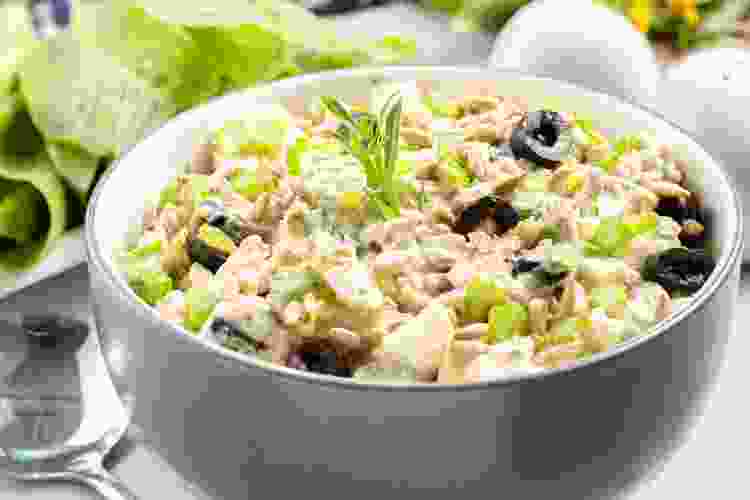 8. Roasted Chili Corn Salsa
Perfect for a summer picnic or barbecue, Roasted Chili Corn Salsa is a zesty starter to complement grilled meats and vegetables. This versatile recipe is also a great addition to tacos, dips and other healthy appetizers.
Try our Roasted Chili Corn Salsa recipe
9. Air Fryer Kale Chips
Air Fryer Kale Chips transform nutrient-rich leafy greens into addictive salty and crunchy appetizers. Customize these easy appetizers by mixing up the seasonings to create tantalizing signature flavor combinations.

Try our Air Fryer Kale Chips recipe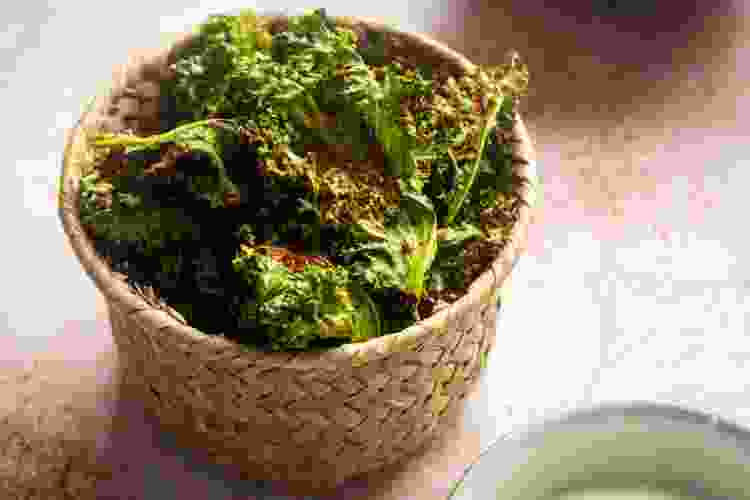 10. Easy Shrimp Ceviche
This Easy Shrimp Ceviche by Spend with Pennies is a quick option for healthy party appetizers that requires zero cooking. Marinating the shrimp in bright citrus and tangy tomato and onion infuses this delicious starter with vibrant, fresh flavors.
11. Prosciutto with Melon and Mint
Salty and sweet with a refreshing finish, these bite-sized canapes of Prosciutto with Melon and Mint by Flavour and Savour are elegant and easy to make. Inspired by a classic Italian flavor combination, these healthy appetizers are ideal for summer dinner parties and special celebrations.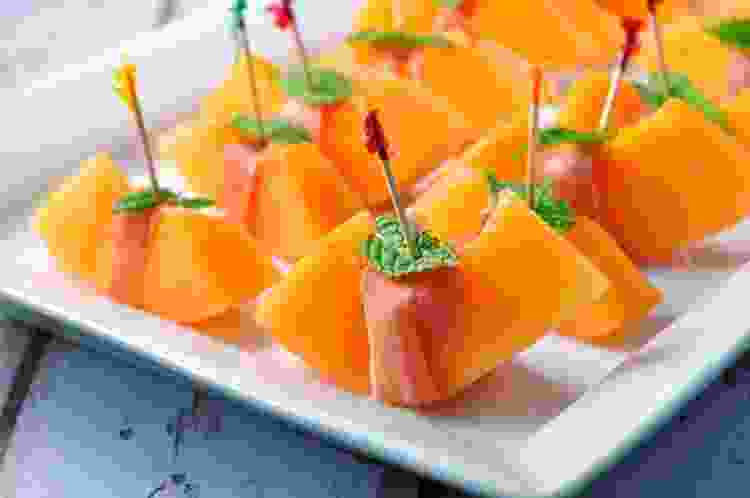 Heart Healthy Appetizers
12. Tuna Tataki
Rich in omega-3 fatty acids and high quality protein, tuna is a versatile addition to heart healthy appetizers like this fresh Tuna Tataki. A sharp, well-crafted knife is the key to achieving the clean, elegant presentation of this elevated starter.
13. Avocado Soup
Creamy Avocado Soup is accented with a tart and crunchy relish of apple and cucumber to create this intriguing starter. With an abundance of satiating monounsaturated fats and a boost of potassium, avocados are fantastic ingredients to include in healthy appetizers.

Try our Avocado Soup recipe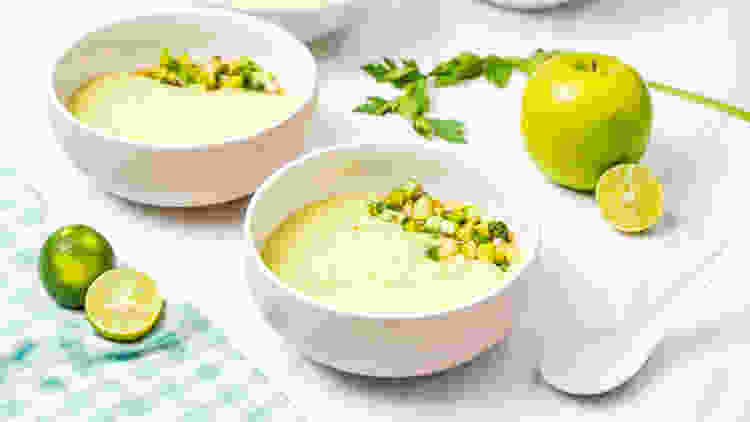 14. Mango Avocado Salsa
Sweet and savory Mango Avocado Salsa is packed with nutritious, hearty healthy ingredients such as beans and avocado for a bright and refreshing addition to your repertoire of healthy appetizers. This hearty salsa also works well as a topping, dip or side salad.
Try our Mango Avocado Salsa recipe
15. Spicy Edamame
Packed with cholesterol-reducing flavonoids, Spicy Edamame is a light and easy option for heart healthy appetizers. The tantalizing blend of sugar, salt and ichimi togarashi give this simple starter its signature flavor.

Try our Spicy Edamame recipe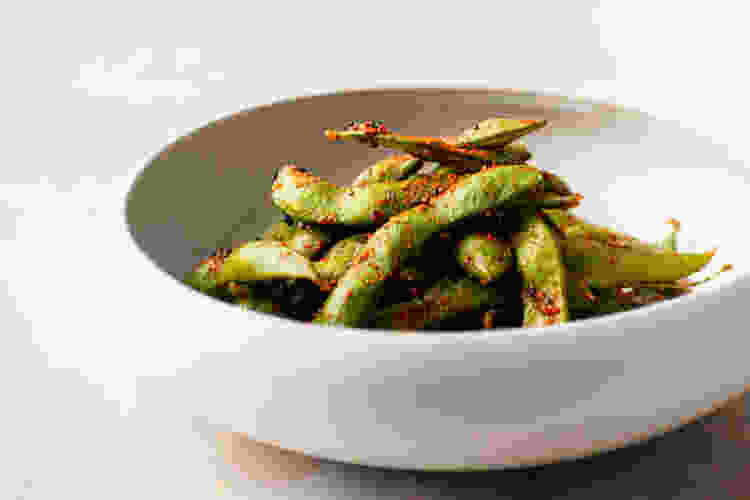 16. Chicken Larb
Chicken Larb, also known as Larb Gai, is an iconic Southeast Asian appetizer featuring ground chicken in spicy lime juice and roasted rice powder. If you can't find roasted rice powder, you can make your own with toasted jasmine rice and a food processor.
17. Easy Seed Crackers with Everything Bagel Seasoning
A wide variety of nutrient-rich seeds are the star ingredient in these Easy Seed Crackers with Everything Bagel Seasoning by Minimalist Baker. These crunchy, savory crackers pair well with dips, spreads, cheese and other healthy appetizers.
18. Mini Rosemary Olive Oil Bread
Made with antioxidant rich olive oil, a staple of Mediterranean cooking, this recipe for Mini Rosemary Olive Oil Bread by Seasons and Suppers is an excellent base for healthy appetizers. Serve these rolls warm with butter or dipped in herbed olive oil.
19. Muhammara
Based on a traditional Syrian dish, this creamy and nutty Muhammara by Healthy Nibbles is sweet, tangy and a little spicy. Pomegranate molasses adds a layer of complexity to the charred red peppers and rich walnuts.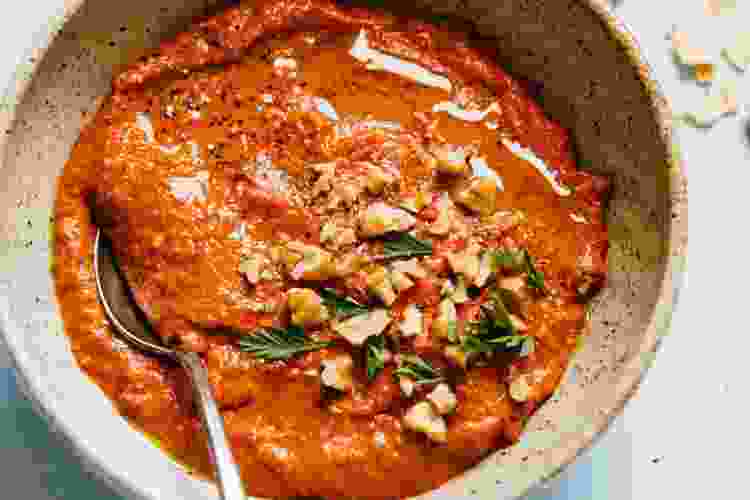 20. Spiced Rosemary and Thyme Nuts
Rich in fiber and monounsaturated fats, these Spiced Rosemary and Thyme Nuts by Cook Nourish Bliss are seasoned with a blend of warm and aromatic herbs and spices. These vegan and gluten free appetizers also make great snacks and easy edible gifts.
21. Kale & White Bean Artichoke Dip
Loaded with heart-healthy ingredients, this creamy Kale and White Bean Artichoke Dip by Minimalist Baker is a hearty and satisfying option for healthy appetizers. This luscious dip is packed with fiber, nutrients and plenty of plant-based protein.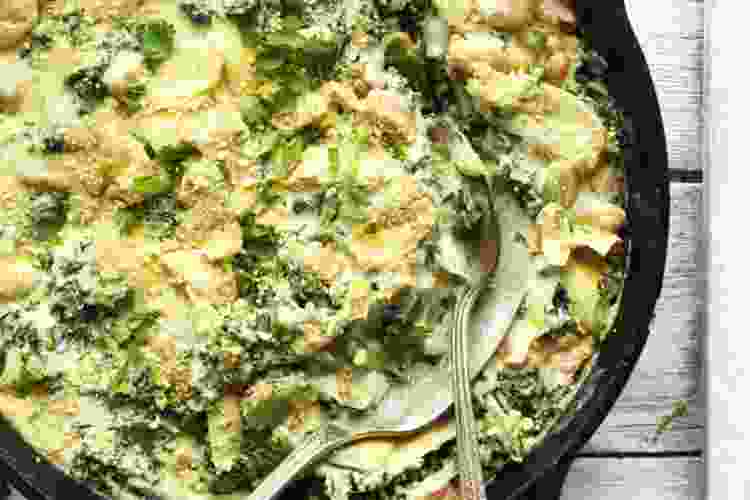 Healthy Vegetarian Appetizers
22. Black Bean Hummus
Protein-packed Black Bean Hummus is a creamy and satisfying option of healthy appetizers for vegetarians. This quick hummus can be served with chips, sliced vegetables or as part of a hearty layered dip.
Try our Black Bean Hummus recipe
23. Instant Pot Artichokes
Instant Pot Artichokes are elegant healthy appetizers that are surprisingly easy to make. Ready in twenty minutes, these tender artichokes can be prepared as a quick vegetarian or vegan starter.

Try our Instant Pot Artichokes recipe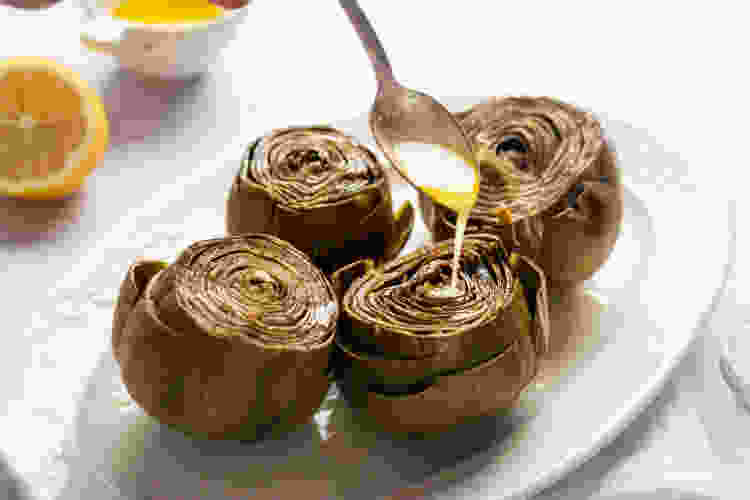 24. Air Fryer Tofu
Quick and crisp Air Fryer Tofu finished with sweet and spicy gochujang is a tangy addition to healthy appetizers for vegetarians. Serve this flavorful tofu on its own, in lettuce wraps or soup and over rice, noodles or salad.
25. Keto Guacamole
Dips and spreads like this quick Keto Guacamole are classic choices for healthy appetizers. For a traditional preparation, use a mortar and pestle, or simply mix in a bowl using the back of a large spoon to smash and blend the ingredients.

Try our Keto Guacamole recipe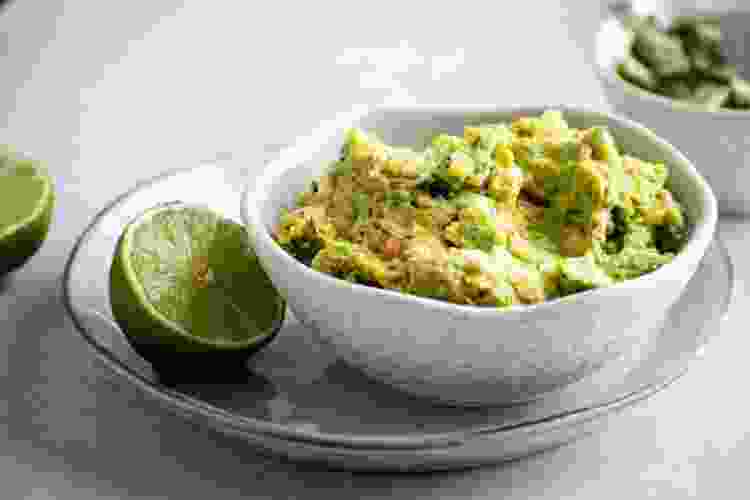 26. Zucchini Bites with Paprika Greek Yogurt
Tender Zucchini Bites with Paprika Greek Yogurt are unique healthy appetizers suitable for practically any occasion. Generous rounds of roasted zucchini are topped with a toasted cheese mixture and finished with a smoky Greek yogurt sauce.

Try our Zucchini Bites with Paprika Greek Yogurt recipe
27. Vegetable Vietnamese Spring Rolls
These light and colorful Vegetable Vietnamese Spring Rolls by Live Eat Learn are showcase a rainbow of vegetables wrapped in delicate rice paper. Serve these bright, crunchy rolls with creamy almond coconut sauce or your favorite tangy dip.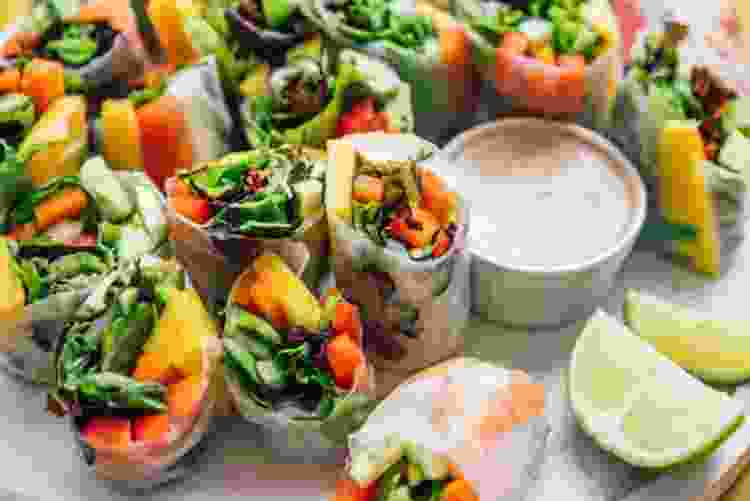 28. Caprese Skewers
The classic Caprese salad is transformed into bite sized healthy appetizers with easy Caprese Skewers by Spend with Pennies. The iconic combination of fresh basil, juicy tomatoes and creamy mozzarella is elevated with an aromatic Italian marinade and a drizzle of balsamic glaze.
29. Mayo-Free Deviled Eggs
Deviled eggs are classic starters for holidays, picnics and parties. These Mayo-Free Deviled Eggs from Minimalist Baker swap the heavy mayo for creamy hummus for an extra dose of fiber and protein as well as a boost of flavor.
30. Oven Baked Spinach and Barley Arancini
The Oven Baked Spinach and Barley Arancini from Bowl of Delicious are hearty and healthy appetizers for almost any occasion. Packed with vegetables and fiber-rich grains, these vegetarian appetizers can also be made gluten free with a few simple swaps.
31. Curried Quinoa Triangles with Cilantro-Ginger Sauce
Aromatic pockets packed with a savory, spiced filling, these vibrant Curried Quinoa Triangles with Cilantro-Ginger Sauce by Olives for Dinner are a bold and inviting addition to any repertoire of healthy appetizers for vegetarians. Similar to an Indian samosa, a crispy shell encases a fragrant and complex filling.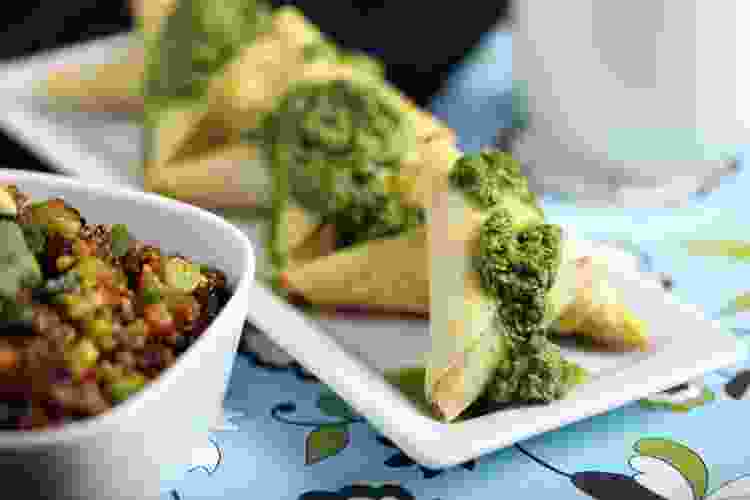 32. Vegetable Pizza Pinwheels
Easy and versatile, these Vegetable Pizza Pinwheels by Ruffles and Rainboots are crowd-pleasing healthy appetizers that both kids and adults will enjoy. Stuffed with crunchy vegetables and a tangy cream cheese spread, these simple starters can be easily customized with your favorite flavors and fillings.
33. Herby Couscous Stuffed Eggplant Rolls
These Herby Couscous Stuffed Eggplant Rolls by Every Last Bite are hearty and healthy appetizers that are suitable for vegan, vegetarian, gluten free and low carb diets. Elegant and versatile, these satisfying starters can be served on their own or as part of a mezze-style platter.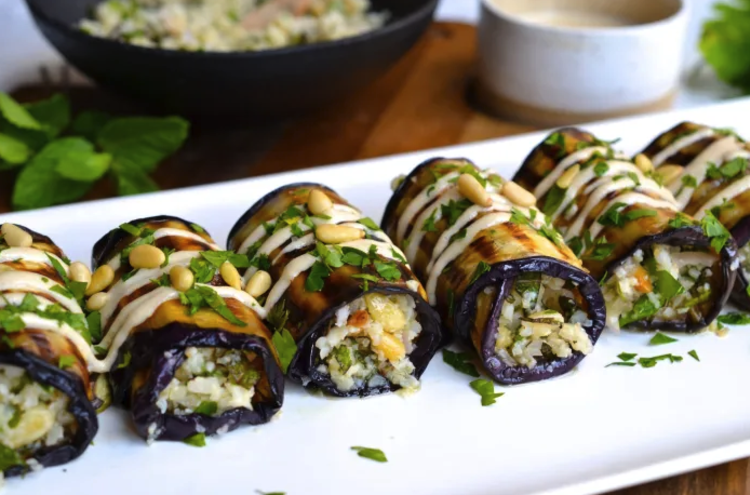 34. Air Fryer Blooming Onion
The blooming onion has gained icon status when it comes to classic appetizers. A lighter version of the legendary starter, the Air Fryer Blooming Onion by Plated Cravings skips the deep fryer while still achieving the signature crunch and golden color.
35. Roasted Red Pepper and Strawberry Gazpacho
A light and refreshing starter for summer picnics or warm weather celebrations, the Roasted Red Pepper and Strawberry Gazpacho by Live Eat Learn is easy to prepare and offers a unique complexity and depth of flavor. Serve this cooling vegetarian soup in a bowl with fresh croutons for added texture or in dainty shooter glasses for an elegant canape.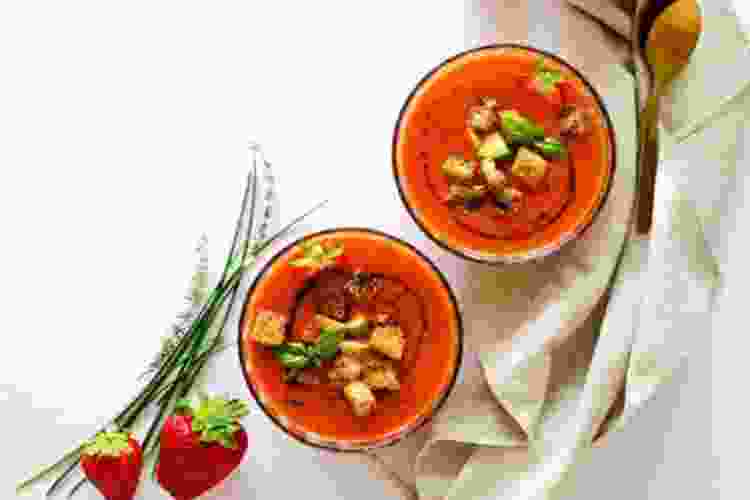 Healthy Game Day Appetizers
36. Air Fryer Buffalo Cauliflower
Tangy Air Fryer Buffalo Cauliflower is a healthy starter that both meat eaters and vegetarians will love. Tender cauliflower florets are coated in buttery Buffalo sauce for healthy appetizers perfect for dipping in creamy ranch or bleu cheese sauce.
Try our Air Fryer Buffalo Cauliflower recipe
37. Blistered Shishito Peppers
Blistered Shishito Peppers finished with bright lemon and flaky salt are healthy appetizers for game day tailgates and watch parties. Simply char the peppers in a cast iron pan and season to make this quick and flavorful starter.

Try our Blistered Shishito Peppers recipe
38. Air Fryer Zucchini Fries
Salty, cheesy and crisp, Air Fryer Zucchini Fries are everything you want in healthy appetizers for game day. Panko and Parmesan crusted zucchini spears are cooked in the air fryer until crunchy, golden brown and ready to enjoy with your favorite dipping sauce.
Try our Air Fryer Zucchini Fries recipe
39. Tomatillo Red Chili Salsa
Tomatillo Red Chili Salsa is a vibrant addition to classic game day appetizers such as nachos, taquitos, tostadas and more. Bright tomatillos combine with peppers, cilantro and fresh lime for a burst of bold flavor.

Try our Tomatillo Red Chili Salsa recipe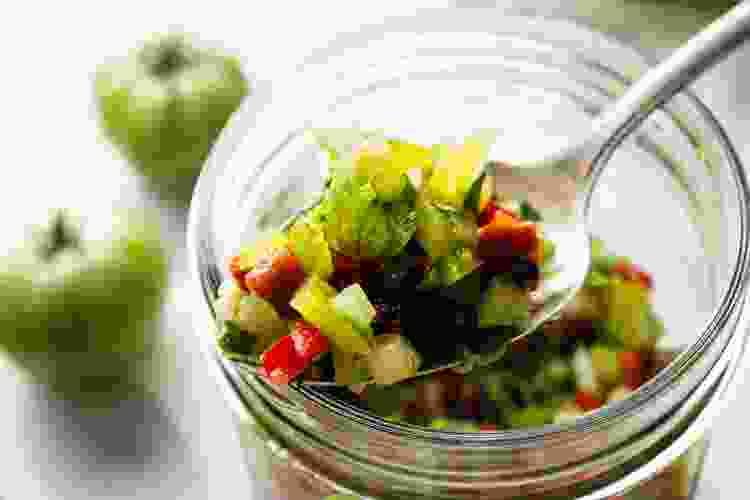 40. Air Fryer Mozzarella Sticks
Homemade Air Fryer Mozzarella Sticks are a lightened up version of the classic Italian-inspired appetizer. Gooey cheese is encased in a crunchy coating of seasoned panko to make these healthy appetizers for game day.
Try our Air Fryer Mozzarella Sticks recipe
41. Garlic Butter Steak Bites
Rich and meaty Garlic Butter Steak Bites are low carb game day appetizers that won't weigh you down while rooting on your favorite team. Tantalizing cubes of juicy steak are glazed in fragrant garlic butter to make these bite sized starters.

Try our Garlic Butter Steak Bites recipe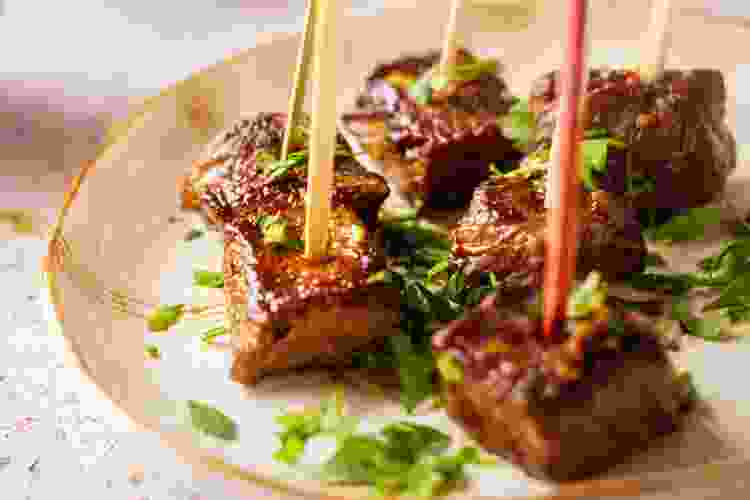 42. Thai Beef Salad (Yum Nua)
Spicy cucumber salad is topped with tender strips of beef to create this light, yet satisfying appetizer. Thai Beef Salad, also known as yum nua, is an intriguing mix of salty, spicy, savory and sweet that will surprise and delight game day guests.
Try our Thai Beef Salad recipe
43. Cucumber Dip
A twist on classic Mediterranean-style yogurt dips, this refreshing Cucumber Dip is a light and creamy addition to your game day spread. Serve with pita, crackers, sliced vegetables or skewers of grilled chicken, lamb or beef for easy and healthy appetizers.

Try our Cucumber Dip recipe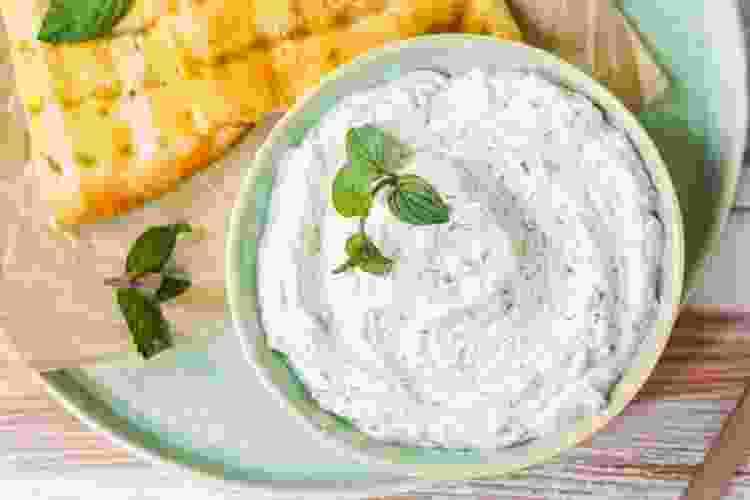 44. Air Fryer Tater Tots
Lighter and less oily than their deep fried counterparts, Air Fryer Tater Tots are crunchy and satisfying game day appetizers. Serve these crispy bites with homemade ranch or your favorite dipping sauce.
Try our Air Fryer Tater Tots recipe
45. Cauliflower Chips
Crisp and cheesy Cauliflower Chips are quick, healthy appetizers for game day. These keto-friendly chips are made with only five ingredients for a simple and nutritious starter or snack.

Try our Cauliflower Chips recipe
46. Chicken Verde Wonton Tacos
These innovative Chicken Verde Wonton Tacos from The Girl Who Ate Everything are healthy appetizers filled with vibrant Mexican flavor. The easy to make chicken mixture is wrapped in a crunchy wonton for quick, bite sized game day starters.
47. Buffalo Chicken Pepper Nachos
Combining two iconic game day starters, these Buffalo Chicken Pepper Nachos by Inside BruCrew Life are healthy appetizers that pack a punch of bold flavor. Low carb and versatile, zesty shredded Buffalo chicken is served in hollowed sweet peppers then finished with blue cheese crumbles, chopped green onions and diced avocado.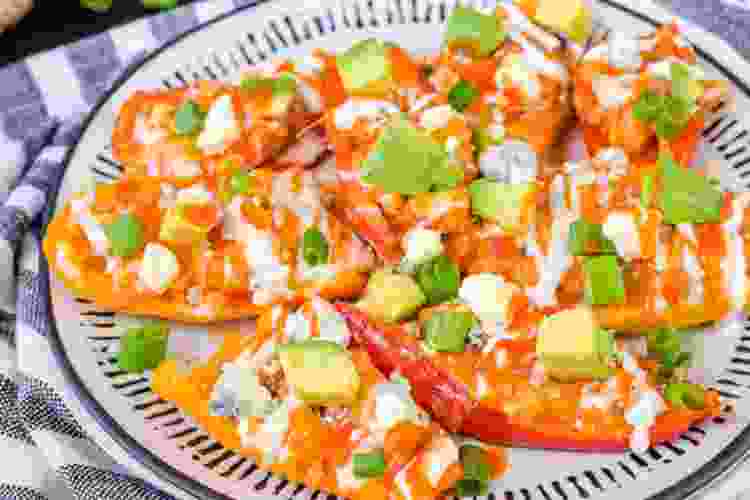 Healthy Thanksgiving Appetizers
48. Lemon Kale Salad
Start the big meal with a bright and nutritious Lemon Kale Salad. This sturdy, and slightly spicy, salad serves as a welcome counterpoint to the heavy, gravy-laden Thanksgiving classics.
Try our Lemon Kale Salad recipe
49. Macadamia Nut Butter
Macadamia Nut Butter adds a touch of sweetness and classic fall flavors to the Thanksgiving spread. Serve with crostini or apple slices for quick and healthy holiday appetizers.

Try our Macadamia Nut Butter recipe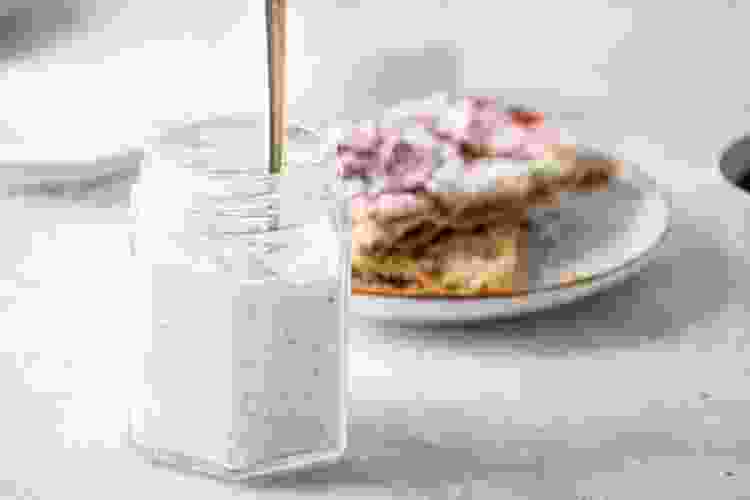 50. Green Bean Fries
For a new spin on a green bean dish, try these crunchy Green Bean Fries as healthy appetizers for Thanksgiving. These tasty, panko-crusted vegetable fries are also a great way to use up any leftover green beans that didn't make it into the casserole dish.
Try our Green Bean Fries recipe
51. White Bean Pumpkin Hummus
This luscious White Bean Pumpkin Hummus by Minimalist Baker showcases classic fall ingredients in a rich and savory spread. All you need is a blender and a small pan to create this quick, autumnal accompaniment for pita chips, crackers and other healthy appetizers.
52. Acorn Squash Soup
Cozy soups are the ultimate healthy appetizers to kick off a festive holiday meal. This silky Acorn Squash Soup by Spend with Pennies captures the flavors of autumn in a warm, savory bowl with a hint of natural sweetness.
53. Savory Roasted Cranberry Salsa
This Savory Roasted Cranberry Salsa from Live Eat Learn blends traditional holiday ingredients with a zesty kick of jalapeño for an innovative take on healthy Thanksgiving appetizers. Serve this tangy topping with crackers, sweet potato rounds or as part of a festive charcuterie board for an innovative addition to your meal.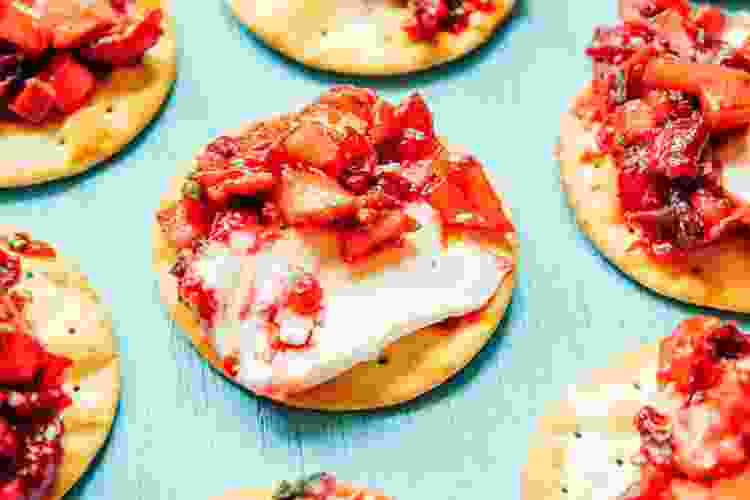 54. Cranberry Waldorf Salad
The festive Cranberry Waldorf Salad by Spend with Pennies offers a creative interpretation of the legendary salad. This colorful sweet and savory dish is a crisp and refreshing addition to your healthy appetizers for the holidays.
55. Turkey and Cranberry Meatballs
The signature flavors of Thanksgiving dinner combine in these Turkey and Cranberry Meatballs from Every Last Bite. These sweet and savory starters are served with a tangy cranberry-orange sauce for dipping.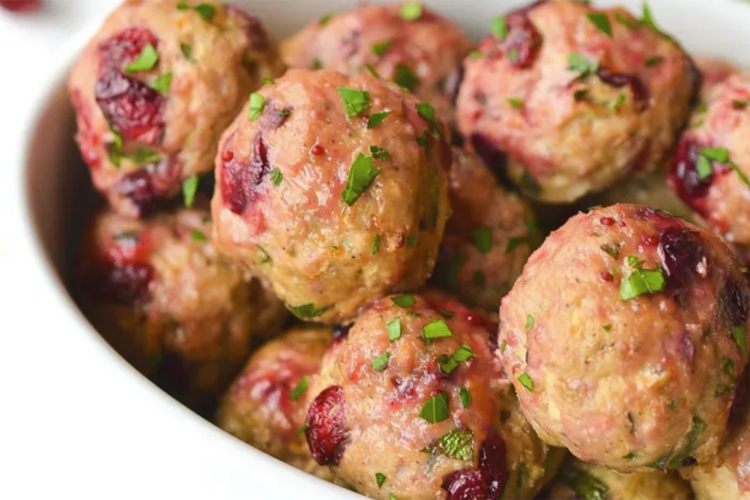 Healthy Christmas Appetizers
56. Broiled Scallops
Seafood has a long, intertwining history with the Christmas season, especially in places like Italy where observers may partake in the Feast of the Seven Fishes. Although not a traditional dish for the holiday, these Broiled Scallops are light, healthy appetizers that give a subtle nod to this time-honored practice.
Try our Broiled Scallops recipe
57. Christmas Charcuterie Board
Christmas Charcuterie Board is a festive and fun holiday starter that is surprisingly easy to make. Loaded with various types of cheese, fruits nuts and meats, this Christmas tree shaped charcuterie board reflects the signature colors of Christmas.

Try our Christmas Charcuterie Board recipe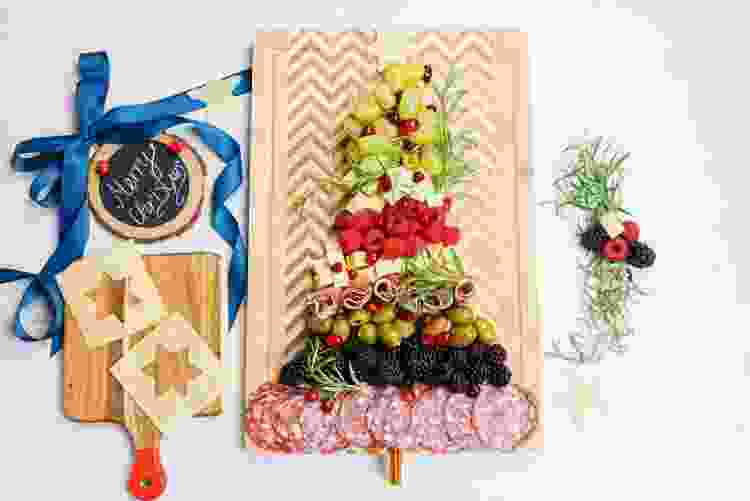 58. Smoked Salmon Sushi
With their unique presentation, Smoked Salmon Sushi are healthy Christmas appetizers that are perfect for holiday parties and other festive gatherings. These elevated hors d'oeuvres balance bold flavors and layers of texture in one bite-sized package.
Try our Smoked Salmon Sushi recipe
59. Orange Candied Pecans
With a cozy coating of spiced brown sugar and bright citrus, these crunchy Orange Candied Pecans by Iowa Girl Eats are a welcome addition to a holiday appetizer spread. Serve them on their own, as part of a snack mix or as a sweet component of a festive charcuterie board.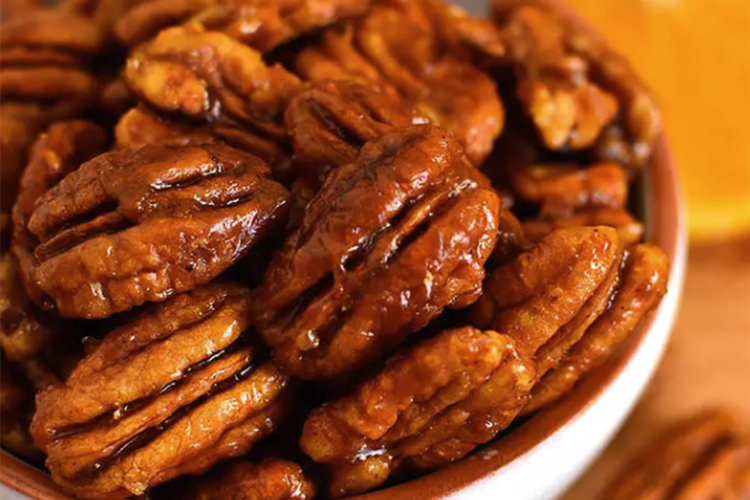 60. Ricotta Toast
This versatile and refreshing Ricotta Toast by Spend with Pennies is a fun and festive appetizer for a holiday brunch. The possibilities are nearly endless when it comes to these creative starters. Top the fluffy ricotta spread with your favorite combinations of fruit, herbs, cured meats, oils, sauces, jams and more.
61. Greek Salad Hummus Flatbread
Festive and bright healthy appetizers for Christmas, this Greek Salad Hummus Flatbread by Ahead of Thyme is topped with fresh vegetables in reds and greens sprinkled with a snowy white dusting of feta cheese. Although its colors reflect the holiday season, this refreshing starter can be served at any time of the year.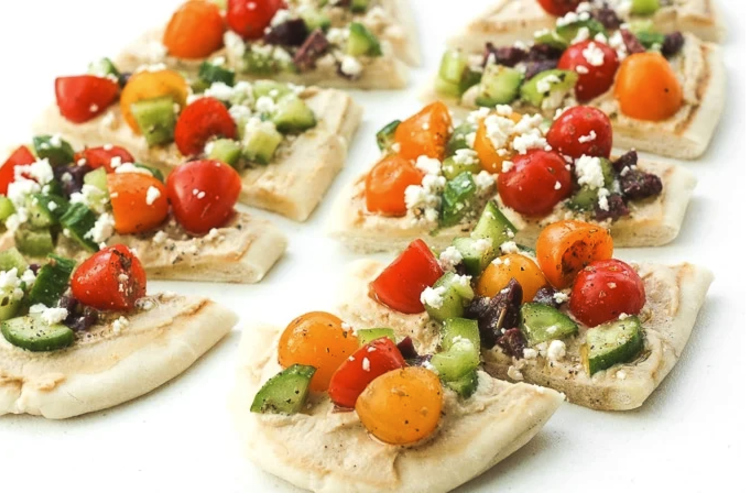 62. Baked Goat Cheese with Cranberries and Pistachios
With only four ingredients, this Baked Goat Cheese with Cranberries and Pistachios by Cook Nourish Bliss is a simple, low stress option for crowd-pleasing healthy appetizers to serve at holiday gatherings. Jeweled with dried cranberries and crunchy pistachios, this easy appetizer is an elegant addition to your Christmas table.
63. Shrimp Caesar Salad in Crispy Parmesan Cups
Easy and elegant appetizers, the Shrimp Caesar Salad in Crispy Parmesan Cups by Iowa Girl Eats are also a gluten free option for holiday parties and festive dinners. Small enough to enjoy without utensils and served in an edible cup, you don't even have to worry about having extra dishware for the appetizer course.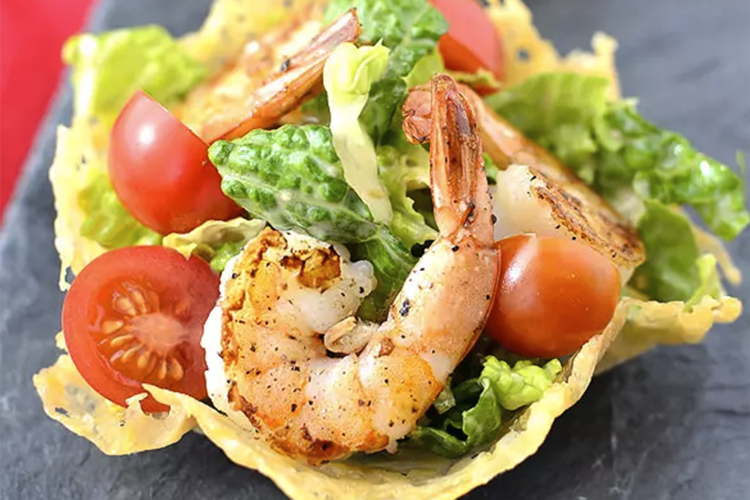 64. Antipasto Salad
A colorful wreath of marinated olives and tender artichokes, cured meats, creamy mozzarella and bright tomatoes, this Antipasto Salad from Easy and Delish is an abundant centerpiece for a spread of healthy appetizers. Serve with toothpicks for easy grazing before the big holiday meal.
65. Christmas Appetizer Bites
With bright red sun-dried tomatoes and vibrant green pesto, the Christmas Appetizer Bites from Well Plated by Erin live up to their festive name. These healthy holiday appetizers are layered with a silky cream cheese and yogurt mixture and finished with fresh basil.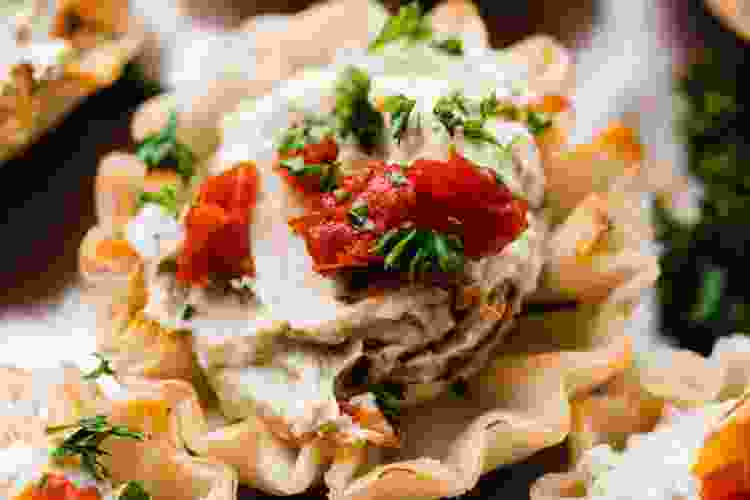 66. Pomegranate Chicken Salad Cucumber Bites
Light and refreshing Pomegranate Chicken Salad Cucumber Bites from Joy Filled Eats are keto-friendly healthy appetizers for the holiday season. With a bright pop of pomegranate, these low carb canapes are a perfect balance of tangy, sweet and savory.
67. Grilled Radicchio and Orange Salad with Cinnamon Dressing
Showcasing seasonal winter ingredients, this Grilled Radicchio and Orange Salad with Cinnamon Dressing by Every Last Bite is both comforting and refreshing. With sweet, bitter, tart and savory notes, this unique salad surprises and delights the senses.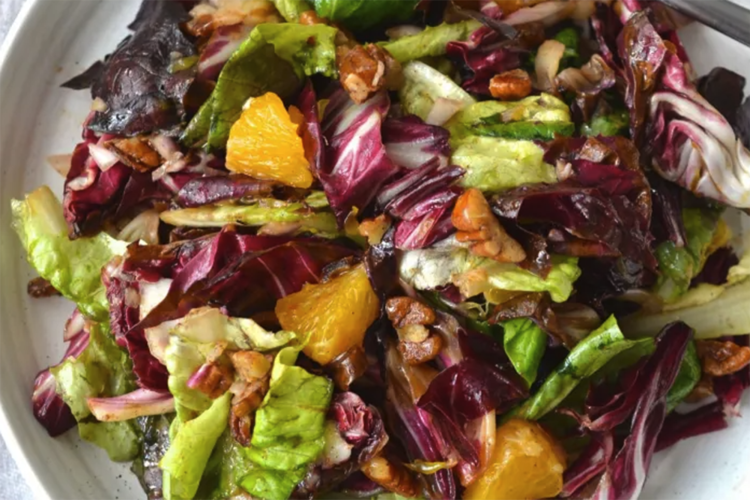 With fresh, seasonal ingredients, festive flavors and some helpful tools and tips, it is easy to create crowd-pleasing healthy appetizers for any gathering. From cozy soups and bright salads to creamy dips and elegant canapes, healthy appetizers can be diverse, innovative and refreshing.
For more creative appetizers and inspiration for healthy cooking, visit Cozymeal Recipes. Cooking for a crowd is easy when you have the right tools. For helpful kitchen appliances and accessories, check out the Cozymeal Shop.