51 Sweet Date Night Ideas for Married Couples in 2023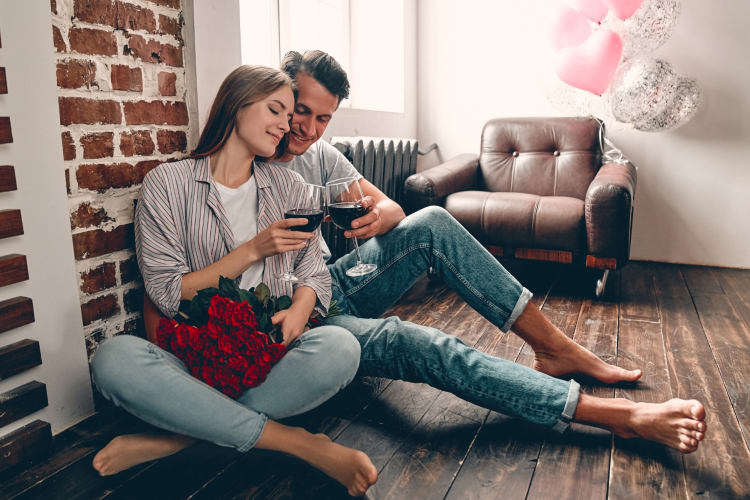 Virtual happy hour is here to stay. While face-to-face interaction has its own charms, there's something to be said for sitting in the comfort of your own home, enjoying a relaxing beverage and mingling with friends and new acquaintances who are in all corners of the city, country or even world. You still get that needed shot of human interaction and fun, but there's no need to arrange transportation, get a babysitter or drive home tired.
How do you and your partner like to spend time together? No matter what you like to do, there are date ideas that you can enjoy. Whether you want to spice up your regular dinner out or try something completely new, stay cozy at home or go exploring the outdoors, you're sure to have fun with a number of these date night ideas for married couples.
Jump to Section
Gourmet Cooking Classes Near You
Take your culinary skills to new levels with guidance from five-star chefs.
Foodie Date Night Ideas for Married Couples
1. Cooking Classes
Do you and your partner love to get creative in the kitchen? Looking for new recipes you can try together? Then check out cooking classes near you! Expert chefs will teach you how to master cuisines from around the world. You can learn how to roll pasta by hand in cooking classes in Scottsdale or learn about South American flavors with cooking classes in Orange County. The culinary possibilities are endless, and you might even find your new favorite dish. Want to cook in the comfort of your home? Online cooking classes make a tasty date night idea for married couples.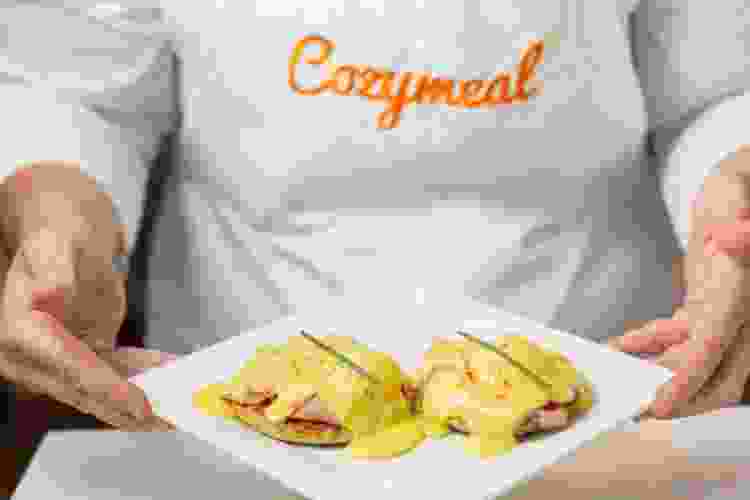 2. Private Chef Experiences
What's more romantic than a private dinner for two? You don't have to rent out an entire restaurant for this experience. Consider hiring a world-class chef to come to your home to make a flavorful meal the two of you can enjoy together. With this date idea for married couples, you can get a taste of mouthwatering cuisine from all corners of the world. There are private chefs in Minneapolis or private chefs in Napa. Wherever you are, there is sure to be a private chef near you who can turn an at-home date into a culinary experience the two of you will never forget.
3. Food Tours
Explore your local culinary scene by trying a food tour near you. Food tours are fun date nights for married couples because you'll get to see your city in a new, more flavorful way. You can get a taste of the Big Apple with food tours in NYC, or find out what's cooking in the Pacific Northwest with food tours in Portland. Expert guides will lead you through the city, pointing out interesting facts and allowing you to sample some well-known restaurants and hidden gems.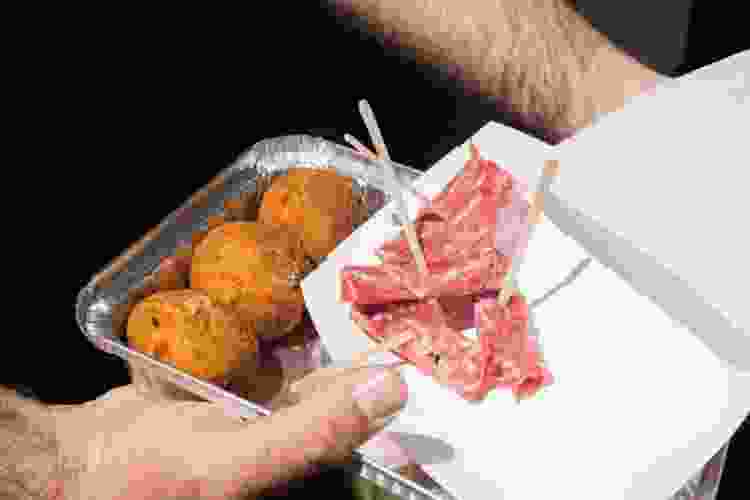 4. Have a Picnic
Pack your favorite foods and head out to a scenic spot for a picnic date idea with your sweetheart. You can enjoy the views and great conversation as you dine. Bring a blanket, pillows and maybe even some music to create a romantic and relaxing ambiance.
5. Bake a New Sweet Treat
Spend some time in the kitchen by trying a new dessert recipe. Find a twist on a classic or challenge yourself to create something luxurious and decadent. Then, once it's finished, you can feed each other the dessert. Need some inspiration before you start? Check out these recipes for white chocolate chip cookies, strawberry shortcake cupcakes or chocolate flan.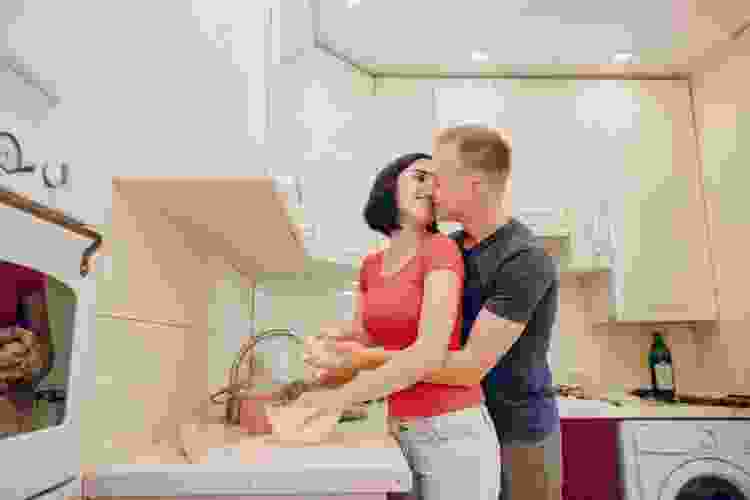 Book a World-Class Private Chef Now
Five-star fine dining from the comfort of home. Find your favorite private chef experience starting at $59/person.
6. Make Your Own Tasting Menu
For couples who want a little bit of everything, try a tasting menu. This fun date night idea for married couples will allow you to get quick bites of a lot of different foods. Try cooking foods you've never had before, and divide the recipes in half to make smaller portions. For a similar theme but one with a more specific focus, get one of the best sushi making kits and have fun choosing your fish and other fillings together!
Romantic Date Night Ideas for Married Couples
7. Pamper Yourselves at the Spa
Sometimes you need a little rest and relaxation, so head to the spa with your sweetie for this date idea for married couples. Spend the day getting as many treatments as you want, from couples massages to facials to mud baths.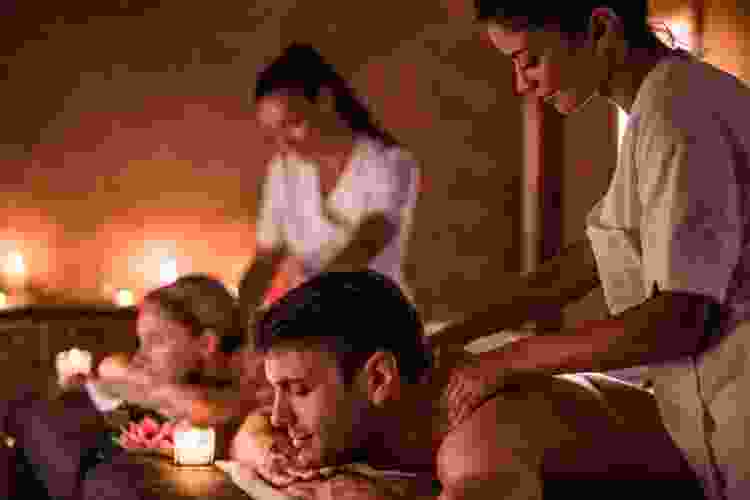 8. Take a Sunset Cruise
For a romantic evening idea for married couples, head down to your local waterfront. You can charter a boat or take a cruise that sails down the river, harbor or bay of your city. Admire the sunset as you have dinner, drinks or dance to live music.
9. Relive Your Wedding
An easy date night idea for married couples that's sure to spark romance is to spend an evening reliving your wedding. You can look at pictures, watch your wedding video, read the well wishes your guests left and share your favorite memories. This can be a fun anniversary date idea as you swap gifts for your milestone.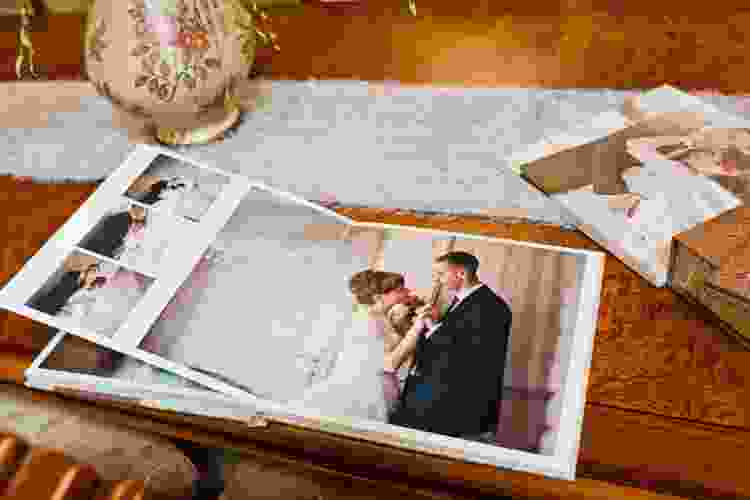 10. Go to a Fancy Restaurant
You may have your go-to restaurants for a night out, but why not go a little more upscale? For a romantic date night idea for married couples, make reservations at one of the fanciest restaurants in the city and get all dressed up for the occasion.
11. Hot Air Balloon Ride
You'll feel like your head's in the clouds with this date night idea for married couples. Book a private hot air balloon ride and soar over your town together at dusk or dawn. You may even be able to bring a small picnic to enjoy while in the air.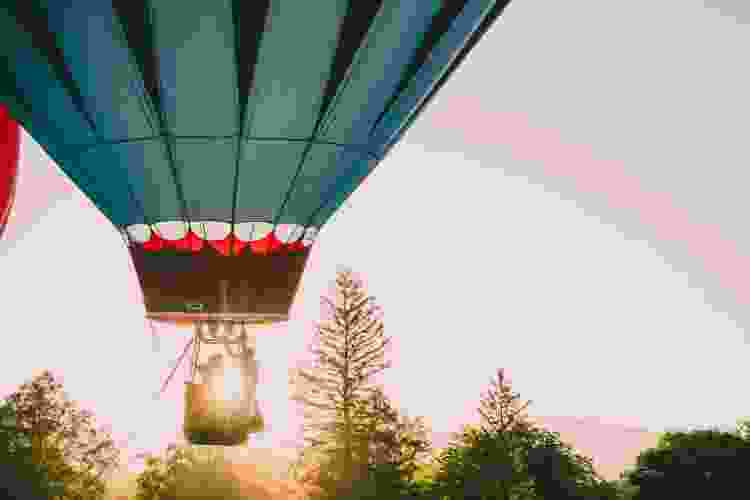 12. Try Restaurant Hopping
You can have it all with this fun date night idea for married couples who can't decide what they want to eat. Start with one restaurant for drinks, then choose different restaurants for appetizers, entrées and desserts. You can even make it a theme night, focusing your choices on specific cuisines or restaurants you've been wanting to try.
Book a Local Food Tour Now
Explore your city's best bites, esteemed eateries and hidden gems with a top-rated tour guide.
13. Answer Intimacy Questions
You're sure to feel closer to your partner with this date night idea for married couples. Find a list of questions that build intimacy, then take turns asking and answering each other. With married date night ideas like this one, you may find out things you never knew before or ways to make your relationship even better.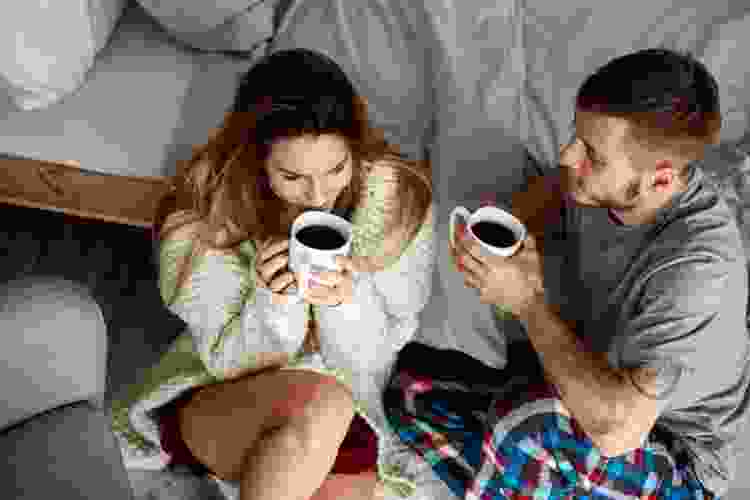 Cute Date Night Ideas for Married Couples
14. Mini Golfing
Remember the dates early in your relationship? You can recreate them for cute date ideas for married couples. Miniature golf is a classic date that will allow you to have fun and a little friendly competition. Make this date night idea for married couples more interesting by placing a fun wager on the game.
15. Ride Paddle or Row Boats
You can pretend you're in a romantic comedy movie by renting paddle or row boats for the day. Spend a little time gliding around the calm waters of the harbor, bay or river where you live. Watch the sunset together with these romantic evening ideas for married couples that enjoy the water.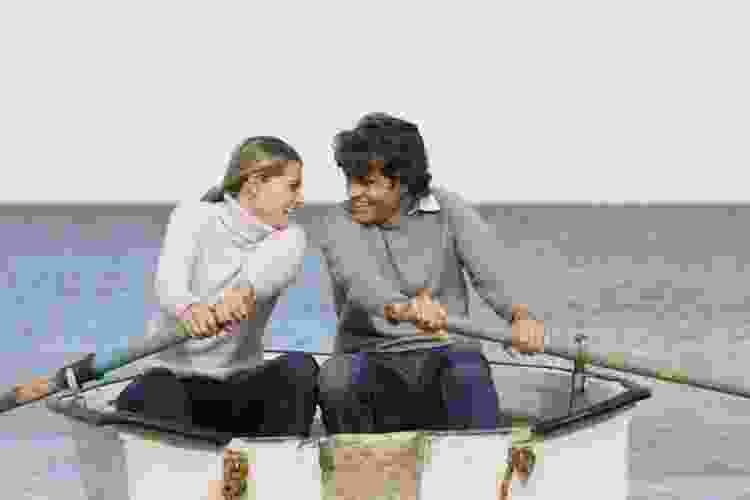 16. Have a "Favorite Things" Night
Show your partner how well you know them by having a night dedicated to all your favorite things. For this cute date night idea for married couples, you'll head to the store to buy your sweetie some of their favorite things like candy, snacks or anything that's their favorite color. Get creative with the categories, then swap gifts at home.
17. Classic Coffee or Lunch Date
A coffee date isn't only reserved for the first date. It's an easy way to spend some quality time together. Plan to grab coffee together on a Saturday morning and sit and catch up about your week. Or meet each other for lunch during the work day and take some time to see each other before you get home.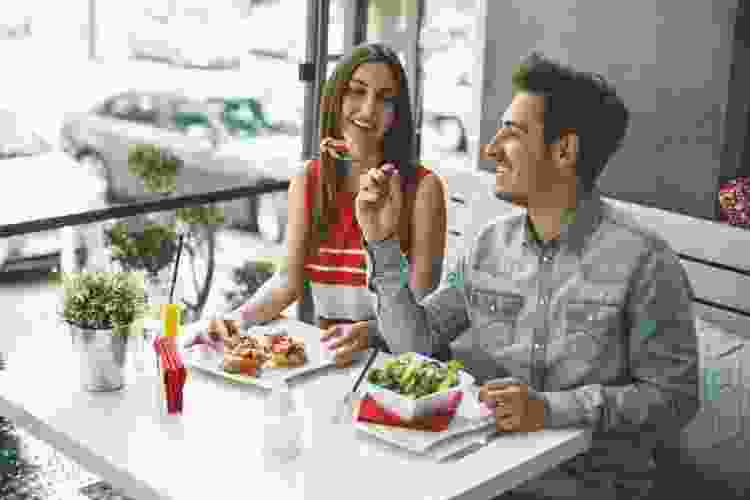 18. Stay-in-Bed Weekend
Sometimes you just have to do nothing together. Plan a day where you stay in bed for the weekend, relaxing and doing basically nothing but sleeping in late, having breakfast in bed, watching a movie and maybe even kissing a little. This relaxing date night idea for married couples is the perfect way to refresh.
Book an Online Cooking Class Now
Ready to perfect your homemade pasta, paella or pad thai? Join a world-class chef from the comfort of your kitchen.
19. Visit a Theme Park
Feel like a kid again with this date night idea for married couples that will have you heading to the local theme park and spending the day riding roller coasters and playing games for prizes. Make a cute memory by kissing at the top of the Ferris wheel.
Free Date Night Ideas for Married Couples
20. Bike Through the City
There's so much to explore around the city, and you often miss a lot when you drive by. Hop on your bike and ride through your city and the local parks. You might stumble on new places you want to try.
21. Walk Around a Flea Market
Why not make your way through your local flea market for a different kind of walk with a view? It doesn't cost anything to browse the stands and check out local artists and crafters. And if you see something you like, don't hesitate to buy.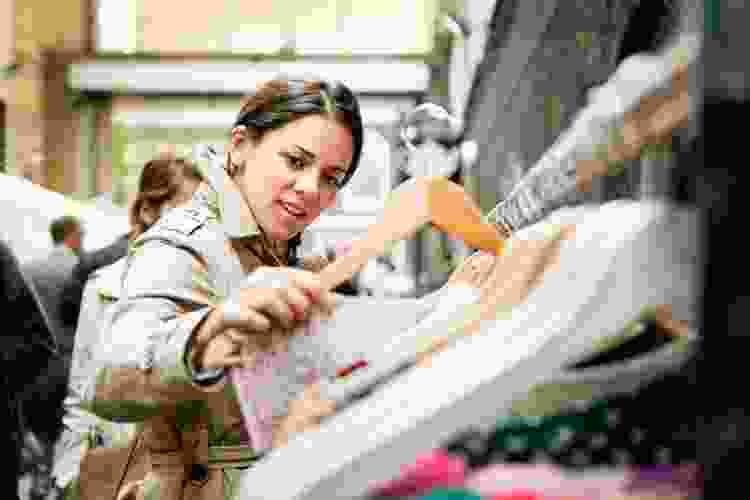 22. Morning Bird Watching
Check out the native birds in your area by getting up early to go bird-watching. You can head to your local park or botanical garden or search for good bird-watching spots in your area. Use an online guidebook to try to identify the birds you see.
23. Volunteer Together
Spend some time giving back to the community together. There are plenty of local charities to volunteer your time to, from animal shelters to soup kitchens to mutual aid groups. Dedicate a weekend or even a couple a month to volunteering together.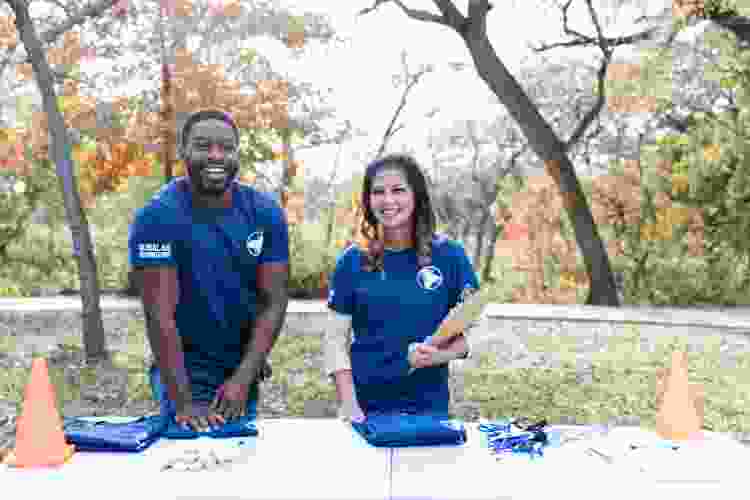 24. Go Star Gazing
Your romance is written in the stars, so why not go view them? You can search for upcoming astrological events like meteor showers or supermoons or just head out on any clear night. Drive away from the city lights and see how many constellations you can spot. If you're lucky, you can wish on a shooting star.
25. Find Free Events
There's always something fun happening and oftentimes for free. Search for free events in your city and plan a whole date night around it. You may find free outdoor movie screenings and concerts in the park for a summer date idea. Alternatively, opt for events at museums and zoos for something fun and educational.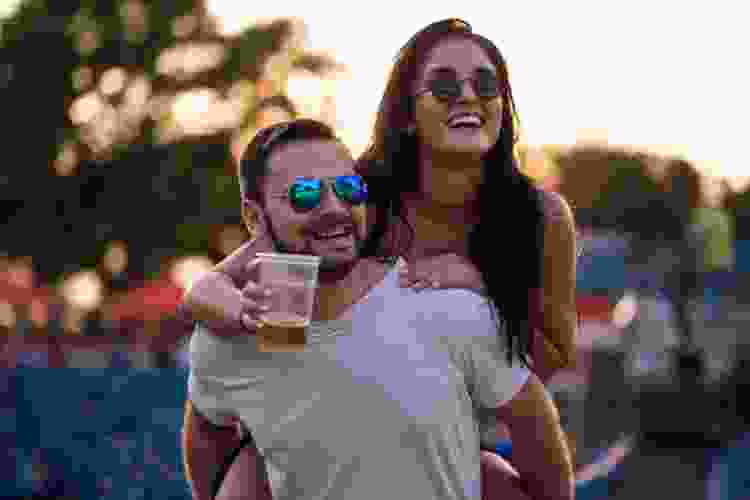 Book Your Virtual Wine Tasting
Bring the winery home with an unforgettable live virtual wine tasting. Your personal sommelier is standing by.
Creative Date Night Ideas for Married Couples
26. Try a New Art Medium
It's always fun to mix up your date nights. This creative date night idea for married couples will have you trying something new together. You don't have to be artistic to try a new art medium. Whether that's painting, jewelry making or scrapbooking, take an evening to try doing an art project neither of you has ever done before.
27. Go Dancing
Get yourselves on your feet with this grooving date night idea for married couples. Dip your partner in a ballroom dance class or try to pop and lock in a hip-hop class. For a throwback to the days before you got married, head to your local dance or nightclub and spend the entire night on the dance floor together.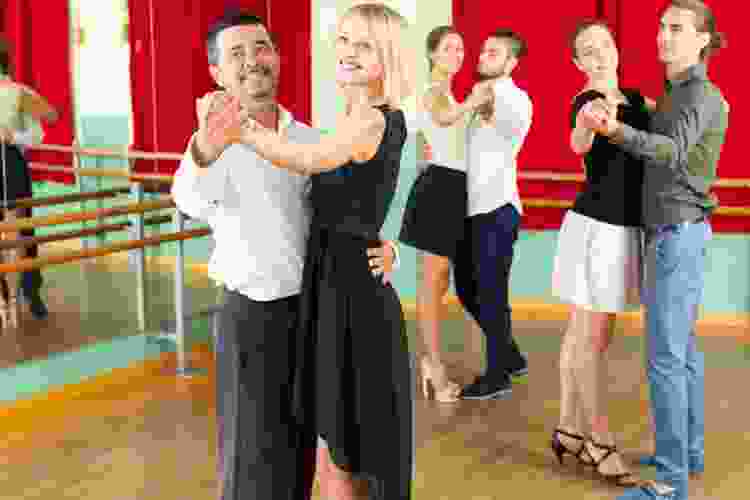 28. Take a Pottery Class
Craft your new favorite coffee mug or a vase during this date night idea for married couples. Take a pottery class in your area and learn how to throw clay on the wheel and glaze your creation.
29. Check Out an Art Gallery Opening
Support your local art scene by checking out an art gallery opening. Spend the evening looking at beautiful paintings, sculptures, fiber works and more made by local artisans. You may even find a new centerpiece for your home during this date night idea for married couples.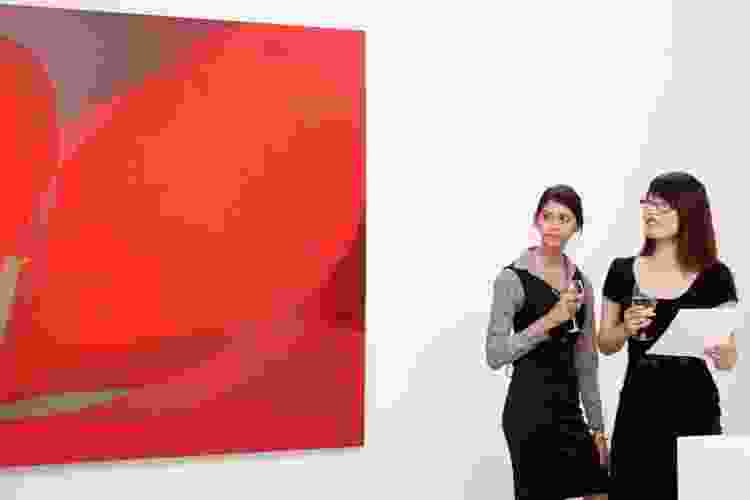 30. Take a Glass Blowing Class
Step outside your creative comfort zone and try one of the coolest — or hottest — art mediums out there. Beginner's glass blowing classes are an unforgeable date experience for married couples.
31. Visit an Arts Festival
Make plans to visit your city's local arts festival. This can be a fun thing for couples to do to be involved in their community. During this creative date night idea for married couples, you can check out local art or even stop by booths that let you try making some art for yourself.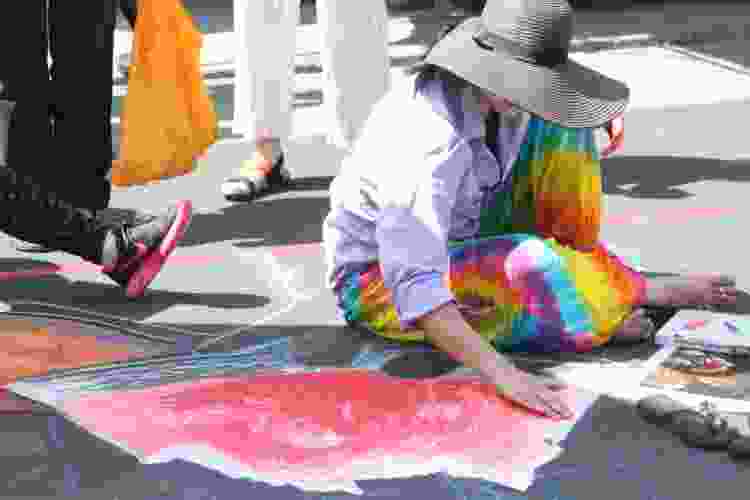 32. Explore the City and Take Photos
Take a walk but with a creative twist. Grab your phone or a digital or film camera and set out on an adventure. Walk around your city and snap photos of each other in different locations and silly poses. Then get the photos developed or printed to display in your home.
Join an Online Mixology Class
Craft cocktails. Palate-pleasing food pairings. Master mixologists. Skip the crowded bar scene and host your own virtual happy hour.
Stay-at-Home Date Night Ideas for Married Couples
33. Virtual Beverage Tastings
You don't have to go to the newest cocktail bar to try the latest drink. With this married date night idea, you can get cozy and learn to make flavorful cocktails at home with online mixology classes taught by expert mixologists. They'll teach you how to make the classics, put a twist on them and craft something new. For a more elegant take, find out sommelier secrets during virtual wine tastings, where you'll sample wines from around the world and learn how to identify the notes that give wine their depth.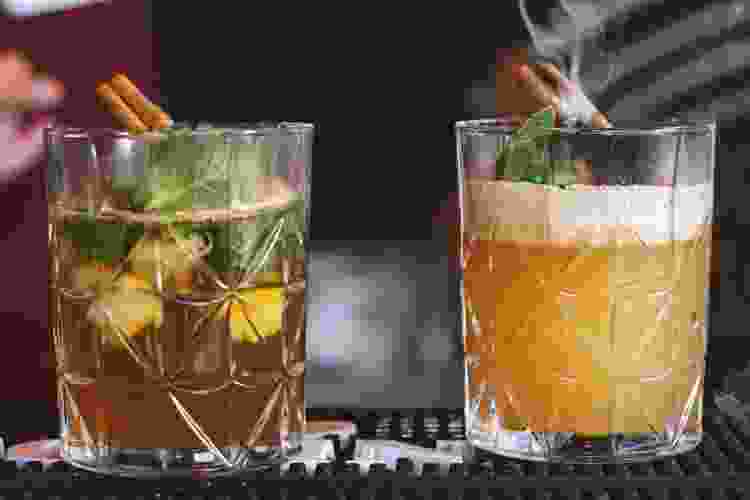 34. Cocktail Competition
Cocktail competitions are fun married date night ideas to do with some of your friends. Challenge them to bring a unique cocktail for everyone to try. Then vote to see who made the best drink. You can also have a competition between the two of you.
35. Enjoy a Meal Under the Stars
For this romantic date night idea for married couples, you won't need much except a good meal and a clear night. Make some of your favorites, then head outside to your patio, deck or backyard to eat under the twinkling night sky.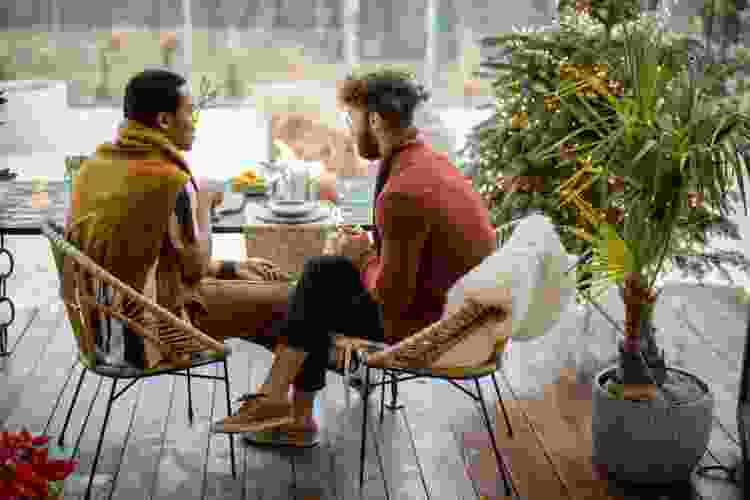 36. Camp in a Blanket Fort
Bring out your inner child with this stay-at-home date night idea for married couples. Build a blanket fort in your living room, complete with pillows and cozy lighting. Then camp out eating your favorite snacks, reading or listening to music.
37. Themed Movie Marathons
Movie nights are a classic stay-home date idea, but why not give it a twist? Have themed movie nights like childhood favorites, blockbusters or foreign films. Don't forget movie snacks like popcorn and candy.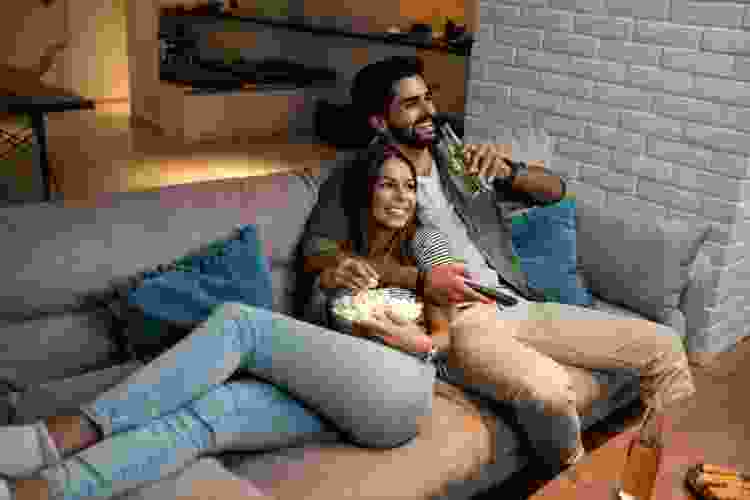 38. Paint Each Other
This is a date night idea for married couples that's sure to have you laughing. You can spend the evening painting portraits of each other and reveal them at the same time. You can even use rolls of chart paper to make full-body portraits.
Outdoor and Adventure Date Night Ideas for Married Couples
39. Go on a Hike
If you love the scenic views of the outdoors, you'll love taking a sunset hike with your sweetheart. Find a trail in your area that will give you an uninterrupted view of the sunset for this romantic and adventurous date night idea for married couples.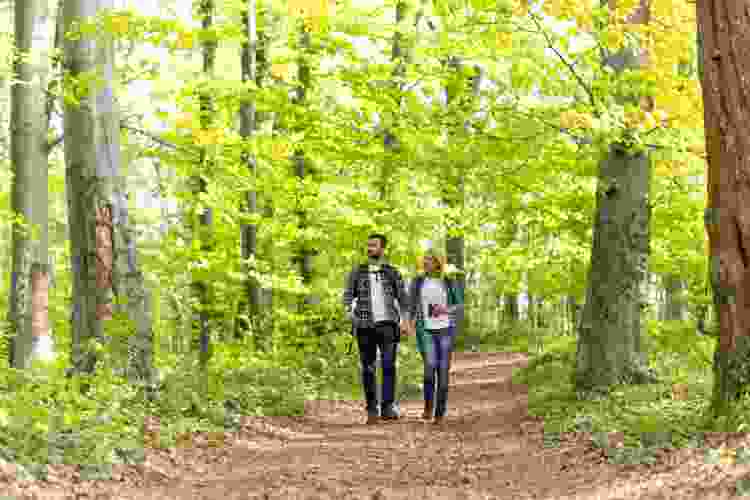 Book a Gourmet Cooking Class Now
Kick-start your culinary confidence with help from a world-class chef. See what's cooking in your city today.
40. Take a Road Trip
Get a change of scenery by taking a quick road trip. You can find new restaurants and attractions to explore with this date night idea for married couples. Spend only the evening or the whole weekend in this new city.
41. Architecture Tour of the City
Learn about the unique architecture of your city by taking a guided tour. You don't have to know a ton about architecture to enjoy learning about the history and styles of the city during this date night idea.
42. Take a Scenic Walk
A scenic walk is an easy married date night idea that will get you out in your community. Walk around a park, a local trail or your neighborhood. It's a simple way to spend time and catch up with each other.
43. Explore a Botanical Garden or Arboretum
Beautiful blooming flowers and lush foliage can be the backdrop for this date night idea for married couples. Head to a botanical garden or arboretum to see some exotic flora and green space. You can even pack a picnic to enjoy after your walk.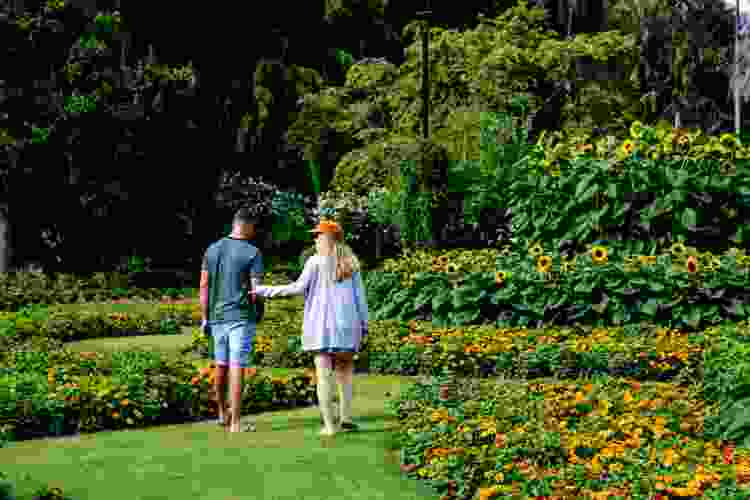 44. Go Canoeing or Stand-Up Paddleboarding
Get active with your sweetheart with this adventurous date idea for married couples. Rent a canoe or a stand-up paddleboard to sail across the local river or bay. These are fun and adventurous activities for couples to enjoy together.
Indoor Date Night Ideas for Married Couples
45. Go Bookstore Hopping
Avid readers will love this date night idea for married couples. Try checking out a few of your local bookstores for your next read. Visit a few you've never been to before as well as your favorites, and choose books for your partner to read.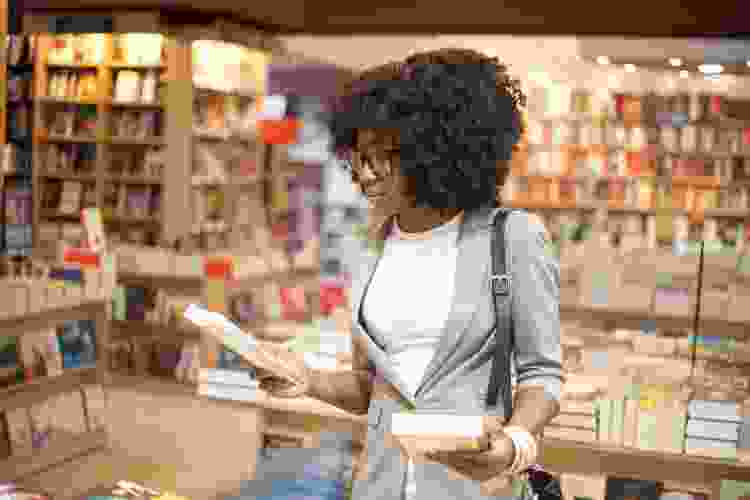 46. Wander Around a Museum
Museums provide a fun and interesting setting for date nights for married couples. Science, history and art museums all allow you to learn something new. Best of all, many cities have interesting and niche museums for you to check out.
47. Have a Game Night
Being inside doesn't have to be boring. You can have a game night where you play different board games and video games. This date night idea for married couples is great for inviting your friends along for a group date.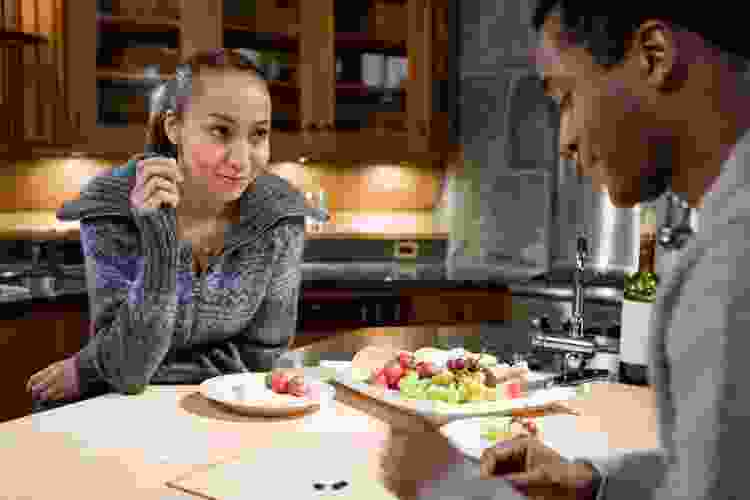 Book a World-Class Private Chef Now
Five-star fine dining from the comfort of home. Find your favorite private chef experience starting at $59/person.
48. See a Play or Musical
Spend the evening at the theatre for this date night idea for married couples. Whether you see a local troupe or a touring Broadway cast, you can have a fun night watching an incredible performance.
49. Watch Stand-Up or Improv Comedy
You might get to see an up-and-coming star with this date night idea for married couples. Buy tickets at your local comedy club to watch a stand-up or improv comedy show and spend the night laughing with your partner.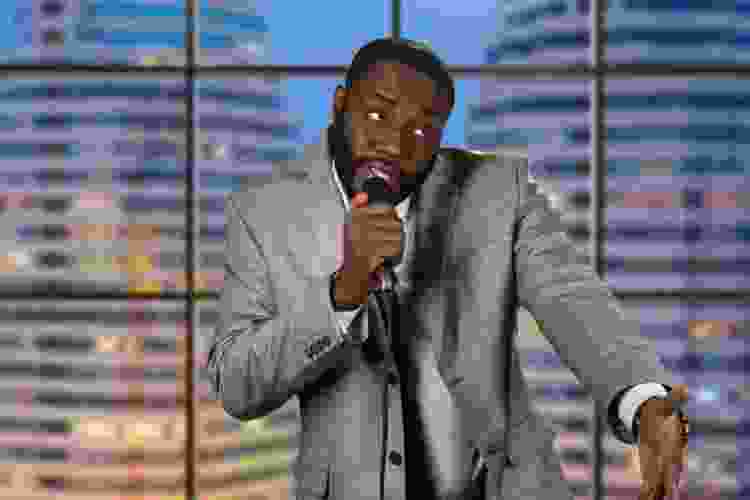 50. Go Indoor Rock Climbing
Rock climbing gyms are the scene of a fun winter date idea that will keep you active. Gyms have rock climbing walls for different skill levels, so you can jump right in, even as a beginner.
51. Karaoke Night
Sing your heart out at a karaoke bar with your partner. You can sing solos or duets of your favorite songs. Karaoke is even more fun with more people, so it's also one of the best double date ideas.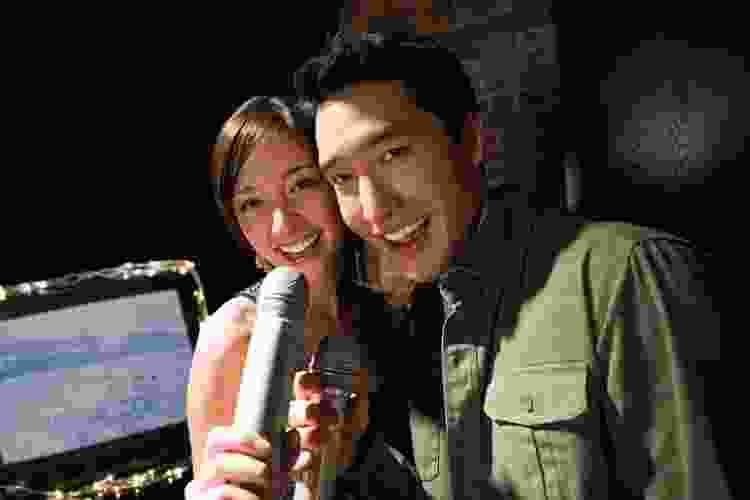 Join 200,000+ Culinary Enthusiasts
Exclusive deals, recipes, cookbooks, and our best tips for home cooks — free and straight to your inbox. PLUS: 500 Rewards Points.
These date night ideas for married couples are a fun way to spend some quality time together and mix up the typical dinner and a movie date. This list can help you find your new favorite date activity to do together. Try one or try them all, or pick a few of your favorites.
For even more fun date night ideas for married couples, check out other experiences happening on Cozymeal.