The 50 Best Warm and Cozy Restaurants in the U.S.
Published on February 11, 2021
| 0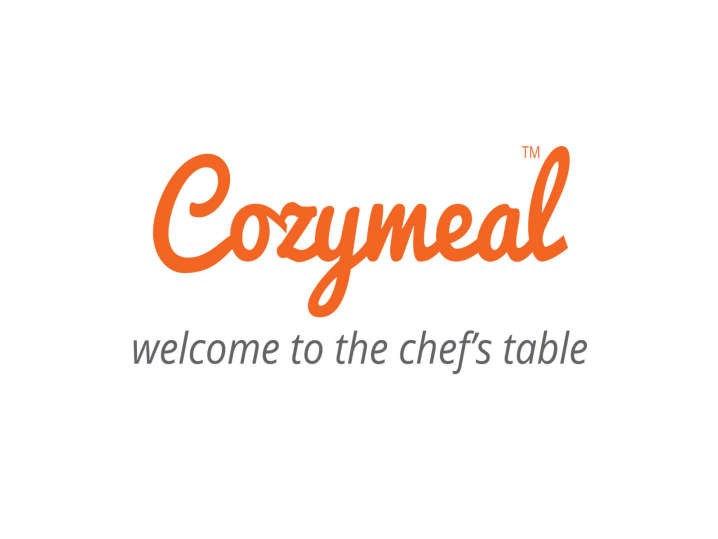 There's nothing better than finding a warm and cozy restaurant to tuck into for a romantic evening or a sweet moment with family and friends. You know the kind: Earthy interiors, subdued lighting and a menu filled with savory and hearty options.
Some warm and cozy restaurants come with a vintage vibe, complete with antique furnishings and an old-time counter that serves familiar comfort food and classic beverages. Whatever your description, you know it when you find it. And once you find it, you never want to leave.
Warm and cozy restaurants can be challenging to find without a lot of trial and error. Someone else's idea of warm and cozy restaurants may not match yours. So how do you find warm and cozy restaurants that suit you to a tee in your own corner of the world? And what are the possibilities for finding equally warm and cozy restaurants around the country that might be perfect for a destination date?
To help you get a sense of what's out there waiting to be discovered, here's a list of the best warm and cozy restaurants in each state. You just might find a few reasons to plan your next adventure.
Jump to Section
Special offer
Get on the List for 500 Rewards Points, Exclusive Deals, and Free Cookbooks
The 50 Best Warm and Cozy Restaurants in the U.S.
1. Alabama: Acre
Warm and cozy restaurants that operate in an airy farmhouse rich with stone and wood accents are truly special places. This one offers thoughtful versions of Southern favorites in a glowing historic locale.
Specialties include gourmet charcuterie and cheese boards, farm-raised meats, fresh seafood and seasonal fruits, vegetables and herbs grown in onsite orchards and gardens. The spacious yet cozy dining room offers a romantic fireplace for cool evenings and an expansive porch for warm weather dining outdoors. As warm and cozy restaurants go, this one is a winner.
Acre | 210 E Glenn Ave., Auburn, AL 36830 | $$$$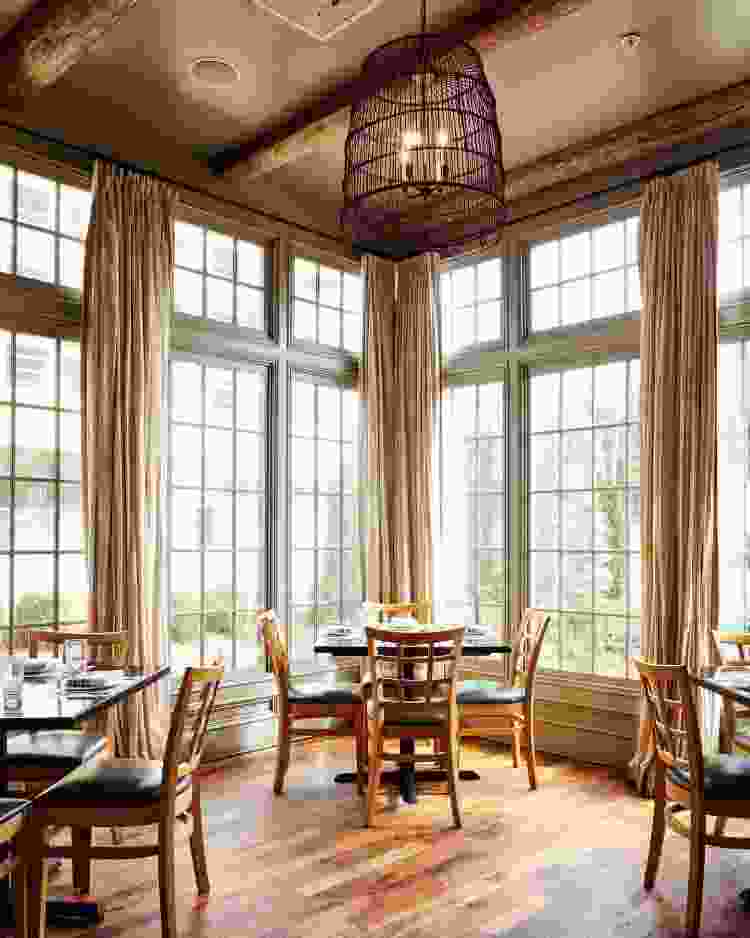 2. Alaska: Snow City Café
This northern locale provides a sweet nook that fills the notion of warm and cozy restaurants with great cheer. Serving up satisfying dishes like gourmet grilled cheese with made-from-scratch tomato soup and salmon BLTs, the menu is cozy, too.
The space may be light-filled, but the cuddle-up quotient for a romantic breakfast or a lunch spent canoodling with your loved one is off the charts.
Snow City Café | 1034 W. 4th Ave., Anchorage, AK 99501 | $$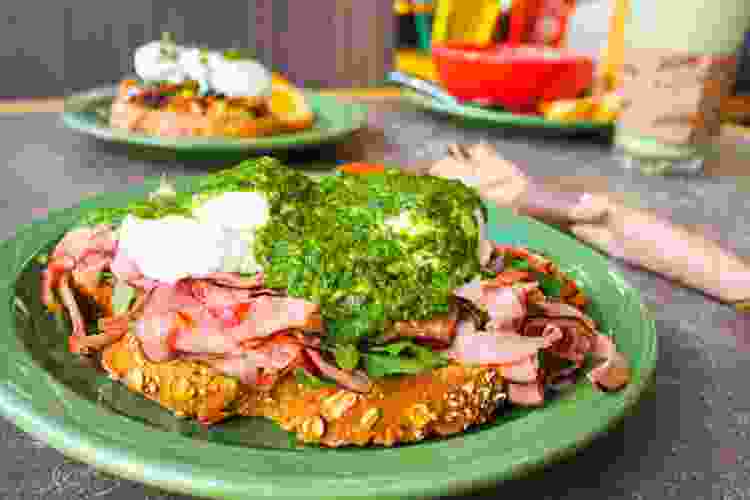 3. Arizona: Match Market & Bar
You can't beat warm and cozy restaurants that include a market for taking home some fresh, local creations after you've enjoyed a delicious lunch or hearty dinner.
There's a full brunch menu for midday snuggle-ups and a full-service bar for late evening hangouts. With options like poached curry chicken salad sandwiches, skillet seared Chula Cajun salmon and gourmet pizzas, you're sure to find something for every taste.
Match Market & Bar | 1100 N Central Ave., Phoenix, AZ 85003 | $$$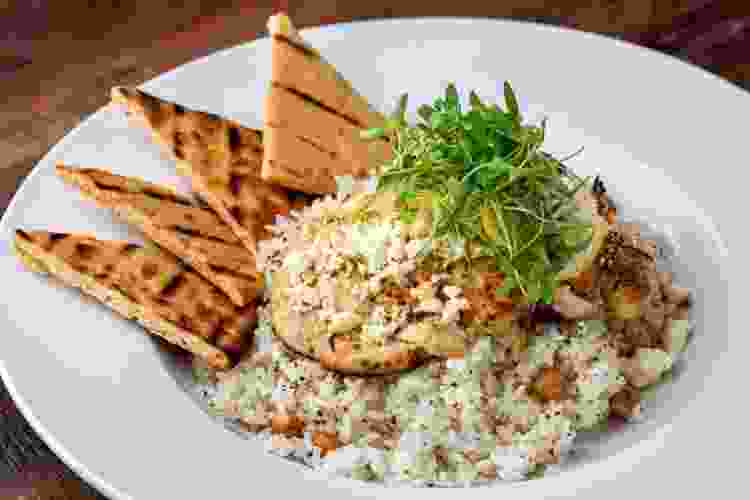 4. Arkansas: The Pantry Restaurant West
Unique among warm and cozy restaurants, you'll find Czech and German classics offered as part of the expansive menu, which includes flatbread pizzas, house-made sausages and charcuterie boards that make the most of savory European flavors.
Their rustic-chic decor and inviting bar with warming winter cocktails make this a comfortable eatery not to be missed.
The Pantry Restaurant West | 11401 N. Rodney Parham Rd., Little Rock, AR 72212 | $$$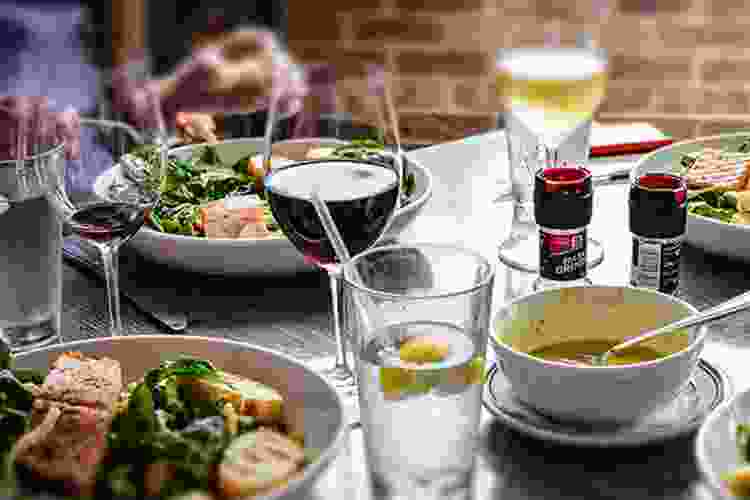 5. California: A.O.C.
This stunning space is a gem among warm and cozy restaurants, with its striking brick fireplace and candle-lit indoor garden atmosphere.
You'll find an extensive menu from appetizers to desserts, including savory brunch offerings such as roast turkey focaccia sandwiches and Moroccan chicken salad. There are also private dining options, perfect for warm and cozy moments that extended to your whole crew.
A.O.C. | 8700 West 3rd St., Los Angeles, CA 90048 | $$$$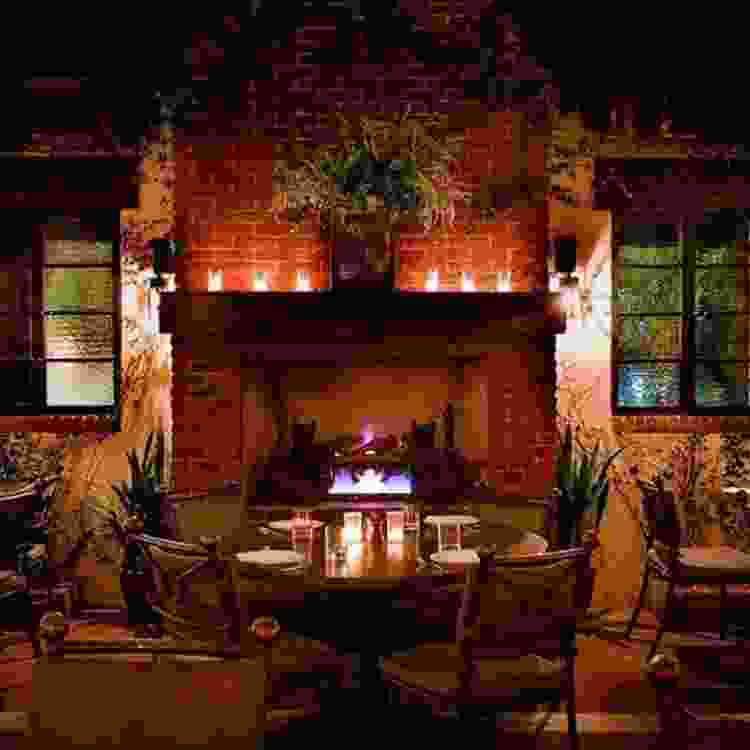 6. Colorado: Red Gravy
A warm and cozy restaurant with a funky vibe that offers fresh and modern St. Louis-style Italian fare is a must. You'll find warm wood interiors and a stellar bar that adds to the corner joint feel, with small tables perfect for a tete-a-tete dinner date or celebrating special occasions with special people.
The top-notch menu selections include toasted ravioli, wild mushroom polenta and a long list of delicious pasta dishes to choose from.
Red Gravy | 23 S Tejon St., Colorado Springs, CO 80903 | $$$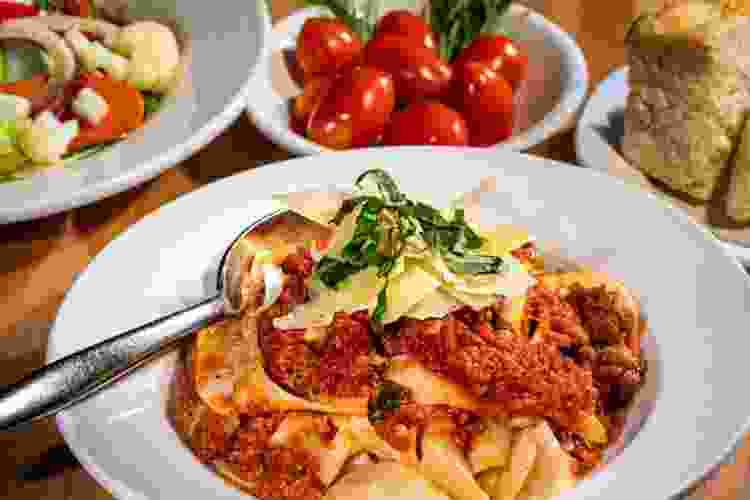 7. Connecticut: Artisan Southport
There are warm and cozy restaurants that feel more like an estate with secret corners and hidden niches to tuck away in as you enjoy your meal, and this is a beautiful example.
Menu selections include fresh seafood, chicken and steak entrées and an enticing dessert menu that includes a fluffy caramel cheesecake. Enjoy artisan cocktails at the tavern for perfectly romantic moments you won't find anywhere else.
Artisan Southport | 275 Old Post Rd., Southport, CT 06890 | $$$$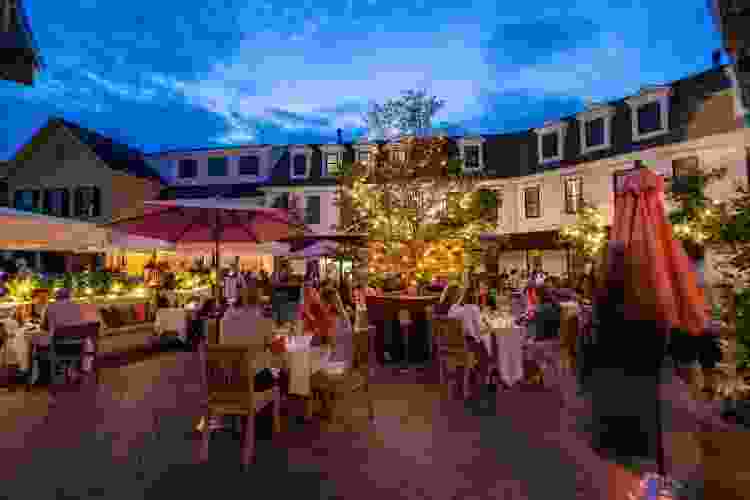 8. Delaware: Jessop's Tavern
The romance of another time comes to life in this historic colonial tavern that doubles as a warm and cozy restaurant. Subdued lighting, authentic brick-and-mortar construction and period garb worn by the staff recreate the spirit of the ages.
The menu is brimming with satisfying Colonial fare, including roasted meats, hefty sandwiches and decadent desserts. Enjoy a broad selection of international beers to make your cozy restaurant experience complete.
Jessop's Tavern | 114 Delaware St., New Castle, DE 19720 | $$$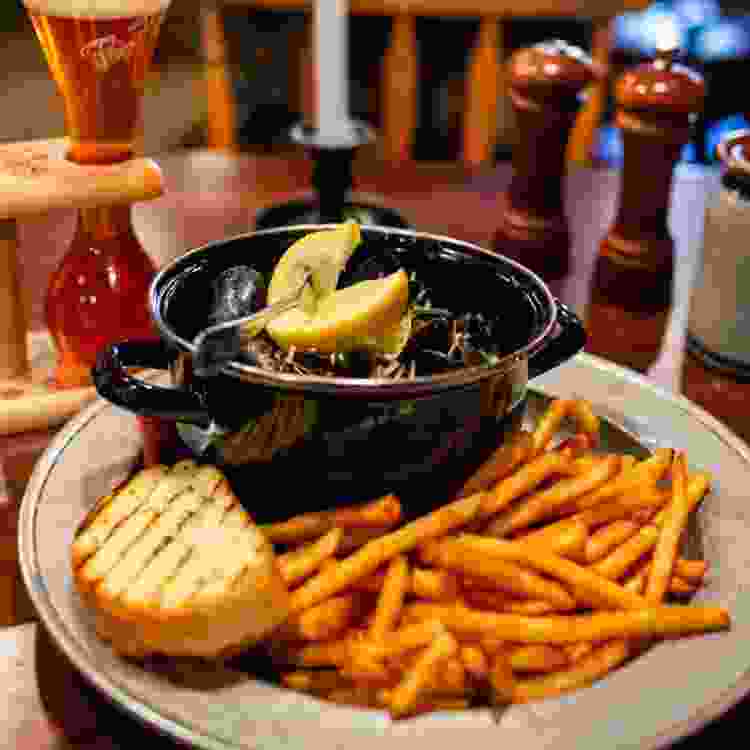 9. Florida: Pinch Kitchen
The hip Upper East Side of Miami presents an eclectic warm and cozy restaurant opportunity with a distinctly Floridian feel in this award-winning eatery with a cheery sensibility.
Their diverse menu offers appetizers through desserts and includes fresh charcuterie, Italian dishes and Cuban sandwiches for a truly unique dining experience.
Pinch Kitchen | Miami Upper Eastside 8601 Biscayne Blvd., Miami, FL 33138 | $$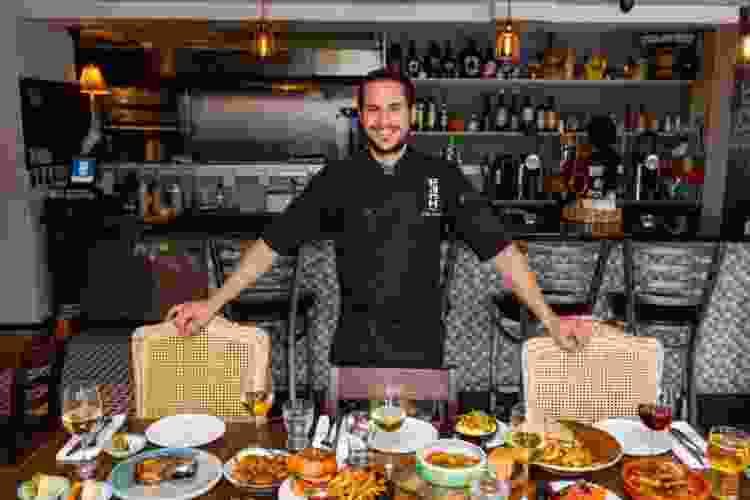 10. Georgia: Buttermilk Kitchen
Savor the downhome breakfast, brunch and lunch dining spirit of this warm and cozy restaurant that offers farm-to-table freshness in a comfy Southern setting.
The menu is thoughtful and carefully prepared, with gluten-free and vegan options and a drink selection that includes candy bar-flavored coffees for an added touch of sweetness. With their pantry-style lobby that offers make-at-home versions of some of their popular dishes, you can take a bit of the cozy rural romance home with you.
Buttermilk Kitchen | 4225 Roswell Rd., NE, Atlanta, GA 30342 | $$$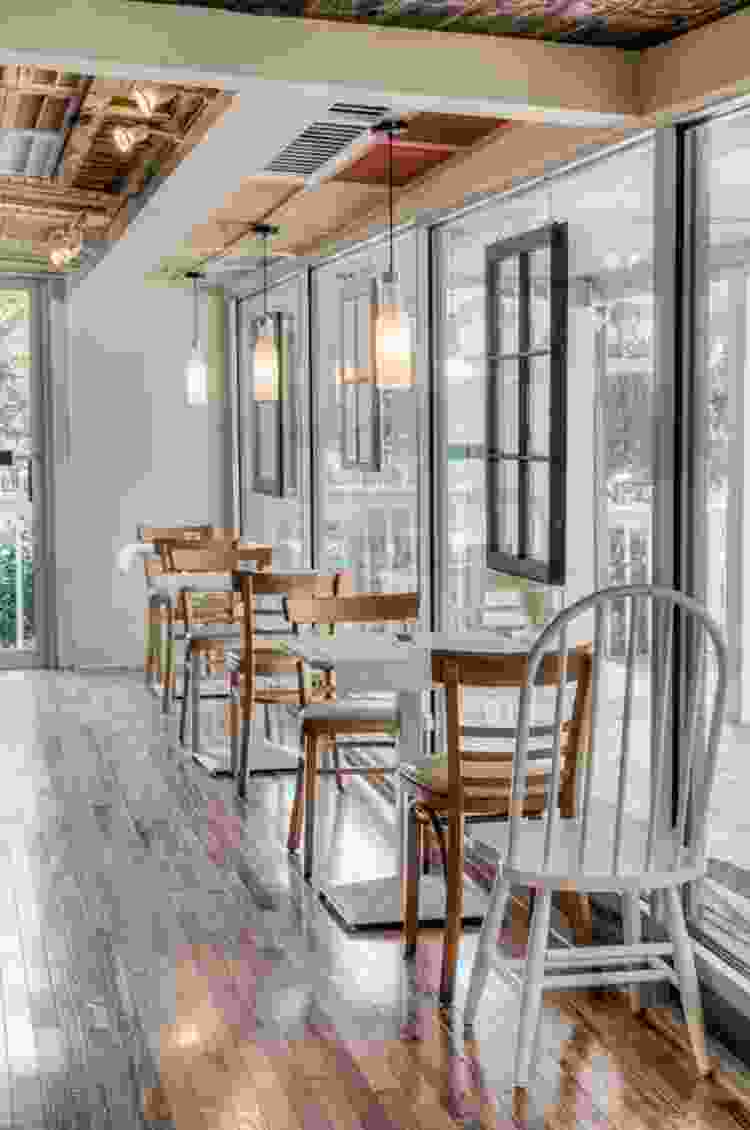 11. Hawaii: Cane & Canoe
Nestled into Kapalua Bay, this opulent yet earthy dining room within Montage Resort pushes the envelope of how elegant warm and cozy restaurants can be.
Pristine views of the ocean glimmering like a jewel bring the romance to an all-time high, and the menu featuring "grab and paddle" breakfasts, refined local dishes and lush bar selections is sure to please.
Cane & Canoe | 1 Bay Drive, Lahaina, HI 96761 | $$$$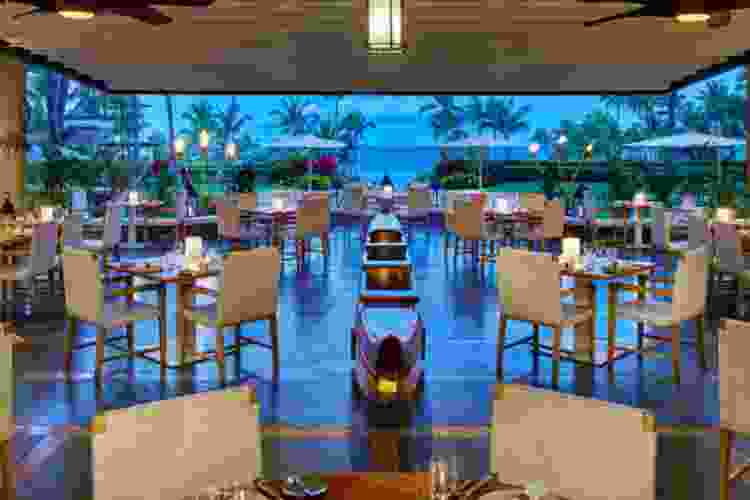 12. Idaho: Mai Thai Restaurant
Soothing, elevated Thai cuisine offered in an inviting atmosphere makes this one of the most warm and cozy restaurants in the middle states.
With East Asian statuary, Chihuly-style hanging art and soft corners to tuck into, you can enjoy everything from sushi trays to vegan options and imbibe on beer and sake from the bar menu.
Mai Thai Restaurant | 750 W. Idaho St., Boise, ID 83702 | $$$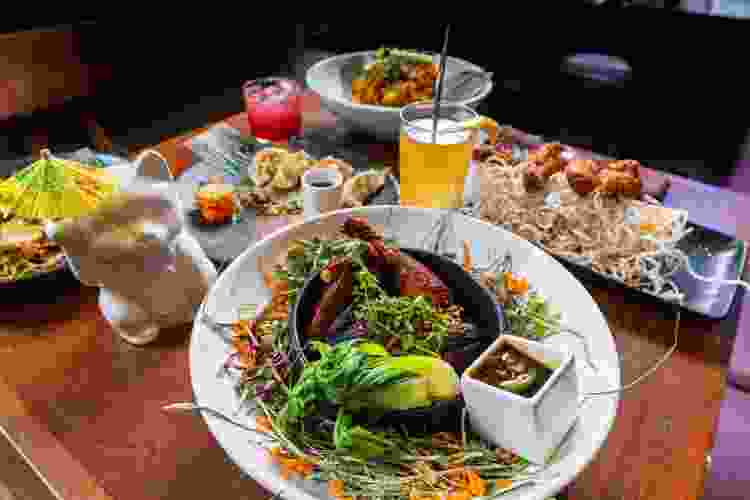 13. Illinois: Geja's Café
Billed as one of Chicago's most romantic restaurants, this charming nook has a long history of providing amorous moments for Chicagoans and visitors alike.
You'll swoon for the Flamenco music and candlelit tables as you enjoy a multi-course fondue experience that includes a cheese course and a meat course that features lobster tail and fresh scallops. A true valentine to the idea of what warm and cozy restaurants can be!
Geja's Café | 340 W Armitage Ave., Chicago, IL 60614 | $$$$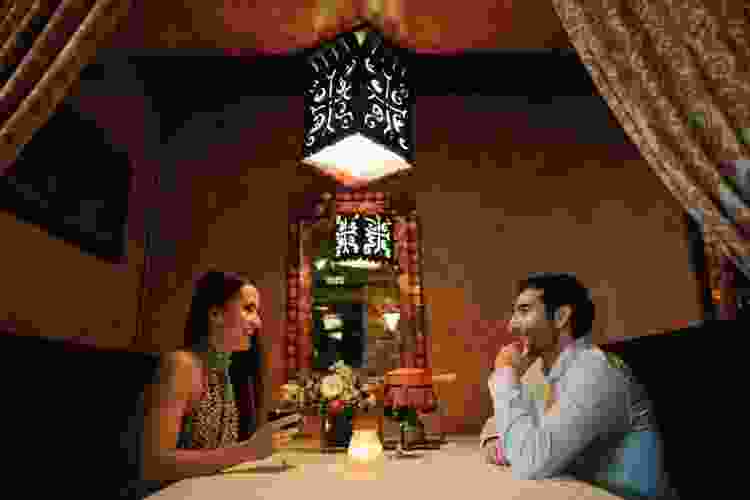 14. Indiana: Late Harvest Kitchen
Indulge all your senses with the wood-and-stone décor of this luxe dining room. With a wide-ranging menu offering distinctive dishes such as monkfish and wild boar as well as a kid's menu filled with classics and a deep wine list, you can easily entertain special dates and family occasions alike.
When warm and cozy restaurants are this warm and cozy, you'll want to return again and again.
Late Harvest Kitchen | 8605 River Crossing Blvd., Indianapolis, IN 46240 | $$$$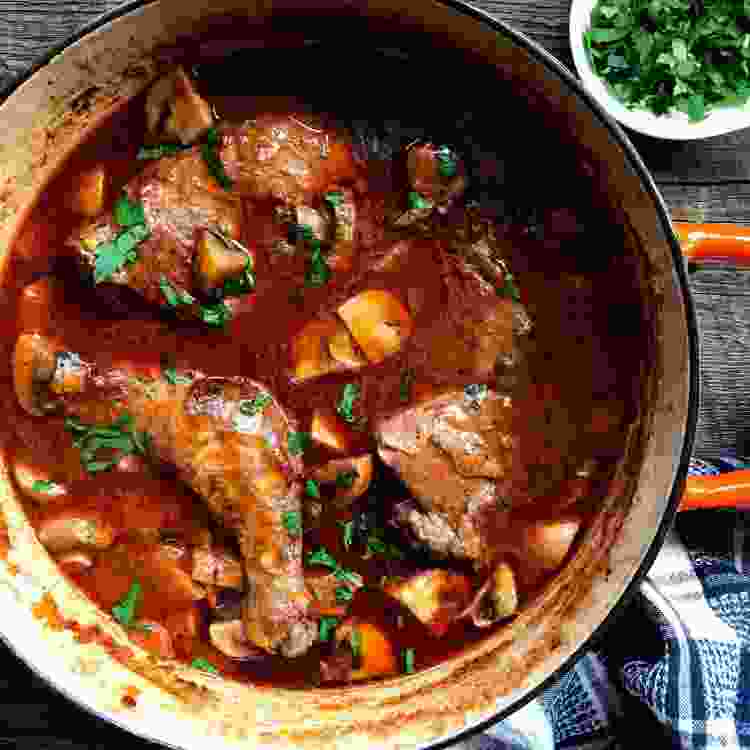 15. Iowa: BlackStone
Their logo includes fire, so you know this is a warm and cozy restaurant to beat! Gather around the open flame grill for a menu filled with hearty comfort food favorites like burgers, sandwiches, steak and fish dishes, and an exciting collection of ales and craft cocktails.
You can also take the romance out to the patio and hole up under a red umbrella for lunch or dinner al fresco.
BlackStone | 503 Westbury Drive, Iowa City, IA 52245 | $$$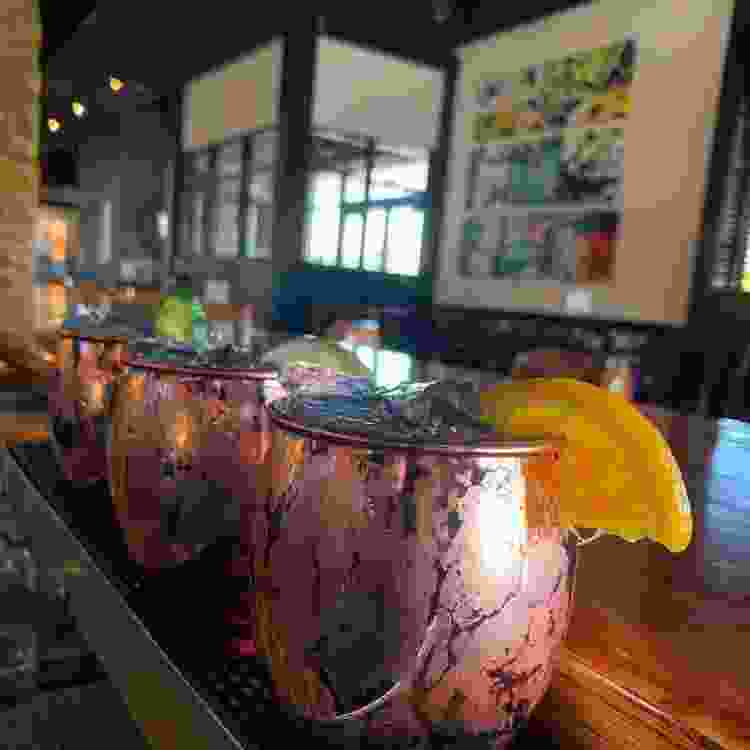 16. Kansas: Georges French Bistro
A French bistro that feels like a turn-of-the-century salon is a perfect choice for every warm and cozy restaurant collection. You'll travel back in time at the classic bar with its brass-and-mirror accents as you toast to the high times.
And when it's time to order, get swept up in the romance of an authentic French menu featuring seafood, beef and chicken creations, and a full menu dedicated to crêpes!
Georges French Bistro | 4618 E Central, Wichita, KS 67208 | $$$$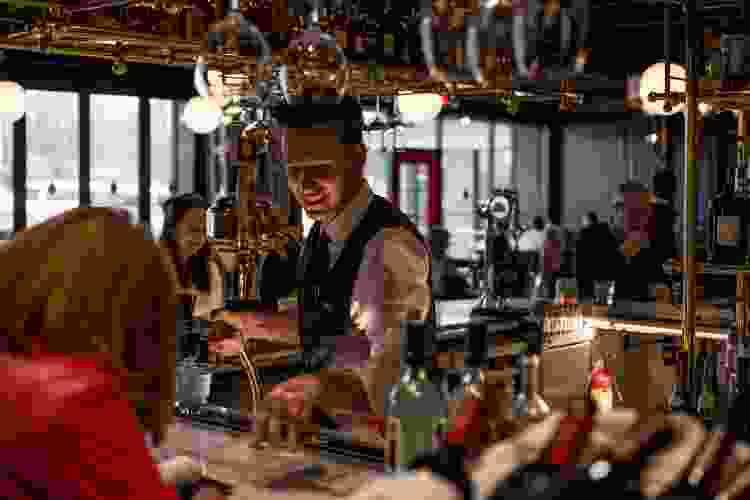 17. Kentucky: Proof on Main
The rotating art collection that adorns the walls makes this one of the more unique warm and cozy restaurants around. Admire the gallery and the contemporary design as you sink into the comfortable corners.
Delight in modern-classic dishes such as the adventurous charred octopus and the more familiar braised beef short ribs. And be sure to add dessert to make the experience complete.
Proof on Main | 702 West Main St., Louisville, KY 40202 | $$$$
18. Louisiana: Coquette
Coy and cleverly named eateries can make the most wonderful warm and cozy restaurants, especially when they're located in vibrant New Orleans!
Inventive cocktails, a prix-fixe menu and an atmosphere that calls to mind the best of old-world America with European flair, this eatery brings you all the best of what warm and cozy restaurants can offer. Prepare to linger awhile.
Coquette | 2800 Magazine St., New Orleans, LA 70115 | $$$$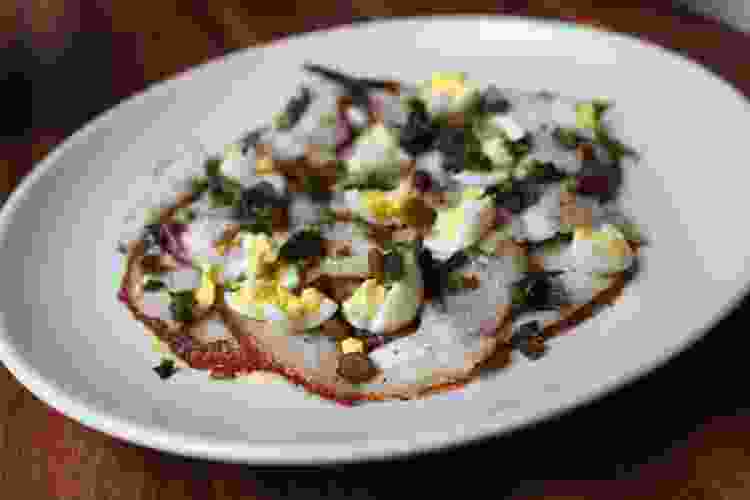 19. Maine: David's Restaurant
You'll know you've found this warm and cozy restaurant when you see the vivid purple awning out front.
David's offers a soothing neighborhood eatery vibe with fun, funky interiors and an accessible menu that includes pizzas, sandwiches, salads and several vegan and gluten-free options. Perfect for a sweet workday dinner date when the urge for cozy comfort strikes.
David's Restaurant | 22 Monument Square, Portland, ME 04101 | $$$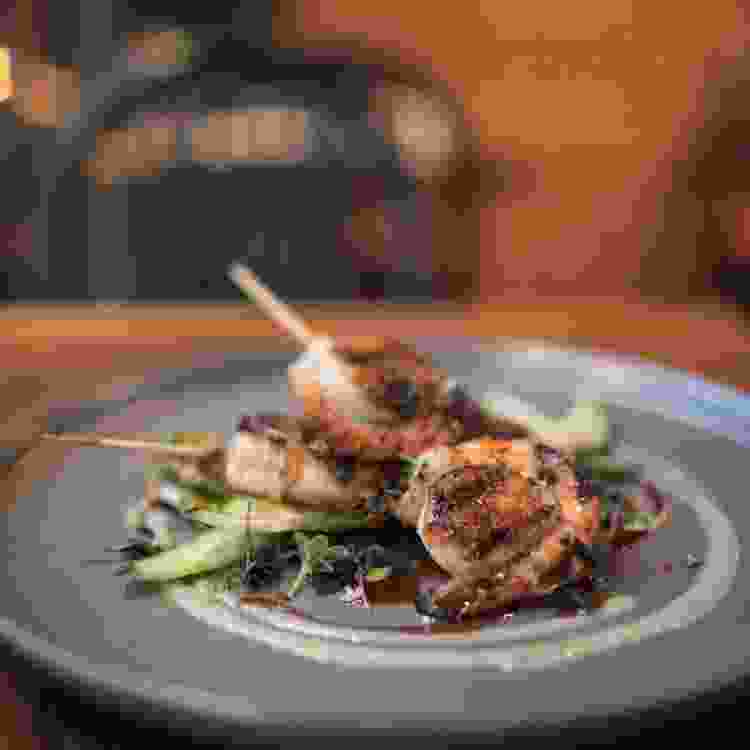 20. Maryland: Bistro Provence
With selections created daily using offerings from local farms, this bistro features a menu brimming with gourmet French seafood, beef, chicken and vegetable dishes.
The dark wood finish and warm ochre walls envelop you as you linger in the romance of old-world style in a contemporary setting. Warm and cozy restaurants have rarely been so inviting.
Bistro Provence | 4933 Fairmont Ave., Bethesda, MD, 20814 | $$$$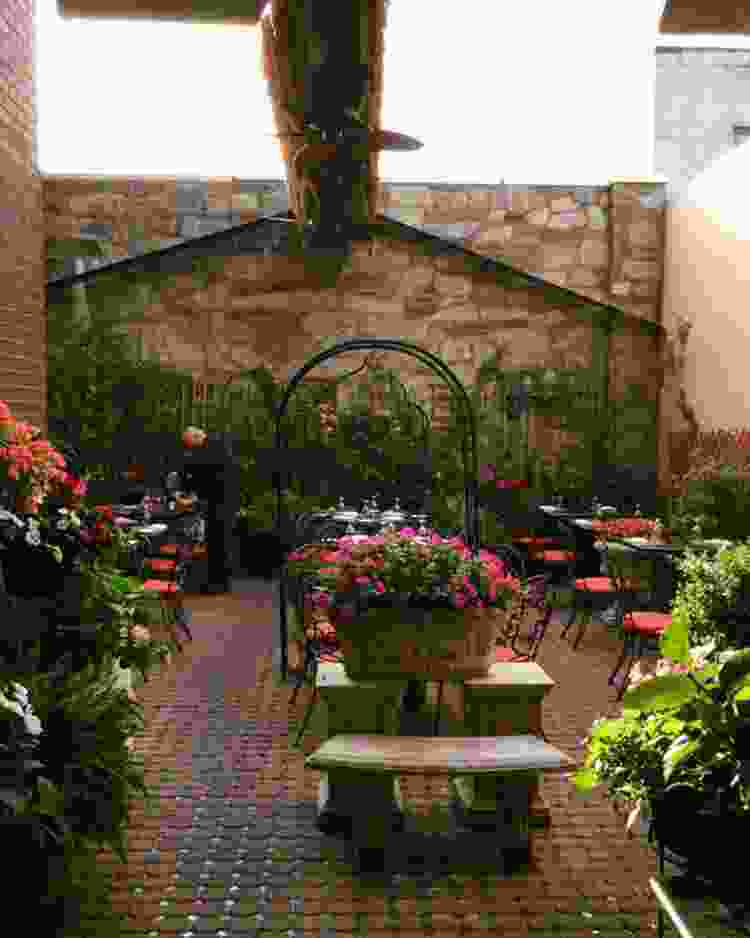 21. Massachusetts: 75 Chestnut
Located behind a lovely brick façade in Boston, this perfect example of warm and cozy restaurants abounds with nooks and corners to crawl into and spend some quality time with good company and great food.
Wide-ranging brunch and dinner menus bring you hearty offerings that make the most of local seafood, as well as chicken, beef, salad and vegetable dishes. And the dessert menu features crème brûlée, molten chocolate cake and pineapple bread pudding. Impossible to resist!
75 Chestnut | 75 Chestnut St., Beacon Hill Boston, MA 02108 | $$$$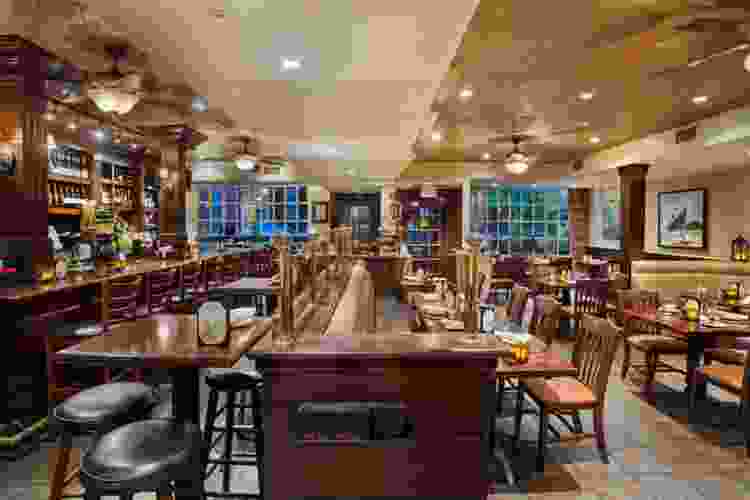 22. Michigan: Traffic Jam and Snug
This gem is known throughout Midtown Detroit for its dairy, bakery and microbrewery, all operated in-house for making from-scratch menu items. The tuck-away booths, brick floor and inviting fireplace all call to mind warm and cozy restaurants of yore, creating a pub-house feel with a contemporary sensibility when it comes to food.
And an eatery that makes its own craft cheeses is a must-visit for any food lovers in the area.
Traffic Jam and Snug | 511 West Canfield St., Detroit, MI 48201 | $$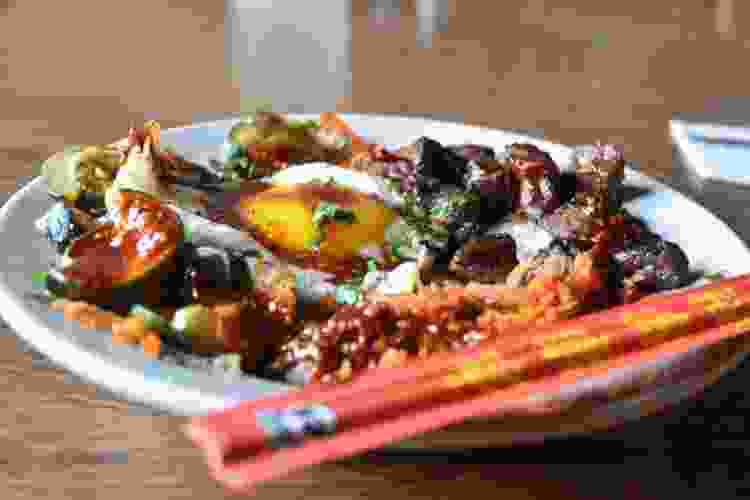 23. Minnesota: Domacin Restaurant
Warm and cozy restaurants that disguise themselves as wine bars make for a perfect opportunity to explore the soothing comfort of food and drink in one go.
Choose from soul-warming menu selections such as mushroom risotto, fresh gnocchi and bourbon maple-glazed duck breast waiting to be paired with a massive wine list. Surround yourself with warm interiors or explore romance on the heated patio. And be sure to stop by the wine shop to grab a souvenir bottle or two as you exit.
Domacin Restaurant | 102 South 2nd St., Stillwater, MN 55082 | $$$$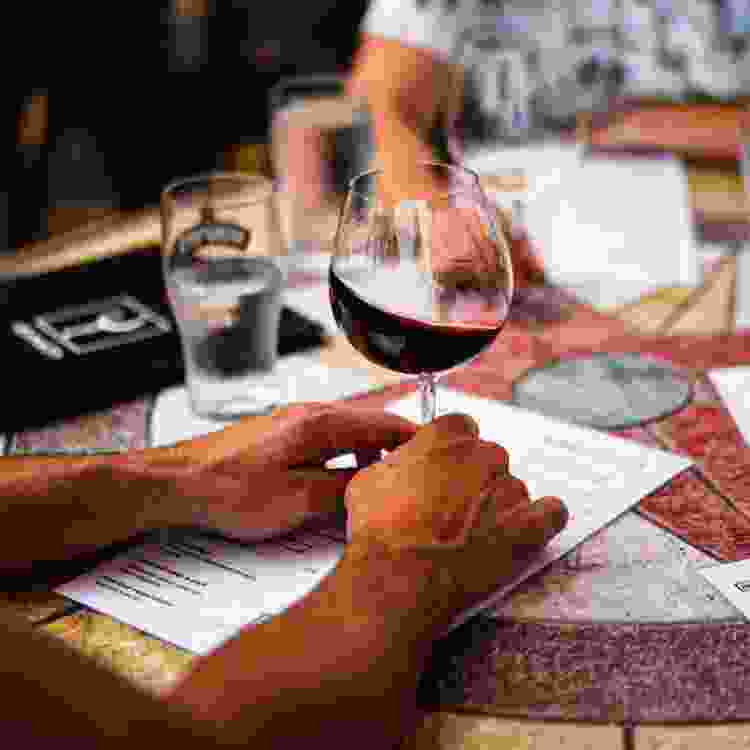 24. Mississippi: The Manship Wood Fired Kitchen
If you're drawn to the nourishing qualities of fire, you're sure to experience warm and cozy restaurants like this one as they're meant to be.
A romance between seasonal Mediterranean-style cooking and craft cocktails makes this a must-visit. The menu is deep and covers brunch and dinner specialties as well as day-long offerings. Enjoy a lounge-like atmosphere for private bourbon tastings as an added bonus.
The Manship Wood Fired Kitchen | 1200 N State St. #100, Jackson, MS 39202 | $$$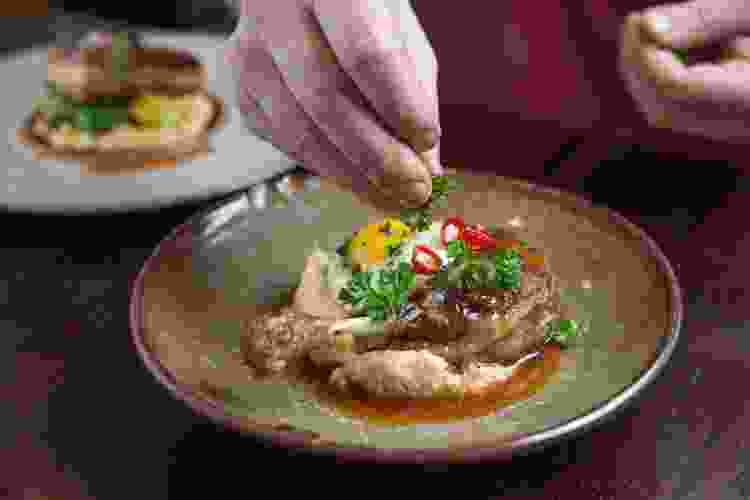 25. Missouri: Eleven Eleven Mississippi
Rustic Tuscan meets the New World in Eleven Eleven, a contemporary St. Louis eatery that captures the best of what warm and cozy restaurants have to offer.
From salads and flatbreads to generously sized entrées and gorgeous desserts, you'll experience the soothing comfort of a warm environment while dining and drinking some of the finest food in Missouri. Cheers to that!
Eleven Eleven Mississippi | 1111 Mississippi, St. Louis, MO 63104 | $$$$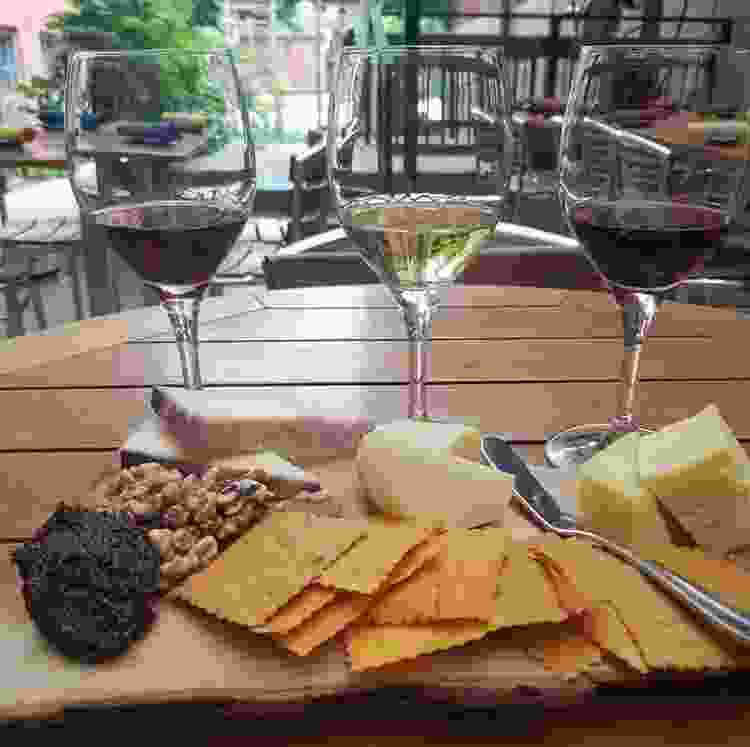 26. Montana: Ciao Mambo
With extensive wine offerings, a stunning collection of art for sale and self-described "mountain Italian" cuisine, this stand-out among warm and cozy restaurants presents a stellar menu of pasta, salad and specialty dishes, as well as selections for the little ones.
Brick and paneling interiors and gallery lighting provide a perfect backdrop to enjoy savory immigrant-style Italian selections, proving that warm and cozy restaurants are great for romantic evenings and family moments, too!
Ciao Mambo | 2301 Montana Ave., Billings, MT 59101 | $$$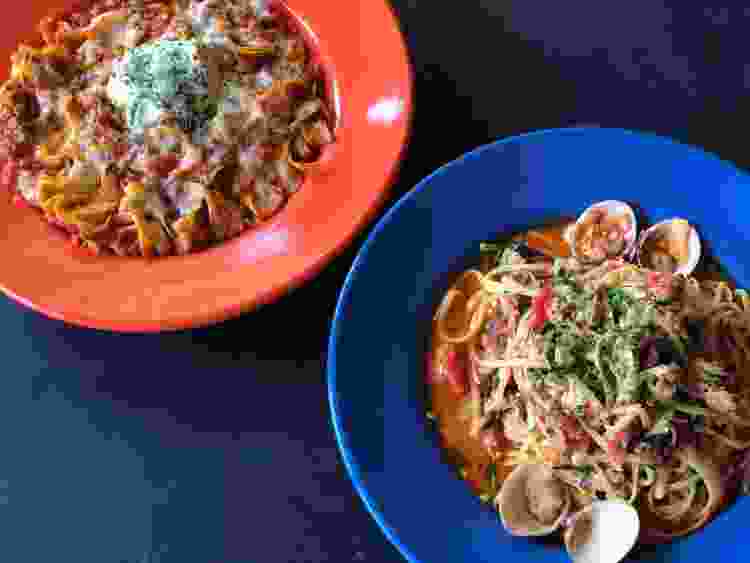 27. Nebraska: Dario's Brasserie
The quaint feel of a neighborhood market paired with European menu offerings makes Dario's a great nook for romantic lunches for two and weekend dinner getaways.
Discover regional dishes such as spaetzle topped with shrimp and vegetables or duck stroganoff while you enjoy a selection of classic cocktails, wine and draft beers. Warm and cozy restaurants like this can add a whole new dimension to your dining life.
Dario's Brasserie | 4920 Underwood Ave., Omaha, NE 68132 | $$$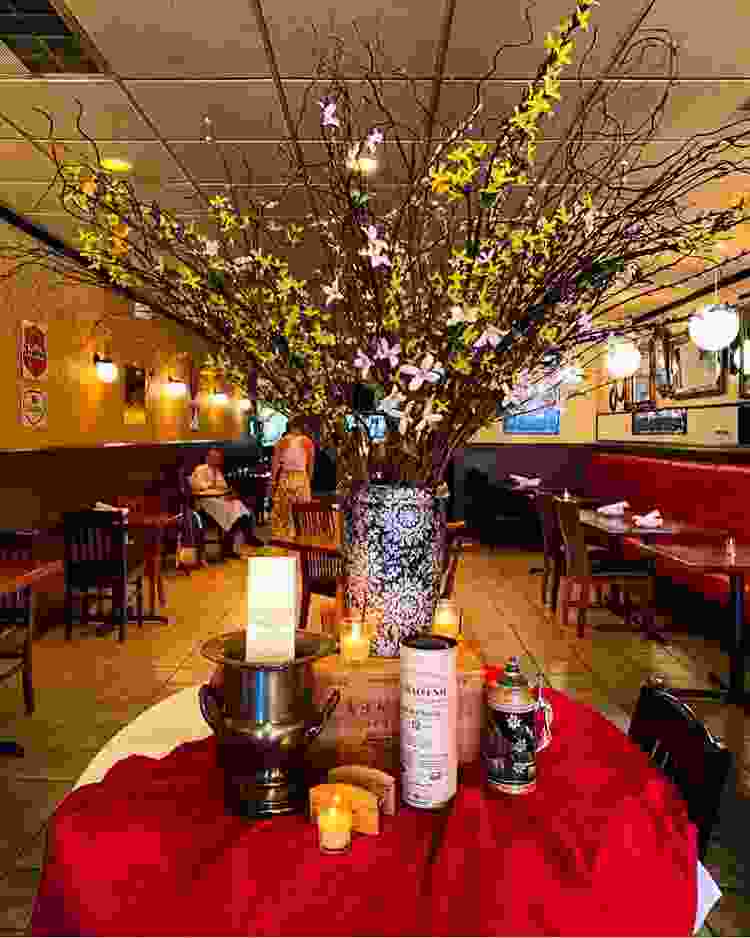 28. Nevada: Mama Bird
Southern-style cooking in the high desert can bring unexpected warm and cozy restaurants in unlikely places! Explore a deep menu with beautiful homestyle-inspired recipes, smoked meat offerings and modern classics.
Snuggle in for all-day breakfast or try the house specialty of "Mama's Mad at Daddy"-level hot fried chicken. There's a menu for kids for those cozy family moments and the whole family can savor Liam's non-alcoholic ginger beer in an assortment of flavors.
Mama Bird | 10550 Southern Highlands Parkway Ste. 140, Las Vegas, NV 89141 | $$$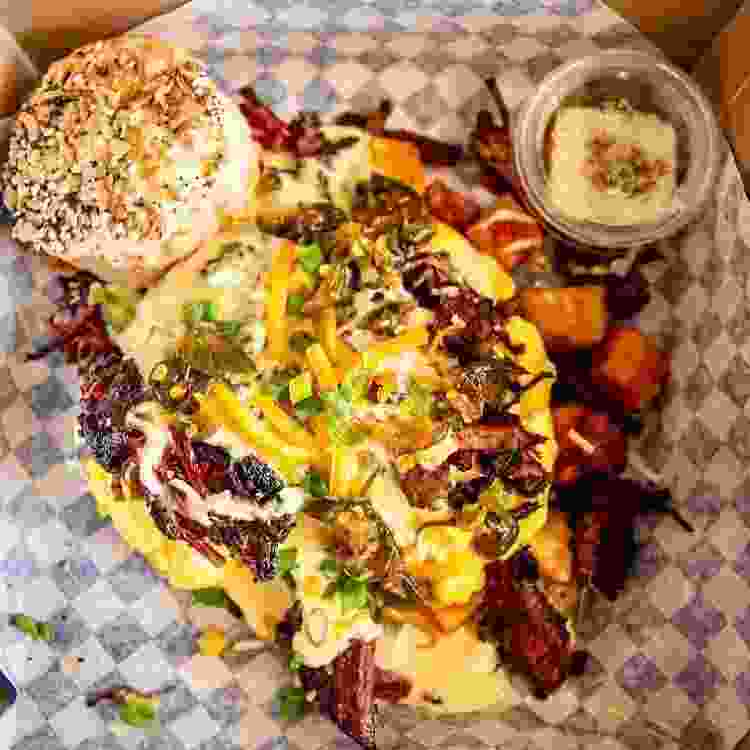 29. New Hampshire: Hanover Street Chophouse
The warm wood interior lends the feel of a classical study inside this chophouse serving hearty entrées, refreshing salads and pleasing raw bar seafood options. There are extensive whiskey and scotch offerings at the bar in addition to wine, beer and cocktails.
And when warm and cozy restaurants offer an onsite butcher shop for taking the fine dining home, you know you've found something special.
Hanover Street Chophouse | 149 Hanover St., Manchester, NH 03101 | $$$$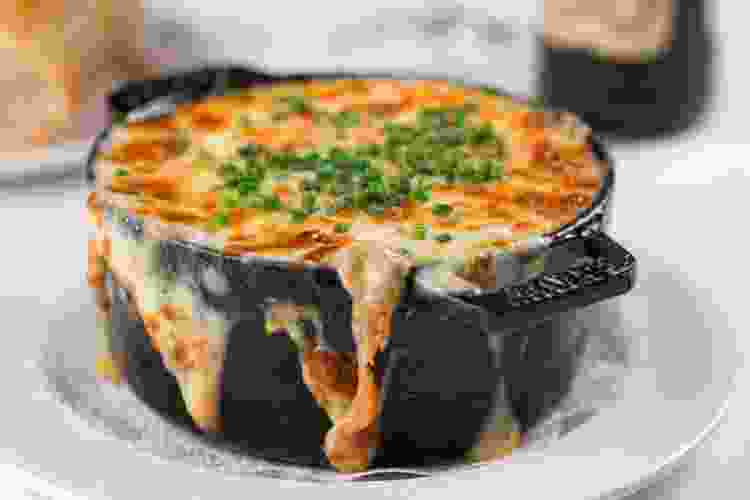 30. New Jersey: Razza Pizza Artigianale
An artisanal pizzeria that comforts the body and soul at the same time, this restaurant is a striking blend of rustic interior and modern recipes made with fresh, seasonal ingredients.
Unique creations such as pumpkin pie pizza and Jersey margherita with locally made mozzarella make this a one-of-a-kind hearth for you to haunt on a romantic evening. As warm and cozy restaurants go, you'd be hard-pressed to find anyplace warmer or cozier!
Razza Pizza Artigianale | 275 Grove St., Jersey City, NJ 07302 | $$$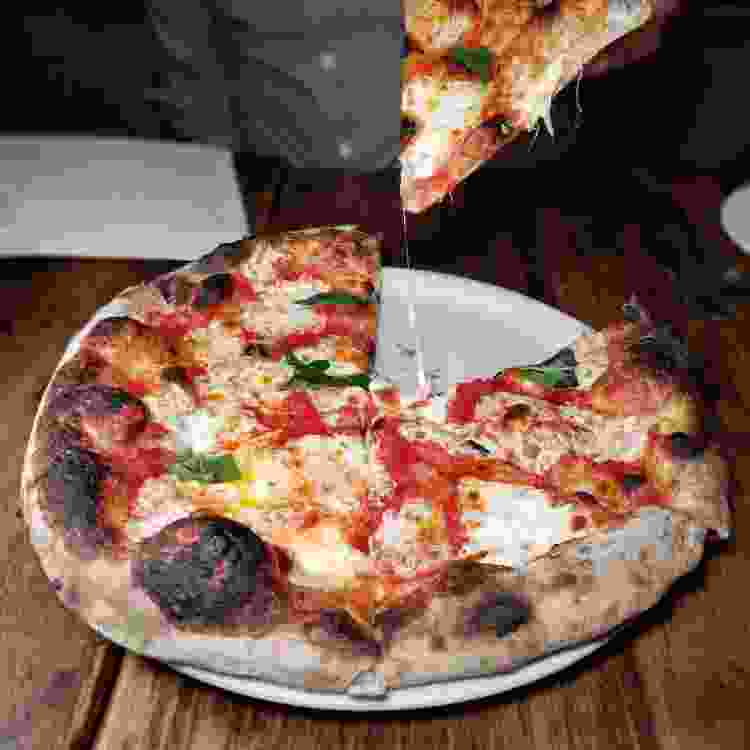 31. New Mexico: Vernon's Speakeasy
This multi-award-winning steakhouse takes warm and cozy restaurants underground. With an atmosphere as deep and rich as the history it honors, Vernon's presents the perfect theater of an authentic speakeasy while offering classic steak and seafood meals alongside unique dishes such as coffee-braised ribs and stuffed quail.
Any questions about the bar offerings are easily answered when you approach the dark door and enter the lounge for artisan cocktails and a whiff of true romance!
Vernon's Speakeasy | 6855 4th St. NW, Ste A, Los Ranchos, NM 87107 | $$$$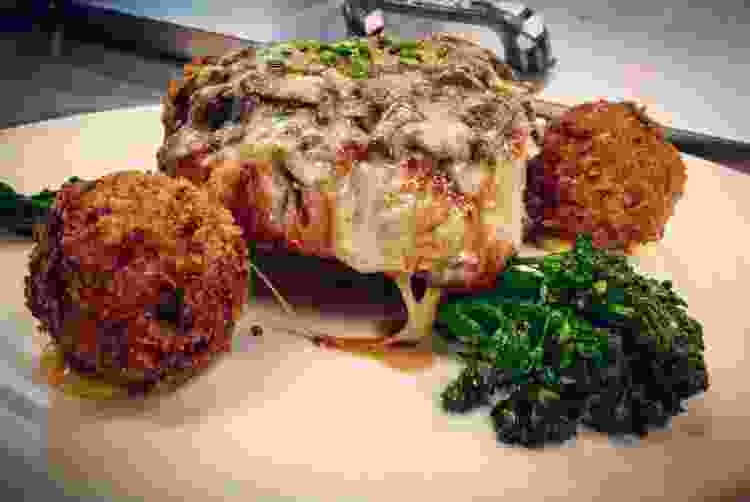 32. New York: Public Kitchen
Your evening will literally glow in the soft light of this prime example of warm and cozy restaurants. Surround yourself with stone, brick and rich wood textures as you dine on elevated versions of pizza, burgers, entrées and luscious desserts.
If you fancy a beverage and a sweet confection to close out the night, you'll be well-cared for; the drinks and desserts menus are a study in elegant comfort.
Public Kitchen | 215 Christie St., New York, NY 10002 | $$$$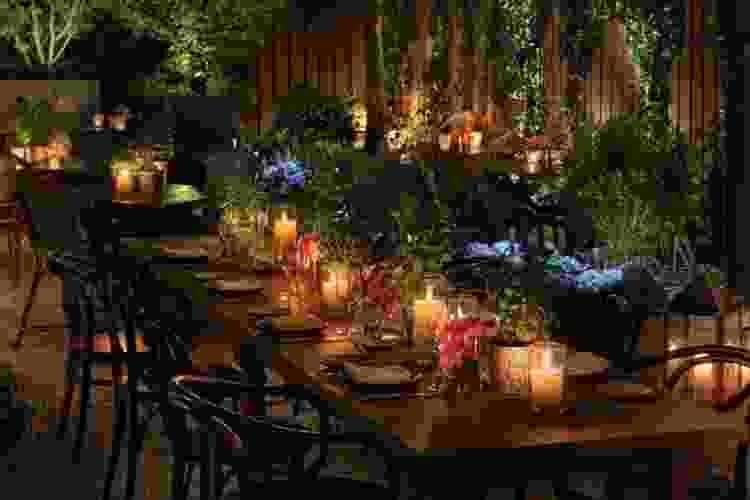 33. North Carolina: Vivace Raleigh
Authentic Italian food served in a light-filled space filled with comfortable furnishings and a terrace-style patio brings the concept of warm and cozy restaurants to life.
Enjoy thoughtful pasta, pizza, sandwich and seafood offerings for a romantic lunch or dinner and enjoy a refreshing beverage from a well-curated drink menu. And if privacy is the order of the day, you can reserve the space for intimate dining or larger cozy events.
Vivace Raleigh | 4209 Lassiter Mill Rd., Ste. 115, Raleigh, NC 27609 | $$$$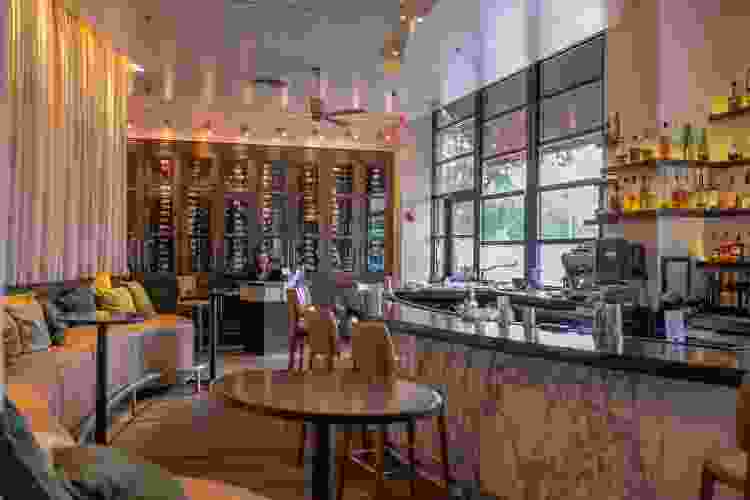 34. North Dakota: Maxwells
Casual fine dining goes the way of warm and cozy restaurants at Maxwells. Enjoy award-winning dishes served in artful presentations, a bar menu that features bison meatballs and Cuban sandwiches, and a dessert menu that redefines the notion of sweet treats.
With a subdued atmosphere paired with warm-modern interiors, coziness is just a reservation away.
Maxwells | Restaurant & Bar|1380 9th St. E, West Fargo, ND | $$$$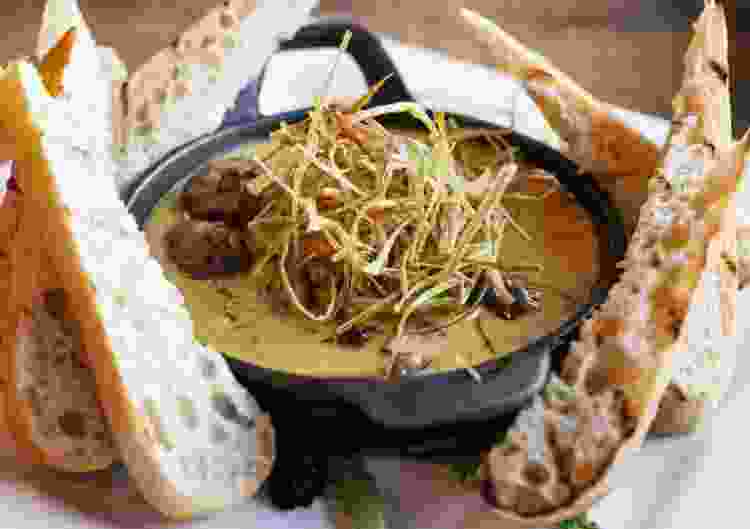 35. Ohio: The Keep Kitchen & Bar
With its leather-and-wood décor and deep color suite, this proper nook adds a sense of visual comfort to the list of must-haves for warm and cozy restaurants.
Their menu only adds to the mix; comfort classics such as meatloaf and brined chicken live happily next to modern fare choices like salmon and beet salad and short rib mushroom ragù. And the exciting selection of delicious signature cocktails is sure to whet your whistle.
The Keep Kitchen & Bar | 50 West Broad St., Columbus, OH 43215 | $$$$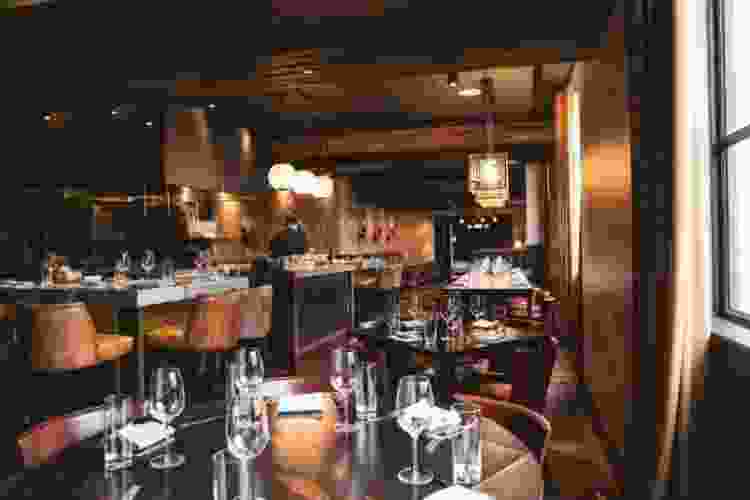 36. Oklahoma: Ludivine
An interior with clean lines and warm furnishings is perfect for warm and cozy restaurants, and Ludivine certainly provides.
Local ingredients combine with old-world cooking techniques to create signature gourmet dishes that change daily. If you're up for a little adventure with your cozy restaurants, you'll find a lot to love here!
Ludivine | 320 NW 10th St., Oklahoma City, OK 73103 | $$$$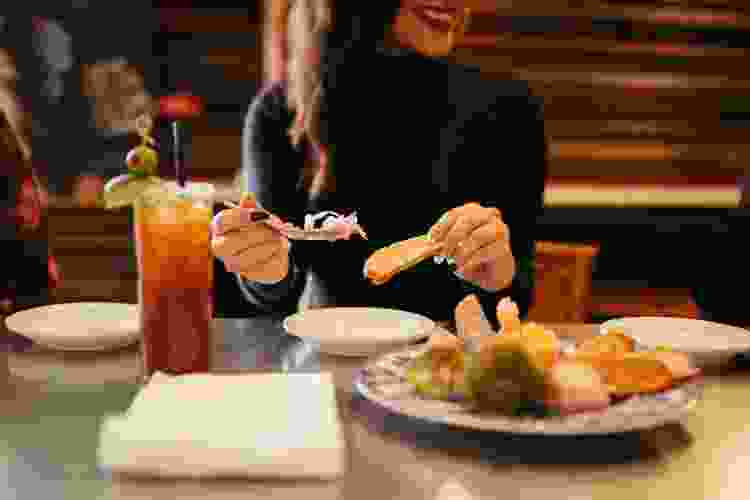 37. Oregon: Noble Rot
Sometimes warm and cozy restaurants happen under rooftop gardens with seasonal and locally sourced ingredients. Noble Rot is one of them.
With an atrium for private dining experiences and a spectacular view of the Portland cityscape, you'll find freshness not only in the inviting atmosphere but in the delicious menus as well.
Noble Rot | 1111 East Burnside St., Fourth Floor, Portland, OR 97214 | $$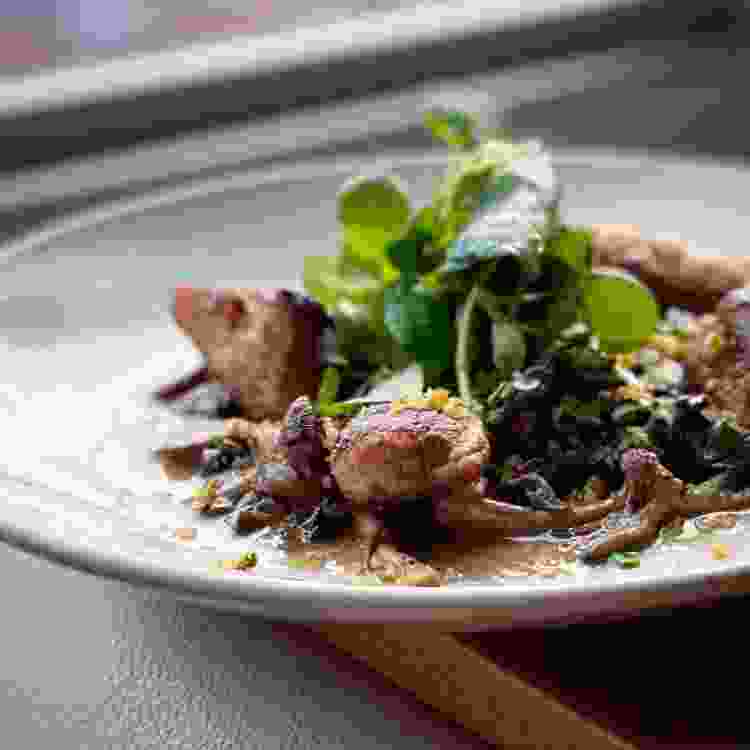 38. Pennsylvania: Wm. Mulherin's Sons
When you're looking for warm and cozy restaurants, you can't go wrong stopping into this renovated whiskey bottling plant converted into a restaurant-hotel combination!
The burnished feel of an old space blends with the thoroughly modern menu, bringing the best of both worlds together. Choose from small plates, pizza and wood-fired entrées to enjoy with a cider, cocktail, draft beer or wine.
Wm. Mulherin's Sons | 1355 N. Front St., Philadelphia, PA 19122 | $$$$
39. Rhode Island: The White Horse Tavern
Taverns make the best warm and cozy restaurants, especially when they come steeped in history.
Dating back to 1673, the Colonial whim of this comfortable pub is balanced by an updated menu that makes the most of local ingredients. With international wine pairings for your modern dining selections, you're sure to make the most of a romantic locale and a sumptuous dinner!
The White Horse Tavern | 26 Marlborough St., Newport, RI 02840 | $$$$
40. South Carolina: Harold's Cabin
Whimsical red booths, plaid loveseats and an antlered rabbit mural make a witty backdrop for a nook that takes its decorating cues from the best of cabin chic.
The eclectic menu includes hush puppies and chicken 'n dumplings, and the rustic specialty cocktails shake up any misconceptions about how comfortable warm and cozy restaurants can be. Be sure to check out the rooftop garden.
Harold's Cabin | 247 Congress St., Charleston, SC 29403 | $$$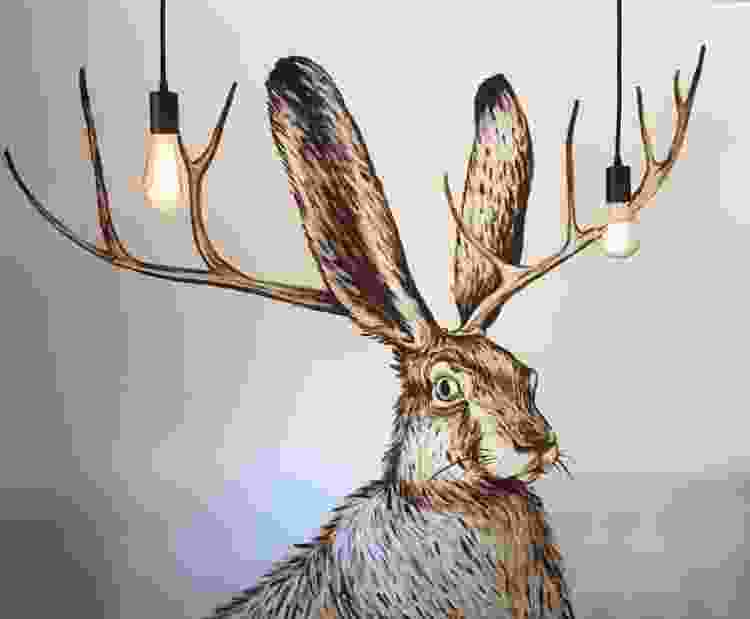 41. South Dakota: Parker's Bistro
Fine dining on Saturday can mingle nicely with casual weekday offerings. For warm and cozy restaurants that strike this balance, Parker's Bistro in the heart of downtown Sioux Falls is a true jewel.
A refined yet dignified menu presents simple yet well-crafted specialties such as squash salad and vegan lasagna. And the elegant yet accessible interior will stir your longing to linger a while.
Parker's Bistro | 210 South Main Ave., Sioux Falls, SD 57104 | $$$$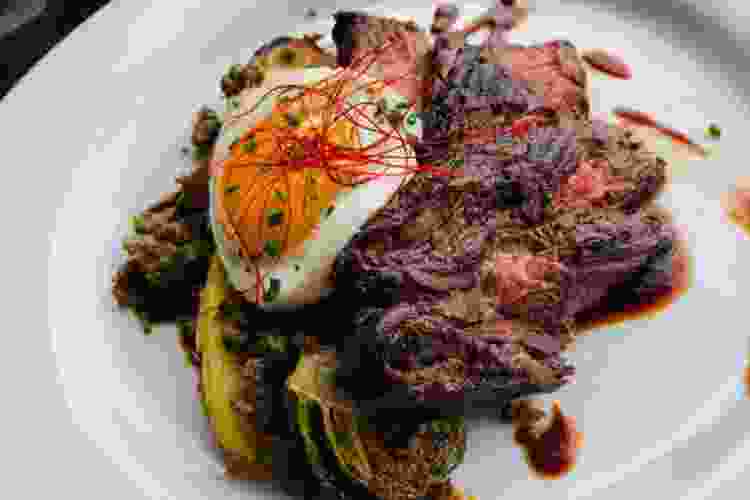 42. Tennessee: 5th & Taylor
Exposed steel beams, classic and contemporary art pieces, and industrial touches meld to bring a distinctively modern feel to this expansive space, steeped in comfort as only warm and cozy restaurants can be.
Add a menu that offers daring fare such as duck wings, bacon-wrapped quail and beef cheek pot roast, and you have all the makings of a soothing evening for a party of two or an entire crew.
5th & Taylor | 1411 5th Ave. N., Nashville, TN 37208 | $$$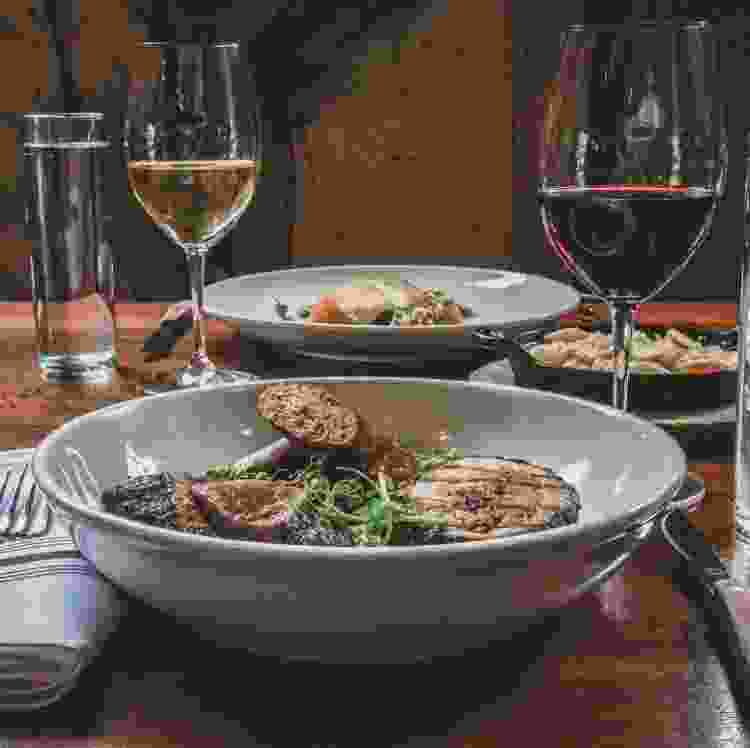 43. Texas: Rise
Rise offers a unique menu centered around soufflés, a perfect dish for warm and cozy restaurants everywhere.
Tidy and well-lit inside, you'll find intriguing menu selections from top to bottom, dishes such as marshmallow soup and a truffle-infused mushroom soufflé. There are sandwiches and salads as well, and the sweet soufflé dessert menu with flavors like praline pecan and Grand Marnier will have you floating. A cloud-nine experience like none you've ever had.
Rise | 5360 W Lovers Ln., Suite 220, Dallas, TX 75209 | $$$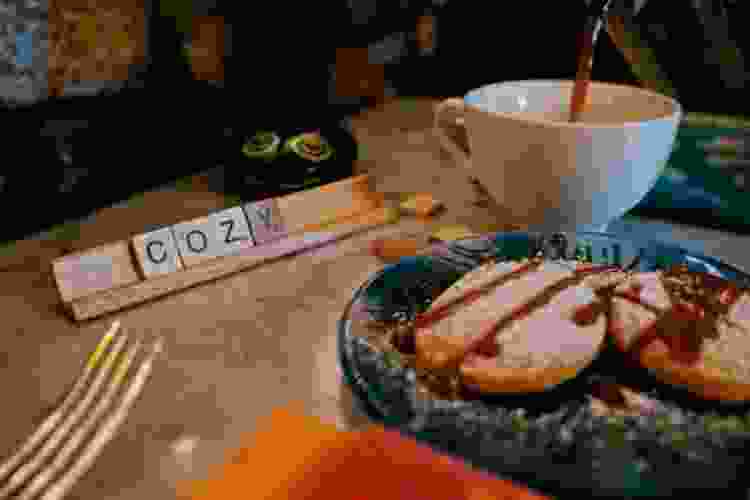 44. Utah: Eva
Family-style dining dresses up to the nines when warm and cozy restaurants go chic. With surprisingly affordable menu options, you'll be able to try a variety of special dinner-only dishes, perfect for sharing on those romantic occasions.
And when dessert time arrives, add a splash of panache with a glass of port, sherry, muscat or brandy. The memories will keep you as warm and cozy as the experience itself!
Eva | 317 S Main St., Salt Lake City, UT 84111 | $$$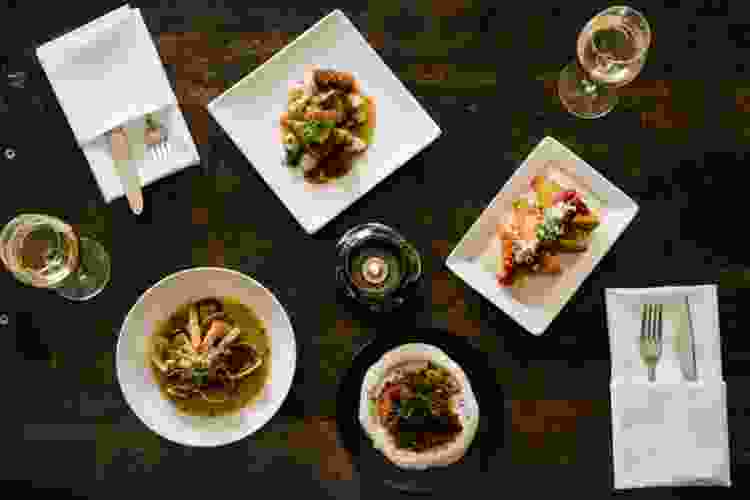 45. Vermont: Bistro de Margot
Providing a soothing atmosphere while serving finely crafted dishes is what all warm and cozy restaurants aspire to. Bistro de Margot does both brilliantly.
A menu filled with authentic French specialties such as hearty beef bourguignon and enticing pan-seared scallops brings an elevated dining experience within reach. Complete a memorable evening with a classic French pastry for dessert, and you'll know you've made an excellent choice.
Bistro de Margo | 126 College St., Burlington, VT, 05401 | $$$$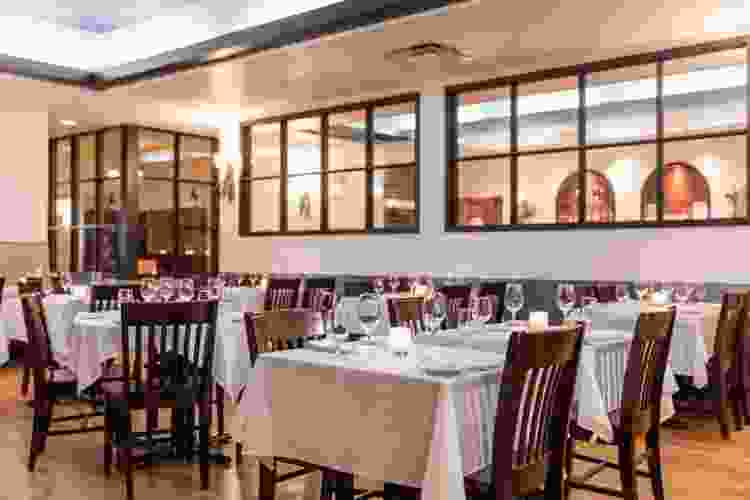 46. Virginia: La Petite Auberge Restaurant
This family-owned French restaurant in historic downtown Fredericksburg sources its seasonal seafood from all along the Atlantic coast, and even as far away as Hawaii. There are also indulgent beef, chicken and veal selections; desserts and wines await as a perfect goodnight kiss.
And you'll find live musicians performing for your entertainment on the premises. For anyone searching for warm and cozy restaurants, you'll want to add this one to your list.
La Petite Auberge Restaurant | 311 William St., Fredericksburg, VA 22401 | $$$$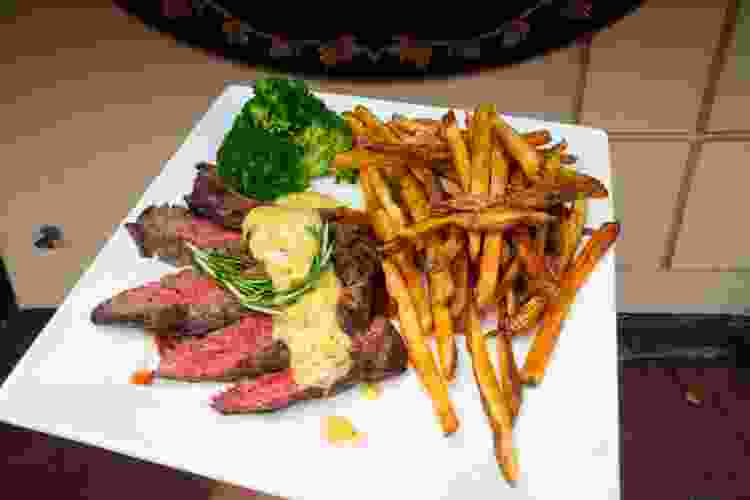 47. Washington: The Sitting Room
What better shape for warm and cozy restaurants to take than that of a fun and funky cocktail lounge?
You'll find a savory menu filled with Mexican delights, everything from simple chips and salsa to tempting tacos al pastor and s'mores churros as a decadent dessert option. Refreshing specialty drinks like Moscow mules and daiquiris will light up your evenings, and there's nothing as soothing as live jazz music accompanying your romantic evening.
The Sitting Room | 108 West Roy St., Seattle, WA 98119 | $$$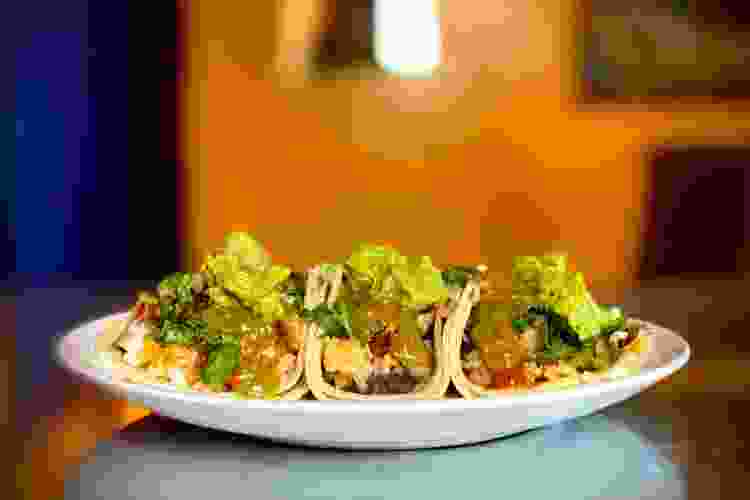 48. West Virginia: Sargasso Morgantown
Proudly providing fine dining and high-end hospitality in a stone-and-wood family-style atmosphere, Sargasso strives to be a winner among warm and cozy restaurants.
Their offerings include a host of intriguing appetizers, refreshing salads and hearty entrées, all prepared with attention to detail and a sense of finesse. And the dessert menu is filled with sinful sweets that are bound to set your heart alight.
Sargasso Morgantown | 215 Don Knotts Blvd., Morgantown, WV | $$$$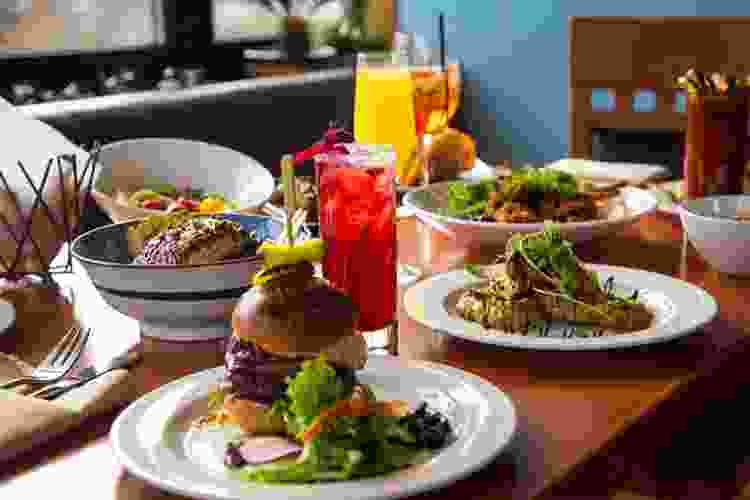 49. Wisconsin: DLUX
Comfort food is a must when it comes to choosing which warm and cozy restaurants to visit. DLUX brings the satisfying joy of burgers and fries to a new level of greatness by offering refined options like Parmesan and truffle cream fries and Southwestern white bean burgers.
Their appetizers include fried pickles and cheese curds for a fun Midwestern twist, and a fountain of craft sodas for fizz-lovers of all ages. This is a perfect choice for family moments of the cozy variety.
DLUX | 117 Martin Luther King Jr Blvd., Madison, WI 53703 | $$
50. Wyoming: Gather
An eatery called Gather has "warm and cozy restaurants" written all over it. With an ambitious menu that presents St. Louis-style ribs next to elk Bolognese, this comfortable establishment labels its presentation "casual-yet-creative," a description it more than lives up to.
The atmosphere wraps you in comfort with high-back booths and surrounds you with vibrant Western art pieces. And the mountain views from the patio are bound to take your breath away.
Gather | 72 S Glenwood St., Jackson, WY 83001 | $$$$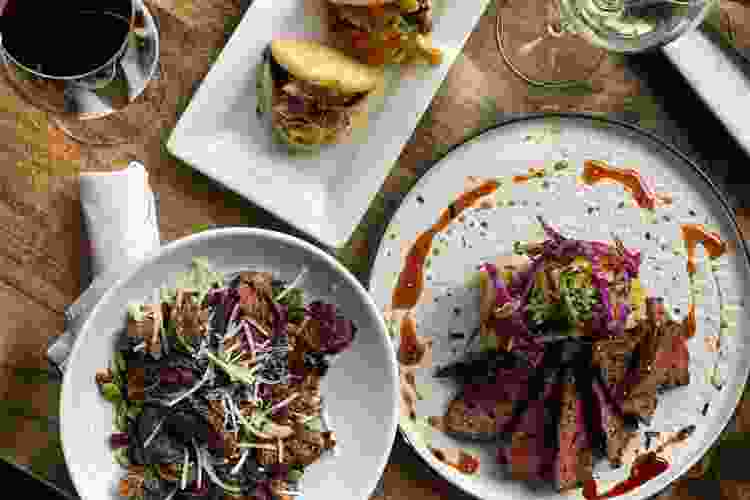 How to Find a Warm and Cozy Restaurant Near You
When it comes to finding local eateries that fit the description, a simple internet search will show you just how abundant warm and cozy restaurants are.
The best warm and cozy restaurants are the ones that pay attention to details that call out comfort. Natural interiors such as wood, stone and concrete generally blend nicely in these places; the lighting can go from airy and natural during the daytime to something soft and glowing as evening lingers.
Spaces that give you a sense of relaxation and calm when you enter are perfect candidates for warm and cozy restaurants. Be sure to peruse their menus as well, from appetizers through desserts, and have a look at what they serve behind the bar. The more compatible your tastes are with what they're serving, the more complete your experience will be.
Another great way to track down warm and cozy restaurants in your neighborhood to take a food tour of the area. With insight from a talented local guide, you'll get the details on which warm and cozy restaurants offer the best bites (and best ambiance). Plus, you'll get to sample staples of the local food scene while learning all about your city's culture and architecture.
There are food tours in San Francisco, food tours in Chicago and beyond. Browse all food tours near you to find your favorite.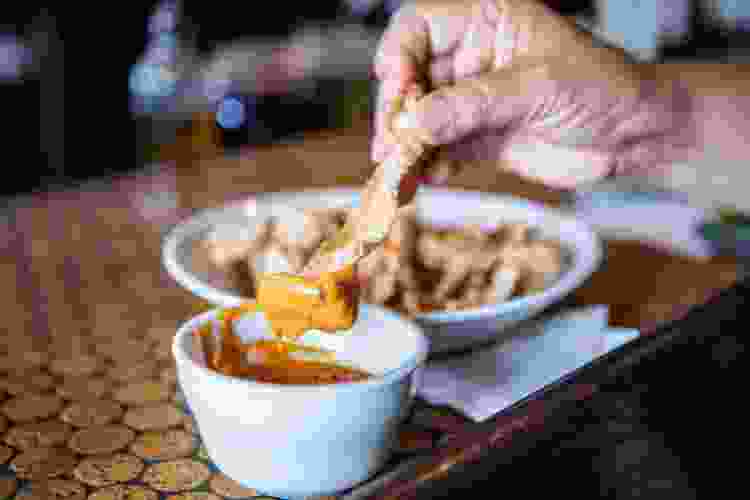 And if you love the idea of a warm and cozy restaurant but can't quite find the right fit, you can turn your own home into a premier fine-dining destination. With a private chef experience, you'll have the shopping, cooking, serving and cleanup cared for — all at the hands of a gourmet chef.
For the ultimate in intimate culinary experiences, browse the selection of private chefs in NYC, private chefs in Austin and more private chefs near you.
Enjoy Your Next Culinary Adventure
Whether you favor a particular haunt to return to again and again or you're the adventurous sort who likes to try new places, knowing where the warm and cozy restaurants are can be a fun pursuit. And if your pursuit takes you beyond your own region, just think of the fun that comes from scoping out warm and cozy restaurants on your travels. The prospects are endless…and delicious!
For even more culinary inspiration, check out other experiences happening on Cozymeal.