The Best Brunch in Los Angeles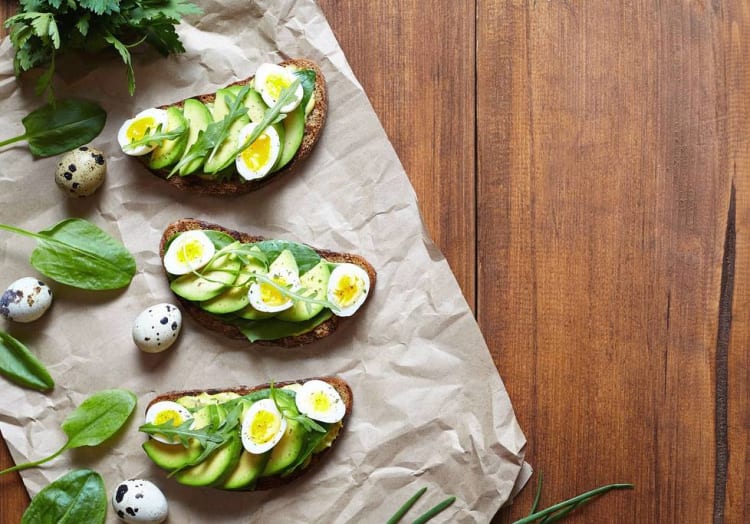 LA takes its food scene pretty seriously, and when it comes to finding the best brunch in Los Angeles, you'll have your work cut out for you.
Avocado toast, fluffy pancakes, oversized burgers or bubbly mimosas — brunch has it all. And Angelenos have their pick of where to get it, from warm and cozy restaurants to the best diners in Los Angeles.
But where is the best brunch in Los Angeles? We asked ourselves this, too, and set on a mission to find it. What we came up with are these nine local favorites.
Whether you're in the mood for ultimate comfort food (looking at you, chicken and waffles), bottomless libations, the best outdoor patio or some healthier options, we cover it here with these spots serving up the best brunch in Los Angeles.
Jump to Section
GET UP TO $50 IN COZYMEAL
CASH™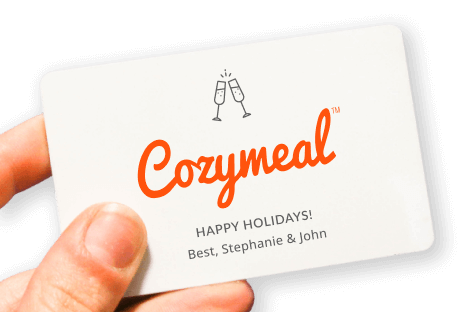 GET UP TO $50 IN COZYMEAL
CASH™
$100 or more, get $10 Cozymeal Cash™
$250 or more, get $25 Cozymeal Cash™
$500 or more, get $50 Cozymeal Cash™
1. Fratelli Café
Located in the heart of Melrose, Fratelli Café offers some of the best brunch in Los Angeles with its cozy respite from the busy city. Popular with locals, this family-friendly café dishes up breakfast all day — whether you're dining inside or on the dog-friendly patio.
Owned and operated by LA locals, Fratelli's strives to make you "feel like you're a local, even if you aren't one." Fratelli is known for their fluffy croissant French toast, but other popular specialties include sweet and savory Belgian waffles, behemoth breakfast burritos and egg scrambles. The menu offers plenty of vegan, vegetarian, gluten-free and dairy-free options, too. It's the perfect inspiration behind your next cooking class in Los Angeles or online cooking class.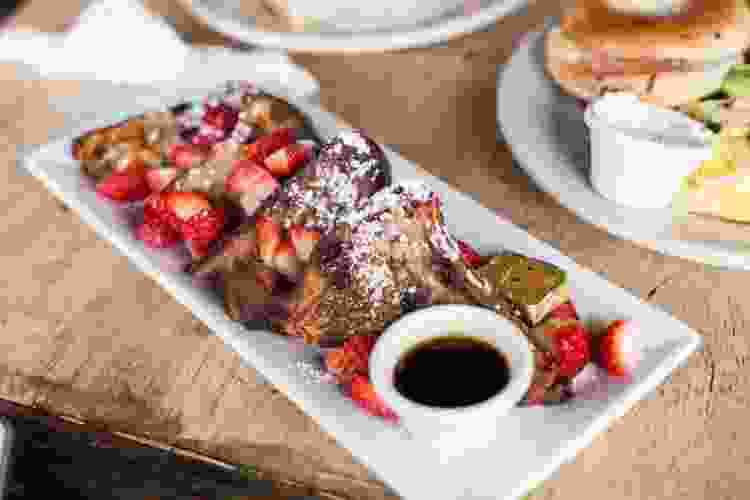 Book a Los Angeles Food Tour Now

Explore LA's famed eateries, hidden gems and acclaimed culinary culture with a top local guide.

Book Now
2. Poppy + Rose
If you're looking for the best brunch in Los Angles and happen to be a chicken and waffles fan, this is the place for you. Poppy + Rose, located in downtown's Flower District, specializes in scratch-made comfort fare. The country-inspired restaurant is locally owned by Chef Michael Reed of Viviane in Beverly Hills and Diana Yin, owner of the popular LA food truck Peaches Smokehouse and Southern Kitchen.
You'll find all the Southern classics on the menu, including buttermilk fried chicken and waffles, tender biscuits and gravy, and pulled pork hash — made with BBQ pork that's smoked in-house for 18 hours.
Best Cooking Classes in Los Angeles
Master the art of gourmet cuisine with the help of world-class chefs.
3. Café Vida
Café Vida brings "food for life" to three locations for the best brunch in Los Angeles: Pacific Palisade, El Segundo and Culver City's charming Restaurant Row. This quaint café specializes in healthy Latin cuisine with a Californian twist.
Owner Luis Castaneda notes that Café Vida focuses on "simple cooking that tastes great, looks great and feels right." He adds that the café's basic promise is a "health-conscious restaurant that offers flavorful new alternatives for people and families on the go."
Some popular brunch items include huevos rancheros, the protein-packed balance breakfast bowl and the California scramble.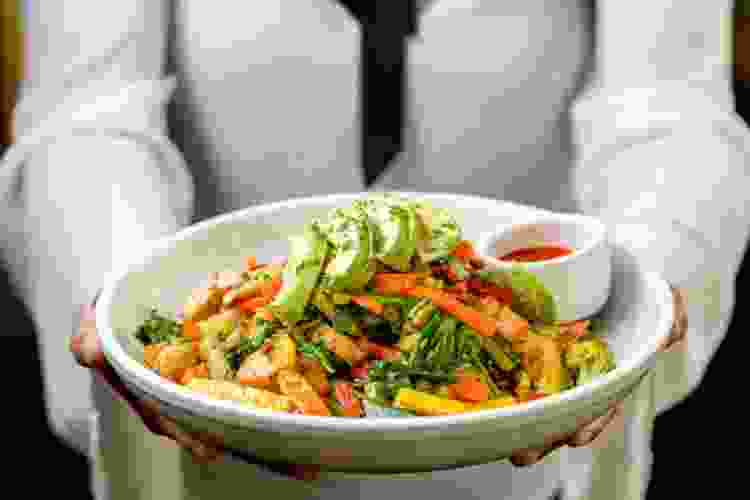 4. All Day Baby
All Day Baby serves up big flavor at its Sunset Boulevard location for some of the best brunch in Los Angeles. Chef Jonathan Whitener and Lien Ta (also the owners of Koreatown's Here's Looking at You) blend So-Cal Mexican zest with Southern comfort food in this bright, welcoming, feel-good slice of boozy brunch Heaven.
The Day Menu (9 a.m. to 3 p.m. Wednesday to Saturday and 6 p.m. Sunday) offers breakfast classics like burritos, hotcakes and the unbeatable ADB Biscuit Sandwich — a sweet and savory delight with scrambled eggs, American cheese, strawberry jam and your choice of meats. The Dinner Menu (5 p.m. to 10 p.m. Wednesday to Saturday) shines with eclectic hits ranging from a breakfast plate to spaghetti and meatballs to smoked char siu pork ribs or chicken fried steak.
5. Bottega Louie
Downtown's bustling Bottega Louie keeps customers happy with food that earns its place as some of the best brunch in Los Angeles.
Besides rows of rainbow-colored macarons and the prettiest pastries in town, Bottega Louie offers a great weekend brunch. The menu provides a nice variety of savory, sweet and boozy options. Choose from strawberry and peach French toast, lobster hash or lemon ricotta pancakes. Shareable small plate options include avocado toast with chorizo, portobello mushroom fries and freshly fried beignets.
Besides the usual morning suspects — lattes, and the like — Louie offers a nice variety of libations, including half a dozen Champagne cocktails.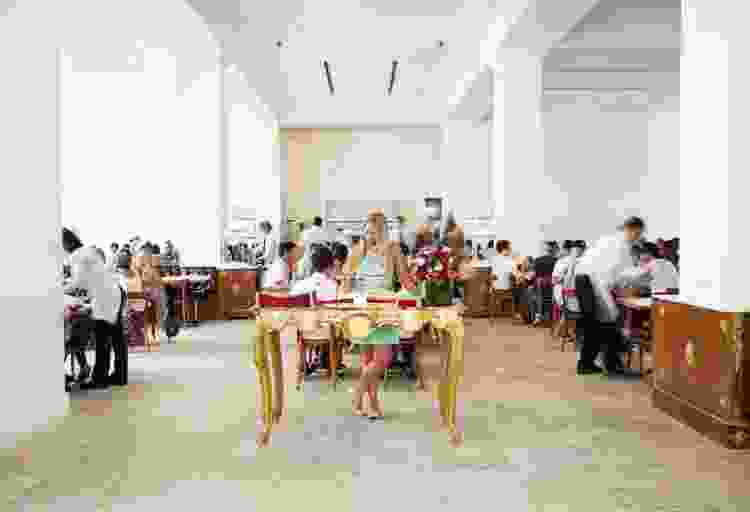 6. République
Located in the old La Brea/Campanile building is the husband-and-wife owned République. Breakfast is served daily in their café, but locals line up on the weekend to enjoy some of the best brunch in Los Angeles.
République offers something for just about anyone. There's chia seed pudding, shakshuka, pupusas, kimchi fried rice or the "Regular Breakfast" — which consists of eggs (any style), bacon steak, fingerling potatoes and a baguette with French butter and jam. Lastly, we don't recommend leaving without snagging a decadent pastry or bomboloni from the café on your way out.
Besides tasting the food, you'll want to snap pictures of the interior: There's more than one reason this gorgeous spot is one of the best restaurants in Los Angeles.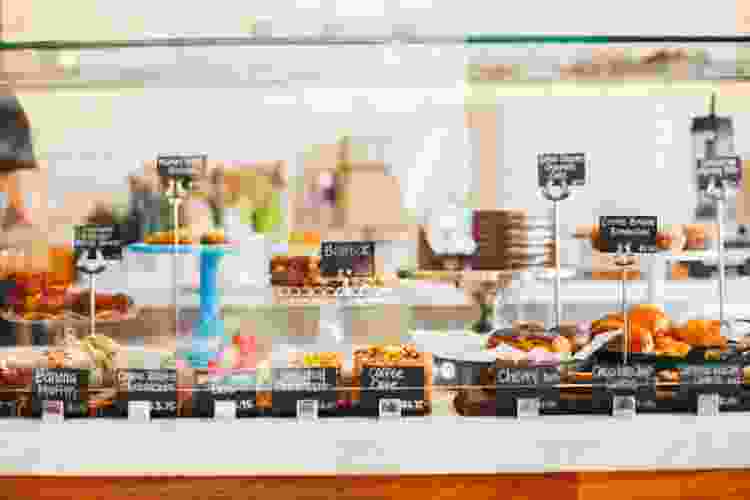 Book a Top Private Chef in Los Angeles
Indulge in the finest fare LA has to offer. Book a five-star private chef experience starting at $59/person.
7. Eat This Café
Know what makes the best brunch in Los Angeles even better? Bottomless mimosas. And Hollywood's Eat This Café has just that. Their local favorite weekend brunch includes a customizable omelet bar, vegan tofu scrambles, breakfast paninis and Grand Marnier French toast. For just $15, you can also order their infamous bottomless mimosas with the purchase of any entrée.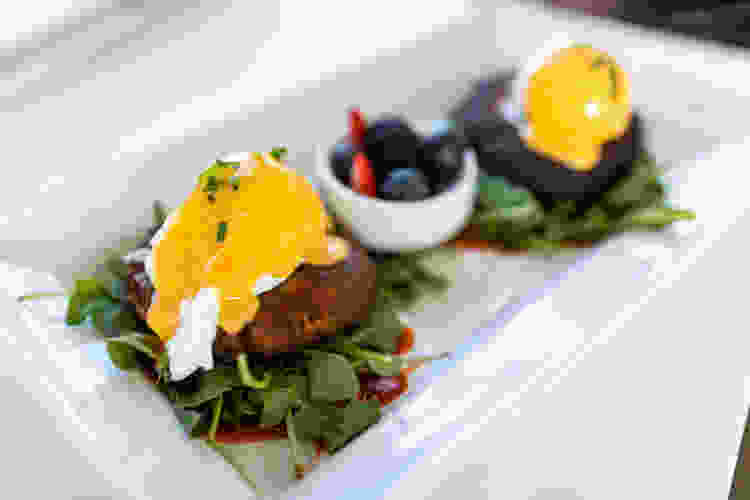 8. Alcove Café & Bakery
If you're craving the typical hits from the best brunch in Los Angeles, Alcove Café & Bakery has you covered.
This Los Feliz café serves updated American classics in a historic bungalow surrounded by a garden patio. Alcove focuses on organic, local and fresh ingredients. On the menu, you'll find egg benedicts, chilaquiles, loaded avocado toast and even their own collection of chocolates. Thirsty? There's bloody marys, make-your-own mimosas and their famous bianco sangria.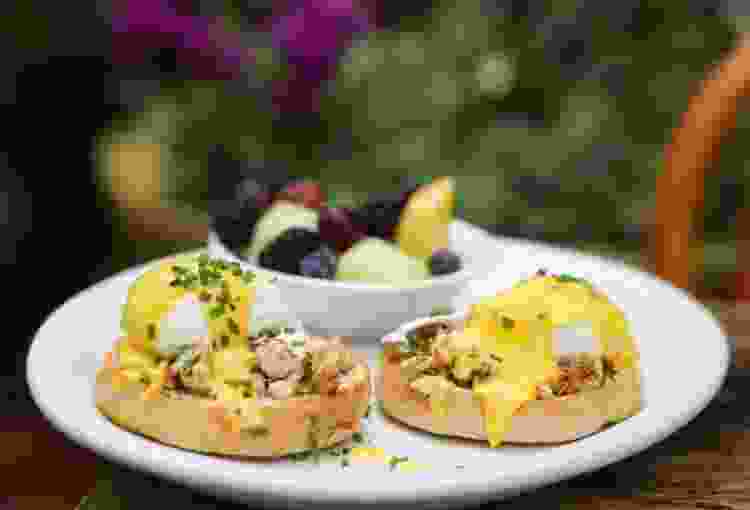 Join 200,000+ Culinary Enthusiasts
Exclusive deals, recipes, cookbooks, and our best tips for home cooks — free and straight to your inbox. PLUS: 500 Rewards Points.
No matter what morning craving hits you this weekend, you now know where to get the best brunch in Los Angeles. You can't go wrong with any of the locations on this list, so pick your favorite and dig in!
For even more insight into the best brunch in Los Angeles and any other foodie city, check out other experiences happening on Cozymeal.