31 Famous Atlanta Foods to Try in 2023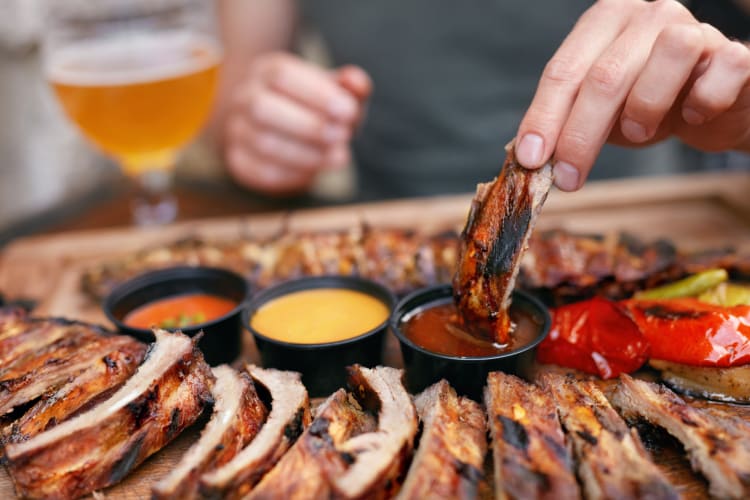 Our editorial team recommends the best products through independent research, selection and careful review. If you make a purchase through one of our affiliate links, we may earn a commission. Prices are subject to change.
The Atlanta food scene is a singular pleasure for diners seeking something special in the South. Trademark dishes like chicken and biscuits, bread pudding and crab cakes share table space with creative fare like mac and cheese chimichangas, peach donut sliders and lasagna pizza. There's a temptation for every taste!
So which of the best-known nibbles and noshes make for the best Atlanta food for your money? And how do you pin down where to find these must-try delicacies? It's easy with our list of the 31 best dishes the Atlanta foodie world has to offer and the details for the eateries where you'll find them.
Jump to Section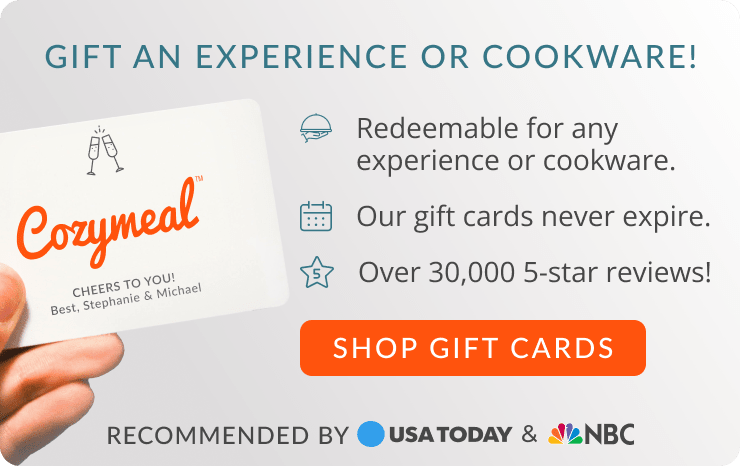 Get a Taste of Famous Atlanta Foods
If you're looking for a guided exploration of the Atlanta culinary culture, expert food tours in Atlanta can lead you to the special and the spectacular. The guides leading these events will make sure you experience can't-miss eats and special treats around one of the best foodie cities in the country.
Hoping to recreate delicious versions of Atlanta foods in your home kitchen? There are cooking classes in Atlanta that feature Southern favorites, taught by talented chefs with a taste for the cuisine.
Of course, if you're set on forging your own path through this foodie paradise, these 31 famous Atlanta foods are sure to satisfy.
31 Famous Atlanta Foods
1. BBQ Ribs at Daddy D'z
This award-winning BBQ house boasts half a menu dedicated to its ribs and rib combos, including seasonal lamb and turkey ribs! And if ribs as sandwiches, BBQ plates and house specialty platters aren't enough Atlanta food to whet your appetite, there's a lengthy list of sides at Daddy Z's to pair with them for a sweet Southern BBQ experience.
Daddy D'z | 264 Memorial Dr. SE., Atlanta, GA 30312 | $$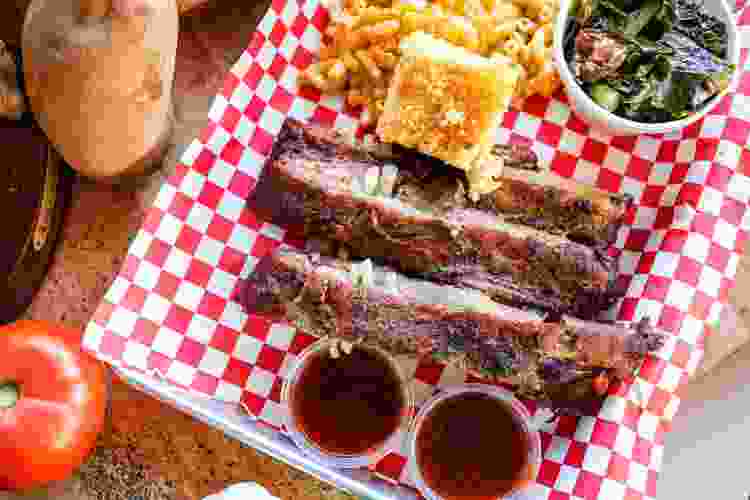 Book an Atlanta Food Tour

See Atlanta's famous food scene in a whole new light. Explore the best restaurants, hotspots and more with top local guides.

Book Now
2. Mac and Cheese at the Busy Bee Café
Mac and cheese is a comfort food for all time, as the Busy Bee Café knows well. At the James Beard award-winning eatery, baked mac and cheese is the star of the menu. The Bee's legacy as a famous restaurant in Atlanta extends back to its founding by Lucy Jackson in 1947. Nowadays, this esteemed soul food eatery offers its marvelous mac and cheese as an incredible Atlanta food from a diner deserving of its accolades.
The Busy Bee Café | 810 Martin Luther King, Jr D. SW., Atlanta, GA 30314 | $$
3. Hot Chicken at Hattie B's
With the addition of a Nashville-based Hattie B's location in Georgia, hot chicken is now an official Atlanta food. Hattie B's offers platters of traditional pieces, boneless sandwiches and tenders. The hottest version registers at four times hotter than habanero peppers…you've been warned!
Get Hattie B's Jumbo Hot Chicken Wings delivered to you anywhere in the U.S. with Goldbelly!
Hattie B's | 299 Moreland Ave. NE., Atlanta, GA 30307 | $$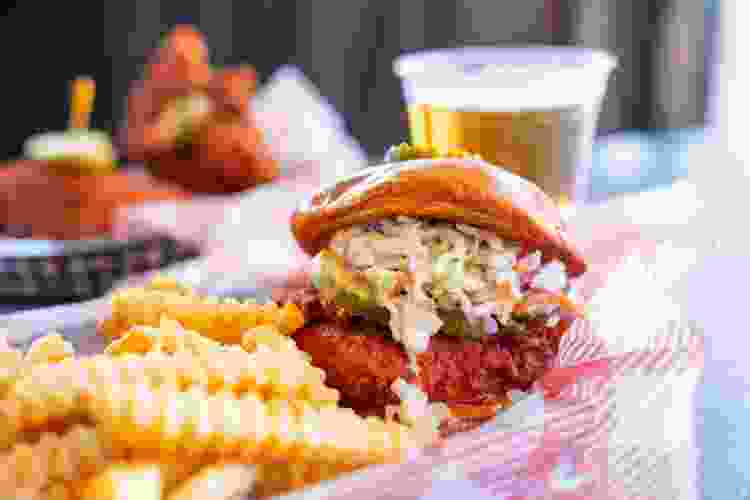 4. Lasagna Pizza at Antico Pizza Napoletana
How can you pass up a pizza topped with lasagna elements? Antico is a cornerstone of the Atlanta food version of Little Italy, located on the margins of the Georgia Tech campus. Thanks to a pizza combo of two Italian favorites worth spending all your lunch money on, this college hang-out is bound to become your reference point for great Atlanta food.
Antico Pizza Napoletana | 1093 Hemphill Ave., Atlanta, GA 30318 | $$
Top-Rated Cooking Classes in Atlanta
Master the art of gourmet cuisine taught by Atlanta's best chefs.
5. Naked Dogs at the Varsity
The Varsity is an institution among Atlanta food culture, bearing the mantle of the World's Largest Drive-In Restaurant. As a dining icon, the Varsity offers burgers and dogs slathered in chili, slaw or both. But it's the naked dog, with its unadorned presence and memorable, fun-to-say name, that stands out as the M.V.P. in this classic American menu.
The Varsity | Multiple Locations | $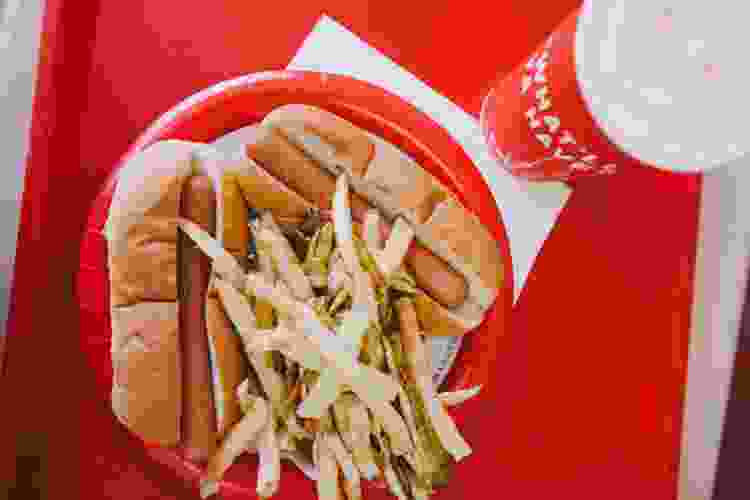 6. Meat and Three at The Beautiful Restaurant
A meat-and-three meal is a must-try amongst the best food in Atlanta, and The Beautiful Restaurant does it…well, beautifully! This famous Atlanta food specialty puts the meat of your choice centerplate and surrounds it with three authentic Southern sides like turnips, yams and collards. You won't walk away hungry!
The Beautiful Restaurant | 2260 Cascade Rd., Atlanta, GA 30311 | $$
7. Brisket Sandwich at Fox Bros. Bar-B-Q
The world-famous "Big Tex" brisket sandwich makes the most of this smokery's special flavors, creating an Atlanta food specialty to be savored. If a hearty pile of sliced Angus brisket served on Texas toast with pickles, onion and mustard is the kind of Atlanta food you're looking for, you've found your happy place at Fox Bros.
Fox Bros. Bar-B-Q | 1238 Dekalb Ave., Atlanta GA, 30307 | $$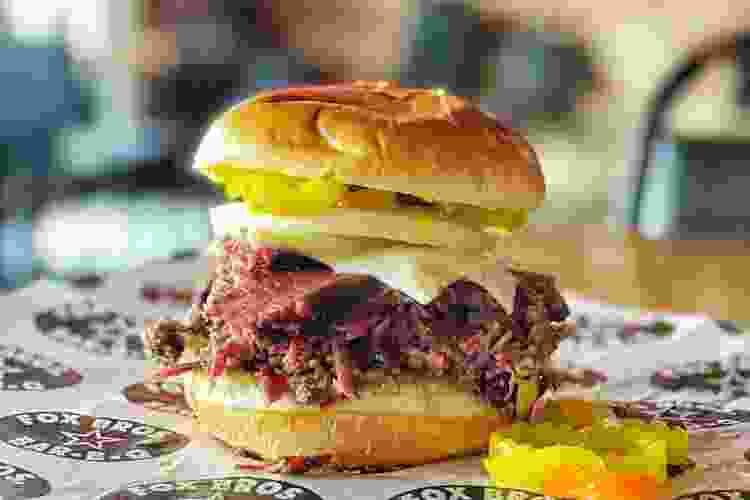 8. Peach Cobbler at Peach Cobbler Café
Being on an Atlanta food adventure without including Georgia peaches is practically against the state constitution. Remedy that with a hearty helping of peach cobbler at the Peach Cobbler Café. Operating as a full-service soul food cafeteria, the café makes their sumptuous signature cobbler with locally grown peaches, earning both their name and their reputation among the finest purveyors of famous Atlanta food.
Peach Cobbler Café | 2221 Peachtree Rd. NW., Suite G Atlanta, GA 30309 | $$
9. Chicken and Dumplings at Atkins Park
This staple of the Atlanta food world holds the distinction of being Atlanta's longest licensed tavern, making it the perfect place to indulge in the Southern classic chicken and dumplings. Though Atkins operates a sister location in Smyrna, this regional specialty is only available at the Atlanta location. It's an indulgence everyone exploring Atlanta food should try at least once, though once may not be enough.
Atkins Park | Multiple Locations | $$$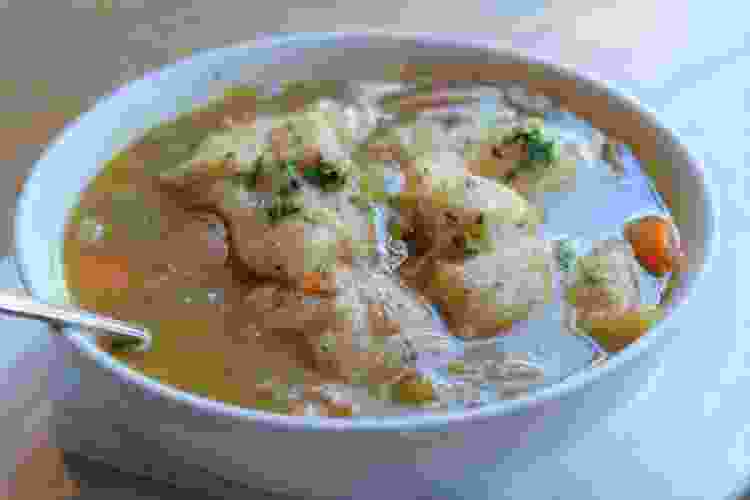 10. Sweet Potato Cheesecake at Sweet Auburn Bread Company
Sweet potato pie is a sure-fire favorite among famous Atlanta foods, perfect for splitting with your special someone as a cute date idea in Atlanta. Sweet Auburn Bread Company reimagines this classic as an indulgent cheesecake creation enjoyed by former U.S. President Bill Clinton. That status makes this tasty treat one of Atlanta's most famous dessert inventions!
Sweet Auburn | 234 Auburn Ave. NE., Atlanta, GA 30303 | $$
Book an Atlanta Food Tour
See Atlanta's famous food scene in a whole new light. Explore the best restaurants, hotspots and more with top local guides.
11. Mac n' Cheesy-Changa at The Vortex
When the question is "What food is Atlanta known for?" the answer is absolutely the Mac n' Cheesy-Changa, a delicacy whose name warrants a trademark! The Vortex has been awarded time and again for their popular Atlanta food and drink selections. But this genre-bending behemoth of mac and cheese and pulled pork deep-fried in a tortilla and served with pepper jack cheese takes top prize.
The Vortex | 878 Peachtree St. NE., Atlanta, GA 30309 | $$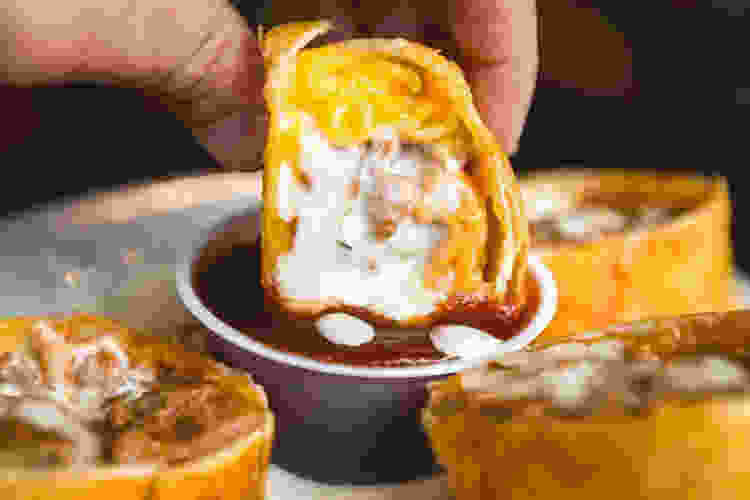 12. Maple Pecan Pie at Little Tart
Pecan pie is a required dish on any list celebrating famous Atlanta foods. The version offered by Little Tart bakehouse blends maple syrup and local honey to the mix with pecans from nearby Pearson Farms. No need to wait for Thanksgiving: You can order one up any time you're ready at three locations around Atlanta.
Little Tart | Multiple Locations | $$$
13. Chicken Biscuit at Star Provisions Market & Café
A chicken biscuit is a true Southern indulgence. Star Provisions' take on this famous snack is simple: sweet pickles tucked between patty and bun and a squeeze of hot pepper honey to tickle your tongue. As Atlanta food goes, it's special enough to switch on your Georgia accent!
Star Provisions Market & Café | 1460 Ellsworth Industrial Blvd., Atlanta, GA 30318 | $$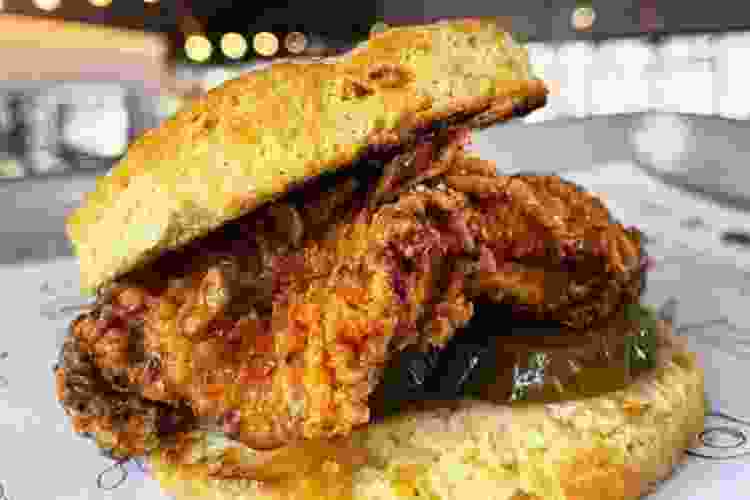 14. Boiled Peanuts at Sweetwater Brewing Company
The Southern tradition of boiling peanuts makes this salty treat an icon among authentic Atlanta foods. But nobody boils peanuts quite like Sweetwater Brewing Company. This craft brewer boils Georgia peanuts in their artisan extra-pale ale and adds spices to turn up the flavor. It's a saucy bite that literally puts the best food in Atlanta at your fingertips.
Sweetwater Brewing Company | 195 Ottley Dr., Atlanta, GA 30324 | $$$
15. Pecan Pralines at Savannah's Candy Kitchen
These prized Southern confections come with a storied past that reaches back to 18th-century France. At Savannah's Candy Kitchen, this revered candy and coveted Atlanta food crops up in both chocolate and original versions in tins, boxes, baskets and trays decadent enough to satisfy any sweet tooth.
Get Savannah's Candy Kitchen pralines delivered to you or as a gift anywhere in the U.S. with Goldbelly!
Savannah's Candy Kitchen | Multiple Locations | $$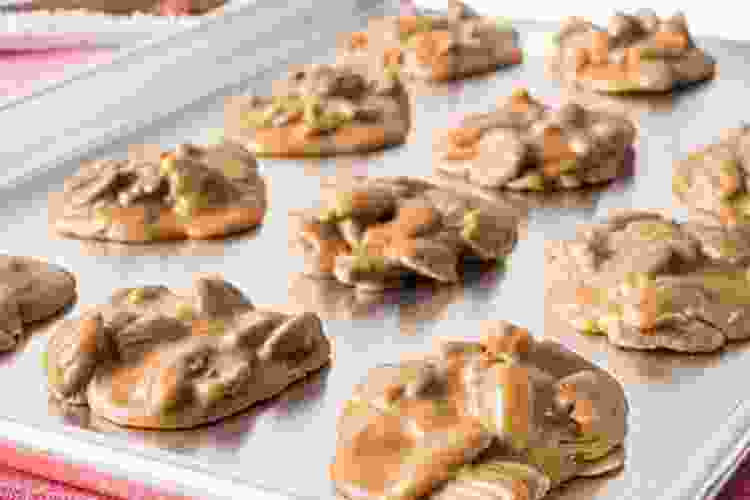 16. Pulled Pork Sandwich at Paschal's
There's nothing like a pulled pork sandwich to let you know you're eating the best food in Atlanta! At Paschal's, you'll indulge in slow-cooked pork nestled in a toasted kaiser roll served with sides. With its 75-year history of serving up beloved soul food selections, Paschal's is one of the best places to eat in Atlanta, hands-down.
Paschal's | 180 Northside D. SW., Atlanta, GA 30313 | $$$
Book a Top Private Chef in Atlanta
Indulge in the finest fare Atlanta has to offer. Book a five-star private chef experience starting at $59/person.
17. Deviled Eggs at Old Lady Gang
A perennial favorite when the weather turns warm, deviled eggs are famous in these parts, making appearances at every potluck, picnic and BBQ in Atlanta. You can try an upmarket version at this whimsically named eatery. Old Lady Gang's take on deviled eggs is fried to the hilt and served with brown sugar bacon. Add grilled shrimp for an extra-Southern deviled egg experience.
Old Lady Gang | Multiple Locations | $$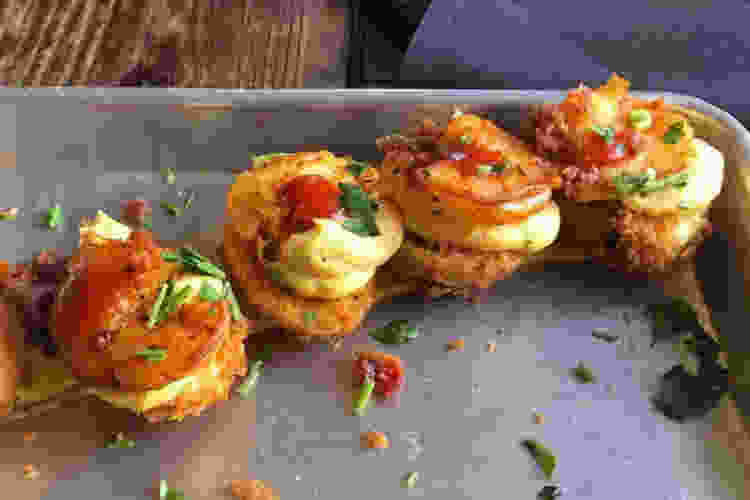 18. Dumplings at Gu's Dumplings
The South is filled with dumplings of both American and Asian styles. For the most popular example of the latter, one of the best restaurants in Atlanta is Gu's. It brings Szechuan dining to Downtown Atlanta by featuring its famous dumplings in its name and at the top of the menu. Filled with pork, chicken or vegetables, these award-winning bites are a special pleasure in the Atlanta dining scene.
Gu's Dumplings | 99 Krog S., Suite M Atlanta, GA 30307 | $$
19. Burgers at Flip Burger Boutique
The best restaurant in Atlanta for burgers is home to a genuine whopper called the Flip Stack. It's a double dose of beef patties topped with melted American cheese and 1,000 Island dressing. The variety of tot flavors served on the side, topped like a Southern version of nachos with cheese, sauce and other tasty vittles, are an experience unto themselves. But the list continues into gourmet territory with lamb, bison, shrimp and even Impossible burgers. "Flip" is definitely the right word!
Flip Burger Boutique | 1587 Howell Mill Rd., Atlanta, GA 30318 | $$$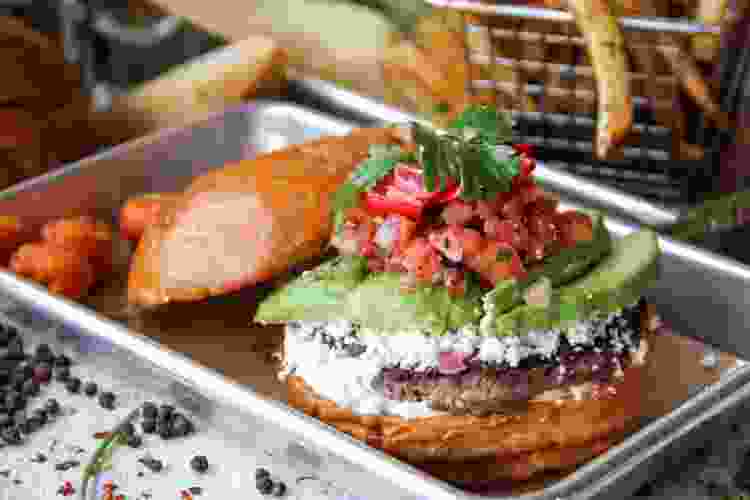 20. Crab Cakes at Baltimore Crab and Seafood
When looking for places to eat in Atlanta, make sure you have Baltimore Crab and Seafood on your list. Crab cakes help bring coastal flavors home to Atlanta, and the famous crab cakes at this refined modern eatery are exemplary. Lightly breaded and deep fried, they represent traditional cuisine that's made its way to contemporary dining without compromising its heritage.
Baltimore Crab and Seafood | 1075 Fairburn Rd. SW., Atlanta, GA | $$$
Book an Atlanta Food Tour
See Atlanta's famous food scene in a whole new light. Explore the best restaurants, hotspots and more with top local guides.
21. Shrimp and Grits at Wisteria
A classic Lowcountry contribution to the cookbook of Southern style, shrimp and grits is hearty and satisfying without being pretentious. It's a featured item at Wisteria, which bills itself as creating "modern southern cuisine." Seasoned with poblano peppers and onions, this dish retains its original charm while balancing a dash of upscale Atlanta flair.
Wisteria | 471 North Highland Ave. NE., Atlanta, GA 30307 | $$$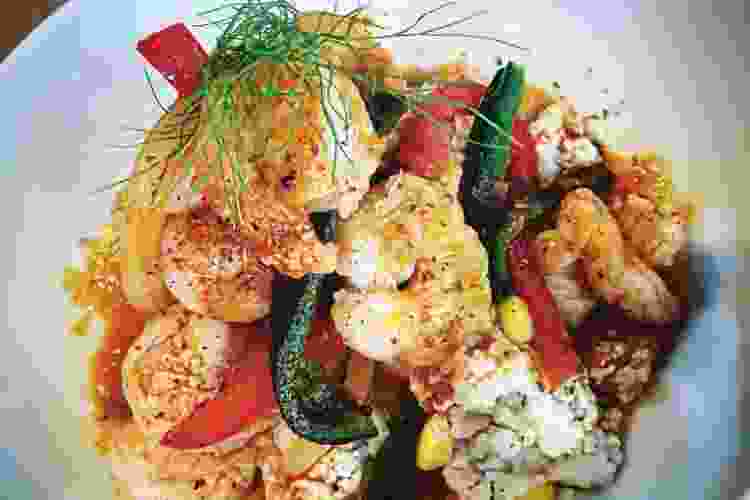 22. Pimento Cheese Spread at Empire State South
This famous sandwich spread has been described as the "caviar of the South," though it's a much more down-to-earth Atlanta food than that. The simple blend of cheese, mayonnaise and pimentos comes in myriad variations, though none are as highly regarded as the version at Empire State South. Purchase a tub for take-out and add it to whatever your Southern heart fancies.
Empire State South | 999 Peachtree St. NE., Atlanta, GA 30309 | $$$$
23. Lemon Pepper Wet Pizza at Phew Pies
Among famous Atlanta food, lemon pepper wet wings are both unique and legendary. Phew Pies does magical things with this local symbol of culinary creativity by adding lemon pepper sauce to pizza and topping it with the trademark wings that give lemon pepper wet cuisine its moniker. The result is a tangy, spicy celebration of everything that gives famous restaurants in Atlanta their distinctive character.
Phew Pies | 873 Victoria Place SW., Atlanta, GA 30310 | $$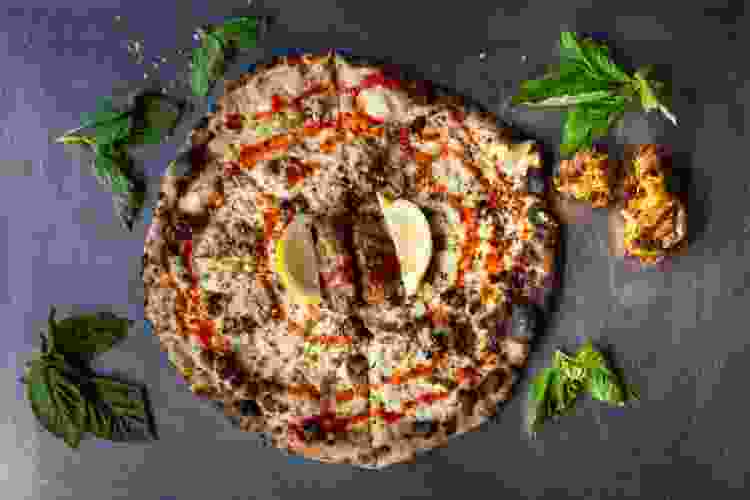 24. Fried Catfish at Revival
Fried catfish is a Georgia classic and some of the best Atlanta food you'll find anywhere in the city. A 20-minute jaunt northeast to Decatur will get you to Revival, a quaint eatery for cornmeal-crusted fried catfish that calls to mind a proper Sunday dinner made with local, farm-fresh ingredients for a down-home dining experience. Seasonal menus are subject to change, so call ahead to confirm your catch of the day.
Revival | 129 Church St., Decatur, GA 30030 | $$$
Top-Rated Cooking Classes in Atlanta
Master the art of gourmet cuisine taught by Atlanta's best chefs.
25. Fried Green Tomatoes at South City Kitchen
Immortalized by the movie of the same name, fried green tomatoes are as famous a food as the American South has ever produced. As served by South City Kitchen, a sophisticated bistro in Midtown Atlanta, this classic gets the royal treatment with a topping of red pepper coulis and goat cheese. If amazing Atlanta food like this doesn't get your Southern spirit fired up, you just aren't trying!
South City Kitchen | Multiple Locations | $$$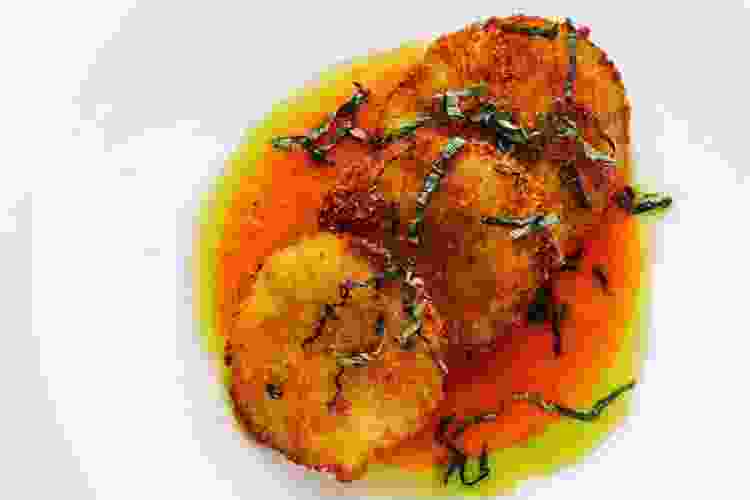 26. Seafood Gumbo at The Optimist
Gumbo is a quintessential southern treat that captures everyone's imagination. The list of famous restaurants in Atlanta includes The Optimist, a seaside fish camp and gumbo eatery that does gumbo right. A medley of oysters, shrimp and andouille sausage served with garlic bread, this take on classic Atlanta food calls to mind far-off coastal breezes and the flavors of the sea.
The Optimist | 914 Howell Mill Rd., Atlanta, GA 30318 | $$$$
27. Chicken and Waffles at 10th & Piedmont
This traditional favorite is enjoyed around the world, but 10th & Piedmont keeps chicken and waffles in the spotlight as a signature Atlanta food. Their signature C&W is a skewered, batter-fried delight, flavored with bacon, syrup and hot sauce. Bacon-braised collard greens on the side show of the creative side of what food in Atlanta can be.
10th & Piedmont | 991 Piedmont Ave. NE., Atlanta, GA 30309 | $$$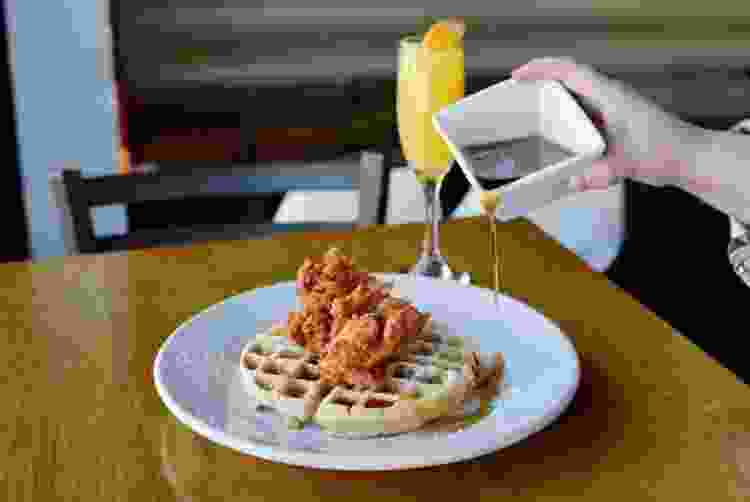 28. Lemon Pepper Wings at Hudson Grille Midtown
Lemon pepper is much loved among Atlanta food traditions, especially favored in chicken wings. Hudson Grille's award-winning version makes this vibrant sports bar a destination for experiencing the best of Atlanta's famous foods. And these wings are available in jumbo, boneless and cauliflower versions, which means everyone can enjoy them.
Hudson Grille Midtown | 942 Peachtree St., Atlanta, GA 30309 | $$
29. Strawberry or Peach Sliders at Revolution Donuts
Behold, the reinvention of the slider as a famous Atlanta food! At Revolution, a sugar donut split down the middle and stuffed with seasonal fruit like strawberries and Georgia peaches turns a regular pastry into a dessert sandwich sensation. Season determines the fruit selections, so plan your indulgence accordingly.
Revolution Donuts | 745 Edgewood Ave. NE., Atlanta, GA 30307 | $
30. Biscuits and Gravy at Flying Biscuit Café
You'll find this Southern staple in almost every diner you visit, but only Flying Biscuit Café makes it a famous Atlanta food by making biscuits part of the entire menu! Their biscuit, eggs and gravy option is the real deal; chicken sausage gravy over a biscuit topped with scrambled eggs and served with grits on the side. Southern food doesn't get much more Atlanta than this.
Flying Biscuit Café | Multiple Locations | $$
Book an Atlanta Food Tour
See Atlanta's famous food scene in a whole new light. Explore the best restaurants, hotspots and more with top local guides.
31. Buttermilk Pie at Buttermilk Sky Pie
Buttermilk pie is the Atlanta food world's answer to crème brulee, a creamy, custardy concoction baked in a pie shell and served with a crackled top. A speedy 20-minute ride down the I-85 S to Sandy Springs will deliver you to Buttermilk Sky Pie — the best buttermilk pie in the Atlanta area. One taste and you'll understand why Southern comfort food is a way of life.
Buttermilk Sky Pie | 4600 Roswell Rd., Suite C130, Sandy Springs, Georgia 30342 | $$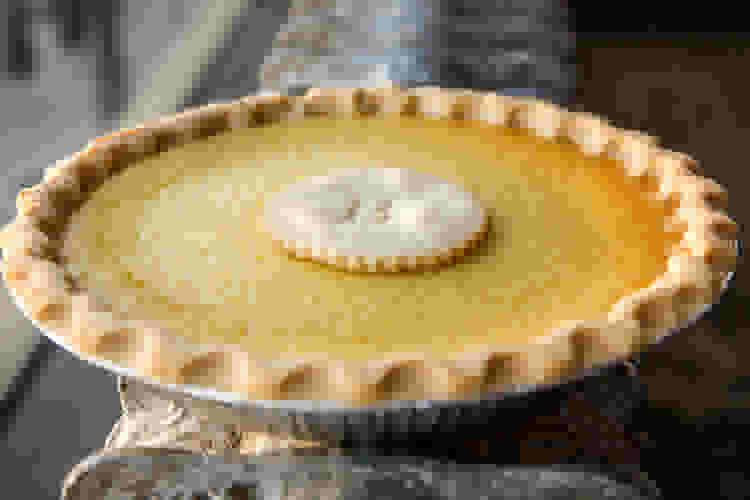 Join 200,000+ Culinary Enthusiasts
Exclusive deals, recipes, cookbooks, and our best tips for home cooks — free and straight to your inbox. PLUS: 500 Rewards Points.
With a collection like this, there's no disputing what food Atlanta is known for; no matter what the dish might be, Atlanta food is famous for being hearty, creative and thoroughly satisfying. It's a celebration of Southern heritage recipes and soul food classics served with thoughtful touches that puts Atlanta food and its cast of creative chefs in a class all their own.
For even more fun things to do in Atlanta and beyond, check out other experiences happening on Cozymeal.