22 Iconic Chicago Foods to Try in the Windy City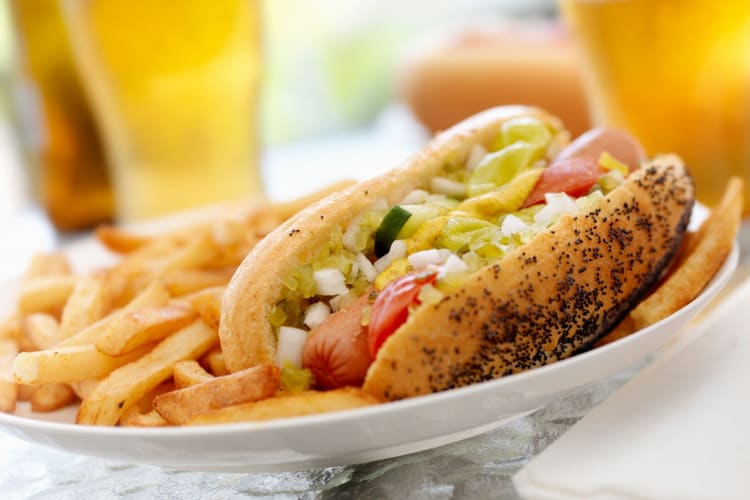 Looking for the most iconic Chicago foods to try in the Windy City? Chicago is without a doubt one of the nation's best cities for food, but it's in a league of its own when it comes to signature dishes. Here, the question isn't "What food is Chicago known for?" — it's "What foods is Chicago known for?"
Ask a local about the best pizza in Chicago and you'll find the house divided between deep-dish and tavern-style. When you start talking handhelds, you'll get a history lesson in Chicago hot dogs, the Italian beef, the jibarito and something called a Gym Shoe.
From world-famous dishes to furtive fares on the city's best-kept secret menus, here are 23 of the most iconic Chicago foods and where to find them.
GET UP TO $50 IN COZYMEAL
CASH™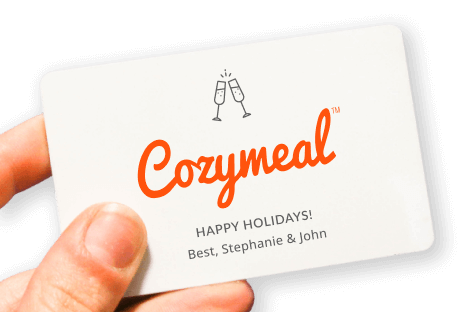 GET UP TO $50 IN COZYMEAL
CASH™
$100 or more, get $10 Cozymeal Cash™
$250 or more, get $25 Cozymeal Cash™
$500 or more, get $50 Cozymeal Cash™
Get a Taste of Famous Chicago Foods
Whether you're a local or visiting the Windy City for the first time, you'll be able to discover some of the most iconic Chicago foods with food tours in Chicago on Cozymeal.
These guided culinary tours will lead you on an exploration of Chicago foods found at famed eateries, warm and cozy restaurants, hole-in-the-wall joints and more. Led by some of the best tour guides in town, you'll have the opportunity to taste and see Chicago like a local as you dive into some of the most picturesque and palate-pleasing experiences the city has to offer. From Chicago pizza tours to hotdog hotspots and burger joints, there's something for everyone.
Of course, if you'd like to do your own exploring, you can't go wrong with any of the 23 iconic Chicago foods on this list.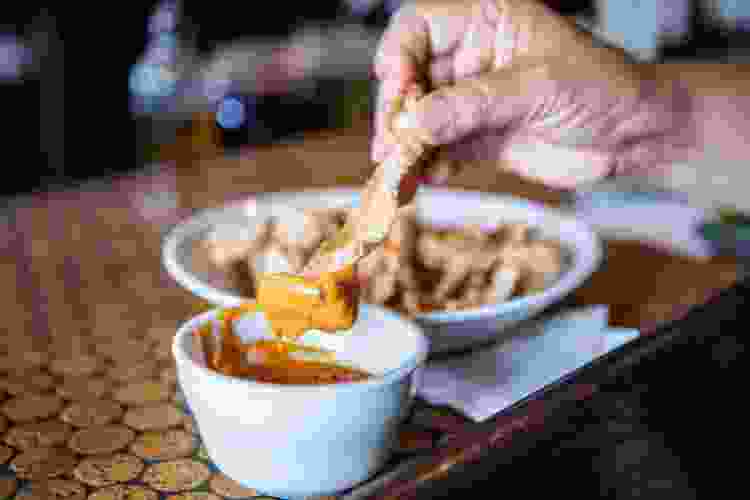 1. Chicago Deep-Dish Pizza at Lou Malnati's
If there's one Chicago food that's the best known, it's deep-dish pizza. Composed of a thick crust, zesty tomato sauce, personalized toppings and a behemoth layer of cheese, the Chicago deep-dish dares to be different.
There's a lot of local competition claiming that they have the best deep-dish pizza in Chicago, but Lou Malnati's holds the crown. The heavy blend of cheese and vine-ripened tomato sauce inside a unique, oh-so-good butter crust holds a special place in Chicagoans' hearts.
Lou Malnati's | Multiple Locations | $$
Book a Chicago Food Tour Now

Explore Chicago's best bites, esteemed eateries and hidden gems with a top-rated local guide.

Book Now
2. Chicago Style Hot Dog at Portillo's
A true Chicago hot dog follows a very specific list of ingredients: a Vienna beef hot dog that's water-bathed (not boiled) in a steamed poppy seed bun with yellow mustard, fluorescent green relish, chopped white onions, spicy sport peppers, tomato slices, a dill pickle spear and a dash of celery salt. Ketchup is strictly forbidden, of course. The best hot dogs in Chicago can be found at Portillo's, where you'll get the quintessential example of this famous Chicago food.
Portillo's | Multiple Locations | $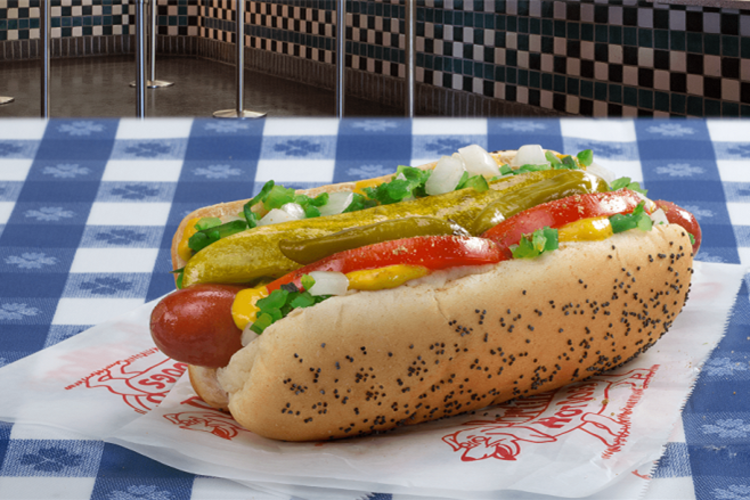 3. Chicago Style Popcorn at Garrett Popcorn
Chicago popcorn is synonymous with the Garrett Mix at Garrett Popcorn. This famous Chicago popcorn is a blend of Garrett's CaramelCrisp and CheeseCorn popcorn flavors, both made in old-fashioned copper kettles using secret family recipes.
The mix has been a favorite Chicago food since the shop first opened in 1949. You'll find multiple Garrett's locations throughout Chicago (as well as several cities around the world), each offering tons of different popcorn flavors in their signature blue-striped tins. You'll realize you're near one of Chicago's shops when you see the out-the-door line.
Garrett Popcorn | Multiple Locations | $$
Top-Rated Cooking Classes in Chicago
Master the art of gourmet cuisine with the help of Chicago's best chefs.
4. Italian Beef Sandwich at Al's Italian Beef
The Italian beef Chicago sandwich is one of the city's most famous creations. The sandwich consists of a crusty Italian roll piled high with thinly sliced and seasoned roast beef, plus your choice of peppers and au jus sauce.
There's a fierce debate among locals as to who has the city's best Italian beef Chicago sandwich. Al's claims to be the inventor of this iconic Chicago food, and has won countless awards since it opened in 1938. At Al's, you can order your sandwich dry (just a splash of gravy), wet (with extra gravy) or dipped (loaded with gravy). You can also top it off with a variety of different cheeses and sweet peppers, or spicy giardiniera for some heat.
Al's Italian Beef | Multiple Locations | $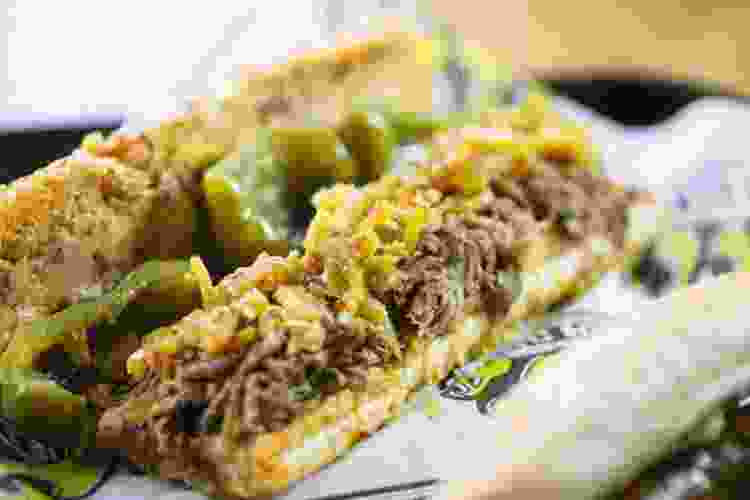 5. Rainbow Cone at the Original Rainbow Cone
This classic Chicago food is a cake cone piled high with chocolate, strawberry, Palmer House (vanilla with cherries and walnuts), pistachio and orange sherbet (in that order). It's a summertime staple and Instagram-worthy dessert that has remained virtually unchanged since it was first scooped in 1926.
You can find this Chicago food at the Original Rainbow Cone's original location in Chicago's Beverly neighborhood or their second location at Navy Pier.
Original Rainbow Cone | Multiple Locations | $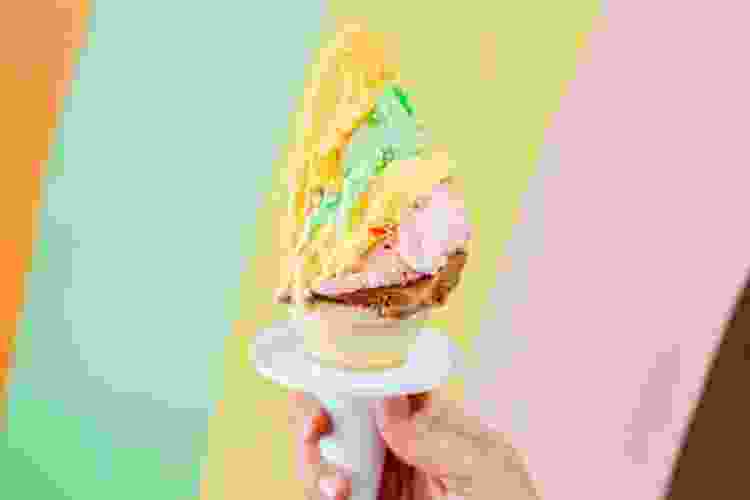 6. Tamales From The Authentic Tamale Guy
Tamales may not have been invented in Chicago, but The Authentic Tamale Guy's tamales are certainly some of the most iconic Chicago foods. Claudio Velez, otherwise known as the "Tamale Guy" himself, is known to stroll through the doors toting his famous red coolers packed to the brim with hand-rolled tamales, eliciting a cheer from the locals.
Tamale Guy | 1209 N. Paulina St., Chicago, IL 60622 | $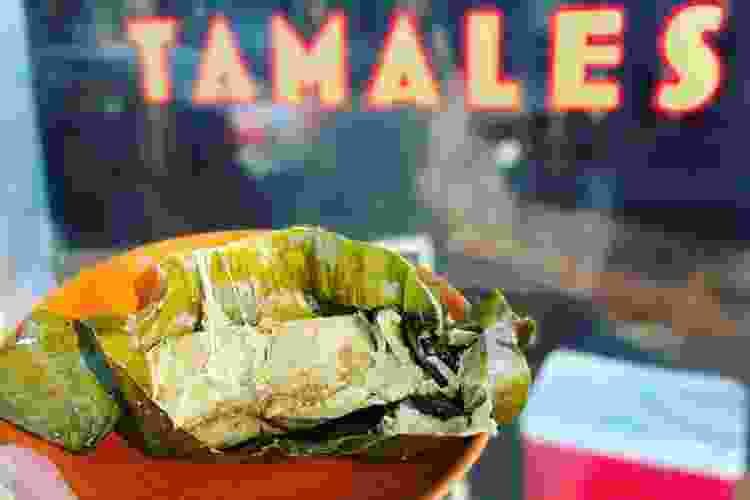 7. Cinnamon Rolls at Ann Sather
Layers and layers of cinnamon rolled into a satisfyingly chewy, buttery dough, dripping with a sweet vanilla glaze. This is Ann Sather. And its cinnamon rolls are one of those famous Chicago foods that have kept customers coming through its doors for almost 80 years.
Ann Sather sells a bevy of breakfast items (which won't disappoint if you feel the need to order some "real" food), but people in Chicago have been coming here for the oven-fresh, made-from-scratch cinnamon rolls since 1945.
Ann Sather | Multiple Locations | $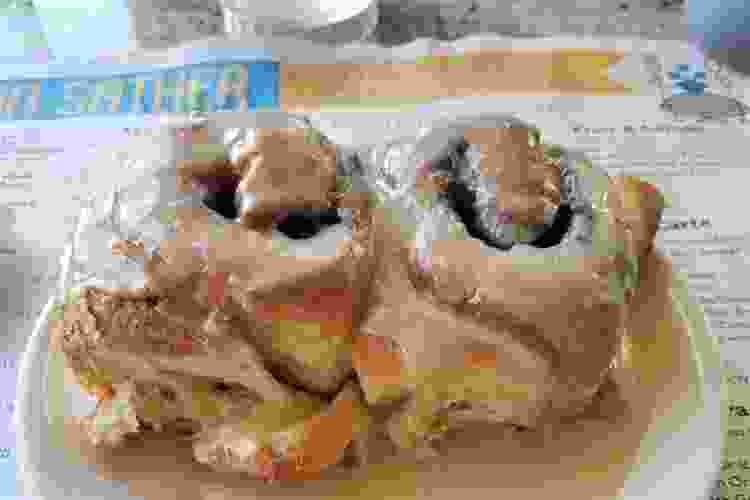 Book a Chicago Private Chef Now
Indulge in the finest fare Chicago has to offer. Book a five-star private chef experience starting at $59/person.
8. Rib Tips at Lem's Bar-B-Q
North Carolina bleeds pulled pork, Kansas City knows burnt ends and Texas has brisket on lock. But in Chicago, it's all about rib tips.
Rib tips are an oft-overlooked barbecue specialty, but they're the main attraction at old-school Chicago smoke shacks like Lem's. This iconic Chicago food is cooked in a customized aquarium smoker — the largest in the city — and slathered in a sweet sauce.
Lem's Bar-B-Q | 311 E. 75th St., Chicago, IL 60619 | $$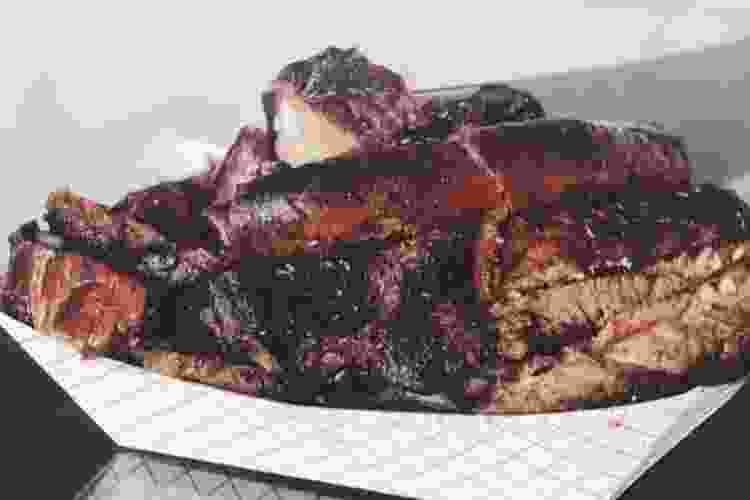 9. Chorizo-Stuffed Bacon-Wrapped Dates at avec Restaurant
This famous Chicago restaurant opened back in 2003 and quickly made a name for itself thanks to its elegant yet approachable atmosphere and invention of one of the best Chicago foods the Midwest had ever encountered.
Plump Medjool dates undergo the full hog treatment here at avec Restaurant to become the iconic Chicago food they are, plied with spiced chorizo before being swaddled in a thick slab of bacon. Then, they're fired until crisp and doused in a warm piquillo pepper tomato sauce.
avec Restaurant | 615 W. Randolph St., Chicago, IL 60661 | $$$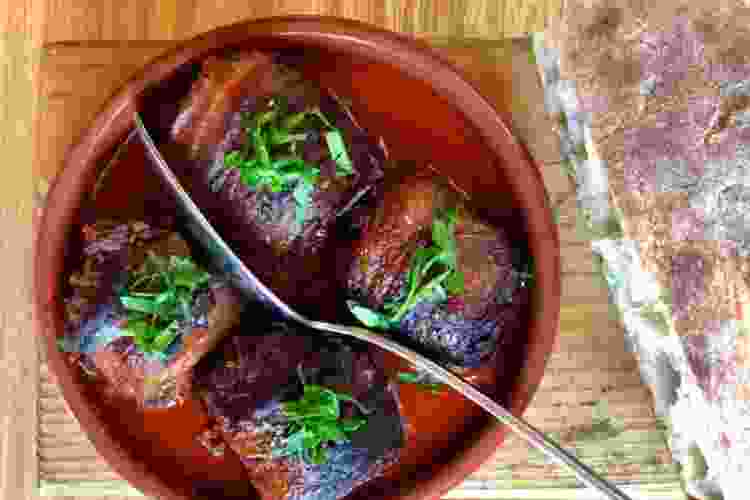 10. Jibarito at Jibaritos y Más
The jibarito holds a tried and true spot on our list of iconic Chicago foods. A work of culinary genius, the Puerto Rican-inspired jibarito, which translates to "little hillbilly" in Spanish, is a sandwich made from shredded beef or ultra-thin cut steak, topped with tomatoes, lettuce and garlic mayonnaise, then fixed between two fried and flattened green plantains.
Jibaritos y Más is one of many Puerto Rican restaurants that serves this legendary Chicago food in its most traditional form as well as offering chicken, pork and octopus variants.
Jibaritos y Más | Multiple Locations | $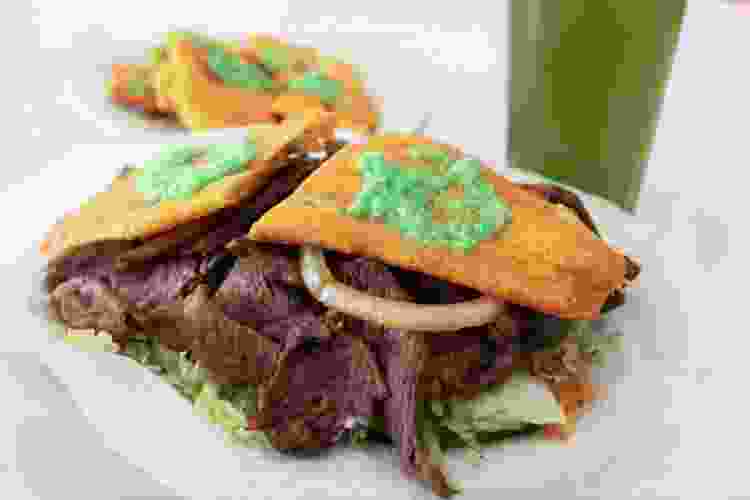 Book a Chicago Food Tour Now
Explore Chicago's best bites, esteemed eateries and hidden gems with a top-rated local guide.
11. Tavern-Style Pizza at Vito and Nick's
Once you've indulged in the deep dish, it's time to try Chicago's other favorite pizza: tavern-style. Where's the name come from? When pizza first came on the scene, taverns served this Chicago food as an inexpensive bar snack to encourage more drinking. They cut them in squares to allow for better snacking and to get more mileage on their pies.
Most urbanites will tell you that they actually prefer these cracker-thin, square-cut pies. Especially at Vito & Nick's — a South Side institution that's been perfecting this iconic Chicago food since 1923.
Vito and Nick's | 8433 S. Pulaski Rd., Chicago, IL 60652 | $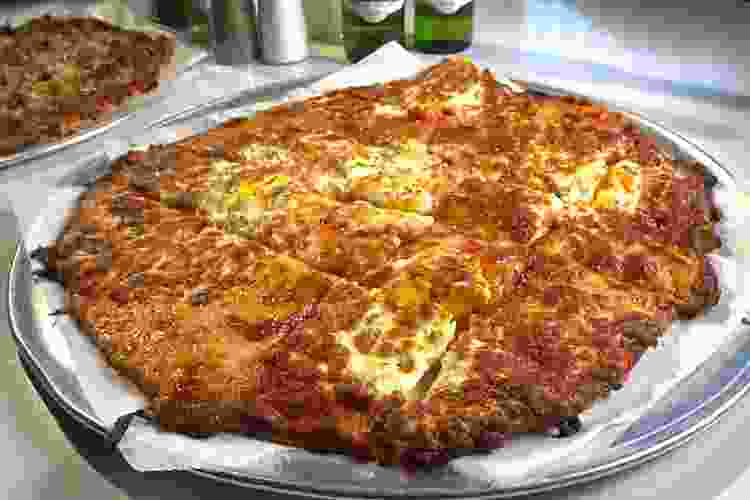 12. Fried Chicken With Mild Sauce at Harold's Chicken Shack
A favorite among locals and celebrities, Harold's Chicken Shack dishes out what many consider to be the best fried chicken in Chicago and one of the best Chicago foods.
The popular chain oversees dozens of locations in the area, with a majority on the South Side. The chicken's distinctive flavor is a result of being cooked to order in vegetable oil and beef tallow. Their mild sauce — a tomato-tinged, tartly sweet, smoky and ever-so-slightly spicy potion — is also a Chicago food that's taken a mythic importance.
Harold's Chicken Shack | Multiple Locations | $$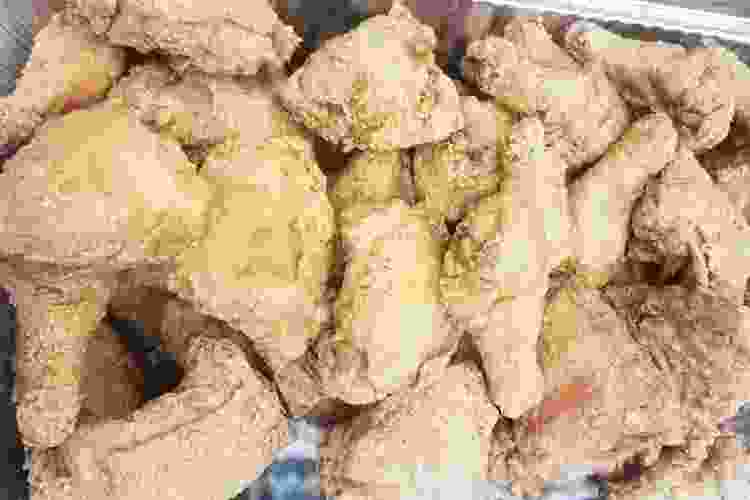 13. Mapo Tofu at Lao Sze Chuan
Lao Sze Chuan is the restaurant that marked the emergence of chef and restaurateur Tony Hu — Chicago's standard-bearer for Sichuan food. To eat here is to raise your body temperature, to break into a soft sweat and to know no way out of it.
Patrons zero in on Lao Sze Chuan like heat-seeking missiles for the mapo tofu — molten, silky cubes swimming in a tingling, Sichuan pepper-charged broth. This must-try Chicago food helped launch Lao Sze Chuan from a small Chinatown joint in 1998 to a Midwestern mapo tofu empire.
Lao Sze Chuan | Multiple Locations | $$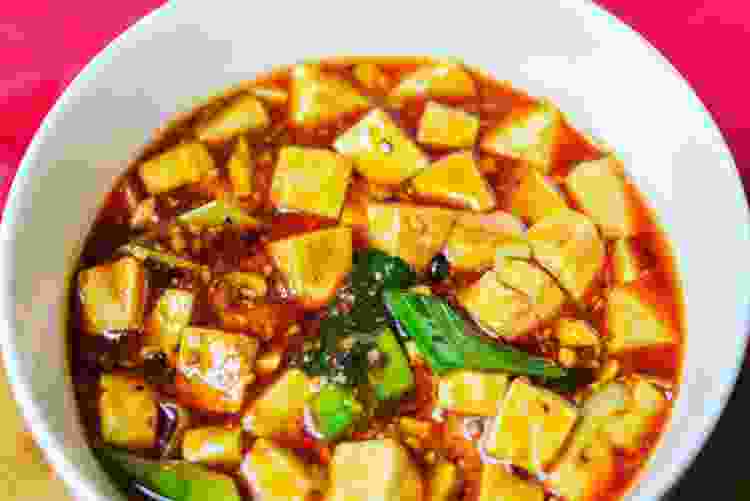 14. Smoked Shrimp at Calumet Fisheries
This humble Far South Side fish shack has been marinating and smoking award-winning seafood over specially selected oak logs since 1948.
In 2010, Calumet Fisheries was named in the America's Classics category by the James Beard Foundation. Given to just five restaurants nationwide each year, the award acknowledges places "with timeless appeal, beloved for quality food that reflects the character of their community" — qualifications which Calumet Fisheries embodies and then some.
The menu runs deep, but the smoked shrimp, tender and bursting with briny, meaty succulence, remains one of the best Chicago foods.
Calumet Fisheries | 3259 E. 95th St., Chicago, IL 60617 | $$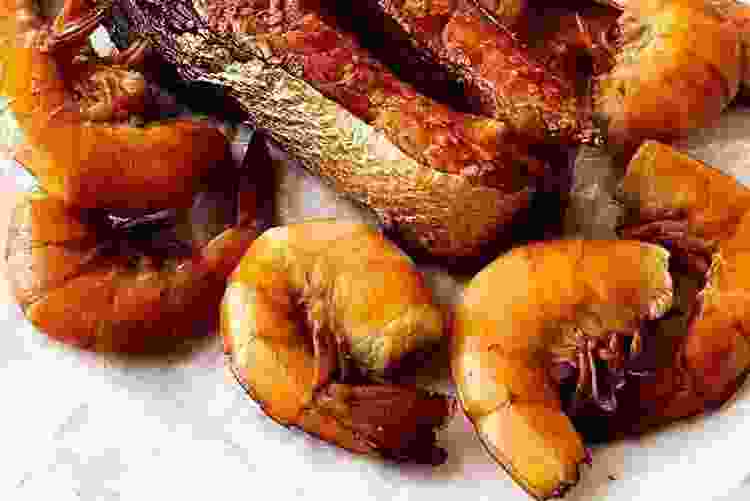 Top-Rated Cooking Classes in Chicago
Master the art of gourmet cuisine with the help of Chicago's best chefs.
15. Off-Menu Beijing Duck Dinner at Sun Wah BBQ
The Beijing duck dinner is Sun Wah BBQ's not-so-secret, off-menu signature dish and one of the best Chicago foods in the city.
This multi-course feast starts with an entire duck, freshly roasted and carved tableside by the family-run spot's expert staff. You'll also enjoy steamed bao with garnishes and house-blended hoisin sauce. Then, what remains of the duck is returned to the kitchen where lingering morsels are made into the second course: duck fried rice. Finally, the duck bones are rendered into a duck broth soup as the finishing course.
Sun Wah BBQ | 5039 N. Broadway, Chicago, IL 60640 | $
16. Pierogi at Kasia's Deli
If you're looking for the best pierogi in Chicago, you'll find what you're looking for at the bustling Kasia's Deli, famous for its regular rotation of delicious Eastern European dumplings.
Flavor-packed fillings include both classic and contemporary options, like potato and cheese, beef goulash and sauerkraut and Polish sausage. There are sweet options too, such as strawberry, plum and wild blueberry. Like tamales, pierogi certainly weren't invented in Chicago, but Kasia's pierogi are certainly an iconic Chicago food, making this iconic spot one of the best diners in Chicago for something unique.
Kasia's Deli | 2101 W. Chicago Ave., Chicago, IL 60622 | $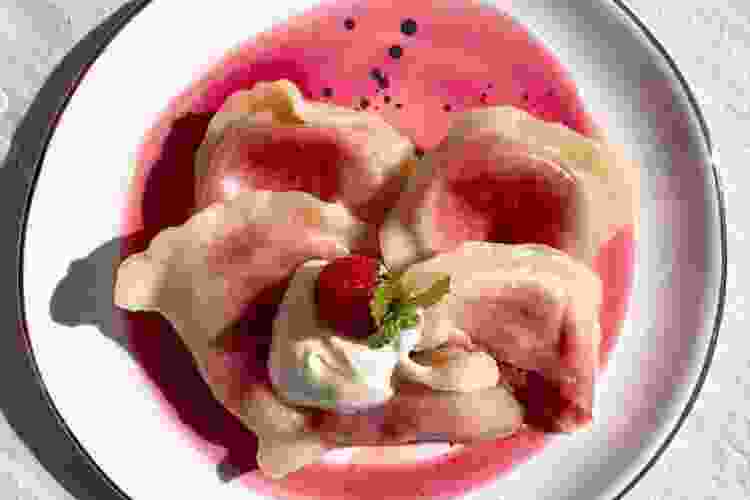 17. Buttermilk Old-Fashioned Doughnut at Do-Rite Donuts
When the doughnut craze hit the city, there was one ring that ruled them all: Do-Rite Donut's Buttermilk Old-Fashioned doughnut.
Craggy on the outside, pillowy-soft and delicate on the inside and coated in a vanilla bean glaze, this doughnut is one of those classic Chicago foods that shines precisely because of its simplicity. If you're getting a dozen, it wouldn't hurt to order the Cinnamon Crunch Raised and Pistachio-Meyer Lemon doughnuts, too.
Do-Rite Donuts | Multiple Locations | $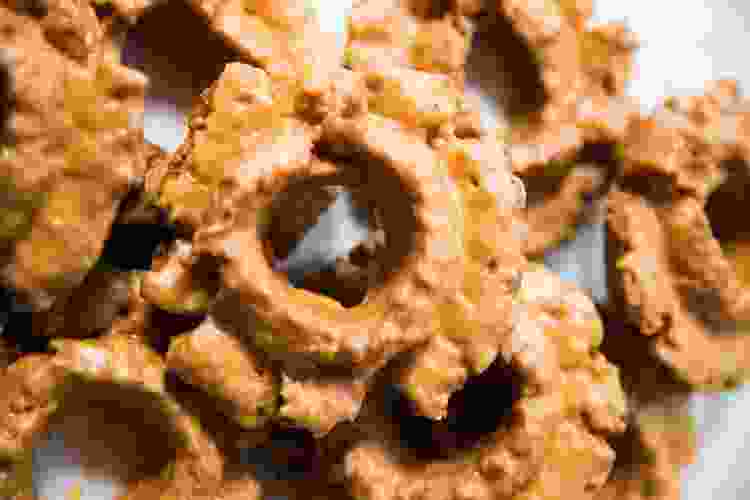 18. Bing Bread at Parachute
Michelin-starred Parachute is celebrated for its modern approach to Korean food. And the most celebrated item at this famous Chicago restaurant is the bing bread.
A menu mainstay since the day Parachute opened in 2014, it's the most-ordered dish at the restaurant by a wide margin. The appetizer is made of potato, bacon, cheese and scallions and ranks high on the list of must-try Chicago foods.
Parachute | 3472 N. Elston Ave., Chicago, IL 60618 | $$$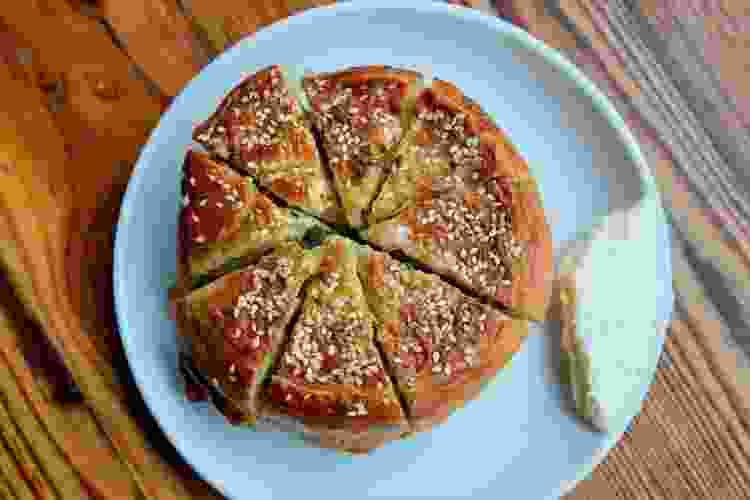 Book a Chicago Private Chef Now
Indulge in the finest fare Chicago has to offer. Book a five-star private chef experience starting at $59/person.
19. Single Cheeseburger at Au Cheval
The legendary cheeseburger at Au Cheval has repeatedly been dubbed not only an iconic Chicago food, but one of the best burgers in America — and Au Cheval has earned its stripes as one of the best restaurants in Chicago.
This West Loop haunt's multi-award-winning cheeseburger is a scrumptiously sloppy pile of prime W.W. Johnson Farms beef griddled to greasy perfection, goopy Kraft American cheese, housemade pickles, onions, a runny fried egg, thick-cut bacon and a dollop of tangy Dijonnaise spread stuffed into a buttery double-toasted bun. When ordering this iconic Chicago food, know that the "single" is actually a double, and the "double" is a triple.
When you're finished here, swing by Au Cheval's offshoot eatery Small Cheval, one of the best Wicker Park restaurants.
Au Cheval | 800 W. Randolph St., Chicago, IL 60607 | $$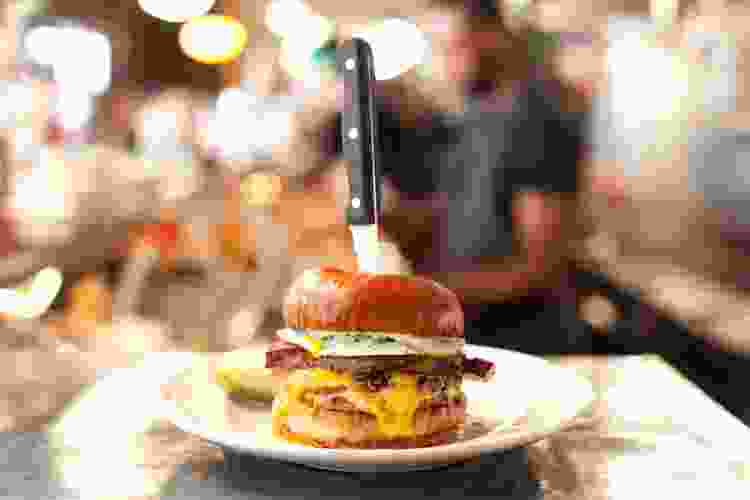 20. Steak at Gene & Georgetti
Chicago is historically a meat-and-potatoes kind of town and as a result, many of the country's top steakhouses reside here. When it comes to the classics, you can't do better than a steak at Gene & Georgetti, which opened back in 1941.
They source only the highest quality American beef, graded in the top 2% for marbling and texture, and transform it into one of the best Chicago foods by wet-aging their steaks, then broiling them to seal in flavor.
Gene & Georgetti | 500 N. Franklin St., Chicago, IL 60654 | $$$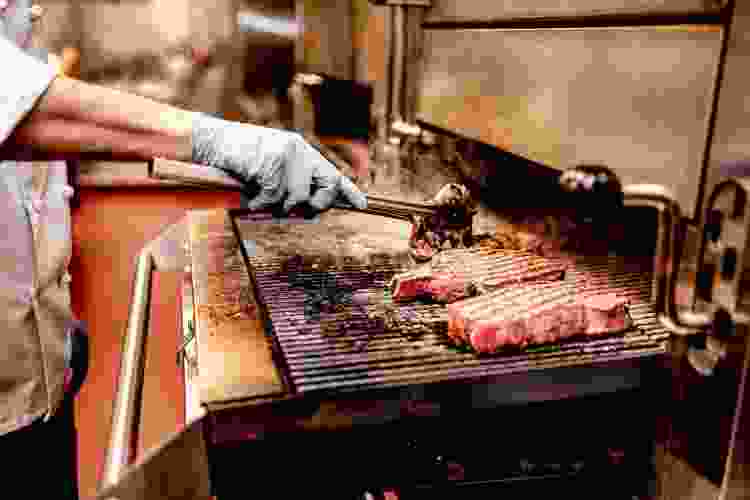 21. Chicken Vesuvio at Harry Caray's Italian Steakhouse
Chicken Vesuvio is a true Chicago food. No one really knows who invented this roast chicken dish featuring potato wedges and peas sautéed in white wine sauce, but many believe this iconic Chicago food first appeared on the menu at Vesuvio, a well-known Chicago restaurant in the 1930s.
Whatever its origins, Chicagoans claim it as their own. You can find it at almost every Italian restaurant in Chicago, but Harry Caray's version has been rated the best in town on more than one occasion and is a solid introduction to this Chicago food for both locals and tourists alike.
Harry Caray's Italian Steakhouse | 33 W. Kinzie St., Chicago, IL 60654 | $$$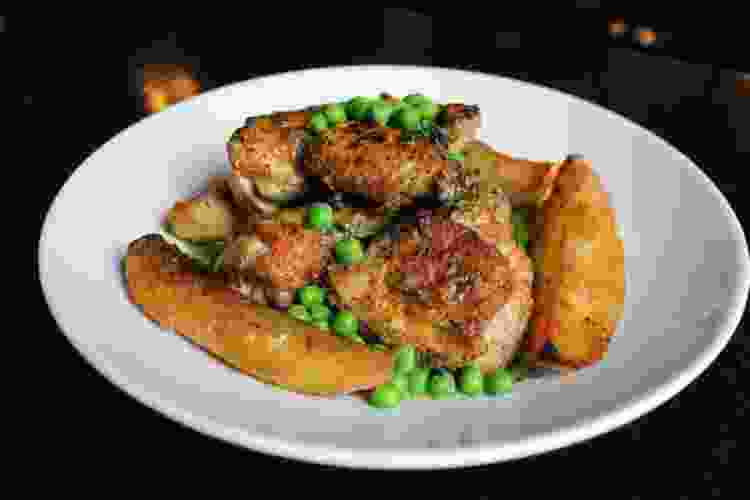 Book a Chicago Food Tour Now
Explore Chicago's best bites, esteemed eateries and hidden gems with a top-rated local guide.
22. Gym Shoe at Stony Sub
A culinary phenomenon is one way to describe the Gym Shoe — a towering sandwich piled with roast beef, corned beef and gyro meat. Everything gets shredded over a hot skillet, then mixed with sweet peppers, onions and giardiniera before receiving a healthy topping of tzatziki and tomatoes. The whole shebang is served atop a grilled Italian roll complete with melty Swiss cheese and mayonnaise.
When you start searching for this elusive Chicago food, one name comes up over and over again: Stony Sub. The Avalon Park restaurant has mastered the overstuffed feast of a sandwich.
Stony Sub | 8440 S. Stony Island Ave., Chicago, IL 60617 | $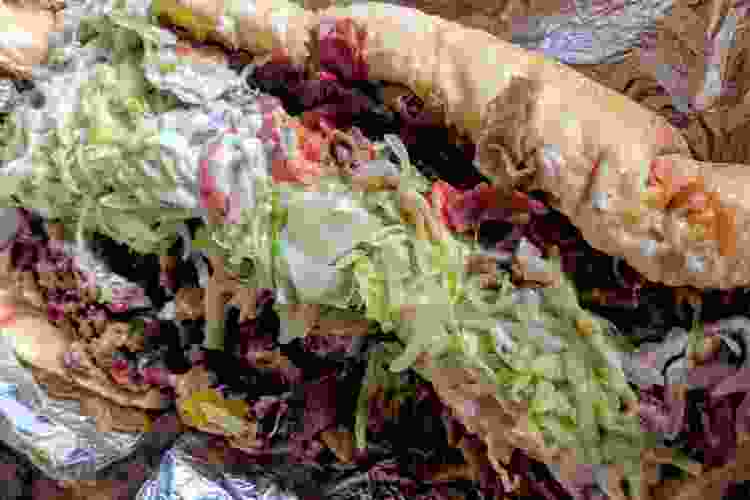 Join 200,000+ Culinary Enthusiasts
Exclusive deals, recipes, cookbooks, and our best tips for home cooks — free and straight to your inbox. PLUS: 500 Rewards Points.
With more than 8,000 restaurants across 77 neighborhoods, the Windy City has invented and perfected a lot of dishes, but these are the 23 Chicago foods that really stand out. By using this list as a reference, you can see where locals go to satisfy their cravings for these iconic dishes and head home having eaten some of the city's most storied meals.
For even more insight into the best Chicago foods, check out other experiences happening on Cozymeal.