The Top Chicago Pizza Tours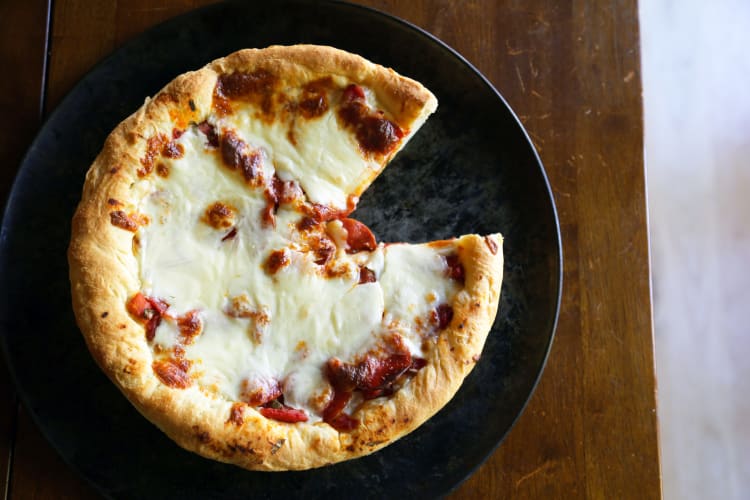 Few cities have a storied food scene as unique as Chicago's, and Chicago pizza tours are an unforgettable way to experience the Windy City's best bites firsthand. Chicago may be home to many unique eats — Italian beef sandwiches, hot dogs with poppy seed buns and fresh tomato slices, caramel-cheddar popcorn — but, of course, one stands out from the crowd: Chicago-style deep-dish pizza.
Do you have a favorite iconic Chicago food? If you're like many, deep-dish pizza is at the top of the list. This thick and hearty creation has made its way into the world with the ability to stand on its own as a full-fledged entrée (even if you do need a knife and fork to eat it). Do you have a favorite local spot for this deep-dish goodness? Keep reading to find out all about Chicago pizza tours and what makes deep-dish pizza so darn delectable.
Jump to Section
Book a Chicago Food Tour Now
Explore Chicago's best bites, esteemed eateries and hidden gems with a top-rated local guide.
What Is Chicago-Style Pizza?
Before you embark on any of these Chicago pizza tours, you may be wondering what makes this city's signature pie stand out from the rest. While pizza styles range from the thin-crust of New York to the wood-fired slices of San Francisco (then there's the rectangular shape of Detroit-style pie), Chicago-style pizza is unique in both its texture and preparation techniques. With multilayers, it's more of a layer cake or overstuffed pie than what most think of as pizza.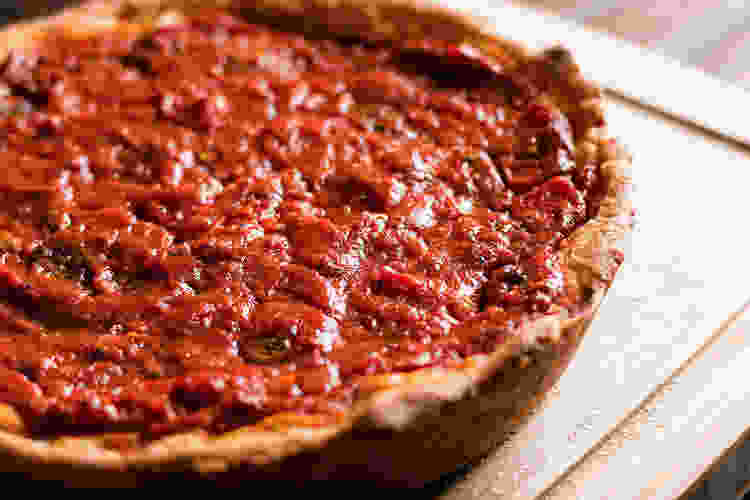 Deep-dish Chicago-style pizza is made by "inverting" the layers of ingredients. Cheese goes on the bottom followed by the meat and other fillings. Finally, a rich, savory tomato sauce is poured over the top. This is done to avoid burning the cheese, since this massive "pie" has to bake longer than regular pizza.
Deep-dish is then baked in a two to three-inch deep pan, which gives it those high pie-like edges. This also makes room for lots of cheese, fillings and sauce.
The pizza you'll eat on food tours in Chicago is different from other pizza styles. New York-style pizza is generally thin; you can fold it and go. Try that with Chicago-style pizza and you'll end up with filling all over yourself. This is not a fold-and-go New York thin crust. You need a sturdy plate and lots of napkins for this concoction. However, this set-up allows for a belly-filling and taste-bud tempting experience.
Chicago pizza tours allow you to truly familiarize yourself with this beloved local staple and sample bites from the best in the business.
The History of Chicago Deep-Dish Pizza
The best Chicago pizza tours aren't just known for the food, but for the history behind it, too. Pizza comes from the word pinsere, which means to stamp (a reference to the flat dough). It originated in 16th-century Naples, where ingredients were fairly inexpensive and it was quick to eat. In the late 1800s and early 1900s, Italian immigrants made their way to Chicago.
By 1943, Pizzeria Uno had opened with an updated version of the classic Neapolitan pizza dish many missed in their Italian hometowns.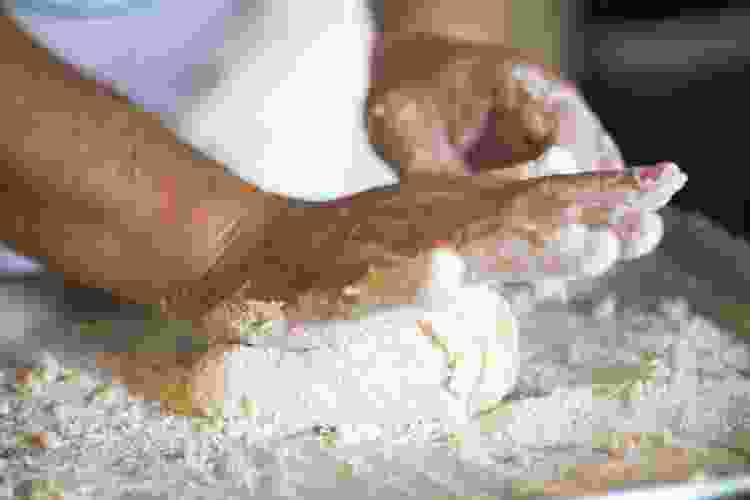 This Americanized version had inverted layers and a deeper and crunchier crust than they were familiar with. At one point, it was even prepared with a crust on top (much like an actual fruit-filled pie). Ike Sewell and Ric Riccardo created this thick and savory version that just begged to be cut into.
Book a Local Food Tour Now
Explore your city's best bites, esteemed eateries and hidden gems with a top-rated tour guide.
Pizzeria Uno is now known as Uno Chicago Grill and can be found in more than 200 locations around the world (though the original Chicago location is still called Pizzeria Uno).
While there is some question as to the actual creator of Chicago's deep-dish pizza — whether it was Sewell and Riccardo or the Malnati family of a neighboring pizza place — it's become an icon of the city's foodie scene, and a major reason why Chicago pizza tours are so popular.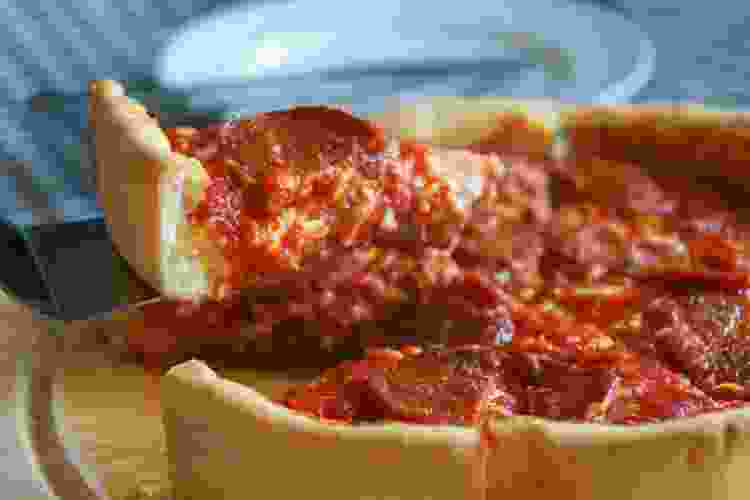 Places Known for Serving the Best Pizza in Chicago
A city as sweeping and diverse as Chicago is bound to be filled with plenty of places to enjoy a slice of deep-dish pizza. Whether historic and cozy or new and modern, Chicago pizza tours and restaurants are worth seeking out and returning to again and again.
Gino's East, open for more than 50 years, uses ingredients such as vine-ripened California tomatoes, homemade dough, locally made sausage and fresh mozzarella cheese made with Grade A milk.
Friendly service, Italian tradition and top-quality ingredients are the hallmarks of Pizano's Pizza & Pasta. It's owned and operated by the Malnati family, who opened Pizzeria Uno in the 40s.
Open since the 70s, Lou Malnati's Pizzeria uses Wisconsin cheese, California tomatoes and an exclusive sausage blend to create their widely popular Chicago-style pizza.
Whether you're dining in at a famed local restaurant or strolling the streets on one of many Chicago pizza tours, you're guaranteed to fall in love with this comforting classic.
The Top 3 Chicago Pizza Tours to Try Now
If you're a local Chicagoan or just in town for a few days, Chicago food tours provide a great way to get to know the city and its cuisine. We've collected some Chicago pizza tours to put on your bucket list.
1. Discover Chicago's Greatest Hits
The Discover Chicago's Greatest Hits food tour takes you on a trek through the history, culture and cuisine of the Windy City. Accompanied by a knowledgeable guide, you'll stroll along the Chicago Riverwalk and tour Millennium Park. This isn't just one of the top Chicago pizza tours — along the way, you'll also sample locally made chocolates, hot dogs, Italian beef and Chicago-style popcorn (the aforementioned unique caramel and cheddar cheese-covered treat).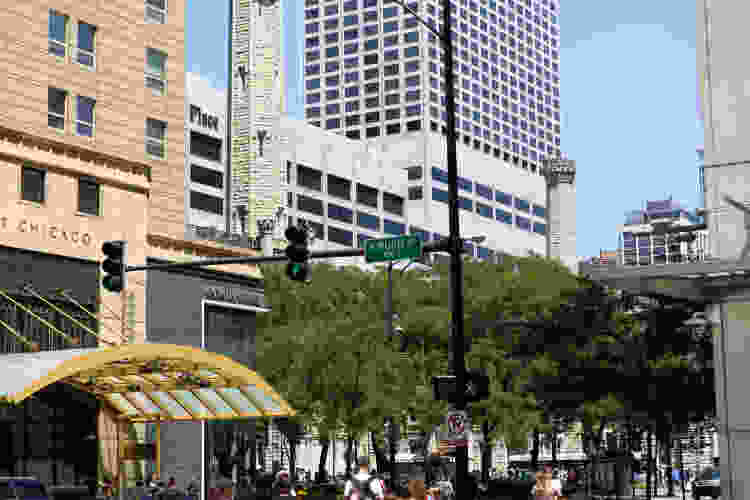 Book a Chicago Food Tour Now
Explore Chicago's best bites, esteemed eateries and hidden gems with a top-rated local guide.
2. Discover River North
Wicker Park landmarks, the Magnificent Mile and the historic Gold Coast district are highlights of the Discover River North food tour while you explore the fashionably trendy River North neighborhood. Not only one of the best Chicago pizza tours, but you'll also get to sample award-winning doughnuts, authentic Spanish tapas and other treats along the way.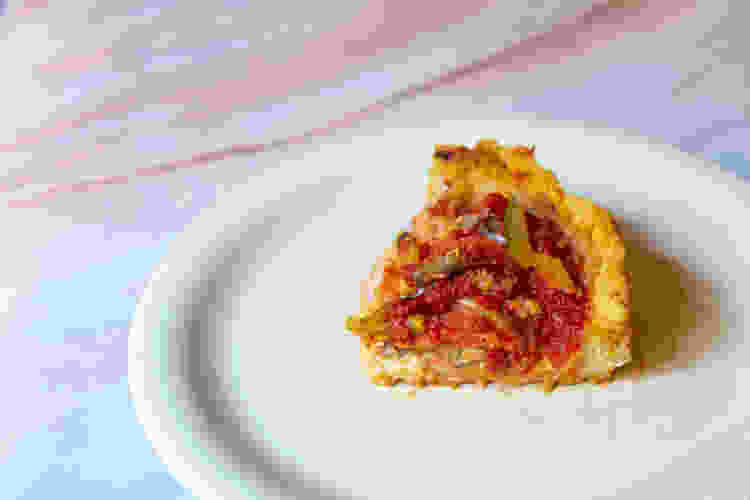 3. River North Bites and Sights
Chicago's original foodie destination, the River North neighborhood, has inspired the local food scene for decades and is a must-stop on many Chicago pizza tours. You'll visit influential restaurants and famous sites on the River North Bites and Sights food tour where you can sample Italian beef, Chicago-style hot dogs and, of course, Chicago-style deep-dish pizza.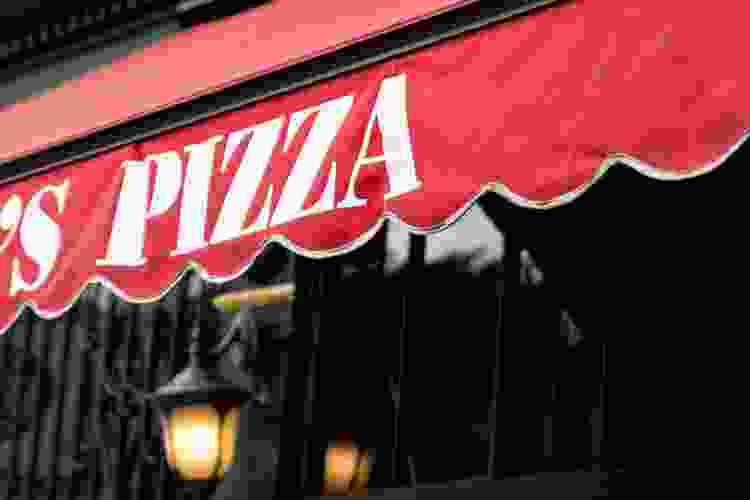 Join 200,000+ Culinary Enthusiasts
Exclusive deals, recipes, cookbooks, and our best tips for home cooks — free and straight to your inbox. PLUS: 500 Rewards Points.
From skyscrapers to sky-high pizza pie, Chicago brought together the flavors of Italy and the ingenuity of America to create a one-of-a-kind icon. You can experience the magic for yourself with the help of some fantastic Chicago pizza tours.
Looking for more great food tours in Chicago and beyond? Check out the food tours near you happening on Cozymeal.