Top 11 Rooftop Restaurants in Chicago for 2023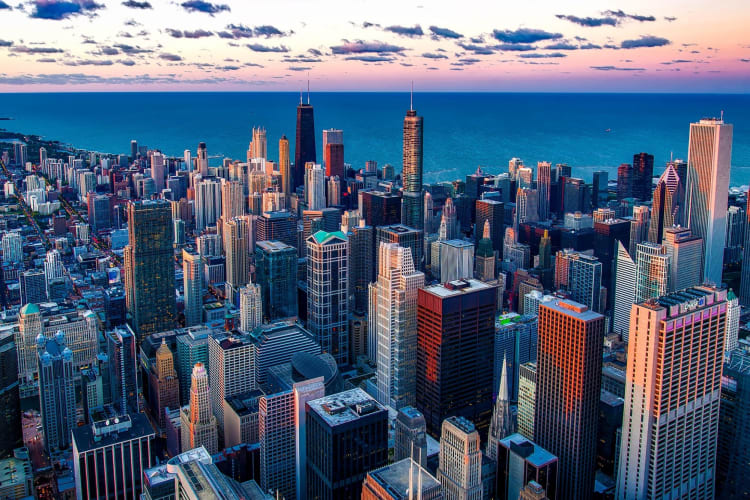 One of the best parts of living in any vibrant city is the variety of incredible bars and eateries, and the selection of rooftop restaurants in Chicago is no different. Living in a concrete jungle doesn't mean you can't enjoy a meal outside, as any city slicker will tell you. Chicago has an impressive array of world-class restaurants spanning all cultures, cuisines and price ranges. And if you're a Midwest native, you know that rooftop season in Chicago is year-round.
With so many fantastic rooftop places to choose from, it can be hard to just pick one. The next time you're looking for an engaging date idea, fun Friday plans with friends or even a restaurant tour to show off your city to visitors, let this serve as the ultimate guide to the best rooftop restaurants in Chicago.
Jump to Section
Book a Chicago Food Tour Now
Explore Chicago's best bites, esteemed eateries and hidden gems with a top-rated local guide.
Find the Best Rooftop Restaurants in Chicago
Food tours in Chicago are a great way to explore new places and get a feel for the different neighborhoods if you're new to the area or hosting company. Get an expert opinion and personalized culinary tour of Chicago to discover hidden gems, local favorites and maybe even your next go-to happy hour spot.
Top 11 Rooftop Restaurants in Chicago
1. Raised
Located right on the river in the heart of the city, this is easily one of the best rooftop restaurants in Chicago for checking all your boxes. Ice cold cocktails that you can't help but share on Instagram meet a cozy but urban environment with elevated bar food you'll come to crave.
The Vibe
Raised offers a gorgeous view of the Chicago skyline and the river, with massive outdoor and indoor seating areas. This rooftop restaurant in Chicago is both cozy and chic, offering fireplaces and open couch seating plus high top and family-style tables.
What to Order
The menu is a take on American bar food, but taken up a few notches. Favorites include the crispy dilled pickles with green goddess dressing, white miso ramen or smoked baby back ribs.
Raised | 1 W. Upper Wacker Dr., Chicago, IL 60601 | $$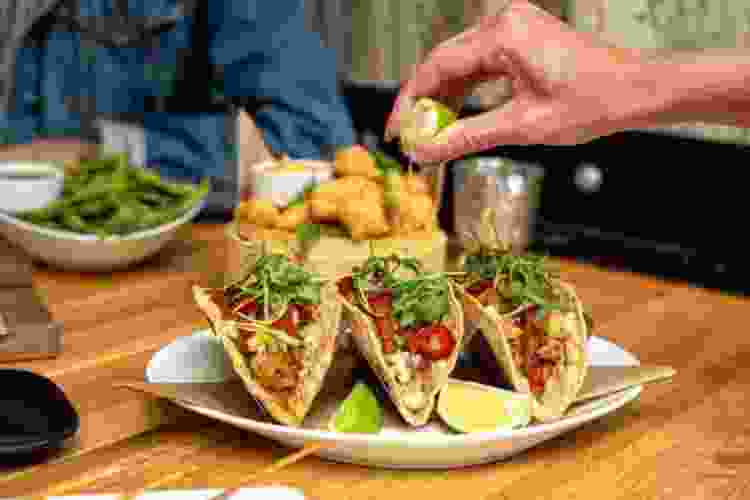 2. Aba
While Chicago has a bustling Greektown, you can get the same delicious Mediterranean food with an incredible rooftop view and vibe at Aba. Known for their spectacular ambiance and expertly crafted spreads and mains, they have locations in several bustling cities around the United States like Austin and NYC, and it happens to be one of the best rooftop restaurants in Chicago. Be sure to check out their sister restaurant, Ema, as well.
The Vibe
Arabian Nights meets the big city, with lush greenery and modern but cozy outdoor seating. With glass fireplaces, open format couch seating and ample tables for two, you can enjoy the fresh night air over a dish of hot pita with hummus.
What to Order
Aba offers hummus like you've never had it before: topped with crispy short ribs. Their menu features favorites from across the Mediterranean that are light yet flavorful. Citrus poached shrimp or a shawarma spiced skirt steak are popular and light but still satisfying.
Aba | 302 N. Green St., Chicago, IL 60607 | $$$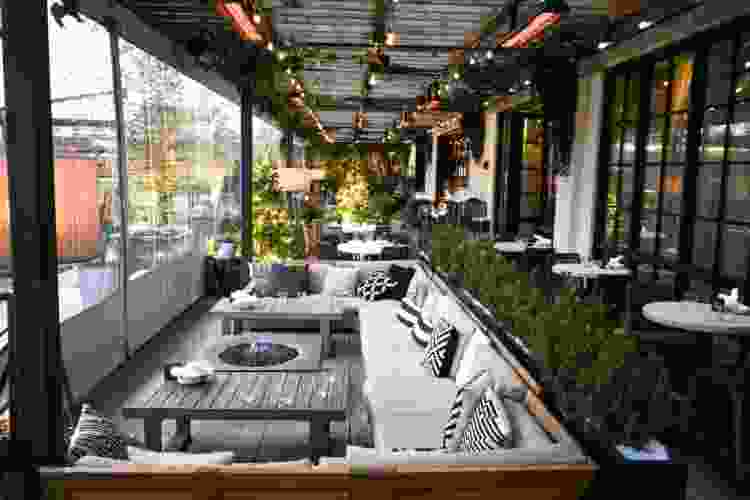 Top-Rated Cooking Classes in Chicago
Master the art of gourmet cuisine with the help of Chicago's best chefs.
3. Cindy's Restaurant
Cindy's Restaurant brings some of the best waterfront views and an open air terrace for one of the more unique Chicago rooftop restaurants. You can dine in their gorgeous glass atrium overlooking Lake Michigan if the weather isn't suitable for outdoor seating. Located in the Chicago Athletic Association building, you'll find panoramic views of Millenium Park and Lake Michigan, paired with a killer menu.
The Vibe
Known as the jewel in the crown of the Chicago Athletic Association hotel, Cindy's has a chic French bistro feel. Exposed brick and massive windows offer stunning views from inside, while the open-air rooftop terrace offers even more gorgeous views of some of Chicago's most famous landmarks.
What to Order
Offering brunch, lunch and dinner, they're serving up elevated dishes like baby beet toast, striped sea bass agua chile and a massive porterhouse au poivre that serves two.
Cindy's Restaurant | 12 Michigan Ave., Chicago, IL 60603 | $$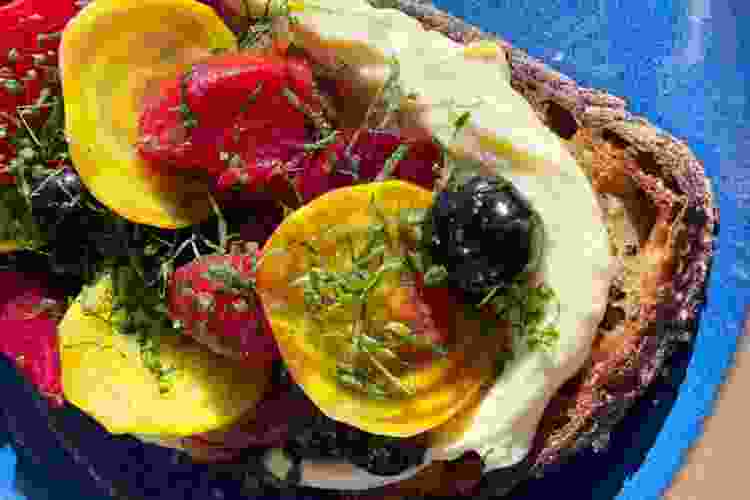 4. Streeterville Social
The perfect rooftop restaurant in Chicago for a delicious happy hour with friends or a guaranteed delicious but easy date night, Streeterville Social is a gem. Located in the Loews Hotel, you don't have to be a guest to enjoy the cityscapes and al fresco dining. It's conveniently situated near Navy Pier, making it a great pre- or post-sightseeing meal.
The Vibe
A gorgeous and open space with coveted grass in the heart of the city, it's the perfect spot to take in the beauty of the area. Plenty of modern but comfortable couches await you and your guests for a quick drink and bite to eat. Note that this spot is only open in the warmer months.
What to Order
Spicy chorizo popcorn is the perfect bar snack as you sip on a cold cocktail. Other bar bites include fresh tuna tacos and the classic Social burger.
Streeterville Social | 405 N. Park Dr., Chicago, IL 60611 | $$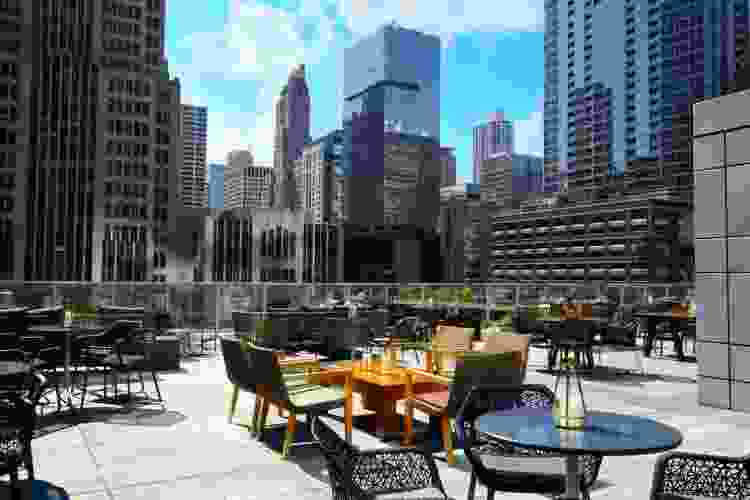 5. London House
This is easily one of the best rooftop restaurants in Chicago due to its spectacular view of a handful of major landmarks in the city, including Lake Michigan, Miracle Mile and the Chicago River. London House is a classy establishment combining British traditions like afternoon tea with a fan-favorite happy hour location.
The Vibe
Sleek and modern yet comfortable enough to stay a while, you'll love the vibes at the London House rooftop restaurant in Downtown Chicago. Their indoor bar and dining area is equally as stunning, with dark blues and grays that set a moody but fun tone.
What to Order
Go for the afternoon tea or classic brunch, then stay for the evening happy hour featuring Louisiana crab dip, blackened octopus salad or a soft and salty pretzel with cheese.
London House | 85 E. Wacker Dr., Chicago, IL 60601 | $$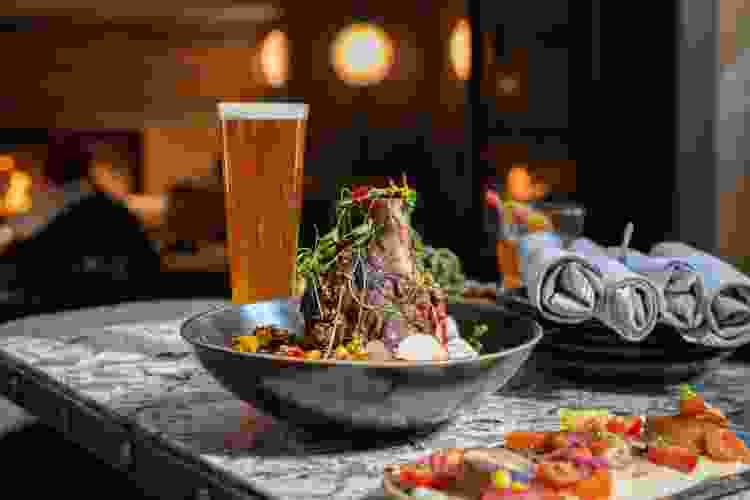 Book a Chicago Food Tour Now
Explore Chicago's best bites, esteemed eateries and hidden gems with a top-rated local guide.
6. Bernie's
The perfect date spot at a stunning rooftop restaurant in Chicago, Bernie's overlooks the Chicago River. The menu is seasonal and features influences and flavors from coastal Spain and Italy.
The Vibe
An upscale bistro vibe with umbrellas and classic patio seating, plus a beautiful indoor restaurant with blue velvet booths. Candlelight at night and sunny city views during the day make this a great date idea in Chicago.
What to Order
Brunch is great at this beautiful Chicago rooftop restaurant, but happy hour and lunch is really what it's known for. Chorizo crusted oysters are a fun twist on surf and turf, while hot and chewy Neapolitan-style pizzas are offered with your choice of toppings.
Bernie's | 660 N. Orleans St., Chicago, IL 60654 | $$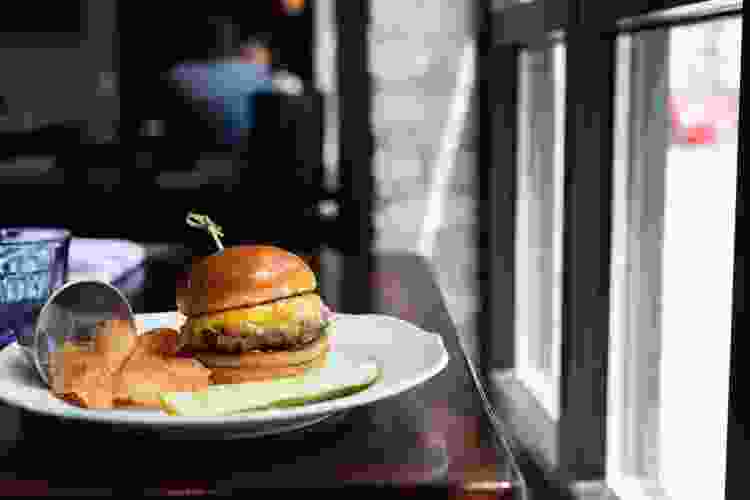 7. Chop Shop
The only sustainable butcher and deli downtown, Chop Shop also has a great rooftop restaurant in Downtown Chicago, plus their very own music venue. They also offer classes and off-site smoking workshops so you can learn their tricks of the trade. There's more than meat on the menu, though that is what they do best.
The Vibe
Surprisingly casual but definitely inviting, this rooftop restaurant in Chicago has the feel of an easygoing bar that's less about appearances and more about delivering delicious food.
What to Order
Come with a group and order a charcuterie or smoked salmon board for a tasting selection of some of their best offerings. Mac and cheese croquettes are never a bad idea, and you'll definitely want one of their massive burgers with bacon, aged cheddar and balsamic onions.
Chop Shop | 2033 W. North Ave., Chicago, IL 60647 | $$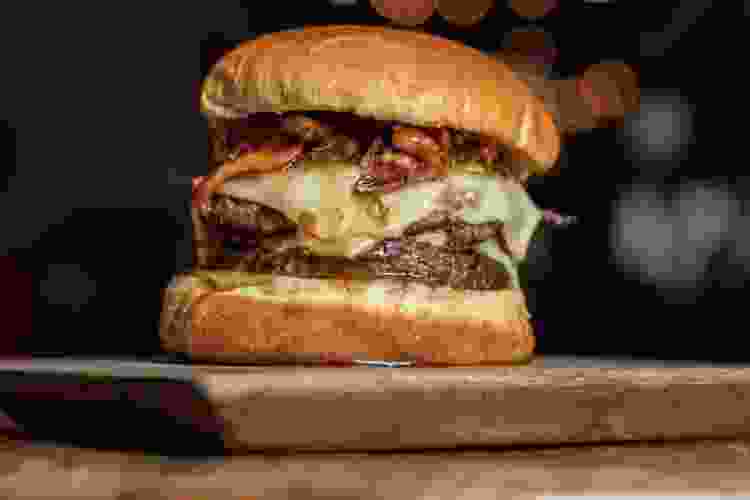 8. Homestead
A hidden gem, literally, in the heart of Chicago, Homestead brings the respite of a country farm to the busy streets of the city. This unique rooftop restaurant in Downtown Chicago takes a farmhouse and transplants it into the heart of the city with a selection of farm-to-table offerings.
The Vibe
Rustic gardens on a charming rooftop are the perfect backdrop for this Filipino-American fusion menu and a romantic date night or celebration. Enjoy a greenhouse feeling year round, but it's at its best in the summer months when the greenery everywhere is in full bloom.
What to Order
Filipino bread rolls and shrimp and pork lumpia get an artful presentation for your ultimate enjoyment. The wonderfully bright papaya salad is the perfect precursor to Filipino sausage and steamed mussels in coconut and tamarind broth.
Homestead | 1924 W. Chicago Ave., Chicago, IL 60622 | $$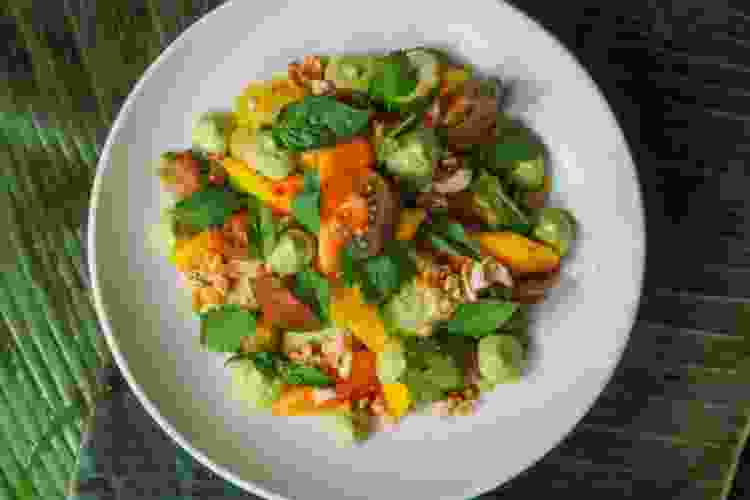 Top-Rated Cooking Classes in Chicago
Master the art of gourmet cuisine with the help of Chicago's best chefs.
9. Shanghai Terrace
Nothing is more satisfying than incredible sushi or dumplings on a nice evening, and Shanghai Terrace offers both. This Asian-themed, top-rated rooftop restaurant in Chicago is a great date spot located in the Peninsula Chicago, a stunning five-star hotel.
The Vibe
A 1930s-style supper club on the inside and a tasteful and clean terrace are the perfect backdrop to some of the best Asian food in the city. Cabanas and dining tables welcome you for a meal that's sure to impress.
What to Order
Shanghai Terrace was voted Best Chinese Restaurant in Chicago for good reason. They serve up some of the best dim sum and Peking duck you'll ever get outside of China. Their Dong Po pork belly is worth trying as well.
Shanghai Terrace | 108 E. Superior St., Chicago, IL 60622 | $$$$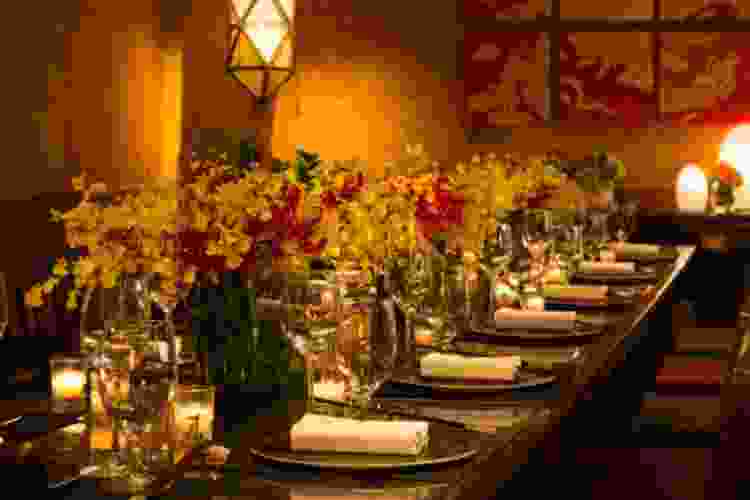 10. Nobu
If you've ever had the pleasure of eating at one of Nobu's several locations worldwide, you know just what a treat it is. Adding to the delight is its gorgeous rooftop restaurant in Chicago with striking city views accompanied by five-star service and world-class food.
The Vibe
A sleek and trendy oasis in the city with a Japanese influence, the rooftop at Nobu is located inside the Nobu hotel. Sweeping views of the Chicago skyline surround you on the minimalist but inviting patio.
What to Order
Sushi, of course. If raw fish isn't your thing, their signature miso black cod pairs well with an extensive selection of Japanese sake.
Nobu | 854 W. Randolph St., Chicago, IL 60607 | $$$$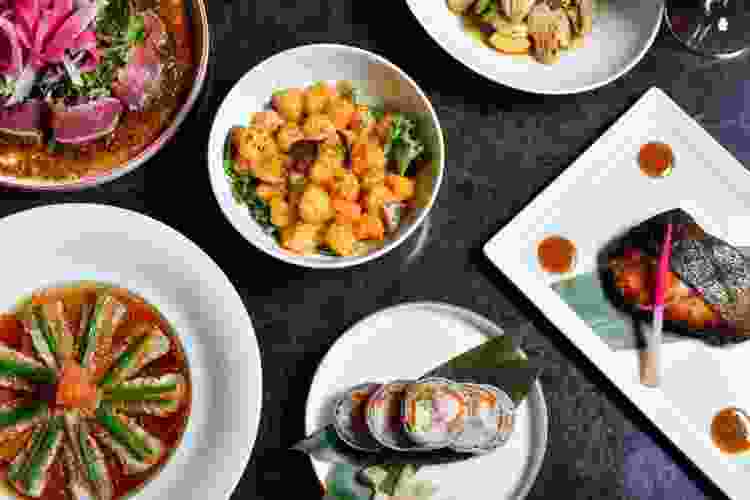 11. Tanta
Peruvian food may not be a staple in your diet, but perhaps it should be. Tanta, located in the River North neighborhood, brings fresh Peruvian food to its sleek and sexy rooftop restaurant in Chicago. Inventive and vibrant, with a refreshingly laid-back environment and skyscraper views, this one should definitely be on your list.
The Vibe
Soothing water features across the entire terrace transport you out of the hustle and bustle of the city. The colorful food and atmosphere fill you with excitement and maybe even the urge to travel.
What to Order
Start with a classic pisco sour, the national drink of Peru, or splurge for a guided food and beverage experience. An impressive selection of ceviche sounds just right on a hot summer night, or empanadas for something more substantial. Colors and bold flavors await at this international delight.
Tanta | 118 W. Grand Ave., Chicago, IL 60607 | $$$

Join 200,000+ Culinary Enthusiasts
Exclusive deals, recipes, cookbooks, and our best tips for home cooks — free and straight to your inbox. PLUS: 500 Rewards Points.
It's abundantly clear that Chicago is an international powerhouse, a jewel in the humble Midwest. While the weather may be nothing to write home about, the Chicago food scene is worth bragging about. From fast casual chicken wings to ultra-fresh Japanese sushi and hand-tossed pizza, there's something for you to enjoy. This massive city offers plenty of fresh air and outdoor dining with its array of rooftop restaurants in Chicago's downtown area.
Once you start exploring the culinary playground that is Chicago, you'll be hooked. A wonderful place for a foodie weekend getaway and an even better place to live, check out all of these great rooftop restaurants in Chicago.
For even more fun ways to explore Chicago and beyond, check out other experiences happening on Cozymeal.