20 Signature Boston Foods You Have to Try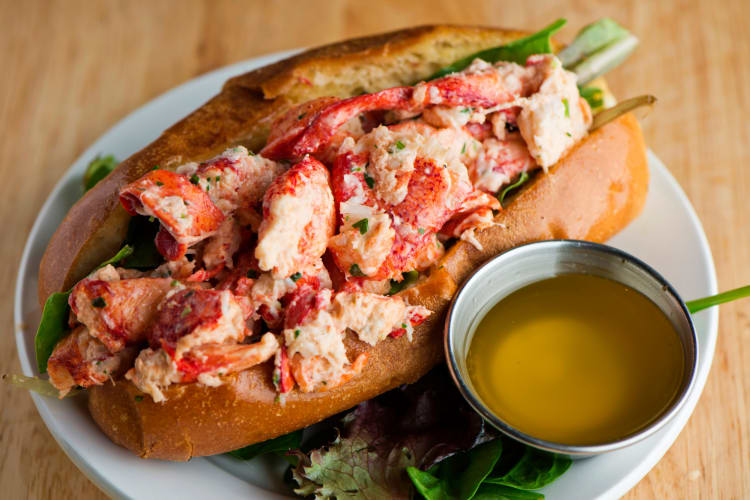 Are you missing out on all of the best Boston foods? If you aren't familiar with all the best Boston foods, there are plenty of them to get acquainted with. Beantown is known for its baked beans and clam chowder. With an idyllic coastal location, Boston is a hub for fresh seafood and all of the hearty dishes that it's made with.
However, did you know that cannoli are also one of the most sought-after Boston foods? A true Bostonian bases their personality off of their chosen candidate for the best cannoli in town — and knows that the best cannoli in town are sold by two long-time rivals. You'll probably also never meet a local who hasn't eaten a famous hot dog under the shade of their Red Sox cap at Fenway Park.
From jumbo lobster rolls to bacon peanut butter bagels, there are Boston foods that will both comfort and surprise your palate, and we've got a list of where to get the best ones.
Jump to Section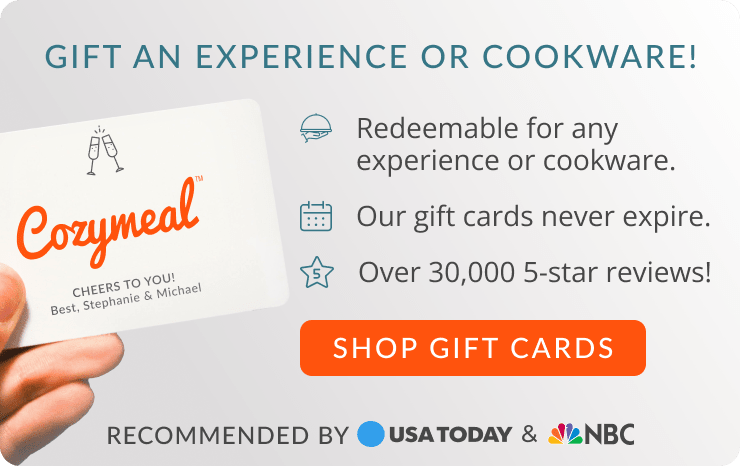 Get a Taste of Famous Boston Foods
There are plenty of desirable Boston foods, and that's great — but that also means that it can be nearly impossible to narrow down your search to find the best Boston foods. If you're traveling for a quick trip, you want to make sure that you waste no time in finding the best restaurants and the best foods at those restaurants.
To solve this issue, consult a foodie expert through food tours in Boston. On these tours, locals who know the ins and outs of the area will show you the ropes of the local food scene and make sure that you're eating good the entire time. You can also try out cooking classes in Boston if you happen to love the regional dishes so much that you want to recreate them yourself — which you probably will.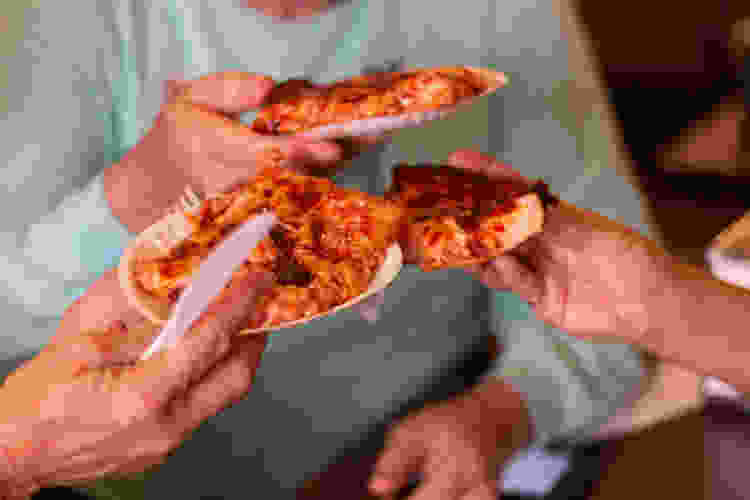 Book a Boston Food Tour Now

Explore Boston's best bites, esteemed eateries and hidden gems with a top local guide.

Book Now
21 Signature Boston Foods You Have to Try
1. Fried Clam Platter at Woodman's of Essex
Chowder isn't the only home for a heap of freshly-caught clams. Fried clams are another staple on the list of classic Boston foods, especially in the summer. However, at Woodman's of Essex, locals and tourists cheerily squeeze their lemons over golden, crispy fried clam platters all year long.
Having opened in 1914, Woodman's is another historical food joint making Boston famous food infused with family tradition. What makes the fried clam platter (the "Chubby's Original") in particular so good at Woodman's is that it's served with the sides you wish all fried clams were served with: golden French fries and onion rings.
Woodman's of Essex | 119 Main St., Route 133, Essex, MA 01929 | $$
2. Clam Chowder at Union Oyster House
You don't have to know much about Boston or clams or chowder to know that clam chowder (properly pronounced chowdah) is one of the most notorious Boston foods. While it's considered a New England food, Boston is where it's best. Since the dish is so popular, thanks to the abundance of fresh, succulent clams in the surrounding waters, there are many, many restaurants that serve up a perfectly good bowl of clam chowder.
As such, narrowing down one chowder as the crowning chowder is difficult, but Union Oyster House's version tends to make it into everyone's top choices. It's been around since the 1850s, so clearly, these chefs know what they're doing. Union Oyster House doles out steaming bowls of clam chowder the classic way – lumps of juicy, fresh clam swimming in a creamy, salty broth.
Union Oyster House | 41 Union St., Boston, MA 02108 | $$
Top-Rated Cooking Classes in Boston
Master the art of gourmet cuisine taught by Boston's best chefs.
3. Boston Baked Beans at Beantown Pub
You can't go to Beantown without trying baked beans somewhere in town. Boston baked beans date back to colonial times, and they've stuck around long enough to have made an indelible mark in Bostonian culture. We're not saying baked beans are Boston's most gourmet, to-die-for cuisines, but it's one of those Boston foods that is comforting, traditional and never really bad.
Also, you can get them pretty much anywhere in the city. But where better to get baked beans than at the Beantown Pub itself? Here, expect a heaping portion of sweet baked beans served with a rustic side of brown bread. Don't worry about having too many leftovers; you can freeze baked beans!
Beantown Pub | 100 Tremont St., Boston, MA 2108 | $$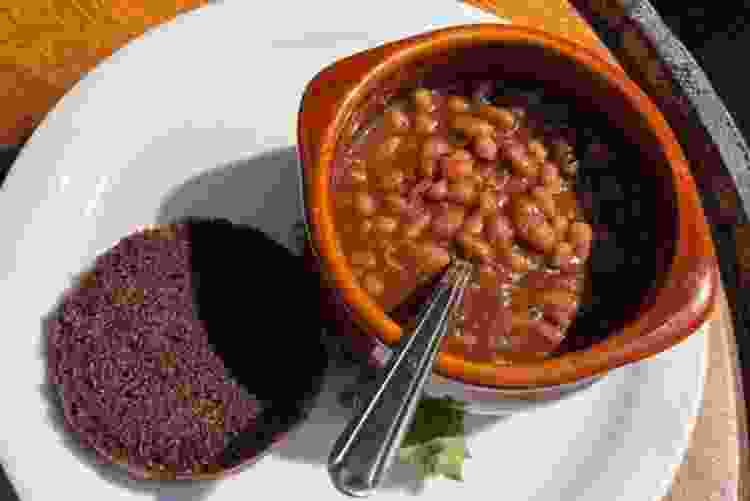 4. Clambake at Neptune Oyster
More clams! But we're adding lobster this time. A clambake is a classic in New England towns like Boston, and at Neptune Oyster, your eyes might pop out of your head when you order this dish. The N.O.B. Clambake at Neptune Oyster is a colorful jumble of fresh Maine lobster, clams, sweet corn and chorizo for a bit of savory zest.
Neptune Oyster | 63 Salem St., Boston, MA 02113 | $$$
5. Boston Cream Pie at Omni Parker House
Ah, another delicious Boston famous food, and a fun indulgence to cap off a night of date ideas in Boston. As you can tell by the name, Boston cream pie is a traditional dessert with its origins in this eclectic city. In fact, it is debated that it originated in the kitchen at Parker's Restaurant in the 1900s, which is now known as the Omni Parker House Hotel. The Boston cream pie is simply spongy yellow cake topped with chocolate icing and filled with a sweet, creamy custard.
Visiting the Omni Parker House for a big, fresh slice of Boston cream pie is one of those things you simply must do while in Boston. It's a celebration of local history and, of course, the best of Boston foods.
Parker's Restaurant | 60 School St., Boston, MA 02108 | $$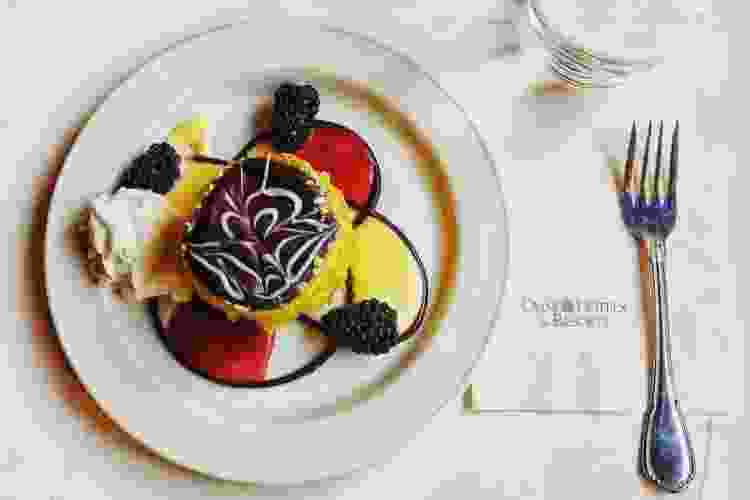 6. Cannoli at Mike's Pastry
If there's one food you absolutely must eat in Boston, it's a cannoli, but it has to be either from Mike's Pastry or Modern Pastry. The two bakeries are the contenders for a long-held Bostonian debate over which makes the best cannoli in town. While the debate has always been nearly neck-and-neck, locals tend to stand firmly for Mike's Pastry's overstuffed, dreamy cannoli.
At Mike's Pastry, you can get more than a traditional chocolate chip cannoli. There are flavors like Oreo, pistachio and even limoncello. Locals and tourists alike agree that one simply cannot visit Boston without visiting (and waiting online at) Mike's Pastry.
Mike's Pastry | 300 Hanover St., Boston, MA 02113 | $$
Book a Boston Food Tour Now
Explore Boston's best bites, esteemed eateries and hidden gems with a top local guide.
7. Lobster Roll at James Hook & Co.
Lobster rolls are another dish that you must eat in one of the best foodie cities in the U.S. In all honesty, you can probably find a lobster roll that blows your mind on almost every street in Boston. It's simply one of those standout, well-made Boston foods.
So, if you're going to get a lobster roll, why not get one from the original Boston lobster house? Since 1925, James Hook & Co. has been the go-to waterfront shack for an abundance of dishes made with fresh Maine lobster. Order your lobster roll hot with butter or cold with mayo. Either way, you're in for a huge sandwich piled high with jumbo lumps of succulent lobster meat.
As aforementioned, there are lots of spots that serve up a good lobster roll in Boston. We'll give an honorable mention to Neptune Oyster for their drool-worthy lobster rolls as well.
James Hook & Co. | 440 Atlantic Avenue, Boston, MA 02210 | $$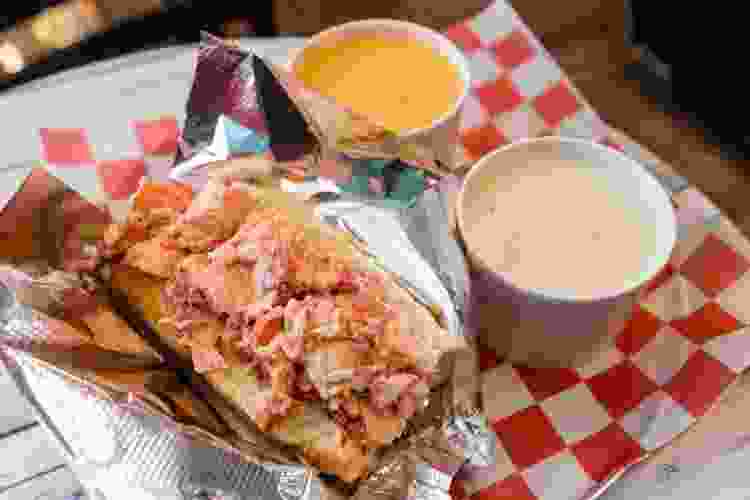 8. Lobster Mac at Yankee Lobster
A doughy roll isn't the only carb that goes well with lobster. There's nothing quite as indulgent as a gooey, cheesy, hearty bowl of lobster-stuffed mac and cheese. Most of the restaurants (and there are many) that serve lobster rolls also serve their version of lobster mac, but everyone makes theirs differently.
Amongst the many desirable Boston foods on the menu at Yankee Lobster is possibly the best lobster mac in town. The macaroni is made with a white cheddar and Parmesan base, mixed with bursting roasted tomatoes, and of course, lots of chunky lobster pieces. The whole thing is topped with crunchy breadcrumbs for a golden, mouthwatering finish.
Yankee Lobster | 300 Northern Ave., Boston, MA 02210 | $$
9. Roast Beef Sandwich at Kelly's Roast Beef
Lobster rolls aren't the only sandwich that makes it onto the list of best Boston foods. Roast beef sandwiches are popular all over the state, but especially on Boston's North Shore. A classic roast beef sandwich is a Boston staple, but no one does it quite like Kelly's Roast Beef. The two main traditional roast beef sandwich ingredients are thin slices of roast beef and some form of horseradish. Otherwise, every spot puts a unique twist on its own sandwich.
The roast beef sandwich at Kelly's Roast Beef, however, could easily be the original that has influenced the rest. It has even been said that Arby's (the major fast-food, roast beef-selling chain) took inspiration from Kelly's for its sandwiches. At Kelly's, your sandwich will come on a fluffy roll piled with medium-rare roast beef, lettuce, tomato, American cheese, barbecue sauce and mayonnaise.
Kelly's Roast Beef | Multiple Locations | $$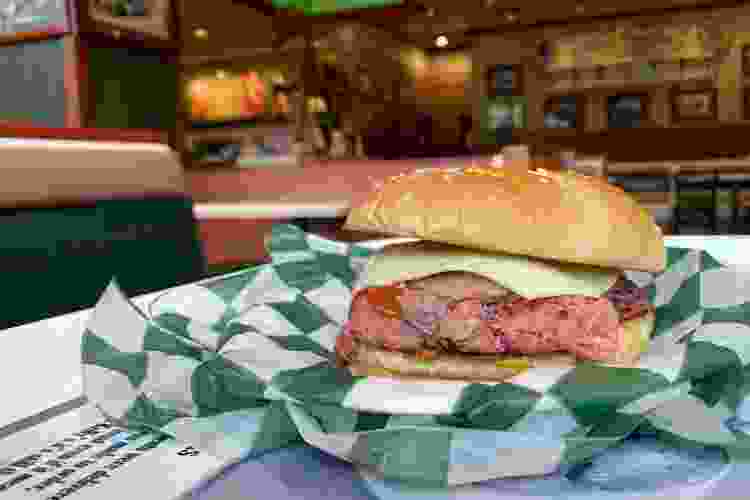 10. Frappes at Toscanini's
After reading about all of these salty, savory dishes, you're probably already craving something sweet. One of the most notorious Boston foods is the frappe. A frappe is essentially a milkshake topped with ice cream. It is one of those Boston foods that's a go-to indulgence as a summer day treat.
There are many places to get a frappe in Boston, and the Boston Burger Company sports an overwhelming list of "freak frappes," which are frappes made with outrageous flavors and toppings, including a strawberry shortcake-topped frappe. However, a traditional spot where you can't go wrong is Toscanini's. Here, the frappes are ultra-thick, creamy and delicious.
Toscanini's Ice Cream | 159 First St., Cambridge, MA 02142 | $$
Book a Top Private Chef in Boston
Indulge in the finest fare Boston has to offer. Book a five-star private chef experience starting at $59/person.
11. Oysters at Union Oyster House
In addition to clams and lobsters, Boston is also in an opportune location for harvesting fresh oysters. As with lobster and clams, there are lots of local restaurants serving up these indulgent shellfish. However, Union Oyster House, one of the oldest restaurants in Boston, has been serving happy customers freshly shucked oysters for almost 200 years, and they're just how they should be: plump with plenty of that salty, beloved oyster juice.
Union Oyster House | 41 Union St., Boston, MA 02108 | $$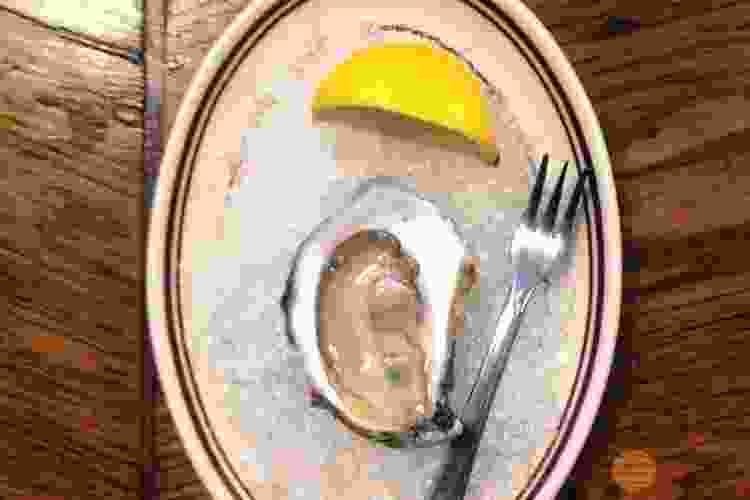 12. Fenway Frank at Fenway Park
There are two things you must do to become a Boston local: go to a game at Fenway Park, and eat a Fenway Frank while you're there. A Fenway Frank is one of those Boston foods that's like a city mascot. And no, it isn't just a regular old hot dog.
For the ultimately juicy, flavor-packed hotdog, the Fenway Frank is boiled and grilled before being sandwiched between a fluffy open-top roll and slathered in yellow mustard. They double as post-game celebrations for a victorious Red Sox win and as post-game comfort foods after a devastating loss.
Fenway Park | 4 Jersey St., Boston, MA 02215 | $$
Book a Boston Food Tour Now
Explore Boston's best bites, esteemed eateries and hidden gems with a top local guide.
13. Maple Bacon Doughnut at Union Square Donuts
For one of the best desserts in Boston, head over to Union Square Donuts. This trendy spot has a stunning, mouth-watering array of out-of-this-world doughnuts. Their menu features flavors that will make your eyes (and stomach) bulge, including rocky road, piña colada, baklava, sea salt whiskey caramel and of course, Boston cream.
However, a crowd favorite is always the maple bacon doughnut, made with thick-cut bacon and Vermont maple syrup for a dreamy combination of salty and sweet.
Union Square Donuts | Multiple Locations | $$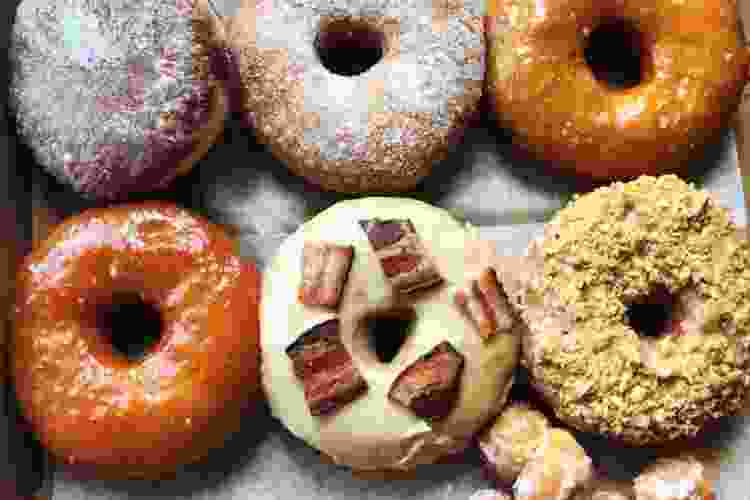 14. Fish and Chips at Yankee Lobster
One of the classic sea-faring Boston foods is a greasy, heaping platter of fish and chips. Fish and chips is a dish made with white fish (usually cod) deep-fried in a thick batter and served with fried potato wedges. While fish and chips is served throughout the city, it's a hit at Yankee Lobster.
Yankee Lobster has simply been a beloved establishment for so long that it's clear they know how to serve seafood. Customers have flocked to this spot for perfectly crispy yet juicy fried fish and salty golden chips for decades.
Yankee Lobster | 300 Northern Ave., Boston, MA 02210 | $$
15. T-Rex Bagel Sandwich at Bagelsaurus
Bagels in Boston of course can't compare to bagels in neighboring states like New York or New Jersey. However, at Bagelsaurus, customers line up for some of the best bagels in Boston, including the traditional crowd favorite: the T-Rex bagel.
The T-Rex bagel is stuffed with creamy almond butter, banana slices, honey and, if you're in the mood, smokey bacon. A treat that can work for breakfast, lunch, dinner or dessert!
Bagelsaurus | 1796 Massachusetts Ave., Cambridge, MA 02140 | $$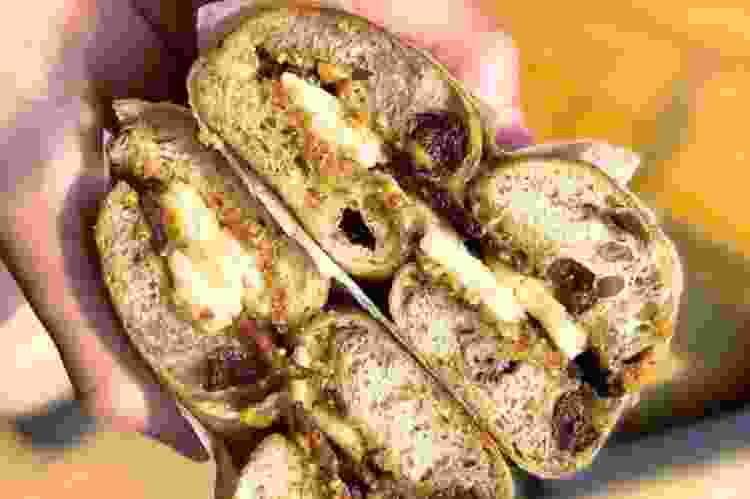 16. Giambotta Pizza at Regina Pizzeria
Boston and New York might be baseball rivals, but no one is really arguing about who's got the better pizza. However, even if pizza isn't the most iconic of Boston foods, there are still some spots that serve up a mean pie, especially in Little Italy, Boston.
Though it is a chain, the North End location of Regina Pizzeria is one filled with history, tradition and really good brick-oven pizza. Although there are countless topping options and slices available, locals suggest ordering the Giambotta, which is piled high with meats and vegetables including peppers, onions, mushrooms, pepperoni, sausage and salami.
Top-Rated Cooking Classes in Boston
Master the art of gourmet cuisine taught by Boston's best chefs.
Regina Pizzeria | Multiple Locations | $$
17. Irish Beef Stew Pie at Sea Biscuit
New England is known for its long, cold winters, and Boston is no exception. That's why many popular Boston foods and New England foods are the kind that are hearty, warm and comforting. The Irish beef stew pie is no exception. It's sort of like a pot pie, made with a buttery, flaky crust and filled with tender beef, beef broth, carrots, onions, celery and aromatic herbs.
This dish was a classic at the beloved KO Pies, but since they've closed, their replacement restaurant, Sea Biscuit, has continued to serve up these comforting stews.
Sea Biscuit | 256 Marginal St., Bldg. 16, Boston, MA 02128 | $$
18. Stuffed Gnocchi at No. 9 Park
Gnocchi is dreamy on its own. Who doesn't love a doughy, pillowy pasta smothered in a rich sauce? However, at No. 9 Park, there is a gnocchi dish that makes regular old potato gnocchi seem like uncooked sticks of spaghetti. That is to say that the prune-stuffed gnocchi that has remained the crown jewel on No. 9 Park's menu for decades is more than just pasta — it's an experience.
This beloved dish is made with prune-stuffed gnocchi served in an elegant sauce swimming with foie gras, almonds and vin santo. For some of the best food in Boston, No. 9 Park is where you need to be.
No. 9 Park | 9 Park St., Boston, MA 02108 | $$$$
19. Maíz Asado at Toro
While Toro is a super popular tapas restaurant, it's their street corn that is one of the most desired Boston foods. Nothing is better than a cold beer or a margarita on a summer day in Boston, especially if you're pairing it with food at Toro. The maíz asado is grilled ears of corn smothered in creamy aioli and tangy cotija cheese with a squeeze of lime and a sprinkle of black pepper. The perfect summer snack or appetizer.
Toro | 1704 Washington St., Boston, MA 02118 | $$$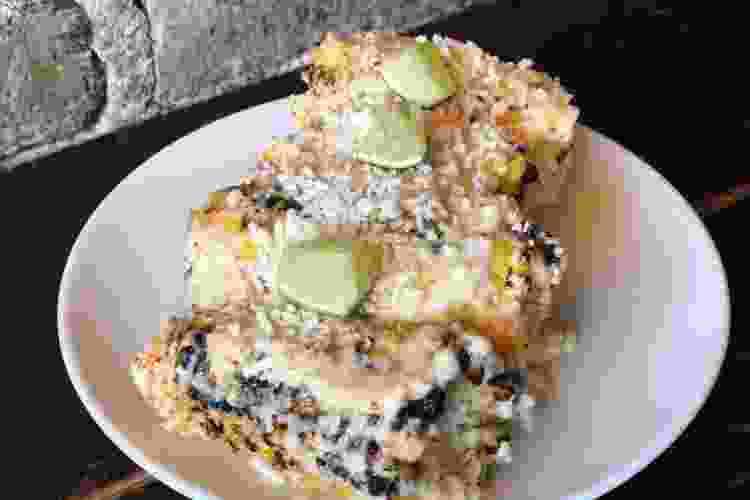 20. Hand-Pulled Noodles at Gene's Chinese Flatbread Café
When people ask, "What is Boston known for?" they are usually told about clam chowders and lobster rolls and baked beans. However, some of the best Boston foods are not seafood or traditional American foods at all.
This bustling city is packed with eclectic five-star restaurants, and Gene's Chinese Flatbread Café is no exception. You might not find any hand-pulled noodles this good in the entire state of Massachusetts. Enjoy them seasoned with minced garlic and cayenne pepper or in a steaming bowl of hot sour soup.
Gene's Chinese Flatbread Café | 86 Bedford St., Boston, MA 02111 | $

Join 200,000+ Culinary Enthusiasts
Exclusive deals, recipes, cookbooks, and our best tips for home cooks — free and straight to your inbox. PLUS: 500 Rewards Points.
Are you hungry now that you've read all about these mouthwatering Boston foods? Before, you might have asked, "What is Boston known for?" However, when you visit Boston, you'll discover that Beantown is known for much more than baked beans. The city is positively saturated with incredible restaurants and cuisines, but these 20 dishes are some of the best Boston foods you'll find. Don't forget to try replicating some of these Boston foods in your own kitchen!
For even more fun ways to explore Boston and cities near you, check out other experiences happening on Cozymeal.