13 Romantic Picnic Date Ideas You'll Love for Summer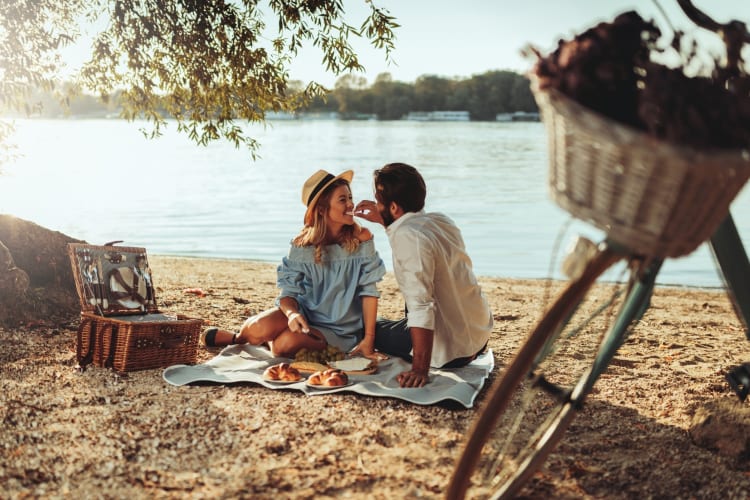 Are you looking for picnic date ideas to suit the warmer weather? No matter what you and your partner enjoy, there are exciting and romantic picnic ideas for couples of all interests.
Not only are picnic dates fun, but they're also affordable, making them a cute summer date idea for any budget. Whether you prefer gourmet foodie experiences or more casual meals, there are plenty of picnic date ideas to choose from depending on your tastes and interests. As long as you've got an appetite, an imagination and an outdoor area to host your picnic, you can't go wrong with any of the picnic date ideas below. We'll help you get your planning underway.
Jump to Section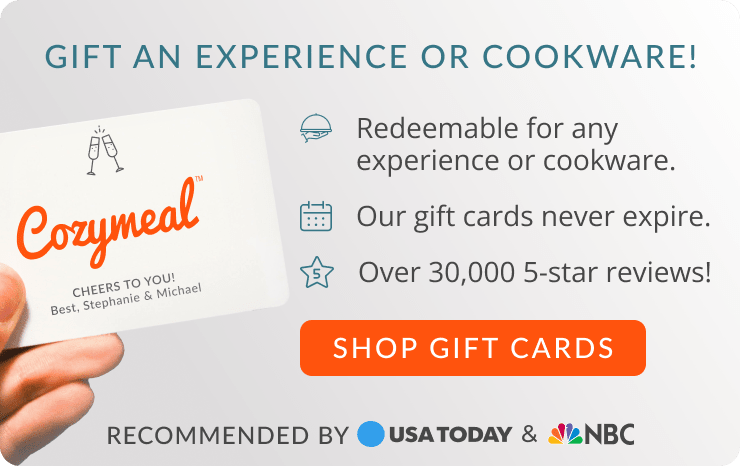 How to Plan a Romantic Picnic
Planning picnic date ideas is simple when you know where to start. The first step should always be scouting out a good location — that is, one that's not too crowded nor too empty. Ideally, your picnic location will have restrooms and trees for shade. If you're hosting a more elaborate picnic, you may even look for a spot with public barbecues or picnic tables.
Once you've secured your spot, pick a date and time to meet. It's always important to make sure there's no rain predicted on your picnic day. On the day, plan your outfit wisely. You'll want to look for clothes that you can sit on the ground in comfortably and don't mind getting grass stains on. That said, a picnic blanket is always a must, as are plates, cutlery and cups if needed.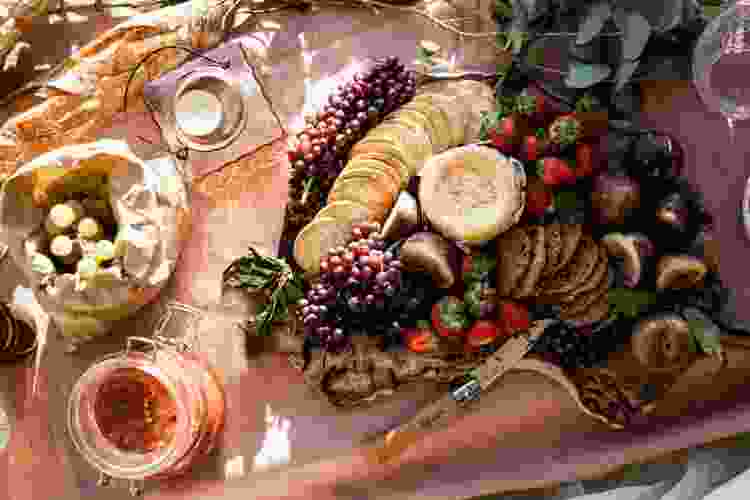 What to Bring to a Picnic
On that note, there's plenty you can bring to a picnic — but the types of picnic date ideas you choose will determine what particular items you need to pack. If you're curious about what to bring to a picnic, imagine all the things you would normally need for a meal at home.
Now add in some extras to keep you, your food and your clothing protected from the elements. You should also consider how you're going to transport your picnic supplies to the park and, even more importantly, how you're going to carry or dispose of them when you're done.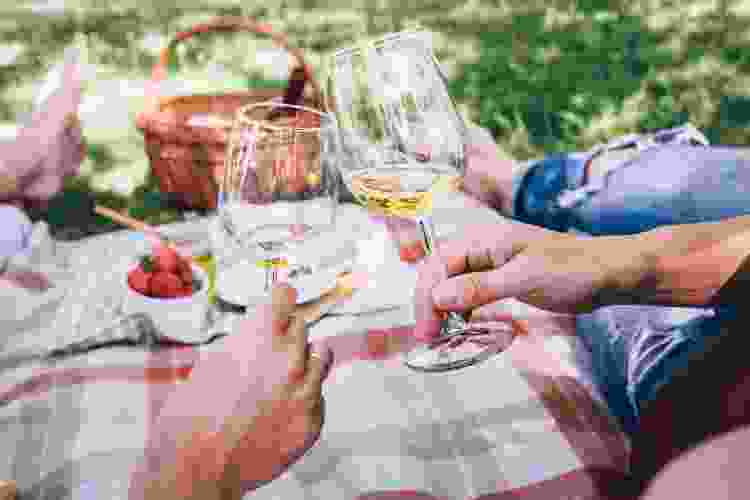 While individual picnic supply needs will vary from couple to couple, here's a standard picnic date ideas checklist to get you started:
Blanket
Umbrella
Tablecloth
Napkins
Plates or bowls
Cutlery
Serving utensils
Bottle opener
Cups
Trash bag
Book a World-Class Private Chef Now

Five-star fine dining from the comfort of home. Find your favorite private chef experience starting at $59/person.

Book Now
Picnic Food Ideas for Couples
Picnics don't need to mean cheese, crackers and hummus. While there's a time and a place for chips and dips, there are plenty of more elaborate picnic food ideas for couples to consider.
Why not bring a selection of wines and cheeses for an outdoor tasting? Or perhaps you may enjoy hosting your own high tea with scones, jam, cream and a thermos full of English Breakfast.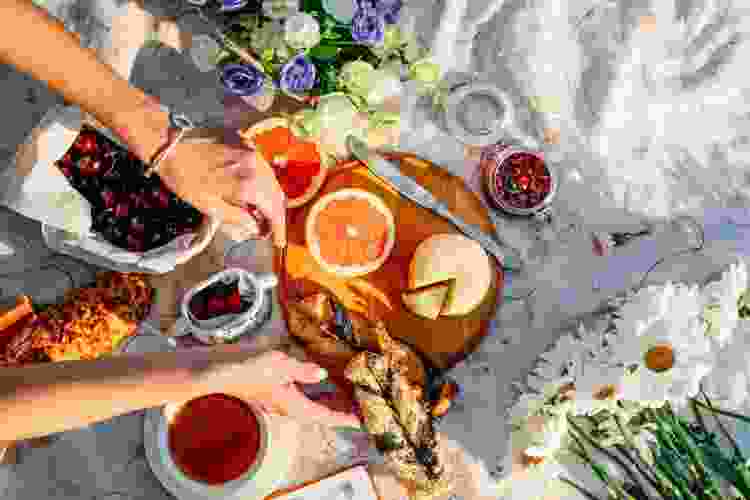 Those are just a few picnic date ideas. If you want to prepare something unique for your next romantic outdoor date, there's surely something to pique your interest on this picnic food list:
Build a charcuterie board
Pack a bento box
Pair wine and cheese
Create DIY sandwiches
Toast marshmallows
Have a barbecue
Host your own high tea
Share a box of chocolates
Cook a homemade meal
Book an Online Cooking Class Now
Ready to perfect your homemade pasta, paella or pad thai? Join a world-class chef from the comfort of your kitchen.
13 Romantic Picnic Ideas
1. Hire a Private Chef
Despite popular opinion, you don't have to leave the house to picnic. Luxurious picnics at home also make for exciting picnic date ideas. If you're hosting a domestic picnic, hiring private chefs near you is a great way to bring it to the next level. Sit back and relax as they cook a feast for you and your partner that you can enjoy in the comfort of your own backyard — no planning, grocery shopping or cleanup required. Whether you're after private chefs in Austin, private chefs in Los Angeles or elsewhere, there are options for everyone.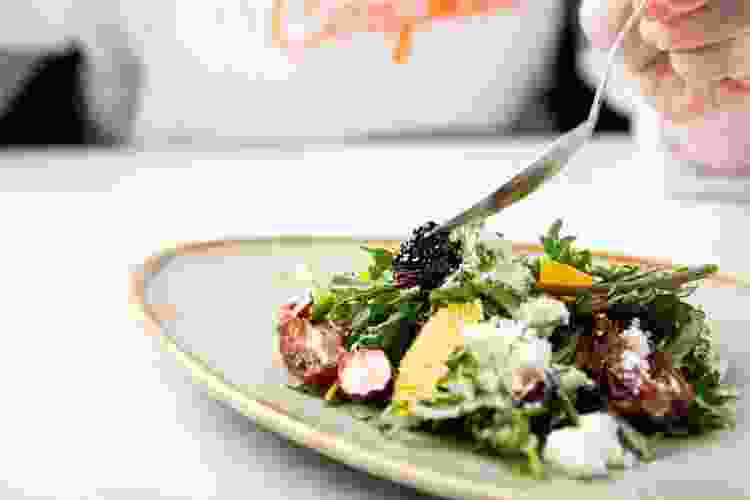 2. Toast to Online Mixology
If you like cocktails, consider online mixology classes for at-home picnic date ideas. If the weather's nice, set up your laptop and a minibar in the yard for a fun afternoon of guided mixology. You'll learn how to make a wide range of craft cocktails that you can easily recreate after the class if you'd like to keep the party going.
3. Enjoy a Virtual Wine Tasting
Virtual wine tastings are fun picnic date ideas for anyone who enjoys a nice drink. Whether you and your partner are wine connoisseurs or novices, a tasting is a great way to expand your repertoire, explore wine tasting notes and pairings, and spice up your next picnic date.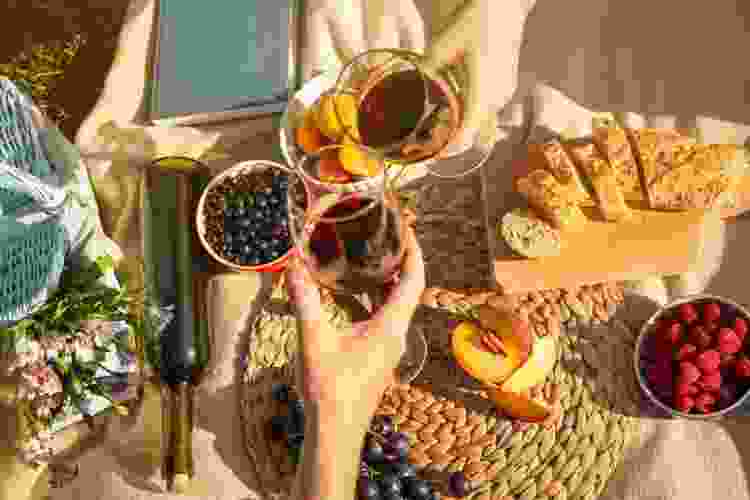 4. Picnic at the Park With a Gourmet Homemade Meal
A picnic with your partner is a great place to test out your cooking skills — and it's even better if they're skills you hone together. Before your next romantic picnic, consider booking yourself and your partner for some cooking classes near you. Not only is a cooking class a great way to bond, but also a way to explore some interesting new dishes you can use for your next picnic date ideas. From cooking classes in DC to cooking classes in New Orleans, there are options to suit couples in nearly every major city.
5. Do Some Outdoor Online Cooking Classes
Not all cooking classes take place in the house. Some online cooking classes require the use of an outdoor grill or barbecue, making them great picnic date ideas. If you're interested in perfecting your grilling technique, a specialty virtual cooking class with your partner, such as an online BBQ cooking class, is an informative and engaging way to enhance your skills.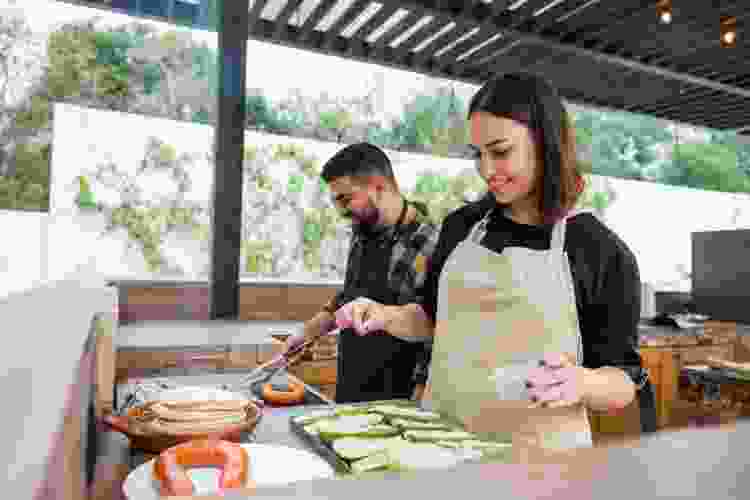 Book Your Virtual Wine Tasting
Bring the winery home with an unforgettable live virtual wine tasting. Your personal sommelier is standing by.
6. Visit a Drive-in Theatre
Drive-ins are cute picnic date ideas for any film-loving couple — especially if you bring a picnic to share while you watch. While you can pack a full dinner if you please, it's always fun to bring a movie-themed picnic basket full of pre-popped popcorn, movie candy like gummies or chocolate, and perhaps a beverage or two to enjoy during your film.
7. Make DIY Tacos
Believe it or not, taco parties make ideal picnic date ideas as they're easy to assemble, delicious and don't require cutlery. The best way to have a taco picnic is by bringing all ingredients separately. Pack containers of salsa, guacamole, rice, lettuce, beans or whatever other condiments you please, plus a separate stack of tortillas. Once you get to your picnic destination, you'll have all you need to whip up some tasty tacos on the spot.
8. Head to Your Nearest Rooftop
Does your apartment have rooftop access? Is there a publicly accessible parking garage or other rooftop space located near you? If so, these could make some really fun picnic date ideas (so long as it's legal). The late afternoon is the ideal time for a rooftop picnic so you can watch the sunset. Grab your partner, pack some nibbles and Champagne and enjoy the views!
7. Have a Picnic on the Beach
Nothing works up an appetite like an ocean swim, making beach picnics the ultimate picnic date ideas. If you're planning a picnic at the beach, fresh fruit is a wonderful food option. It's extra refreshing on a hot day and will keep you hydrated while basking in the summer sun.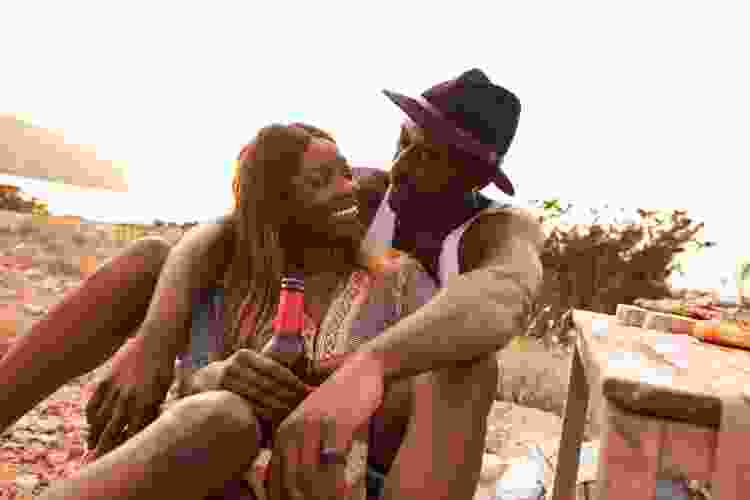 10. Pack Your Own Sushi
Sushi is a great picnic food as it doesn't need to be warm to enjoy. If you're interested in cute picnic date ideas that don't involve cooking, you should try packing some sushi for your next romantic outing. Bonus points if you and your partner prepare the sushi yourselves before you go!
11. Take a Hike
Hikes are great picnic date ideas for all the outdoorsy couples out there — and even better if you pack a picnic to reward yourselves once you reach the top of the trail. Because hikes require a lot of energy, pack nutritious, filling foods like PB&J sandwiches, trail mix or crackers. They're also all portable, meaning you can crack open the snacks on the trail if you start to get too hungry.
Join an Online Mixology Class
Craft cocktails. Palate-pleasing food pairings. Master mixologists. Skip the crowded bar scene and host your own virtual happy hour.
12. Have a Chocolate Taste Test
If you have a sweet tooth, there are a few picnic date ideas you may enjoy, but this one's at the top of the list. All you need to do is pick up an assorted box of chocolates from your nearest grocer. The date will revolve around you and your partner taking turns tasting chocolates and trying to guess what's in them. It's not only a sweet date idea, but a fun and playful one.
13. Bake Hand Pies
Pie is basically the perfect food — especially when in a portable form. If you're after interesting picnic date ideas, consider baking some hand pies to bring to your next one. Either make the pie dough or buy some pre-made, fill it with your favourite pie fillings like apples, chocolate cream or even minced meat for a savory version, close them up and bake 'til golden brown.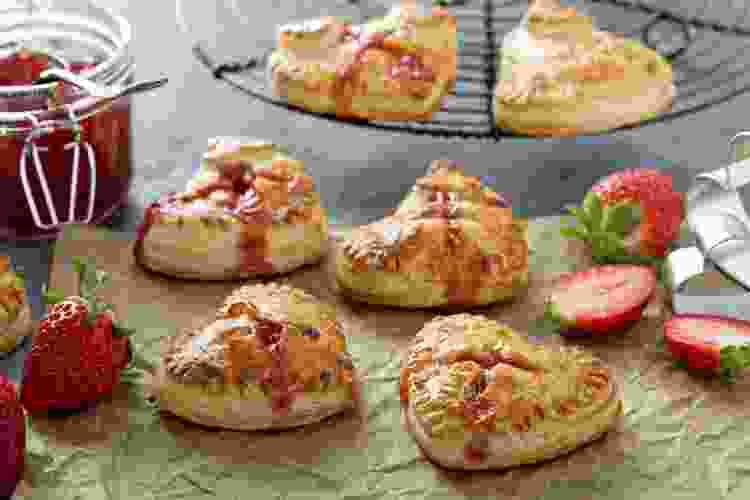 Join 200,000+ Culinary Enthusiasts
Exclusive deals, recipes, cookbooks, and our best tips for home cooks — free and straight to your inbox. PLUS: 500 Rewards Points.
As you can see, picnic date ideas take all forms, from traditional picnics to cooking classes to wine tastings and plenty more. Whether you and your partner are cocktail enthusiasts, sushi-making pros or master grillers, there are interesting picnic ideas you are guaranteed to love.
If you're searching for picnic date ideas to surprise your food or drink-loving partner, you can't go wrong with these unique options. Consider one of these 13 picnic date ideas for your next romantic date.
For even more fun date inspiration, check out other experiences happening on Cozymeal.