51 Romantic Date Ideas to Spice Up 2023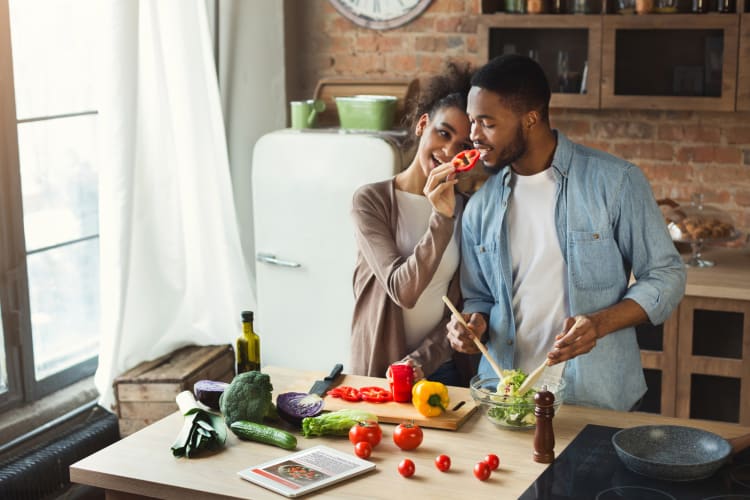 Are you running out of fun and romantic date ideas for you and your partner? We've been there. Coming up with creative new ideas is tough and you always want to keep things fresh and interesting.
We've assembled some of our favorite date ideas for couples with all different types of interests and lifestyles. Read on and start making a list of the ones you want to try.
Jump to Section
Book a World-Class Private Chef Now
Five-star fine dining from the comfort of home. Find your favorite private chef experience starting at $59/person.
Romantic Date Ideas for Foodies
1. Take a Cooking Class Together
If you want to up your cooking game while on a fun date, look into cooking classes near you. This romantic date idea is great both for couples who love to cook and couples who struggle in the kitchen.
There are cooking classes everywhere, so regardless of where you live, you'll have no trouble finding a qualified instructor. From coast to coast, there are cooking classes in Napa and cooking classes in Philadelphia. Not in the states? No problem. There are even international options, like cooking classes in Paris. If you'd rather learn from home, you can even take online cooking classes. This is one of our favorite stay-home date ideas.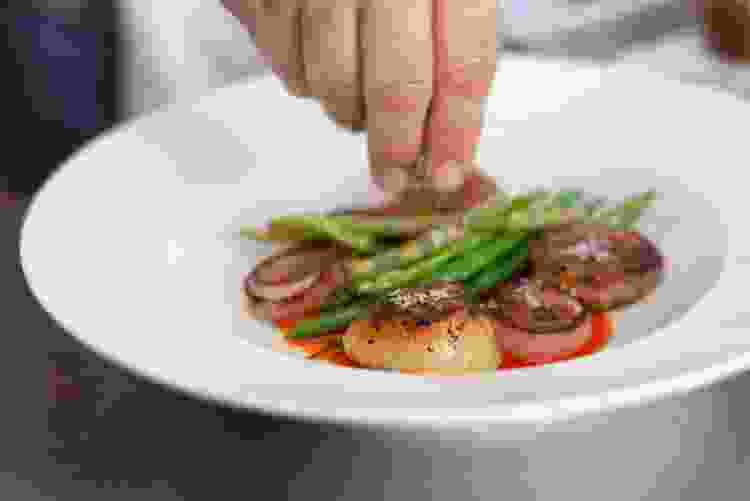 2. Have a Private Chef Prepare a Meal
What's more romantic than having a fantastic chef cook you an at-home romantic dinner? Hiring a private chef for you and your partner is a fantastic romantic date idea. Whether you're looking for private chefs in San Francisco, private chefs in NYC or anywhere in between, you're sure to find private chefs near you who specialize in your and your partner's favorite meals.
3. Go on a Tasty Food Tour
How well do you know the restaurants in your area? If you've been bored with your typical date night spots, why not try food tours near you for a romantic date idea? You may find new restaurants you never would have thought of visiting. There are fun food tours in Miami, tasty food tours in Boston and even food tours in Brisbane if you're not stateside.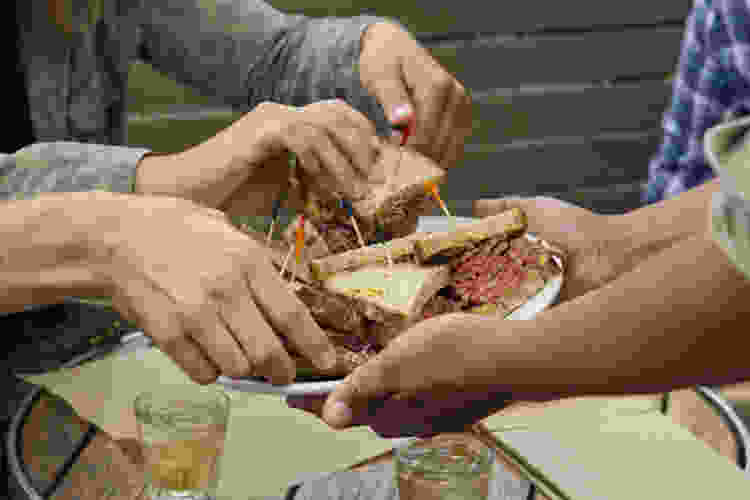 4. Try a New Type of Cuisine
It's time to get adventurous with your meals. You can either do this at home or find a local restaurant. Your goal is to find a type of cuisine you've never tried before. Maybe you find a local Ethiopian restaurant or you go online to find a great recipe for Indonesian food. Make sure you pick something that neither you nor your partner has tried before! For a whole year of romantic date ideas, make a food map and try a new cuisine every week.
Gourmet Cooking Classes Near You
Take your culinary skills to new levels with guidance from five-star chefs.
5. Visit a Brand-New Local Restaurant
Restaurants are always coming and going. For this romantic date idea, find a local restaurant that opened within the past month and visit. Whether it's a 4-star restaurant or a simple café, you'll be supporting a local business and trying something tasty. This is one of our favorite weeknight date ideas because the restaurants are less likely to be busy.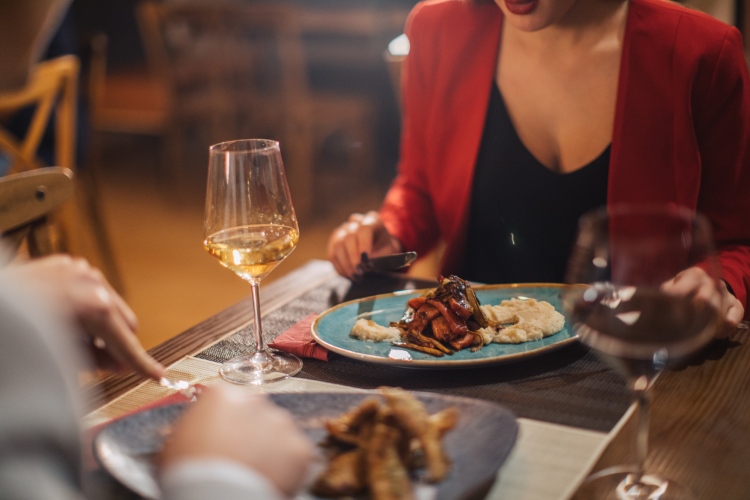 6. Have a DIY Cooking Competition
This romantic date night idea is so much fun. Have you ever seen popular cooking competitions on TV? It's time for you and your partner to make your own. Gather your ingredients, set a timer and compete to make the best appetizer, entrée or dessert. It's helpful to have a neutral third party to judge, but the fun is in the competition itself, so it's okay if you're both winners. Check Cozymeal's recipes catalog for some inspiration!
7. Visit the Local Farmer's Market
This is a great romantic date idea to combine with the previous one. Visit a local farmer's market to find fresh ingredients from local farmers and vendors. Often, farmer's markets also have other activities and booths beyond the basic produce stands. You can spend several hours wandering among the stalls. Because it's so casual, this is also one of our favorite second-date ideas.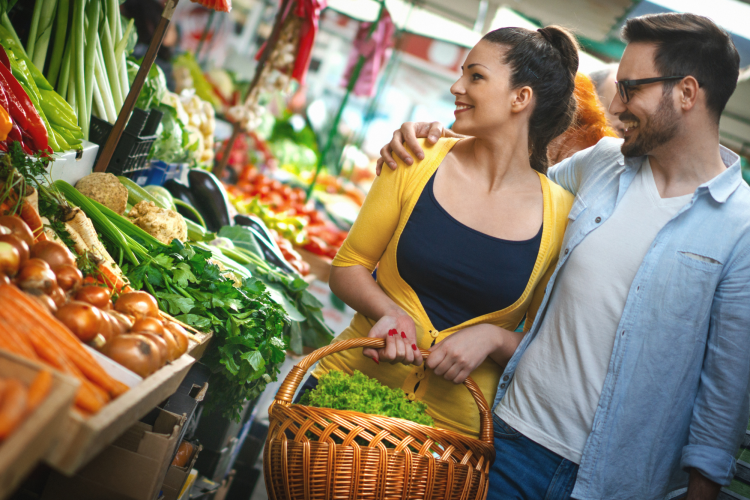 8. Make an At-Home Romantic Dinner
Put your cooking skills to the test by making an at-home romantic dinner for your partner (or better yet, cooking together). Try your hand at making a full four-course meal like you'd get in a restaurant. Set the mood with soft lighting, candles and nice music. This is also one of our favorite anniversary date ideas!
Romantic Date Ideas at Home
9. Have an at-Home Beverage Tasting
Some nights you want to have a few drinks out on the town, but the idea of leaving the house just isn't appealing. Why not be your own bartender or sommelier with an at-home beverage tasting?
If you're looking for romantic date ideas at home, consider setting up virtual wine tastings. You can have all of the fun of a "real" wine tasting, but from the comfort of your own couch. Pair it with a charcuterie board for a truly classy at-home date. If you're more of a liquor person, try online mixology classes. You and your partner can learn how to make your favorite cocktails so you can have them whenever you like.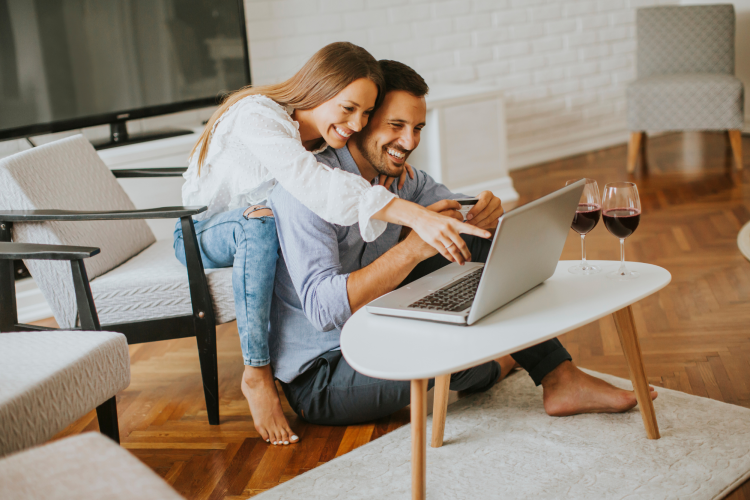 Book a Local Food Tour Now
Explore your city's best bites, esteemed eateries and hidden gems with a top-rated tour guide.
10. Create the Perfect at-Home Movie Night
You don't need to sit in a crowded movie theater for a movie night. DIY it for your next romantic date idea! Buy a projector and hang a sheet from the ceiling, or better yet, on a wall outside if you're up for an outdoor movie night. Create a cozy nest with blankets and pillows and throw on a favorite film. Don't forget the popcorn.
11. Enjoy a Fun Board Game Night
Who doesn't love board games? Collect some of your favorite board games and card games, make some snacks and make a night of it. We love playing classic children's games like Guess Who (with a subjective twist, try describing personalities instead of looks) alongside more grown-up games like We're Not Really Strangers.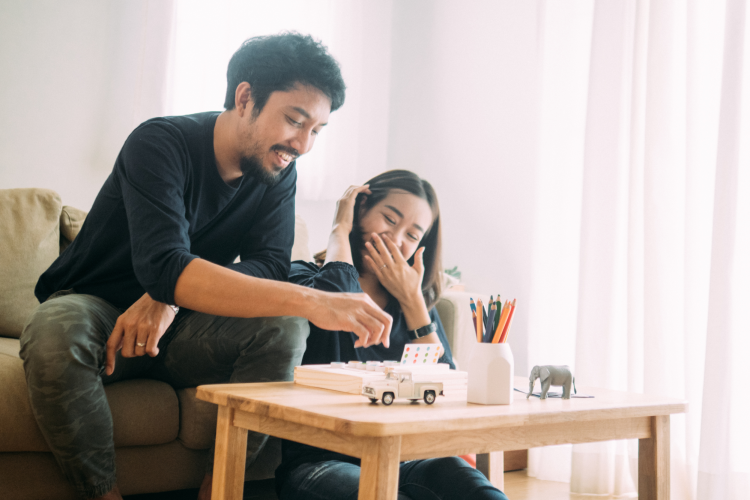 12. Enjoy Your "Home Spa"
You don't need to leave your house to have a spa day. Set up a home spa day just for you and your partner for a simple and relaxing romantic date idea. This is one of the nicest date night ideas for married couples. Have a warm bubble bath, give each other romantic massages and don't forget the soothing face masks. This is one of our favorite romantic date ideas at home.
13. Go Backyard Camping
Who said you had to travel to go camping? If the weather is nice enough, go out to your backyard, set up a tent and a lantern, and enjoy a night beneath the stars. For even more fun, light up a fire pit and roast some marshmallows.
This is one of the most fun summer date ideas for people who love the outdoors but also love being close to their creature comforts. If you have an outdoorsy partner, this is a great romantic date idea at home for him or her.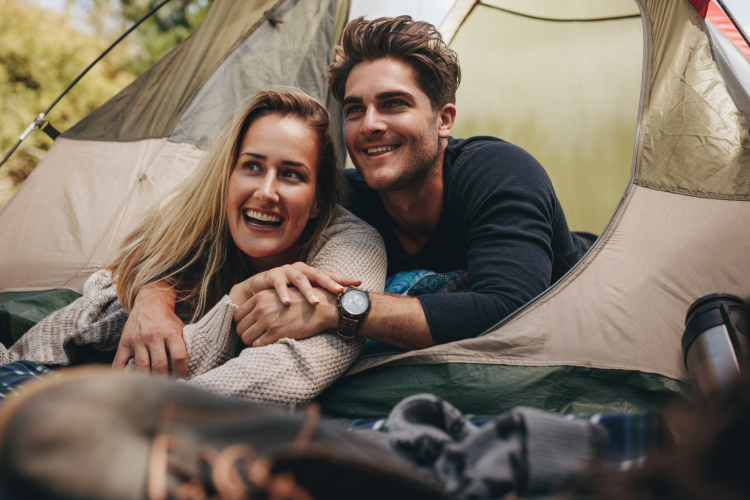 14. Make a Bucket List
This is one of the simplest one-year anniversary date ideas, but it's also a great romantic date idea regardless of where you are in your relationship. Work together to create a bucket list of things you'd like to do together. This shows commitment to your partner and it's a lot of fun to fantasize about the future together. It will also give you ideas for future dates.
Book an Online Cooking Class Now
Ready to perfect your homemade pasta, paella or pad thai? Join a world-class chef from the comfort of your kitchen.
15. Do Relaxing Yoga Together
Get active at home with a fun yoga date. Put on your favorite yoga video, wear some stretchy clothing and have fun learning new poses. Try a challenging video and don't worry if you look silly. That's part of the fun! This is a perfect first activity for a full day of romantic fun.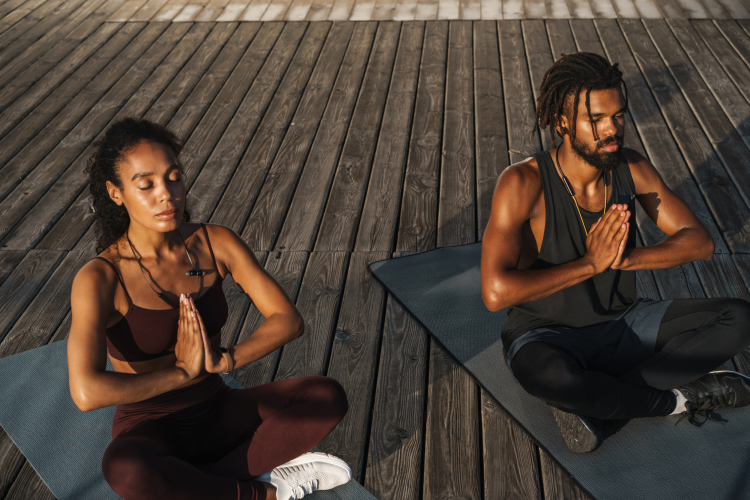 Free Romantic Date Ideas
16. Go on a Walk Through the Park
When the weather is nice, go out on a nice walk with your partner through a local park. Bring a beverage from home if you plan on being out for a while. If you're feeling playful, wait until nighttime when the park is clear and play on the playground. This romantic date idea can also be a lot of fun. There's nothing like playing on the swings and slides as an adult.
17. Go to the Beach
Who doesn't love a fun day at the beach? Bring a big beach blanket, some towels and your sunscreen, and make a day of it. Don't forget a few snacks and a water bottle (and maybe even a bottle of wine to share for an even more romantic date idea).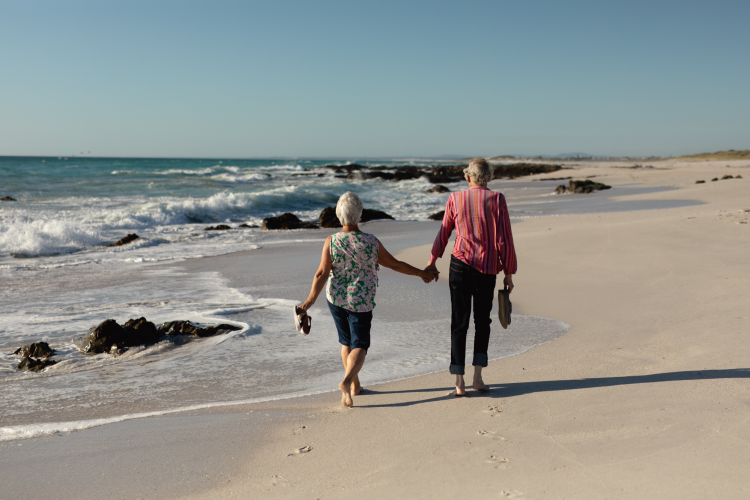 18. See Some Live Local Music
Seeing musicians live can be expensive, but local acts are often free. During the summer you may find free outdoor concerts. During the cooler months, look for free shows at local bars. You may want to buy a drink or snack to support the bar, but it's generally not necessary. This is a great way to show support to local musicians and perhaps find a new favorite artist.
19. Have a Sunset Picnic
A picnic is a classic romantic date idea, and it's one that doesn't have to cost you any money at all if you're bringing food from home. Choose a great location with a sunset view, pack a meal in a basket and don't forget a blanket to sit on. Make sure you arrive at golden hour for your picnic date idea so you can see the entire sunset in its full glory.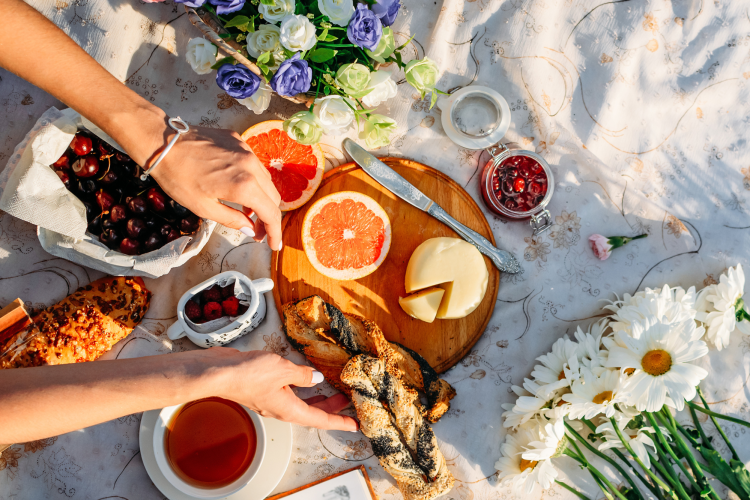 20. Visit an Open Mic Comedy Show
Comedy shows are often expensive if you're watching major acts, but don't underestimate the local comedians in your area. Open mics are usually free to attend, so give them a shot. You'll see some awkward performances, but also some incredible local talent. If you're feeling brave, consider going up on stage yourself. This can make your romantic night idea scarier, but you may love the rush of getting up on stage.
Book a World-Class Private Chef Now
Five-star fine dining from the comfort of home. Find your favorite private chef experience starting at $59/person.
21. Play Pretend "House Hunters" in a New Neighborhood
This romantic date idea is so much fun. Dress up nicely, visit a new neighborhood and play "house hunters." Take a walk around the neighborhood and pretend you're a potential buyer looking for a new home. If you can, look for open houses. This takes the experience to a whole new level and it's completely free. This is a fun activity for newer couples fantasizing about the future.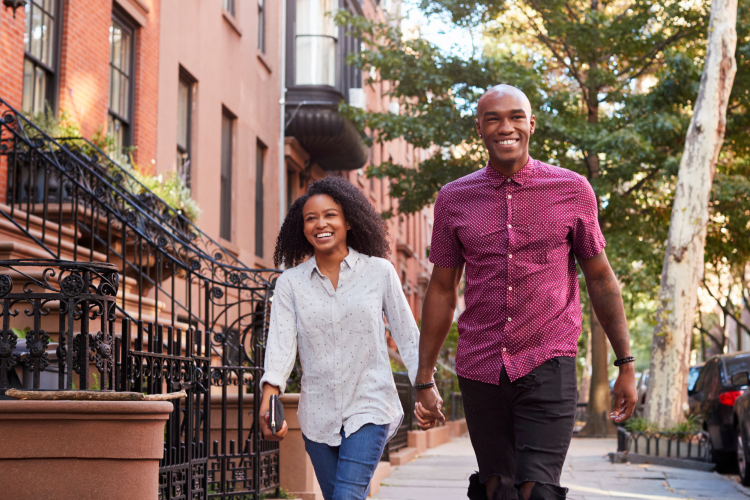 22. Go to a Local Trivia Night
Trivia is such a fun romantic date idea. Many trivia nights at local bars and breweries are completely free. You may need more than two people on your team, however, so consider making this one of your new double-date ideas. Whether you win or lose, you're sure to have a blast.
23. Volunteer Together
Volunteering is a fantastic romantic date idea that doesn't cost a dime. Pick a cause that both of you are passionate about and find a local organization that you can volunteer with. Whether you're socializing with animals at the local animal shelter, cleaning up trash in local parks or serving food with a local food bank, you're doing something great for your community while bonding with your partner.
24. Play 1-on-1 Basketball
Get outside and get competitive with a game of 1-on-1 basketball at a local playground. Many local parks and playgrounds have basketball courts that are free to use. Bring a ball from home (or buy one from the local thrift store) and see who the better basketball player is! This is another romantic date idea that's great for double dates. Better yet, invite several couples for a full game.
Romantic Date Ideas for Adventurers
25. Go on a Hike
Hikes are pretty high up on the list of fun things for couples to do. If you love the outdoors and you'd like to try something active with your partner, find a great hiking trail and make a day of it. There are hikes for all experience levels. Hiking newbies can pick semi-flat trails that aren't too long while hiking experts may want to go on an all-day adventure. While you're on the hike, try looking for local wildlife for an extra challenge.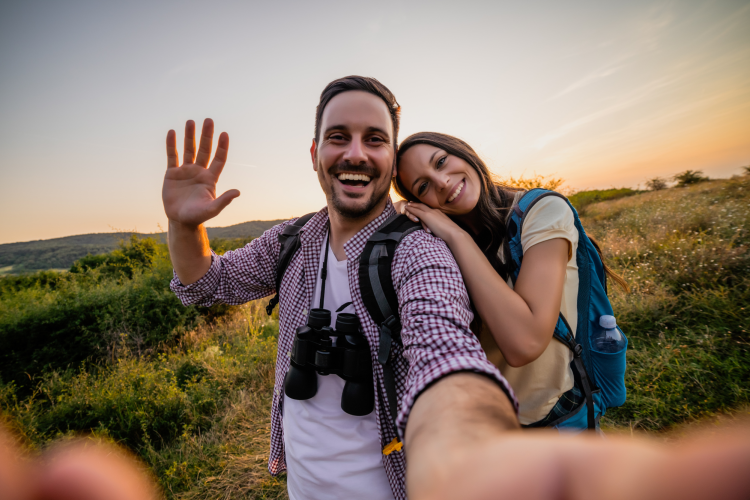 26. Take a Weekend Road Trip
A weekend trip is a fun romantic date idea that requires a bit of planning. Pick somewhere that's a reasonable distance away via car, pack your bags and start driving. Make sure to stop at any interesting landmarks along the way.
Book a Local Food Tour Now
Explore your city's best bites, esteemed eateries and hidden gems with a top-rated tour guide.
27. Go to an Amusement Park
Amusement parks aren't just for kids. If you're looking for a romantic date idea that's sure to be an entire day of fun for both you and your partner, you can't do much better than a trip to your closest amusement park. For some people, this is an easy day trip. For others, this may require more planning. Regardless, you're sure to have a blast riding rides, seeing sights and enjoying each other's company. This is also one of the best birthday date ideas.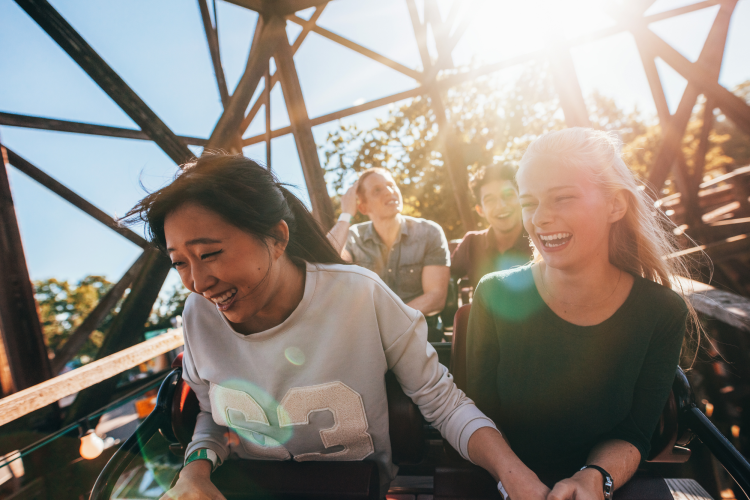 28. Try Ziplining
Ziplining is for true adventurers who aren't afraid of heights. It can be scary, but all of that adrenaline will make you feel fantastic. It's also safe even if it doesn't look that way. Many cities worldwide have ziplining opportunities, so look for ziplining near you. You may end up having to take a trip to give it a try, however.
29. Go Jet Skiing
If you live near the ocean or a large lake, jet skiing may be the perfect romantic date idea for you and your partner. Note that you may need a boat license depending on where you live, so this isn't one of the best last-minute date ideas. It's fun, fast and a total blast.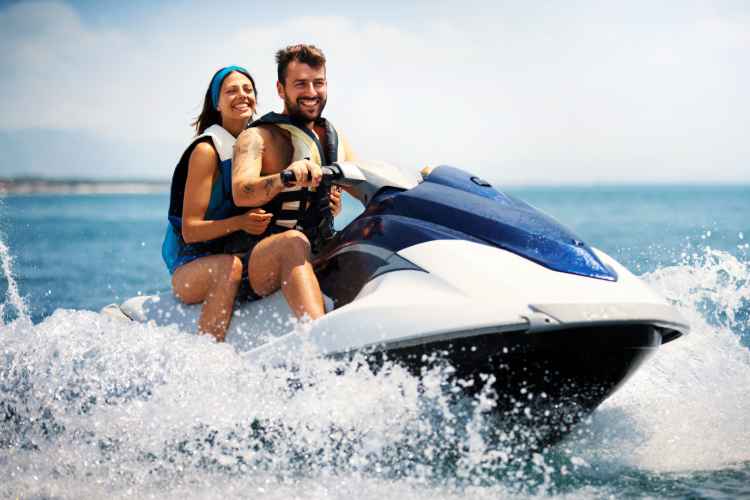 30. Try Some Winter Sports
On the other hand, perhaps some cold weather activities are better for you and your partner's next romantic date idea. Winter sports make great winter date ideas. If you're close enough to a mountain, you're sure to be close to a ski resort where you can ski and snowboard to your heart's content. If you want something a little more beginner-friendly, try ice skating instead!
31. Go Camping
We already mentioned backyard camping, but if you want a more adventurous romantic date idea, try camping for real. Find a great local campsite where you can get a beautiful view of the sunset, sunrise and stars. Light a fire, make s'mores and cuddle up in your sleeping bag. You may be surprised about how much you love spending time out in the wilderness with your partner. Bonus tip: Make it a phone-free romantic night idea.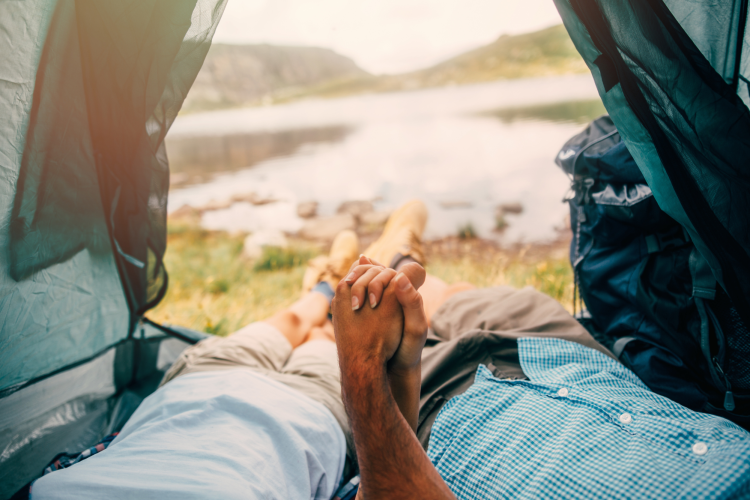 Book a Virtual Wine Tasting Now
Bring the winery home with an unforgettable live virtual wine tasting. Your personal sommelier is standing by.
Romantic Date Ideas for Art Lovers
32. Visit a Local Museum
If you and your partner love art, why not take a trip to a local museum for your next romantic date idea? Art museums can be incredibly inspirational. They're great places to walk around and chat while you look at masterful pieces of artwork.
If there's no actual art museum near you, look for local art galleries or art shows. Often, university art apartments will put on shows for their students, so you can still see local art without an actual museum. Those local artists will love having your support!
33. Do a Paint and Sip Night
This is another classic romantic date idea. If you love painting and you never turn down a great glass of wine, do a paint-and-sip night. There will be an instructor leading you and all of the other guests in a painting. You don't have to copy them exactly if you're feeling creative. While you paint, you're free to chat quietly and sip your wine. This is an awesome low-pressure romantic date idea for couples regardless of how new their relationship is.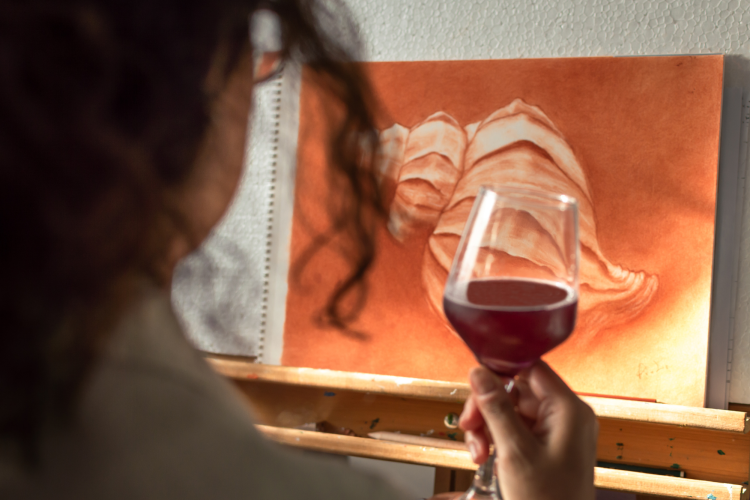 34. Make a Collaborative Painting
Looking for artsy and romantic date ideas at home? Make a collaborative painting with your partner! This is fun and messy and you end up with an awesome piece of artwork to hang up when you're done. Make sure you get a large enough canvas. You can either work on it simultaneously or pass it back and forth so each partner can get equal time putting their spin on the painting.
35. Take an Art Class
Is it time for you and your partner to brush up on your art skills? Take an art class together for your next romantic date idea.
There are so many art classes available both in-person and online that you'll definitely be able to find something that interests you both. Often, local community colleges will offer art classes, but you may also be able to find local art instructors or online video courses. Online art classes are great at-home romantic date ideas. Whether you're painting portraits or doing basic figure drawing, you'll have fun improving your skills as a pair.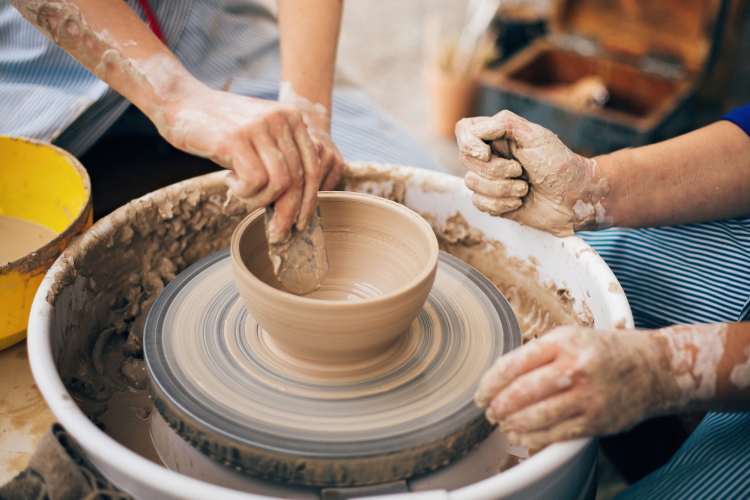 36. Paint Ceramics Together
Painting ceramics is such a fun romantic date idea and it's something that doesn't require too much innate artistic talent. It's low-pressure and a lot of fun. Find a local ceramic shop that offers painting sessions. You and your partner will both choose your favorite pieces to paint and spend time customizing them. At the end of the session, you'll be able to fire them in a kiln and take home some sweet souvenirs.
Book a Gourmet Cooking Class Now
Kick-start your culinary confidence with help from a world-class chef. See what's cooking in your city today.
37. Go to a Poetry Reading
Poetry readings are underrated. Even "big-time" poets will often host affordable readings that are perfect for romantic date ideas.
If there are no famous poets touring your area, look for local open pic poetry nights or poetry slams. Creative writing departments of universities often put them on, but local bars and coffee shops may have them as well. Listening to live poetry is a unique experience. Give it a try.
Romantic Date Ideas for Parents
38. Have a Local "Tourist Day"
You don't have to go on vacation to play tourist. You can do this romantic date idea without leaving your town. Instead of going on a vacation, go on a staycation. Take a day off work and do all of the local tourist activities that you've never tried before. This will give you a revitalized appreciation for the town you live in and you'll have a lot of fun without breaking the bank.
39. Go Dancing
What's a better romantic date idea than dancing the night away? If you have two left feet, don't worry. The point of going dancing isn't being good at it. It's having fun. Whether you're at your local nightclub or trying out a swing dance class, as long as you're having a blast you're doing it right.
If you're hesitant, try taking some online dance classes first so you can hit the dance floor with confidence and style. Dress up nicely for an even more romantic night idea.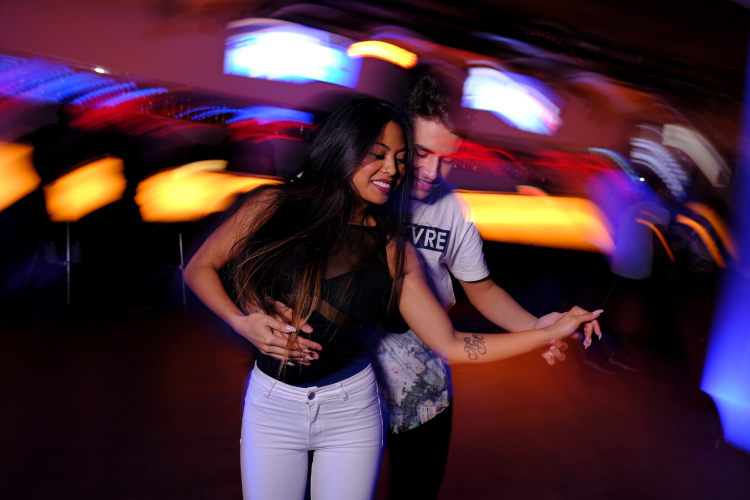 40. Visit the Local Botanical Garden
A trip to the local botanical garden is a relaxing and refreshing romantic date idea that only takes an hour or so. It's great for an afternoon break or a quick getaway during the school day. Look at all of the beautiful flowers and see if you can spot local animals and insects. Have a peaceful stroll through the garden and chat.
41. Visit a Local Vineyard
A trip to the vineyard is a classy and romantic date idea that's perfect any night of the week. Dress up nicely and try some fantastic local wine. Some vineyards also offer full meals, so you can make an entire night of it.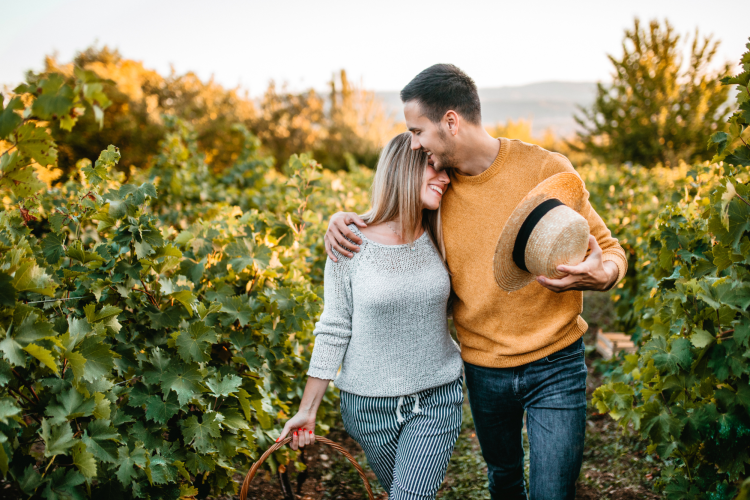 Book a World-Class Private Chef Now
Five-star fine dining from the comfort of home. Find your favorite private chef experience starting at $59/person.
42. Get a Couple's Massage
Do you need some rest and relaxation? A couple's massage is the perfect romantic date idea for couples who totally deserve a break. Visit your local spa or massage parlor that offers massages for two. For some added luxury, consider finding a spa that also has other services like saunas and facials that you can enjoy together for a full day of pampering.
43. Go Mini Golfing
Mini golfing may not sound like the most romantic date idea, but it's a lot of fun, it's affordable and you don't have to be particularly skilled to enjoy it. Also, who doesn't love a bit of friendly competition on a date? Pick some brightly-colored golf balls and some golf clubs and have fun making your way through the mini golf course.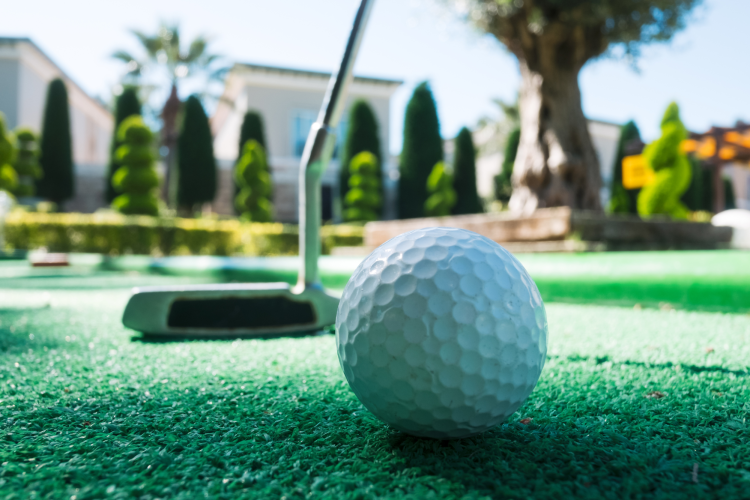 44. Learn Something New Together
Learning something new together is incredibly romantic. If you want a romantic date idea that you're sure to remember, take a class together.
There are classes for almost anything. We already mentioned art classes, dance classes and cooking classes, but if there's a skill you want to learn together, there is someone available who wants to teach you. Try to find something you'd both like to learn!
45. Go on a Parent Double-Date
Do you have any other local parent friends? Invite them out for a double date. Even if you're just going out for a walk together or even going to the playground with the kids, it's great to communicate with other adults who understand what you're going through. Parent double dates can definitely still be romantic.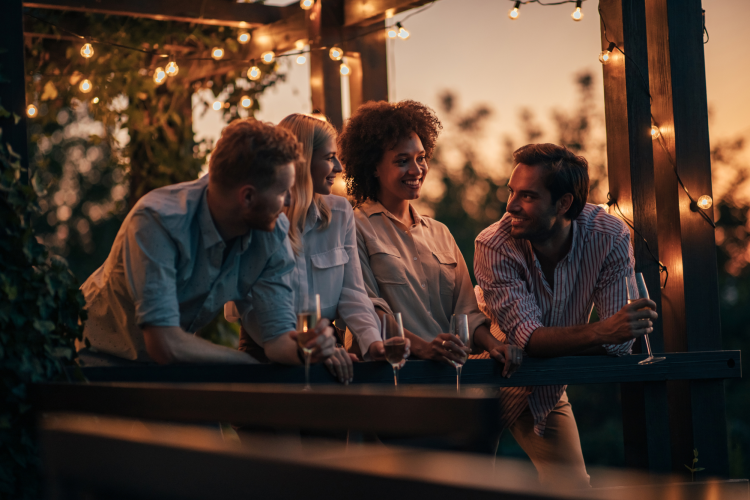 Fun Romantic Date Ideas
46. Go to an Arcade
A visit to the local arcade (or barcade) is an awesome romantic date idea. You get to play fun games together, get a little bit competitive and chat between gaming sessions. Arcades are awesome for couples with a competitive side. They're also cheap dates and great for when you only have an hour or so to hang out.
47. Go Roller Skating
Roller skating is trendy again and that's great news. Throw on a pair of roller skates and get to your local roller rink for a fun and romantic date idea you'll both love.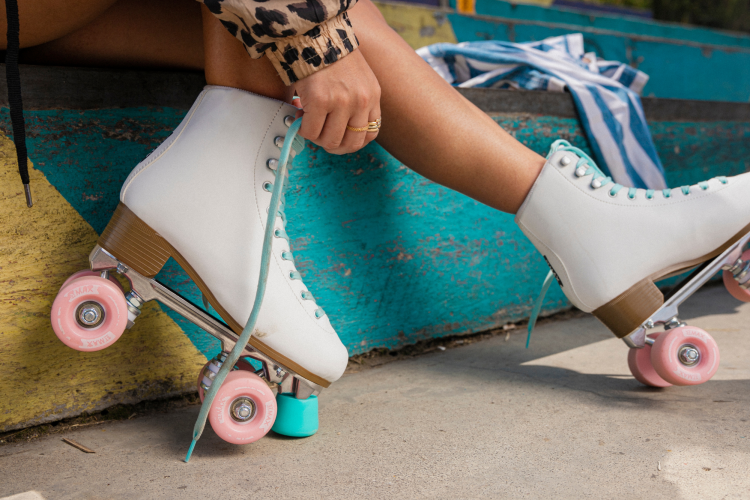 Book a Local Food Tour Now
Explore your city's best bites, esteemed eateries and hidden gems with a top-rated tour guide.
48. Visit a Rage Room
Speaking of blowing off some steam together, what about a rage room? Rage rooms are another hip and trendy activity. You get protective gear, some form of weapon, and some objects that you're allowed to break with the weapon. This may not sound like a romantic date idea, but you'll find yourselves laughing and joking around while making a mess (that you don't even have to clean up).
49. Go Axe Throwing
Axe throwing made our list of alphabet dating ideas. It's a trendy romantic date night idea that's been one of the cool "hip" things to do. You and your partner will be set up in a stall in front of a target. You'll each get some axes to throw. You'll try your best to hit the target and get a bullseye.
This is a fun competitive activity in which neither of you likely has the upper hand because it's new to both of you. It's also a great way to blow off some steam together.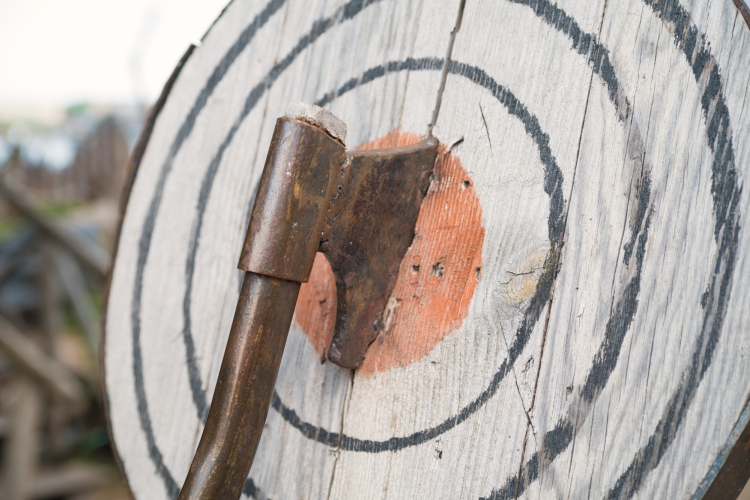 50. Do a Scavenger Hunt
If you have a partner who loves a good puzzle, this is a great romantic date idea at home for him or her. If you want to make it even bigger and better, you can expand it around town.
For this scavenger hunt, you're going to create a bunch of clues and hide them. Each clue should logically lead to the next one. At the end, there should be some sort of gift or romantic activity for you to do together. If you have a close friend who knows you both, you could have them write the clues instead so you can both participate.
51. Visit a Local Zoo
Visiting the local zoo is such a fun and romantic date idea for couples of all ages. Stroll around the zoo with some snacks and chat about all of the interesting animals you see. Watch a live wildlife presentation and pet the animals in the petting area. A day at the zoo is both exciting and relaxing.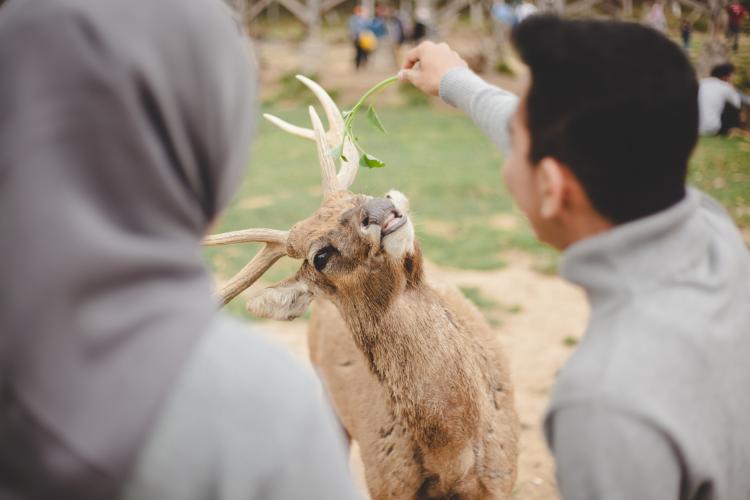 Join 200,000+ Culinary Enthusiasts
Exclusive deals, recipes, cookbooks, and our best tips for home cooks — free and straight to your inbox. PLUS: 500 Rewards Points.
So which of these fun date ideas will you try? Why not try all of them? You have plenty of time with your partner, so start making a list and try a new date idea every week.
For even more romantic date ideas, check out other experiences happening on Cozymeal.