Date Night in NYC: 45 Fun and New Ideas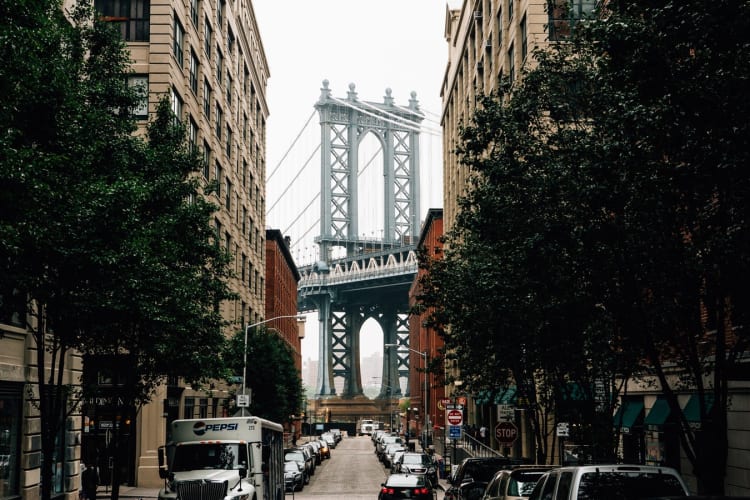 Our editorial team recommends the best products through independent research, selection and careful review. If you make a purchase through one of our affiliate links, we may earn a commission. Prices are subject to change.
Planning a date night in NYC is exciting and inspiring. After all, New York City has inspired some of the most famous romantic comedies of all time, including When Harry Met Sally and Serendipity.
Falling back on the standard drinks-and-dinner date night in NYC still seems to happen all too often. Sure, as a New Yorker you have some of the best culinary experiences at your fingertips, but that doesn't mean you shouldn't shake up date night every now and again.
Whether you're about to embark on a first date with someone special or are planning something fun for your 10th anniversary, trying something new can help you get to know your date on a deeper level, and in a long-standing relationship, it can help you avoid falling into a monotonous date night routine.
So no matter how long you've been dating, here are 45 fun and new ideas for date night in NYC. And they just might make you fall in love with the city all over again, too.
Jump to Section
Foodie Date Night in NYC
1. Go on a Food Tour
Trying out the vibrant cuisine of the city is one of the most classic things to do in NYC. Treat your date to a culinary and cultural stroll around New York City's most vibrant and tasty neighborhoods on a food tour in NYC. By combining sweet and savory food tastings with fascinating stories, local culture, history and architecture, a food tour creates the perfect recipe for a fun, memorable, one-of-a-kind date night in NYC. Plus, it's an exceptional way to explore new nooks and crannies in the city and find new places to go for future date nights.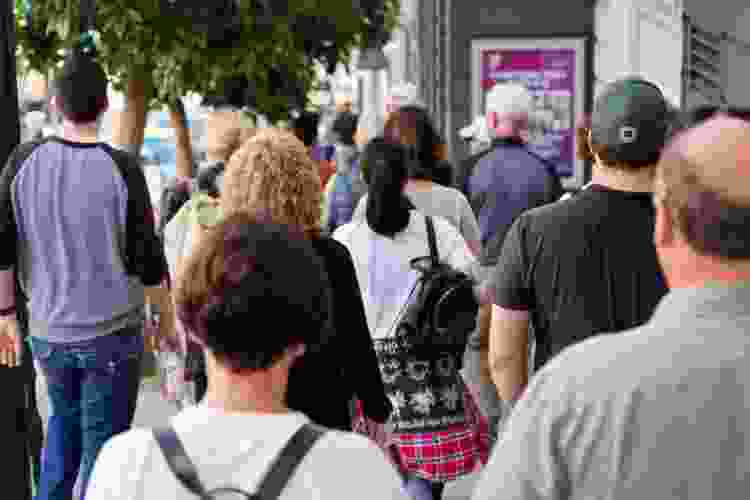 2. Forage in Prospect Park
Even the hardiest home cooks in NYC probably don't have too much experience with foraging. After all, you're not likely to see very many wild ramps springing up between the sidewalk cracks. Where you might really find some native herbs and vegetables? Prospect Park. Join a guided foraging walk through the park to pick wild carrots, burdock root, dandelion greens and Szechuan peppers for a unique date night in NYC.
Top-Rated Cooking Classes in NYC
Kick-start your culinary confidence with help from a world-class chef. See what's cooking in NYC today.
3. Take a Hands-On Cooking Class
Nothing brings people together quite like food, so why not learn a few new recipes from an expert chef? Cooking classes in NYC are perfect options for a fun date night in NYC. You and your date can learn a new dish you've always wanted to try, or bond over a favorite cuisine. Your talented chef instructor will be your guide as you get to work in the kitchen.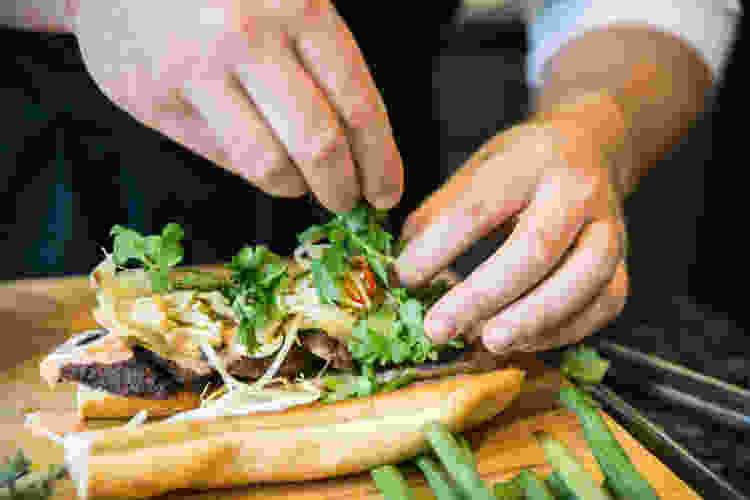 4. Try a New Cuisine
NYC has no shortage of diverse food, but surely there's a cuisine you and your date have never tried. Whether it's unique fusion fare, plant-based dishes or simply a cultural cuisine you've never sampled, find a local restaurant specializing in these dishes and make a reservation. Expanding your culinary horizons is a special idea for a date night in NYC that lets you bond over a new shared experience.
If you'd rather stay in but still enjoy exciting new cuisine, why not order from Doordash? And if you're new to the app and wondering "How does Doordash work?", don't worry. We've got a great how-to for it.
5. Tune in to a Gourmet Online Class
If you love the idea of a cooking class but prefer to keep things low-key, online cooking classes are ideal for a romantic home date night in NYC. You'll find live, interactive classes taught by chefs from all over the world, offering everything from Japanese street food to gourmet Spanish tapas.
Book an Online Cooking Class Now
Ready to perfect your homemade pasta, paella or pad thai? Join a world-class chef from the comfort of your kitchen.
After your cooking class, why not top off the evening by enjoying a homemade mixed drink? Online mixology classes will pair you up with an expert mixologist to teach you how to master the art of specialty cocktails at home. If you prefer wine over craft cocktails, there are experiences perfectly suited to your tastes, too. Virtual wine tastings are your ticket to learning the delicious details behind your favorite beverages from the best chefs and sommeliers in the industry.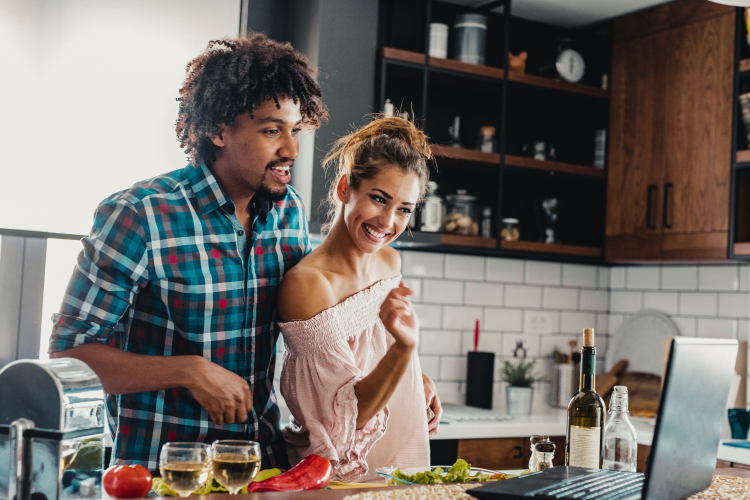 6. Experience a Parisian Bistro
Paris and romance go together like cafés and croissants. But if making the pilgrimage to the French capital for a date night is a little far fetched, you can still take your taste buds on a journey to one of many local Parisian bistros for a romantic date night in NYC.
7. Hire a Private Chef
Skip the cooking altogether and indulge in gourmet homemade cuisine worthy of a five-star restaurant. Private chefs in NYC can come to you with all of the ingredients, equipment and skill necessary to cook a stunning meal. A fantastic option for an indoor activity in NYC, you'll simply choose your menu and let your chef handle the rest — including kitchen clean-up at the end. This is a romantic date night in NYC idea that's hard to beat.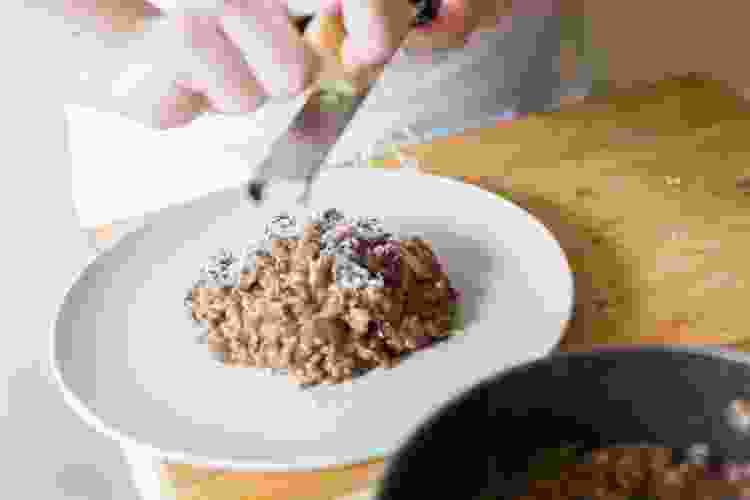 8. Go on the Literary Pub Crawl
For those book lovers who get a kick out of the Hemingway quote "write drunk, edit sober," embark on the Literary Pub Crawl in Greenwich Village. Hear the stories, poems, prose of the writers who helped shape this nation and the world, and learn why New York City is the epicenter of American Literature during this unique date night in NYC.
9. Chase Down a Food Truck
The food trucks littering the sidewalks of NYC represent a gastronomic paradise and fun tasting adventure for a fun date night in NYC. For a city as on-the-go as New York, it only makes sense that food trucks have risen to the standards of NYC's hordes of hurried, but still discerning, diners. Chase down the new wave of food trucks serving up sophisticated bites and timeless street fare with your date.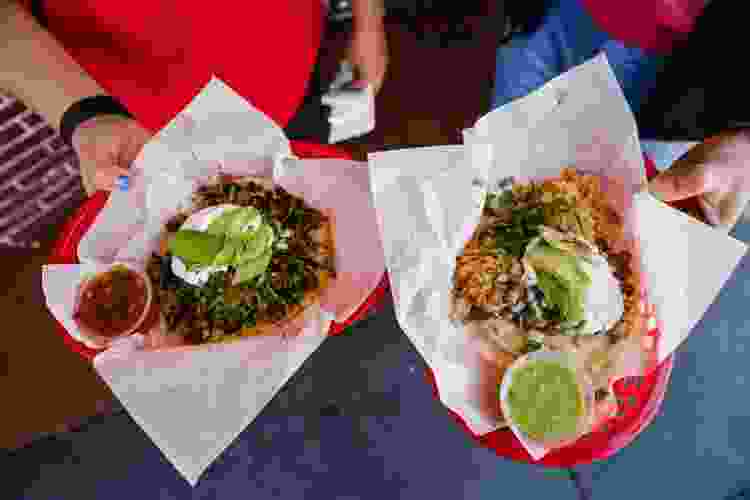 Book a Food Tour in NYC Now
Explore NYC's best bites, esteemed eateries and hidden gems with a top-rated local guide.
10. Marvel at Molecular Gastronomy
Molecular gastronomy, also known as modernist cuisine, is arguably at its peak in NYC, and you can find many eateries incorporating scientifically savvy cooking techniques like liquid nitrogen flash freezing and syringe infusions. Make a reservation and marvel at the creativity oozing from these mouthwatering menus unlike anything you've ever tasted — or seen!
11. Enjoy a New York-Style Pizza
Fall in love all over again with New York-style pizza. The typical crispy crust that is somehow sturdy enough, yet thin and pliable enough, to fold in half and eat like a true New Yorker is something to be marveled. Let the best pizza in Brooklyn thrill your taste buds, or chat over the best pizza in Manhattan.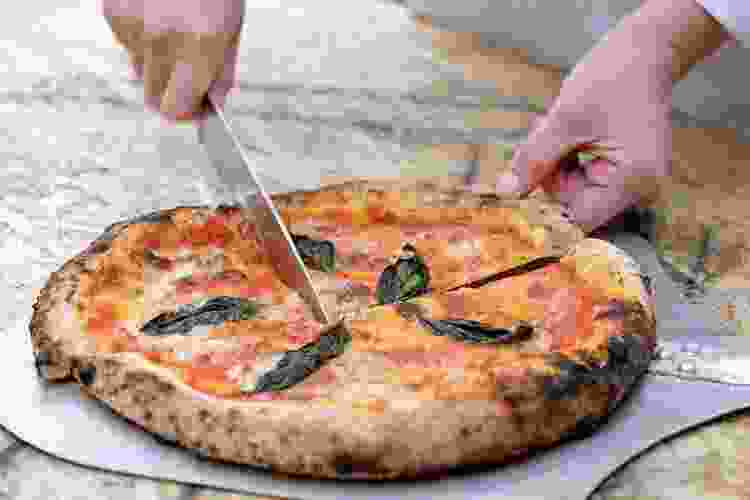 12. Embark on a Bagel Crawl
Of all its signature foods, bagels are arguably the most synonymous with New York City. New York City boasts the best bagels in the universe, so why not spend the evening finding the absolute best bagels with your date? Make a loop around the NYC bagel belt and find out which bagel reigns supreme for a fun and new date night in NYC.
13. Get Ritzy at the Russian Tea Room
Founded by Russian expats, The Russian Tea Room was a high society hangout for much of the twentieth century. Dining there on a romantic date night in NYC feels like going back in time — the glitzy gilded interior hasn't changed since the 20s. To this day, it still captures modernist Russian style décor and hosts New York's elite as a restaurant for continental fine dining, elegant high tea and the finest vodka selection.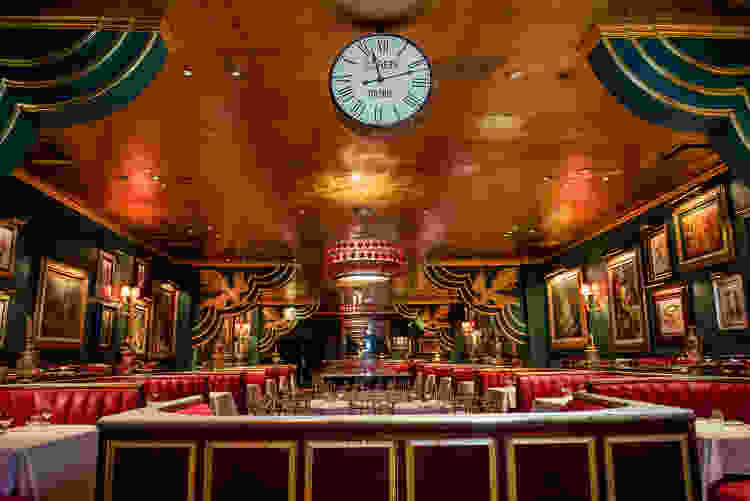 14. Eat Some Art
For a truly unique and fun taste of NYC art, discover some of the many eateries that are plating up masterpieces that taste just as good as they look. Sit back and relax with your date as you watch NYC's top chefs let their imagination run wild on your plate.
Laid-Back Date Night in NYC
15. See the Brooklyn Botanic Garden
The Brooklyn Botanic Garden has indoor pavilions that are one of the few places where you can take in some greenery during the dark, desolate late fall and winter months. The Tropical Pavilion — filled with waterfalls, streams and vibrant flora — is particularly balmy and makes you feel like you're in a tropical oasis. No matter the season, this makes for a great date night in NYC.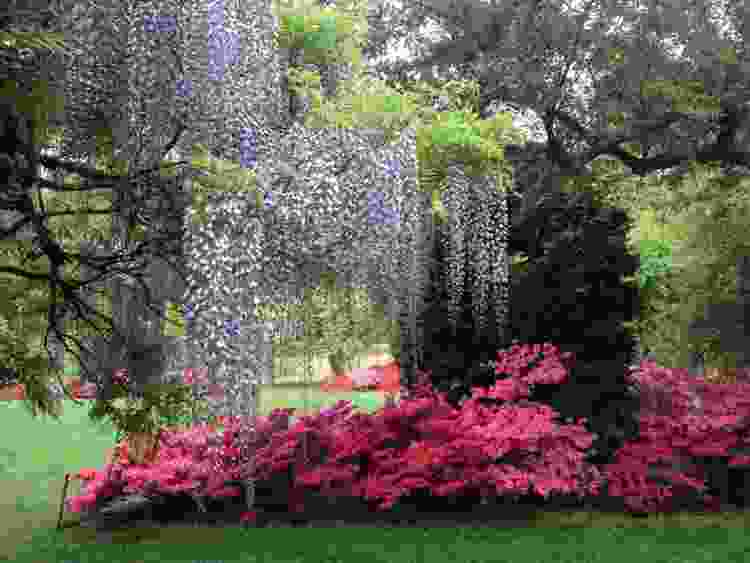 Book a Virtual Wine Tasting Now
Bring the winery home with an unforgettable live virtual wine tasting. Your personal sommelier is standing by.
16. Wander Through Indoor Markets
Rainy and freezing cold nights don't have to get in the way of your date night in NYC. Check out indoor markets, such as Chelsea, Essex and DeKalb. Food halls in NYC are known for dishing up delectable fares from culinary visionaries, creating hubs of international cuisine and showcasing vendors who reflect the street food scene around the world.
17. Head to the Harlem Jazz Parlor
Go to Harlem for an evening of live jazz! This intimate experience provides a haven where music lovers can relax and engage with musicians while enjoying hors d'oeuvres, wine and dessert. This exceptional date night in NYC runs the first Thursday of every month with different musicians performing at various homes in Harlem so each event is really something special.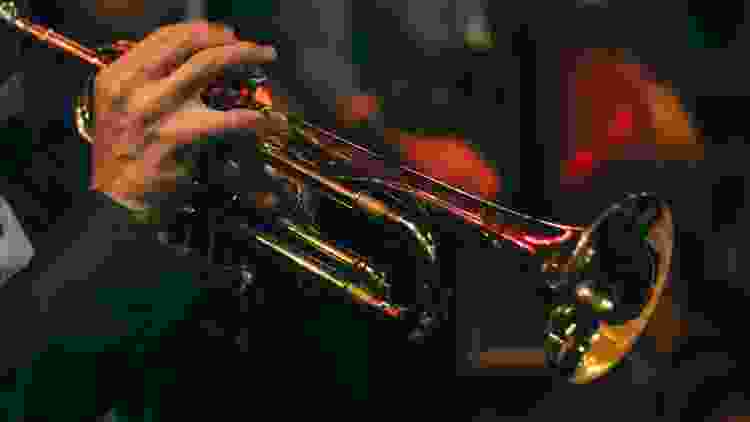 18. Explore Little Greece
When considering NYC's melting pot identity, Chinatown and Little Italy are probably the first to come to mind. But there are several other ethnic enclaves that promise to be a unique and fun date night in NYC — including Little Greece. Enjoy traditional Greek taverns, bakeries and cafés in this must-explore neighborhood with your date.
19. Try Stargazing at the High Line
Head to the High Line for stargazing on Tuesday nights between April and October for a new date night idea. After a romantic sunset walk, you and your date will have the opportunity to peer through the high-powered telescopes provided to see rare celestial sights and get a closer look at the moon and planets, and see if your love is written in the stars.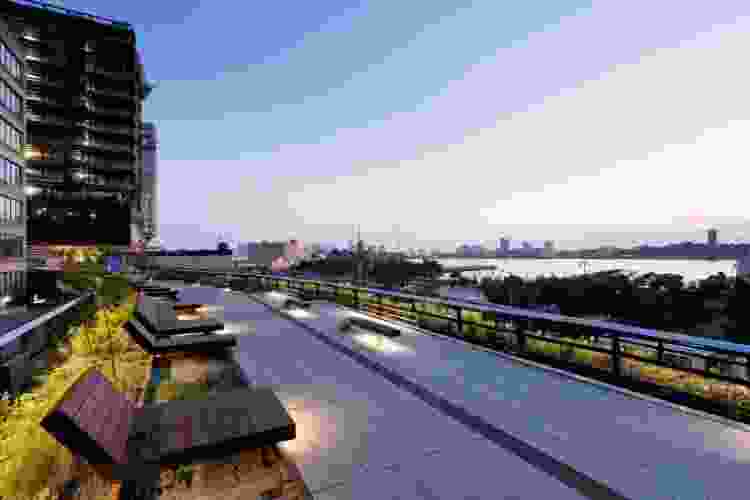 20. Find a Trivia Night
Everybody loves a know-it-all, and New York City has a themed trivia night for all "well, actually" types. Have you seen every episode of The Simpsons at least twice and have sonorous opinions on its golden era? Would your pop culture proficiency put Siri to shame? Are you just a general genius? Check out some places to catch a trivia night for your next date night in NYC.
21. Cruise the Harbor
All aboard! Why limit date night in NYC to staying on dry land? Even the best restaurants in NYC can't compare to the experience of eating out on the water. Date night dinner cruises in the harbor offer prix-fixe menus or buffet meals on enormous three-level ships, sailing taverns and ritzy yachts. Whichever you choose, the ambiance can't be beat. Bon voyage!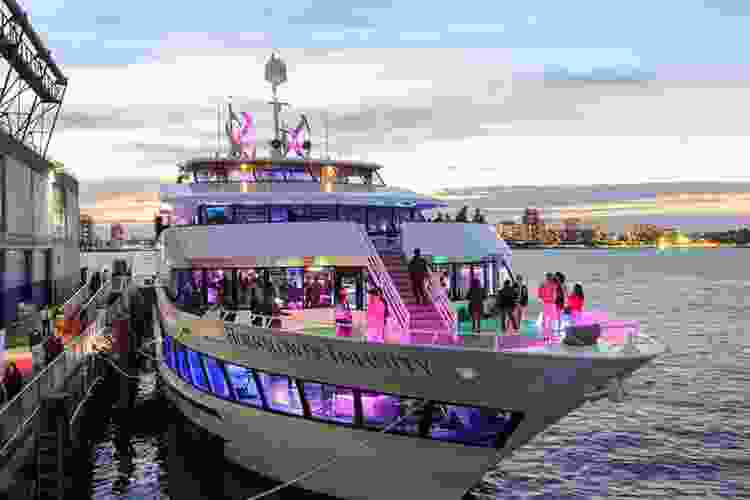 Book an Online Cooking Class Now
Ready to perfect your homemade pasta, paella or pad thai? Join a world-class chef from the comfort of your kitchen.
22. Tour the Museum of Interesting Things
All the big museums in the city — The Met, The Guggenheim, MoMA — will be crawling with tourists on any given weekend. Instead, check out the appointment-only Museum of Interesting Things, one of the few attractions in New York that still feels hidden. Set up a private tour of its collection of antique toys, bizarre inventions, ancient scientific equipment and other oddities for a date night in NYC that will be one to remember.
23. Visit the New York Aquarium
Marvel at beautiful sea life and pick up some interesting marine biology facts as you stroll through the New York Aquarium together. You'll find so many interesting things to talk about, making it a great place to encourage conversation. Pro tip: On Wednesdays after 3:00 p.m., admission is free! You'll just need to reserve a ticket in advance.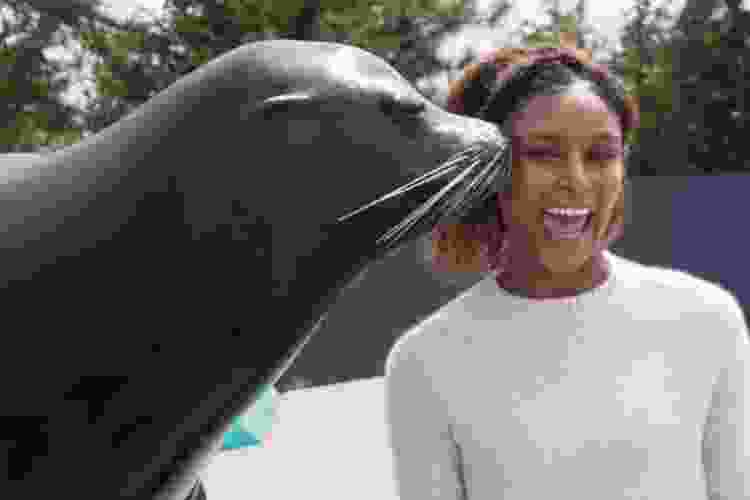 24. Check Out the Brooklyn Bazaar
To do everything that the Brooklyn Bazaar offers all in one NYC date night will require a great deal of commitment, but if you and your date are up for the challenge, there's great rewards in it for you. Goof off with mini golf and arcade games, sing your feelings at each other in the karaoke rooms, grab dinner and drinks, shop artisanal wares and vintage tchotchkes, and see an amazing performance.
25. Rent a Kayak
Manhattan, Queens, Staten Island and Brooklyn all have parks with bodies of water where you can rent kayaks, pedal boats, canoes and even stand-up paddle boards. Weather permitting, this is a fun, relaxing and refreshing date idea that's also a great way to enjoy the outdoors.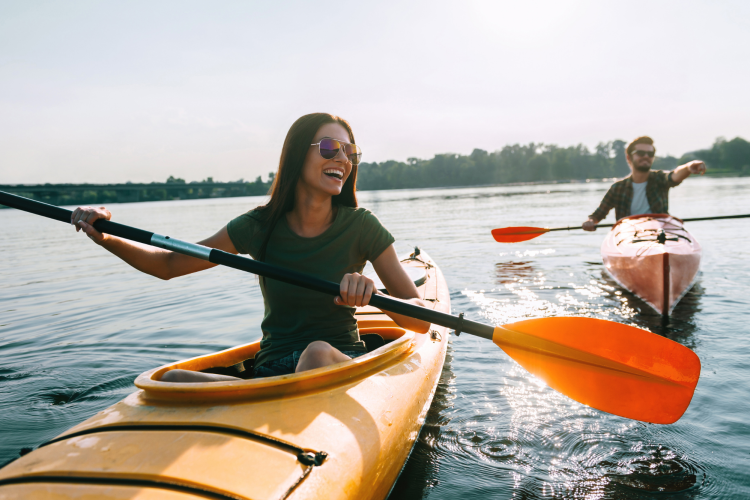 26. Relax at a Couples Spa
Opt for a side-by-side aromatherapy massage with relaxing lavender oil and traditional Swedish technique or deep-tissue work. Go all out with a couples package at a local spa and enjoy some quiet time together for a fun and incredibly relaxing date night in NYC.
27. Enjoy a Movie Under the Stars
Every Monday evening from June through August, Bryant Park holds a free outdoor movie night complete with food and wine concessions. This is a unique way to spend a date night in NYC and take advantage of those beautiful New York summer nights.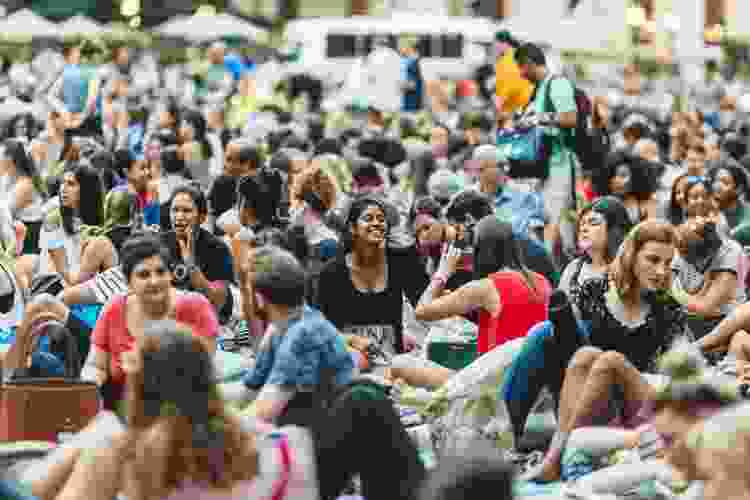 Book a Five-Star Private Chef in NYC
Indulge in the finest fare the Big Apple has to offer. Book a five-star private chef experience starting at $59/person.
28. Take a Pottery Class
For something a little different than painting classes, learn how to spin a potter's wheel in a ceramics class for a fun date night in NYC. Depending on the studio, you might be able to bring a bottle of wine or a six-pack of beer to enjoy with your date. There's just something truly romantic about creating something together. Remember the pottery scene from Ghost?
Adventurous Date Night in NYC
29. Play Ping Pong at SPiN
The team behind SPiN — including co-owner Susan Sarandon — knows that the only thing that's more fun than ping pong is tipsy ping pong with your date. This bar combines Olympic-sized tables with a diverse selection of libations. Playing ping pong at SPiN has all the makings of a guaranteed fun date night in NYC, whether or not you and your date are any good at the sport.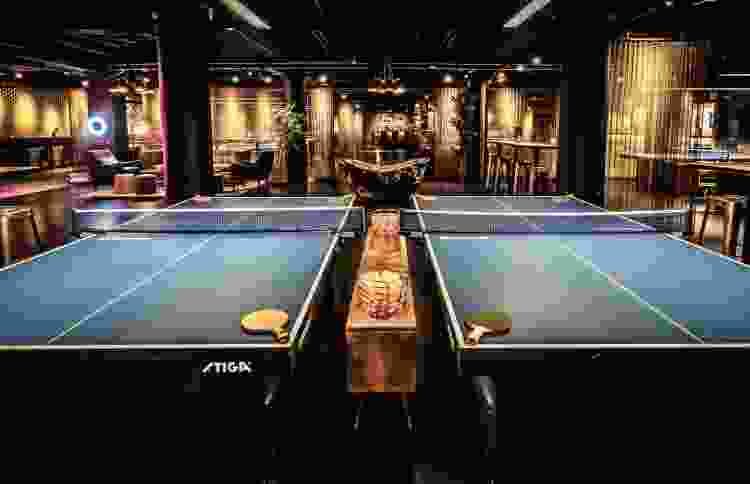 30. Take a Graffiti Lesson
Here's your chance to unleash your inner rebel and finally leave your mark on the streets of New York. At a graffiti workshop, a working graffiti artist will teach you and your date the basics of aerosol art and help you create your first mural (in a totally legal location, of course) for a fun date night in NYC. Leave the workshop with a greater understanding of this misunderstood craft and, of course, your newly created work.
31. Soar Over the City in a Helicopter
Helicopter tours are a surefire way to knock your date's socks off. New York City by night is like a multi-colored, glittering jewel for you to feast your eyes upon and dazzle your date. Take off on a helicopter tour after dark and admire an awe-inspiring aerial view of the city lights for a breathtaking and incredibly romantic date night in NYC. Amp up the views, the romance and the thrills on a sunset tour.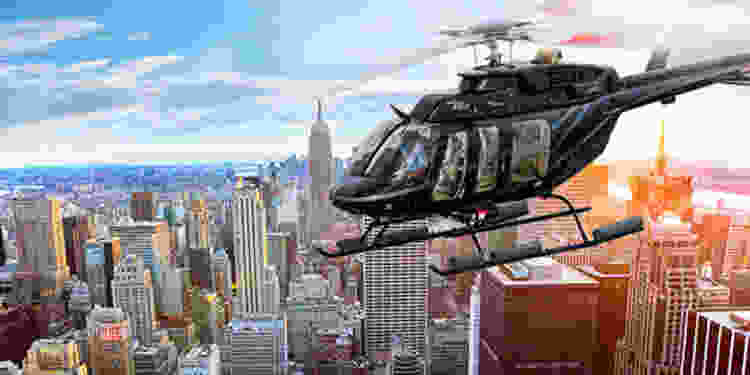 32. Go Dancing
Put on your dancing shoes and hit the dance floor with your date for a twirling good date night in NYC. Try a flirtatious foxtrot or a sensual salsa to heat up things up and fill your romance quotient. You can also take a class or discover some of the best dance spots in NYC that will make you want to grab your partner and shimmy, shake, cha-cha or merengue all night long.
Top-Rated Cooking Classes in NYC
Kick-start your culinary confidence with help from a world-class chef. See what's cooking in NYC today.
33. Go Rock Climbing
Build up a new relationship with some literal trust falls. If your date has been looking for adventure but ditching the city isn't an option, take a couple of hours to harness that love of independence and thrills at The Cliffs. Take an introductory class together to learn the ropes and challenge yourselves to ascend to new heights on your date night.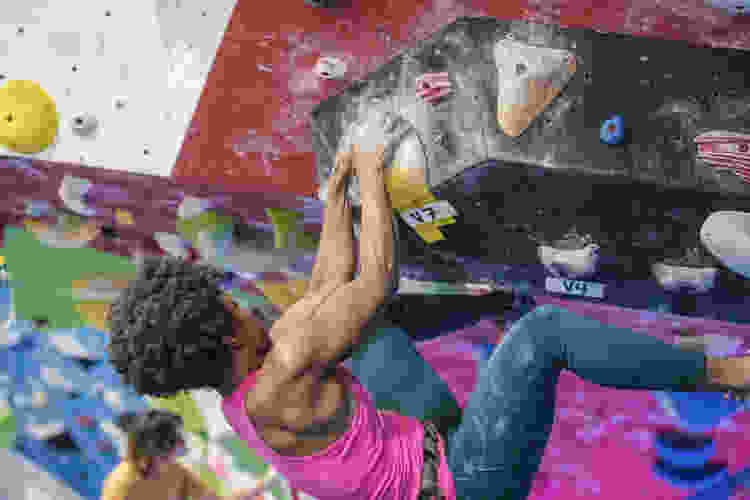 34. Have a Laugh at a Comedy Show
Want to know how to make your date fall madly in love with you? Make 'em laugh! Pick out an improv show, a stand up routine or see what other shows are taking place in your neighborhood's comedy clubs for a fun(ny) date night in NYC.
35. Attend a Concert
Find out what concerts or music events are playing at some of the best live music venues in New York City to spice things up on date night. From hole-in-the-wall dives to resplendent uptown theaters, there's a daunting array of world-class acts performing around town on any given night. And if you plan accordingly, you might be able to pair up for a fun double date night in NYC!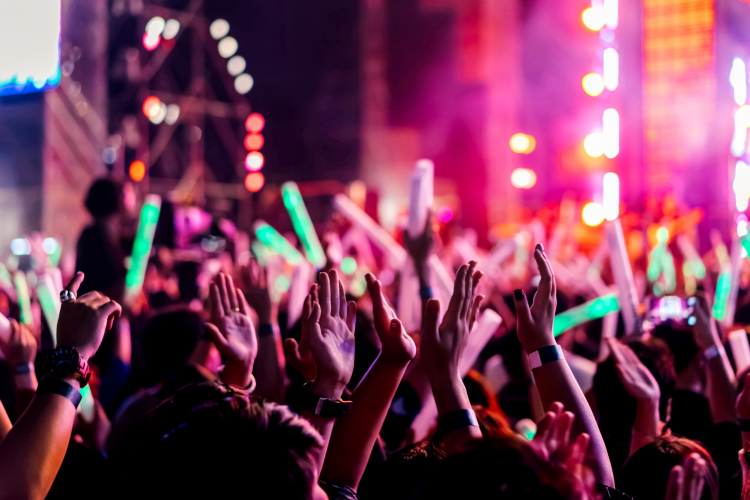 First Date Ideas in NYC
36. Ice Skating
When you envision classic first date ideas in NYC, ice skating in Rockefeller Center often comes to mind. If the weather outside is frightful, first-date skating's quite delightful. And unless you're planning to reveal your inner Dorothy Hamill or Brian Boitano, ice skating on the first date will bring out a little vulnerability in both of you. Catching each other when you fall will surely break the ice. Whether you go for the first date or the third, it's a must-do during winter in NYC.
37. Picnic in the Park
Your stomachs will be rumbling after the sights and smells of a farmers market. Time to indulge! Picnicking is a timeless first date idea in NYC. Use these picnic date ideas to get the wheels turning on what you'll need for the perfect outdoor meal.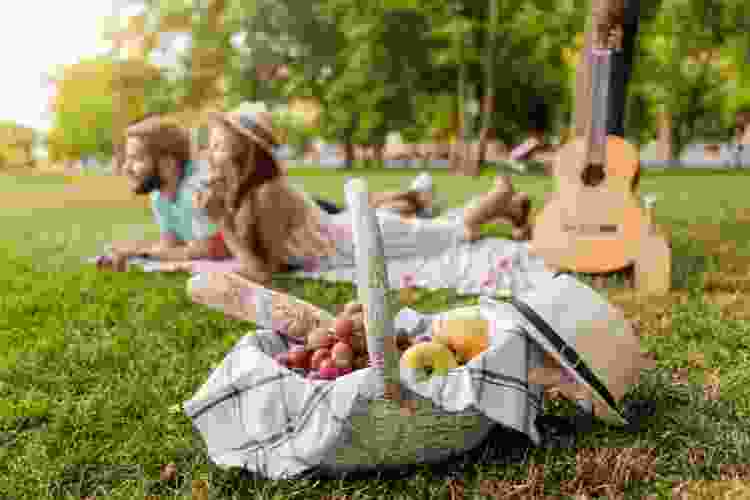 38. Play Date at the Arcade
Watching how someone handles winning (or losing) can give you a lot of insight into how they'll handle a relationship. That's why one of the best first date ideas in NYC is to head to the Luna Amusement Park on Coney Island. Whether it's Skee-Ball or Whac-a-Mole, you'll find the best throwback games to inspire a little friendly competition.
Top-Rated Cooking Classes in NYC
Kick-start your culinary confidence with help from a world-class chef. See what's cooking in NYC today.
39. Roller Skating or Roller Derby
Choose a traditional roller rink that celebrates the good old days of disco, or find one of the outdoor pop-up skating rinks open during the summer in NYC. Taking a spin on roller skates will give you an opportunity for a little hand-holding. Not sure about strapping on the skates? Go to a roller derby game! Introducing someone to the enthusiastic and sometimes raucous crowd at a roller derby event might top the list of most memorable first date ideas in NYC.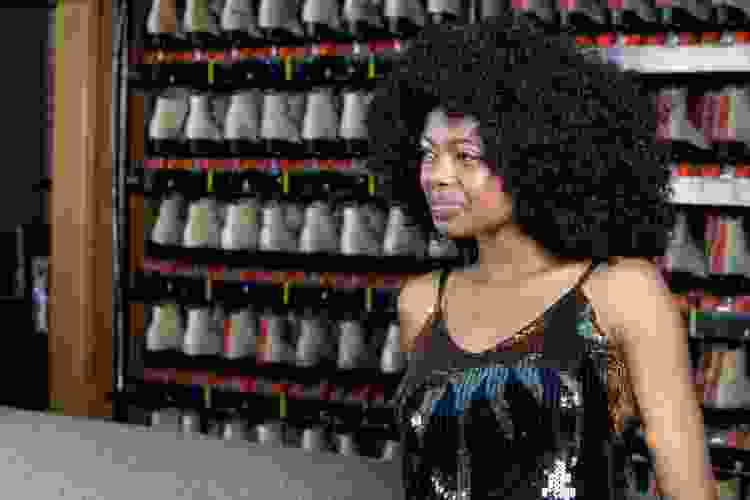 40. Attend the Ballet
The NYC Ballet is one of the top companies in the world, and it's definitely a classy and romantic first date idea in NYC. You'll be impressed by the dancers' expertise and dedication, and your special someone will be impressed at your level of cultural refinement. Grab dinner first at one of many restaurants near the theatre offering pre-performance menus that ensure you're on time for the first plié.
41. Spend an Evening With the NY Philharmonic
Attending the symphony is not far behind ballet when it comes to classy first date ideas in NYC. Check the calendar for special event nights where popular movies are played on a big screen while the score is performed live by musicians. Alternatively, and arguably quite a bit more romantic, go see a performance by a string quartet or a jazz trio that takes place by candlelight in a church or a classic old hotel. "Candlelight Concerts" are a new trend and are sure to set the tone for an unforgettable evening.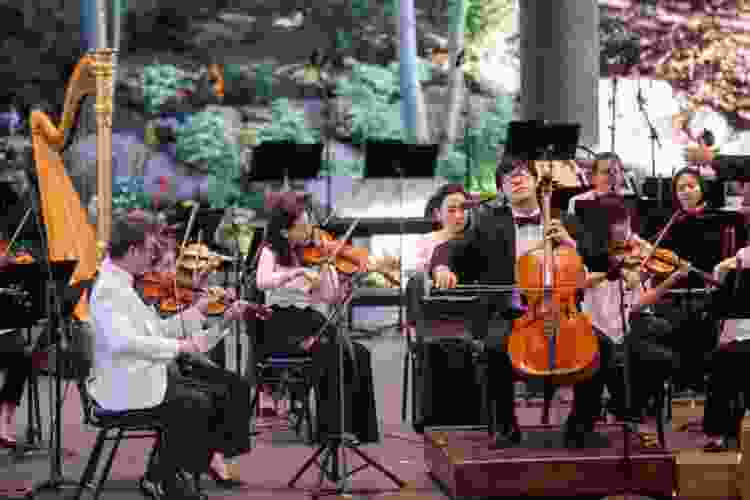 42. Go Birdwatching in Central Park
Going to the zoo is on every list of first date ideas for NYC. If looking at animals behind bars doesn't inspire feelings of romance, perhaps spotting wildlife in its natural habitat will. Central Park boasts over 250 species of birds year-round, and bird-watching offers the opportunity for togetherness while essentially being a treasure hunt. Download the Merlin app, which makes it easy to identify birds by their call. You don't even need binoculars to mingle with your feathered friends.
Book a Five-Star Private Chef in NYC
Indulge in the finest fare the Big Apple has to offer. Book a five-star private chef experience starting at $59/person.
43. Start a Book Club Date Tradition
This idea won't be on everyone's list of fun first date ideas in NYC, but it might be a bestseller. Here's the concept: Read the same book before your date, discuss it over dinner and then head to your favorite bookstore. Flip a coin. The winner has to select the next book on the reading list, while the loser gets to pick the next venue. Not only do you get to share your joy of reading and start a worthwhile tradition, but you've also secured a second date.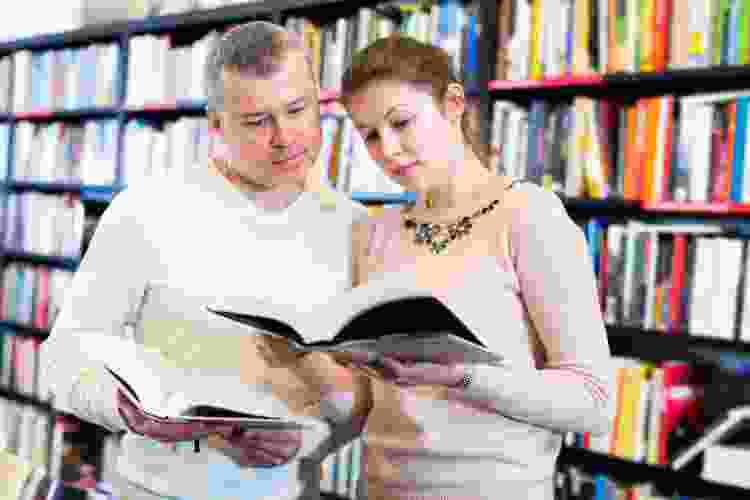 44. Get Out of NYC
Maybe the best first date idea in NYC is to get out of NYC! It's only two hours by train to Philadelphia. Swap NYC pizza and bagels for a Philly cheesesteak and be back in the Big Apple by sunset. There are plenty of online forums to help you plan your escape. If you don't want to go quite that far, head to the Clover Club in Brooklyn for fancy cocktails and small plates. You'll feel as if you've left behind not only the city, but an entire era.
45. Take a Jazz Cruise
When the land-based options for first date ideas in NYC are overwhelming you, it's time to set sail. A jazz cruise around New York Harbor is classy and refined. You can go with a traditional sunset cruise, or change it up and plan a jazz brunch cruise instead. Either way, it's sure to hit the right note.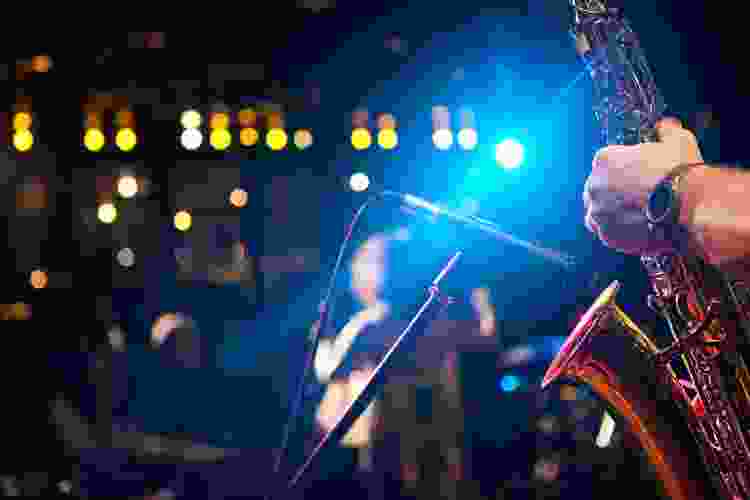 Need even more fun date night inspiration for the Big Apple and beyond? Check out the very best New York food tours, or round up your friends for one of these fun double date ideas. And don't forget about the incredible gourmet online experiences on offer for a romantic date night in.
FAQs
Where can I go for a date night in NYC?
New York City's endless offering of world-class entertainment, esteemed art galleries, unmatched shopping and warm and cozy restaurants means that the perfect date night is just around the corner — literally. Spend date night right in your own neighborhood, or skip across town to a spot you've always wanted to visit.
What is there to do on a date night in NYC?
The Big Apple offers no shortage of incredible ways to spend date night, and this list can be your perfect jumping-off point. You can keep it low-key with a neighborhood food tour or couples' spa session, or make it memorable with something more unique like online mixology classes or an appointment at the Museum of Interesting Things!
Book a Food Tour in NYC Now
Explore NYC's best bites, esteemed eateries and hidden gems with a top-rated local guide.
What can couples do in NYC?
NYC caters to every couple's tastes and interests. Food fanatics can take an unforgettable local food tour or cooking class, while art lovers can drop into a BYOB pottery class, take graffiti lessons or wander around The Met, The Guggenheim or the MoMA. Looking for something a little more high-energy? Try rock climbing or an evening helicopter ride!
What should I do for date night tonight in NYC?
Check out what's happening near you and see what strikes your fancy! Maybe the neighborhood restaurant you've always wanted to try has some killer specials on the menu tonight, or your favorite local jazz troupe is performing nearby. Maybe it's simply a gorgeous night to go stargazing on the High Line.

Join 200,000+ Culinary Enthusiasts
Exclusive deals, recipes, cookbooks, and our best tips for home cooks — free and straight to your inbox. PLUS: 500 Rewards Points.
Where should I go on a first date in NYC?
Feeling those first date jitters? Not to worry. Ease the pressure with a date that offers plenty of easy talking points, like a gourmet cooking class, a casual stroll through the botanic gardens or a friendly game of ping pong. Or, kick back and let someone else do the talking at a comedy club or concert! Afterward, you can bond over what you enjoyed about the show.
For even more fun and exciting ideas for a date night in NYC, check out other experiences happening on Cozymeal.