31 NYC Foods You Have to Eat in 2023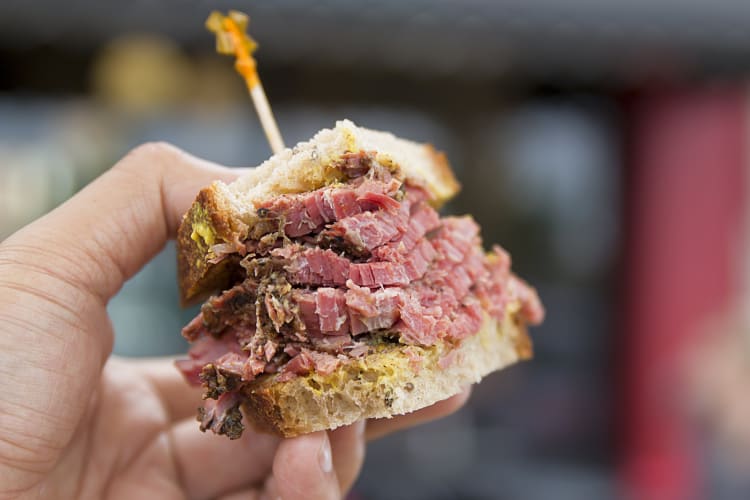 Our editorial team recommends the best products through independent research, selection and careful review. If you make a purchase through one of our affiliate links, we may earn a commission. Prices are subject to change.
How long is your bucket list of NYC foods? If you are anything like the rest of the general population, you know that New York eats are some of the best in the world. Infamously known as America's melting pot, it's no surprise that New York City is positively brimming with eclectic cuisine options, from celebrity-owned pizza spots to (literally) underground mom-and-pop dimsum shops to streetside Halal carts. The best part is that, although there are almost too many food options, none of the NYC food you try will disappoint — it's all good.
Even those who claim to have NYC in their blood haven't tried every single great dish that New York has to offer, so we've created a list of the 31 must-try NYC foods available today.
Jump to Section
Book a Food Tour in NYC Now
Explore NYC's best bites, esteemed eateries and hidden gems with a top-rated local guide.
Get a Taste of Iconic NYC Foods
When you head to a city as large and bustling as New York, you might be overwhelmed, especially when it comes to figuring out the best things to do in NYC. If you're on a mission to try all of the best NYC foods, you've got no time to waste. Attending food tours in NYC is a wonderful option for those who want to try great NYC foods but don't exactly know where to start. These tours are led by foodies who know the ins-and-outs of the local food scene and will ensure that you taste the best dishes at the best local restaurants.
Tried some NYC foods you loved and want to try them again? Get cooking and recreate these dishes at home! Cooking classes in NYC led by world-renowned expert chefs are an incredible opportunity to sharpen your culinary skills in the food capital of the world.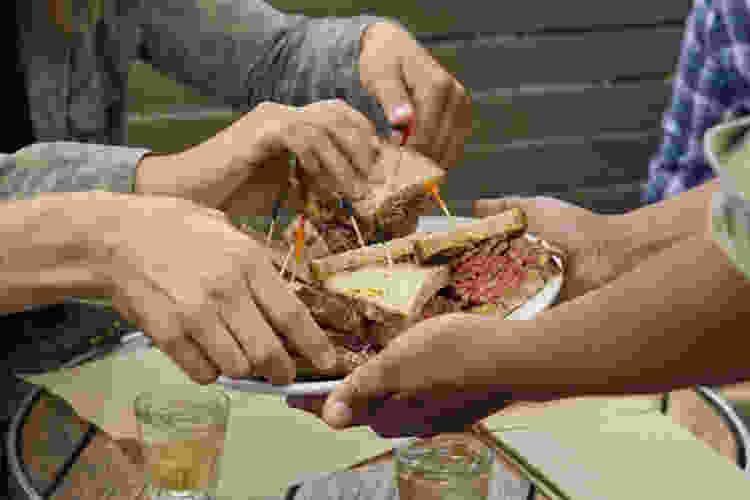 31 Must-Try NYC Foods
1. Pizza From Marinara
If you're a New Yorker, please don't get angry. Selecting a singular pizza joint recommendation for NYC is like choosing to eliminate all but one star in the sky: your favorite doesn't objectively make it the best, and it doesn't matter anyway because they're all necessary, great and someone's favorite.
So, while some pizzerias garner more fame than others, we all know that this is a debate that will go on until the stars turn to dust. Don't let this overwhelm you; you'll be hard-pressed to find pizza in New York that is actually bad, even at the dwindling corner joints that sell $1 slices.
At Marinara, customers rave over the Sicilian pies with cheesy stuffed crust, the MVP slice (marinara, vodka sauce and pesto), the spinach and artichoke slice, and more. These raved-about pizza joints also deserve a mention for those who want options: Patsy's Pizza in East Harlem, Joe's Pizza in Greenwich Village and Lucali in Brooklyn. You can also explore some favorite neighborhood joints with the best pizza tours in NYC.
Marinara | Multiple Locations | $$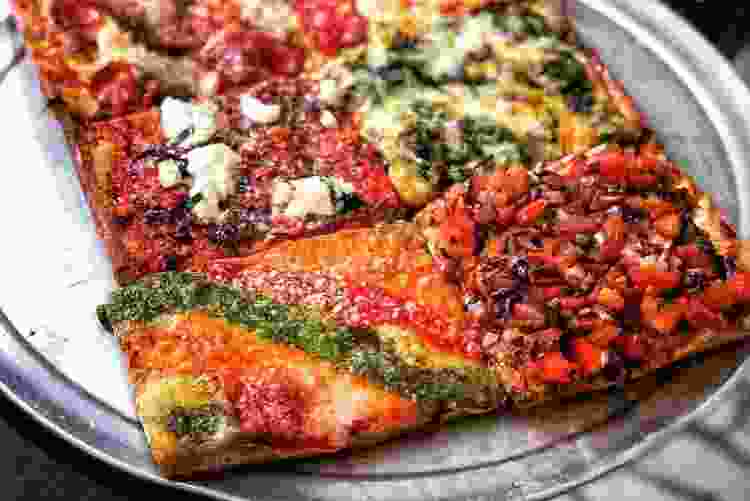 2. Soup Dumplings From Joe's Shanghai
Part of the reason there are so many spots for great NYC foods is because the city is so darn big, spanning 302 square miles from the tip of the Bronx to the toe of Staten Island. Some regions are known more for specific foods, however. Looking for the best food in New York is a major mission, but looking for the best dumplings in NYC will take you straight to Chinatown — at Joe's Shanghai, to be exact.
Customers at Joe's Shanghai love that the soup dumplings are made with authenticity and extreme care, as expert chefs deftly shape thin dough into perfect-looking dumplings. The inside is a delightfully savory mixture of pork and meat broth.
Joe's Shanghai | 46 Bowery St., New York, NY, 10013 | $$
Top-Rated Cooking Classes in NYC
Kick-start your culinary confidence with help from a world-class chef. See what's cooking in NYC today.
3. Bagel From Ess-a-Bagel
One doesn't talk about must-try NYC foods without covering bagels. Although, like with pizza, you'll find yourself in the middle of a fierce debate if you ask a group of New Yorkers where to get the best bagel in the city. While some locals are vehemently loyal to specific spots, there are very few places to eat in NYC that will serve you a disappointing bagel.
First opened in 1976, Ess-a-Bagel is a classic spot that now has four locations. Here, expect huge, doughy bagels with just the right amount of outer crunch. They're well-known for their "Signature Favorite" (nova lox, scallion cream cheese, tomato, lettuce, onion and capers), but you can't go wrong with an oozing bacon, egg and cheese or a piled-high coldcut bagel sandwich.
Ess-a-Bagel | Multiple Locations | $$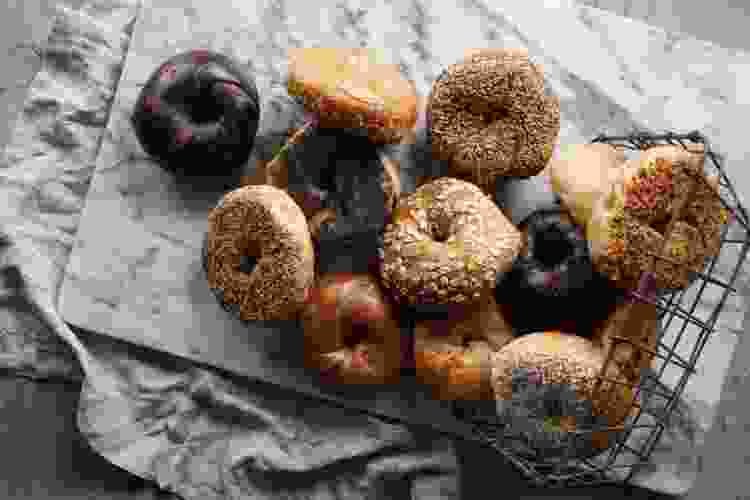 4. Spaghetti Limone at Lil' Frankies
One of four beloved restaurants owned by famed chef Frank Prisinzano, Lil' Frankies is a homey, old-school Italian spot that makes authentic Naples wood-fired pizza and some of the best food in NYC.
Emulating the true spirit of the Italian dinner table, Lil' Frankies is a place where traditions are made. The Spaghetti Limone is a simple dish, made with lemons, butter and mounds of freshly grated Parmesan. This unpretentious, and all-around delicious dish is a comforting classic NYC food that natives and tourists love and return for.
Lil' Frankies | 19 1st Ave., New York, NY 10003 | $$
5. White Truffles at Supper
If you find yourself looking for NYC foods between December and March, drop everything and go somewhere that serves truffles. No one takes truffle season — or "truffle mania," as he likes to call it — as seriously as Frank Prisinzano, which is why he earns a second mention on the list of must-try NYC foods.
As the owner of Supper, Frank famously imports thousands of white truffles directly from Northern Italy each year to serve freshly grated upon request with any order. Until you've tried fresh, shaved white truffles atop a steaming bowl of creamy gnocchi, you haven't had the best of NYC foods.
Supper | 156 E. 2nd St., New York, NY 10009 | $$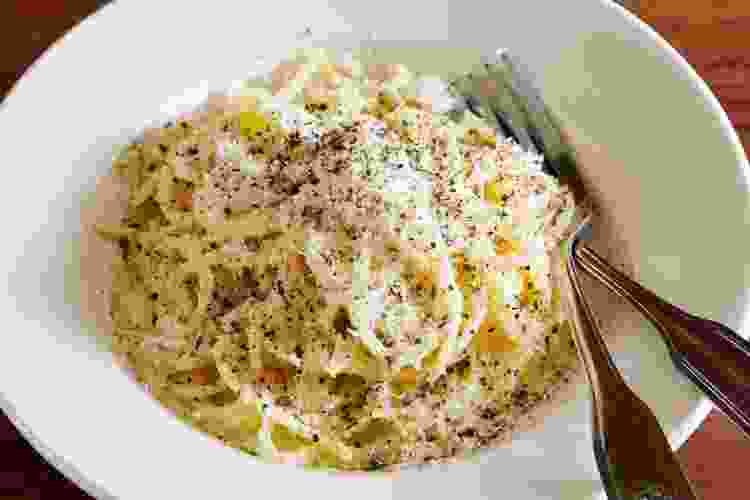 6. Spicy Rigatoni at Carbone
It doesn't matter who you are: the spicy rigatoni from Carbone is on everyone's list of must-try NYC foods. Reservations for Carbone are notoriously hard to snag, and if you do, you're still probably not sitting down to dinner for at least a month.
The dining experience at Carbone is worth the wait. From complimentary mozzarella and rainbow cookies to tableside Caesar salad to the infamous rigatoni served in a velvety spicy vodka sauce, it's easy to see why Carbone is one of the best places to eat in New York.
Carbone | 181 Thompson St., New York, NY 10012 | $$$
Book a Food Tour in NYC Now
Explore NYC's best bites, esteemed eateries and hidden gems with a top-rated local guide.
7. Chicken and Gyro Platter From The Halal Guys
New York has such an impressive culinary scene that even the street carts are known to sell some of the best NYC foods. Though there are countless street vendors, The Halal Guys have garnered a loyal following for their authentic halal meats and dishes. The chicken and gyro platter is a delicious cornucopia of flavors, made with steamy yellow basmati rice, 12-hour marinated chicken, doughy pita and juicy strips of tender, peppery beef gyro meat.
The Halal Guys | Multiple Locations | $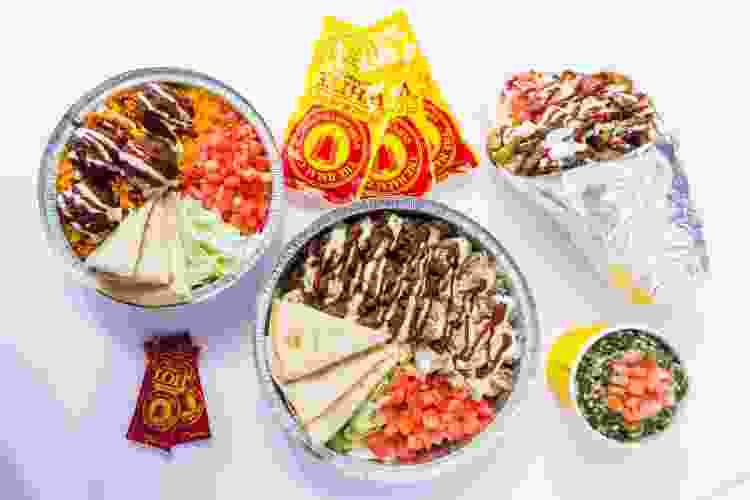 8. Steak and Fries at Skirt Steak
Did someone say all you can eat french fries? Skirt Steak is a Chelsea hit, featuring a simple yet droolworthy three-course menu of juicy skirt steak, mixed greens salad and unlimited shoestring French fries for under $30. As if that isn't tantalizing enough, Skirt Steak also features a dessert cart stuffed with decadent pies and cakes for you to choose from.
Skirt Steak | 835 6th Ave., New York, NY 10001 | $$
9. Chocolate Chip Walnut Cookie From Levain Bakery
While a chocolate chip cookie isn't a quintessential NYC food, there are some skilled bakers in the city who make it seem that way. Everyone likes their cookies differently; you might prefer flat and crispy, soft and chewy, or dense and cakey. At Levain Bakery, the top-secret 25-year-old cookie recipe somehow puts everyone's cookie preferences into one massive, perfect cookie.
These huge cookies sport a delightfully crunchy golden outside and an impossibly moist, crumbly inside. Though there are many flavors, the original chocolate chip walnut is New York's go-to.
Levain Bakery | Multiple Locations | $$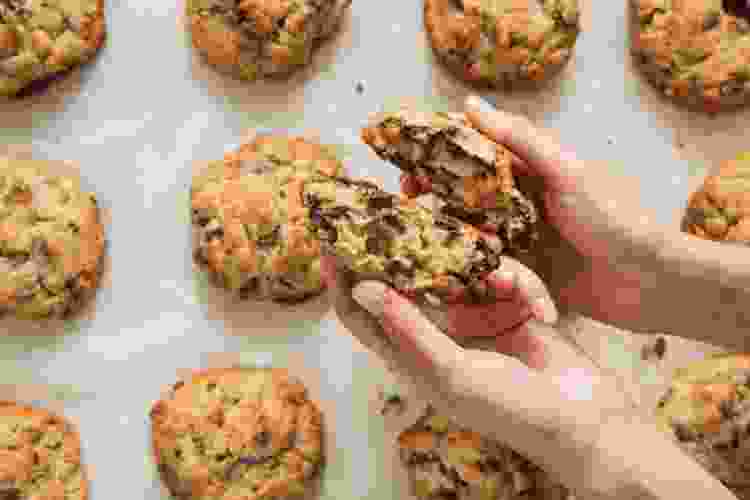 10. Franks From Gray's Papaya
Hotdogs are one of those NYC foods you can find on almost every single street, whether being sold at a sports game, a restaurant or a food cart. The one thing that all New Yorkers might agree upon is that the best hotdogs in the city are the ones being made at Gray's Papaya.
For decades, Gray's Papaya has been a beloved establishment, known for its simple menu, super cheap prices, and quality all-beef franks. Pile yours with chili, cheese, mustard, sauerkraut or stewed onions. Don't forget to wash it down with one of their notorious tropical fruit drinks.
Gray's Papaya | Multiple Locations | $
Top-Rated Cooking Classes in NYC
Kick-start your culinary confidence with help from a world-class chef. See what's cooking in NYC today.
11. The Classic From Russ & Daughters
Since bagels top the hierarchy of classic NYC foods, we've listed two different bagels on our list of must-try NYC foods. When it comes to selecting one of thousands of NYC bagel joints, the bagel itself is its own entity, while the bagel's fillings are another. You go to Russ & Daughters for the outstanding array of bagel toppings, not the actual bagels themselves.
We aren't talking about a regular bagel deli, though. Russ & Daughters is one of few longstanding traditional Jewish "appetizing" establishments, which means that they sell an array of smoked fish, caviar, salads and spreads, like cream cheese. As such, this spot specializes in the one of the most authentic NYC foods for breakfast: the lox and cream cheese bagel, or as Russ & Daughters calls it, "The Classic."
Russ & Daughters | Multiple Locations | $$
12. Spicy Cumin Lamb Noodles From Xi'an Famous Foods
The best NYC foods are those that you truly won't find elsewhere, and the famous hand-pulled wheat noodles at Xi'an Famous Foods surely cannot be recreated. Though these beloved family-owned restaurants churn out many noodle flavors, the spicy cumin lamb noodles are easily the majority's favorite. With tender, smoky chunks of lamb, cumin and more than 20 seasonings, this dish is warm, comforting and beyond satisfying. If you're a noodle-lover, Xi'an is a must.
Xi'an Famous Foods | Multiple Locations | $
13. Banana Pudding From Magnolia Bakery
First established in New York in 1996, Magnolia Bakery has become a country-wide sensation. The bakery is famed for its aesthetically appealing (and scrumptious) cupcakes and its delectable banana pudding. Made with creamy vanilla pudding, sweet banana slices and crunchy vanilla wafers, this world-renowned dessert is made in various flavors including red velvet and chocolate hazelnut. As far as must-try NYC foods go, we urge you to stick with the original.
Magnolia Bakery | Multiple Locations | $$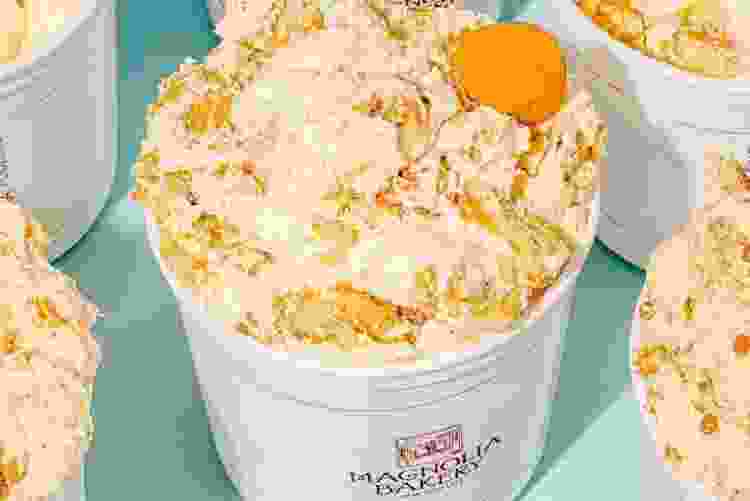 14. Bacon, Egg, and Cheese From a Bodega
When it comes to must-try NYC foods, you may have noticed that breakfast foods are fairly limited, and that's because New Yorkers already have two perfect breakfast options: bagels and BECs. The BEC — bacon, egg and cheese — is a reliable staple in the New York diet, ideal for curing hangovers or Sunday breakfast in the park.
There's a bodega (a convenience store) on nearly every NYC street corner, and while you can get a BEC from any famous bagel joints, there's nothing quite like the authentically greasy, somewhat shoddily-prepared breakfast sandwich made at a bodega.
Bodega | Multiple Locations | $
Book a Food Tour in NYC Now
Explore NYC's best bites, esteemed eateries and hidden gems with a top-rated local guide.
15. Pastrami on Rye From Katz's Delicatessen
It could be argued that all of the best NYC foods are made in delicatessens. Kosher-style Jewish delis are an indelible facet of New York's culture, and Katz's Delicatessen is the celebrity of all Jewish delis, having originally opened in the late 1800s. If it's your first time, you are obligated to order this infamous New York food: a pastrami on rye, stuffed with high-quality, smokey pastrami, tangy mustard and your choice of toppings.
Katz's Delicatessen | Multiple Locations | $$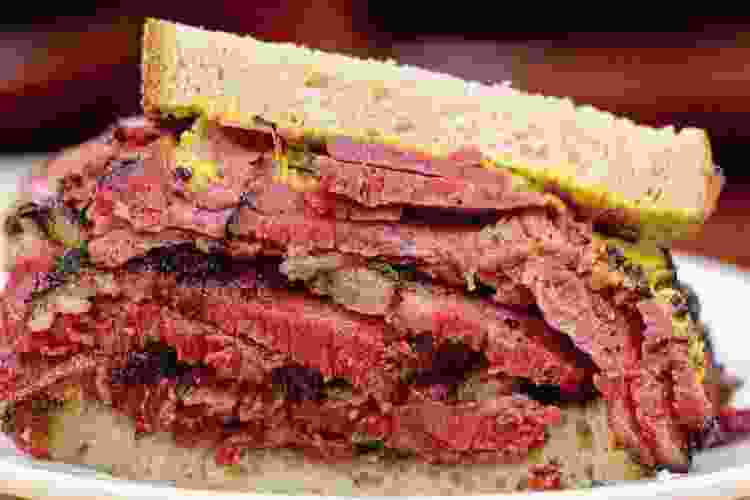 16. Bolognese at Emilio's Ballato
Don't let the stuffy size of this iconic spot fool you into thinking it's nothing special. If you look closely, you'll notice that its walls are actually lined with dozens of photos of A-list celebrities and public figures eating at its tables, shaking hands with its notorious owner, Emilio Vitolo. If you look even closer, you'll notice that Emilio Vitolo is actually sitting pretty close to you, either in his front corner chair, or wandering throughout the narrow space.
Emilio's Ballato is the epitome of the traditional, old-school Italian restaurant, where the menu is short, the ingredients are fresh and the dishes are fantastic. Though the menu may change from time to time, a classic, hearty beef, pork and veal Bolognese is usually always on the menu, and you surely won't find a more authentic New York food elsewhere.
Emilio's Ballato | 55 E. Houston St., New York, NY 10012 | $$$
17. Dim Sum From Dim Sum Go Go
Alongside pizza and bagels, dim sum may just be the third pillar that upholds New York's fame for food. As such, much like the best pizza/bagel debate, some New Yorkers prefer their staple dim sum spots not primarily because of the food they serve (which is never really bad), but because of the traditional nature of the restaurant. For example, even the people who say that Dim Sum Go Go is losing its touch after 20-plus years in business will continue to uphold the establishment as a provider of some of the best dim sum in Chinatown, NYC out of fierce loyalty and, of course, a love for dim sum.
At Dim Sum Go Go, customers enjoy crispy chicken feet, rice rolls, doughy pork rolls, baked pork buns and har gow. Also, you can order from over 24 options of dumplings flavors, including duck, shrimp and chive. Those nursing a late-morning hangover or heading out for lunch can enjoy Dim Sum Go Go's famous 10 a.m. to 4 p.m. dim sum happy hour,
Dim Sum Go Go | 5 E. Broadway, New York, NY 10038 | $$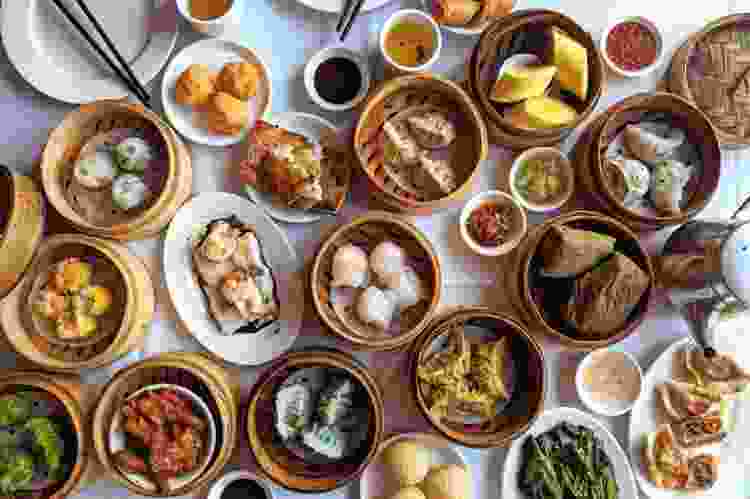 18. Porterhouse Steak From Peter Luger Steak House
This iconic steakhouse has been around for over 130 years and is known as one of the best places to eat in New York. Selling some of the most top-tier NYC foods, Peter Luger Steak House is known for their dry-aged meats, especially their massive, juicy porterhouse. Dinner here is always a special occasion, so if you're in the mood to treat yourself or if you're going on a date night in NYC, this is the dish to order. Tip: There is also a lot of hype surrounding the Peter Luger burger.
Peter Luger Steak House | 178 Broadway, New York, NY 11211 | $$$$
Top-Rated Cooking Classes in NYC
Kick-start your culinary confidence with help from a world-class chef. See what's cooking in NYC today.
19. Pizza From Artichoke Basille's Pizza
Although we already recommended a few killer pizza spots, Artichoke Basille's Pizza deserves its own mention. Since pizza is one of the iconic NYC foods, many chefs have gotten creative with the dish, and no one does a unique pizza like this popular spot.
Here, you can order a thick, gooey, uber-cheesy artichoke slice that tastes like your favorite spinach and artichoke dip on a slice of pizza. Simply put, it is to die for. Keep your appetite open for a slice piled with juicy crab meat or a ricotta-studded Staten Island slice.
Artichoke Basille's Pizza | Multiple Locations | $$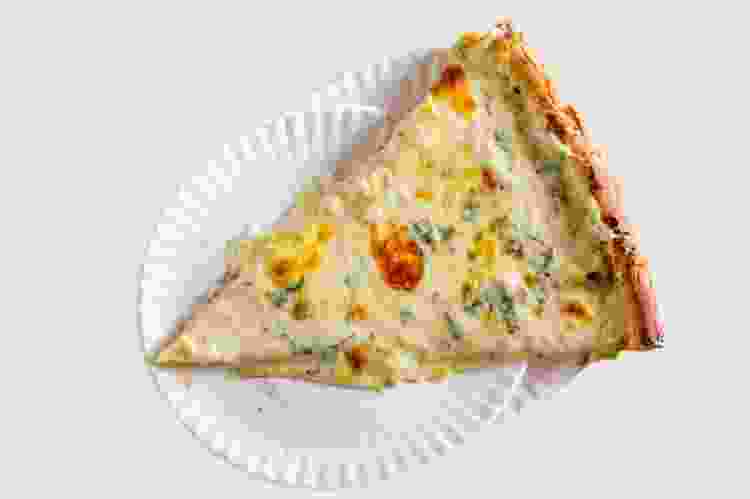 20. Soft Pretzel From Yankee Stadium
If you have ever asked "What food is New York known for?" the answer was probably pizza or bagels. Aside from food, New York is also known as the home of the Yankees, and this is something that NYC natives are deeply passionate about.
So, while you might not get the world's best pizza at Yankee Stadium, you should certainly pay the iconic spot a visit, and while you're there, enjoy a huge, greasy, salty, doughy soft pretzel to truly fulfill the New York tradition. It usually goes down well with a big, cold beer.
Yankee Stadium | 1 E. 161 St., Bronx, NY 10451 | $$
21. Korean Barbecue at LOVE Korean BBQ
Many famous NYC foods are really just great experiences. Any NYC Korean BBQ spot will provide you with a memorable evening as you get to cook your own meats and vegetables to your liking on a stove-top burner. At LOVE Korean BBQ, you'll also get some awesome tunes and a sort of nightclub vibe. Alongside your typical Korean barbecue meats and side dishes, you can also order kimchi fries, Japanese glass noodles, prime beef tartare and so much more.
LOVE Korean BBQ | 319 5th Ave., New York, NY 10016 | $$$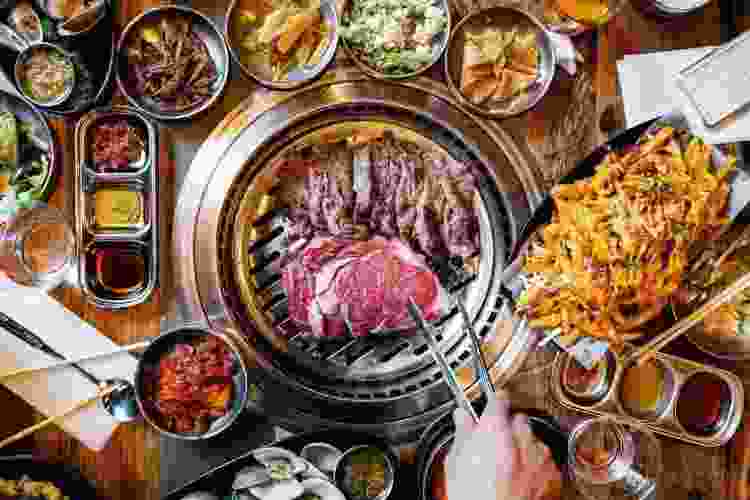 22. New York Cheesecake From Eileen's Special Cheesecake
If a food specifically has "New York" in its name, you are pretty much obligated to try it while in the Big Apple. Cheesecake is one of the classic NYC foods that you can find anywhere, but only a select few places really specialize in making it right. Most city-goers can agree that Eileen's Special Cheesecake is the New York cheesecake institution, and their tangy, creamy cheesecake with perfectly golden, buttery graham cracker crunch is nothing short of perfection.
Eileen's Special Cheesecake | 17 Cleveland Pl., New York, NY 10012 | $
Top-Rated Cooking Classes in NYC
Kick-start your culinary confidence with help from a world-class chef. See what's cooking in NYC today.
23. Burger From Umami Burger
Since NYC foods are all notoriously delicious, you can't stop in the city without grabbing a quality burger, of which you'll find many. However, to get the true NYC food experience, you shouldn't try just any regular lettuce-tomato-onion cheeseburger, especially when there are so many innovative, tastebud-shocking options. At Umami Burger, your burger craving and your hunger for creativity will be satiated.
The Umami Burger is made with shitake mushrooms, caramelized onions, roasted tomato, crispy parmesan, and Umami-flavored ketchup. You can also grab a duck fat burger smothered in apple and peach compote or a juicy burger topped with beer cheddar cheese.
Umami Burger | Multiple Locations | $$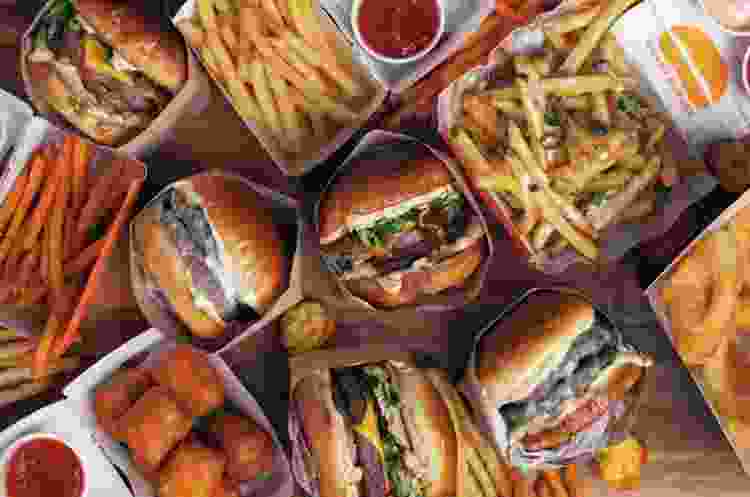 24. Ramen Noodles at Marufuku Ramen
NYC foods are incredibly eclectic, and there are major Asian influences on much of the popular cuisine. As such, ramen noodles have become a highly popular NYC food, but no one does it quite like the authentic chefs at Marufuku Ramen.
Once you've slurped down a bowl of milky, long-simmered tonkotsu pork broth with thin noodles and silky, fatty pork chashu during a chilly winter in NYC, you'll never be satisfied with anything less. You can also order pork buns, crispy chicken karaage and various ramen flavors.
Marufuku Ramen | 92 2nd St., New York, NY 10003 | $$
25. Ice Cream From Big Gay Ice Cream
Combine New York eats with New York LGBTQ pride, and you've got the infamous Big Gay Ice Cream. This ice cream truck was so popular that it now operates out of multiple storefront locations. Here, you can enjoy creamy soft serve in a variety of unique flavors, like the Monday Cone: a wafer cone lined with Nutella, filled with chocolate and vanilla soft serve, dulce de leche whipped cream and flaky sea salt. Try an extra-thick milkshake or a Mexican Coca-Cola float.
Big Gay Ice Cream | Multiple Locations | $$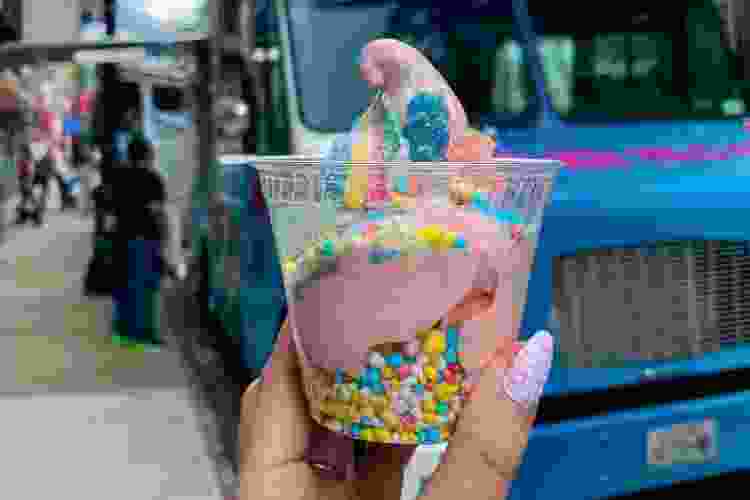 26. The Tasting Menu From Eleven Madison Park
For those looking for the most elegant, high-end NYC foods, you'll want to head to the exclusive, iconic establishment that is Eleven Madison Park. If you can get a reservation at this prestigious spot, you'll get to enjoy a curated (completely vegan) tasting menu of several courses.
You'll enjoy elegant, Michelin-star rated dishes throughout the night, such as foie gras, King Oyster mushrooms with fried lemongrass, a sesame-and-chocolate pretzel, and more.
Eleven Madison Park | 11 Madison Ave., New York, NY 10010 | $$$$
Book a Food Tour in NYC Now
Explore NYC's best bites, esteemed eateries and hidden gems with a top-rated local guide.
27. Shakshuka From Jack's Wife Freda
Jack's Wife Freda is a go-to brunch café for many New Yorkers. This popular spot boasts a brunch menu that works for both adventurous foodies and picky eaters alike. With major Mediterranean influences, Jack's Wife Freda offers items like creamy beet hummus served in pita bread and a garlicky, tomato-ey green shakshuka that is to die for.
Jack's Wife Freda | Multiple Locations | $$$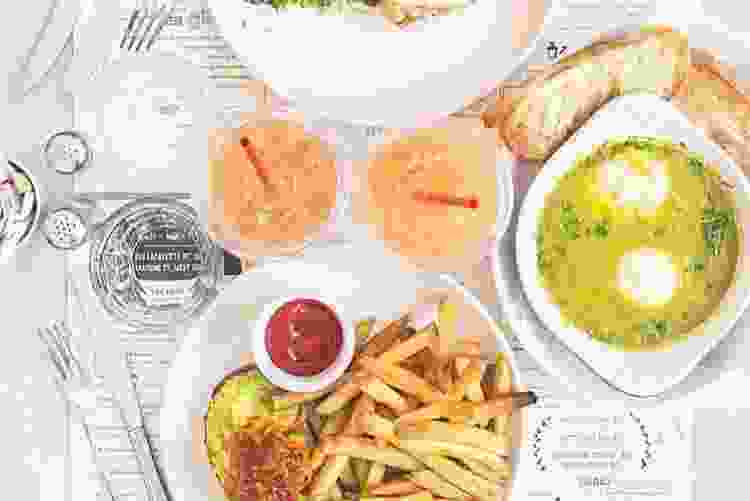 28. Egg Sandwich From The Butcher's Daughter
The great thing about NYC foods being so diverse is that there are fantastic restaurants for any group who has a food restriction or allergy — meaning lots of vegan options. The Butcher's Daughter is a health-conscious restaurant, and customers rave over its stellar vegan options. Start your day with their egg sandwich: a buttery croissant topped with eggs, vegan cheddar cheese, smashed avocado and baby kale.
The Butcher's Daughter | Multiple Locations | $$
29. Tacos From Los Tacos No. 1
Tacos may not be one of the famous NYC foods, but at Los Tacos No. 1, they should be! Here, handmade corn or flour tortillas are stuffed with impossibly tender carne asada, smoky adobada pulled pork or juicy asada chicken. Vegetarians can even order a mouthwatering grilled cactus taco! There's no better place in the city for authentic, street-style tacos.
Los Tacos No. 1 | Multiple Locations | $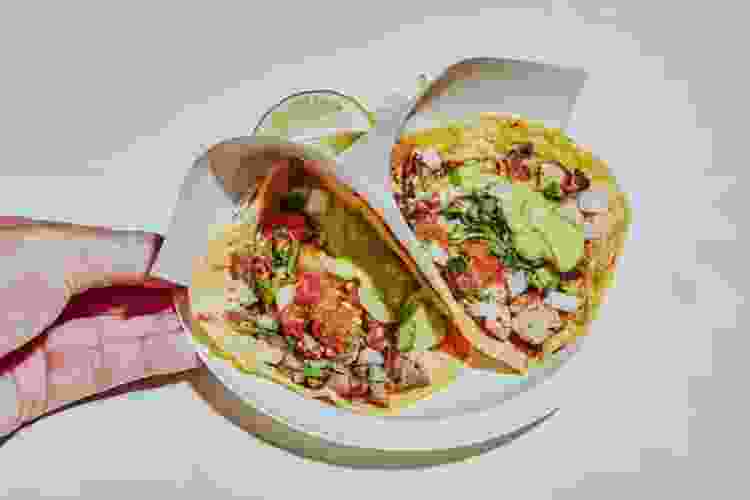 30. Lobster Roll From the North River Lobster Company
Some of the best NYC foods won't be found on land. Hop aboard the North River Lobster Company's lobster boat for a glittering view of the Hudson River while you scarf down a lobster roll heaping with fresh, succulent lobster meat slathered in whatever toppings you'd like. Choose from the classic lobster roll, the Lower East Side lobster roll (made on an everything bagel bun), a lobster roll with truffle mayonnaise and truffle fries, and more.
North River Lobster Company | Pier 81, NY-9A, New York, NY 10018 | $$
Top-Rated Cooking Classes in NYC
Kick-start your culinary confidence with help from a world-class chef. See what's cooking in NYC today.
31. Cronut From Dominique Ansel Bakery
To end things on a sweet note, head over to Dominique Ansel Bakery for some scrumptious French pastry treats. You can't visit this spot without ordering the iconic cronut, the masterpiece creation that is a hybrid of a sweet, flaky croissant and a cake-y donut that made this French bakery so famous.
Dominique Ansel Bakery | 189 Spring St., New York, NY 10012 | $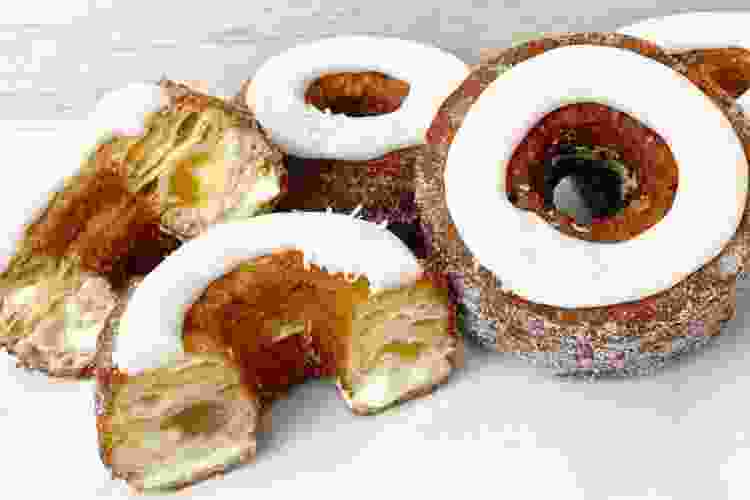 Join 200,000+ Culinary Enthusiasts
Exclusive deals, recipes, cookbooks, and our best tips for home cooks — free and straight to your inbox. PLUS: 500 Rewards Points.
When it comes to must-try NYC foods, the list is nearly endless! There are so many iconic cuisines, dishes and eateries in this bustling city that you might need multiple trips to taste all of the best NYC foods. Attend a food tour for the ultimate NYC food taste test, or use this list as a guideline to eat your way around the greatest city in the world!
For even more fun ways to explore NYC and beyond, check out other experiences happening on Cozymeal.