6 Pizza Tours in NYC to Try Now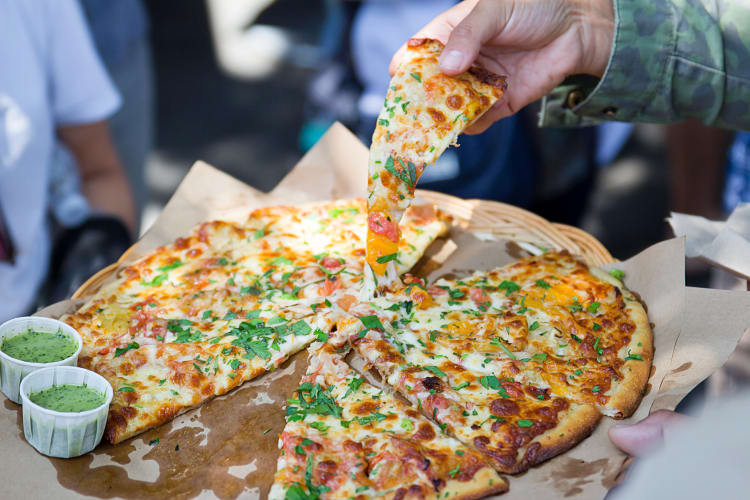 There is no denying that pizza is one of the most beloved foods on earth, and a pizza tour in NYC is your ticket to tasting your way around one of the pizza capitals of the world.
Pizza's status as a universally loved, multicultural icon is one awarded to few other foods. Found in eateries ranging from open-late pizza joints to five-star gourmet restaurants, pizza is undeniably delicious, endlessly customizable and accessible to everyone.
Are you looking for the best slice in NYC? Are you wondering what exactly makes New York City pizza so very special? Keep reading to find out some fun facts about New York-style pizza, iconic New York City pizzerias and where you can take a unique pizza tour in NYC.
Jump to Section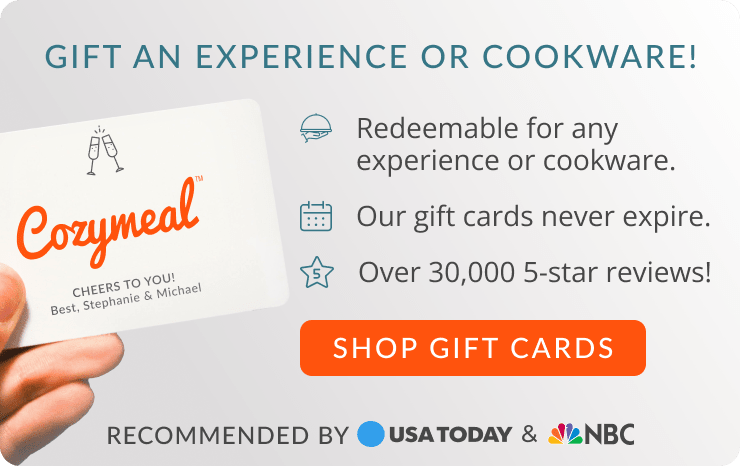 What Is New York-Style Pizza?
Pizza comes in many shapes and sizes, from traditional Neapolitan pizza to Chicago-style deep-dish to rectangular Sicilian pizza and more. Did you know that Australia even has its own style of pizza? It's topped with barbecue sauce, bacon and eggs and would probably be great eaten first thing in the morning.
But despite the wide variety of pizza options out there, arguably the most ubiquitous pizza of them all — even amongst Italians — is New York-style pizza. As a result, the trend of taking a pizza tour in NYC has skyrocketed.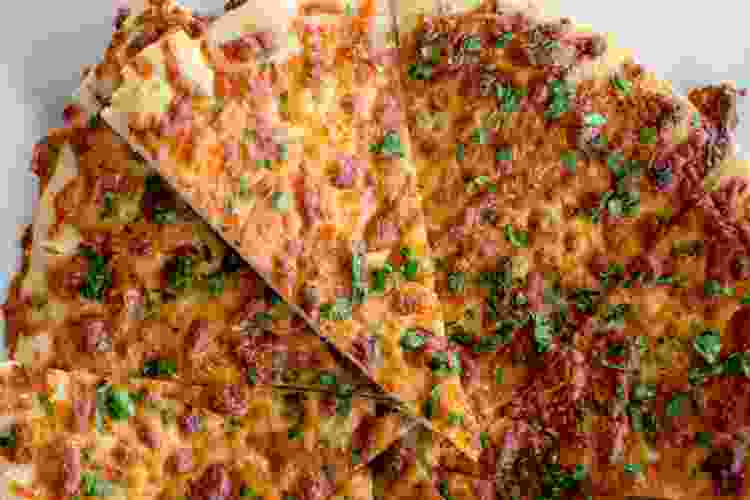 Book a Food Tour in NYC Now

Explore NYC's best bites, esteemed eateries and hidden gems with a top-rated local guide.

Book Now
What is New York-style pizza? The answer varies depending on who you ask, but most say it is characterized by its size, which typically stands at around 18 inches in diameter per pie. It always has a flour, sugar and oil-based dough and a tomato-sauce-topped crust, although the toppings vary.
Some argue that New York City's water is integral to their doughy crust, although this has not been scientifically proven. Regardless, there is something extra-special about NYC pizza, whether it's eaten by the slice (folded in half, of course) or by the pie (which is what all true New Yorkers call a whole pizza). And a pizza tour in NYC will offer incredible history along with incredible bites, so your curiosity and appetite will both be satisfied.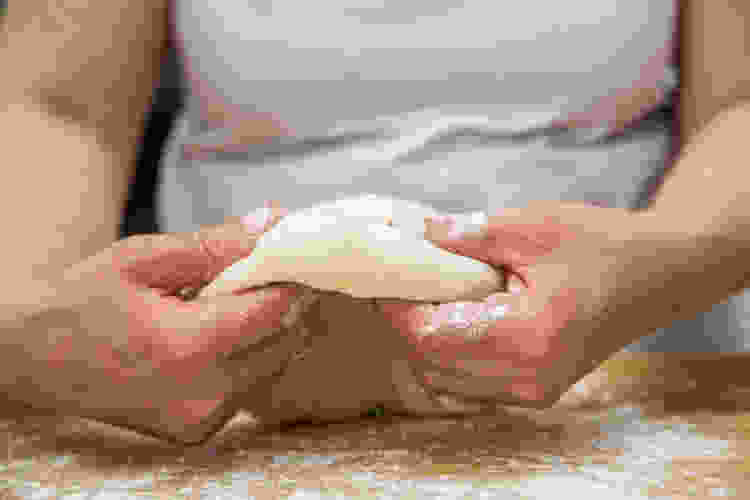 New York's Most Iconic Pizzerias
Taking a pizza tour in NYC can be a great way to experience the iconic eateries that made New York City a pizza lover's paradise.
New York's first pizzeria was called Lombardi's and opened in Little Italy in 1905. Believe it or not, Lombardi's still exists and has even opened a second store in Chelsea, although the prices have since increased from the original price of 5 cents per pie!
One may assume that Lombardi's is the best pizza in New York considering it's the originator, but being the oldest doesn't necessarily mean it's the best. New Yorkers hold strong opinions about which pizza parlor they rate the highest and oftentimes, they have difficulty choosing just one.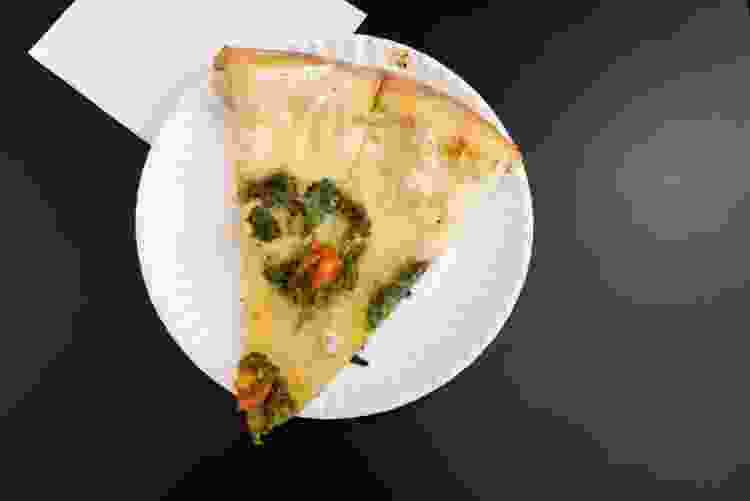 Take Best Pizza in Williamsburg, Brooklyn. It's owned by a host of Vice's Munchies and serves a simple selection of old-school style pies and slices. Then there's Bleeker Street Pizza in Greenwich Village, voted "Best Pizza in NY" by Food Network, famous for their Tuscan-style pizza called the Nonna Maria. Kesté Pizza & Vino, on the other hand, is also in the Village but specializes in crust that's made with 00 flour and lightly fried.
Book a Local Food Tour Now
Explore your city's best bites, esteemed eateries and hidden gems with a top-rated tour guide.
The city is home to many types of pizza, all of which have their own benefits. That's the beauty of taking a pizza tour in NYC. You can enjoy a selection of New York's best pizzas and relish in the unique characteristics that each one brings to the table. Not only that, but a pizza tour in NYC means you receive guidance from the experts of New York pies rather than trying to guess the best slice on your own.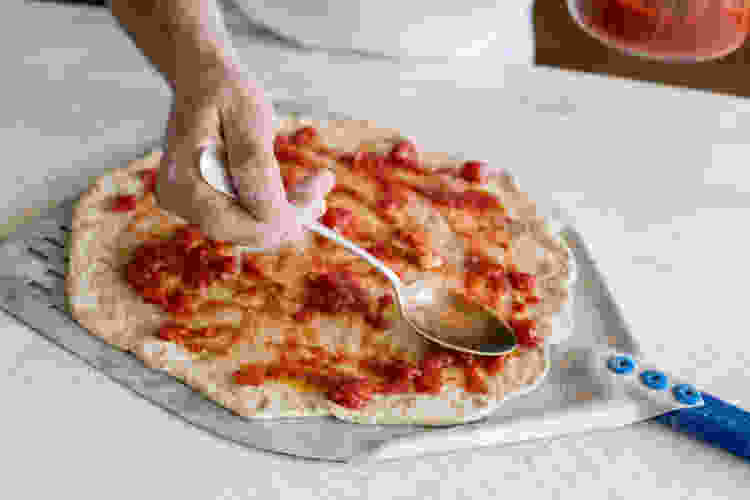 The Top 6 Pizza Tours in NYC to Try Now
Because it can be overwhelming to find a pizza tour in NYC, we've rounded up the best of the best to make your life a little easier. Food tours in NYC are a generally wonderful way to get to know the city's local food scene. If you want to taste the very best New York-style pizza that the city has to offer, you can't pass up these six options for an unforgettable pizza tour in NYC.
1. Walking and Tasting Tour of Williamsburg, Brooklyn
In the Walking and Tasting Tour of Williamsburg, you will get to try one of the area's most famous upside-down pies. No, it's not a pizza cheese-side-down; it's a deep-dish Sicilian pan pizza where the cheese is put on before the sauce (and then topped with even more cheese). If you're looking for a unique pizza tour in NYC, this is one option to sample something out-of-the-box!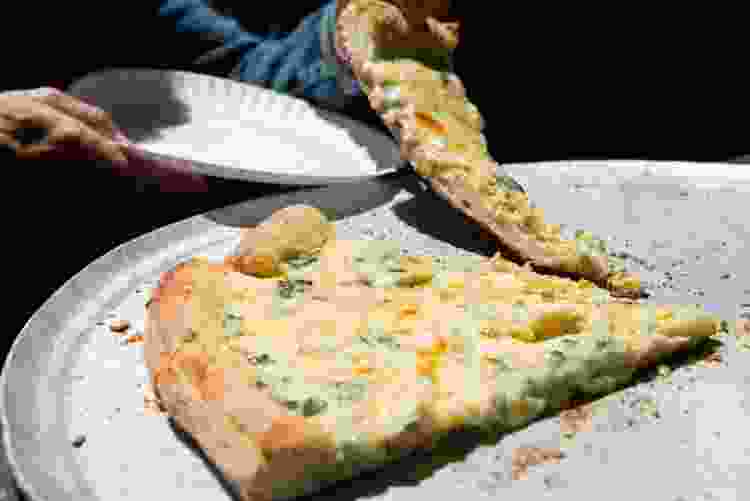 2. Explore the West Village
The West Village is home to some of New York's best slices and this Explore the West Village pizza tour in NYC will allow you to taste them. In addition to a classic NYC slice, you will also get to try bagels, falafel, cupcakes and even Cuban food — all of which showcase just how delicious and diverse New York cuisine can be.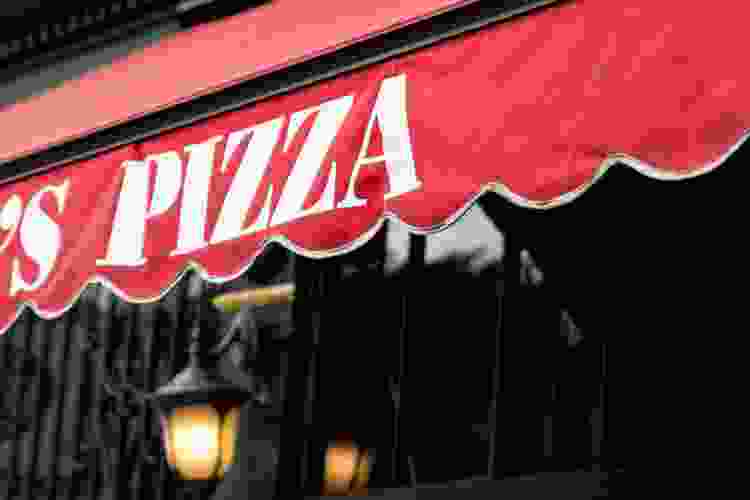 3. Discover Williamsburg in Brooklyn
If the other Williamsburg tour doesn't provide enough pizza to quench your cravings, this Discover Williamsburg in Brooklyn pizza tour in NYC sure will. In it, you will try not one but two types of pizza — a red-based variety and a white-based variety from Best Pizza. It lives up to the name as one of Brooklyn's most popular wood-fired pizzerias.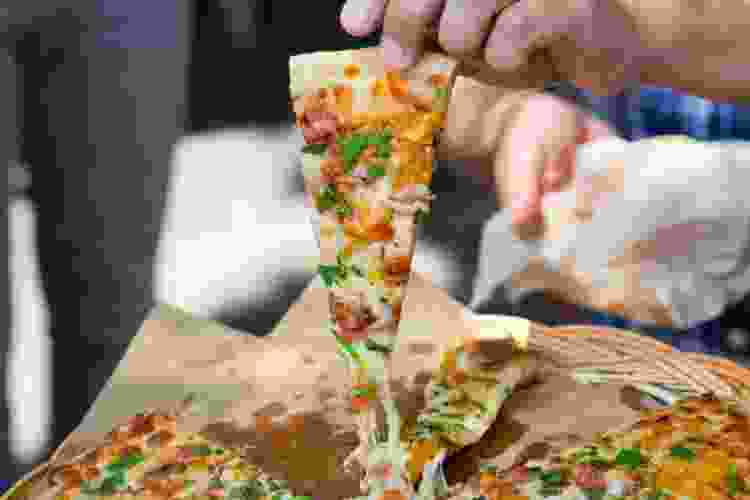 4. Landmarks of Manhattan
The Landmarks of Manhattan pizza tour in NYC takes you from Chelsea Market to the Meatpacking District to the High Line and the new Hudson Yards. All that walking is sure to make you hungry, and what better way to satiate your appetite than with a cheesy slice?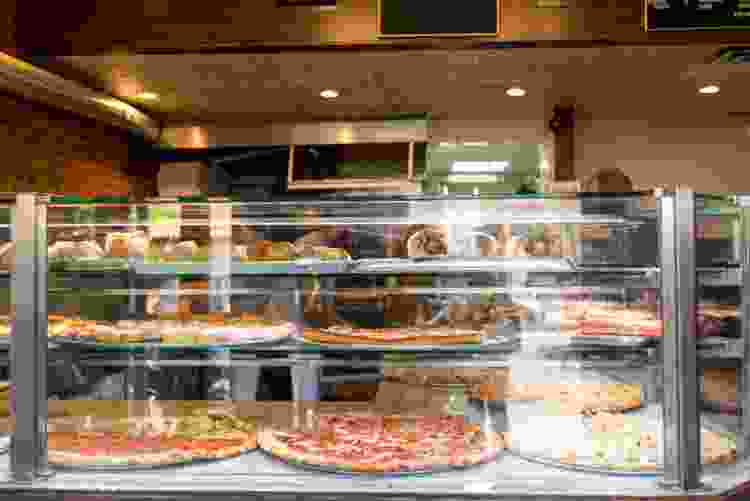 Book a Food Tour in NYC Now
Explore NYC's best bites, esteemed eateries and hidden gems with a top-rated local guide.
5. Traditions of Greenwich Village
If you want to discover what some argue is hands-down the best pizza in NYC, this Traditions of Greenwich Village tour is for you. Not only will you get to taste this famous (and generously-sized) pizza but also an array of other dishes including arancini, submarine sandwiches and cannoli. This pizza tour in NYC is a true taste of Italian-American classics.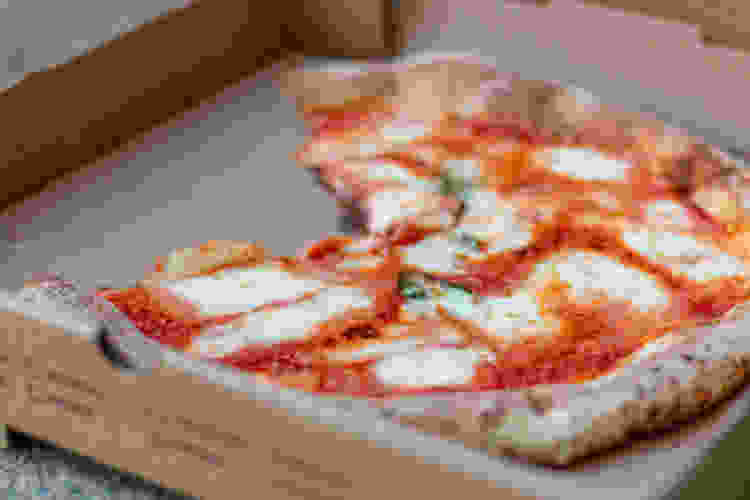 6. Bushwick's Art and Food Scene
Bushwick is not typically considered a top pizza destination, but that doesn't mean they aren't a worthwhile stop on a pizza tour in NYC. In the Bushwick's Art and Food Scene tour, you'll get to taste a rave-worthy pie that only the locals know about as well as an array of other local specialties, from tacos to bagels to falafels.

Join 200,000+ Culinary Enthusiasts
Exclusive deals, recipes, cookbooks, and our best tips for home cooks — free and straight to your inbox. PLUS: 500 Rewards Points.
As you can see, the pizza available in New York is bountiful, the selections are vast and a pizza tour in NYC is just the beginning to sampling bites from this iconic food scene.
A New Yorker could probably eat pizza from someplace new every day and never try it all. But that doesn't mean they will ever lose the motivation to find that perfect slice. According to some locals, they already have. And a pizza tour in NYC is the perfect way to see for yourself.
For even more great ways to explore food in NYC and beyond, check out the food tours near you happening on Cozymeal.