What Are Glass Noodles?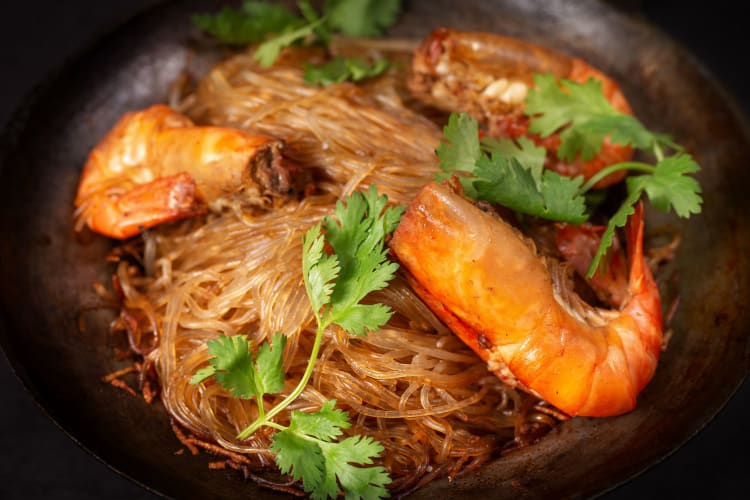 If you're looking for ways to bring texture, a unique touch and gluten-free alternatives to your favorite recipes, it might be time to add glass noodles to your weekly rotation. Also known as cellophane noodles, these chewy noodles are a Southeast Asian staple used in a variety of traditional dishes.
Let's take a look at just what exactly glass noodles are, how to cook them and where to find them.
Jump to Section
Gourmet Cooking Classes Near You
Take your culinary skills to new levels with guidance from five-star chefs.
What Are Glass Noodles?
Glass noodles are gelatinous noodles made from the starch of beans or tubers. They can be thin and long, thick and flat or round around the edges.
Their name is due to the fact that they're more translucent in appearance than other types of noodles, though glass noodles are not always clear; they can range from opaque white and light gray to light shades of brown. The color depends on what was used to make them, whether it be mung beans, sweet potatoes or tapioca. They're also known as cellophane noodles, Chinese vermicelli, bean thread noodles and fensi.
Indigenous to Southeast Asian countries like China, Japan and Korea, glass noodles are typically used in soups, stir-fries and hot pots — flavorful dishes that compensate for glass noodles' lack of inherent flavor. Much like tofu, glass noodles absorb the flavors of the ingredients they've been cooked in or seasoned with.
While described as a starch, glass noodles are gluten-free, which makes them a terrific alternative to the typical pasta noodles.
These noodles are made by producing a "slurry" (or mixture) of the main ingredient and water. It all gets mixed together, pulled and stretched into long, thin threads of noodles. Next, it's pressed through a sieve and draped over dowels to dry.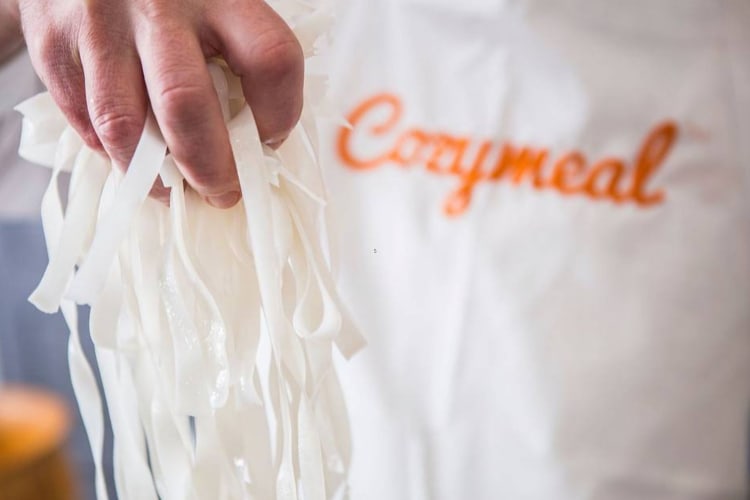 What Are Glass Noodles Made Of?
Glass noodles are made of water and starch from potatoes, mung beans, sweet potatoes or tapioca. Mung beans and sweet potatoes are the most common. The main ingredient depends on the country. In China, they're made from mung bean flour. In Korea and Japan, it's often sweet potato starch (and called dangmyeon).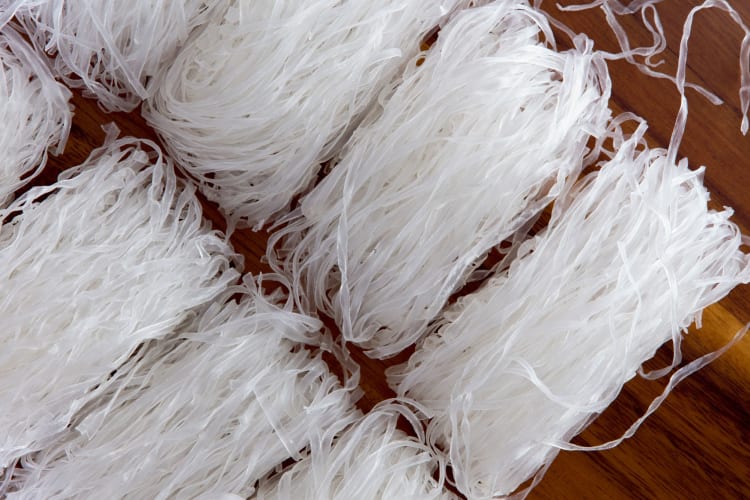 How to Cook Glass Noodles
Cellophane noodles are quick and easy to cook. They cook faster than traditional wheat noodles and are also smoother and more slippery. Boil dried noodles for approximately three to five minutes. After cooking, noodles can be placed in a soup dish or in a hot pan to mix with stir-fried vegetables and chicken or seafood. Chill for about an hour if you plan to use in a salad or other cold recipe.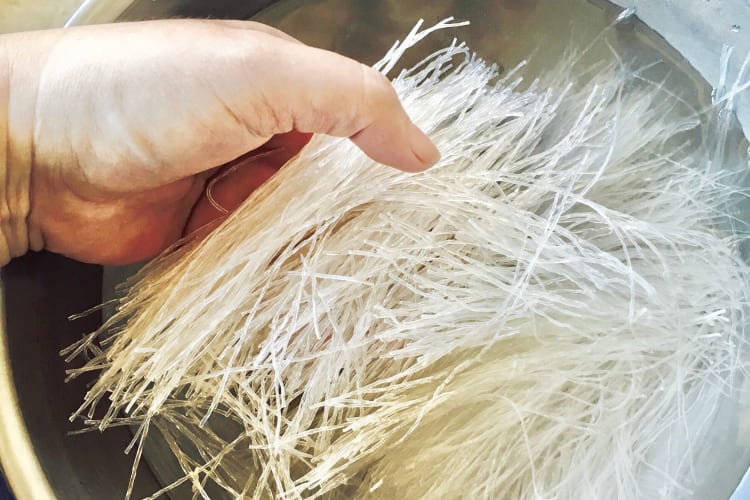 While glass noodles are typically very easy to prepare, fun and interactive cooking classes can teach you how to prepare glass noodles in unique and authentic recipes to surprise friends and family.
With cooking classes in Portland, you'll dive into the staples of Thai cuisine and Japanese comfort cuisine. Learn traditional techniques for preparing a variety of Asian dishes using cellophane noodles, including salads, stir fries and pad woon sen. Book cooking classes in New Orleans to learn how to fuse Asian and Cajun cuisine with recipes such as beef short rib ramen, seafood spring rolls, noodle soup and bao buns. Check out cooking classes near you, or even online cooking classes, to learn how to prepare these delicious noodles in your home kitchen.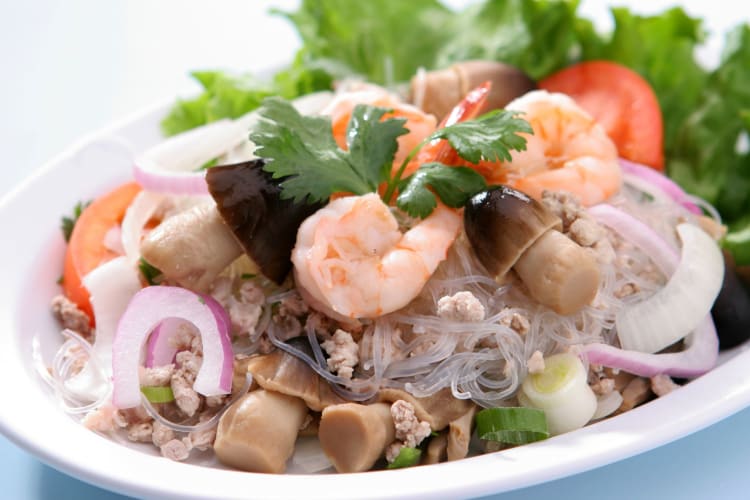 Join a Live Online Cooking Class Today
Your kitchen is now your own culinary classroom. Connect with chefs from around the world right from the comfort of home.
Glass Noodle Uses
These versatile strings of flour can be served hot, cold or in-between. They're served hot in soups and hot pots. Stir-fries and other noodle dishes are served at room temperature. Since this type of noodle doesn't get sticky, it's great for salads and as filling in rice paper rolls with vegetables, shrimp or minced pork. They can also be deep-fried.
Use cellophane noodles in recipes like Vietnamese spring rolls, Korean stir-fried recipes and mixed with savory Thai sauces. Glass noodles are used in the best Chinese food in NYC and recipes such as a pork spring roll filled with shiitake mushrooms, cilantro, ground pork and sweet chili sauce. You'll also find them in Indian food, particularly in seviyan kheer, a sweet vermicelli milk pudding dessert.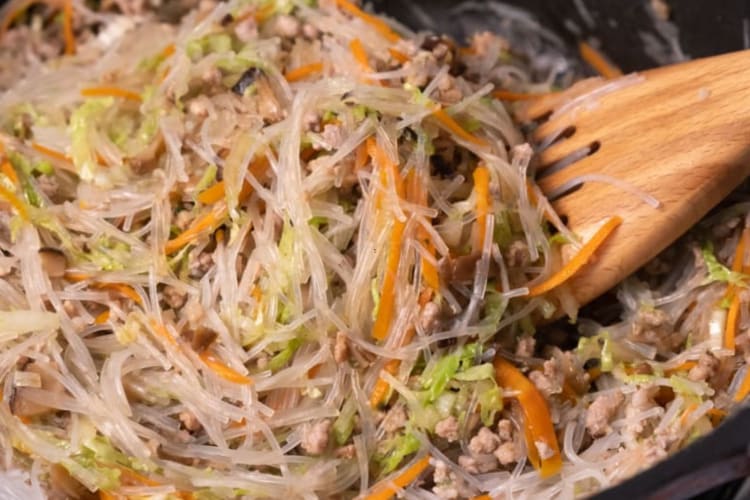 Where to Buy Glass Noodles
You can find glass noodles in the supermarket and Asian and Chinese markets. Check out the Asian or international section as well as the gluten-free section.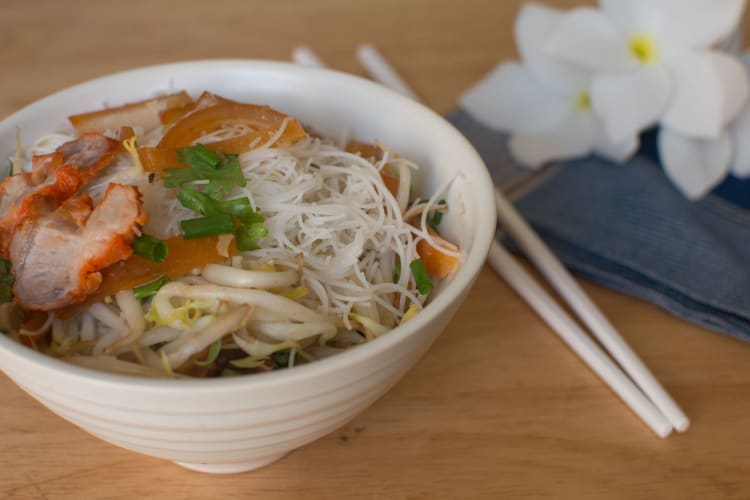 Join 200,000+ Culinary Enthusiasts
Exclusive deals, recipes, cookbooks, and our best tips for home cooks — free and straight to your inbox. PLUS: 500 Rewards Points.
Glass noodles are one of those ingredients that quickly become a beloved kitchen staple once you learn to use them. Hopefully you've gathered some good information on the many uses of these versatile noodles. Have fun experimenting and taste-testing your creations!
For even more ways to explore your favorite foods, check out other experiences happening on Cozymeal.