31 50th Wedding Anniversary Ideas for a Golden Celebration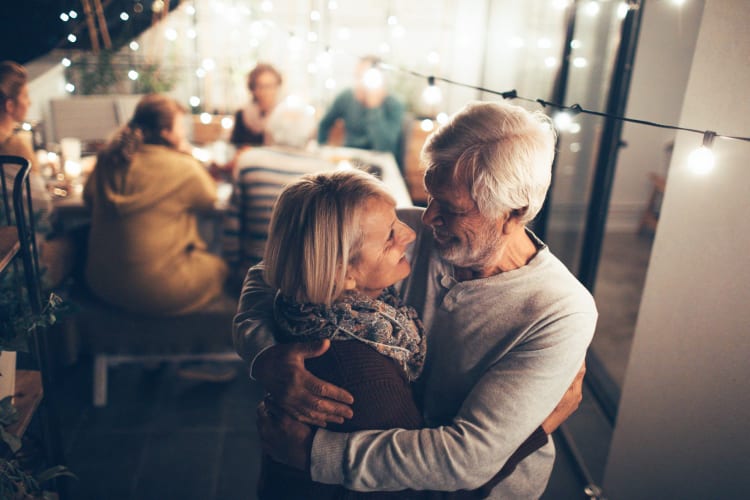 Our editorial team recommends the best products through independent research, selection and careful review. If you make a purchase through one of our affiliate links, we may earn a commission. Prices are subject to change.
Are you in the midst of planning a party and searching for 50th wedding anniversary ideas for parents, grandparents or another special couple? Any couple who has been married 50 years deserves a special celebration. It's time to go all out. It is the golden wedding anniversary, after all!
Don't get stressed out or overwhelmed by the little things. Start with a theme and go from there. From romantic dinners and small gatherings to family get-togethers and big bashes, we've designed our list to cover an array of party topics from decorations, themes and table décor to cakes and refreshments.
Jump to Section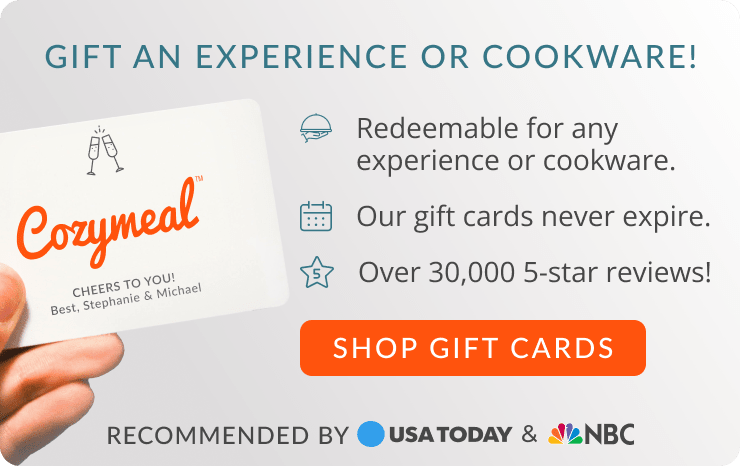 50th Wedding Anniversary Party Ideas
1. Cooking Classes
You can either learn how to prepare the perfect meal or use the culinary experience as the party itself. From cooking classes in Philadelphia to cooking classes in Chicago, you can choose from regional specialties or Italian, French, Indian and more. Invite the whole group for a fun evening of roasting, basting or grilling. Check out cooking classes near you to find classes for any culinary interest. If you can't get a whole group together, there's no need to scratch plans. Online cooking classes make it easy to include everyone.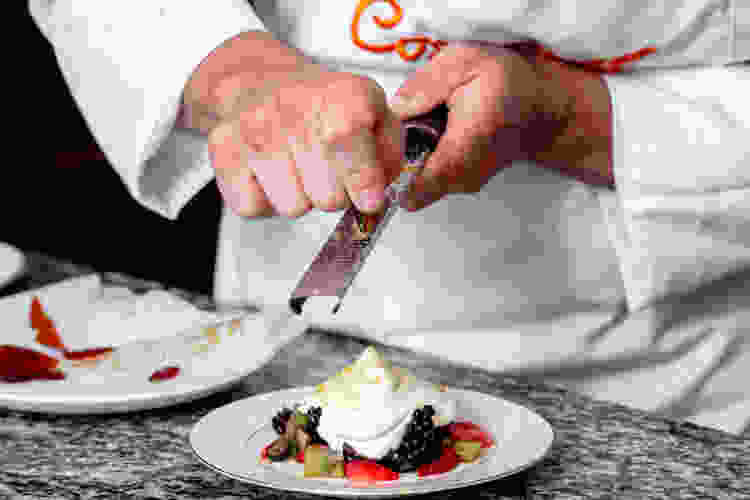 Book a World-Class Private Chef Now

Five-star fine dining from the comfort of home. Find your favorite private chef experience starting at $59/person.

Book Now
2. Food Tours
Put a unique spin on 50th wedding anniversary ideas with food tours. Gather the special couple and their closest friends for a fun tour of local food markets, restaurants, bars and cafés. Experienced tour guides inject humor, trivia and anecdotes into the tour. Whether it's food tours in Seattle or food tours in New Orleans, you'll discover new flavors and sites. Look into a wide array of food tours near you to plan 50th wedding anniversary ideas they'll remember for years.
3. Online Beverage Tastings
One of the best 50th wedding anniversary ideas for whiskey, wine, cocktail and coffee lovers is the experience of beverage tastings. You'll join experienced bartenders and sommeliers who lead classes via Zoom. Invite the couple's closest friends and gather around your mobile devices for a virtual wine tasting or an online mixology class.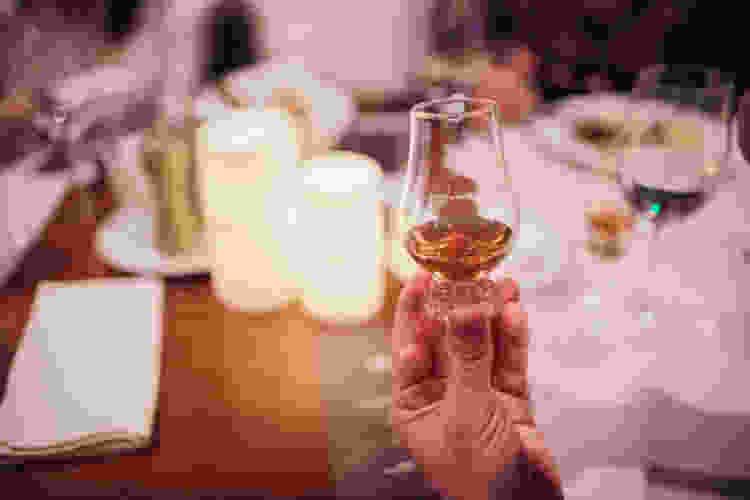 4. Great Games
The best 50th wedding anniversary ideas have to include fun games. Consider a few to break the ice and find out some interesting facts about the couple. Plan games like Couple Facts, where they each write down some facts about themselves. Guests then must guess who the fact is referring to.
Another great 50th wedding anniversary idea for a game is Who Said What. This game works basically the same as Couple Facts, except they each write down something funny or remarkable they said in the past. Guests must guess which person said what. Another variation of this game for a great 50th wedding anniversary idea is Name That Tune, with songs from the decade the couple dated and got married. Obviously, these require planning ahead of time, but it makes a super fun game.
Book a Local Food Tour Now
Explore your city's best bites, esteemed eateries and hidden gems with a top-rated tour guide.
5. Festive Food
50th wedding anniversary ideas for food include a spread of charcuterie boards piled with a selection of fruit, cheeses, crackers and meat. Other 50th wedding anniversary ideas for food include seafood feasts, Italian pasta night, Tex-Mex and backyard picnics with steaks, hot dogs and burgers.
6. Music
Music is one of the best 50th wedding anniversary ideas to set the tone for the party. Put together a playlist of songs from their wedding or wedding year.
7. Photo Frame Signatures
Choose a recent photo of the couple and frame it with a large mat, but don't put glass over it. Have guests sign the mat. Afterward, you can insert the glass. This makes a thoughtful 50th wedding anniversary idea for any couple.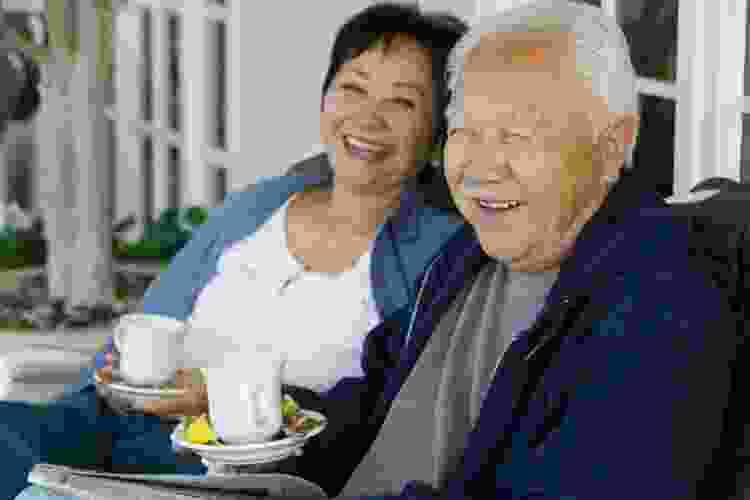 8. Personalized Can Huggies
A golden wedding anniversary deserves a reminder. Personalized can huggies are a functional and thoughtful memento for 50th wedding anniversary ideas. Have them imprinted with the couple's names, wedding date, current date or just a big happy heart. Guests can use them at the party and then take them home afterwards.
50th Wedding Anniversary Party Ideas for Parents
9. Private Chef Experience
Give Mom and Dad the gift of a gourmet meal. Gourmet chefs come right to your kitchen and dining room with everything needed to prepare a delicious menu. You don't even have to clean up afterwards. Book private chefs in Los Angeles, private chefs in Houston or private chefs near you for a special and memorable 50th wedding anniversary idea.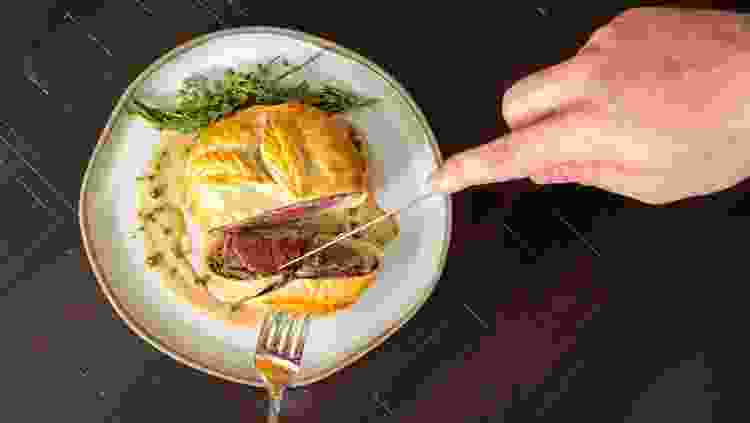 10. Make a Slideshow
Try a 50th wedding anniversary idea that gets you into the digital age by creating a slideshow filled with memories and fun moments.
11. Photo Bulletin Board
Everyone loves photos. Ask guests to bring their favorite photos of the couple — whether it's from the past 50 years or just last week — and arrange them on a bulletin board. You could also have a table set up to display framed photos.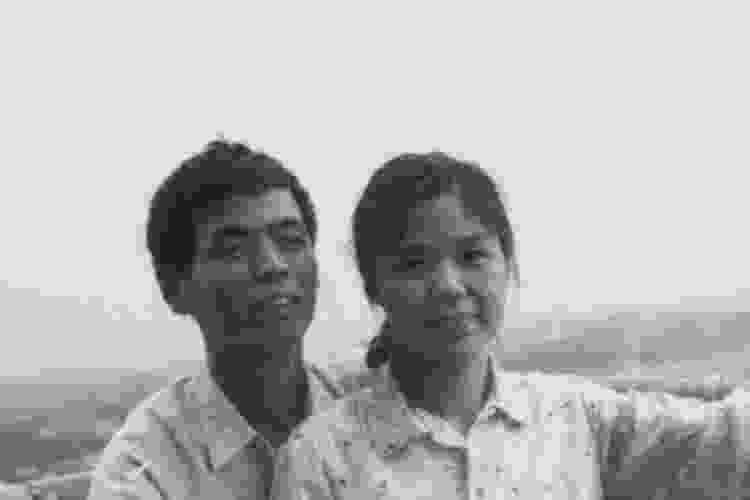 12. Time Capsule
Set up a table to display items from their wedding, such as a wedding dress, jacket, shoes, dried flowers, a re-creation of the bouquet and lots of photos.
Book a Live Virtual Wine Tasting Now
Indulge in all things wine with the best chefs and sommeliers in the industry. Virtual wine tastings bring a taste of the vineyard home.
50th Wedding Anniversary Decorations
13. Go Gold
It's called the golden anniversary, after all, so 50th wedding anniversary decoration ideas tend to feature a gold décor. Streamers, glitter, confetti, balloons, plates and napkins…all in shimmering tones of gold. Add a coordinating color (black is popular) to make it pop.
14. 50th Anniversary Party Sign
Create a personalized golden anniversary yard sign (you can find them at Party City) so everyone knows they're celebrating a milestone. Add photos, names, dates and congrats for a 50th wedding anniversary idea everyone on the whole street will enjoy.
15. Photo Backdrop and Props
Is it really a 50th wedding anniversary idea if there aren't any photos? Probably, but it's much more fun with photos. Hang gold streamers or a big bunch of colorful balloons on the wall. You could also use a large, empty picture frame for guests to hold in front of themselves while someone snaps a pic. Set out props like Champagne glasses, masks and even funny glasses for guests to pose with.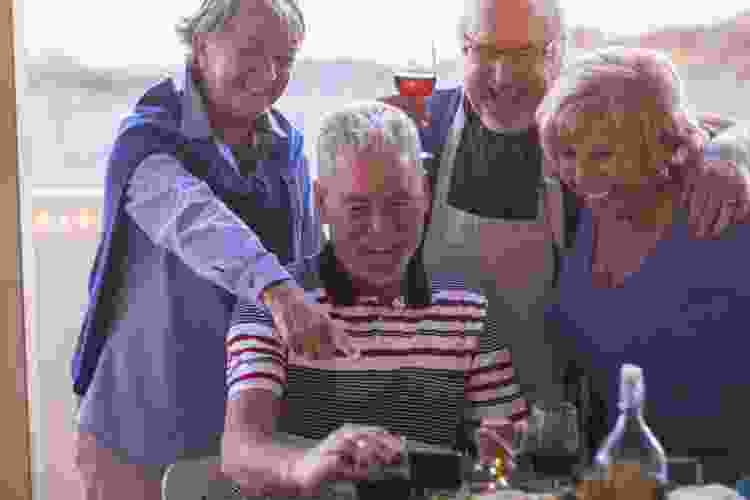 16. Decades Theme
For excellent 50th wedding anniversary ideas, consider a theme like a certain decade. For the '50s, set up a diner scene with checkerboard tablecloths, poodle skirts, leather jackets and tunes from Elvis, Chuck Berry, and Bill Haley and His Comets. For a '20s 50th wedding anniversary idea, get the party started with flapper dresses, pinstriped suits and jazz music.
17. Tropical Theme
Did the anniversary couple go to Hawaii or another tropical paradise on their honeymoon? No? Maybe they've always dreamed of going. Whatever the case, tropical-themed parties make an excellent 50th wedding anniversary idea. Borrow tropical plants and fill the party room with pineapples, grass skirts and coconuts. Hire a company to plant a flock of plastic flamingos in the yard for a fun surprise.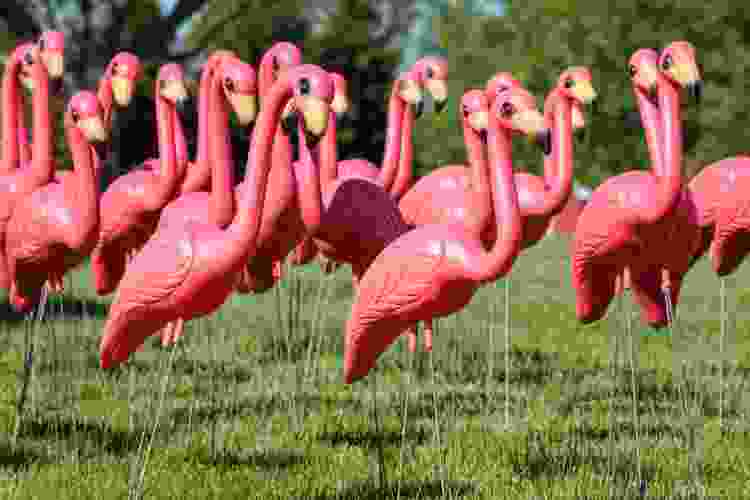 18. Rustic Barn or Western Theme
If you can rent a barn, all the better. If not, set up your space with galvanized buckets for beverages, twine-wrapped candles, wagon wheels, bandana-printed napkins and tablecloths, cowboy hats and even bales of hay. Don't forget the square and line dancing music.
Book a Gourmet Cooking Class Now
Kick-start your culinary confidence with help from a world-class chef. See what's cooking in your city today.
19. Go Big With Balloons
Create a giant arch of balloons on the wall in your chosen color scheme — gold and silver, gold and white, gold and purple or even the couple's wedding colors. Add a big cardboard 50 to go with it. Stage this behind the food table or a table displaying old photos.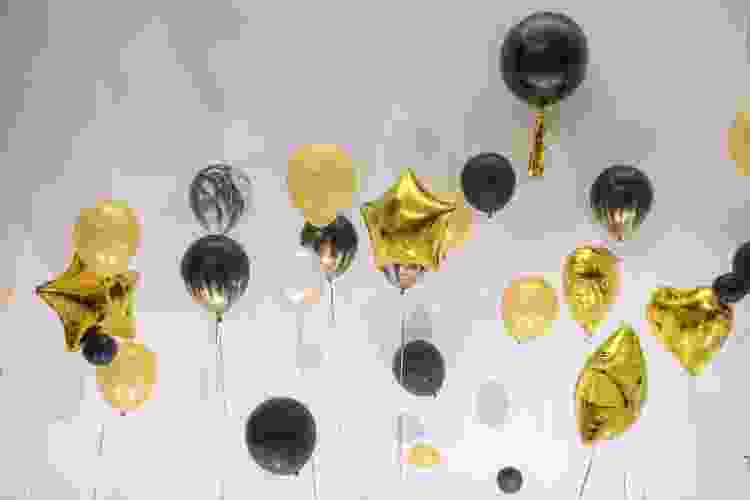 20. Life-Size Cut-Outs
For a unique 50th wedding anniversary idea, set up life-size cut-outs of the anniversary couple. Guests can take photos with the cut-outs and the real people.
50th Wedding Anniversary Table Decoration Ideas
21. Violets or Purple Flowers
The official flower of the 50th anniversary is the violet. Use this with the gold theme to put a pop of purple into the party. A bundle of violets in short glass jars makes an elegant touch for table décor.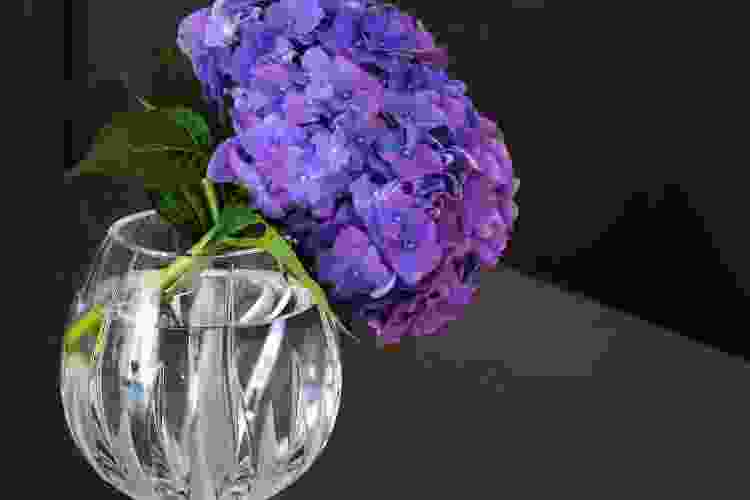 22. Party Plates and Napkins
Make party planning easy on yourself with pretty paper plates. Disposable plates come in so many attractive patterns and durable materials these days that you don't need to break out the fancy china. Personalize napkins with a picture, a quote or the couple's names and wedding date.
23. Trio of Candles
Flickering candlelight brings a romantic touch to 50th wedding anniversary ideas. Place three candles together with a ribbon and a sticker that says "50" or "Congrats." Sprinkle some glittery confetti on the table and you have an eye-catching centerpiece that will wow everybody.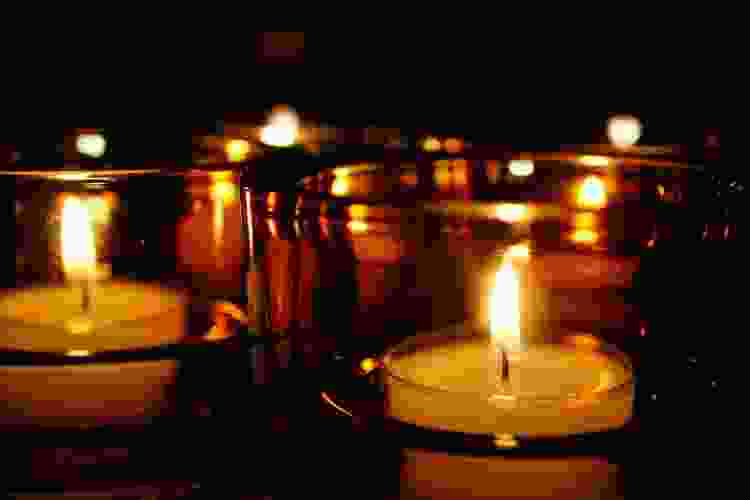 24. Personalized Champagne Glasses
Have glasses etched with the couple's names, the date or simply "50th Anniversary." Use them at the table and then let guests take a glass home as a memento of the moment. This is a great 50th wedding anniversary idea for a small gathering. Combine this with virtual wine tasting experiences.
25. Bags of Gold-Wrapped Candy
Candy always makes a great 50th wedding anniversary idea. Fill gold bags with mini chocolates wrapped in gold or bronze-colored paper. Wrapping the sweets in gold tulle is another elegant option.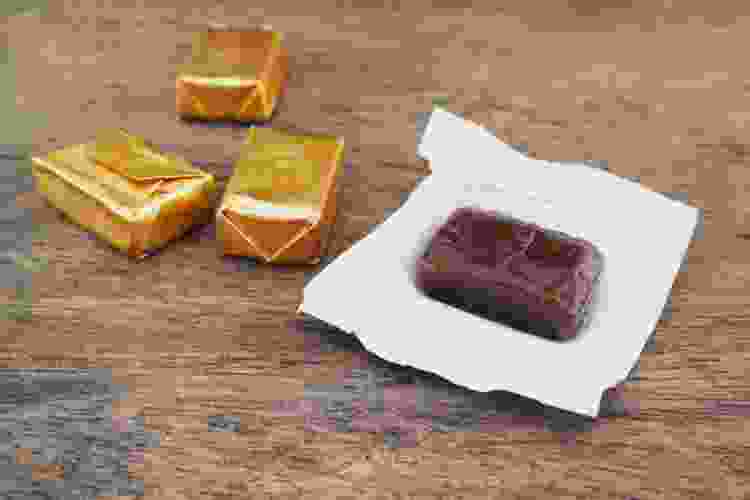 50th Wedding Anniversary Cake Ideas
26. Screen Printed Photo Cake
Choose a wedding photo or another favorite photo to have screen printed on a cake at a local bakery.
Book a World-Class Private Chef Now
Five-star fine dining from the comfort of home. Find your favorite private chef experience starting at $59/person.
27. Elegant Cake
On the other hand, you can keep it simple with an elegant cake with white icing and stylish icing roses. Maybe a gold ribbon or gold candy beads for trim, and you're done.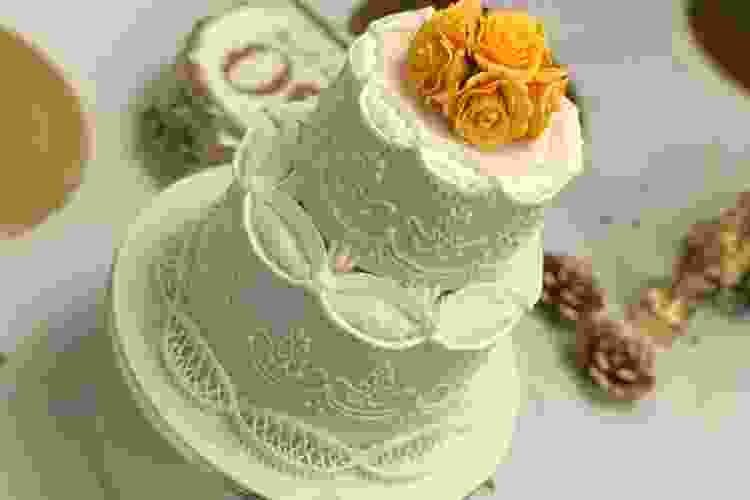 28. Fruit-Filled Cake
A 50th anniversary is a good reason to go all-out and order or bake a decadent cake filled with fruit or covered in swirls of chocolate and fondant.
29. Dessert Stands
Fill cupcake towers and tiered plates with tarts, pies and other sweet treats. This gives guests a variety of desserts to choose from and makes a beautiful display.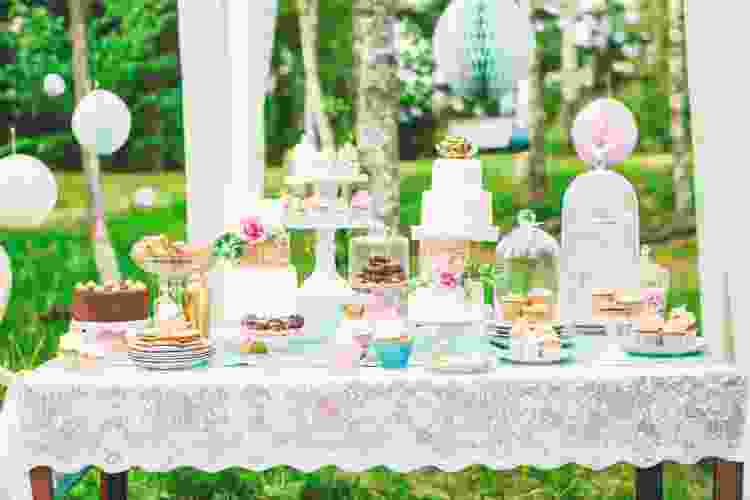 30. Pull-Apart Cupcake
Cupcakes are all the rage. Check out a local bakery for unique shapes made with cupcakes. The shape (it could be the number 50) is formed with cupcakes and then icing is spread over top. It looks like a cake, but it's easier to serve. No slicing needed!
31. Customized Cookies and French Macarons
Maybe the couple prefers cookies to cake. Colorful French macarons make a beautiful and delicious statement. You could also create a platter of custom cookies shaped like the number 50, a wedding invitation or a heart. For the cookie lovers in the crowd, this 50th wedding anniversary idea is unforgettable.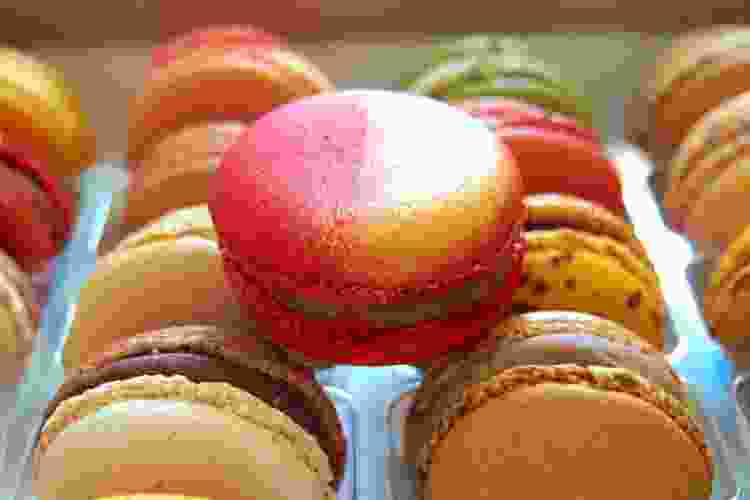 Join 200,000+ Culinary Enthusiasts
Exclusive deals, recipes, cookbooks, and our best tips for home cooks — free and straight to your inbox. PLUS: 500 Rewards Points.
We hope this list has given you some 50th wedding anniversary ideas to help you put on the perfect party whether it's anniversary ideas at home or at an event venue like a country club, a hotel banquet room, a local park, an art gallery or a rustic barn setting. Parents, grandparents, relatives and special friends will all appreciate the thought and planning behind the gesture.
Coming up with ideas for a 50th wedding anniversary shouldn't be stressful. Have fun with it! Take a couple of our ideas, combine them and add your own spin for a celebration they'll remember for years to come.
For even more fun 50th wedding anniversary ideas, check out other experiences happening on Cozymeal.