73 Cozy Christmas Breakfast Ideas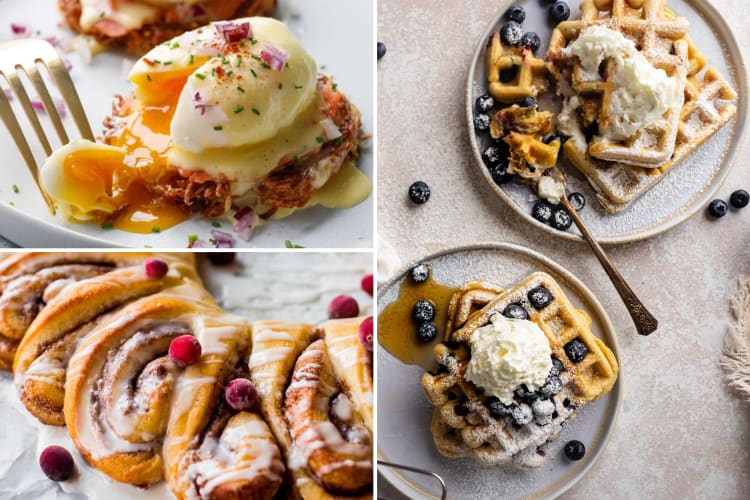 Fun and festive Christmas breakfast ideas begin the beloved holiday with a special touch of love and cheer. Waking up to the warm aroma of cinnamon-spiced baked goods or the smell of smoky bacon wafting through the house brings a sense of comfort and joy to the morning. The best Christmas breakfast ideas allow everyone to get the most enjoyment out of the holiday, embodying the spirit of the season with cozy, traditional flavors, perhaps with a creative twist. What are some easy Christmas breakfast ideas? Can holiday breakfasts be made in advance?
With lots of activities to enjoy on this merry occasion from visiting relatives or attending church services to sharing gifts or cooking an elaborate dinner, Christmas breakfast ideas should kick off the celebration with a dose of holiday spirit. Whether you need ideas for a sweet and savory spread for Christmas brunch or easy ideas for kids that can be enjoyed on the go, here are 73 of the best Christmas breakfast ideas for a festive Christmas morning.
Jump to Section
Easy Christmas Breakfast Ideas
1. Lemon Poppy Seed Muffins
Greet the morning with a batch of zesty Lemon Poppy Seed Muffins. These buttery muffins are Christmas breakfast ideas that are bursting with bright lemon flavor and drizzled with a tangy lemon glaze.

Try our Lemon Poppy Seed Muffins recipe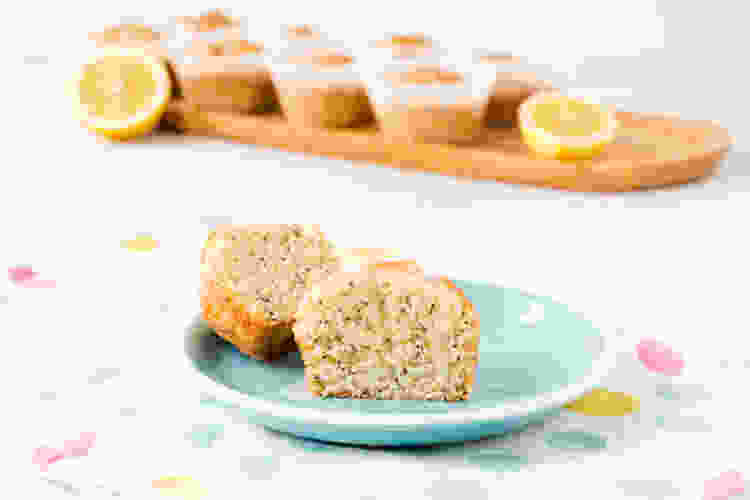 2. Apple Smoothie
This quick and refreshing Apple Smoothie helps get the day started with a tasty blend of apples, pears and celery. Just toss the ingredients into a blender for an easy and nutritious breakfast.
3. Brioche French Toast
Buttery Brioche French Toast is an excellent base for sweet or savory Christmas breakfast ideas. This easy recipe pairs just as well with crispy honey chicken or smoked salmon as it does with a chocolate drizzle or sweet berry compote.


Try our Brioche French Toast recipe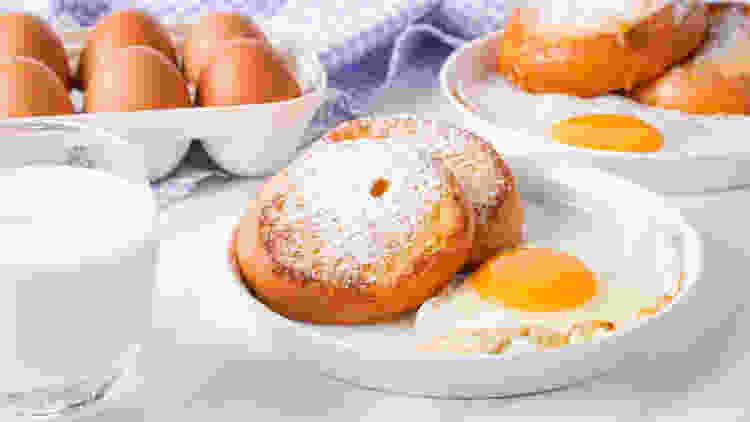 4. Chia Seed Smoothie
This nutrient-rich Chia Seed Smoothie is packed with chia seeds, fruit and spinach to keep you satisfied throughout the day's festivities. This creamy breakfast even shows off a lovely shade of green to match the holiday color scheme.
Try our Chia Seed Smoothie recipe
5. Blueberry Crepes
Blueberry Crepes are easy and inviting Christmas breakfast ideas to enjoy on their own or as an elegant addition to a Christmas brunch spread. Making thin, buttery crepes is even easier with a crepe pan set although they can be made in most nonstick frying pans as well.

Try our Blueberry Crepes recipe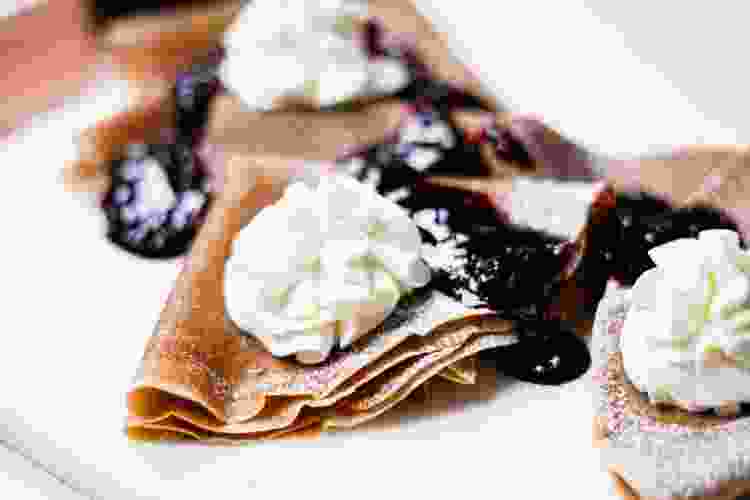 6. Air Fryer Hard Boiled Eggs
Christmas morning can be a bit hectic. Make the holiday a little easier with simple Christmas breakfast ideas like these Air Fryer Hard Boiled Eggs.
Try our Air Fryer Hard Boiled Eggs recipe
7. Sourdough Waffles
These Sourdough Waffles give the classic breakfast dish a unique flavor twist with tangy sourdough topped with nutty tahini and a drizzle of maple syrup. Grab your waffle iron and simply follow the step by step instructions to make these easy, elevated waffles.

Try our Sourdough Waffles recipe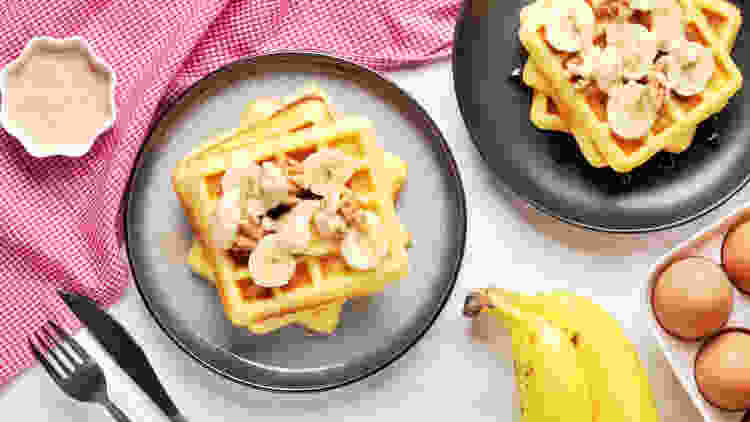 8. Bananas Foster French Toast
Add a flourish of elegance to your Christmas breakfast ideas with this surprisingly easy Bananas Foster French Toast. With step by step instructions to help perfect the cooking techniques, impress holiday guests with this decadent breakfast
Try our Bananas Foster French Toast recipe
9. Eggnog French Toast
Everyday French toast gets a holiday upgrade with signature flavors of the season including eggnog, vanilla and warm spices. The custard-like center of this rich and buttery Eggnog French Toast is encased in a crunchy pecan coating for a delightful contrast of textures.

Try our Eggnog French Toast recipe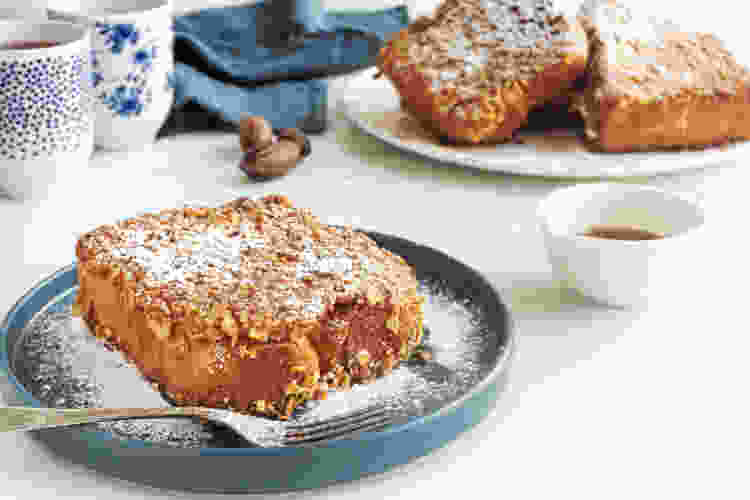 10. Brown Sugar Bacon
Enhance your Christmas breakfast ideas by transforming average bacon into this sweet, smokey and slightly spicy Brown Sugar Bacon. This irresistible bacon makes any morning feel special.
Try our Brown Sugar Bacon recipe
11. Almond Flour Banana Muffins
These Almond Flour Banana Muffins are easy Christmas breakfast ideas that everyone can enjoy. This vegan and gluten free recipe is quick, cozy and the perfect centerpiece for a festive morning.

Try our Almond Flour Banana Muffins recipe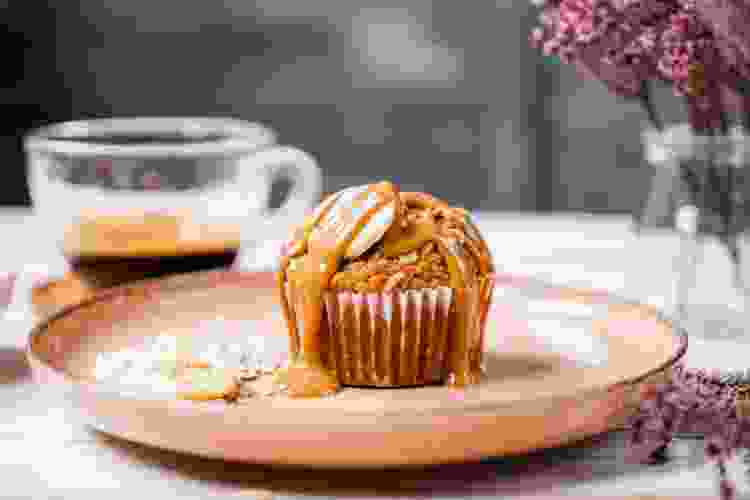 12. Oat Flour Pancakes
Easy Christmas morning breakfast ideas like these Oat Flour Pancakes are a lifesaver when the holiday season gets hectic. This simple recipe uses common pantry ingredients, so you won't have to worry about last minute trips to the grocery store.
Try our Oat Flour Pancakes recipe
13. Cake Donut
A signature flavor of the holiday season, freshly ground nutmeg is the star ingredient in this tender Cake Donut. These old-fashioned donuts are Christmas breakfast ideas made even easier thanks to modern accessories like a specialty donut pan.

Try our Cake Donut recipe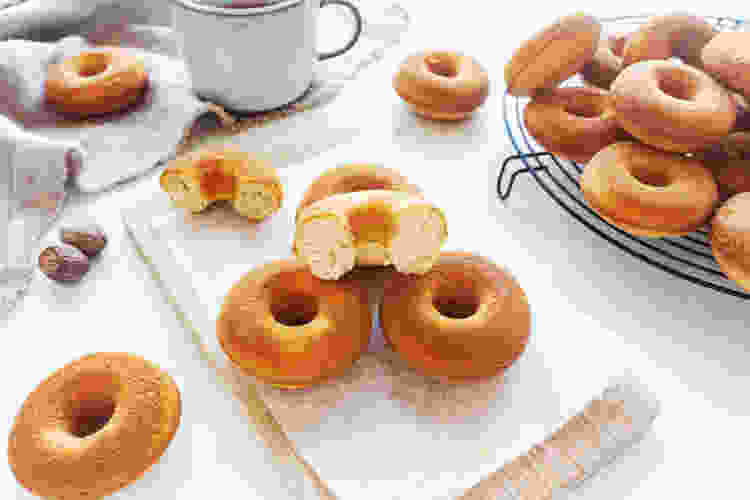 14. Sourdough French Toast
With the signature tang of sourdough to balance the sweetness and warm spices, Sourdough French Toast is an easy way to elevate a familiar breakfast dish. Upgraded with a few simple touches, this twist on the morning classic is crisp on the outside with a soft, fluffy center.
Try our Sourdough French Toast recipe
15. Gluten Free Banana Pancakes
These hearty Gluten Free Banana Pancakes are easy Christmas breakfast ideas that will keep everyone full and satisfied throughout the morning festivities. With no gluten, dairy or added refined sugars, these delicious pancakes are packed with nutrient-rich ingredients and can accommodate a wide range of dietary needs.

Try our Gluten Free Banana Pancakes recipe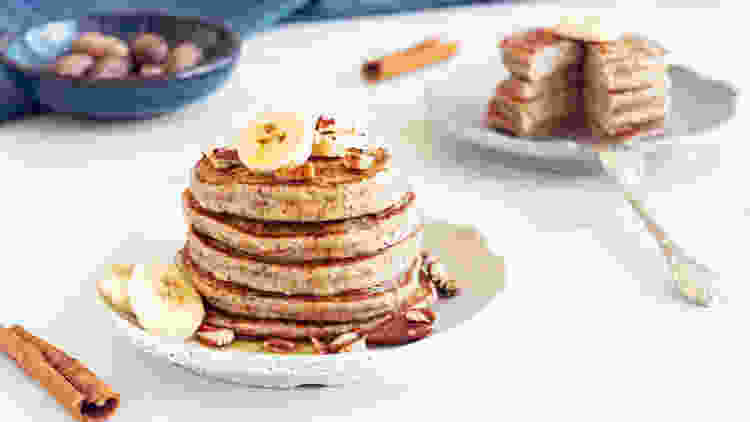 16. Cozy Homemade Peppermint Mocha
Kick off the holiday by warming up with a mug of Cozy Homemade Peppermint Mocha by Pinch of Yum. Rich dark chocolate classically pairs with refreshing peppermint to create this festive morning beverage.
17. Cinnamon Roll Wreath
Make holiday mornings extra special with Christmas breakfast ideas like this festive Cinnamon Roll Wreath by Sally's Baking Addiction. This fun breakfast or brunch centerpiece is perfect for feeding large families or a gathering of holiday guests.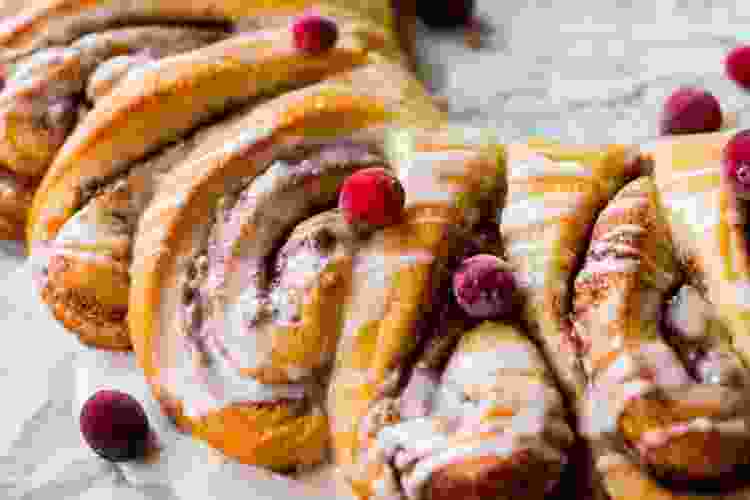 18. Breakfast Charcuterie Board
Christmas breakfast ideas that allow for easy grazing with a collection of sweet and savory treats attractively arranged on a serving platter are the perfect solution to holiday mornings with family and friends. Draw inspiration from this creative Breakfast Charcuterie Board by Homemade Hooplah to craft your own festive spread.
19. Cranberry Dutch Baby with Clementine Orange Syrup
This Cranberry Dutch Baby with Clementine Orange Syrup by Seasons and Suppers, also known as a German pancake, is an elegant and surprisingly easy idea for a festive Christmas breakfast. Since the caramelized cranberries and orange syrup can be made ahead of time, all you have to do on Christmas morning is pour the batter into a buttered cast iron skillet and pop it in the oven to create this decadent holiday dish.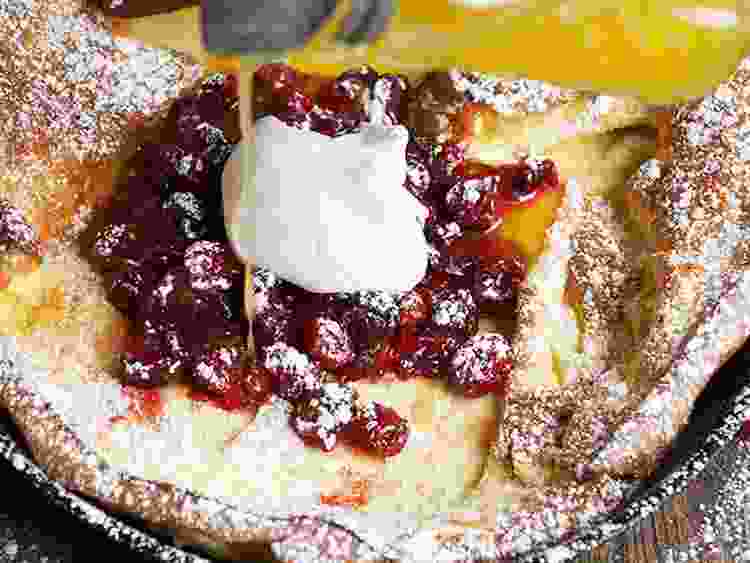 Christmas Breakfast Ideas for Kids
20. Gluten Free Banana Muffins with Chocolate Chips
Kids will love waking up to fun and flavorful Christmas breakfast ideas like these soft and fruity Gluten Free Banana Muffins with Chocolate Chips. These moist, chocolate-studded muffins are made without eggs, gluten or dairy to suit all types of dietary needs.
Try our Gluten Free Banana Muffins with Chocolate Chips recipe
21. Sheet Pan Pancakes
Turn the first meal of the day into a fun morning activity with creative Christmas breakfast ideas for kids like these colorful and customizable Sheet Pan Pancakes. Everyone can decorate their own section of fluffy pancakes with fruits, nuts, chocolate chips and other favorite additions.

Try our Sheet Pan Pancakes recipe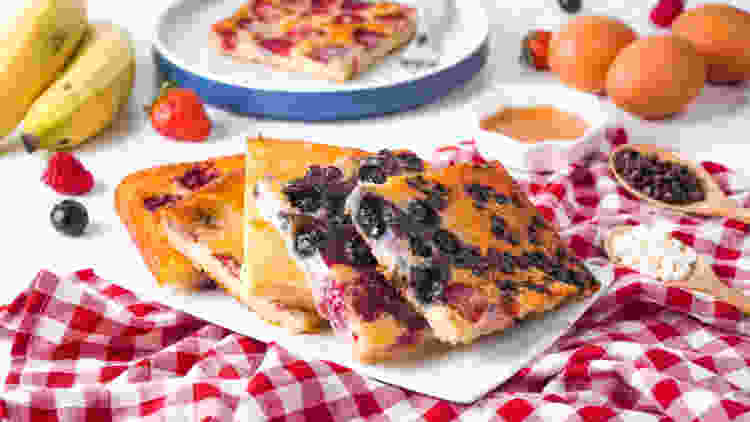 22. Apple Crumble Cake
Traditional coffee cake is enhanced with generous chunks of tender apple in this kid-friendly Apple Crumble Cake. This cinnamon-spiced breakfast cake is bursting with comforting seasonal flavors for a sweet start to this special day.
Try our Apple Crumble Cake recipe
23. Gluten Free Cinnamon Rolls
Warm, gooey cinnamon rolls are classic Christmas breakfast ideas. These soft and fluffy Gluten Free Cinnamon Rolls are packed with bold cinnamon and glazed with a luscious vanilla icing.

Try our Gluten Free Cinnamon Rolls recipe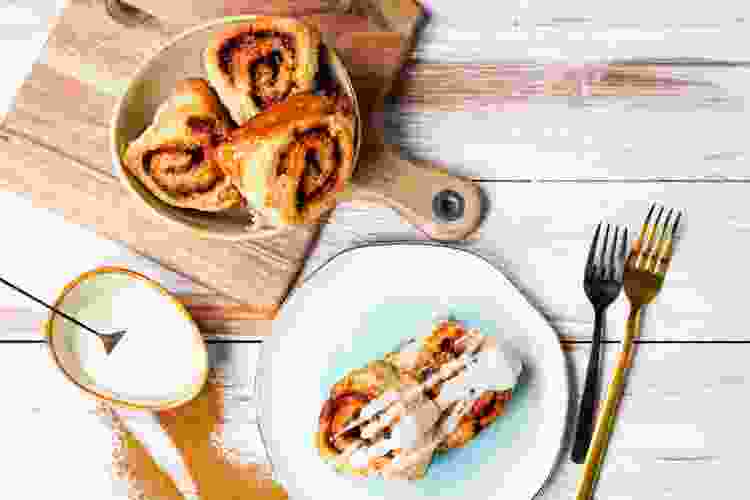 24. Chocolate Crepes
All you need is a blender and a frying pan to create these simple yet decadent Chocolate Crepes. The delicious combination of chocolate and berries is a tried and true crowd pleaser for Christmas breakfast ideas that feel special without requiring a lot of work.
Try our Chocolate Crepes recipe
25. Blueberry Waffle
Celebrate holiday mornings with Christmas breakfast ideas that are sure to please like a classic Blueberry Waffle. Crisp on the outside, fluffy inside and packed with juicy blueberries, serve these golden brown treats hot out of the waffle maker with a sprinkle of snowy powdered sugar for a festive finish.

Try our Blueberry Waffle recipe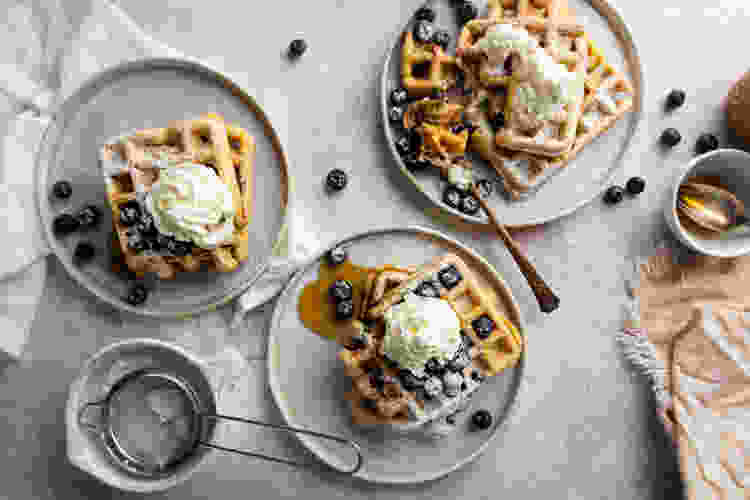 26. Chocolate Chip Pancake
Give this traditional Chocolate Chip Pancake a festive finish with fresh, vibrant berries and a drizzle of maple syrup. Quick and easy breakfast ideas for Christmas like these crowd pleasing pancakes let you spend less time at the stove and more time celebrating with family.
Try our Chocolate Chip Pancake recipe
27. Stuffed French Toast
Filled with a sweet and tangy mixture of fresh strawberries and creamy mascarpone, this Stuffed French Toast takes traditional French toast to the next level. This epic Christmas breakfast idea tastes like dessert for breakfast and is even finished with a crunchy cinnamon-sugar crust.

Try our Stuffed French Toast recipe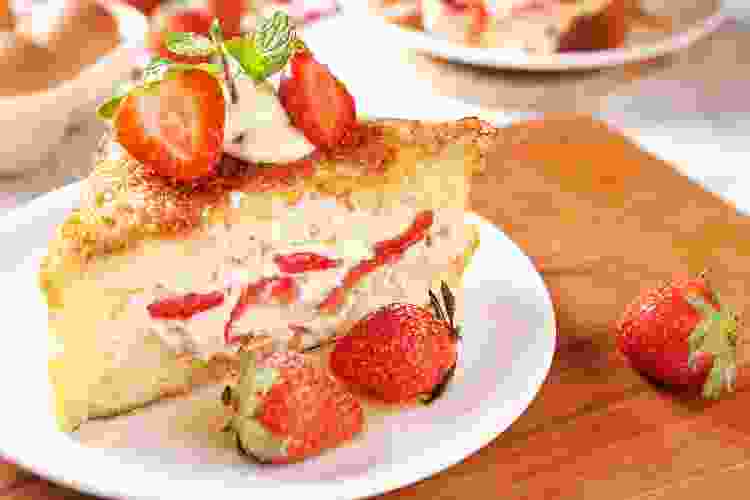 28. Gluten Free Blueberry Muffins
The bright aroma of orange zest gives these Gluten Free Blueberry Muffins a fresh holiday twist. Soft and fluffy inside, these easy muffins are topped with a crunchy sugar crust.
Try our Gluten Free Blueberry Muffins recipe
29. Breakfast Banana Split
These colorful Breakfast Banana Splits from Live Eat Learn are fun and interactive Christmas breakfast ideas that are perfect for kids. Little ones can decorate this creative breakfast with their favorite fruit and toppings such as crunchy granola, toasted nuts or a sweet chocolate drizzle.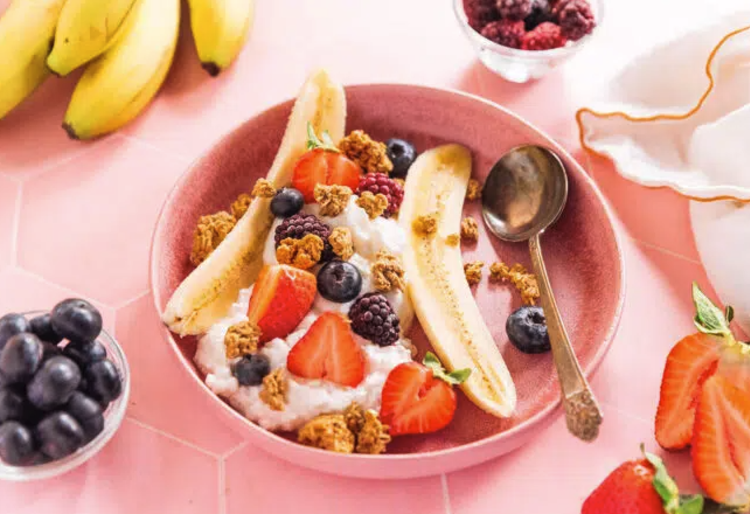 30. French Toast Roll Ups
With all of the excitement of the holiday, it can be nearly impossible to keep kids at the breakfast table on Christmas morning. These French Toast Roll Ups by The Girl Who Ate Everything are grab and go Christmas breakfast ideas for kids to enjoy while they run around looking for signs of Santa's visit.
31. Easy Twisted Nutella Danish
Buttery, flaky and filled with chocolate hazelnut spread, these Easy Twisted Nutella Danish by Plated Cravings are perfect Christmas breakfast ideas to pair with a cozy mug of hot chocolate. These easy to make Danish-style treats are both beautiful and delicious.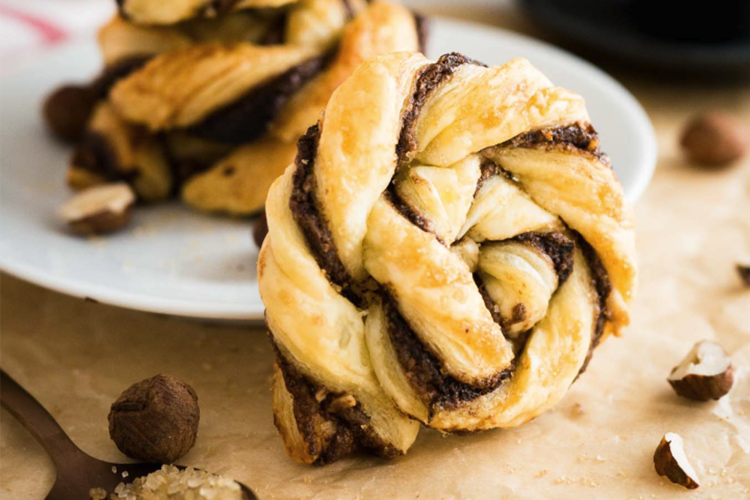 32. Orange Sweet Rolls
Classic cinnamon rolls get a holiday twist in these zesty Orange Sweet Rolls by Crazy for Crust. These warm, fluffy rolls are packed with a swirl of cinnamon sugar filling and finished with a generous glaze of sweet orange frosting.
33. Sugar Cookie Overnight Protein Oatmeal
The Sugar Cookie Overnight Protein Oatmeal from Well Plated by Erin is the best of both worlds when it comes to Christmas breakfast ideas. The classic flavor of sugar cookies makes this protein-packed oatmeal feel like a decadent holiday treat.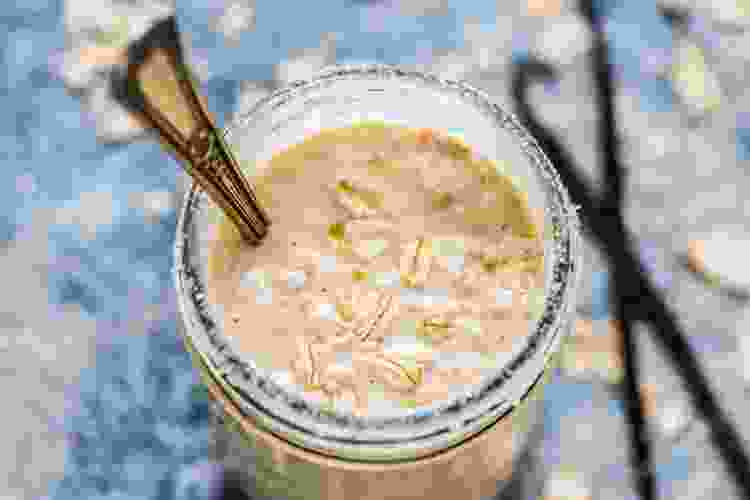 34. Bacon and Egg Toast Cups
With simple, classic ingredients, these Bacon and Egg Toast Cups from The Girl Who Ate Everything are crowd pleasing Christmas breakfast ideas both kids and adults will love. These perfectly portioned breakfast cups are great grab and go options for hectic holiday mornings.
35. Gluten Free Vegan Breakfast Cookies
Whether waking up and heading to the grandparents' house or running straight to the tree on Christmas morning, grab and go Christmas breakfast ideas like these Gluten Free Vegan Breakfast Cookies by Minimalist Baker make holiday mornings easy for busy families. Made with wholesome ingredients like oats, bananas and nut butter, these breakfast cookies will keep the entire family full and satisfied throughout the morning.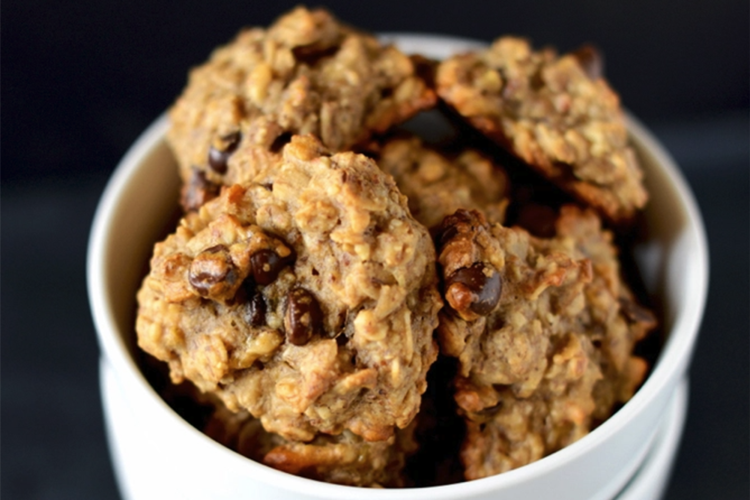 36. Fruit and Yogurt Pancake Tacos
Fun, colorful and easy to make, these Fruit and Yogurt Pancake Tacos from In Katrina's Kitchen are ideal Christmas breakfast ideas for kids. The fluffy pancakes can be stuffed with your favorite combinations of fruit, yogurt, granola and other fillings to create personalized breakfast treats.
37. Cinnamon French Toast Bites
The Cinnamon French Toast Bites by RecipeTin Eats are Christmas breakfast ideas well-suited for kids of all ages. Crusted in cinnamon-sugar, these bite-sized treats are easy to make and perfect for dipping.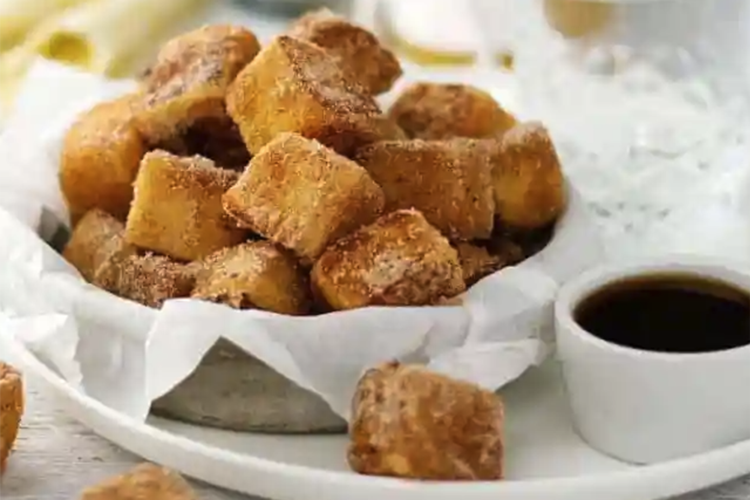 Savory Christmas Breakfast Ideas
38. Honey Fried Chicken
Honey Fried Chicken is a decadent Christmas breakfast idea that dances along the line between savory and sweet. Pair this crisp, juicy chicken with waffles or brioche French toast as part of a hearty Christmas brunch.
Try our Honey Fried Chicken recipe
39. Egg in a Hole
Classic breakfast dishes like this Egg in a Hole are simple, yet sophisticated Christmas breakfast ideas. Use a round cookie cutter or sharp edged glass to cut a circle out of the center of the bread, then fill with an egg and toast golden brown until crisp with a runny yolk that delightfully oozes as you cut into it.

Try our Egg in a Hole recipe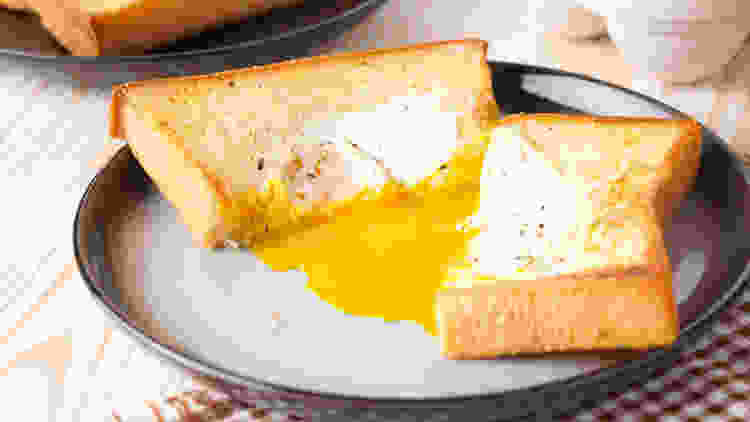 40. Asiago Bagel
Homemade Asiago Bagels are Christmas breakfast ideas that elevate the average morning meal. Enjoy these cheesy bagels piled with eggs, greens and your favorite fillings for a stacked breakfast sandwich or simply warmed with a smear of cream cheese, butter or jam.
41. Tempeh Bacon
Tempeh Bacon is a tangy and smoky vegan treat that perfectly complements both sweet and savory Christmas breakfast ideas. This easy and versatile bacon alternative makes an excellent side for waffles, pancakes or French toast as well as a hearty filling for breakfast burritos or topping for a breakfast sandwich.

Try our Tempeh Bacon recipe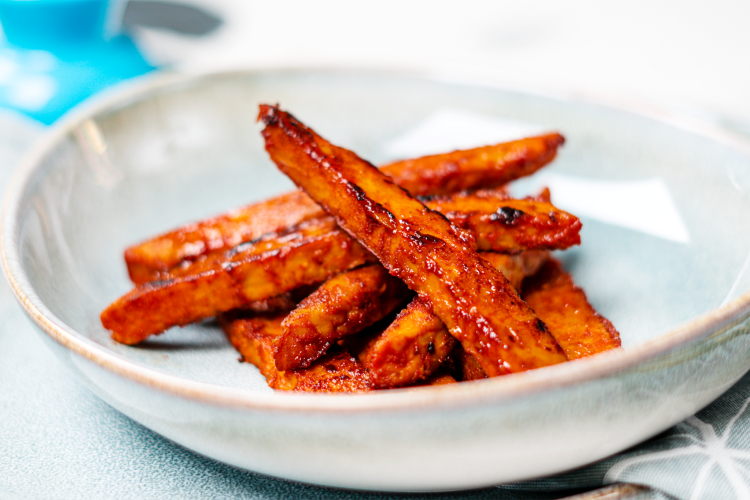 42. Vegan Breakfast Burrito
This hearty Vegan Breakfast Burrito is packed with filling and nutritious ingredients, including homemade spiced cashew cheese for a bold start to the holiday morning. Stick with the original combination of potatoes, kale, tofu and cashew cheese or mix and match with your favorite burrito fillings like tempeh bacon, spinach, sweet potato or whatever you have on hand.

Try our Vegan Breakfast Burrito recipe
43. Skillet Breakfast Potatoes
Crisp on the outside and fluffy in the center, Skillet Breakfast Potatoes are a crowd pleasing breakfast side. Cut the potatoes into a small dice and use plenty of oil to achieve perfectly crunchy potatoes, then season with your favorite herbs and spices.

Try our Skillet Breakfast Potatoes recipe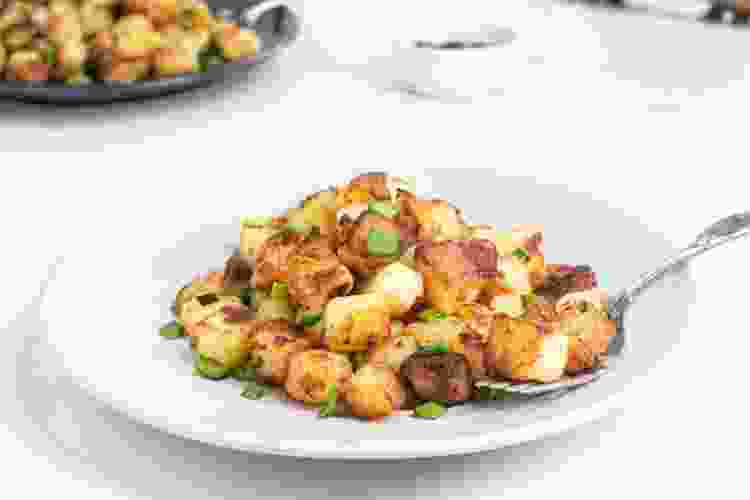 44. Smoked Salmon Bagel
Add a New York touch to your Christmas breakfast ideas with this hearty Smoked Salmon Bagel. The signature combination of smoky, fresh and herbaceous flavors is a tried and true breakfast classic.
Try our Smoked Salmon Bagel recipe
45. Pesto Eggs
The vibrant green of these internet-famous Pesto Eggs adds a festive and flavorful touch to Christmas morning. Serve the eggs on avocado toast with a sprinkle of crushed red pepper flakes to accentuate the red and green theme.

Try our Pesto Eggs recipe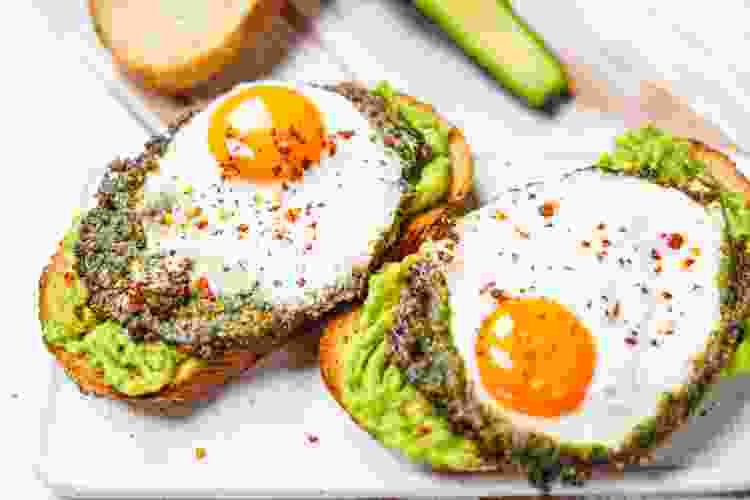 46. Breakfast Skillet
Stacked with potatoes, vegetables, sausage and eggs, this Breakfast Skillet is a complete one-pan dish. One of the easiest breakfast ideas for Christmas, this hearty meal can be ready in just twenty minutes.
Try our Breakfast Skillet recipe
47. Spinach Omelette
Fresh spinach and creamy cheese are folded inside fluffy eggs to make this tender Spinach Omelette. Good technique and a quality nonstick skillet are the keys to creating this comforting breakfast dish.

Try our Spinach Omelette recipe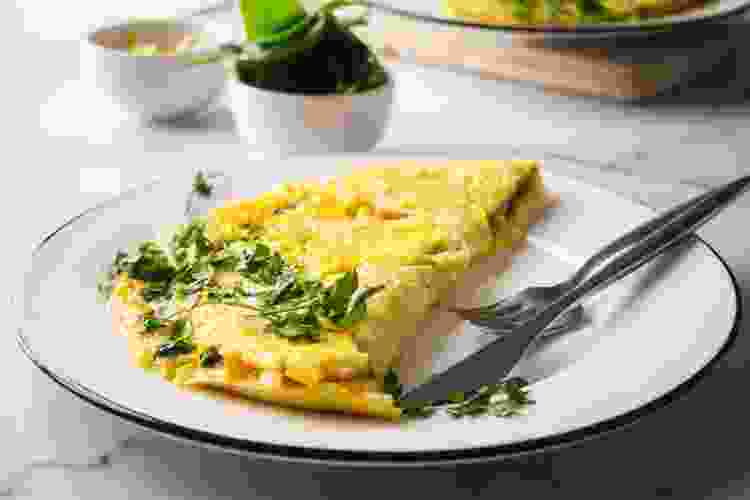 48. Fluffy Scrambled Eggs
Fluffy Scrambled Eggs are a staple dish for a Christmas breakfast or brunch spread. This recipe includes a secret ingredient and the proper technique to ensure soft and fluffy eggs every time.
Try our Fluffy Scrambled Eggs recipe
49. Keto Quiche
You don't have to go crustless to have an elegant, low-carb breakfast with this satisfying Keto Quiche. This keto-friendly recipe incorporates a nutty almond flour crust filled with an irresistible combination of bacon, eggs and cheese.

Try our Keto Quiche recipe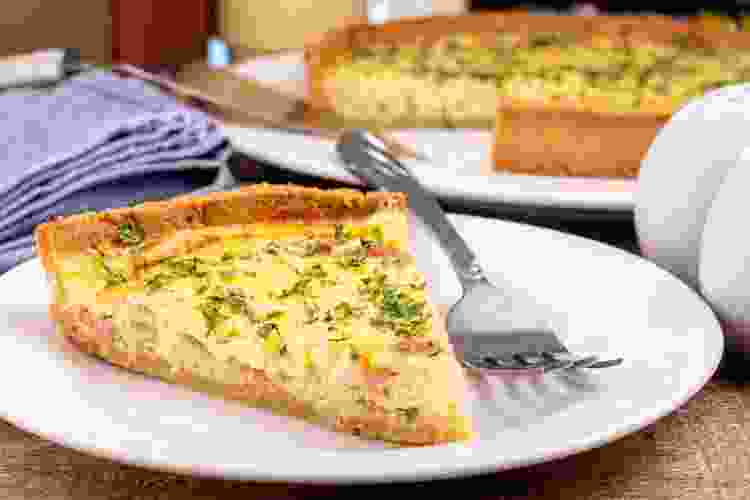 50. Homemade Eggs Benedict
The classic combination of airy English muffins, Canadian bacon and a runny egg blanketed in creamy hollandaise instantly upgrades an average breakfast or brunch to a Christmas breakfast idea worthy of this special morning. This Homemade Eggs Benedict from Spend with Pennies makes creating this savory breakfast staple easy by using a blender to prepare a quick hollandaise.
51. Latke Eggs Benedict
This Latke Eggs Benedict by Love and Olive Oil gives a subtle nod to another traditional winter holiday. Crisp potato latkes are stacked with smoked salmon and a jammy poached egg drenched with creamy hollandaise, adding a global touch to this savory breakfast.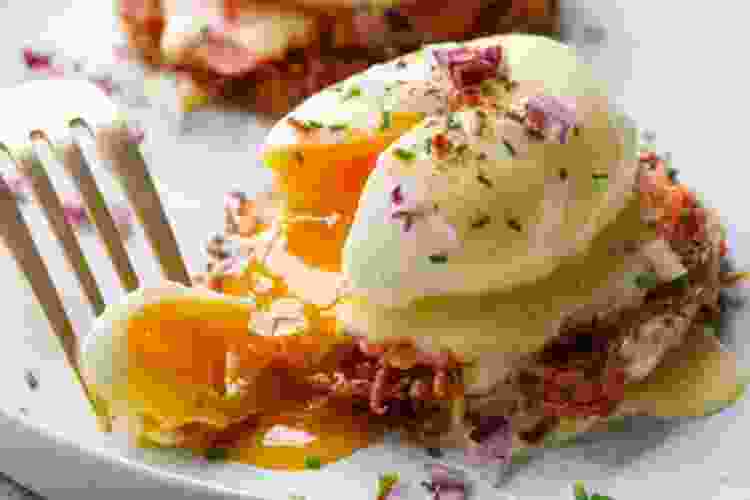 52. Chorizo Breakfast Enchiladas
These Chorizo Breakfast Enchiladas by The Girl Who Ate Everything are festive Christmas breakfast ideas that are sure to satisfy a hungry crowd. Topped with a colorful sprinkle of green onions and bright red tomatoes, these savory enchiladas exude holiday spirit.
53. One Pot Spicy Eggs and Potatoes
Inspired by classic shakshuka, this One Pot Spicy Eggs and Potatoes by Pinch of Yum puts a hearty twist on the traditional dish. Eggs, potatoes and kale simmer in a homemade spicy tomato sauce finished with creamy goat cheese.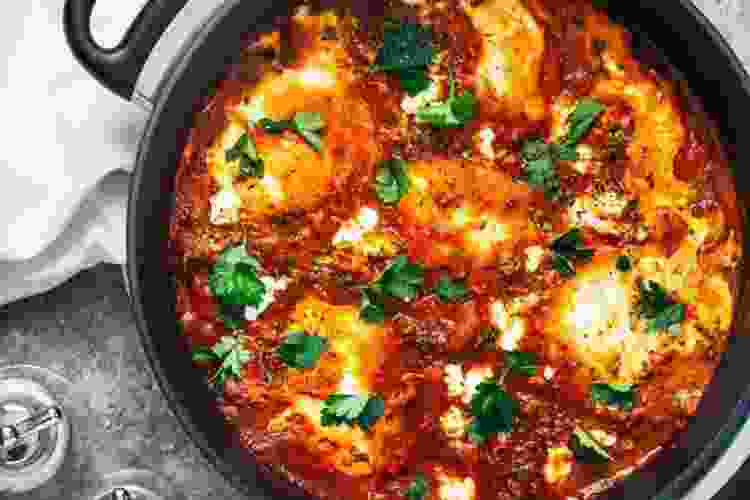 54. Smoked Salmon Spinach Frittata
This satisfying Smoked Salmon Spinach Frittata from Flavour and Savour adds a touch of elegance to the usual Christmas breakfast ideas. Serve this fluffy frittata right out of the oven topped with bright tomatoes and creamy goat cheese for an elevated holiday breakfast.
55. Sweet Potato Apple Breakfast Hash
Packed with nutritious and satisfying ingredients, the Sweet Potato Apple Hash by Clean Eating Kitchen showcases seasonal flavors in a recipe that is also free of gluten and dairy. With tart apples and tender sweet potato, this hearty hash delicately balances the savory with a touch of sweetness.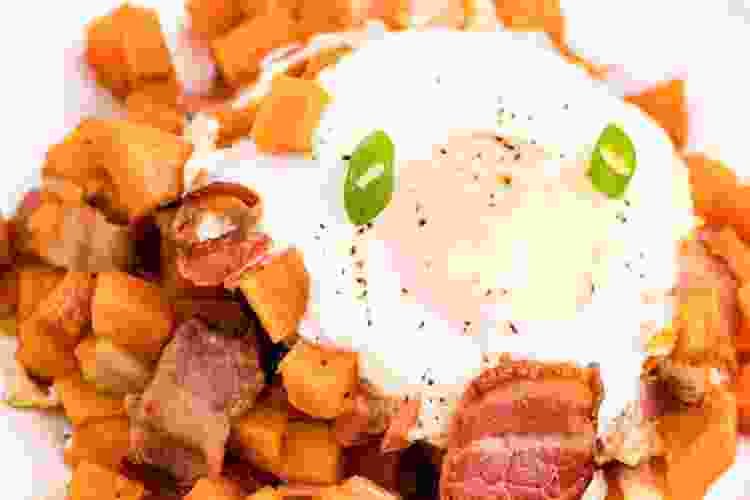 Make Ahead Christmas Breakfast Ideas
56. Lemon Poppy Seed Bread
Baked goods like this bright and zesty Lemon Poppy Seed Bread are perfect make ahead Christmas breakfast ideas for stress free holiday mornings. This moist, citrusy loaf is finished with a sweet and tangy lemon glaze.
Try our Lemon Poppy Seed Bread recipe
57. Sweet Potato Pancakes
Batter based dishes like these nutritious Sweet Potato Pancakes are ideal make ahead breakfast ideas for Christmas Day as well as other busy mornings. Make the batter ahead of time or freeze the cooked pancakes for easy holiday mornings.

Try our Sweet Potato Pancakes recipe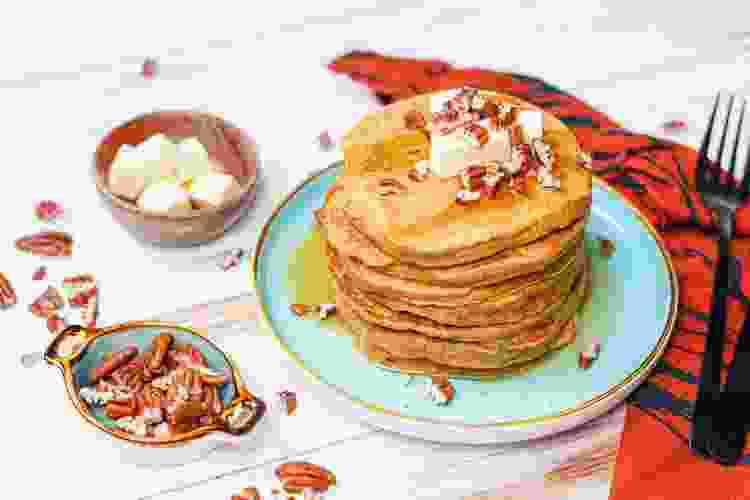 58. Potato Patties
Potatoes are the ultimate Christmas breakfast ideas when it comes to comfort food for cold, winter mornings. These crisp and tender Potato Patties can be made ahead and kept in the freezer for up to three months
59. Vegan Scones
Plant-based baked goods can be hard to get right, but these Vegan Scones are light, fluffy and perfect for a cozy Christmas morning. This recipe features plenty of tips and notes for enjoying these delicious scones all winter long.

Try our Vegan Scones recipe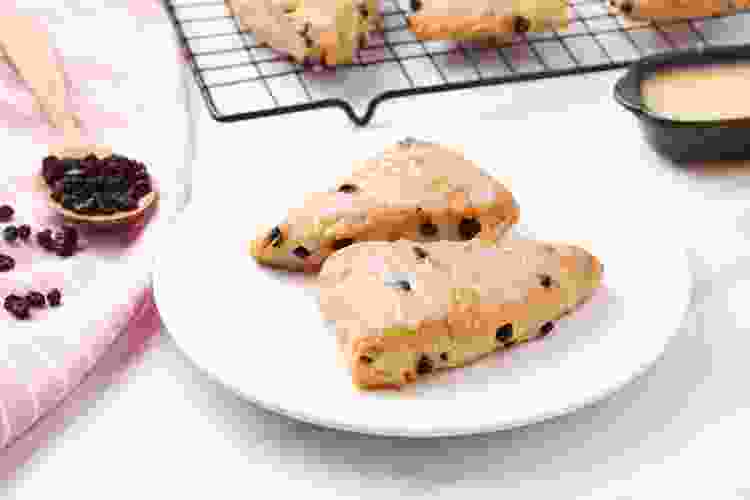 60. Swedish Pancakes
Swedish Pancakes are thin and delicate crepe-like creations that come together in one bowl for easy Christmas breakfast ideas. Make the batter the night before and store in the refrigerator for a quick and customizable morning meal. Swedish Pancakes are typically served with lingonberry jam or fresh berries, but you could also fill them with cozy baked apples, chocolate and cream or other fun flavor combinations.
Try our Swedish Pancakes recipe
61. Gluten Free Granola
A delicious blend of nuts and seeds lightly sweetened with maple syrup and apple cider, this cozy Gluten Free Granola makes a great topping or mix in for a variety of Christmas breakfast ideas. Add texture to oatmeal and yogurt, sprinkle it over pancakes and fruit or mix it into the filling for crepes or a sweet breakfast wrap.

Try our Gluten Free Granola recipe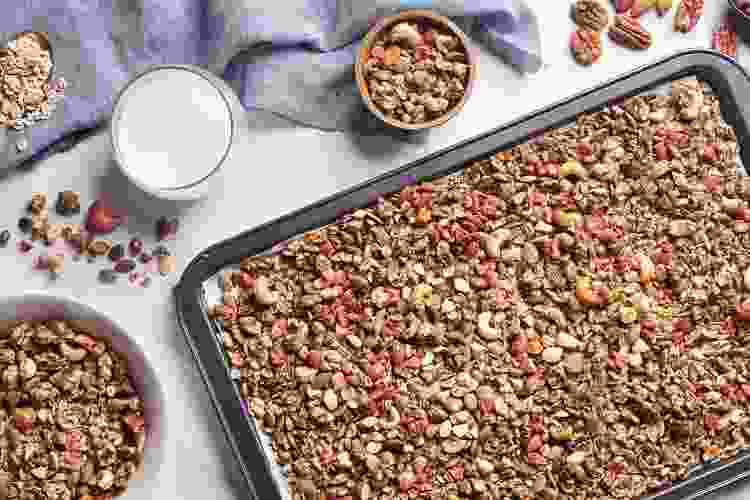 62. Vegan Pancake Mix
For the ultimate make ahead Christmas breakfast ideas, try this Vegan Pancake Mix. Layer the dry ingredients in a jar to have on hand in your pantry or dress up a jar with a label and ribbon to give as a thoughtful holiday gift. The vegan pancakes can also be prepared ahead and reheated in a toaster for a simple and satisfying breakfast.
Try our Vegan Pancake Mix recipe
63. Baked Apple Oatmeal
Capture the comforting flavors of warm, cinnamon-spiced baked apples with this toasty Baked Apple Oatmeal. This make ahead breakfast reheats easily for a low stress holiday morning.

Try our Baked Apple Oatmeal recipe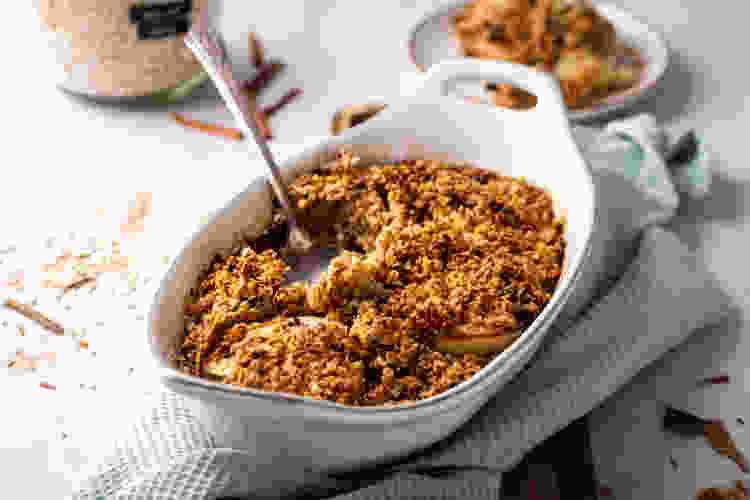 64. Zucchini Pancakes
The natural sweetness of the squash and fluffy consistency of ricotta blend perfectly in these healthy and delicious Zucchini Pancakes. Use a grater to finely shred the zucchini so it is evenly dispersed throughout the batter. The cooked pancakes can easily be frozen and reheated for a quick, nutritious breakfast.
Try our Zucchini Pancakes recipe
65. Sweet Potato Toast
Sweet Potato Toasts are a satisfying and nutrient-rich base for sweet or savory Christmas breakfast ideas. For a savory treat, try smashed avocado with bright cherry tomatoes and a sunny side up egg, or for a sweet start to the morning, spread on some nut butter, sliced bananas and a drizzle of maple syrup.

Try our Sweet Potato Toast recipe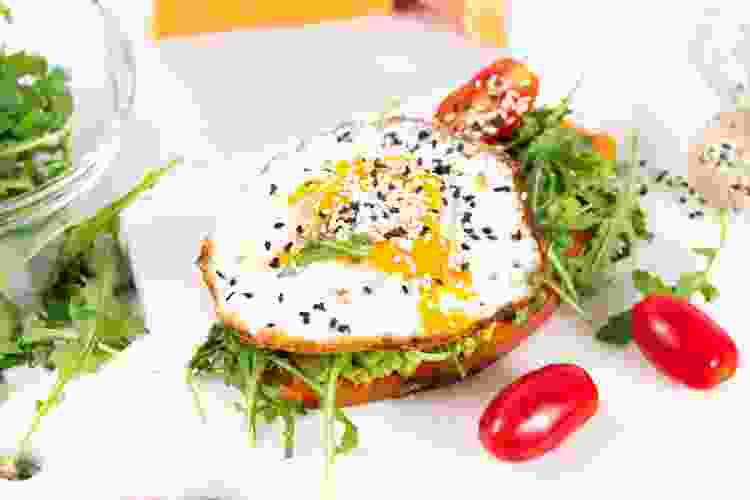 66. Candied Cherries
These glossy and decadent Candied Cherries are a versatile addition to a wide range of Christmas breakfast ideas. Make a batch ahead of time to enjoy with pancakes and waffles, coffee cake, oatmeal or even a festive Christmas cocktail.
Try our Candied Cherries recipe
67. Cranberry Orange Scones
With citrusy orange zest and jewel-like dried cranberries, these Cranberry Orange Scones are bursting with bright holiday flavor. Christmas breakfast ideas like these rich, buttery scones make a festive addition to a holiday brunch and pair perfectly with a hot mug of coffee or tea.

Try our Cranberry Orange Scones recipe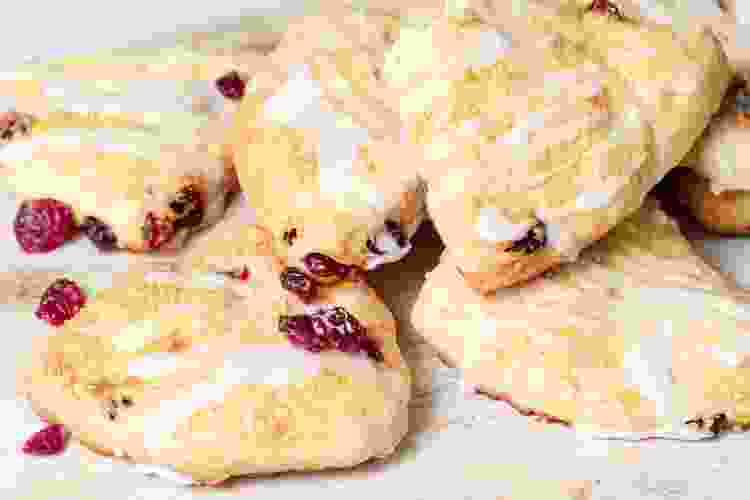 68. Fluffy Homemade Biscuits
A go-to biscuit recipe is a must have for easy make ahead breakfasts. These Fluffy Homemade Biscuits from Natasha's Kitchen are the perfect base for a hearty plate of biscuits and gravy, stacked breakfast sandwiches, satisfying breakfast casseroles or to serve simply with some butter and jam.
69. Cranberry Yogurt Muffins
The secret ingredient in these Cranberry Yogurt Muffins by Ahead of Thyme keeps the festive holiday treats moist and tender. Studded with bright cranberries, these make ahead muffins are Christmas breakfast ideas that can be prepared the night before or frozen and reheated for a simple, seasonal breakfast.
70. Gingerbread French Toast Bake
With warm, aromatic spices and a rich custard, this Gingerbread French Toast Bake from In Katrina's Kitchen is Christmas morning in a casserole dish. This festive breakfast bake can be assembled ahead of time and finished with your favorite holiday additions from tart dried cranberries and crisp streusel topping to a wintry dusting of powdered sugar.
71. Make Ahead Breakfast Pie with Lattice Bacon Crust
This Make Ahead Breakfast Pie with Lattice Bacon Crust by Bowl of Delicious is the perfect centerpiece for a holiday brunch. Elegant and satisfying, this eggy breakfast pie is topped with woven strips of crisp, smoky bacon.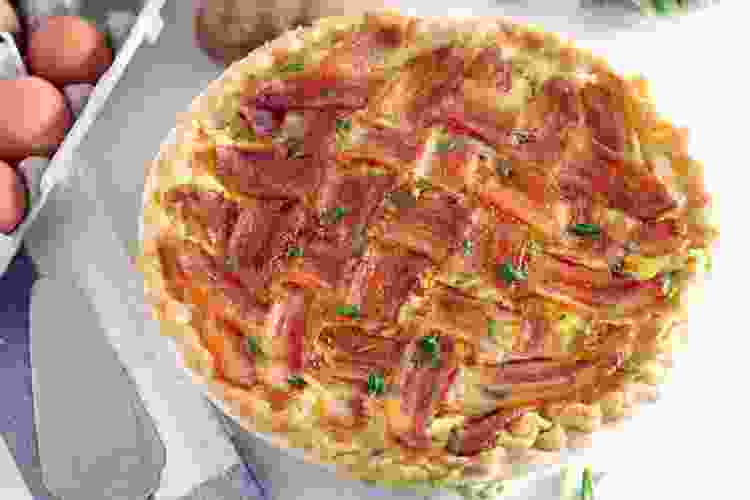 72. Biscuits and Gravy Egg Bake
Hearty breakfast casseroles like this Biscuits and Gravy Egg Bake by Pinch of Yum are excellent Christmas breakfast ideas for easy holiday mornings. This satisfying combination of fluffy biscuits, rich gravy and tender eggs can be made ahead and simply reheated in the oven for breakfast or brunch.
73. Cranberry Pistachio Biscotti with White Chocolate Drizzle
These crisp Cranberry Pistachio Biscotti with White Chocolate Drizzle by Little Spice Jar paired with a hot cup of coffee or tea offer a cozy way to start the holiday. Make an extra batch of these festive cookies to give as homemade gifts for friends and family.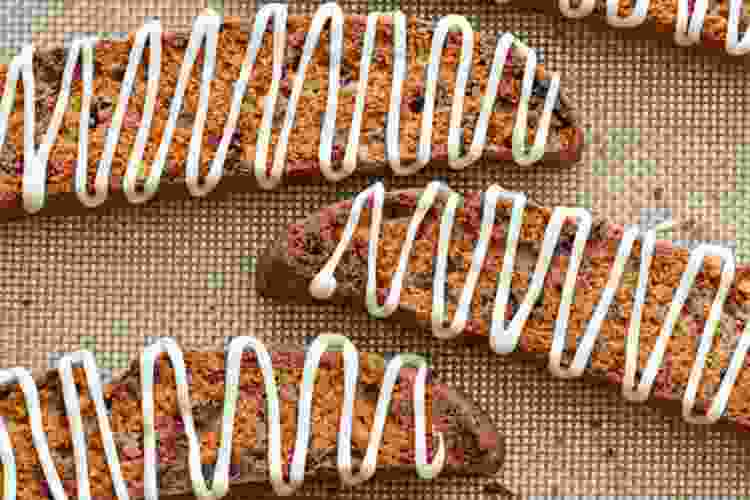 From decadent French toast to savory skillets, these festive Christmas breakfast ideas allow family and friends to focus on spending quality time together while celebrating this special day. Whether you spend the morning savoring an elaborate breakfast feast or grab a quick bite on your way out the door to attend the day's festivities, these sweet and savory Christmas breakfast ideas add a touch of holiday spirit to this merry morning.
For more Christmas breakfast ideas and inspiration for other holiday meals, check out Cozymeal Recipes. Browse the Cozymeal Shop to stock your kitchen with helpful tools and accessories for preparing holiday treats as well as creative gift ideas for foodie friends and family members.