35 Best Vegan Breakfast Ideas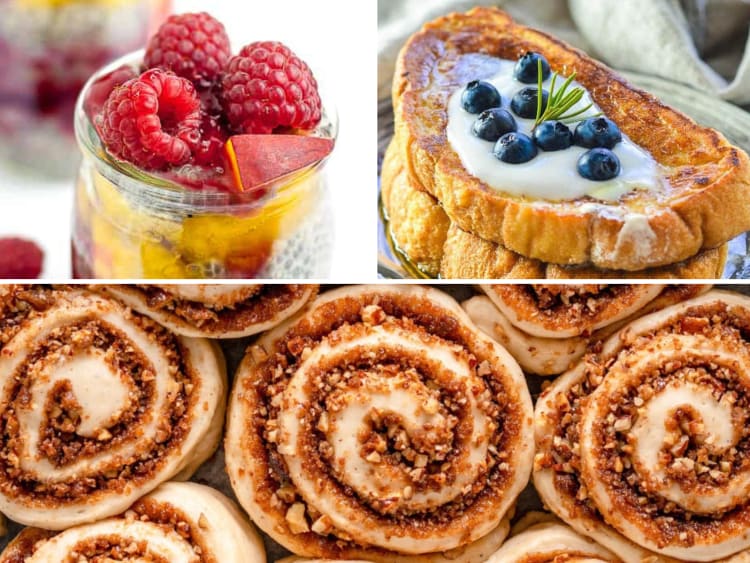 When classic American breakfast staples like eggs, meat and dairy are not part of your diet, sometimes you have to get creative to find exciting and delicious vegan breakfast ideas that go beyond oatmeal or a plain tofu scramble. With an increasing variety of simple swaps, meat alternatives and natural plant-based ingredients to choose from, it has never been easier to enjoy fun and diverse vegan breakfast ideas.
From healthy vegan breakfast ideas to decadent dishes that will satisfy a morning sweet tooth, the ever-expanding world of vegan breakfast ideas ranges from savory to sweet with plenty of options for the whole family. Drawing inspiration from American breakfast classics, childhood favorites and international recipes, here are 35 of our favorite vegan breakfast ideas for a bright start to your day.
Jump to Section
Easy Vegan Breakfast Recipes
1. Skillet Breakfast Potatoes
These Skillet Breakfast Potatoes are easy, versatile and a perfect addition to a breakfast plate, bowl or burrito. Tender, crisp and delicious, these simple to make potatoes can also be customized with your favorite herbs and spices.

Try our Skillet Breakfast Potatoes recipe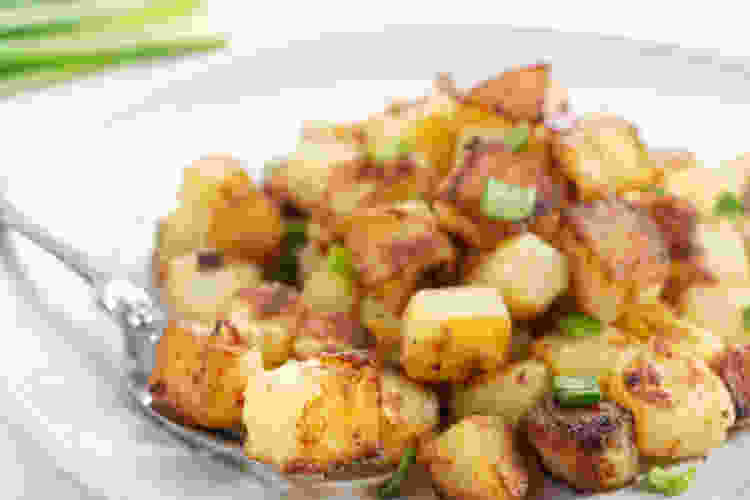 2. Vegan Pancake Mix
For quick and easy vegan breakfast ideas everyone will love, whip up a batch of this fiber-rich Vegan Pancake Mix with your favorite add-ins and toppings. You can even prepare the dry mix ahead of time so all you have to do is add the wet ingredients when you are craving a stack of fluffy, vegan pancakes.
Try our Vegan Pancake Mix recipe
3. Gluten Free Granola
A batch of this hearty Gluten Free Granola easily comes together for a crunchy and satisfying treat that is full of flavor and texture. Keep a jar of this medley of nuts and seeds on hand for a tasty morning snack or topping for yogurt, oatmeal, smoothie bowls and other vegan breakfast recipes.

Try our Gluten Free Granola recipe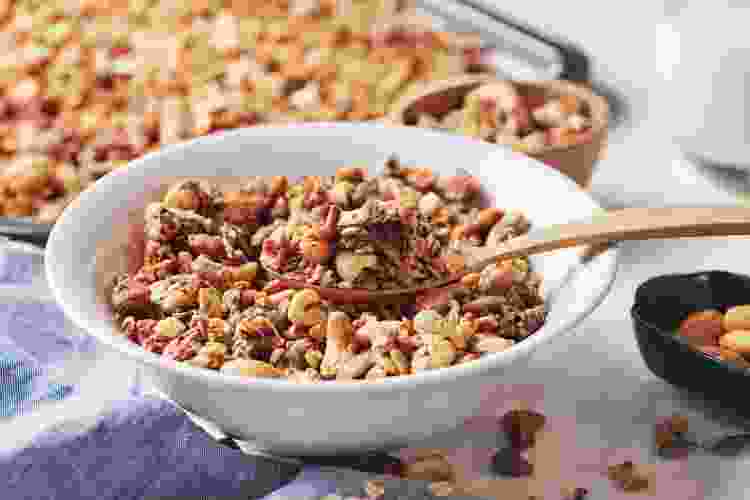 4. Vegan Pumpkin Bread
Perfect for the fall, or any time you feel like a taste of autumn, this Vegan Pumpkin Bread is filled with warm spices and cozy pumpkin flavor. The addition of nutty, seed topping to this vegan breakfast idea gives a crunchy, textural contrast to the soft, tender loaf.
Try our Vegan Pumpkin Bread recipe
5. Almond Flour Banana Muffins
Topped with a slice of fresh banana and a drizzle of nut butter, these Almond Flour Banana Muffins are a beautiful and delicious way to start your morning. Grab a muffin pan because this vegan and gluten-free recipe is about to become a go-to for easy vegan breakfast ideas, office treats, bake sales and more.

Try our Almond Flour Banana Muffins recipe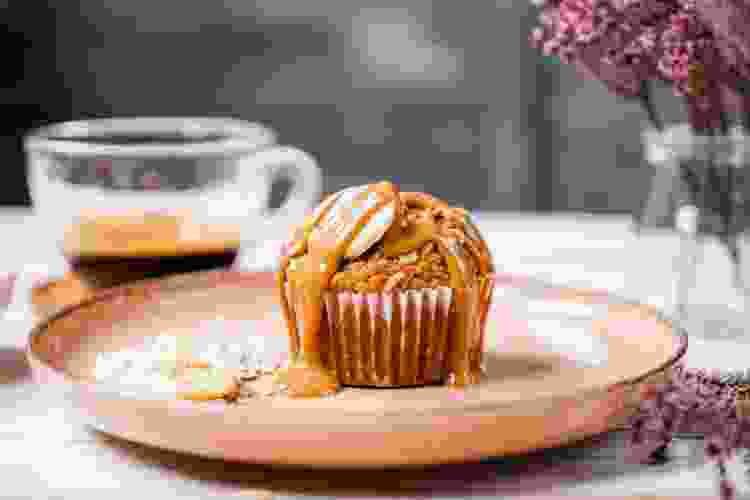 6. Eggy Vegan Breakfast Sandwiches
Upgrade your morning with these Eggy Vegan Breakfast Sandwiches by Connoisseurus Veg made with savory chickpea patties and spicy cashew cheese. These hearty sandwiches are vegan breakfast ideas that can be prepared ahead of time and frozen pre-assembled for a quick, satisfying breakfast whenever you need it.
7. Vegan Crepes
Whether sweet or savory, these Vegan Crepes by The Edgy Veg are quick, easy and extremely versatile vegan breakfast ideas. Fire up a skillet or crepe pan to prepare this delicate French treat that can be filled with all of your favorite combinations from sliced bananas and hazelnut spread to sauteed spinach and mushrooms.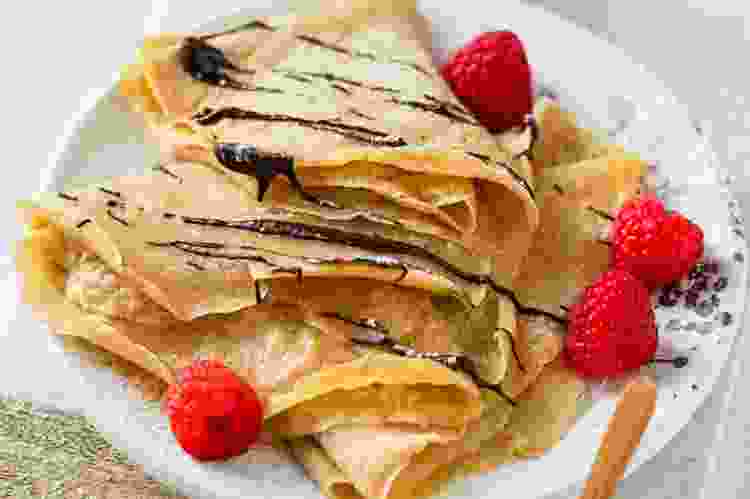 High Protein Vegan Breakfast Recipes
8. Tempeh Bacon
This smoky and sweet Tempeh Bacon is an easy way to add a protein boost to a variety of savory vegan breakfast ideas. Enjoy this tangy tempeh in breakfast sandwiches or wraps and alongside a stack of pancakes or tofu scramble.
9. Pistachio Latte
Treat yourself to this luxurious Pistachio Latte for an elegant vegan breakfast idea. Rich in protein, fiber and antioxidants, nutty pistachios combine with earthy matcha for a beautifully balanced, café-style beverage.

Try our Pistachio Latte recipe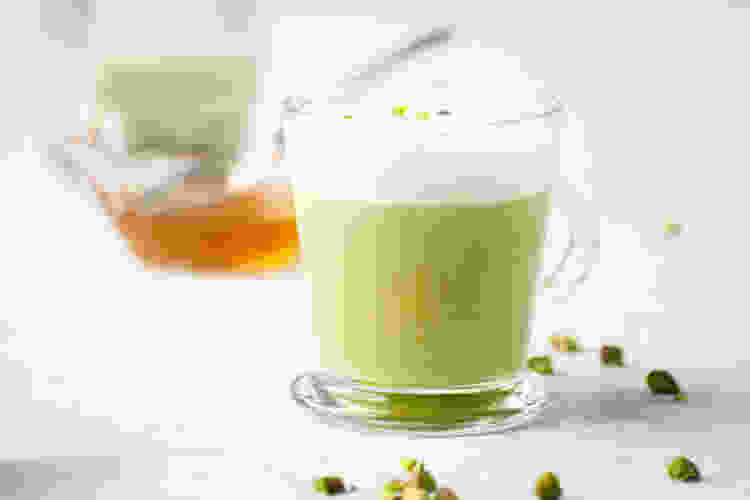 10. Quinoa Breakfast Bowl
Warm and satisfying, this Quinoa Breakfast Bowl by Glue and Glitter packs a hearty punch of protein. Customize this high protein vegan breakfast with your preferred combination of nuts, seeds and fruits for an easy, filling morning meal.
11. Mini Raspberry Peach Chia Seed Puddings
The colorful and nutritious Mini Raspberry Peach Chia Seed Puddings by Flavour and Savour puts a vibrant twist on a classic chia pudding. Perfect for meal prep, these nutrient-dense puddings are healthy vegan breakfast ideas that require no cooking, can be made overnight, keep well in the fridge for several days and are easily customized with your favorite fruits and toppings.
12. Protein Veggie Smoothie
This six ingredient Protein Veggie Smoothie by The Edgy Veg is a nutritious, high protein vegan breakfast that is perfect for busy mornings or to refuel after a workout. If you are not a fan of protein powder, swap in protein-rich ingredients such as soy milk, spirulina or hemp, chia or flax seeds for a delicious alternative.
13. Chickpea Avocado Breakfast Enchiladas
Chickpeas are an excellent source of plant-based protein and just so happen to make a delicious filling for enchiladas. These spicy Chickpea Avocado Breakfast Enchiladas by Connoisseurus Veg are great for meal prep, weekend brunch or feeding a hungry crowd. Give this hearty breakfast even more of a protein boost by adding some black or pinto beans, tofu scramble, tempeh bacon, spinach or a sprinkle of nutritional yeast or a nutritional yeast substitute.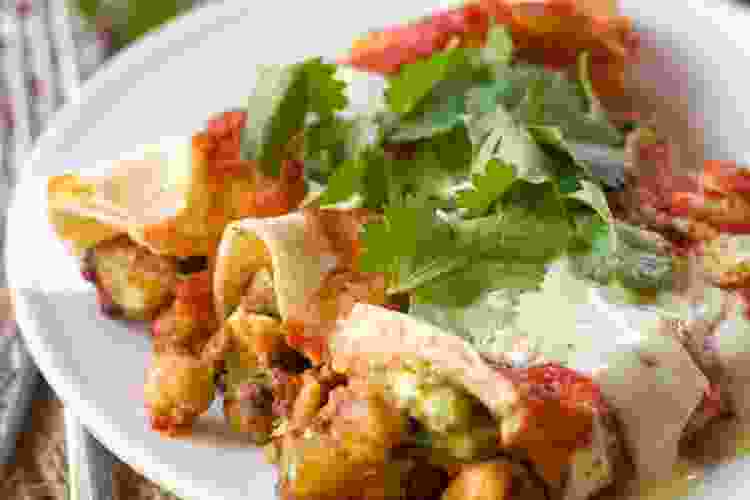 14. Tofu Scramble
When it comes to high-protein vegan breakfast ideas, vegans and omnivores alike should have a good tofu scramble recipe in their repertoire. This Tofu Scramble by Live Eat Learn incorporates nutrient-rich turmeric, nutritional yeast and a few dollops of hummus for a creamy texture and extra boost of protein.
Savory Vegan Breakfast Ideas
15. Vegan Breakfast Burrito
With a savory tofu scramble, crispy fried potatoes and creamy cashew cheese all spiced and wrapped in a tortilla, this Vegan Breakfast Burrito has everything you need for a satisfying morning meal. Whether at home or on the go, a hearty breakfast burrito stuffed with flavorful ingredients is one of our favorite vegan breakfast ideas.

Try our Vegan Breakfast Burrito recipe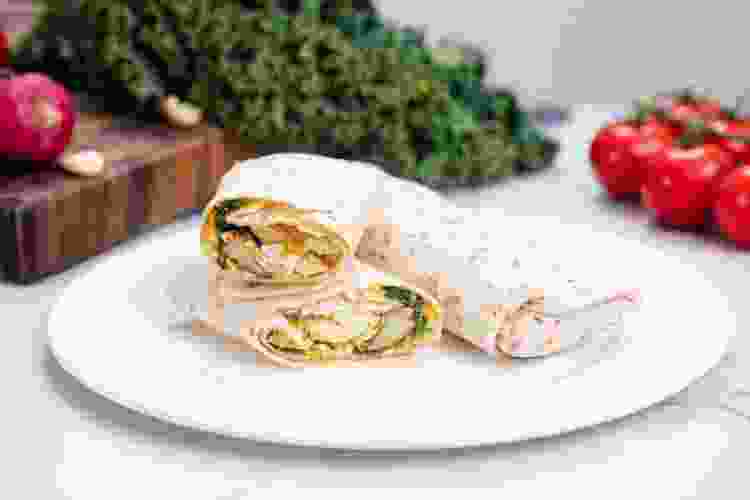 16. Spanish Salmorejo and Avocado Toast
Liven up classic avocado toast with a touch of Spanish flair. This Spanish Salmorejo and Avocado Toast from Simple Vegan Blog combines the flavors of a vibrant traditional soup with fresh, creamy avocado for a unique take on one of the most popular vegan breakfast ideas.
17. Vegan Congee
A classic Japanese comfort food gets a plant-based makeover with this recipe for Vegan Congee from Healthy Nibbles by Lisa Lin. This cozy rice dish is a versatile vegan breakfast idea that can be made on the stovetop or in a pressure cooker and customized with your favorite toppings.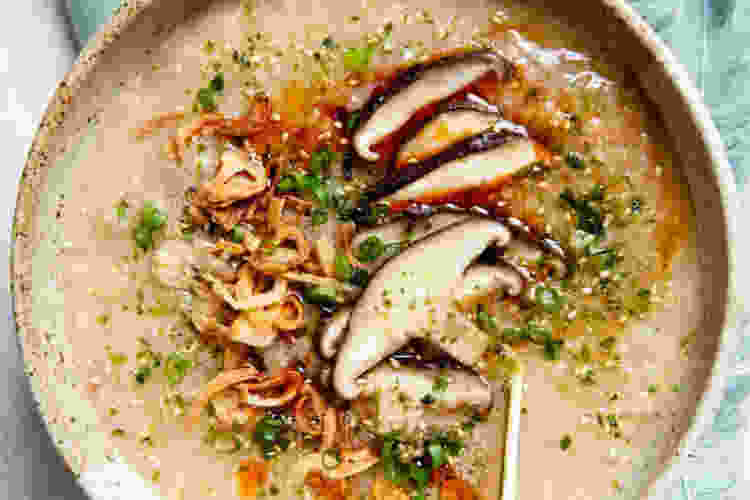 18. Savory + Crispy Vietnamese Crepes
These Savory and Crispy Vietnamese Crepes by Olives for Dinner draw inspiration from traditional bánh xèo, a stuffed rice flour pancake and popular street food enjoyed throughout the central and southern regions of Vietnam. This version is filled with a variety of umami-rich mushrooms and is served with tangy nuac chom for dipping.
19. Vegan Shakshuka
Taking a cue from the iconic "eggs in purgatory" popular across the Mediterranean, North Africa and the Middle East, this spicy Vegan Shakshuka by A Virtual Vegan recreates the rich and fiery flavors of the classic dish. This hearty, one-pot breakfast is great for dipping, especially with a fresh piece of crusty bread.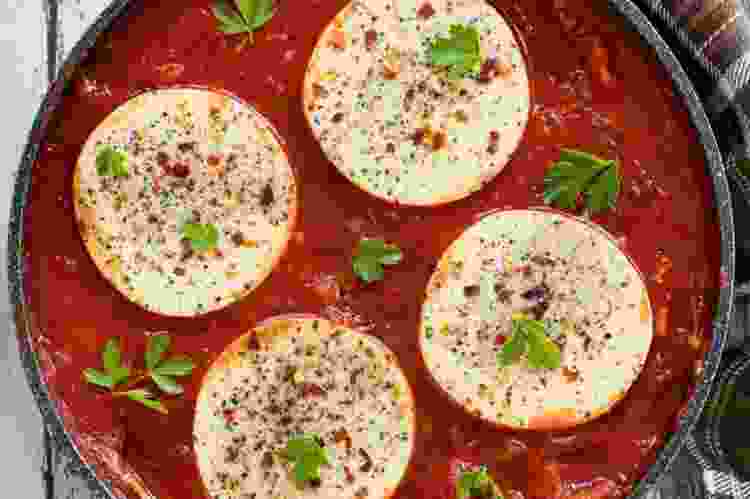 20. Vegan Migas
Breakfast is better when it's Tex-Mex and these Vegan Migas by Connoisseurus Veg are no exception! Traditional migas are made by scrambling eggs with salsa and tortilla strips, but this vegan breakfast idea transforms a classic tofu scramble into a delicious, Tex-Mex inspired morning meal.
21. Carrot Lox
The soft, velvety texture of this Carrot Lox by Olives for Dinner is a perfect complement to a classic bagel slathered in vegan cream cheese. The seasoned, slow-roasted carrots are also a great addition to other vegan breakfast ideas such as sandwiches, wraps or even savory oatmeal.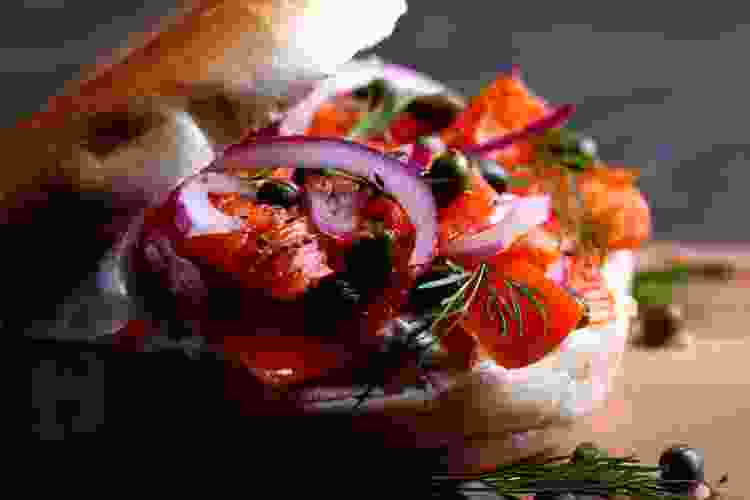 Sweet Vegan Breakfast Ideas
22. Vegan Scones
Light and fluffy Vegan Scones are finished with a zesty lemon glaze for a bright twist on a British classic. These delicately sweet scones are easy to make and great vegan breakfast ideas to pair with a hot cup of tea.
23. Turmeric Latte
This fragrant Turmeric Latte is a creamy, delicately sweet beverage perfect for jumpstarting your morning. The natural sweetness of coconut milk enhanced with a dash of coconut sugar combines with the bright bite of ginger and the warm aroma of cinnamon to create a cozy vegan breakfast idea to rival your favorite coffee shop.

Try our Turmeric Latte Recipe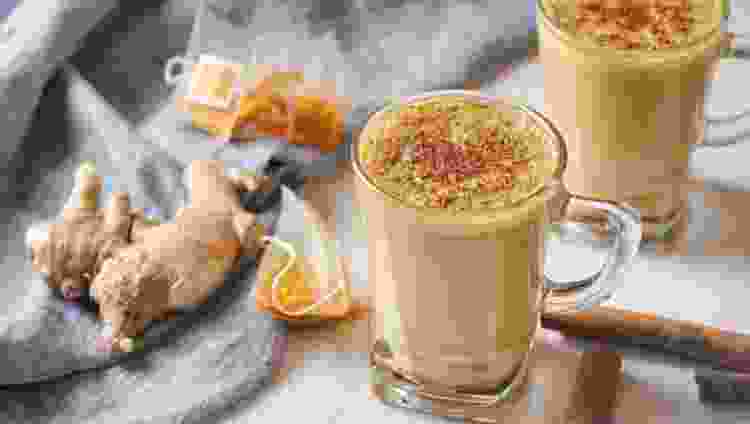 24. Candied Cherries
These vibrant Candied Cherries are a delightful complement to a variety of vegan breakfast ideas. Add this sweet and tangy cherry compote to yogurt, oatmeal, pancakes, toast and your favorite vegan breakfast recipes.
Try our Candied Cherries recipe
25. Vegan French Toast
Traditional French toast is a beloved breakfast dish rich in butter and eggs. Thanks to the magic of tofu, this Vegan French Toast from A Virtual Vegan recreates, and perhaps even improves upon, the classic dish with a crisp, golden brown exterior and soft, custard-like center. Enjoy this recipe as is or as the base for creative vegan breakfast ideas such as cutting the bread into kid-friendly French toast sticks or transforming it into a sweet breakfast casserole.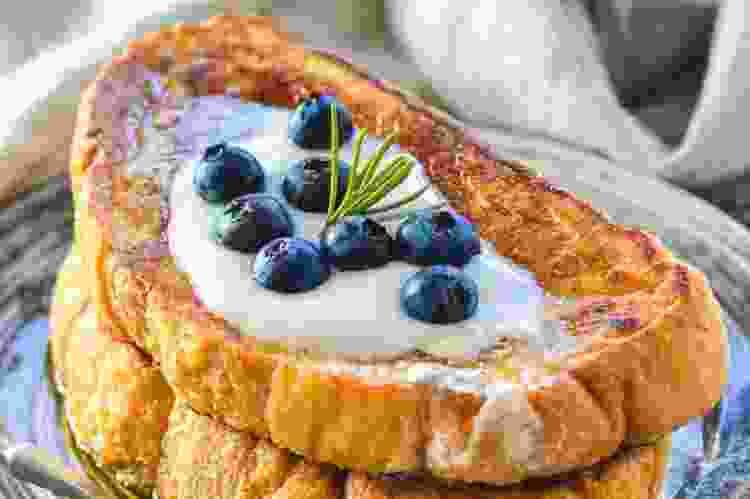 26. Vegan Custard Toast
Inspired by a sweet treat found in bakeries across Asia and popular in Taiwanese bubble tea cafés, the Vegan Custard Toast by The Edgy Veg fuses the beloved Asian pastry with Western breakfast traditions. Custard toasts are vegan breakfast ideas that are beautiful, sweet and full of possibilities, topped with anything from colorful berries or bright tropical fruit to rich chocolate chips or crunchy seeds and nuts.
27. Vegan Apple Crumble Donuts
These Vegan Apple Crumble Donuts by Connoisseurus Veg combine all the best parts of classic sweets like apple crumble and coffee cake into a decadent morning treat. With a special donut pan, you'll be turning out these delightful donuts in no time.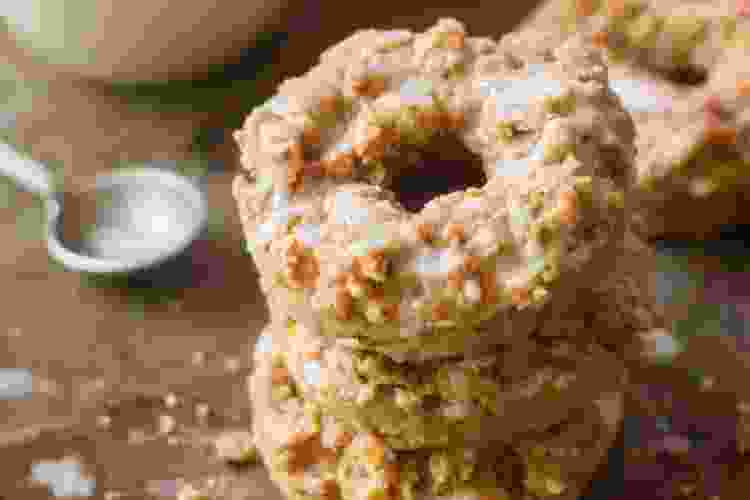 28. Vegan Monkey Bread with Apples and Cranberries
Monkey bread is a sweet and sticky breakfast classic that is perfect for weekend brunch and festive gatherings. With tangy fruit and a caramel-like glaze, this Vegan Monkey Bread with Apples and Cranberries by Fried Dandelions is a cozy morning treat that is sure to become a family favorite.
Vegan Breakfast Ideas for Kids
29. Dragon Fruit Smoothie
This colorful Dragon Fruit Smoothie is a fun way to introduce new fruits to kids with a vibrant and refreshing take on a breakfast smoothie. The bright colors, jammy figs and cute dragon fruit stars are sure to delight the whole family.

Try our Dragon Fruit Smoothie recipe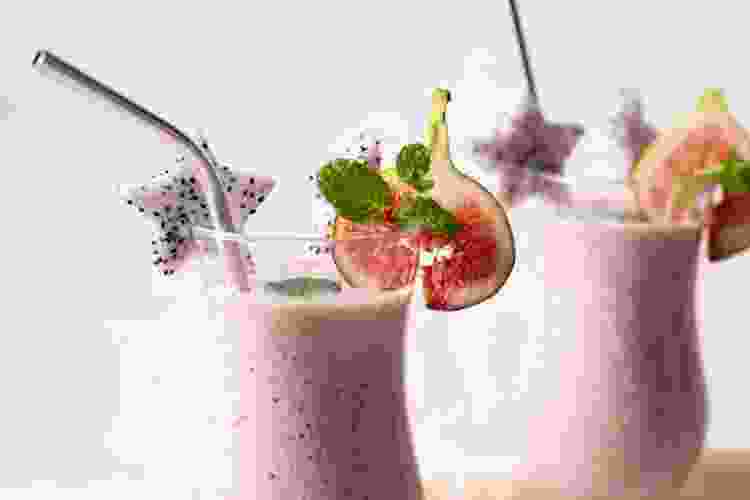 30. Vegan Zucchini Bread
This delicious Vegan Zucchini Bread is so good that no one will notice the vegetables. Kids will enjoy the warm spices of this lightly sweet bread while getting an extra boost of nutrients from this easy to make loaf.
Try our Vegan Zucchini Bread recipe
31. Vegan Cinnamon Rolls
Everyone can enjoy these delicious Vegan Cinnamon Rolls by Cloudy Kitchen. Topped with a luscious vanilla glaze, these classic breakfast rolls are also great as an afternoon snack.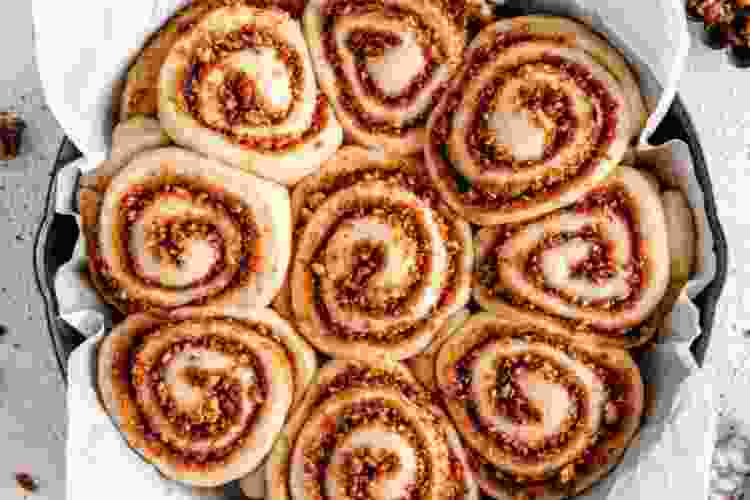 32. Savory (and Sweet) Stuffed Waffles
These Savory (and Sweet) Stuffed Waffles from Fried Dandelions are hearty vegan breakfast ideas that are fun to make and can be easily customized for discerning eaters. Whether you prefer to start the day with a savory bite or sweet treat, just whip up the batter, mix your favorite filling and pop it in a waffle maker for a warm and satisfying breakfast.
33. Tater Tot Breakfast Casserole
This plant-based Tater Tot Breakfast Casserole by The Edgy Veg is crispy, cheesy and satisfying. Topped with a creamy vegan hollandaise and savory vegan sausage, the whole family will love digging into this hearty casserole for weekend brunch, breakfast potlucks and special celebrations.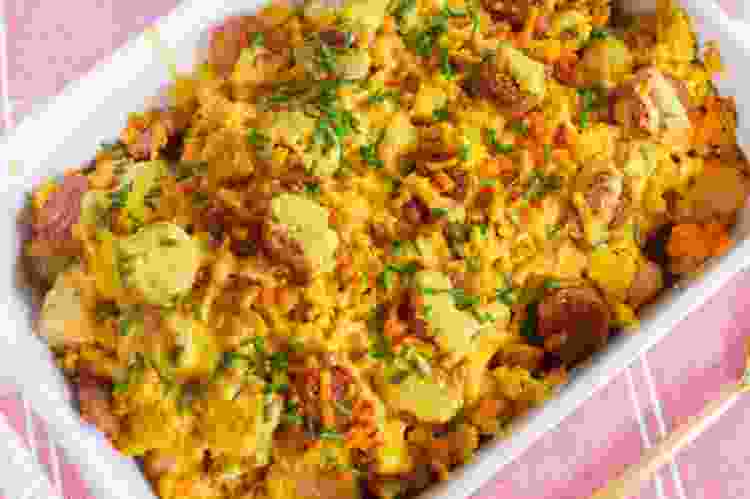 34. Almond Butter Baked Bananas
For simple vegan breakfast ideas to satisfy a sweet tooth without added sugar, try these quick Almond Butter Baked Bananas by Live Eat Learn. With gooey almond butter and a touch of cinnamon, the warm oven brings out the sweetness of the fruit for an easy breakfast with practically no clean up.
35. Vegan Pop Tarts
The classic childhood favorite goes plant-based with these colorful Vegan Pop Tarts by Connoisseurus Veg. Choose your favorite fillings to sandwich between flaky pastry and top with a sweet glaze for endless options of fun vegan breakfast ideas.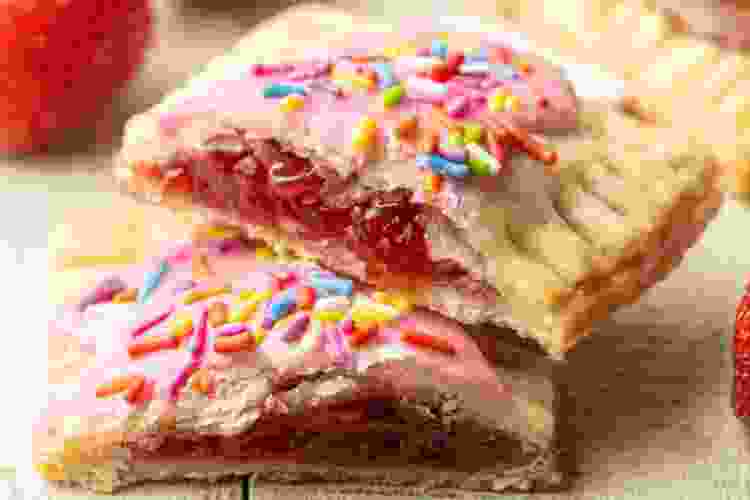 Whether you are vegan, have an egg or dairy allergy or want to add more plant-based meals into your routine, these diverse vegan breakfast ideas are a great way to inspire your culinary creativity. From easy weekday options to enticing ideas for kids, these vegan breakfast ideas are always delicious and never boring.
Check out Cozymeal recipes for more exciting vegan breakfast ideas and explore the Cozymeal shop to discover helpful tools for preparing your favorite plant-based dishes for breakfast, lunch and dinner.