62 Best Christmas Gifts for Mom in 2023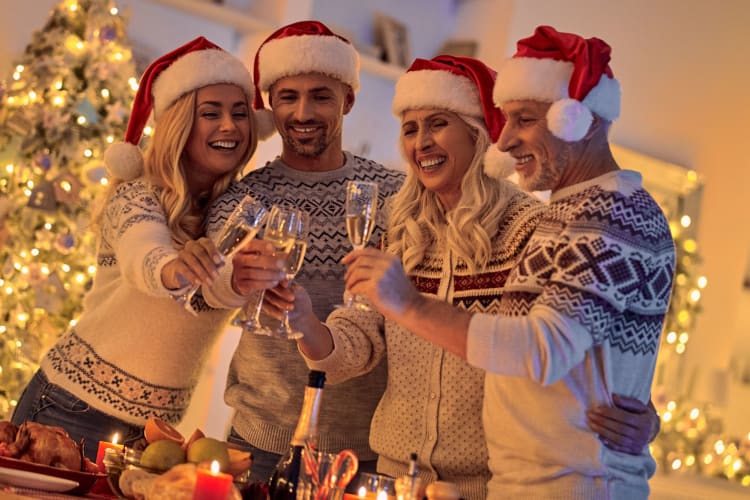 Our editorial team recommends the best products through independent research, selection and careful review. If you make a purchase through one of our affiliate links, we may earn a commission. Prices are subject to change.
Finding the perfect Christmas gifts for Mom can be a challenge every year, but one that is well worth it. Moms and their needs change throughout their lives, calling for a variety of approaches to gift giving. Whether you are looking for great gifts for new moms or perfect presents for mothers of adult children and empty nesters, there are a wealth of ideal gifts available at all price points.
Every mom is different, with their own hobbies and interests that determine the exact perfect gift each year. Whether your mom is an avid foodie or loves creative gifts, we've got you covered for perfect gift-giving that will make her Christmas memorable.
Jump to Section
Gift a Local Cooking Class Now
Give your favorite gourmand the gift of world-class cooking lessons with the best chefs in their city.
Foodie Christmas Gifts for Moms
1. Cooking Classes
A perfect gift for foodie moms is a cooking class. Whether you are looking for cooking classes in Dallas or cooking classes in Philadelphia, there are a number of great cooking classes near you teaching Mom how to make a variety of culinary delights that she will love, featuring everything from sushi to soul food. You can also give the gift of virtual learning through a number of online cooking classes.
Price: $65+, $29+ for online classes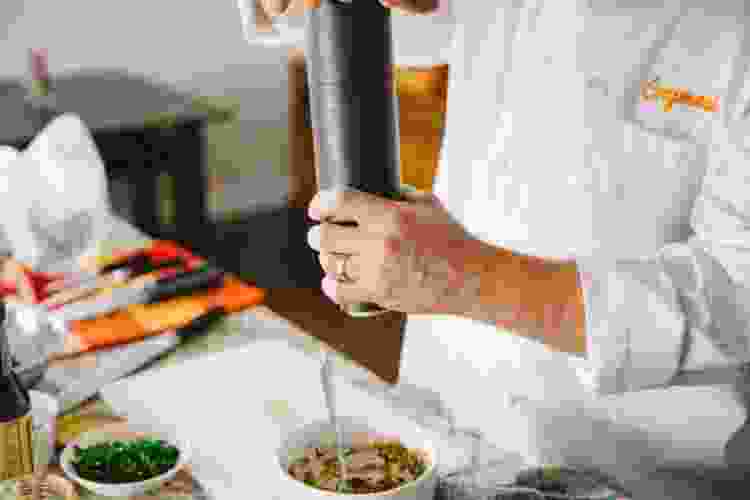 2. Private Chef Experiences
Every mom is a busy mom around the holidays. Give her a break by gifting her a private chef experience that will bring world-class cuisine prepared in her very own home by an experienced chef who will even do the washing up afterward. Whether you are looking for private chefs in NYC or private chefs in San Francisco, there is a huge selection of private chefs near you that are a perfect gift for Mom.
3. Food Tours
A great experience gift for Mom this Christmas is a food tour in your city, which can cover local cuisine, international fare and a variety of topics. Check out food tours in Vancouver, food tours in Boston or even browse food tours near you to find the perfect experience for your mom this Christmas.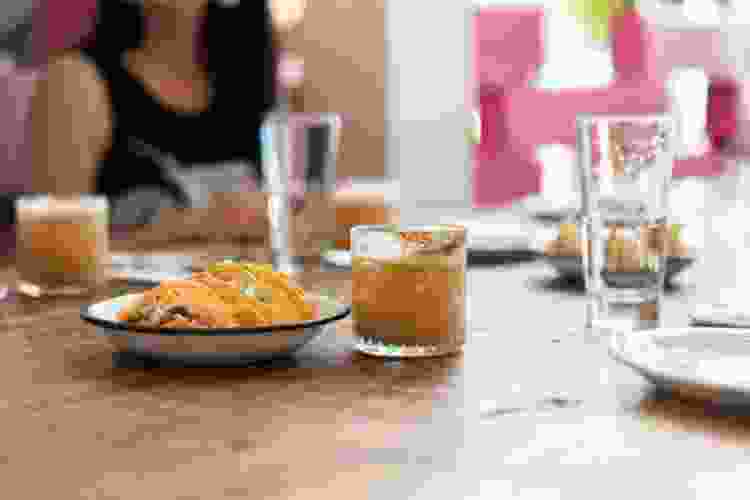 4. Online Beverage Tasting
A fun Christmas gift for Mom is enrolling her in an online beverage tasting, which allows her to sample a number of beverages from the comfort of home with instruction from professionals on how best to experience the fare. A number of virtual wine tastings and online mixology classes will thrill Mom with the possibilities and provide a great experience.
5. Marcato Atlas 150 Pasta Machine
For the foodie mom, a great Christmas gift includes some of the best cookware and appliances available in the Cozymeal Shop. One of our favorites is the Marcato Atlas 150 Pasta Machine, which can be used to make the best homemade fettuccine, lasagna and tagliatelle. Made in Italy, this machine is one of the best pasta making tools and provides timeless Old World technology with a sleek, modern appearance.
6. Global Grub DIY Sushi Kit
The Global Grub DIY Sushi Kit makes a perfect gift for the avid sushi lover and is one of the best sushi making kits on the market. This DIY kit comes with just about everything a sushi-loving mom needs to handcraft her favorite sushi at home.
Gift a Private Chef Experience Now
Treat someone special to gourmet fine dining at home. Gift a private chef experience starting at $59/person.
7. Calphalon Classic Self-Sharpening 12-Piece Cutlery Knife Block Set
A great gift for moms this Christmas is a new set of knives for the kitchen. The Calphalon Classic Self-Sharpening 12-Piece Cutlery Knife Block Set looks as beautiful on your countertop as it is useful. The set features 12 blades and a block with self-sharpening material inside.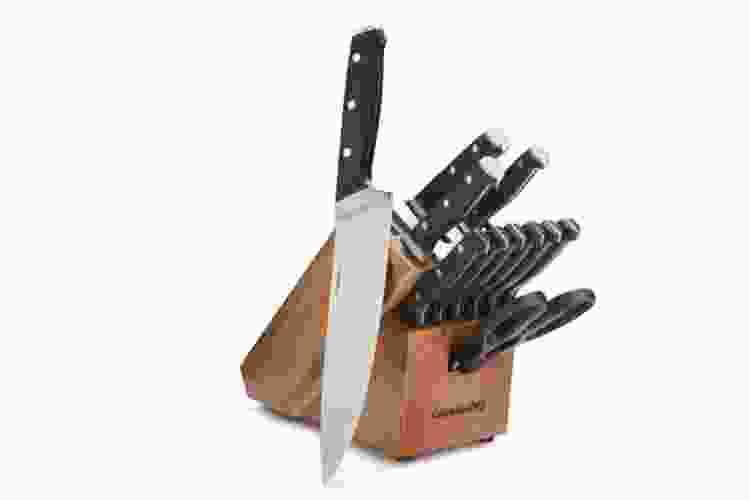 8. Ballarini 3-Piece Pizza Pan Set
A perfect Christmas gift for the foodie mom is a new set of cookware. One of our favorites is the Ballarini 3-Piece Pizza Pan Set. Made in Italy, the set includes a circular non-stick pizza pan, rectangular non-stick pizza pan and a pizza cutter. This set of pizza making tools is perfect for family pizza nights.
9. Foodie Gift Card
This flexible Christmas gift for moms comes in any amount over $10 and never expires. A foodie gift card can be used for any culinary gifts, including cooking classes, food tours and private chefs as well as for cookware in the Cozymeal Shop.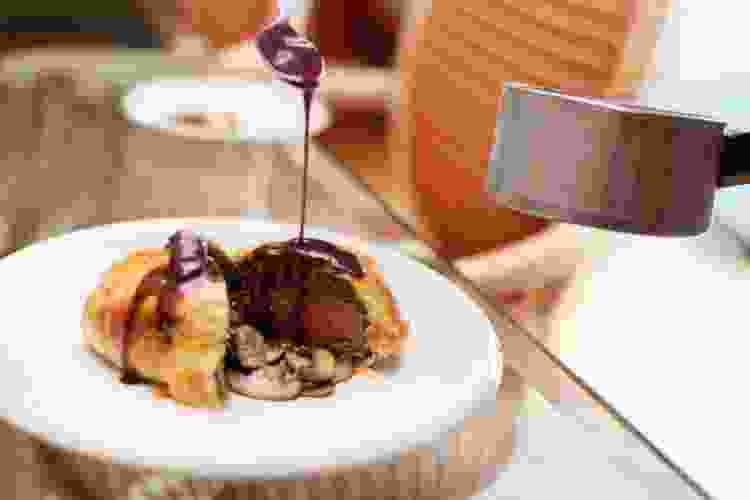 10. Wine Advent Calendar
A wine advent calendar makes an excellent gift for Mom, offering a selection of wine perfect for the holidays and celebrations. Vinebox's 12 Nights of Wine is an excellent choice, providing a wine for every day leading up to Christmas in a single-serve glass tube. This makes a good Christmas gift for Mom, particularly if she loves to sample different vintages.
11. Hot Cocoa Basket
Winter is a great time for hot cocoa with all the fixings. The Harry & David deluxe holiday hot cocoa collection rounds up several flavor varieties, including mint and Belgian white chocolate, in charming little tins with a keepsake ornament and marshmallow-studded candy stir sticks. This Christmas gift for Mom is the perfect cozy gift for winter nights.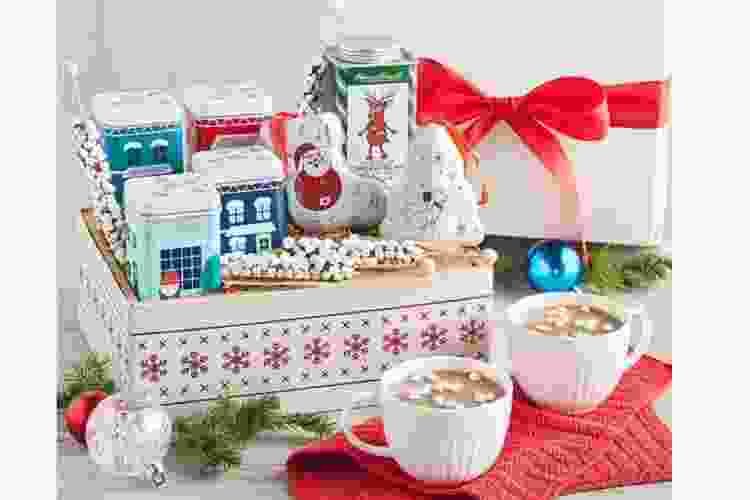 Christmas Gifts for Moms From Daughter
12. Perfume Sampler
Choosing a signature scent is sometimes a challenge. A perfect Christmas gift for Mom is Sephora's Favorites perfume sampler, which features 13 sample-size scents ranging from fruity florals to warm and sweet gourmands. Once you've chosen your favorite, you can redeem the Scent Certificate inside for a full-size bottle at Sephora at no additional cost. Whether your mom already has a favorite scent or is still trying to find one, this makes a perfect holiday gift.
Gift a Local Food Tour Now
The perfect gift for every gastronomist. Discover an abundance of culture and culinary delights with a five-star local guide.
13. Spa Day
A great Christmas gift for Mom is a relaxing spa day. Saunas, facials and massages are perfect ways to combat holiday stress. The SpaFinder gift card is a great way to offer flexibility across multiple locations. The gift card is good at thousands of locations nationwide for services and products and never expires. You can also turn it into a girls' weekend idea and join her for the spa day.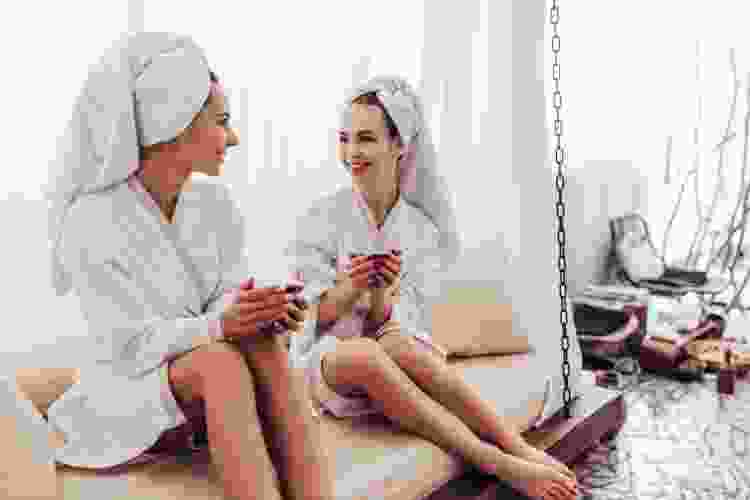 14. Bath Caddy
Another great relaxation gift for Mom from a daughter this Christmas is a bath caddy tray. Able to hold reading materials, tablets, candles and a glass of wine, this bathtub caddy from Garnet Hill is made from beautiful cherry wood and is water resistant, making it a perfect accompaniment to a long, relaxing bath.
15. Mother/Daughter Jewelry
Jewelry is always a great Christmas gift for moms, particularly coordinating mother/daughter pieces. This adorable mother/daughter dandelion necklace set features a larger and smaller version of the same design.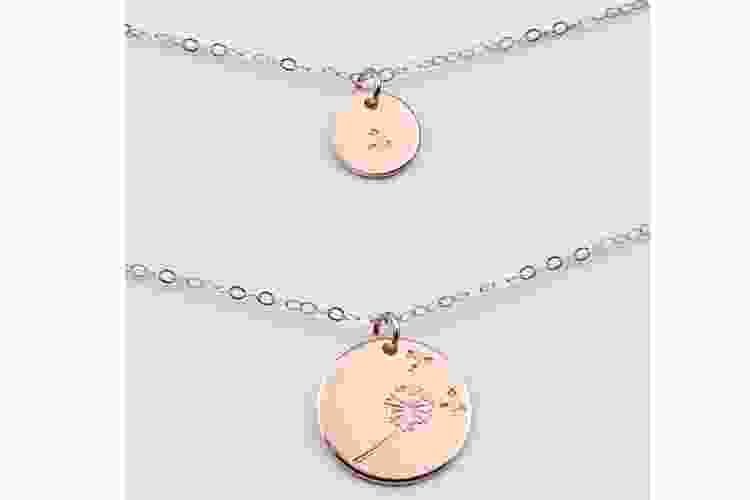 16. Custom Artwork
A unique and one-of-a-kind Christmas gift for moms is a personalized piece of custom artwork. Many artists will complete a finished piece from prized photos in a variety of mediums, including digital art, watercolor, oils and pastels. This personalized portrait combines an artist rendering alongside an inspirational quote.
17. Paint and Sip
A fun, creative gift idea for Mom this Christmas is taking part in a paint and sip or other social creative event. This makes an ideal outing before or after the holidays for her alone or with a group of friends. While workshops are offered by a number of different studios nationwide, you can also set Mom up with a sip n' paint experience box to enjoy at home.
18. Pajamas
A cozy Christmas gift for Mom from a daughter is a set of comfy pajamas in fabrics like flannel, silk and satin. These Nordstrom satin pajamas are perfect for lounging and sleeping.
19. Gardening Set
The best Christmas gifts for Mom reflect her passions. If your mom is an avid gardener or someone with a green thumb, a perfect Christmas gift for her may be a gardening tools set. This one includes a tote, gardening tools and gloves. While many places are a little too chilly to spend time in the garden over the holidays, she will spend the summer appreciating the gift.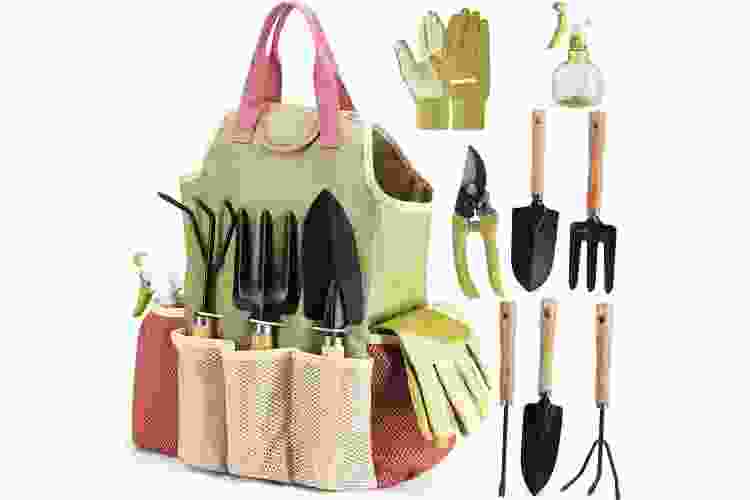 Gift an Online Cooking Class Now
Give your favorite gourmand the gift of world-class cooking lessons right from the comfort of their own kitchen.
Christmas Gifts for Moms From Son
20. International Candy Box
A great gift for Mom from a son this Christmas is a box of treats from various locales. The Universal Yums International Candy Box offers a selection of sweet and salty snacks from every continent on the globe, either in a single gift box or an ongoing subscription bringing treats from all over the world.
21. Foot Massager
There's nothing better than relaxing at the end of the day with a great foot massage. A perfect Christmas gift for a hardworking mom may be the Belmint Shiatsu foot massager machine. This luxurious machine features built-in rollers and massaging air pockets that relieve tired and stressed feet.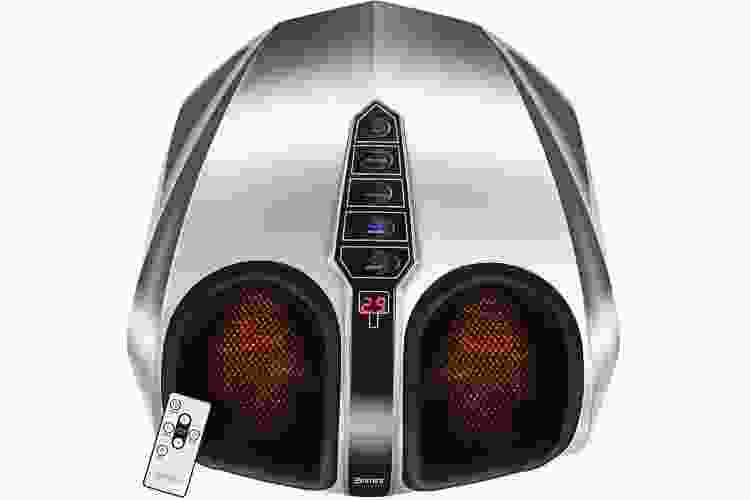 22. Funny Towels
For moms with a great sense of humor, a perfect Christmas gift is a set of these funny hand towels. With humorous sayings like "Would Poop Here Again" and "Wash Your Hands (No Seriously)," they'll make any set of guest towels a barrel of laughs. For any mother that ever prohibited the use of fancy guest towels for regular occasions, these towels are particularly apropos.
23. Winter Wear
Did your mom always remind you as a kid to wear your hat and gloves? A great Christmas gift for moms like this is a prime set of winter wear of her own. These Lands' End cashmere-lined gloves are both warm and comfortable. They are also beautiful and come in a range of color options.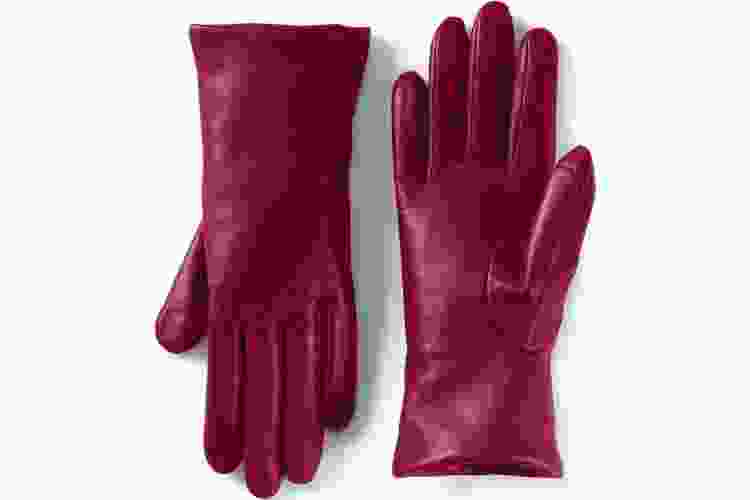 24. An E-Reader
A perfect Christmas gift for moms who are avid readers, e-readers allow a lighter alternative and more portability than a stack of books. While Kindles come in a variety of price points, the more luxurious Kindle Scribe doubles as an e-reader and tablet, allowing a great page interface that resembles paper and a stylus for writing notes.
25. Throw Blanket
Winter nights require extra cozy accessories, making throw blankets one of the best Christmas gifts for moms. The Pottery Barn heathered boucle knit throw is a perfect blanket to curl up under, and it comes in a couple of great colors that complement any décor. It's a perfect gift for someone who has everything — because who doesn't need another throw blanket on a cold day?
Gift a Virtual Wine Tasting Now
The ultimate gourmet gift for any wine lover on your list. Virtual wine tastings bring a virtual vineyard experience right to you.
Last-Minute Christmas Gifts for Moms
26. Flowers of the Month
A great last-minute Christmas gift for moms is monthly shipments of gorgeous flower bouquets available through Bouqs Co. flower subscription. The subscriptions come in a variety of price points and bouquet sizes. You can also choose the type of flowers within each price range you would like your giftee to receive. Every month, a beautiful bouquet arrives, a gift that will surely keep on giving all year round.
27. Apple / i-Tunes Gift Card
Another good last-minute gift idea for moms who love music is a gift card for all her favorite tunes. Apple offers gift card services available in a variety of amounts. Apple Gift Cards are redeemable in the Apple Store for not only music, but other media like movies and games.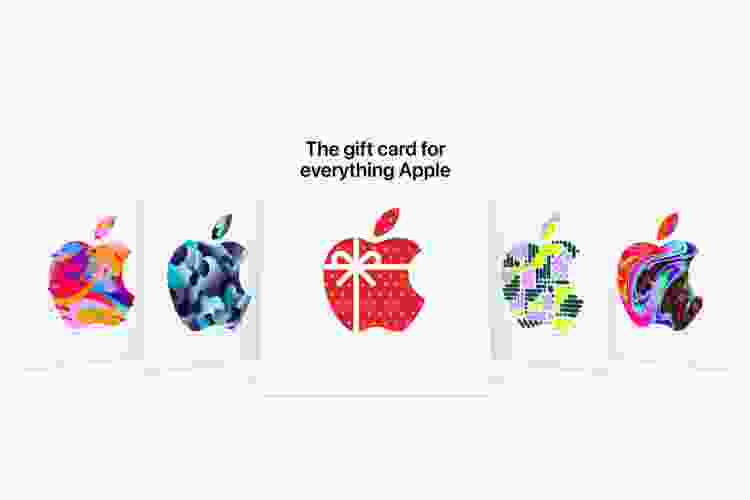 28. Tickets to a Show
Theater, ballet or music performance tickets to local productions are a fantastic Christmas gift for Mom. You can use them for an outing with Mom or furnish a great date night for her and Dad. Most local performing arts venues offer subscriptions and flexible attendance options for upcoming performances, including the series Broadway in Chicago, which brings national touring musicals to the Midwest each season. For a great night out, combine tickets or a subscription with a restaurant gift card.
29. Museum Membership
Another great Christmas gift for moms who love arts and culture is a museum membership for the coming year at local museums. Places like the Art Institute of Chicago offer memberships across an array of price points and perks, including admission for guests, swag, gift shop discounts and special invites to openings or other museum events.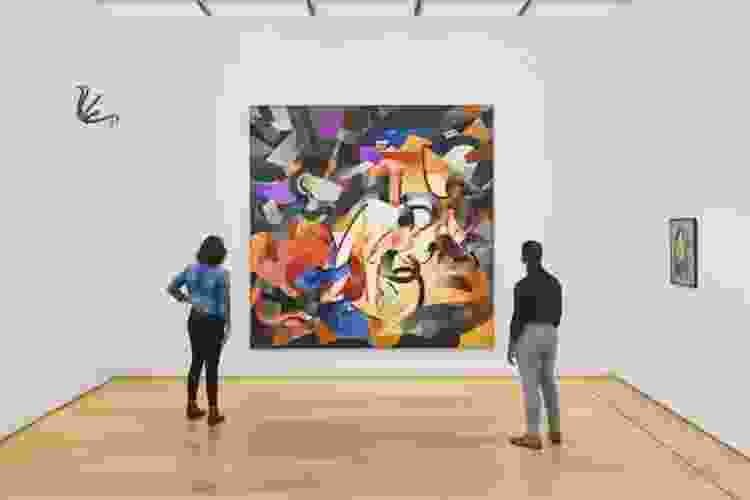 30. Book of the Month Club
If Mom is an avid reader, a great Christmas gift is a membership in the Book of the Month Club, which sends the hottest reads her way each month and offers a number of discounts on new releases. Whether she is into romances, mysteries or biographies, the Book of the Month Club has thousands of great selections delivered right to your door.
31. Beauty Subscription Box
A number of beauty box subscription services deliver products monthly, including cosmetics, bath and body and perfumes. An excellent last-minute Christmas gift for Mom is the Ipsy Box, which can be purchased in various monthly ranges, including a 12-month option. Each box contains a number of deluxe or full-size products that will keep Mom feeling beautiful every day of the year.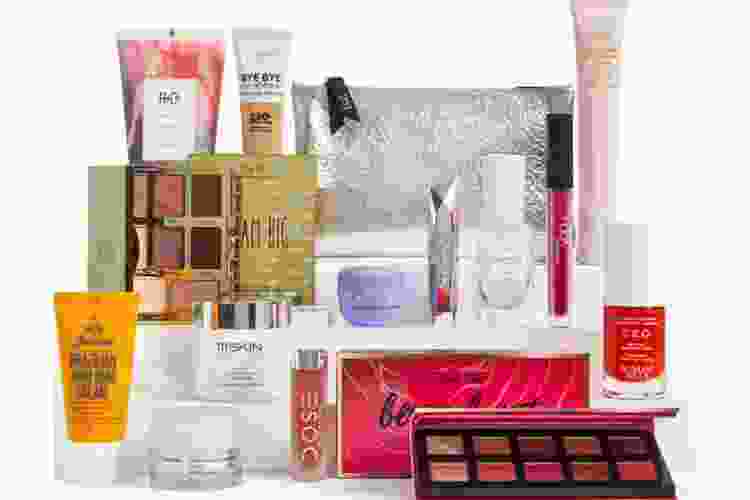 Gift an Online Mixology Experience
Raise a toast to the perfect gift. Enjoy craft cocktails, bartending basics and more taught by five-star mixologists.
32. Streaming Service
For moms who love entertainment, a perfect Christmas gift may be a streaming subscription to any number of providers with her favorite shows. While everyone has their favorite network, a gift subscription offers a chance to try out new ones or chip in on existing services like Hulu, Netflix, Disney+ and HBO Max. Gift cards and subscriptions come in varying amounts and pay for monthly access to a wealth of films and series.
Christmas Gifts for New Moms
33. Keepsake Book
A memorable Christmas gift for new moms is one of the many baby keepsake books available. These provide a perfect way to save both information and mementos of their little one. Maisonette Peep's paper baby book is a wonderful option for recording milestones and memories and is as beautiful as it is functional.
Price: $125

via Maisonette
34. Diaper Delivery Service
Every new mom needs essential supplies for baby care. A useful Christmas gift for new moms are diaper bundles and delivery services. The Honest diapers and wipes bundle provides regular shipments of both diapers and related accessories for babies, with options for size changes to adapt to ongoing and changing needs.
35. Mom and Baby Outfits
Matching outfits for Mom and the new baby are a perfect Christmas gift for new moms. Mommy & Me matching t-shirts are a particularly cute way for Mom and her baby to play twinsies. Adorable mother/baby options are available in a number of sizes and designs.
36. A Star Named After Baby
A unique Christmas gift for new moms is participating in the Star Naming program, which allows the new baby's name to grace a star billions of light-years away. A number of packages and perks are available at various price points and feature not only the naming, but also official documentation and related keepsakes.
37. Baby Bag
Every new mother will agree on the importance of a perfect carry-all. Babies need a lot of accessories, and it can be a struggle to make everything fit in one convenient bag. A useful Christmas gift for new moms is the Keababies original diaper backpack, which not only holds a lot of baby gear, but provides a comfortable wear for even the heaviest of loads.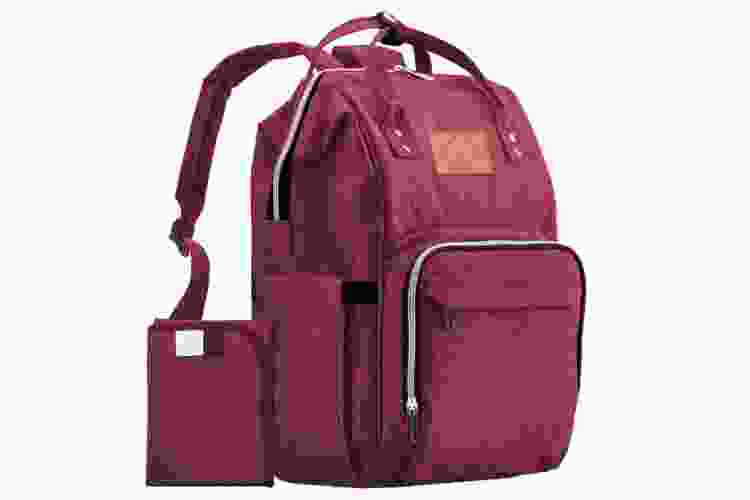 38. Rocking Chair
A perfect Christmas gift for Mom and baby is a comfortable rocker for all those late-night feedings. The Wayfair channel tufted rocking chair provides comfort and style for any nursery. It fits a number of décor styles and provides hours of comfort and rocking.
Gift Cookware Loved by Chefs
Shop gourmet gifts for your favorite foodie. Chef-beloved brands. Easy returns. Price matching guaranteed.
39. Baby Keepsake Ornament
A fun Christmas gift for new moms and a memorable way to commemorate baby's first holiday is one of these adorable Pottery Barn My First Christmas ornaments, which not only look great on the tree but provide a keepsake for years to come. Various designs are available, including foxes, penguins and fawns, each with the year and the child's name customized.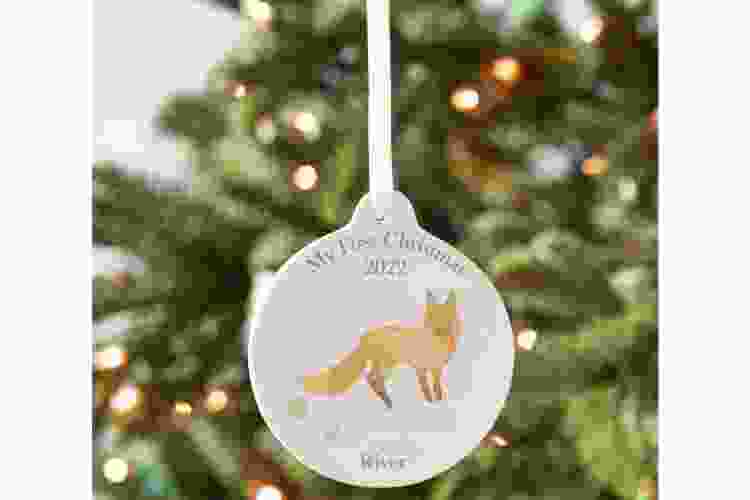 40. Sleep Mask and Essential Oils Set
With the demands of caring for a new little one, a useful and luxurious Christmas gift option for new moms is something to help with sleep and relaxation. This deluxe diffuser and mask sleep set is a perfect solution for late nights and early mornings. Each set includes a mask, diffuser and a selection of calming, relaxing essential oils.
Stocking Stuffers for Moms
41. Lip Products
Lipsticks, balms and glosses make perfect stocking stuffer Christmas gifts for Mom due to their compact size. You can buy them individually in a range of shades and types or spring for the Ulta travel lip gloss set for a range of flavors and shades.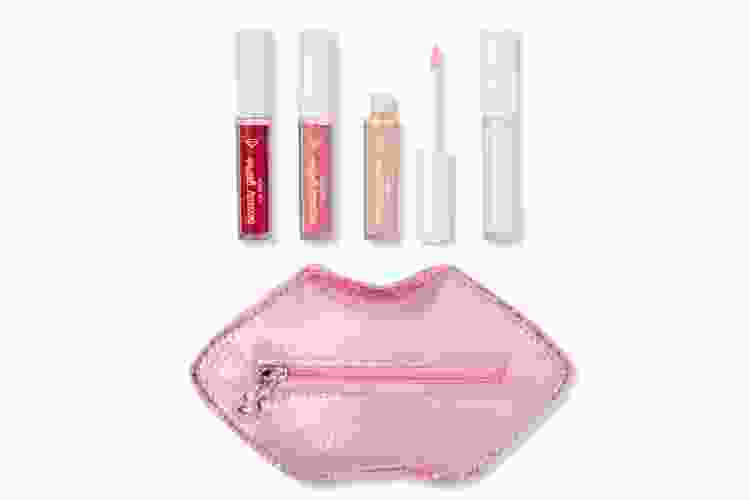 42. Candles
Does your mom always have a candle burning? If so, she'll love more candles as a Christmas gift. There are many options that are as gorgeous as they are delicious-smelling, and they come in a range of sizes. The smaller and travel-sized ones make excellent stocking stuffers, including the Public Goods Cedar and Suede candle, with its clean and rich scent that works in any room in the home.
43. Mug Warmer
The best Christmas gift for Mom that she might not even know she needs in her life is this Mr. Coffee mug warmer. The warmer keeps her favorite beverage at the desired temperature for hours on end. It's perfect for home or office use.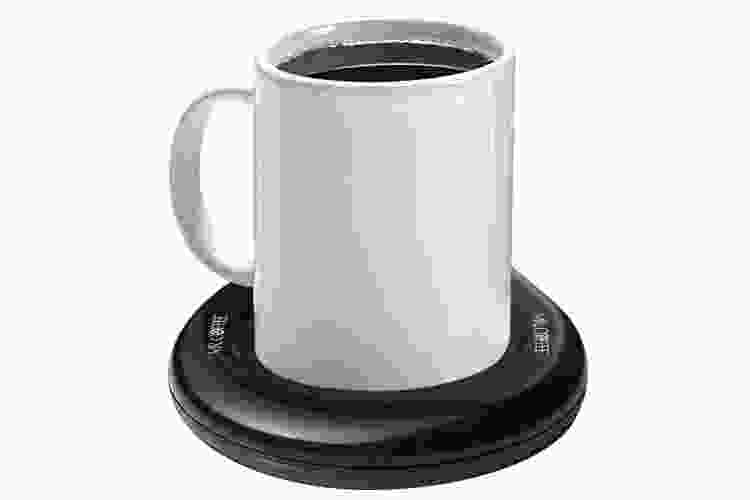 44. Desk Vacuum
Another great office-related Christmas gift for Mom is the Odistar desktop vacuum, which is essential for keeping her workspace and other small areas free of crumbs and debris. It comes in a number of great colors to match décor, and it's also great for cars and vanity tables.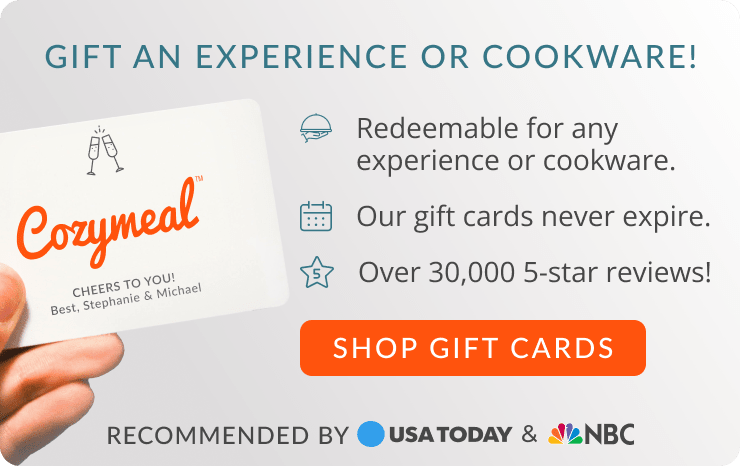 45. Car Air Freshener
For any mom that spends a lot of time in her car, a great air freshener is a must. A useful Christmas gift idea for Mom is this adorable Amuver robot car air freshener, which is as cute as it is functional, providing hours of fresh scent for small spaces.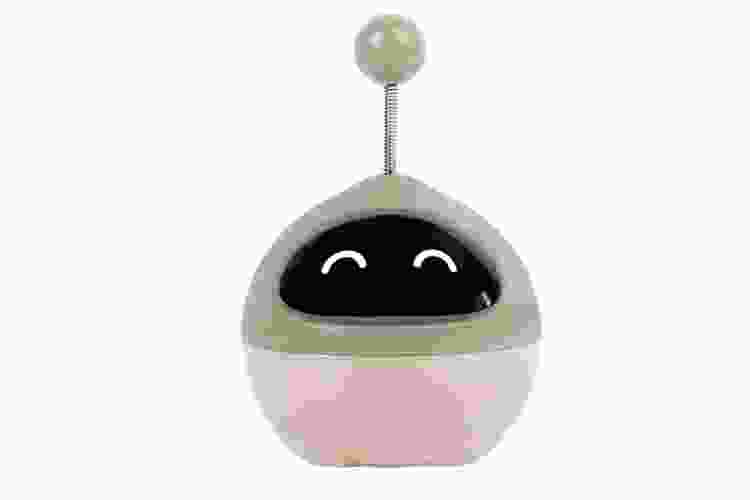 46. Shower Speaker
Another compact stocking stuffer gift for Mom this Christmas is a Bluetooth speaker she can use in the shower or bath. The Bose Soundlink Micro Bluetooth speaker is waterproof and comes in a number of color options to match any bathroom décor while providing hours of music.
47. Mini Projector
Another high-tech Christmas gift for Mom that makes a great stocking stuffer is a mini projector that allows her to project media from her phone. The Zmucen portable mini projector is a great option for streaming entertainment and sharing all those family photos, making it an all-around awesome family gift idea.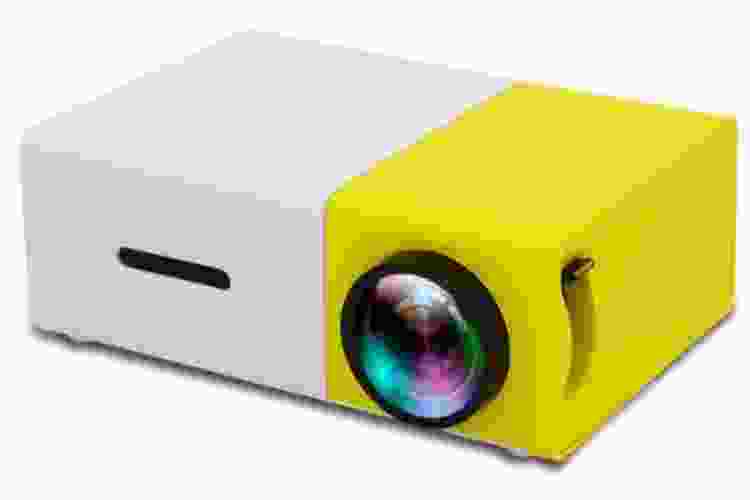 48. Nail Polish
Because of their small size, nail polishes can be tucked into any stocking this Christmas as a tiny gift for Mom. Buy individually or purchase the 12 Days of Nail set at Ulta, which comes with an array of colors that moms will love trying out.
49. Bath Bombs
Bath products are always a popular Christmas gift for any mom, especially Lush's peachy bath bombs, which provide a relaxing bathtub experience as well as a luscious scent. They are also cute additions to a vanity or shelf in their signature fruit shape.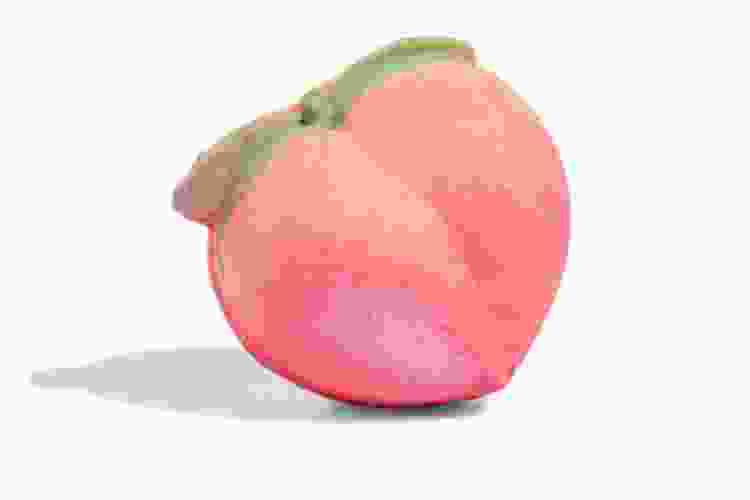 50. Pretty Hand Sanitizers
A useful Christmas stocking stuffer gift for moms is something we use every day like hand sanitizers, which come in an array of scents and packaging that appeal to any taste. This cherry blossom hand sanitizer comes in a pack of six minis that are as pretty as they are useful.
Creative Christmas Gifts for Moms
51. Paint-By-Numbers Kit
A fun and interesting gift for Mom this Christmas may be something that encourages her to express her creativity, like the desert paint-by-numbers kit. It comes with everything she needs to create a masterpiece, including hanging apparatus for the finished project.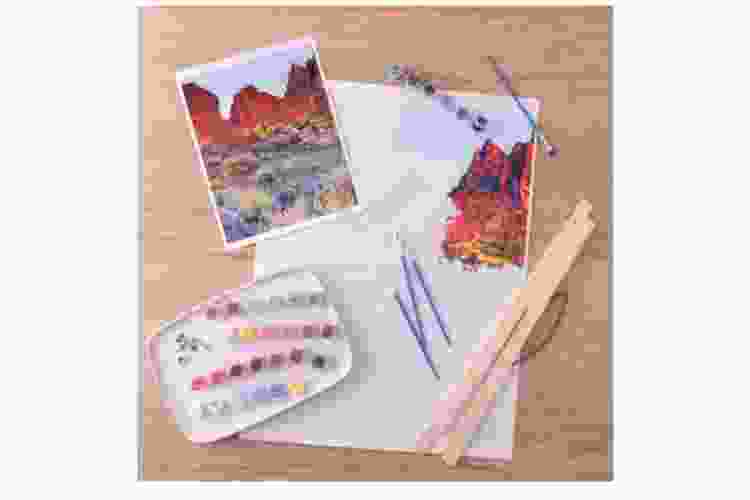 52. Seeds for the Garden
While planting season may be a few months out, a fun Christmas gift for Mom is a set of seeds for upcoming vegetable garden planning. The Granny's Garden heirloom seeds collection includes a huge variety of seeds for a range of produce perfect for starting in the spring, like tomatoes and squash, as well as a guide of tips and planting schedules.
Gift a Local Cooking Class Now
Give your favorite gourmand the gift of world-class cooking lessons with the best chefs in their city.
53. Art or Craft Class
A fun and interactive Christmas gift for Mom is enrollment in an art class, either for her or the two of you. Many art centers, galleries, colleges and universities offer classes in everything from painting to ceramics, with hands-on instruction from working artists. Retailers like Michaels also offer in-person and online art classes nationwide covering a variety of subjects ranging from scrapbooking to framing.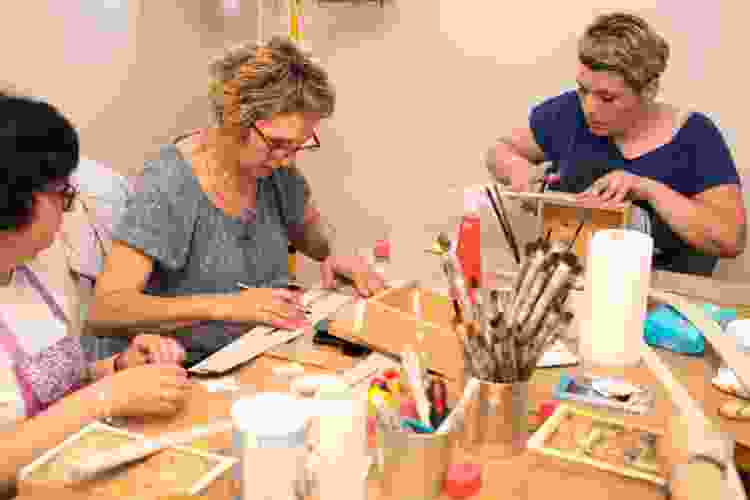 54. Jewelry Stamp Set
A jewelry stamping kit makes a fun and creative Christmas gift for moms, allowing her to create keepsakes and personalized pieces. This metal stamping kit provides everything to create custom-stamped pieces with both tools, blanks and instructions on how to make one-of-a-kind jewelry pieces.
55. Candle Making Kit
A candle making kit offers an excellent creative gift for Mom this Christmas. The Hearth & Harbor candle making kit includes everything she needs to make her own candle creations: wicks, scents, soy wax and more.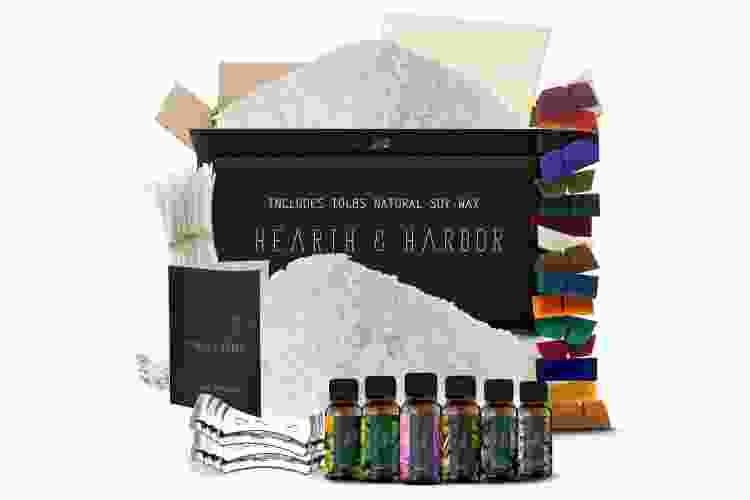 56. Art Journal Kit
Art journaling is one of the most popular activities to both preserve memories and organize thoughts. A great Christmas gift for creative moms is this art journaling kit, which contains materials and supplies for your journaling exploits, including a sketchbook, markers and paints.
57. Cricut Air
One of the most desired objects among arts and crafts hobbyists is the Cricut Air, which makes a great addition to any craft room set-up. A fun Christmas gift for Mom this year, the Cricut comes with materials and supplies to make a number of art and craft projects, including blades, markers and scissors.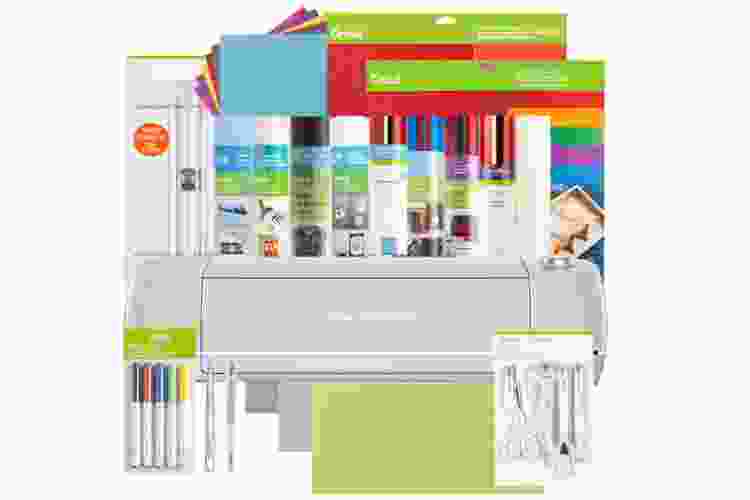 DIY Christmas Gifts for Moms
58. Handmade Frame
If you are feeling creative and want to make a custom DIY gift for Mom this Christmas, a handmade frame containing mementos or photos is an excellent option. Make a beautiful creation out of a simple Ikea frame and items you already have, like family photos and mementos.
59. Handmade Bath Products
A scrumptious Christmas gift for Mom this Christmas is a batch of handmade bath products like a scented sugar scrub. Package your scrub in an attractive container, add a decorative bow and you've got a perfect DIY gift for Mom.
60. Pressed Flower Art
Pressed flower art makes a perfect DIY Christmas gift for Mom, whether you are using store-bought blooms, flowers from your garden or keepsake buds. Creating a DIY pressed flower hanging frame is easier than you think and makes a treasured, personalized gift.
Gift a Private Chef Experience Now
Treat someone special to gourmet fine dining at home. Gift a private chef experience starting at $59/person.
61. Pottery
You can create cute DIY ceramics without a kiln at home that make an excellent Christmas gift for Mom — and they're far more advanced than the rudely thrown pots you brought home from elementary school art class! Make a personalized one-of-a-kind creation for Mom this Christmas that will put your fifth-grade work to shame.
62. Handmade Stationery
While letter writing may be a lost art, a fun DIY Christmas gift for Mom this year may be a distinctive set of handmade stationery perfect for thank-you letters and other writing needs.

Join 200,000+ Culinary Enthusiasts
Exclusive deals, recipes, cookbooks, and our best tips for home cooks — free and straight to your inbox. PLUS: 500 Rewards Points.
Whether you are looking for a perfect gift for your mom, gifts for a mother-in-law, a boyfriend's mom or just a friend who is a new mom, there are a number of great Christmas gift ideas that will make the holidays easy and memorable. From foodie delights to DIY projects that make truly unique gifts that mothers will cherish, you can find just the perfect thing for any mom this Christmas.
For even more Christmas gifts for moms, check out other experiences happening on Cozymeal.