Miyabi Knives: Review for 2023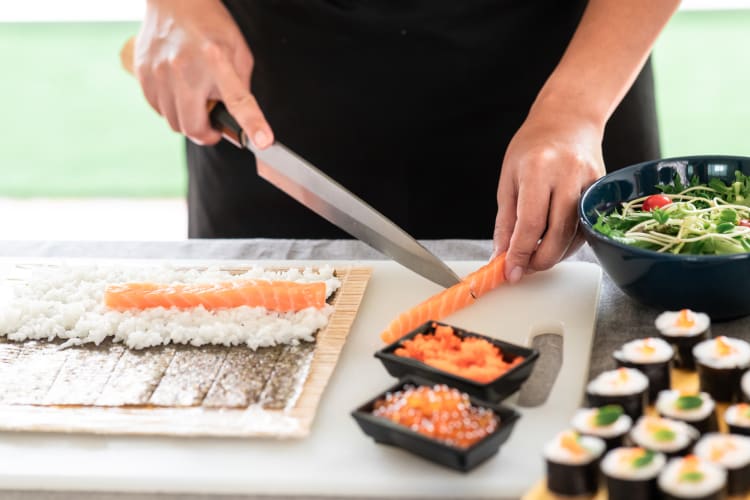 Our editorial team recommends the best products through independent research, selection and careful review. Prices are subject to change.
If you've been wanting to learn how to select the best Japanese kitchen knives, we're about to take you to school with this Miyabi knives review. You've heard of Henckels and Wüstoff, Cutco and Calphalon. You've seen Farberware and Cuisinart in the store. But as you browse the shelves you might also notice knives that not all types of kitchen knives look like the rest. They're more elegant. Sleeker. Your eye wanders to the brand and the boxes, and you realize you're looking at Japanese vs. German knives.
Having the right tool is essential for any job and prepping food is no exception. Chopping and slicing is no longer a chore with the right knife. Instead, it's a joy. On the shelf, the best kitchen knives all kind of look the same. That's why it's important to do some homework. Consider checking out a knife guide and our Miyabi knives review as part of your homework.
So what is the difference between German vs. Japanese knives? Which is stronger? Sharper? Which edge will last the longest? Keep reading our Miyabi knives guide to sharpen your understanding of the key things to look for when shopping for a new knife. When you're ready to give Japanese knives a shot, start with Miyabi. Miyabi is one of the best Japanese knife brands available and has some distinct advantages over other brands. This Miyabi knives review will help you get straight to the point.
Jump to Section
Shop Top Cutlery Loved by Chefs
Update your cutlery collection with knives a cut above the rest. Shop chef's knives, steak knives, paring knives and more.
About Miyabi
Before we can dive into this Miyabi knives review, let's learn a little about the brand. Miyabi is made by Zwilling, one of the oldest knife makers in the world. The Zwilling organization is based in Solingen, Germany which is known as the City of Blades for its extensive history as a center for steel manufacturing. Knives made in Germany are known for being extremely hard and thus very durable.
Japan is also famous for its steel craft. Japanese knives differ from traditional German knives because they are usually thinner, softer and more lightweight. There are also a variety of Japanese knife types including single-edged knives. Check out a Miyabi knives review to get a clearer picture of the key features.
German knives are best suited for cutting meat and bone because it's a more meat-centric culture. In Japan, fish is much more common as the protein of choice, thus a more delicate knife is needed for precision. You're not going to find anyone behind the sushi counter wielding a hefty German chef's knife. They'll most likely be working with a santoku made from Japanese Damascus steel.
In 2004, the Zwilling company acquired a Japanese knife factory in Seki, Japan and now manufactures some of the highest quality Japanese knives on the market to balance out their German counterparts. Our Miyabi knives review will highlight some of their best collections.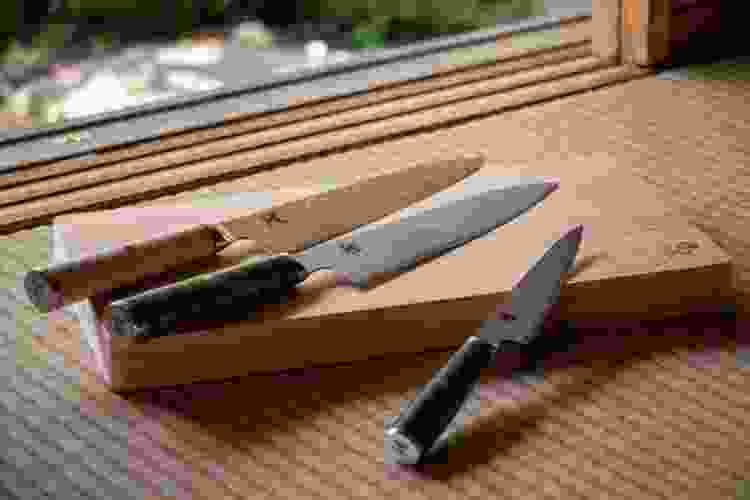 Miyabi Birchwood
To kick off our Miyabi knives review, let's take a closer look at the Miyabi Birchwood series. First off, it's a super attractive knife. Miyabi knives are made from Damascus steel which is known for its overall hardness. Think Samurai swords. It also gives the blade a distinctive wavy pattern. The handle is made from a light-colored masur birch with a traditional D-shaped handle and decorative end cap.
When a knife is rated for its hardness, it gets a Rockwell score. Most knives are rated between 45 (softer) and 60 (hard) on that scale. Miyabi's Birchwood collection is rated at a 63 on this scale, meaning it will be extremely durable. Another thing to note is that traditional Japanese knives are usually only sharpened on one side. That means it matters if you are right or left-handed. The Miyabe Birchwood series features double-edged blades making them more universal.
Shop Like a Chef in the Cozymeal Shop
Shop premium knives from the brands you love, used and approved by world-class chefs.
This is a pricier line for sure, but Miyabi knife reviews reveal that products in the Miyabi Birchwood series are worth it due to superior craftsmanship and style. The Miyabi Birchwood SG2 3.5-Inch Paring Knife and the Miyabi Birchwood SG2 7-Inch Santoku Knife are both gorgeous additions to any kitchen but probably not for the everyday home cook. If you are serious about your cutlery, put the Miyabi Birchwood SG2 7 Pc Knife Block Set on your Christmas wish list.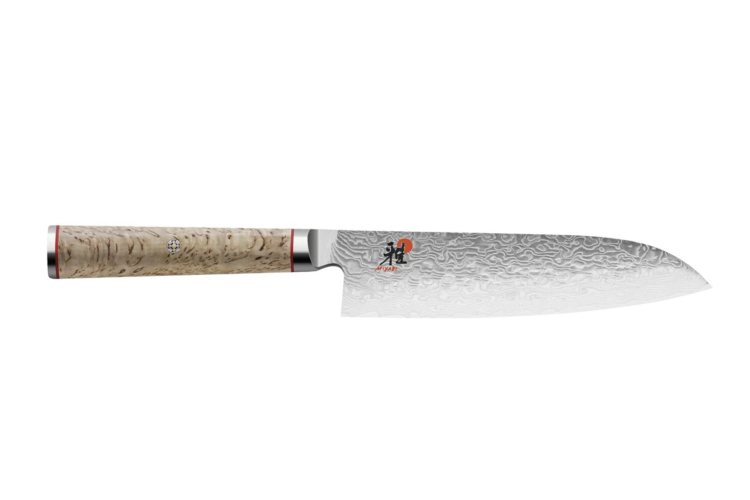 Miyabi Evolution
Next up in our Miyabi knives review is the Evolution series. These look more like your straightforward Japanese knives with their sleek black handles and highly polished blades. The handle is ergonomic and designed for ease of handling for both Western-style chefs who like to chop as well as Eastern-style cooks who utilize a rocking method.
The Miyabi Evolution knife series is made using a patented ice-hardening system that results in a product that can hold its edge for a longer time and, according to Miyabi knife reviews, is also resistant to corrosion.
Based on Miyabi Evolution knives reviews, two of the most popular knives in this collection are the Miyabi Evolution 7-Inch Rocking Santoku Knife made from Japanese stainless steel and the Miyabi Evolution 6.5" Nakiri Knife made from fine carbine steel. Ready for a whole set? The Miyabi Evolution 7 Piece Knife Block Set is your best bet.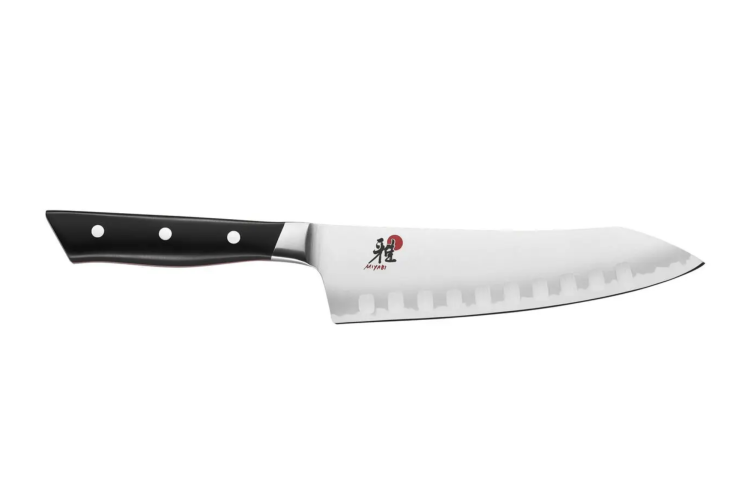 Miyabi Kaizen
Miyabi Kaizen knives have an old-world look and feel. They are made from a 48-layer Damascus steel and finished using ice-hardening which results in a robust and durable product.
Miyabi knife reviews show that owners love the elegant black pakkawood handle that is shaped for comfort but with a hint of flair. The blade is double-edge cut to between 9-12°, which is a step up from the average knife. According to Miyabi Kaizen knife reviews, this knife definitely gets noticed.
Like the style? The Miyabi Kaizen 7-Inch Hollow Edge Rocking Santoku Knife is hand-honed and features a flowery pattern on the blade. Santoku-style knives are the best Japanese vegetable knives because the small indentations on their blades prevent slices from sticking. The workhorse of any kitchen is the chef's knife, and the Miyabi Kaizen II Chef's Knife comes in three different blade lengths depending on your preference, and a quick search of Miyabi knife reviews reveals this is a popular choice as a first piece to invest in.
Shop Top Cutlery Loved by Chefs
Update your cutlery collection with knives a cut above the rest. Shop chef's knives, steak knives, paring knives and more.
Miyabi Artisan
As we explore the overall hardness of steel in our Miyabi knives review, the Artisan series tips the scales again with a Rockwell score of 66. The blades in this collection are encased in two layers of steel that are finished with the Japanese Tsuchime method for a hammered look. The blades are also double-edged.
The handle for this collection is made from pakkawood but has a more refined appearance than its cousins. Those who have written Miyabi knife reviews say it's well-balanced and a pleasure to have as a tool in your toolbox.
According to Miyabi Artisan knives reviews, two top-rated products in this line are the Miyabi Artisan 7-Inch Rocking Santoku Knife and the Miyabi Artisan 8" Chef Knife. For a set of the best Japanese steak knives, meat lovers will want to add the Miyabi Artisan 4-Pc Steak Knife Set to their drawer.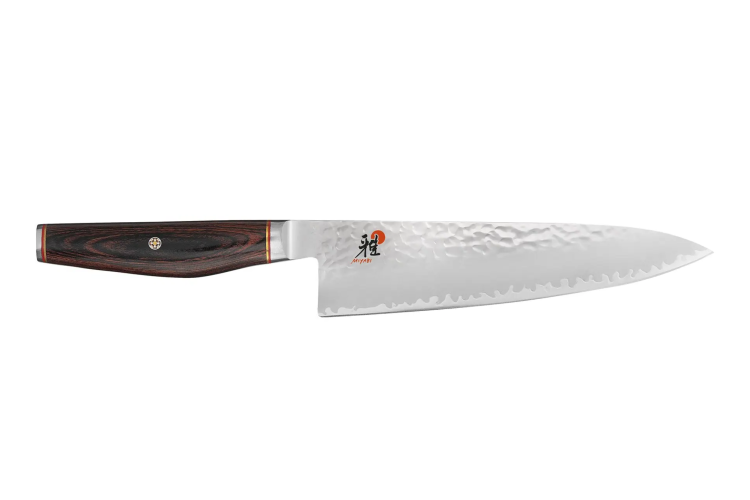 Miyabi Koh
There's something about the simplicity of the Miyabi Koh collection that makes it stand out. Maybe it's the engraved logo on the double-edged blade that is fashioned using the Honbazuke technique. Or the octagonal wood handle, a traditional Japanese design. Don't let simple fool you. Miyabi Koh knife reviews note that this series has excellent edge retention.
Miyabi Koh knives are in the more affordable range compared to some of the other lines. Top picks include the Miyabi Koh 6.5 Inch Nakiri Knife and the Miyabi Koh 8" Chef's Knife as well as the Miyabi Koh 4 Pc Steak Knife Set.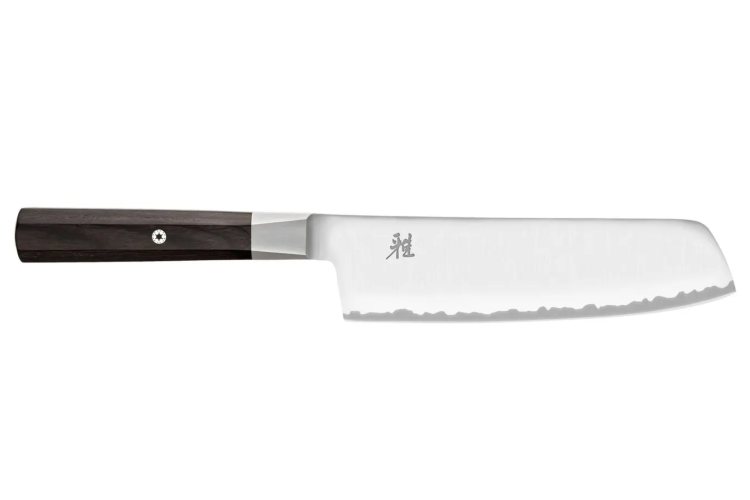 Miyabi Black
Wrapping up our Miyabi knives review is the Black series. We've saved one of the best for last. This knife is spectacular to look at and, according to Miyabi knife reviews, even better to cut with. The 132-layer Damascus steel used in this blade demonstrates the true beauty of the metal with its distinctive appearance known as "floral Damascus" and is perfectly complemented by the black maple handle and end cap. With a steel hardness score of 66, this is a durable piece of Japanese craftsmanship that you'll never have to replace.
Miyabi knife reviews show that good starter pieces in this line are the Miyabi Kaizen 3.5-Inch Paring Knife (it's reasonably priced considering the quality) and the Miyabi Black 7-Inch Rocking Santoku Knife. But the star of the show is the Miyabi Black 5000MCD67 5.5-Inch Fine Edge Santoku Knife. You'll not only want to cook more, but you'll also want a prominent place to showcase it in your kitchen.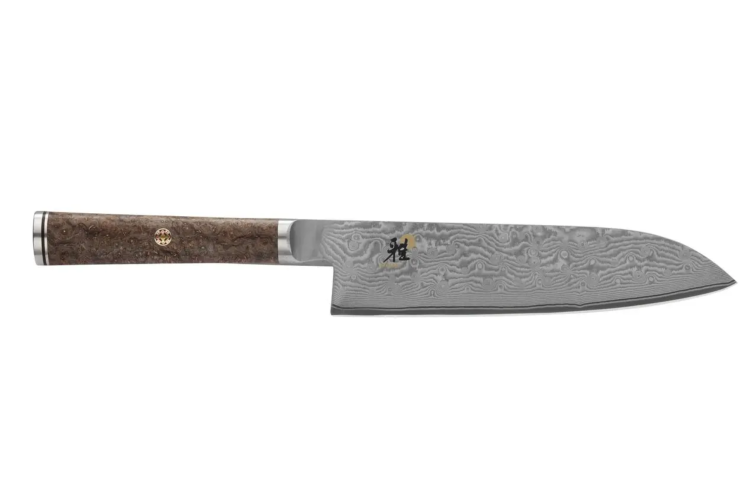 Join 200,000+ Culinary Enthusiasts
Exclusive deals, recipes, cookbooks, and our best tips for home cooks — free and straight to your inbox. PLUS: 500 Rewards Points.
When you think about Japanese knives and the craft of honing steel, visions of ancient samurais brandishing gleaming swords may come to mind. They should. The Japanese are true masters of this craft with centuries of experience in handling and producing the sleekest and sharpest cutting tools. We hope our Miyabi knives review has helped you determine which Miyabi knife is best for you. We'd hate for you to lose your edge.
For even more ways to elevate your kitchen, check out chef-recommended cutlery in the Cozymeal Shop.