Calphalon Knives: Review for 2023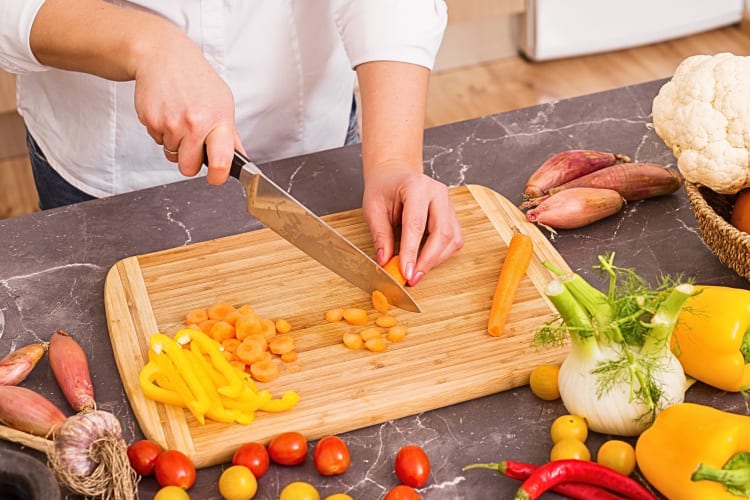 Our editorial team recommends the best products through independent research, selection and careful review. If you make a purchase through one of our affiliate links, we may earn a commission. Prices are subject to change.
For chefs looking to take their culinary enterprise to whole new levels of refinement with top quality knives, our Calphalon knives review helps lay out the facts and point you in the right direction. As a trusted brand in the world of chef's tools, Calphalon is known for creating superior products that kitchen artists trust. The pieces in this Calphalon knife review are no exception. These blades take their place among the best kitchen knives on the market. In the same way a Calphalon pot is a long-term investment, Calphalon knives are heirloom-level additions to your collection.
What are some of the features of the products in our Calphalon knives review that make them so special? Are there certain pieces that make better purchases than others? We've laid out the specifications for an array of these spectacular items in this informative knife guide to help you decide. Whether you're a novice chef just starting on your journey or a seasoned pro looking to expand your cache, you'll find knives in our Calphalon knives review that are sure to suit your needs.
Jump to Section
Shop Top Cutlery Loved by Chefs
Update your cutlery collection with knives a cut above the rest. Shop chef's knives, steak knives, paring knives and more.
About Calphalon
Calphalon began in 1963 as Commercial Aluminum Cookware, a supply company for commercial kitchens. In 1968, company founder Ronald M. Kasperzak created a new kind of cookware made of coated aluminum that made pots and pans more durable. This anodized material was named Calphalon, and the company became known for these distinctive offerings. The innovative design resisted dents and stains and became heirloom pieces for family chefs to pass down to the next generation.
Among Calphalon's best-known great offerings to the world of culinary tools: oil-infused ceramic, a non-stick surface created without industrial polymers like Teflon.
By 1992, Calphalon cookware became so well-known that the company adopted the word Calphalon as its new name. The product line expanded to include bakeware, cutlery, cooking tools and appliances, providing a full suite of tools to make kitchen work easier for home and professional cooks. Calphalon knives represent this heritage of thoughtful invention meant to improve the culinary experience.
Though Calphalon was purchased by Newell Brands in 1998, the company's headquarters remains in Perrysburg, Ohio, the U.S. city where it began. The beloved brand leverages their reputation to bring the best knife sets to cooks in need, as our Calphalon knives review will explain.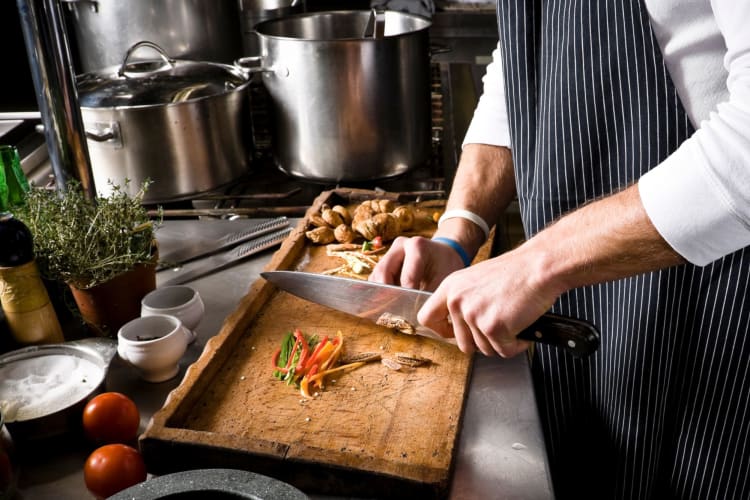 Calphalon Classic
The Calphalon Classic cutlery line provides high-quality knives in collections that leave nothing out. You can trust your best recipes to these superior high-carbon stainless steel blades, resistant to stains for clear, clean surfaces no matter how much you use them. Full tang blades with riveted handles promise comfort and durability for challenging cutting jobs from the types of kitchen knives you depend on most.
The Calphalon Classic Self-Sharpening 15-Piece Cutlery Set is a must-have in our Calphalon knives review. With this set, chefs have a comprehensive array of cooking knives for every kitchen task imaginable, from peeling fruit and preparing garnishes to snipping herbs and chopping poultry. Eight sturdy steak knives bring the Calphalon knife quality to the dinner table, whether you use them for weeknight family dinners or reserve them for special guests.
The Calphalon Classic Self-Sharpening 12-Piece Cutlery Knife Block Set provides a similar selection of gourmet tools, but with six steak knives instead of eight. Both collections store in handsome wooden blocks that add warmth to your countertop and feature sharpening slots to ensure keen cutting with every use.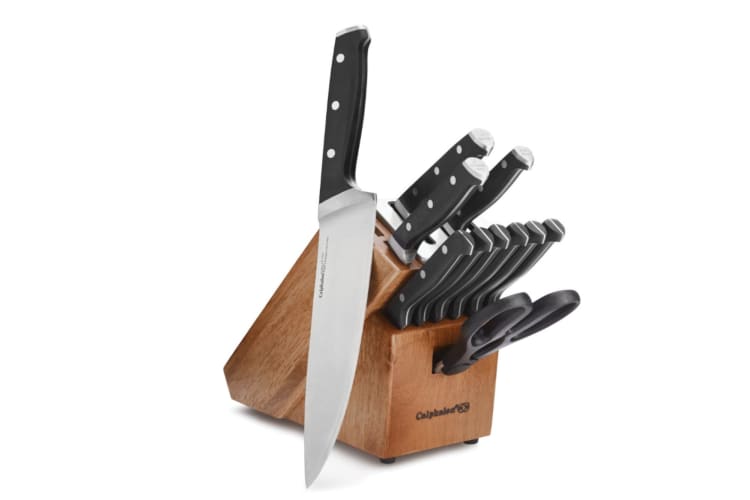 Shop Like a Chef in the Cozymeal Shop
Shop premium knives from the brands you love, used and approved by world-class chefs.
Calphalon Precision
Calphalon Precision knives give culinary artists an array of dependable utensils that stay straight and sharp through thick and thin, thanks to ceramic sharpeners included in every slot. Polyresin handles make extended use a comfortable prospect, while helpful labels at the base of each handle let you know which knife is which, even as they rest in the block. In this review of Calphalon knife options, the Precision line makes a special mid-price possibility for chefs interested in stepping up their game.
Adding only the best to our Calphalon knives review, we've chosen the Calphalon Kitchen 15-Piece Knife Set with Self-Sharpening Block for its exceptional pieces with distinctive angled handles that provide a more modern profile. The chef and utility knives are forged of stain-resistant German steel, while the steak knives feature high-quality stamped Asian steel. Stylish dark-stained walnut brings a sophisticated touch for storage and display. Fill the open slots in the block with additional knives as you discover new pieces you just can't cook without.
For a slightly smaller collection, consider the Calphalon 13-Piece Kitchen Knife Set with Self-Sharpening Block. A five-piece kitchen knife lineup with six steak knives and a pair of handy shears, this block will handle any challenge you throw its way. The bar-shaped rivet on every handle creates a unique look for each piece, while the blades offer two-layer nonstick protection to keep your cutting smooth from start to finish.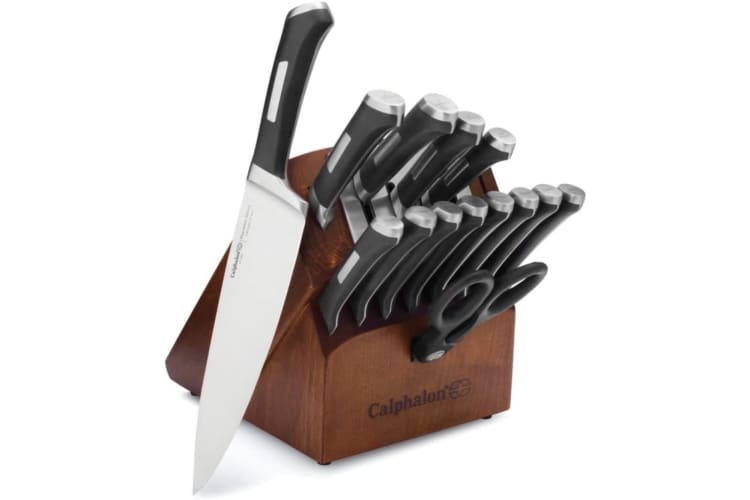 Calphalon Contemporary
If knives that release food easily from their surfaces are a priority, the Calphalon Contemporary collection is the set to stick with. Contoured handles give graceful lines to each piece that make stick-free cutting a breeze. Chefs can rest easy knowing their Calphalon knives are sharpened every time each knife is removed from and replaced in its slot. Sharing this line in our Calphalon knife review was a must.
Chefs who choose the Calphalon Contemporary SharpIN Non-stick 13 Piece Cutlery Set have a new best friend in the kitchen in the form of elegant knives with ergonomic non-stick coating that keeps food from gumming up the works as you slice, dice and pare. These exceptional pieces help you slice bread, fillet fish and slice fruits and vegetables without missing a step. Six attractive steak knives will adorn your table with the same power when you shift from preparing to serving. A gray-tone wooden block offers the utmost in contemporary style and minimalist design, making a piece that instantly enhances any décor.
For chefs who are ready to cut a little deeper, our Calphalon knives review presents the Calphalon Contemporary Self-Sharpening 20-Piece Knife Block Set. In addition to the knives in the 13-piece block, this set adds a boning knife and serving fork to make slicing roasts and fowl easier, plus a tomato and bagel slicer for more delicate jobs and two extra steak knives.
Shop Top Cutlery Loved by Chefs
Update your cutlery collection with knives a cut above the rest. Shop chef's knives, steak knives, paring knives and more.
Select by Calphalon
No proper review of Calphalon knives would be complete without the Select series. With this line, Calphalon offers singular knife sets that get extra points for style options. These blades feature the same quality construction of the other knives in the Calphalon knives review, with handles and finishes that add artistry to the overall design. The attention to detail is just another element of excellence the company offers.
Online reviews of Calphalon knives from the Select collection rave about their sharpness and modern design. The Calphalon Self-Sharpening 15-Piece SharpIN Self-Sharpening Knife Set with Block gives the casual chef a reasonably priced knife set with built-in sharpeners to extend the life and usability of every piece. You get robust blades to help you achieve your most intensive cutting goals, each with its own ceramic sharpener built right into the home slots. A serrated bread knife lets you slice through rolls and loaves without flattening your beautiful bakes.
Full-tang construction means strength and balance for precise cutting with power. Choose black handles with a dark brown wooden block or silver handles with a cool gray block to pair your knives with your kitchen's color scheme. With so much attention paid to aesthetics, this may be the prettiest collection in our Calphalon knives review.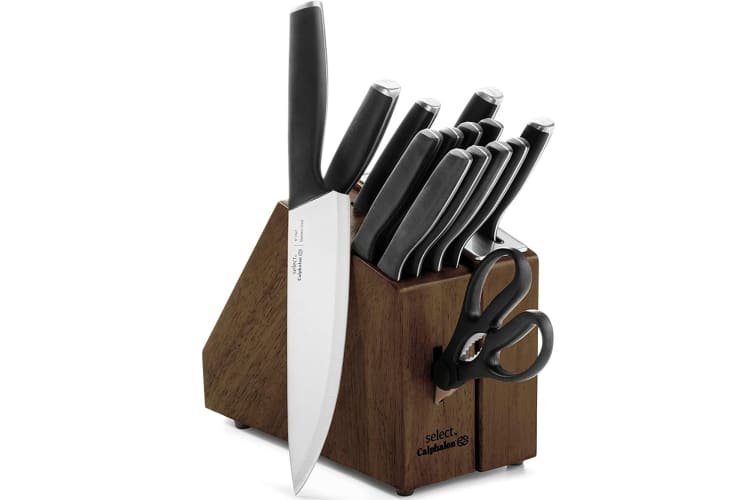 Join 200,000+ Culinary Enthusiasts
Exclusive deals, recipes, cookbooks, and our best tips for home cooks — free and straight to your inbox. PLUS: 500 Rewards Points.
Understanding the benefits of buying brand-name kitchen tools puts you on a clear path to shopping for pieces that meet or exceed your expectations. With so much superior quality backing up their work, the options in this Calphalon knives review are a great place to start.
The sterling Calphalon reputation assures you that all options in our Calphalon knives review will allow you to cut with confidence. Superior construction and ergonomic comfort will give you an edge in the kitchen whether you choose a modest block or go for an all-inclusive set. But the most important Calphalon knife review will be the rating you give your own collection once you make the difficult decision.
For even more ways to elevate your kitchen, check out chef-recommended cutlery in the Cozymeal Shop.