What Is a Santoku Knife Used For?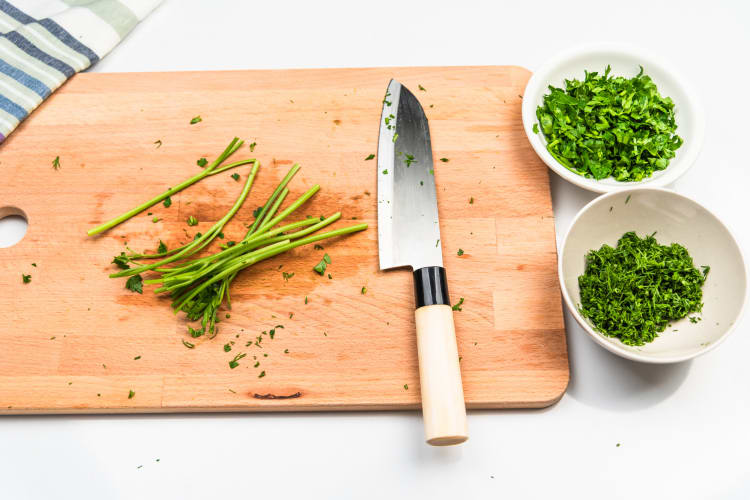 Our editorial team recommends the best products through independent research, selection and careful review. Prices are subject to change.
If you've ever asked yourself, "What is a santoku knife used for?" you might be pleased with the answer: Just about everything! These helpful multi-use knives are a must in any modern kitchen for home chefs who love getting the most out of their tools. They're great for cutting, slicing and chopping ingredients of all kinds, no matter what cuisine you're cooking.
With their light hand weight and mid-length blade, santoku knives add value to just about any culinary task you can conjure up. Here's a rundown of what these handy blades are all about to help you understand what a santoku knife can be used for in your own kitchen.
Jump to Section
Shop Santoku and Nakiri Knives
Update your cutlery collection with santoku and nakiri knives that stand a cut above the rest.
What Is a Santoku Knife?
A santoku is a Japanese utility knife with a thin blade between 5" and 8" long that can be made of stainless steel, carbon steel or ceramic. The santoku was introduced in the 1940s as an alternative to the traditional cleaver.
Santoku knives are light and easy to handle for most kitchen cutting tasks. Due to their incredible ease of use, a santoku knife can be used for general chopping, cutting and slicing of most ingredients.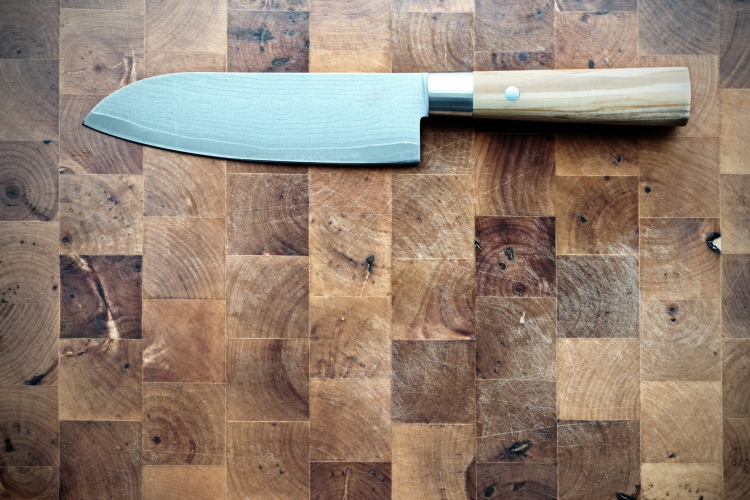 Santoku Knife vs. Chef's Knife
What are santoku knives' qualities compared to those of chef's knives? The most notable differences between santoku knives and Western-style chef's knives are shape, length and weight. A santoku is shorter and lighter than a chef's knife and features a sheep's foot tip with a flat edge and rounded top edge. When it comes to drag cutting, this shape gives the santoku vs. a chef's knife an advantage. A chef's knife, on the other hand, is superior for rocking-style cutting and chopping with its pointed tip and rounded edge.
Both knives provide generous edges for most cutting tasks, but the lighter weight of the santoku makes it more comfortable and easier to guide. So if you're wondering what a santoku knife can handle that a chef's knife can't, the simple response is, not much!
Chef's knives aren't santoku knives' sole competition in the kitchen. While santoku knives may appear similar to another Japanese knife type, nakiri knives, there are significant differences between the two, and the santoku is still the clear winner in terms of versatility. The thinner blade and heavier handle of a nakiri makes it more akin to a cleaver than a general use kitchen knife, while the sturdier blade of the santoku provides a broader range of functions.
Santoku Knife Features
Shorter and more lightweight than a chef's knife
Sheep's foot tip
Flat cutting edge with a rounded top edge
Versatile for cutting meat, seafood and produce
Suited to drag cutting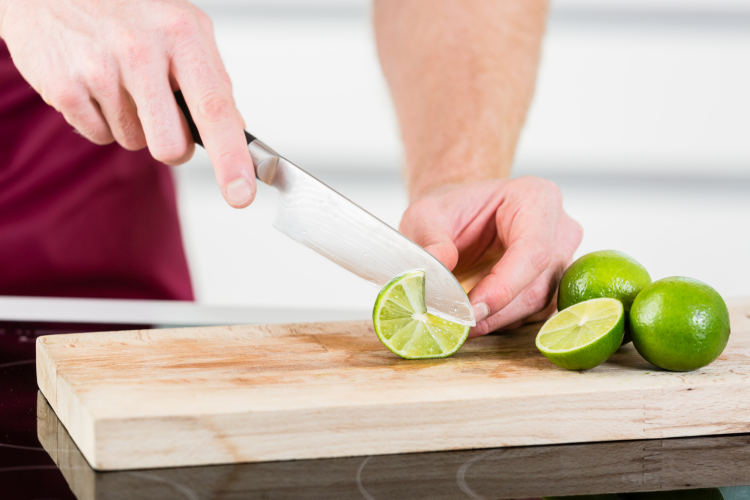 Santoku Knife Uses
Ask any professional chef what santoku knife uses are, and the answers are likely to surprise you. From meat and poultry to seafood and vegetables, a santoku is a multi-use knife that can cover every station in the kitchen. In fact, when you discover all the tasks you can use a santoku knife for, you'll wonder how you've cooked without one for so long! This type of kitchen knife can be used for almost anything.
Shop Like a Chef in the Cozymeal Shop
Shop premium knives from the brands you love, used and approved by world-class chefs.
Meat
What is a santoku knife used for if not cutting meat? The sharp edge helps break through fibrous beef and game when your recipe calls for strips and cubes, and the sheep's foot tip is ideal for stripping skin, gristle and fat from thicker cuts like steaks and filets.
A set like Kikuichi Elite Warikomi Damascus Tsuchime 2-Pc Knife Set With Stone provides a 7" and a 5.3" blade for handling meats of various sizes, plus a sharpening stone to keep the blades keen. Remember to be cautious around bones, as the thin blade of a santoku can be delicate around solid surfaces.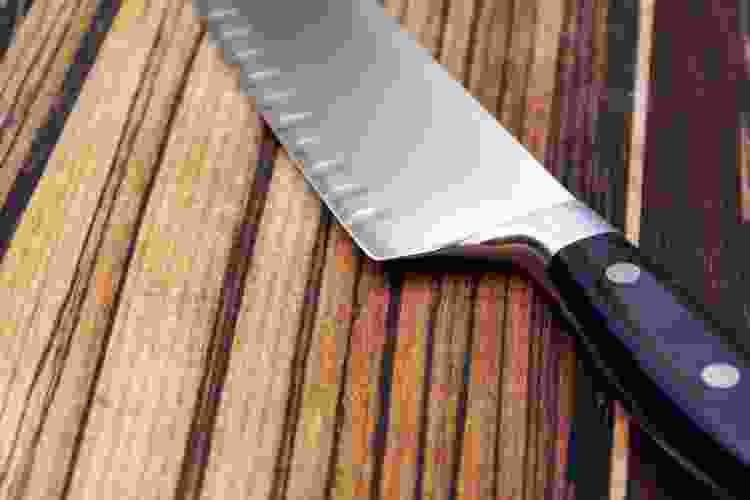 Seafood
A santoku can assist with seafood prep, whether it's removing skin from a filet, veining shrimp or slicing whole fish into smaller cuts. And if you're an aspiring sushi chef questioning a santoku knife's place in the art of sushi, this versatile blade is a must-have for your arsenal.
The gently curved edge of the Miyabi Koh Fine Edge Santoku Knife makes it one of the best santoku knives for achieving precise slices for your most impressive rolls and bowls.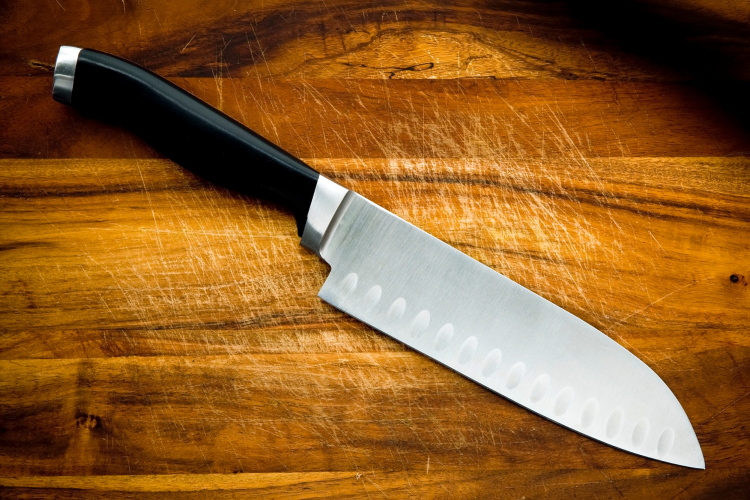 Vegetables
With a sharp tip for dragging through greens, a flat blade for chopping herbs and both for skinning and slicing tomatoes, potatoes and all kinds of vegetables, a santoku like the Miyabi Evolution 7" Santoku Knife or Zwilling Pro Hollow Edge Rocking Santoku Knife will be a produce knife like no other you've owned. Some of the best Japanese knives on the market, each of these can move easily from digging out stems to making chiffonnades and dicing with precision.

Join 200,000+ Culinary Enthusiasts
Exclusive deals, recipes, cookbooks, and our best tips for home cooks — free and straight to your inbox. PLUS: 500 Rewards Points.
What is a santoku knife used for? Almost anything. With so many functions, santoku knives are a handy addition to any kitchen knife collection. And if you're still wondering about the uses for a santoku knife for when it comes to your own culinary creations, the only thing left is to visit the santoku and nakiri knife shop and try one for yourself!
For even more ways to elevate your kitchen, check out chef-recommended cutlery in the Cozymeal Shop.