Miyabi vs. Shun Knives: How Do They Compare?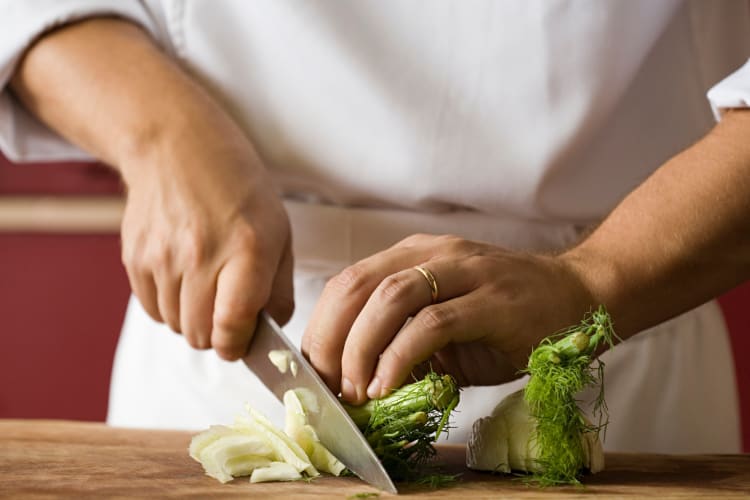 Our editorial team recommends the best products through independent research, selection and careful review. If you make a purchase through one of our affiliate links, we may earn a commission. Prices are subject to change.
Making the comparison of high-quality Japanese knife brands like Miyabi vs. Shun can be tricky business. Both brands follow exacting standards to create exceptional chef tools. At first glance, both companies provide similar product lines as well. Is one brand superior to the other when it comes to quality and value? And if Miyabi vs. Shun results in more similarities than differences, how do you know which to choose?
Knowing how difficult it can be to know how Miyabi vs. Shun knives stack up, we've cut beneath the surface of each brand to help you determine the best knife for your money. Whether you're starting your collection from scratch or bringing in some shiny new members to your kitchen cutlery crew, our knife guide comparing Miyabi vs. Shun will clue you in on what makes each brand special.
Jump to Section
Shop Top Cutlery Loved by Chefs
Update your cutlery collection with knives a cut above the rest. Shop chef's knives, steak knives, paring knives and more.
History of Miyabi
Miyabi knives are a collection of high-quality kitchen knives produced by German cutlery powerhouse Zwilling. The Miyabi line offers a diverse array of knives in both Western and Eastern knife styles. Zwilling purchased a factory in Seki, Japan, in 2004 to combine European engineering with Japanese manufacturing. Zwilling understood the comparative quality of Japanese vs. German knives. The acquisition allowed Zwilling to employ Japanese artisans skilled in the original techniques, expanding their product line without compromising quality.
Miyabi knives are crafted in the long-standing tradition of Japanese samurai swords. Every knife undergoes a process that takes at least 100 steps and 42 days to complete. A single Miyabi blade can contain upwards of 101 layers of stainless steel. Using this method, Miyabi produces some of the sharpest blades of any kitchen knife on the market, a distinction enjoyed by chefs around the world.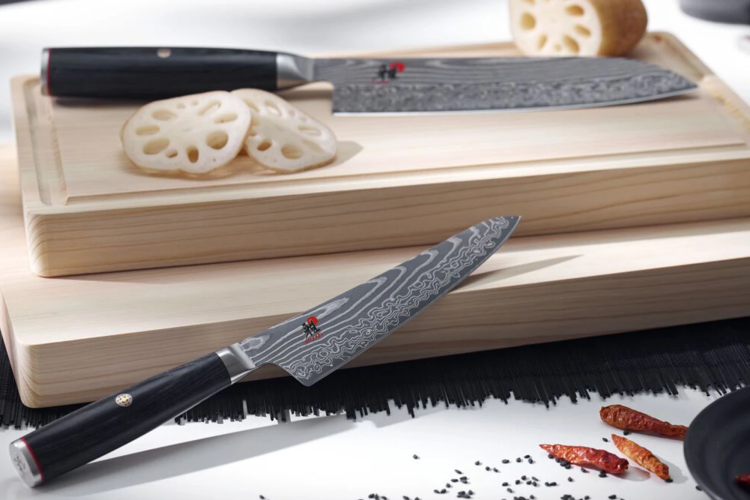 History of Shun
The history of Shun knives goes back 112 years, to a knife company begun by Japanese knife maker Saijiro Endo. Like the Miyabi factory, Endo's knife shop was also in the city of Seki. The shop specialized in folding razors, eventually moving on to include all types of kitchen knives in their catalog and becoming Kai Cutlery. Koji Endo, a third-generation relative of Saijiro Endo, took the reins as Kai's President and CEO in 1989, carrying the family business forward.
Shun knives also follow the traditional 100-step Japanese knife-making process that Miyabi knives use. The company blends heritage and history with technology and modern materials to bring their version of the best kitchen knives in all styles to market. In Japanese, the word "shun" represents the moment of perfect ripeness or freshness, a reference to both Shun knives and the food chefs create with them.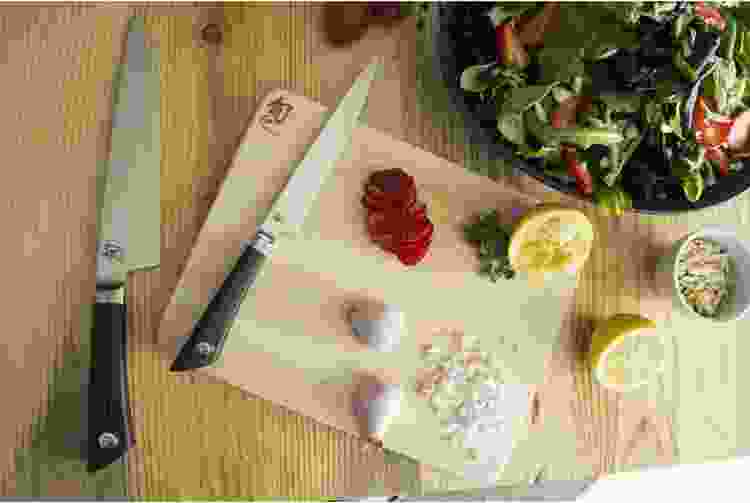 Miyabi vs. Shun Similarities
Though created by different companies, the comparison of Miyabi vs. Shun knives provides a fair number of similarities. These similarities stem from the exacting Japanese traditions both knifemakers use to create their products. The result is a Miyabi vs. Shun overlap whereby both companies maintain strict standards of quality for their products. Whether it's a Miyabi or Shun, knives in both lines carry the heritage of the companies that create them, along with the spirit of Japanese excellence.
Shop Top Cutlery Loved by Chefs
Update your cutlery collection with knives a cut above the rest. Shop chef's knives, steak knives, paring knives and more.
When it comes to knife styles, both Miyabi and Shun produce full-tang blades, which means the metal extends through the handle. This feature means long-lasting strength for every knife, a hallmark of a quality piece. Both companies also use high-grade stainless steel for their blades and create them in both Western and Eastern styles. Chefs from various cultures and traditions who are interested in either a Miyabi or a Shun can find a knife that allows them to continue in their chosen culinary tradition. Having both types available also means curious chefs can add new cutting modes to their repertoire, no matter which they prefer between Miyabi vs. Shun. To make your shopping easier, both companies also make their knives available through several online channels, as well as in department and kitchen stores.
Some of the similarities between Miyabi vs. Shun knives:
Origin: Both companies are based in Japan.
Production: Both companies follow the traditional 100-step Japanese knife-making process.
Warranty: Both companies offer a lifetime limited warranty.
Tang: Both companies offer knives with full-tang blades.
Materials: Both companies use high-grade stainless steel to manufacture their knives.
Styles: Both companies offer a range of Western and Eastern knife styles.
Finish: Both companies produce knives with either smooth or hammered, Damascus-style finishes.
Branding: Both companies stamp their blades with their logos as a seal of quality.
Availability: Both companies sell their knives through online and brick-and-mortar outlets, including company websites.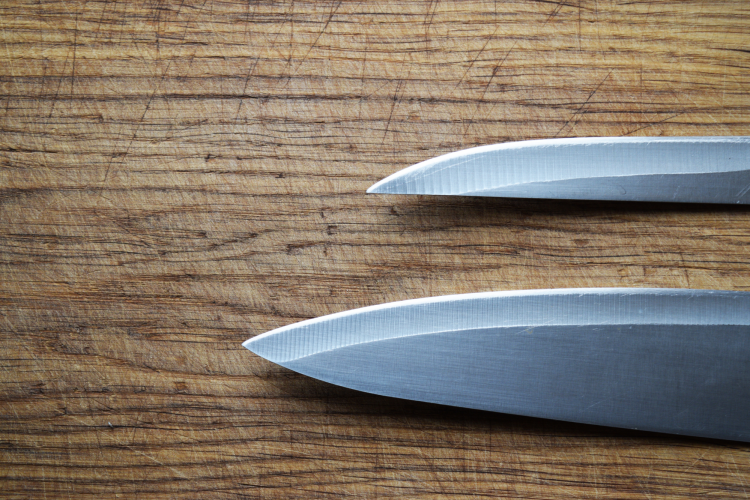 Miyabi vs. Shun Differences
Though many similarities exist when assessing Miyabi vs. Shun knives, there are several distinct differences between the two knifemakers. Both Miyabi and Shun provide exceptionally made cutlery, so while you may favor one over the other, whichever you choose, your purchase will be a wise one. However, the differences between the two may be enough to help you decide when you're shopping for your next great kitchen piece.
The shared quality level of Shun vs. Miyabi keeps their knives at a similar price point overall, though Miyabi blades are slightly higher than their Shun equivalents. Both spends will get you superior knives, but one company is bound to be a standout when making your own comparison. Another important distinction is the handles of Miyabi vs. Shun knives. Both companies produce handles designed with comfort in mind. But Shun uses Pakkawood for their handles, which is a fusion of hardwood and resin. Miyabi uses both wood and polymers for their handles, depending on the model and line. And when it comes to knife sets, Shun offers an array of three-knife collections to provide chefs with a modest variety of knives in one purchase. Aside from Japanese steak knives, Miyabi only offers one three-piece set, with sharpener provided.
Shop Top Cutlery Loved by Chefs
Update your cutlery collection with knives a cut above the rest. Shop chef's knives, steak knives, paring knives and more.
Some of the differences between Miyabi vs. Shun knives:
Price: Miyabi knives are slightly higher priced than comparable Shun knives.
Handles: Miyabi uses wood and hard polymers for its handles, while Shun uses mostly Pakkawood, a blend of hard wood and resin.
Sets: Shun offers several three-piece cooking sets, while Miyabi only offers one.
Product Lines: Miyabi offers eight product lines, while Shun offers 12 lines.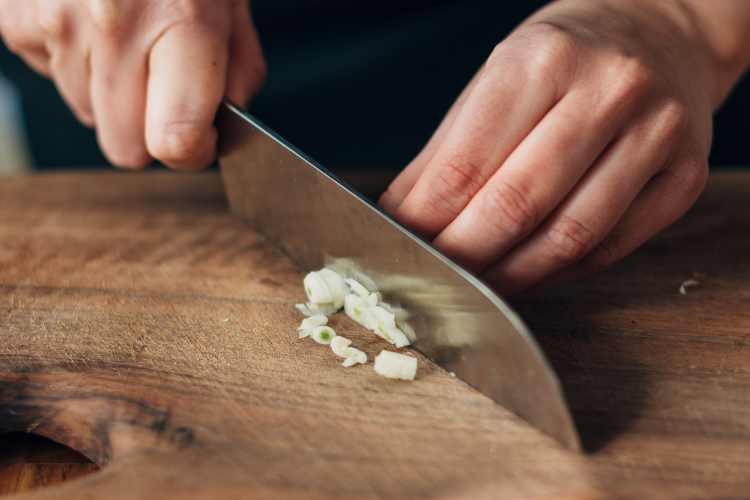 Our Favorite Miyabi Knives
When shopping for Miyabi vs. Shun knives, you'll find Miyabi produces pieces that elevate your kitchen talents while bringing a touch of style to your cutlery collection. Purchased piecemeal or bought as a block set, there are Miyabi knives that are perfect for Western-style cooking, as well as blades like santoku knives that let you add Eastern cutting techniques to your skill set.
The Miyabi collection is extensive, with attractive pieces that can make choosing the right knives challenging. In the Cozymeal Shop, you can choose the Miyabi Birchwood SG2 7 Pc Knife Block Set for a complete array of utility knives featuring Karelian birchwood handles and Damascus steel blades. A combination of the Miyabi Birchwood SG2 3.5-Inch Paring Knife and the Miyabi Artisan 5-Inch Utility Knife is perfect for getting aspiring cooks well on their way to culinary success. For the dedicated chef, the Miyabi Black 7-Inch Rocking Santoku Knife and the Miyabi Kaizen II Chef's Knife will help you with major cutting tasks, while the Miyabi Artisan 4-Pc Steak Knife Set is ready to slice into whatever you bring to the table.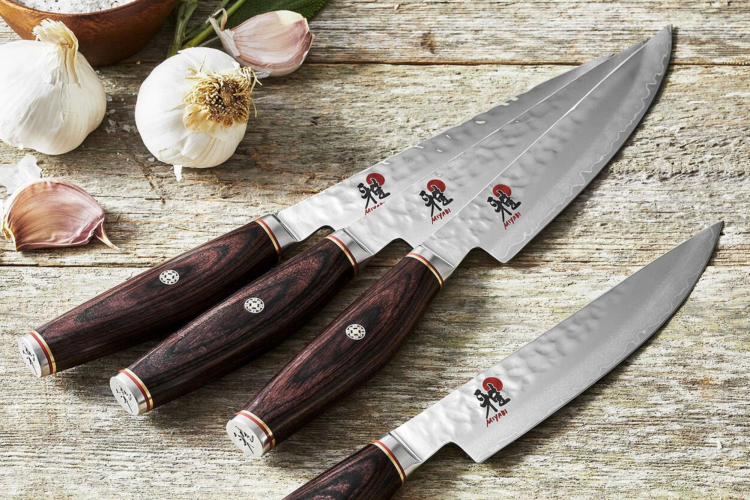 Our Favorite Shun Knives
If Shun knives end up being the best Japanese knives for your needs, you'll have a wide range of styles, sizes and finishes to expand your collection. You'll find classic chef's knives and Western-style utility blades sitting side-by-side with traditional Japanese santoku knives, all ready and waiting to help you in the kitchen.
You can find Shun knives for every level of kitchen mastery, no matter what you're cooking up. Create a power trio with the Shun Cutlery Sora 8-inch Chef's Knife, the Shun Cutlery Classic 6-inch Utility Knife, and the Shun Cutlery Classic 3.5-inch Paring Knife. This set provides a blade for every task at hand, from chopping and slicing to peeling and preparing delicate garnishes with ease. The Shun Cutlery Classic Blonde 5-Piece Starter Block Set offers sleek Blonde wooden handles in a sturdy bamboo block, while the Shun DMS0430 4-Piece Steak Knife Set sets you up for delectable dining or entertaining occasions. And with a Shun Premier 7-inch Santuko Knife in your arsenal, you'll have a kitchen tool you can hand down to future family chefs.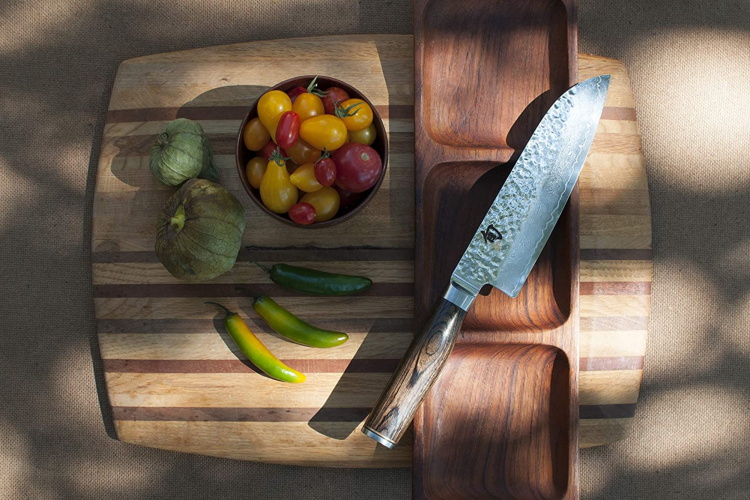 Shop Like a Chef in the Cozymeal Shop
Shop premium knives from the brands you love, used and approved by world-class chefs.
When you compare Miyabi vs. Shun knives, no matter which brand becomes your preferred knifemaker, one thing is certain: both companies provide top-drawer options for making your kitchen work easier and more enjoyable. If you're interested in a full chef's set or just a few Japanese vegetable knives to freshen things up, you have incredible options at your fingertips.

Join 200,000+ Culinary Enthusiasts
Exclusive deals, recipes, cookbooks, and our best tips for home cooks — free and straight to your inbox. PLUS: 500 Rewards Points.
For discerning shoppers, the best way to decide between Miyabi vs. Shun is to decide what sort of knife you're shopping for and make the comparison among similar pieces. Both brands are sure to be shining examples of high-grade cutlery. But whether it's price, style or purpose, you're bound to find a clear winner in the Miyabi vs. Shun showdown.
For even more ways to elevate your kitchen, check out chef-recommended cutlery in the Cozymeal Shop.