Zwilling Knives: Review for 2023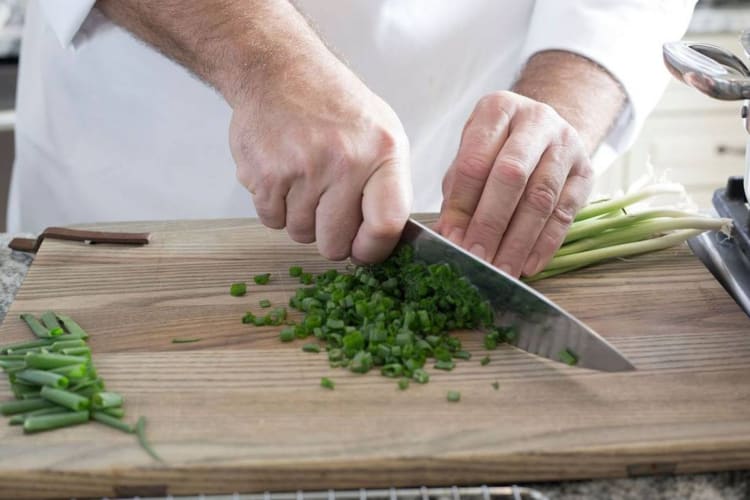 Our editorial team recommends the best products through independent research, selection and careful review. If you make a purchase through one of our affiliate links, we may earn a commission. Prices are subject to change.
For home cooks and professional chefs alike, reading Zwilling knife reviews can lend insight into the quality and usefulness of your next knife purchase. No matter the task, this world-class knife producer is sure to have a blade that gets the work done. While Zwilling knife reviews may rave about the features of each piece, how do you gather all of your options to choose the one that's right for you?
We think upgrading your kitchen tools will be much easier with a comprehensive Zwilling knife review to guide you. Because knives are one of your most valuable culinary investments, we've put together an overview of each Zwilling collection, along with shout-outs to our favorite pieces. If you're in the market for a new blade or even an entire set, our Zwilling knife review slices and dices the world of Zwilling knives to make shopping a clean cut.


Jump to Section
Shop Top Cutlery Loved by Chefs
Update your cutlery collection with knives a cut above the rest. Shop chef's knives, steak knives, paring knives and more.
About Zwilling
No Zwilling knife review would be complete without the history of this prestigious kitchen brand. The company, which is also known as Zwilling J.A. Henckels AG, began as the creation of Peter Henckels, a German knifemaker, who began the company in Solingen, Germany in 1731. Though begun solely as Zwilling, the J.A. Henckels portion of the name was added by Peter's son, Johann Abraham, when he took over company leadership in 1771. The word "Zwilling" means "twin" in German, a clue to the famous twin icon stamped on every blade.
Zwilling is not only one of the first kitchen knife manufacturing companies, but it's also one of the world's oldest still-functioning companies, as well as one of the first to register a trademark. Through the centuries, Zwilling has received numerous awards for their high-quality products and earned a reputation for superior craftsmanship and usability.
Though the company has grown to include several other subsidiary brands, Zwilling remains the most familiar and a name that home cooks and professional chefs trust to help them in the kitchen. Our Zwilling knife review focuses on an array of the best performing products.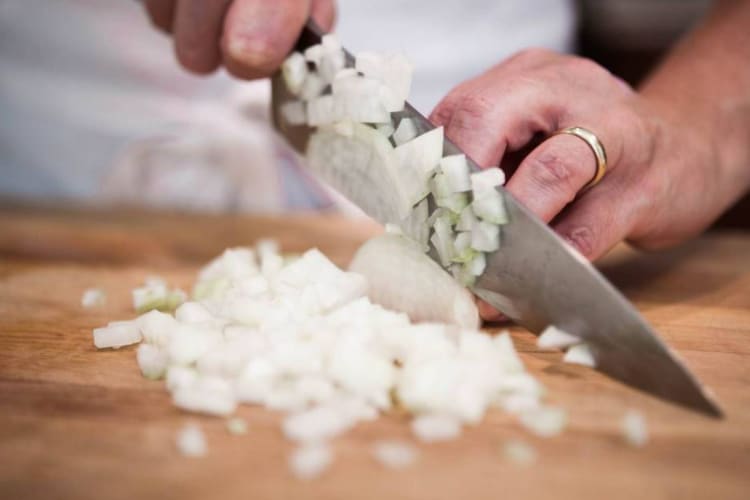 Zwilling Pro
The Zwilling Pro knives represent a pinnacle selection in our overall Zwilling knife review. These top-level blades combine carbon and chromium to offer specialized steel custom-designed to withstand repeated use. Forged from a single piece of steel from tip to handle, Zwilling Pro knives stay sharp and flexible while resisting corrosion to provide long, useful life for busy chefs.
Among the options in the Cozymeal Shop, our chosen pieces for the Zwilling knife review are headed up by the Zwilling Pro 6-Pc. Knife Block Set, a modern and minimalist set featuring three knives, a set of shears and a sharpening steel housed in a sleek ceramic case. The Zwilling Pro 7-Pc. Block With Sharpener applies a more traditional design to a block filled with fantastic knives plus a hand-held sharpener that helps keep your blades keen. And if there's a premium piece to add to your collection, the Zwilling Pro Chef's Knife takes top spot. This workhorse is available in 6, 8 and 10-inch lengths and provides a contoured blade for clean slicing, no matter which version you opt for.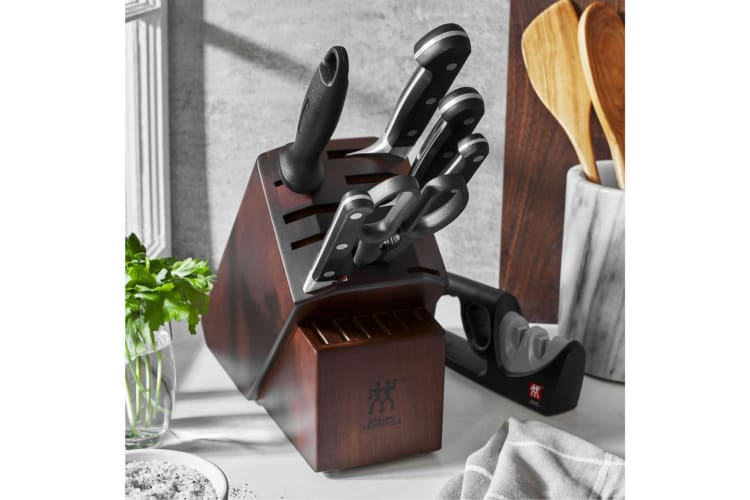 Shop Like a Chef in the Cozymeal Shop
Shop premium knives from the brands you love, used and approved by world-class chefs.
Zwilling Professional S
No Zwilling knife review would be complete without the Zwilling Professional S series. This collection is ideal for chefs of all skill levels. Riveted black handles made from a sturdy synthetic polymer and blades forged from high-carbon ice-hardened stainless steel ensure unrivaled power for a variety of cutting tasks. While the Zwilling Pro series features a half-bolster — the bump between the handle and the blade — the Professional S series adds a full bolster, providing a more comfortable grip during extended use.
Though all Professional S knives make prime purchases, our standouts for this Zwilling knife review start with the Zwilling Professional S Chef's Knife. This blade is less curved than that of the Zwilling Pro Chef's Knife, expanding uses to include sweep-style cutting for skinning meat and poultry. For chefs needing a multi-purpose blade, the Zwilling Professional S 6-Inch Utility Knife is a sturdy mid-sized knife that covers a range of jobs from slicing through ties to carving meats to cutting vegetables. The Zwilling Professional S Hollow Edge Santoku Knife gives culinary artists a straight edge and curved sheep's-foot tip that brings Asian-style cutting to kitchens everywhere.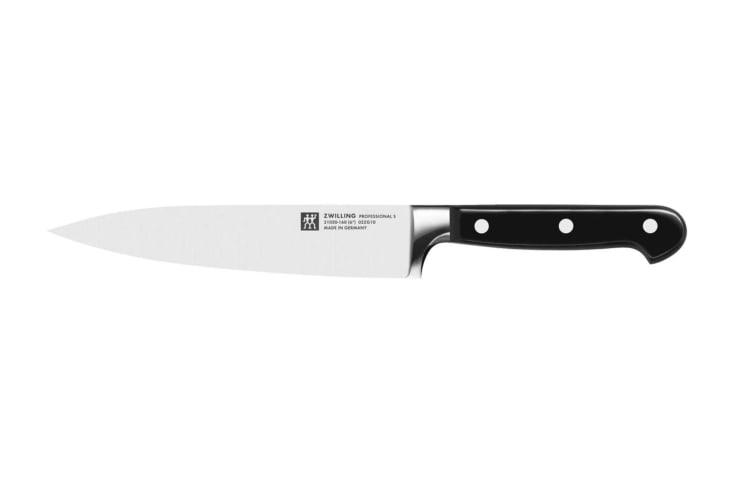 Zwilling Gourmet
The Zwilling Gourmet collection is a must-have in any Zwilling knife review. This moderately priced array of kitchen and table knives features the high-end quality of Zwilling's FRIODUR ice-hardened steel and riveted polymer handles, but at a more affordable price point for chefs who love a bargain. Smart shopping from the Gourmet line means making your money go further by picking up several pieces or a full set without compromising quality or durability.
The most inclusive set in our Zwilling knife review is the Zwilling Gourmet 10-Pc. Knife Block Set. This all-inclusive block brings blades galore to your countertop, in sizes ranging from a 2.75-inch peeling knife to 8-inch bread and chef's knives. A pair of shears and a sharpening steel complete the collection, all housed in a handsome block with four open slots for additional steak knives.
For a slightly smaller array, the Zwilling Gourmet 7-Pc. Knife Block Set packs four blades and a shears set with a sharpening steel into a honey-blond rubberwood block. Anyone looking to add a versatile piece has a prime candidate in the Zwilling Gourmet 7-Inch Hollow Edge Santoku Knife. The unique scalloped edge keeps food from sticking so the slicing stays sweet and smooth. Zwilling's hallmark full tang and durable rivet design provide confident cutting for novice and advanced chefs alike.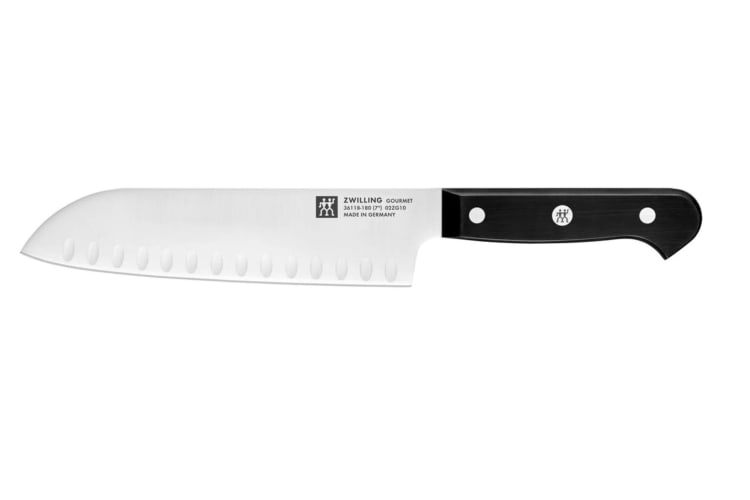 Shop Santoku and Nakiri Knives
Update your cutlery collection with santoku and nakiri knives that stand a cut above the rest.
Zwilling Twin Fin II
Japanese blade forging meets modern German engineering in the Twin Fin II, the most visually contemporary blade in our Zwilling knife review. Rather than the standard polymer handles, these knives feature rounded metal handles with gill accents for a super-smooth feel. Single-piece construction creates a distinctive profile without added elements, resulting in a space-age blade that brings 21st-century styling to Zwilling's long-lived heritage of quality construction.
For our money, no chef can go wrong with adding the Zwilling Twin Fin II 8-Inch Chef's Knife to their culinary arsenal. The elegant blade contains just enough contour to make rocking-style cutting an option, while the gentle taper toward the tip allows skinning meats and vegetables or dragging through herbs an easy endeavor. Artful styling from blade to handle makes this stand-out selection attractive enough to hold a place of honor on your counter. Keeping a Zwilling knife review-approved beauty like a Twin Fin II tucked in a drawer between uses would be a waste of delicious design!
Zwilling Twin Four Star II
As some of the less-assuming pieces in our Zwilling knife review, the Zwilling Twin Four Star II set is a balance of design modesty with superior quality. Rounded handles buck the usual Zwilling layout to bring a smoother grip to the user, while full-bolster construction gives an added dose of strength when cutting. Uninterrupted black and stainless steel create an iconic visual profile that announces the superiority of both the construction and the styling of these highly practical knives.
Including the Zwilling TWIN Four Star II 7-Pc. Knife Block Set is a given, considering its combination of attractiveness and usability. One each of a paring knife, a santoku, a serrated utility knife and a chef's knife share the block with shears and a sharpening steel, while the warm bamboo block includes extra slots for additional pieces as your collection expands.
If you're in the market for a single knife, then you won't go wrong with the Zwilling TWIN Four Star II 8-Inch Chef's Knife. With its rounded blade and long-lasting polymer handle, this mid-length knife is a hardworking kitchen superstar that holds a special place in our Zwilling knife review.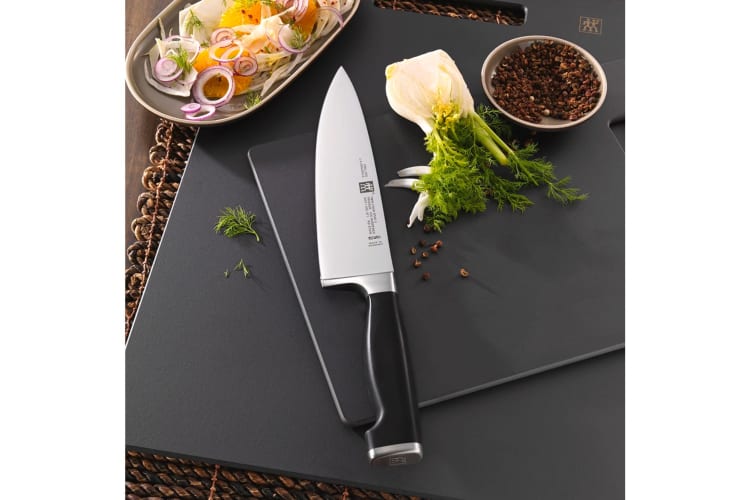 Shop Top Cutlery Loved by Chefs
Update your cutlery collection with knives a cut above the rest. Shop chef's knives, steak knives, paring knives and more.
Zwilling Diplôme
The Diplôme line adds a distinctive touch to our Zwilling knife review. Zwilling's FC61 fine carbide steel helps the blades remain extra-sharp, while the quintessential riveted handle offers comfortable use. But the most notable feature of these pieces is the deckled design on the blades, which creates an artful element unique to the Diplôme collection.
We've chosen two of the most beneficial Diplôme knives to include in our Zwilling knife review. The Zwilling Diplôme 8-Inch Chef's Knife features a gently curved blade with a fine point that invites elegant julienne slicing as well as the easy stripping of fruit and vegetable flesh from their peels. The Zwilling Diplôme 9-Inch Carving Knife adds an extra inch to the length while thinning the entire blade from tip to bolster. The result is a carving knife of pristine excellence that not only behaves admirably while slicing roasts, poultry and steak but which also cuts an attractive figure while doing so.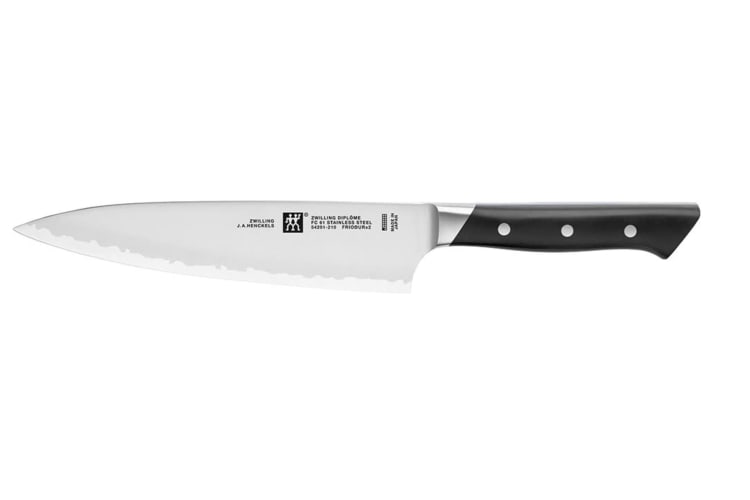 Join 200,000+ Culinary Enthusiasts
Exclusive deals, recipes, cookbooks, and our best tips for home cooks — free and straight to your inbox. PLUS: 500 Rewards Points.
Though this Zwilling knife review clearly shows a wide variety of collections and pieces, one thing that all Zwilling knives share is a heritage of high quality. Dependability and durability are assured, no matter which collection or blade you choose. Your personal review of Zwilling knives will depend on your selections, which will undoubtedly add years of enjoyment to your gourmet work.
For even more ways to elevate your kitchen, check out chef-recommended cutlery in the Cozymeal Shop.