6 Best Poultry Shears for 2023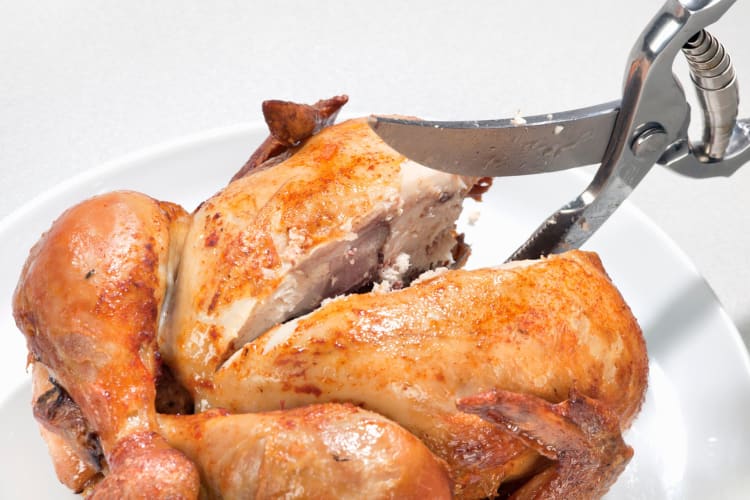 Our editorial team recommends the best products through independent research, selection and careful review. If you make a purchase through one of our affiliate links, we may earn a commission. Prices are subject to change.
From a crispy chicken dinner to the Thanksgiving turkey, the best poultry shears will make all the difference when it comes to prepping your bird. Poultry shears should be durable and easy to clean while cutting precisely and with ease. These culinary tools aren't necessary for every kitchen, but if you're a home chef that prefers preparing a bird yourself rather than purchasing pre-cut meat, then you know the difference the right pair of shears can make.
The best poultry shears easily cut through skin, thin bones, joints and cartilage. They should be sharp with a no-slip grip to prevent kitchen injuries. Still, many of the best poultry shears have differences in their strongest qualities. So, whether you're looking for the best chicken shears or the best kitchen shears for the spatchcock process, we've got you covered in this guide, where we compare the six best poultry shears to consider for your kitchen.
Jump to Section
Shop Top Cutlery Loved by Chefs
Update your cutlery collection with knives a cut above the rest. Shop chef's knives, steak knives, paring knives and more.
1. Best Overall: Zwilling Poultry Shears
Zwilling, as a brand, is renowned for kitchen tools and utensils. It's no wonder that the Zwilling Poultry Shears top the list as the overall best poultry shears. These poultry shears are easy to use with a comfortable grip, which makes them ideal for beginner and seasoned home chefs. The stainless steel blades are sharp enough to effortlessly cut through bone, fat and skin and also have a serrated edge. These poultry shears are also dishwasher safe, so cleanup and maintenance will be a breeze. The Zwilling poultry shears are the best kitchen shears for cutting chicken, turkey and game birds with precision and ease and preparing them for any method of cooking.
Why This Product Is Cozymeal-Approved
These shears are a must-have in the kitchen. They're our definite top choice because they're easy to use for a variety of occasions, whether it's a weeknight dinner or holiday gatherings. They're high-quality, comfortable to hold and work with and they provide precise cuts — ideal for the home chef.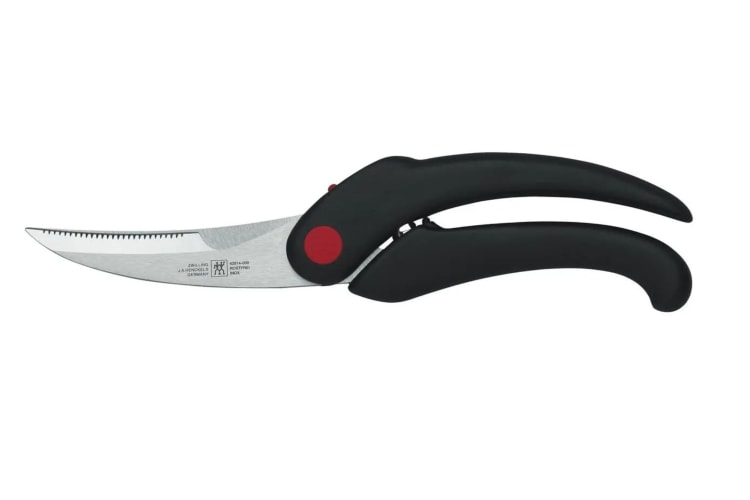 2. Best for Cutting Through Bone: OXO Grips Spring-Loaded Poultry Shears
If you're a seasoned home chef, you know how difficult cutting through some of the tougher parts of the bird can be. The OXO Grips Spring-Loaded Poultry Shears are the best poultry scissors for getting through bones, skin and cartilage of the bird. Having springs in the handles creates a bounce-back so the blades don't get caught up or stuck. Plus, paired with the comfortable handles, there is much less strain on your hands. These shears also feature one micro-serrated blade to make cutting easier. The blades of these shears have a narrow tip, which allows you to reach tiny, tight areas. These are the best poultry shears if you're looking to do heavy-duty work in the kitchen.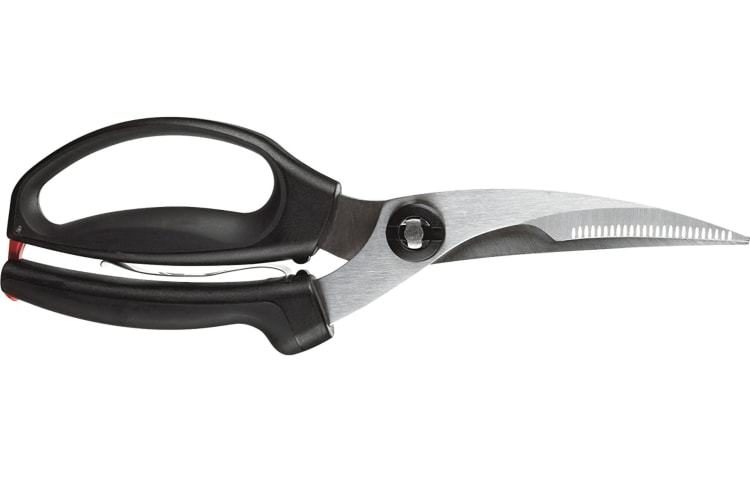 3. Best on a Budget: Tansung Poultry Shears
You may be a beginner home chef who's just starting to invest in your kitchen. Just because you're not ready to spend on prestige brands doesn't mean you have to forgo having the best knife sets or the best poultry shears. Enter the Tansung Poultry Shears, which offer a great precision cut for less. The Tansung blades are spring-loaded, which helps with strain when working with tough parts of the bird. They also feature a serrated edge that adds a slight grip when cutting.
When you're ready to wash, the blades come apart so you can clean every nook and cranny. Once you've finished, there is a lock mode, which protects the blades when not in use. Don't let the lower price talk you out of considering these as one of the best heavy-duty poultry shears. You get your money's worth and then some.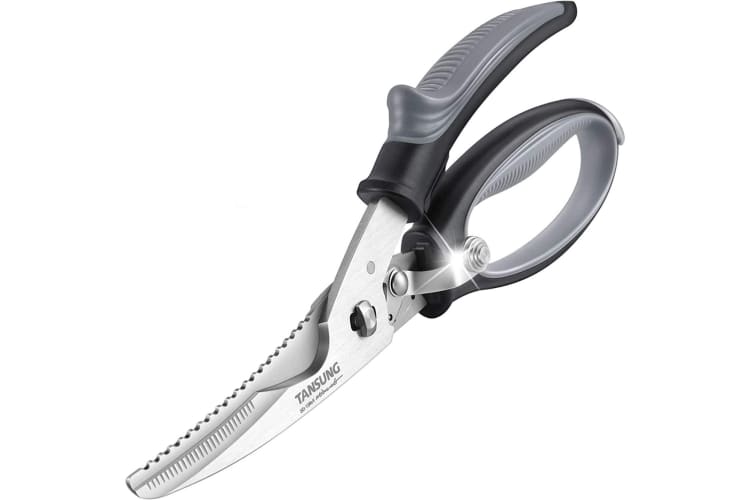 Shop Like a Chef in the Cozymeal Shop
Update your kitchen with top-rated cookware. Beloved brands, easy returns and guaranteed price-matching.
4. Most Compact: Kunifu Poultry Shears
Have a small kitchen that's low on counter and drawer space? You can still have all your necessary kitchen tools, especially if you choose a compact version of the best poultry scissors. The serrated edges of the Kunifu poultry shears make them one of the best kitchen shears for cutting chicken. Best of all, they have a slim profile, which allows them to slide right into a storage drawer without taking up much room. Or, if you're one not to leave home without your fancy kitchen tools, take these shears camping or on a road trip without taking up a lot of room in your pack. These are the best poultry shears for anyone who wants to bring the comfort of their kitchen with them. Plus, with the locking mechanism, these shears will stay shut and protect the blade.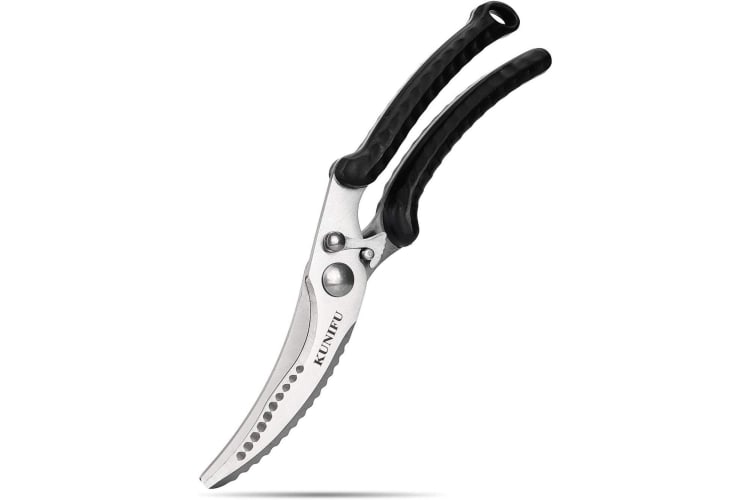 5. Most Versatile: Andong Multipurpose Poultry Shears
If you're a home chef that values efficiency, you need a multipurpose tool that can do it all. The Andong Multipurpose Poultry Shears are the best poultry shears you can use to quickly cut through meat, skin and bone of the birds you're trying to break down, thanks to the sharp stainless steel blades. But you can also use this tool for quickly cutting vegetables, scaling fish and removing claws and shells from crustaceans. These poultry shears have a spring-loaded handle, which allows for comfort and ease while cutting. The two blades separate to make cleaning easier and more thorough. And because they're made from high-quality stainless steel, these will be the best poultry shears and staple in your kitchen for years to come.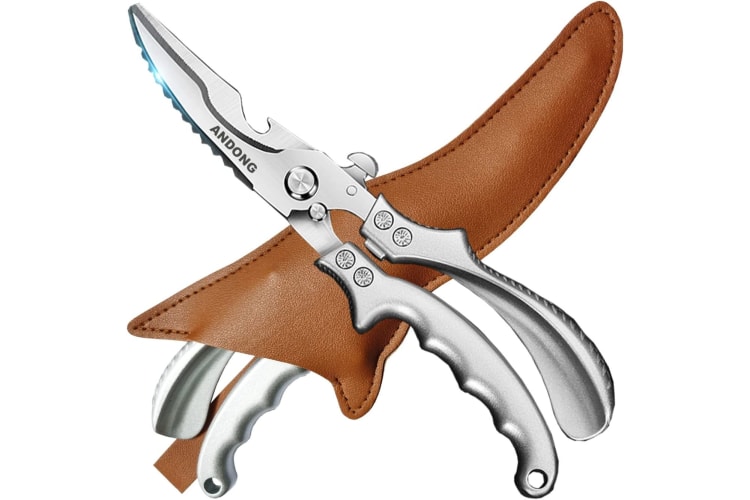 6. Best With Serrated Edge: Zwilling J.A. Henckels Deluxe Poultry Shears
Zwilling finds itself in another spot on the list, this time for the best poultry shears with a serrated edge. The serration provides an extra grip to cut through skin without slipping, even if it's been marinating in oil. Durable and efficient, the Zwilling J.A. Henckels Deluxe Poultry Shears are some of the best kitchen shears for the spatchcock process. The separation allows for clean, crisp cuts that lead to the perfectly cooked bird. The plastic handles allow for a comfortable and secure grip, so you can rest assured these poultry shears can get the job done without causing a strain on your hand. These kitchen shears are also dishwasher safe, but similar to the best kitchen knives, it's best to hand-wash them to preserve their durability. Luckily, the two blades separate, so you're able to clean every corner with ease.

Join 200,000+ Culinary Enthusiasts
Exclusive deals, recipes, cookbooks, and our best tips for home cooks — free and straight to your inbox. PLUS: 500 Rewards Points.
Home chefs know that the right tools make all the difference when it comes to preparing your favorite dishes and experimenting with new recipes. If you often cook with whole poultry and need the right tool to break down the bird, investing in the best poultry shears will only benefit the work you do in the kitchen.
It's most important to find the best poultry shears that work for what you need and feel comfortable for you. Find the kitchen tools that will make you love creating in your kitchen.
For even more ways to elevate your kitchen, check out chef-recommended cutlery in the Cozymeal Shop.