Butcher Knife vs. Cleaver: What's the Difference?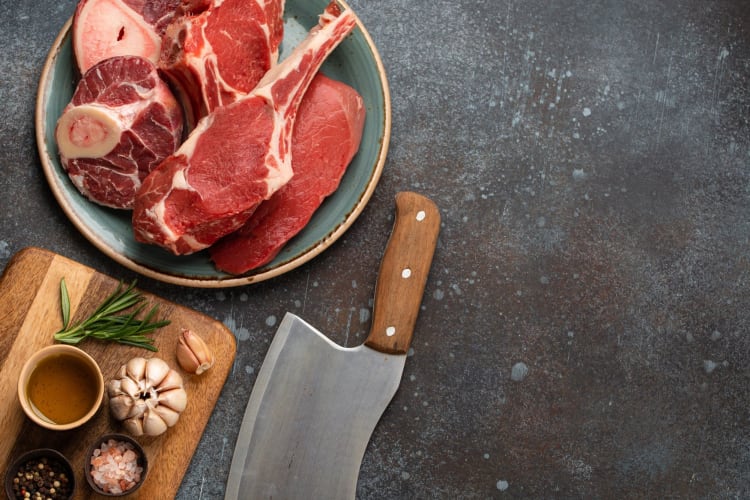 Our editorial team recommends the best products through independent research, selection and careful review. If you make a purchase through one of our affiliate links, we may earn a commission. Prices are subject to change.
If you are in the market for a new knife that will make quick work of a big cut of meat, you'll want to investigate a butcher knife vs. a cleaver. Most home cooks have their go-to chef's knife, which is versatile and can be used for almost anything. But when the job calls for breaking down a whole chicken, slicing a tenderloin into steaks or chopping a roast into cubes for stew, the best kitchen knives to pull from your block will be a butcher knife or a cleaver.
Is it worth investing in a knife just for cutting meat? What's the best type of knife to buy? Having a quality knife that can take on butchering makes the process go smoothly and ensures you don't hack up an expensive cut of meat. Plus, buying larger pieces of meat and being able to butcher them into smaller servings at home is a great way to save money over buying meat that is already broken down. Let's take a look at a knife guide for a butcher knife vs. a cleaver to help you learn how to make the best use of each.
Jump to Section
Shop Top Cutlery Loved by Chefs
Update your cutlery collection with knives a cut above the rest. Shop chef's knives, steak knives, paring knives and more.
What Is a Cleaver?
When researching the types of kitchen knives best for cutting meat, you'll be examining the difference between a butcher knife vs. a cleaver. What is a cleaver? That's the intimidating-looking knife with the large rectangular blade. It usually has a shorter, thicker handle for secure gripping. Cleaver knives are best for jobs that require a powerful up/down chopping motion like breaking down meat and bone or chopping large, firm vegetables.
When searching for a good meat cleaver, there's no lack of fantastic options. The Zwilling Four Star 6-Inch Meat Cleaver is a quality cleaver from the iconic Zwilling brand that equally prioritizes safety, comfort and functionality. The Cuisine::pro Damashiro Emperor 6.5-Inch Cleaver adds a half inch to the Zwilling cleaver and features an attractive pakkawood handle.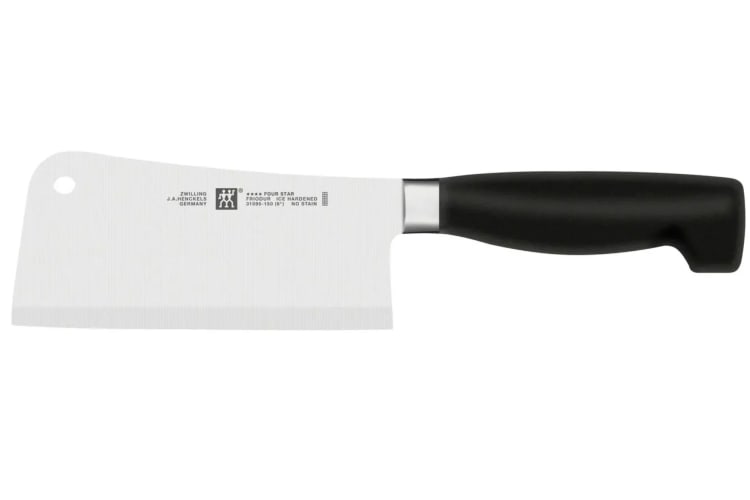 Uses for a Cleaver
The cleaver is the best choice for tough jobs like cutting through bone and tendons. If you are starting with a whole raw chicken and deciding between a butcher knife vs. a cleaver, the cleaver is the right choice for separating the wings and legs from the breast and thigh. It should only take one chop. If you try a butcher knife for this job, you'll be sawing through the joints, which dulls your blade and doesn't result in a clean cut. You can also use your cleaver to split the breast bone of a chicken. Cubing of meat is less efficient using a butcher knife vs. a cleaver.
The option to use a butcher knife vs. a cleaver is not just for meat. Need to split a spaghetti or butternut squash in half? Set your cleaver into whatever you need to slice and then give the back of the blade a firm whack. Voíla! Job well done.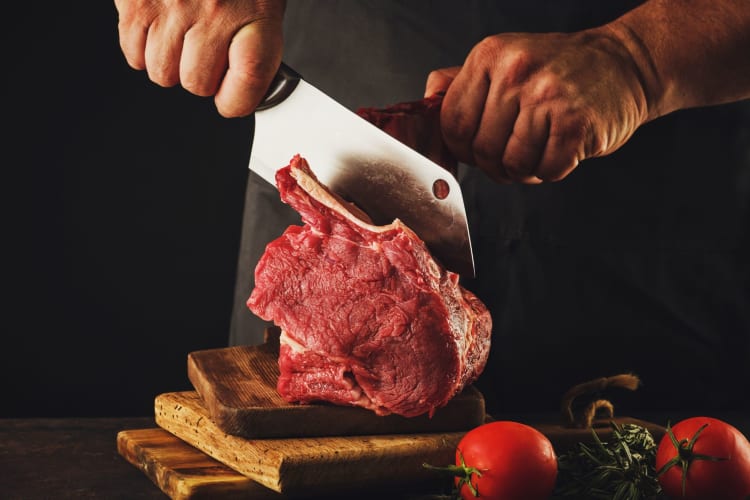 What Is a Butcher Knife?
As we continue our differentiation between a butcher knife vs. a cleaver, let's take a closer look at the butcher knife. Butcher knives have long blades that curve up toward their sharp tip (though some butcher knives have blunt tips). The long and sleek design of a butcher knife vs. cleaver is ideal for knife cuts like carving or slicing jobs, especially in large cuts of meat.
Because the blade is so long, you can make smoother cuts without having to saw back and forth. But if sawing is the task at hand, a butcher knife vs. a cleaver is the better choice.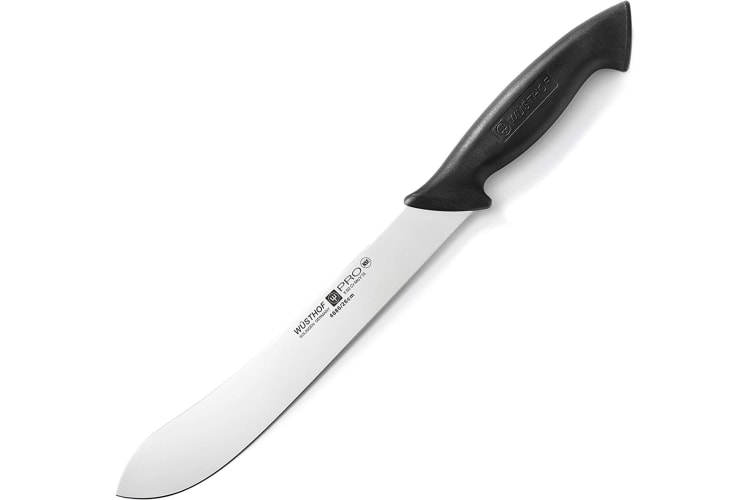 Shop Like a Chef in the Cozymeal Shop
Shop premium knives from the brands you love, used and approved by world-class chefs.
Uses for a Butcher Knife
The best uses for a butcher knife vs. cleaver are more delicate cutting and carving jobs, like deboning a leg of lamb or trimming the exterior layer of fat off of a ham. While you can use your favorite chef's knife for many jobs, the butcher knife vs. the cleaver is a more enjoyable tool to use for sectioning ribs or slicing tenderloin into steaks.
The Cutco Model 1722 Butcher Knife features full tang, triple-rivet construction for the ultimate in balance, safety and security. The Wüsthof Pro 10-Inch Butcher Knife is chef-quality cutlery that bears the esteemed Wüsthof name but at an affordable price.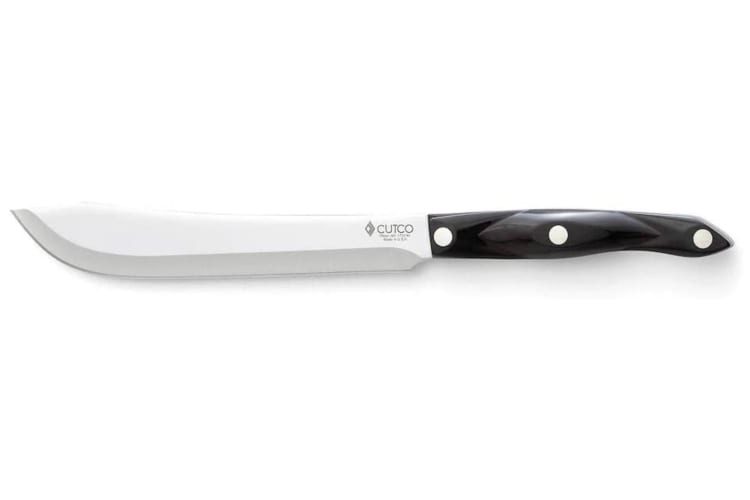 Butcher Knife vs. Cleaver
Best Uses: Whether you choose a butcher knife vs. a cleaver, you'll be ready to handle any piece of meat or large vegetable in your kitchen.

Blade Design: It's easy to identify a butcher knife vs. a cleaver by the blade. Cleavers have wide, rectangular blades and short handles, while butcher knives have slim blades that curve up to a point at the tip.

Cutting Action: If carving or slicing is your goal, a butcher knife vs. a cleaver is the best choice. Cleavers work best for up/down motions like cutting or hacking. You can also use the side of a cleaver blade for smashing.

Blade Length: Cleaver blades are usually 4-8 inches long, while butcher knife blades are 8-10 inches or longer.

Weight: As you might expect, a butcher knife vs. a cleaver is a much lighter weight knife. Cleavers have some heft to them so you can use powerful hacking motions without damaging the blade.

Price: As with all quality kitchen knives, the cost for a butcher knife vs. a cleaver ranges from budget prices to serious investment dollars. But that means there is a knife for the job that fits every budget.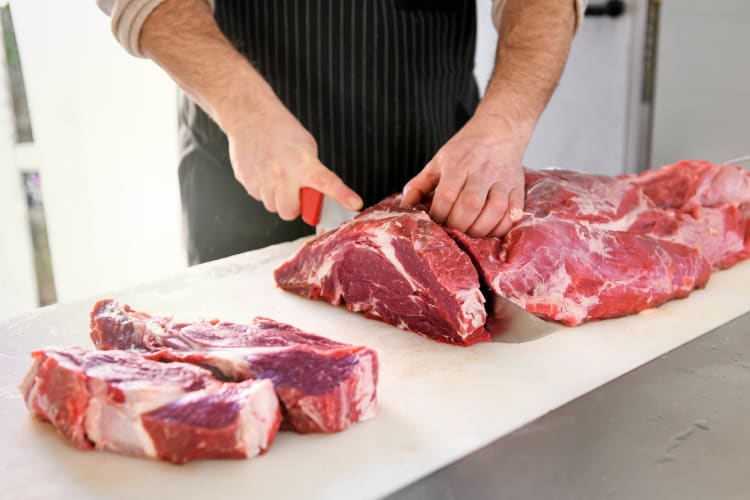 Join 200,000+ Culinary Enthusiasts
Exclusive deals, recipes, cookbooks, and our best tips for home cooks — free and straight to your inbox. PLUS: 500 Rewards Points.
Many of us have a collection of knives sitting in a block on our counters but find that we often use only one or two. Learning the best use for each knife in your block just makes the process of preparing food easier and more enjoyable. Now that you understand the best uses for a butcher knife vs. a cleaver, you'll be able to take advantage of tools you already have. And if you don't own a knife block but prepare meat at home on a regular basis, you'll want to invest in both a butcher knife and a cleaver so you're ready for any job.
For even more ways to elevate your kitchen, check out chef-recommended cutlery in the Cozymeal Shop.