What Is a Roasting Pan and How Can You Use One?
Our editorial team recommends the best products through independent research, selection and careful review. Prices are subject to change.
There's more than meets the eye when determining what a roasting pan is useful for in the kitchen. Most roasting pans only see the light of day on major holidays when a turkey or ham takes center table. But did you know your roasting pan can be a star player all year round? It's a perfect piece of cookware for daily use, ideal for international recipes, vegetable dishes — even desserts!
You may have demoted your roasting pan to the bottom drawer or turned it into a holder for your other pans. If so, it's time to haul it out and show it some culinary attention. With a little re-thinking, you'll be imagining all kinds of new dishes to cook in it. After all, what is a roasting pan if not the most versatile cooker in your collection?
Jump to Section
Shop Like a Chef in the Cozymeal Shop
Update your kitchen with top-rated cookware. Beloved brands, easy returns and guaranteed price-matching.
What Is a Roasting Pan?
A roasting pan is one of the larger, sturdier pans you'll have in your collection. It's a deep vessel made of aluminum, cast-iron, copper or stainless steel, like the Demeyere Industry Stainless Steel Roasting Pan. Their raised sides allow even cooking, making them perfect for preparing larger meat and poultry cuts. They should also have sturdy side handles so you can lift the heavy pan in and out of the oven with ease.
Roasting pans are usually oval or rectangular in shape to accommodate larger meals, sometimes with enough space for vegetables to be included for easier full-meal prep. The extra-roomy interior of the larger-sized Zwilling Stainless Steel Nonstick Roasting Pan is a great example.
Some roasting pans are equipped with lids that lock in steam for slow-cooking tougher cuts of meat, though foil can serve the same purpose on a lidless pan. There are helpful versions like the Cuisinart Multiclad Pro Triple Ply Stainless 16" Roasting Pan With Rack that include a raised rack to drain juices into the pan for use in gravies and sauces.
And a roasting pan like the Anolon Tri-Ply Clad Rectangular Roaster With Nonstick Rack includes an aluminum core to ensure even heating, an important feature for creating a perfect cooking environment no matter what you prepare.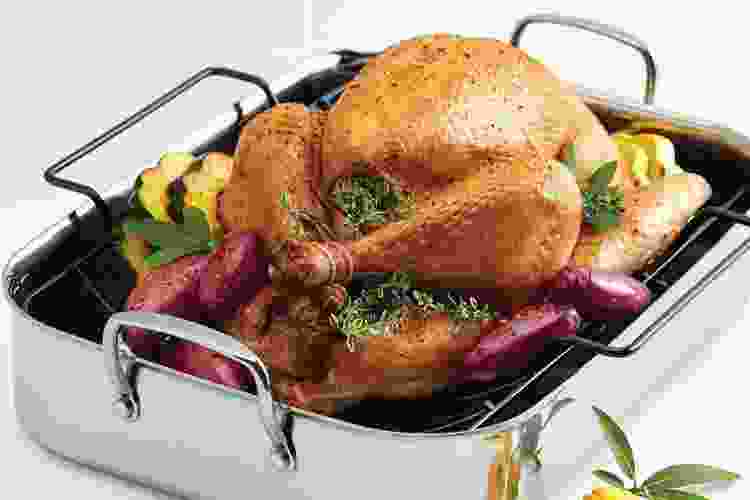 How to Use a Roasting Pan
There's almost no limit to what you can dream up when deciding how to use a roasting pan. Try covering the top with foil to create a steamer for fish or layering up a classic lasagna in the expansive interior. Create casseroles and egg strata in a roasting pan for fantastic take-along dishes for brunches or special events.
You can prepare delicious vegetable dishes, create crumbles, cakes and bar cookies and even whip up tasty bread puddings. With all the sweet and savory possibilities, roasting may be the very least of what you use your roasting pan for!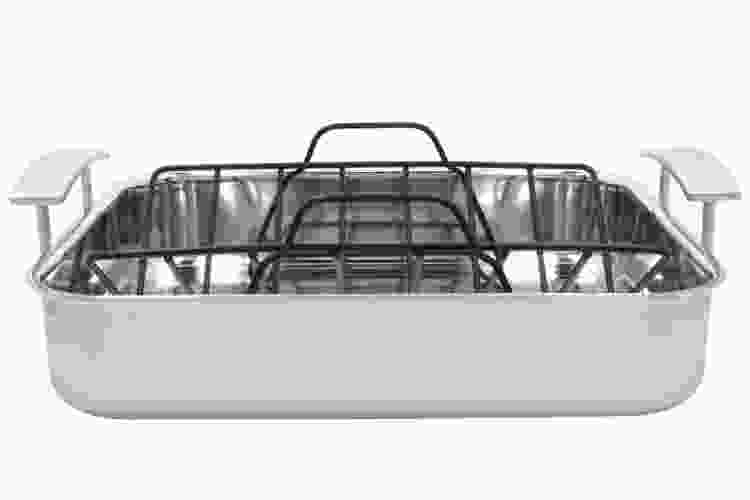 Join 200,000+ Culinary Enthusiasts
Exclusive deals, recipes, cookbooks, and our best tips for home cooks — free and straight to your inbox. PLUS: 500 Rewards Points.
The initial response to "What is a roasting pan?" might seem obvious. But realizing your roasting pan can serve as multi-purpose cookware can help you decide which roasting pan will best address your kitchen needs. With the right choice, you'll end up with several useful pieces with the purchase of just a single pan.
If you're in the market for a roasting pan, you can find a deeper dive on our favorite pieces in our best roasting pans round-up. If you already have one, it's time to give it a starring role in your kitchen!
For even more ways to elevate your kitchen, check out chef-recommended cookware in the Cozymeal Shop.