Saucepan vs. Pot: What's the Difference?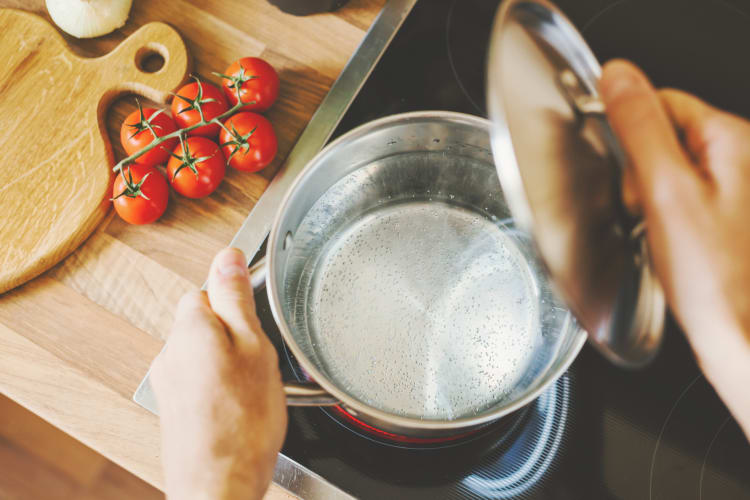 Our editorial team recommends the best products through independent research, selection and careful review. Prices are subject to change.
Whether you're a seasoned home chef or you're new to the world of cookware, it can sometimes be difficult to know the purposes of saucepans vs. pots. Have you ever stood in front of your cabinet full of pots and pans, wondering how and when you should use each one? The cookware sets you might have purchased for your kitchen at home come with just about everything you need, except one important thing: a guide to knowing what each item in the set does!
If knowing the distinction between a saucepan vs. pot has you stumped, don't worry. We've written this brief comparison to help you learn the difference between two essential cookware items that any home chef needs in his or her collection. Keep reading to learn the difference between a saucepan and a pot, some uses for each and some recommendations for the best ones on the market today.
Jump to Section
Shop Like a Chef in the Cozymeal Shop
Update your kitchen with top-rated cookware. Beloved brands, easy returns and guaranteed price-matching.
What's the Difference Between a Saucepan vs. Pot?
If, like many amateur cooks, you're wondering what the difference is between a saucepan and a pot, you're not alone. In general, pans are shallower pieces of cookware with one long handle, whereas pots are deeper and have two rounded handles instead of one. Pans allow for a larger distribution of heat and are perfect for sautéing vegetables or searing meat. Most often, you'll use a pan for any recipe that calls for high heat. Saucepans, like the name implies, are a type of pan, but this versatile piece of cookware fits somewhere in the middle ground between a traditional pan and a larger pot or stockpot.
The best saucepans have one handle, or helve, like a pan. They will also have taller sides that allow them to hold a larger volume of liquid, like a pot. This combination of features makes a saucepan perfect for many things. Because of the taller sides on a saucepan vs. a pot, they are great at conducting heat, which means liquids will boil faster and more evenly than in a typical pan or large pot. You can use a saucepan for boiling water, making sauces, poaching eggs and more.
Stockpots, unlike saucepans, have much taller sides and hold a larger volume of liquid. Because of these features, the best stockpots are often better for batch cooking things like soups and stews. Most stockpots are designed to retain heat and stop evaporation from happening as quickly as it would in an open pan. This makes stockpots great for steaming and boiling things.
If you're still wondering what the difference is between a saucepan and a pot, the key things to remember are the overall size and the number of handles. Inevitably, you'll find these two distinctions make a large difference in deciding whether to use a saucepan vs a pot in your next cooking adventure.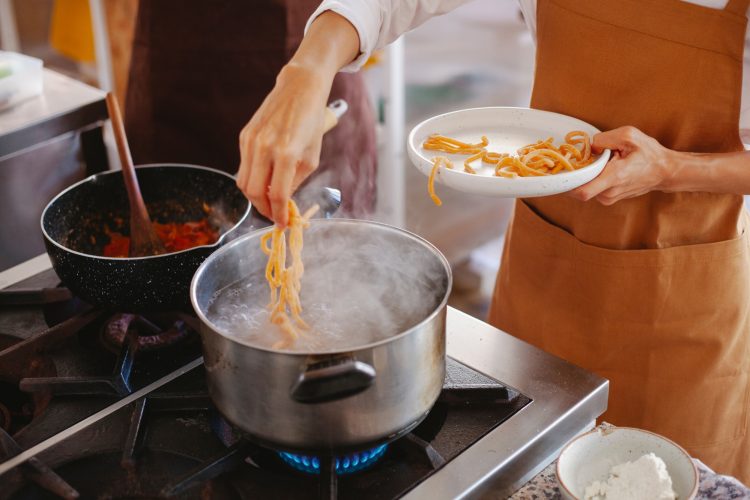 5 Uses for Saucepans
1. Delicious Sauces
As the name implies, a saucepan is great for making all of the delicious sauces you need to complete your dish. Make a savory tomato sauce for your pasta, or stir up white or brown gravy to serve at a brunch party or holiday dinner. As you decide between a saucepan vs. pot, keep in mind that the shallower depth of a saucepan means this cookware is perfect for smaller batches.
Shop Chef-Approved Cookware
Beloved brands. Easy returns. Price-match guarantee. Kick your kitchen confidence up a notch with cookware loved by chefs.
2. Poaching Eggs
Change up your morning routine by opting for poached eggs. A saucepan is a great cookware option for this breakfast dish. You'll be able to control how hot the water gets more easily in a saucepan vs. a pot, and because the heat will be distributed evenly, you'll have perfectly poached eggs in no time.
3. Boiling Water
If you don't need to boil large quantities of water, choose a saucepan vs. a pot. You'll be able to boil the perfect amount for pour-over coffee or a hot cup of tea. You can also use a small saucepan of boiling water to create a makeshift double boiler for melting chocolate or candy. Add a small amount of water to your saucepan, bring it to a boil and place a heat safe glass bowl on top to safely and easily melt chocolate or candy for your dessert.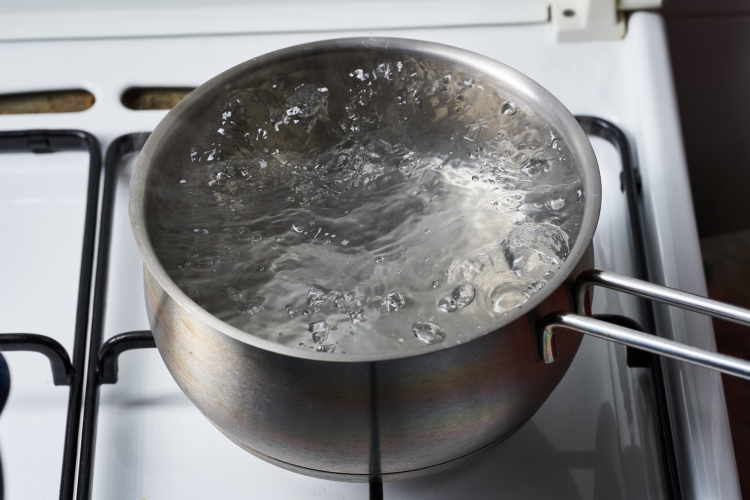 4. Rice or Grains
Often a saucepan is the perfect option for cooking rice, quinoa or small batches of pasta. The even heating and deeper sides will allow you to completely cover the grain or pasta with water and bring it to an even, rolling boil in no time at all. And because saucepans are sold in a variety of sizes and volumes, you can have several on hand to be sure you use the right size cookware for the dish you are preparing.
5. Small-Batch Soups
For a small batch of soup that starts with simmered vegetables, a saucepan vs. a pot might be an easier option. Of course, if you're making lots of soup to feed a crowd, the stock pot vs. saucepan will be the better choice! A saucepan works best for a small amount or to heat up canned soup and vegetables for easy serving.
5 Uses for Pots
1. Making Stock
Of course, one of the best uses for a stockpot is making stocks or broths to use as the base for future meals. Because of the pot's taller sides and larger volume, you'll be able to create your own broths and turn those into delicious soups.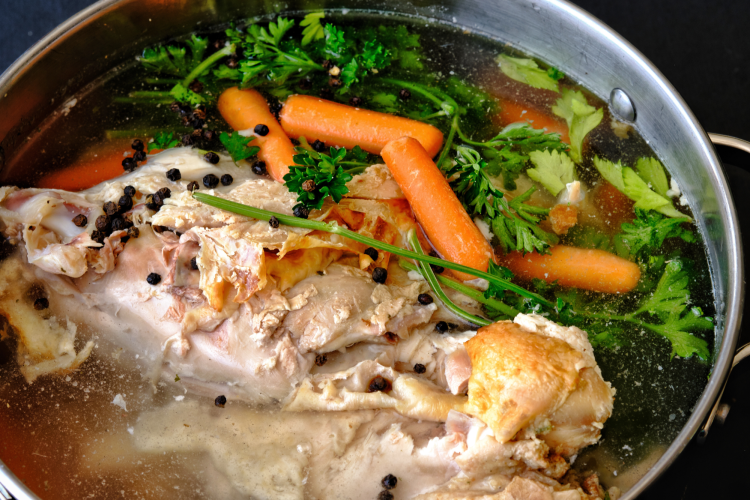 2. Steaming
A great stock pot can be a staple in the kitchen for many things. One great example is steaming seafood or vegetables. You can steam crab, lobster or even larger vegetables like corn in a stockpot. The design of these pots keeps liquids from evaporating as quickly, ensuring that your food will steam until it is the perfect temperature and level tenderness.
Shop Like a Chef in the Cozymeal Shop
Update your kitchen with top-rated cookware. Beloved brands, easy returns and guaranteed price-matching.
3. Boiling Pasta
Although you could use a saucepan vs. a pot to boil a small amount of pasta, if you plan to cook larger quantities of noodles or noodles with a larger size, like lasagna, you might consider choosing a pot over the smaller saucepan. With a larger volume, you'll be able to fully cover the pasta with water and ensure that it cooks to optimal tenderness.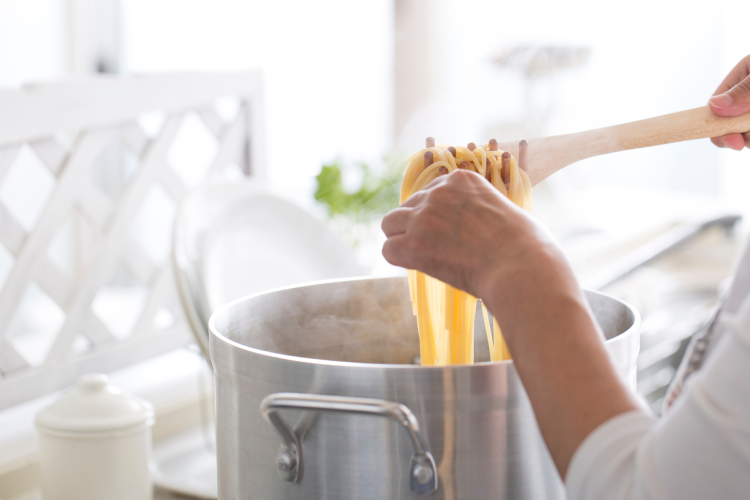 4. Preserving
If you ever tried your hand at canning vegetables or making homemade preserves, you'll know that In these instances, it's best to choose a pot when deciding between a saucepan vs. a pot. A larger-volume stockpot is your best option, and is some of the best non-stick cookware you can have in your cabinet. You'll be able to completely cover your jars of preserves in water and cook them until they are done and ready to be stored in the pantry or refrigerator.
5. Deep Frying
Deep frying chicken or even a sweet treat will be difficult in a saucepan, which doesn't allow for the volume of oil you need to fully cover your food. Instead, opt for a higher-volume stockpot and then enjoy your crispy, perfectly fried dinner.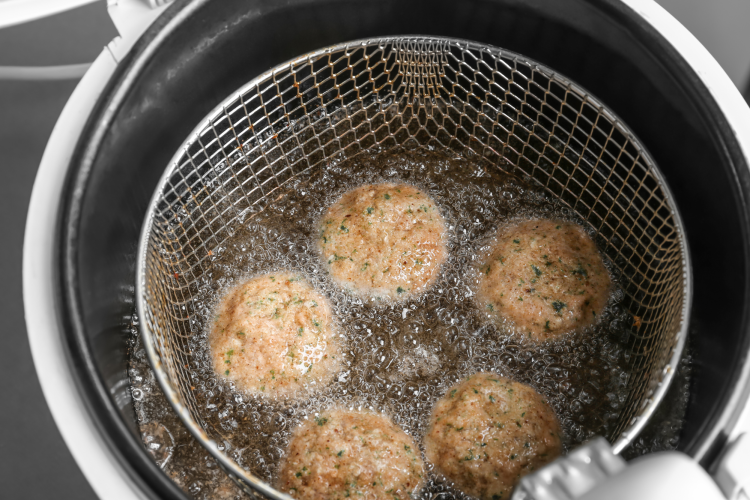 Our Favorite Saucepans
Every chef is entitled to his or her favorite cookware items, but we are partial to a few saucepans that will really help improve your culinary prowess.
The Demeyere Stainless Steel 1.5-Qt Sauce Pan is a classic saucepan that heats up quickly and evenly, ensuring that all your sauces will be as flavorful as possible.
If you'd rather opt for a cast iron pan, try the Finex Cast Iron Sauce Pan - 1 Qt is a great option. The cast iron of this pan means it works well on the stovetop or even in a wood fire oven.
Finally, if you're looking for a saucepan that has a little more volume, try the Demeyere Stainless Steel 5.5-Qt Sauce Pot. This is the perfect combination of saucepan and stockpot, plus it is oven-safe, so you can transition from stovetop to oven if necessary, and the 5.5 quart volume puts it right in the middle of a traditional saucepan and pot.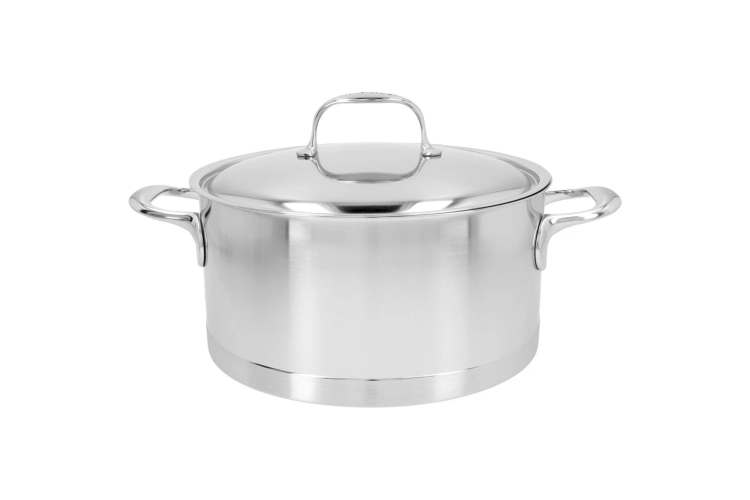 Shop Chef-Approved Cookware
Beloved brands. Easy returns. Price-match guarantee. Kick your kitchen confidence up a notch with cookware loved by chefs.
Our Favorite Pots
If you have large batches of chili or stew on the menu, here are a few larger stockpot options that we love.
For a great basic pot, you can't go wrong with the Hestan NanoBond Titanium Stainless Steel Stockpot, 8-Quart. This pot features a wide base and titanium surface that allows for quick heating time and long-lasting durability.
Another great 8-quart option is the Demeyere Industry Stainless Steel 8 Qt Stock Pot with Lid. This classic and long-lasting stockpot will be a staple in your kitchen.
For a pot with an even higher volume, try the Anolon Advanced Home 10 Qt Stockpot. You'll be able to easily meal prep with this 10-quart pot that features advanced nonstick technology, and the larger size means you'll be able to make more at one time, instead of having to split your meal prep into multiple batches.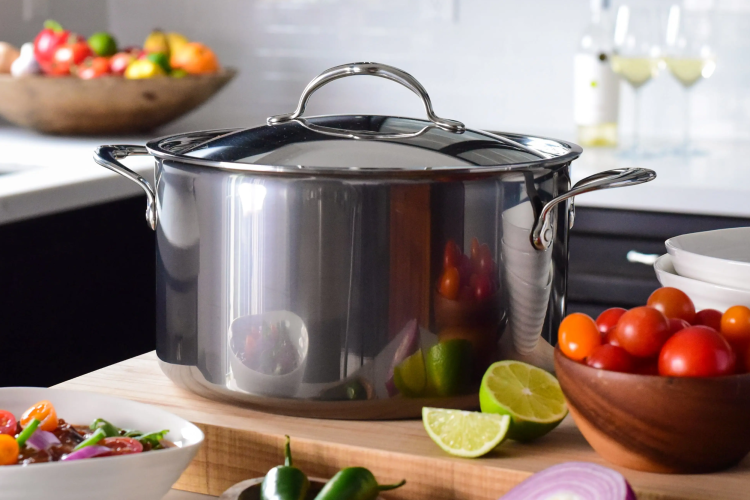 Our Favorite Cookware Sets
After reading about the difference between saucepans vs. pots, it's clear that both of these cookware items are essentials in the kitchen. If you're just learning how to cook, you might need to stock up on multiple cookware essentials at once. So if you're looking for some of the best cookware sets that contain both saucepans and pots, we have some recommendations for you.
First up is the Calphalon Classic Nonstick Hard-Anodized 14 Pc Cookware Set. Calphalon is a highly trusted cookware brand, and this 14-piece set features non-stick surfaces and oven-safe technology that will allow you to follow just about any recipe with ease.
If you don't need a full 14-piece set, the Anolon Nouvelle Stainless 10-Piece Cookware Set is a high end option that allows you to feel like a gourmet chef right at home. Each piece in this set has a double coated copper bottom that eliminates uneven heating and makes your job as the chef even easier.
Finally, check out the Hestan CopperBond Ultimate Cookware Set, 10-Pc if you're looking for an elegant and ergonomic addition to your cookware collection. These high-quality pots and pans will make you feel like a professional in no time at all.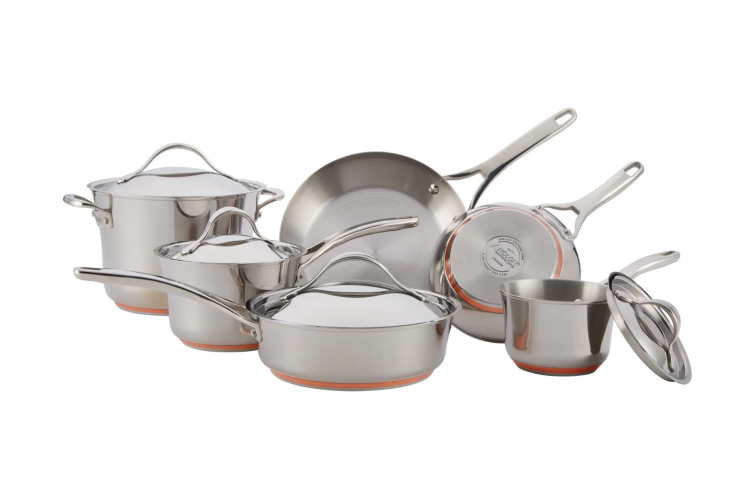 Join 200,000+ Culinary Enthusiasts
Exclusive deals, recipes, cookbooks, and our best tips for home cooks — free and straight to your inbox. PLUS: 500 Rewards Points.
We hope that this brief guide to saucepans vs. pots has been helpful for you. No matter what dish you're preparing, from a savory gravy to a large batch of comforting soup, it's always important to know the purpose of each piece of cookware in your kitchen.
For even more ways to elevate your kitchen, check out chef-recommended cookware in the Cozymeal Shop.