6 Best Japanese Steak Knives for 2023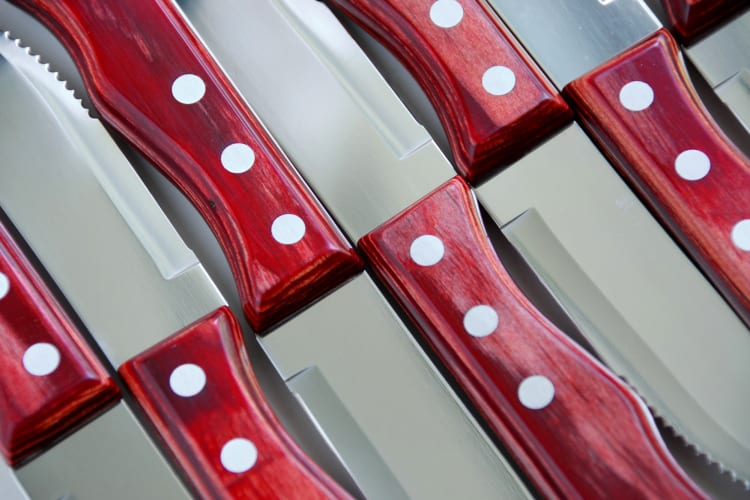 Our editorial team recommends the best products through independent research, selection and careful review. Prices are subject to change.
Japanese steak knives have a reputation for being a favored by professional chefs and home cooks alike. These are must-have tools for anyone who wants to up their kitchen game and elevate their dinner table with cutlery that stands the test of time. What sets Japanese knives apart is the lighter steel used in the contraction, which provides balance and a thin blade to precisely cut through meat.
When using these Japanese steak knives, you'll definitely note the quality. Japanese steak knives provide easy, clean cuts through steak and other meat. They're also durable and stay sharp, so they are truly an investment. Below, we've rounded up the best Japanese steak knives that will elevate your dining experience to restaurant-quality levels.
Jump to Section
Shop Top Cutlery Loved by Chefs
Update your cutlery collection with knives a cut above the rest. Shop chef's knives, steak knives, paring knives and more.
1. Best Overall: Miyabi Artisan 4-Pc Steak Knife Set
Crafted using traditional Japanese blade-making techniques, the Miyabi Artisan 4-Pc Steak Knife Set brings to the table the precision that many professional chefs look for in their knives. Beautifully crafted with a hammered finish and wood handles, these best steak knives will be a centerpiece of your kitchen. The hammered blade allows for food to slide off easily rather than sticking to the knife. Mimicking a traditional katana, the shape of the blade allows for a rocking motion when cutting. Being made from the finest stainless steel, these knives will last you a lifetime.
Why This Product Is Cozymeal-Approved
The quality of these knives is truly unmatched by any similar competitors. Coming with four pieces, this is the best Japanese steak knife set is ideal for foodies that prioritize performance. Sharp edges allow for superior performance when slicing through both meats and vegetables.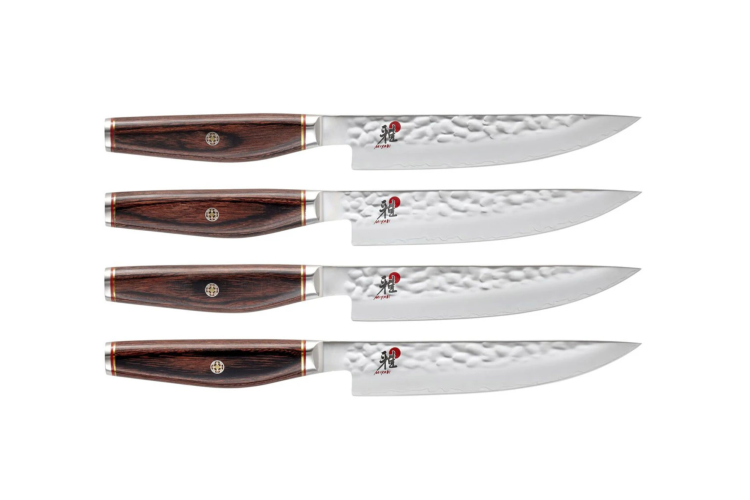 2. Best For Special Occasions: Miyabi Birchwood SG2 4-Piece Steak Knife Set
Stunningly elegant, the Miyabi Birchwood SG2 4-Piece Steak Knife Set is a set of four ice-hardened CRYODUR blades featuring a flower Damascus pattern that contributes to durability and strength. Precise cuts are effortless with these thin, gently curved blades, and the light Karelian birch handles are rounded for a comfortable grip.
Why This Product Is Cozymeal Approved
We're in awe of the beauty of this knife set and how easily it cuts through any meat we apply it to. The beautiful Karelian birch handles also make for a magnificent conversation piece over a meal. Without a doubt, this set is the height of both function and aesthetics.
3. Best Performance: Miyabi Koh 4-Pc Steak Knife Set
The Miyabi Koh 4-Pc Steak Knife Set has the best of German and Japanese engineering to create a knife that no other can rival. Forged from high-quality stainless steel, this knife set is durable and resistant to both corrosion and chipping. The sleek sharp edge allows the blade to slice through any meat or vegetable with ease. Handcrafted for comfort, the pakkawood handle allows you to maintain an easy grip on the knives.
Why This Product Is Cozymeal-Approved
This Japanese steak knife set is for anyone looking to improve the quality of their tools. Ice-hardened steel and expertly crafted by hand, these best Japanese knives provide unmatched performance and will remain a centerpiece in the kitchen for years.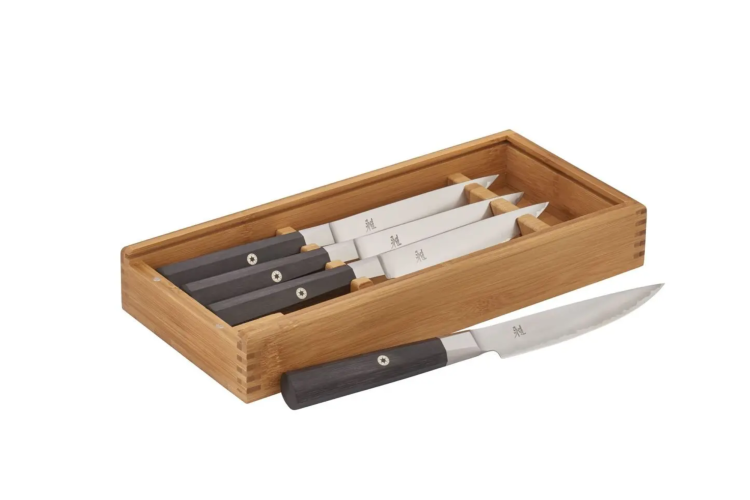 4. Best Budget: Kai Housewares Luna 4-Piece Steak Set
Stock your kitchen without breaking the bank with the Kai Houseware Luna 4-Piece Steak Set. Affordability doesn't sacrifice any of the durability that many come to love from the best Japanese steak knives. The Luna 4-Piece Steak Set is made durably with high-carbon stainless steel that is corrosion- and wear-resistant. They're hand-sharpened and resharpened with ease. With a serrated edge, these blade slice through any cut of meat with no resistance.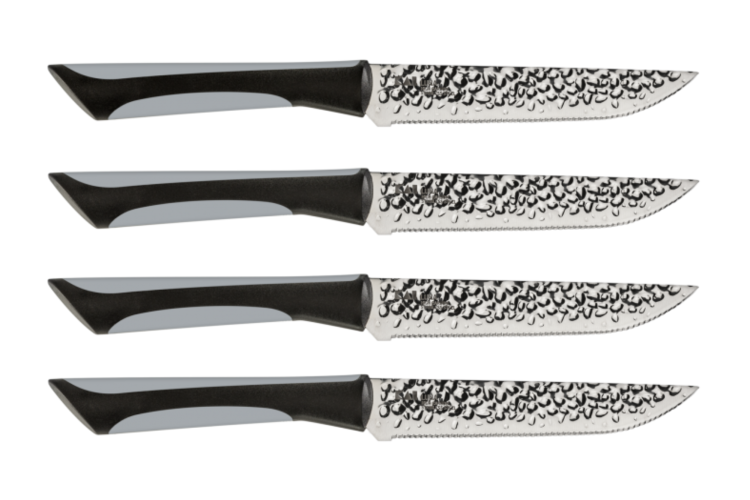 Shop Like a Chef in the Cozymeal Shop
Shop premium knives from the brands you love, used and approved by world-class chefs.
5. Best for Beginners: Tojiro Japan DP Steak Knife 4-Piece Set
Among Japanese knife types, steak knives are a cornerstone in the kitchen. For professional chefs, the right blade provides a beautiful presentation. Bring the quality of a professional kitchen into your home with the Torjiro Japan DP Steak Knife 4-Piece Set. The VG-10 stainless steel is resistant to rust and corrosion, so it's sure to last for years, even with continued use. Hand-forged and sharpened, these knives will slice through even the toughest cuts of meat. The black micarta handle is constructed in a way that allows for a comfortable grip, making these great tools to practice your knife skills.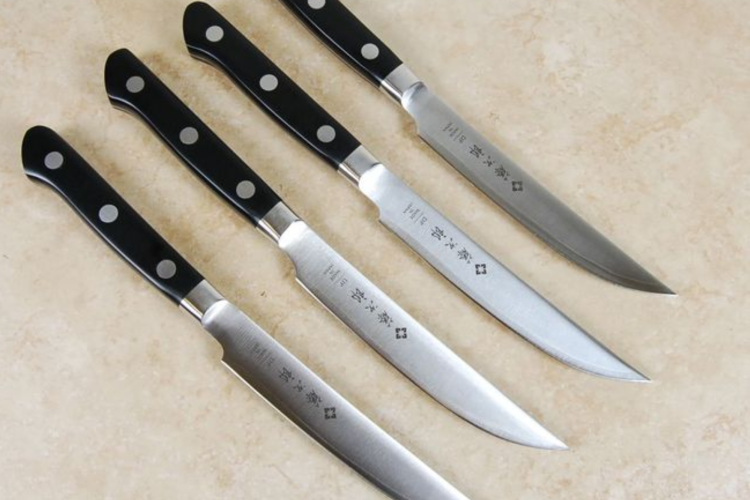 6. Best Long-Term Investment: Yoshimi Kato VG10 Damascus Steak Knife
Chefs invest in their tools, and the right Japanese steak knife can be a fixture in your kitchen for years. For a home chef, the Yoshimi Kato VG10 Damascus Steak Knife is the perfect tool and investment. Yoshimi Kato comes from a line of artisans and steel forgers who put craft and quality above anything else. Made from stain- and rust-resistant VG-10 steel, this knife has a sharp edge that slices cleanly and easily through any cut of meat. The Yoshimi Kato VG10 Damascus Steak Knife will be as beautiful as it is functional for your kitchen.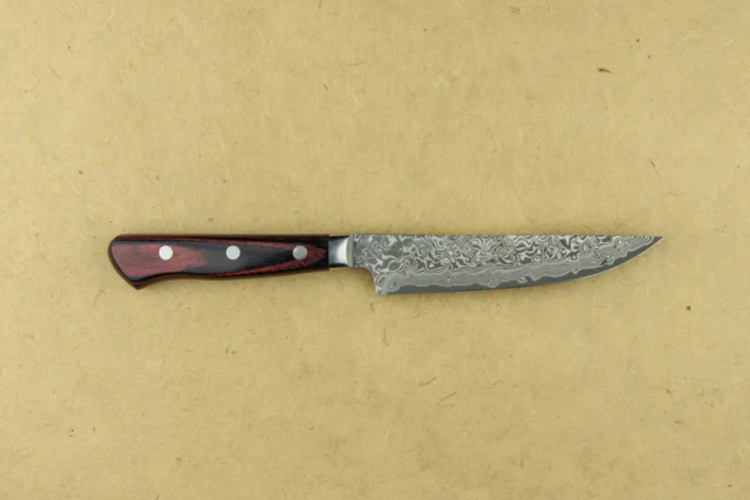 Join 200,000+ Culinary Enthusiasts
Exclusive deals, recipes, cookbooks, and our best tips for home cooks — free and straight to your inbox. PLUS: 500 Rewards Points.
The right tools in the kitchen make all the difference. With high-quality Japanese steak knives, you'll be able to cut, slice and dice with the precision of a professional chef. Japanese steak knives are an ideal tool for the kitchen because of their durability and hand-forged blades.
Finding the right Japanese knife is all about knowing what you need and what you like to cook. Whether you're just beginning to invest in your culinary tools or looking to upgrade your current pieces, Japanese steak knives will allow precise ingredient preparation and food presentation for years to come. For even more ways to elevate your kitchen, check out chef-recommended cutlery in the Cozymeal Shop.