Henckels vs. Zwilling Knives: Complete Buyers Guide
Our editorial team recommends the best products through independent research, selection and careful review. Prices are subject to change.
If you are in the market for a new set of kitchen knives, the challenge of deciding between Henckels vs. Zwilling can be quite dicey. You've heard of both brands, and both are synonymous with high-quality kitchen products. Are they made by the same company? Yes. Are they the same quality knife? No. Let's cut through the muck and sharpen our understanding of Henckels vs. Zwilling.
Zwilling J.A. Henckels is the parent company of the Henckels brand (also known as J.A. Henckels or Henckels International) as well as the Zwilling brand. Within each brand you'll find a multitude of different series to explore. We've carved out the similarities and differences between the product lines (Henckels vs. Zwilling) and also rounded up a list of the best products from each brand.
Jump to Section
Shop Top Cutlery Loved by Chefs
Update your cutlery collection with knives a cut above the rest. Shop chef's knives, steak knives, paring knives and more.
History of Zwilling J.A. Henckels
To get a sharper picture of Henckels vs. Zwilling, let's start at the beginning. Peter Henckels was a German entrepreneur who created and sold high-quality knives. He registered trademarks for both Zwilling (which means "twin" in English) and Henckels in 1731. His knives were sold under the Zwilling brand and the easily recognizable Gemini twin logo on the red background is now one of the oldest picture brands in history. When you compare Henckels vs. Zwilling, you're comparing different products from the same manufacturer.
The company prospered and quickly grew into an international operation. Peter's son, Johann Abraham, later renamed the company "Zwilling J.A. Henckels" after himself. Knives from Zwilling J.A. Henckels are available worldwide and are known for being some of the best kitchen knives on the market. In addition, the company has product lines including scissors, other cutlery tools and popular cookware brands like Staub and Ballarini.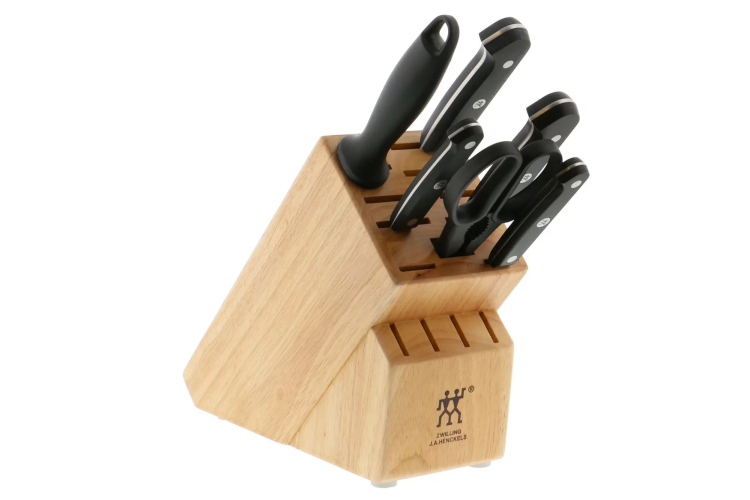 Henckels vs. Zwilling Similarities
Origin: Zwilling J.A. Henckels is a German knife brand though depending on the product line, manufacturing also takes place in other countries.
Manufacturing Style: A comparison of Henckels vs. Zwilling starts with how these products are made. Knives are either forged or stamped. There are many types of kitchen knives made from both processes in each brand but in general, most Zwilling knives are forged and the majority of Henckels knives are stamped. Which one is better and how do you know the difference?
Forged knives are made from a single piece of steel. Heat is used to soften the steel which is then hammered and shaped — forged — into a knife. Creating forged knives is a true craftsman skill and results in a harder knife that will keep its edge longer. In contrast, Henckels vs. Zwilling stamped knives are essentially cut out of a sheet of steel (kind of like using a cookie cutter) and are heat-treated to improve durability. They are still quality cutting tools, but this process is less costly, which translates to a more budget-friendly final product. Read package labels carefully to understand which type of knife you are buying or check out this knife guide.
Shop Like a Chef in the Cozymeal Shop
Shop premium knives from the brands you love, used and approved by world-class chefs.
Tang: Another similarity between Henckels vs. Zwilling is that both product lines include partial and full tang models. Tang refers to whether the metal from the knife blade extends all the way through the handle (full tang) or if it just has a small extension that is built into the wood or plastic grip (partial tang). It goes without saying that whether you pick Henckels vs. Zwilling, full tang is the more well-balanced, durable knife.
Price Point: A cost comparison between Henckels vs. Zwilling shows Zwilling is the higher-end brand within the family of products. Henckels is a more affordable product and a great starter brand.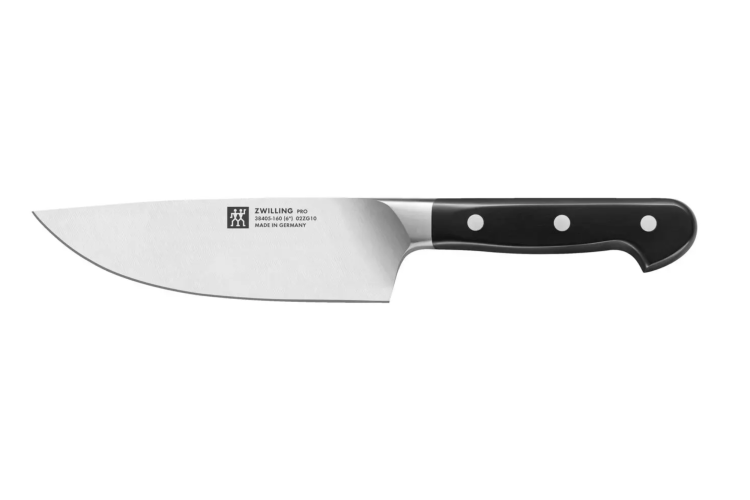 Henckels vs. Zwilling Differences
Origin: Because most Zwilling knives are forged, they are primarily manufactured in Germany and Japan, both countries with a rich history of impeccable knife craftsmanship. Product lines that are made with a stamped process are being made in India, Thailand, Spain and China.
Manufacturing Style: As mentioned above, when you examine the manufacturing process between Henckels vs. Zwilling, you'll find examples of both forged and stamped in each line. The vast majority of Zwilling knives are forged, making them longer-lasting and more durable. Zwilling knives usually come with a lifetime warranty whereas Henckels stamped knives will have a limited warranty.
Tang: Henckels vs. Zwilling knives come in both full and partial tang, but you can expect higher-end Zwilling knives to predominantly be full tang. The Henckels brand has many sub product lines with a mix of partial and full tang handles.
End User: How do you decide which knife is right for you, Henckels vs. Zwilling? Henckels offers a great selection of knives for the beginner or casual home cook in price ranges that make it easy to invest in a few staple pieces. Zwilling knives make the most sense for the serious home chef or those with culinary training who plan to use their knives in a commercial kitchen.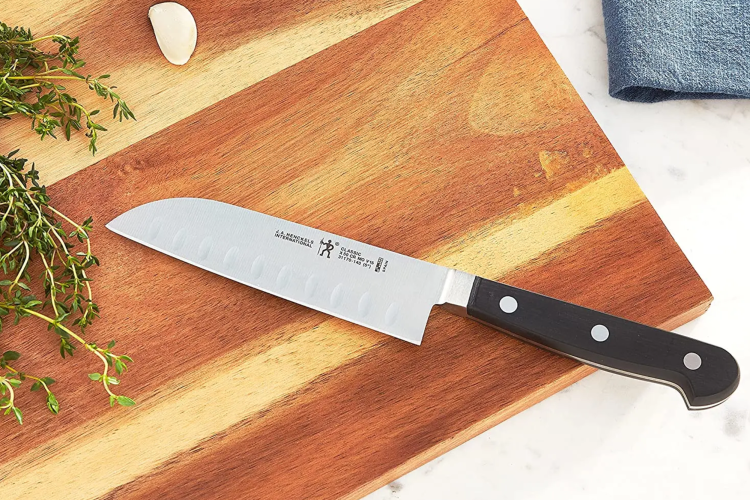 Our Favorite Henckels Knives
The workhorse of any kitchen is a chef's knife. This is the best knife for 80-90% of your slicing tasks. The Henckels Classic Precision 8" Chef's Knife is a perfect starter for someone who has never used a "real" knife. It's moderately priced for a forged chef's knife. A great partner for the chef's knife is the Henckels Classic Precision 7-Inch Santoku Knife which has small indentations on the blade surface which keep food from sticking as you slice. With one of each, you'll be able to compare Japanese vs. German knives.
Shop Top Cutlery Loved by Chefs
Update your cutlery collection with knives a cut above the rest. Shop chef's knives, steak knives, paring knives and more.
The Henckels 3pc Knife Starter Set includes a paring knife and a serrated utility knife with a chef's knife making it a great gift set.
Ready to toss all of those dull-bladed knives you've been carrying around since college? Get serious by investing in a Henckels Dynamic Knife Block or the Henckels Solution 15-Pc Knife Block which comes with a full set of stamped knives at a reasonable price.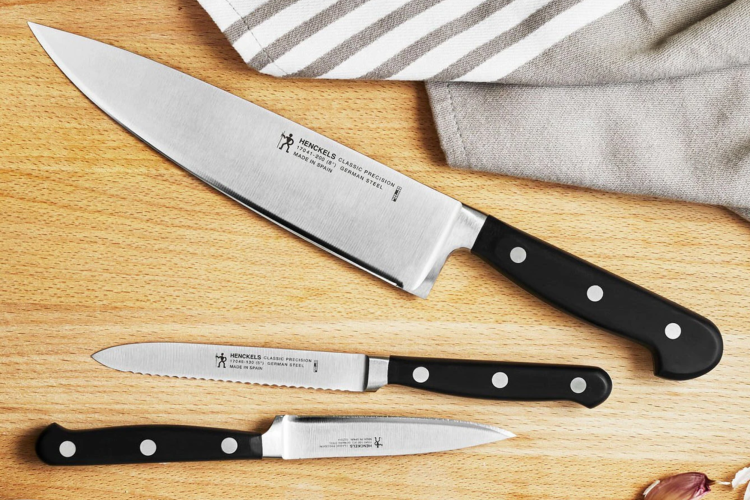 Our Favorite Zwilling Knives
For those who are really ready to experience the difference a forged-steel knife can make, consider investing in the Zwilling Pro Chef's Knife. You'll slice through an overripe tomato like it was butter and your herbs will chop finer. Pair that with the Zwilling Professional S Hollow Edge Santoku Knife and make quick work of an entire chicken with a few simple cuts.
Zwilling also offers several multi-knife sets like the Zwilling TWIN Four Star II 7-Pc Knife Set which comes in an attractive bamboo block or the Zwilling Pro 6-Pc Knife Block Set which includes kitchen shears and comes in a sleek white ceramic-wrapped cube.
If you want the Zwilling brand but need something more mid-range in terms of cost, the Zwilling Gourmet 10-Pc Knife Block Set includes a comprehensive set of stamped knives that will serve you for years to come.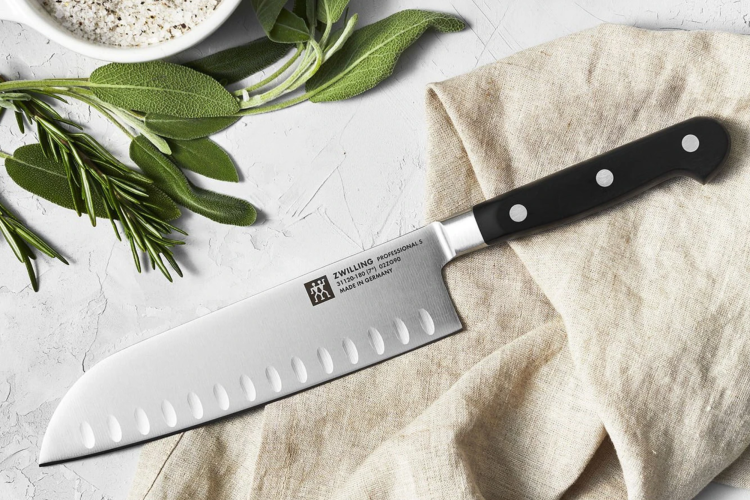 Join 200,000+ Culinary Enthusiasts
Exclusive deals, recipes, cookbooks, and our best tips for home cooks — free and straight to your inbox. PLUS: 500 Rewards Points.
The Zwilling J.A. Henckels brand has more than its share of irons in the fire when it comes to high-quality kitchen knives. The brand not only created one of the most functional tools in your kitchen, but it's also pioneered the most cutting-edge technology and are continuously pushing the envelope to get even better. Whatever you decide between Henckels vs. Zwilling, you're about to be a cut above the competition.
For even more ways to elevate your kitchen, check out chef-recommended cutlery in the Cozymeal Shop.