12 Seasonal Summer Vegetables You Should Be Cooking With Now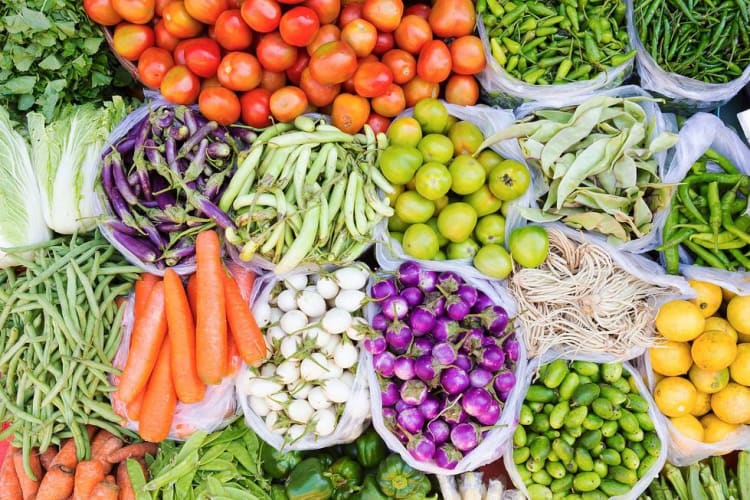 The warmest months boast a bevy of farm-fresh summer vegetables brimming with sun-ripened flavor. After soaking up the spring rains, countless plants now bear their edible bounty.
Tomatoes morph from tart-and-green to red-and-juicy in the hotter months. Cobs of corn sweeten on the stalk. Zucchini grows from yolk-yellow flowers. So, what are the seasonal summer vegetables you should be cooking with now?
While global farming has now made "summer" vegetables, like new potatoes, accessible year-round, nothing tastes as satisfying as in-season produce. Come the warmer season, your farmers market or local green grocer will burst with leafy treats, fragrant herbs and brightly-hued summer vegetables.
Green goodies — such as asparagus and summer squash — will shine on your backyard barbecue, caramelizing once flame-grilled. Others, like crisp-and-cool cucumbers, lend themselves to satisfying summer vegetable side dishes that are heightened with a light citrus vinaigrette.
Whether you're hankering for an heirloom tomato salad or Mexican street corn, now is the ideal time for a meatless feast. Below you'll find our top 12 summer veggies to enjoy this season.
Jump to Section
GET UP TO $50 IN COZYMEAL
CASH™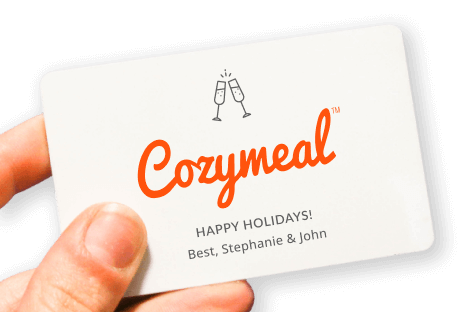 GET UP TO $50 IN COZYMEAL
CASH™
$100 or more, get $10 Cozymeal Cash™
$250 or more, get $25 Cozymeal Cash™
$500 or more, get $50 Cozymeal Cash™
1. Zucchini
Unlike their cold-month cousins, summer squashes are picked while their skin is still soft and edible. Indeed, the "summer squash" name refers to this gourd's short shelf life compared to hard-shelled pumpkins.
Zucchini is king in this squash dynasty — ideal for frying, sautéing, steaming, grilling or stewing.
During late spring and early summer, you may spot bags of buttery squash blossoms at your local farmers market. These flowers love deep-frying. Beyond this flavorful flora, though, zucchini is one of the best grilled summer vegetables. It should be salted, sweated and caramelized on your grill.
You can also simmer squash rounds with extra virgin olive oil, cherry tomatoes, chopped chili pepper and garden basil for a no-fuss spaghetti sauce.
Recipes Featuring Zucchini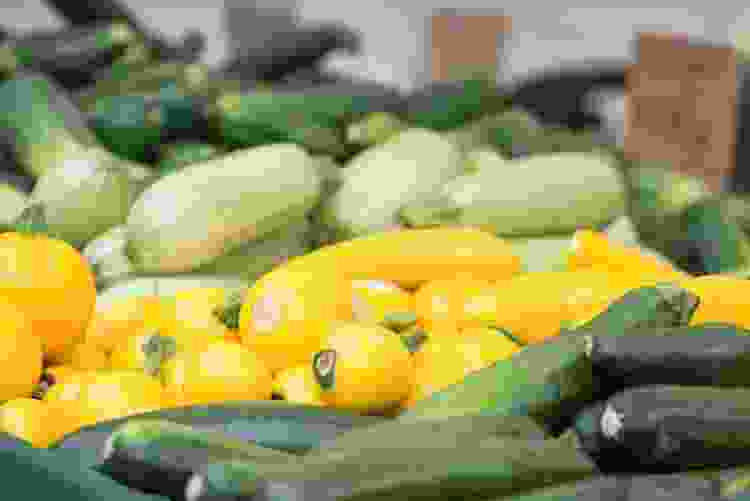 Join a Live Online Cooking Class Today

Your kitchen is now your own culinary classroom. Connect with chefs from around the world right from the comfort of home.

Book Now
2. Cucumber
Crisp. Crunchy. Cool. No, that's not the sound of autumn — it's three words that define the cucumber.
Whether shaved paper-thin for a sesame-flecked Japanese quick pickle or married to juicy tomatoes in a Tuscan panzanella, cucumber will make your mouth glad to chomp and chew.
Cucumber can also serve as the base for a summer vegetable soup, like gazpacho, or a cooling gin-lime spritzer.
Ignore what you've read online and be sure to keep the seeds in your cucumber; it's where this vegetable's umami taste is hiding. Cooks can add cucumber's signature crunch to Mediterranean chickpea salad, a rich salmon tartare or a sauce-friendly dairy like yogurt. Cucumber loves to mingle with fresh green herbs such as mint, chive and dill.
Recipes Featuring Cucumber
3. Corn
Nothing says summer in the USA quite like the king of late summer vegetables, sweet corn. But, we're gonna let you in on an a-maize-ing little secret: Boiled corn-on-the-cob isn't your only (or even best) option.
Another perfect option for grilled summer vegetables, throw corn on the grill, husk and all, to steam cook the kernels to perfection. You don't even need to shuck it. Or, you could whip up a batch of Cajun corn chowder — where the corn's sweetness mellows the cayenne's kick. Or, you might sear sea scallops and serve them atop a creamy bed of fresh-corn polenta.
The options for this sweet summer vegetable are endless.
Recipes Featuring Corn
Gourmet Cooking Classes Near You
Take your culinary skills to new levels with guidance from five-star chefs.
4. Okra
Okra is a summer vegetable used in West African, Indian and Southern cooking. Producing fuzzy and fibrous pods, okra is a key ingredient in slow-simmered stews like gumbo or in gravy-like curries.
In addition to imparting a nutty and almost peppery taste, okra is used by cooks around the globe to thicken sauces and soups.
Okra also makes for a delicious roasted summer vegetable. For a light summery snack, toss halved okra in a zesty blend of chickpea flour, cayenne pepper, mango powder, vegetable oil and fresh-ground cumin — then bake on a cookie sheet, at 400F, until crispy.
Martini lovers might shake up their dirty standard by adding a pickled okra to their glass.
Recipes Featuring Okra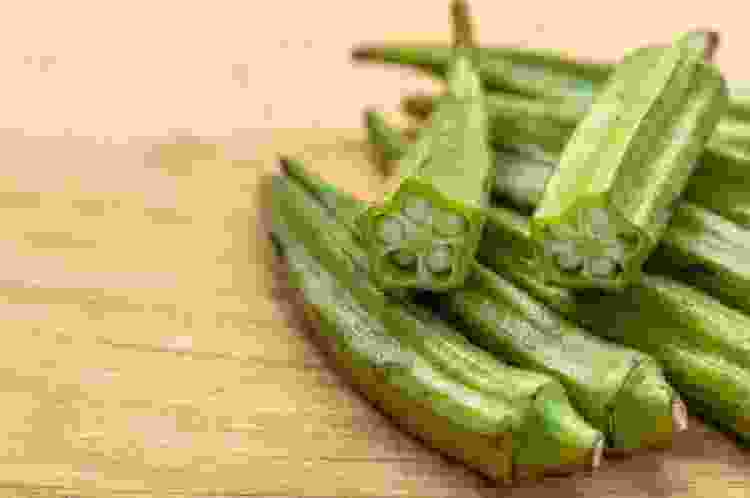 5. Field Peas
Summer in the Southern U.S. means one thing: It's fresh "field pea" season. And there's much more to the pea than soggy, canned mushiness.
This summer vegetable represents a seasonal staple in Southern cooks' kitchens. This ancient veggie category includes black-eyed peas and heirloom strains like the Red Ripper and Purple Hull.
Once plucked from the garden, field peas can be simmered in a savory broth that you flavor with bell peppers and sautéed onions. For a spicier twist, accent your field pea salad with sliced jalapeño, charred sweet corn and fresh-squeezed limes for the ultimate summer vegetable side dish.
Recipes Featuring Peas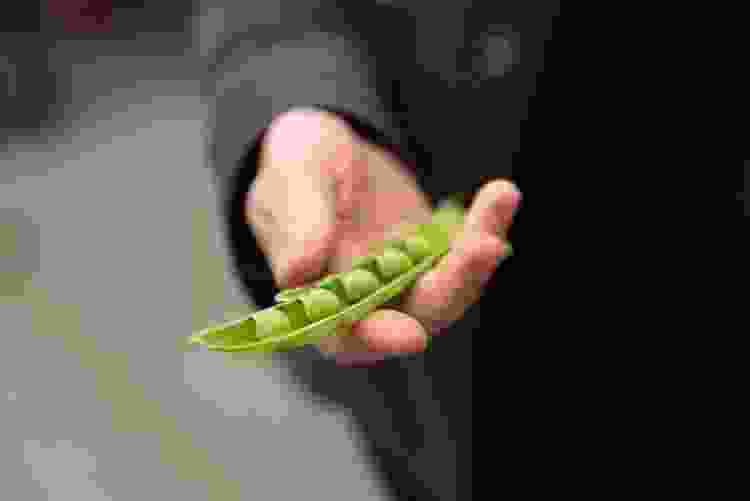 6. Eggplant
Eggplants come in a plethora of shapes, sizes and colors. Thai eggplants are small, round and green. Italian eggplants are oval-shaped and burgundy purple. Japanese eggplants are slender — vaunting a bright violet hue.
Whether your eggplant is milky white or pitch black, this is one versatile summer vegetable that's good for grilling, frying, sautéing or baking. Many chefs recommend "weeping" the eggplant before any high-heat preparation, a.k.a. salting the sliced eggplant and drawing out its bitter liquid.
A lovely summer vegetable side dish is marinated eggplant. Just brush the slices with olive oil and grill until golden brown. Then, soak the crisped eggplant in a savory slurry of red wine vinegar, chopped mint, minced garlic, flat-leaf parsley and extra virgin oil.
Recipes Featuring Eggplant
Book an Online Cooking Class Today
Five-star chefs. Step-by-step coaching. Flexible menus. Come see what's cooking in a live online cooking class.
7. Carrots
Carrots will grow from seeds throughout the hotter months, making mid-summer the prime harvest time for your favorite root vegetable. Rich in minerals and vitamins, carrots imbue an earthy sweetness to a slow-simmering ragù or a delicate crunch to your summer salad lineup.
Whether you're in the mood for roasting or blanching, carrots have you covered for an array of summer vegetable dishes. For a kid-friendly side, roast heirloom carrots in the oven until they begin to caramelize — tossing them next with wild honey, extra virgin oil and toasted walnuts.
For a more aromatic take on the humble carrot, blanch your roots until soft and then dress with a Moroccan vinaigrette of cumin, lemon and garlic.
Recipes Featuring Carrots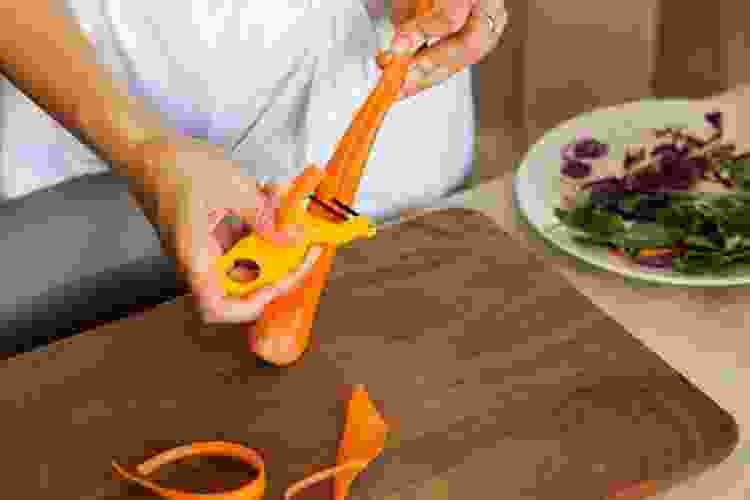 8. Tomatillos
Before there were big red 'maters in your grocery store, there was the tomatillo; the tomato's husk-covered, green-fleshed cousin.
Grown throughout the Americas, tomatillos are a staple in traditional Mexican cooking that's used most famously to make tangy salsa verde (green salsa). This pre-Columbian ingredient boasts a tart, almost citrus-like flavor; tomatillos can be served raw in a salsa fresca (fresh salsa) or grilled/blanched in a smoother sauce.
Give your corn chips a break from the canned red stuff and blend up a batch of tomatillo-avocado salsa — the creaminess of the avocado cuts the heat from the jalapeño.
Recipes Featuring Tomatillos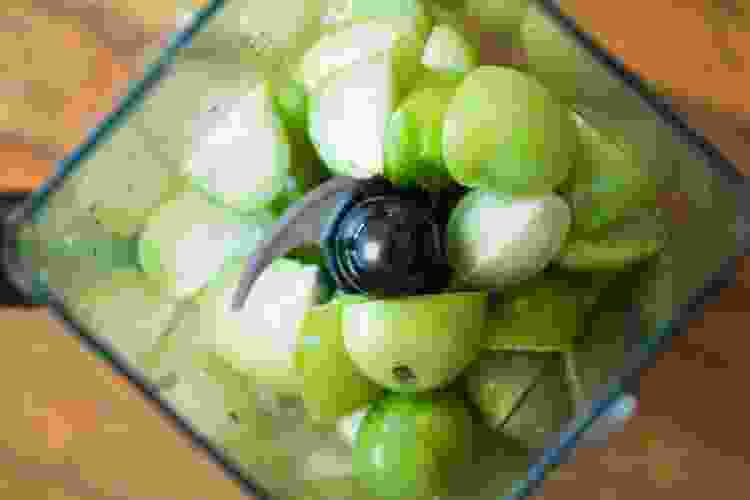 9. Hot Peppers
Hot peppers can make us sweat. And, they also love sweat-inducing heat.
Summer-loving strains of pepper bear their spicy fruit come the hot-n-humid months, transforming into Thai chili, banana peppers, serrano and the extra-hot habanero. On the mild side, you can stuff poblano peppers with seasoned rice and melty Mexican cheese — crowning your chile relleno with a green or red enchilada sauce.
Thai chili adds an extra "umph" (technical chef term) to green papaya salads or your eggplant stir-fry. For a quick guacamole upgrade, add slivers of raw jalapeño and fresh lime to your ripe avocado.
Not as accustomed to working with the spicy varieties of this summer vegetable? Our article on how to eat hot peppers has you covered.
Recipes Featuring Peppers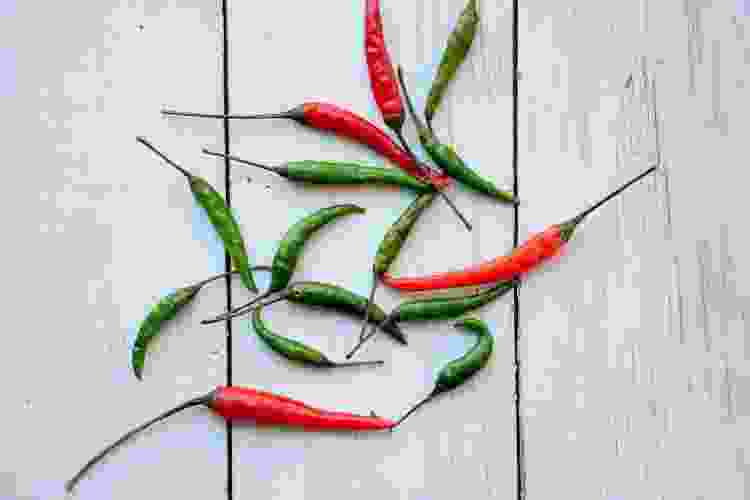 Book a Gourmet Cooking Class Now
Kick-start your culinary confidence with help from a world-class chef. See what's cooking in your city today.
10. Tomatoes
Juicy, plump, unrivaled. Would it even feel like summer without garden-fresh tomatoes gracing your dinner table?
Widely used in both American and international cuisines, the tomato is a multi-talented late summer vegetable — scrumptious right off-the-vine, tasty when slow-stewed and even sweet enough to be churned into ice creams.
Purists will cheer the savory simplicity of the caprese salad, when sun-ripened tomatoes pair with milky fresh mozzarella and fragrant basil leaves. Bakers might instead want to give their tomatoes the tart treatment by marrying fresh tarragon and tangy goat cheese atop a flaky crust. Paired with angel hair, Parmesan and olive oil, blistered cherry tomatoes top off the perfect summer vegetable pasta dish.
And for that perfect summer picnic menu, try Israeli couscous with cherry tomatoes, lemony parsley and cured Kalamata olives.
Recipes Featuring Tomatoes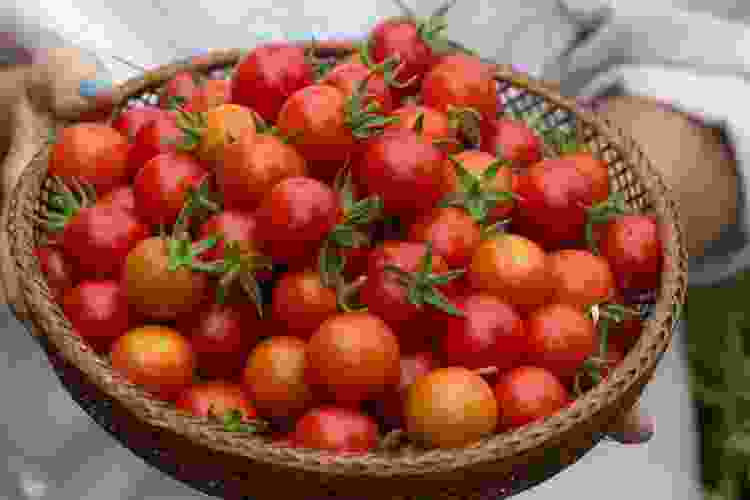 11. New Potatoes
New potatoes are freshly-harvested potatoes that feature soft skin and a moist middle. Because of their thin skin, new potatoes do not tend to store well.
This summer vegetable is best eaten when freshly-harvested, before the potatoes have been bruised or begun to dry out. These delicate tubers don't require a sous vide machine to shine on your plate. According to chefs, a simple (and simply addictive) way to cook them is a gentle boil, followed by a mustard and dill vinaigrette.
Alternatively, new potatoes are perfect roasted summer vegetables — roast them with olive oil, garlic cloves and several stems of fresh rosemary until crisp on the outside and tender inside.
Recipes Featuring Potatoes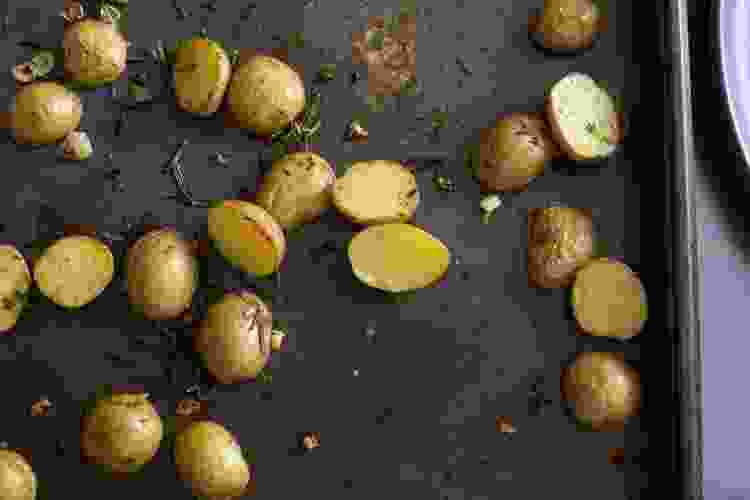 12. Fresh Basil
Pesto. Stir-fry. Lemonade. What do these dishes all have in common? Well, one yummy herb: Basil.
Garden basil, whether it's the Thai or Italian variety, will gussy up your adventures in the kitchen. Stir a handful of fresh basil into a slow-simmered tomato sauce for an extra layer of aromatic addictiveness to your summer vegetable pasta dishes. Southeast Asian cuisines, like Thai or Vietnamese, rely on raw and frizzled basil to add both fragrance and sweetness to stir-fries and slurpable soups.
If you grow basil at home, you can harvest the leaves all summer. After you harvest a pinch of leaves, two more basil stems will grow from where you plucked!
Recipes Featuring Basil
Book an Online Cooking Class Now
Ready to perfect your homemade pasta, paella or pad thai? Join a world-class chef from the comfort of your kitchen.
Learn How to Cook With Summer Vegetables
Learning how to use fresh, in-season ingredients is one of the key ways you can improve your cooking. If you're stumped looking at your bounty of fresh summer vegetables, cooking classes will help you get started.
These hands-on, fully interactive classes are led by some of the best chefs in the industry with ample experience in cooking with the seasons. At their lead, you'll get to pick up some new culinary tips and tricks, all while learning new recipes that highlight the best of fresh, seasonal cooking.
There are cooking classes in Dallas, cooking classes in Chicago and beyond. Explore all cooking classes near you to book your favorite, or plan for a virtual culinary night from your home kitchen with live online cooking classes.
If you'd prefer to do more eating and less cooking, world-class private chefs are standing by to transform your idea of a gourmet culinary experience. Private chefs come to you with all of the ingredients, skills and equipment needed to cook a five-star meal. While you enjoy, they'll even handle the kitchen cleanup. It's the perfect way to enjoy the plentiful bounty of summer vegetables from the skilled hands of a top chef.
You'll find private chefs in San Diego, private chefs in Chicago and other cities. Browse all private chefs near you today.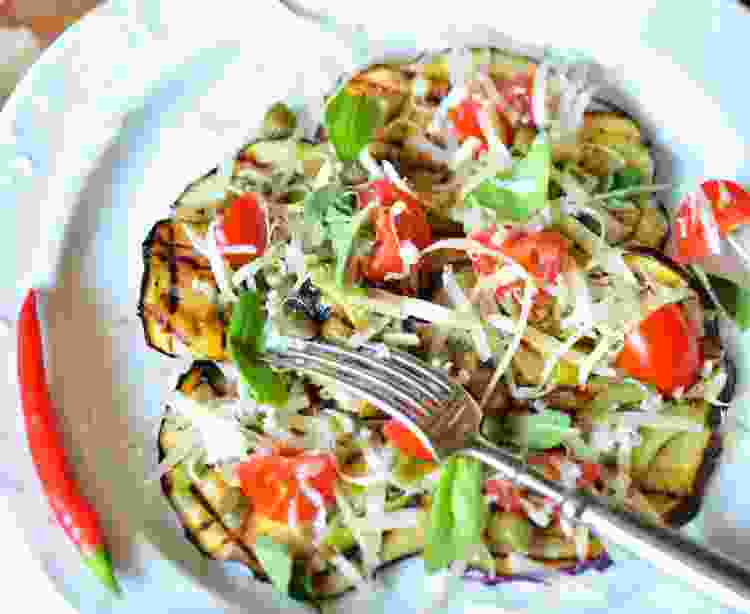 Join 200,000+ Culinary Enthusiasts
Exclusive deals, recipes, cookbooks, and our best tips for home cooks — free and straight to your inbox. PLUS: 500 Rewards Points.
As the warmer months fill our days with sunshine, it's only fitting that we enjoy the bounty of the season. Summer produce is refreshing, versatile and bursting with vibrant flavors. With so many options at your fingertips, it's time to plan a trip to the market and taste for yourself how delicious summer vegetables can be.
For even more inspiration on how to cook with summer vegetables, check out other experiences happening on Cozymeal.